MY OH MY! We are finally entering into barbecue season and I have to say I am ready! My flip flops are on, barbecue scrubbed, lawn chair ready and a cold drink in hand and it is time to dive into sunny weather and barbecuing! Lets just take a moment to celebrate…… OK and we are back! This Grilled Shrimp with Avocado Butter Recipe is pretty darn delicious and perfect for celebrating sunny warm weather!
I adapted this recipe from the 200 Easy Mexican Recipes Cookbook
. This cookbook is filled with so many amazing recipes that I can't wait to make.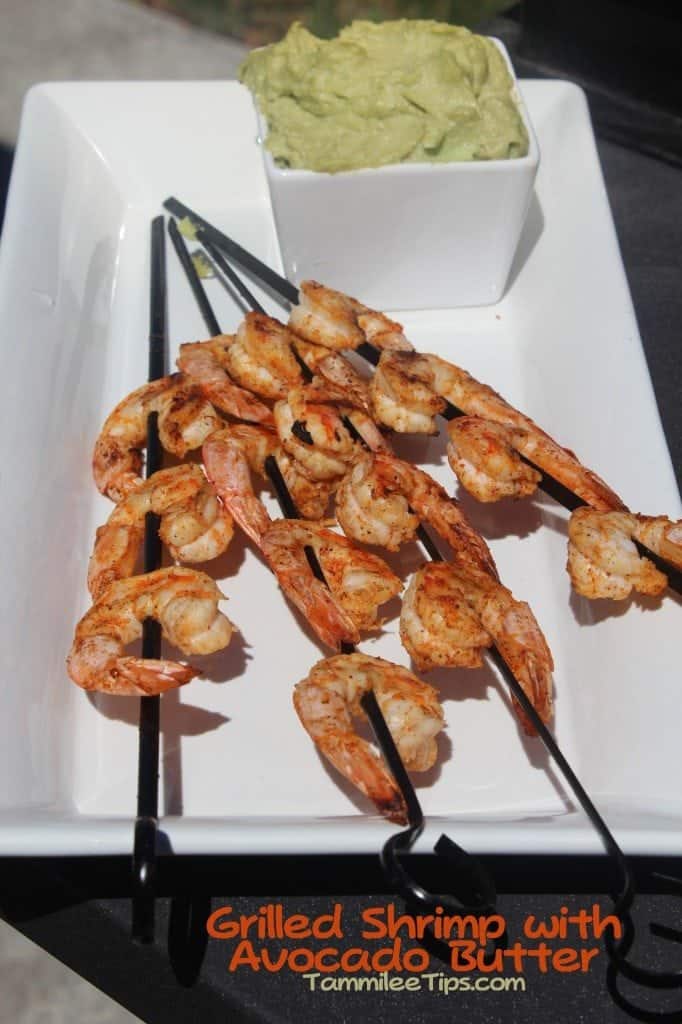 Grilled Shrimp with Avocado Butter Recipe
Grilled Shrimp
Juice of 2 limes
1 clove garlic, minced
1 tbsp creole seasoning
1/2 tsp cayenne pepper
2 tbsp olive oil
16 jumbo shrimp, peeled and deveined
1. Whisk lime juice, garlice, creole seasoning, cayenne, and oil until well mixed
2. Add shrimp and lightly toss
3. Cover and refrigerate for at least 30 minutes or up to 2 hours
4. preheat barbecue to medium high
5. remove shrimp from marinade and thread 4 shrimp on each skewer
6. Grill shrimp until they are pink and opaque, about 3-4 minutes per side
7. transfer to platter and serve with Avocado butter
Avocado Butter
3 avocados, cut into quarters or chunks
2 cloves garlic, minced
2 tbsp freshly squeezed lime juice
2 tbsp olive oil
kosher or sea salt
1. In a food processor, combine avocados, garlic, lime juice, and olive oil until smooth. Salt to taste
2. Serve immediately or transfer to an air tight container and refrigerate up to 2 hours, stirring occasionally
Do you love recipes? Check out our copy cat recipes, dessert recipes, and our Crock Pot Recipes.