We are a tad bit excited for the Minion movie to come out this week!
There is just something way too funny about the Minions. Our friend Patti and John joke about the Minions all the time and are known to watch the movie at least a few times a month. I can't wait to see them giggle at the theater.
This week we are sharing some fun Minion inspired treats. For the last movie, I made Minion Cupcakes which were so much fun to make! Today we are sharing Minion Rice Krispies Treats.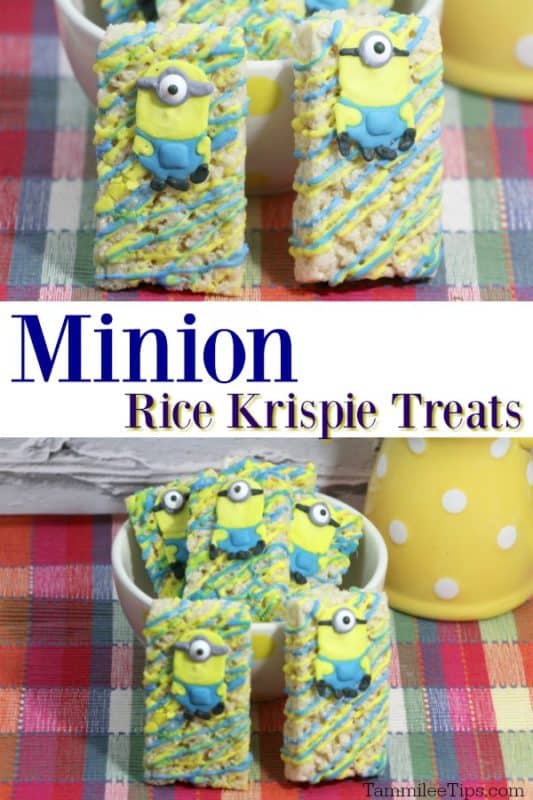 Minion Rice Krispies Treats
Seriously how fun are these Minion Rice Krispies Treats!
Rice Krispie Treat Ingredients:
Unsalted butter

Marshmallows

Kellogg's Rice Krispies cereal
You can also use pre-packaged Rice Krispie Treats to save time.
Royal Icing Ingredients: 
Egg whites

Powder sugar

Cream of tartar

Blue, yellow, white, black, red, and grey gel food coloring
The directions below are for hand making the royal icing Minions. If you don't have time or want to cut out a ton of work I highly suggest ordering Edible Minion Figures. This is a quick and easy way to make these fun treats and save a ton of time and energy.
Great Rice Krispie Treat Recipes
Frankenstein Rice Krispie Treats
Salted Caramel Rice Krispie Treats
Do you love recipes? Check out our copy cat recipes, dessert recipes, and our Crock Pot Recipes.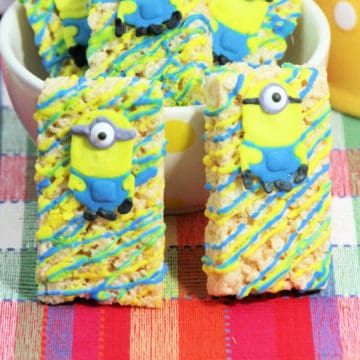 Ingredients
Rice Krispie Treat Ingredients:
3

Tablespoon

Unsalted Butter

1

package

40 marshmallows
Royal Icing Ingredients:
2

Egg Whites

½

teaspoon

Cream of Tartar

Add ¼ C powder sugar until stiff peaks form Blue

yellow, white, black, red, and grey gel food coloring
Instructions
Rice Krispie Treat Directions:
=In your microwave heat butter and marshmallows on high for 3 minutes....stir after 2 minutes.....stir after 3 minutes until smooth.

-Add rice krispies.... either stir with a spoon or use your hands to mix well....(if using your hands coat them well with butter or shortening so your hands don't get burned). -Using wax or parchment paper to press the rice krispie mixture down evenly in the 13 x 9 x 2 inch pan..... coat first with Pam spray.... cool....cut into 2 inch squares. -Place cut rice krispie treats on a parchment lined cookie sheet. -Put a stick in one end of the prepared treats.
Royal Icing Directions:
-Mix eggs, cream of tartar, and powder sugar on medium speed for 4 minutes.
Minions
-Locate a picture of an "Minion" on Google... print the picture in color. Tape this picture with numerous "Minions" on it to a cookie sheet. -Tape wax paper (covering the copies of the "images")to the cookie sheet . - If you are using the same pastry bag and or tip they will need to be cleaned after each use. (Or use zip lock bags by cutting the corner of the bag.)

-Divide the icing into thirds. Place ⅓ in one bowl with the yellow gel food coloring. Start by outlining the Minion bodies. -In the second bowl add several drops of blue gel food coloring for the overalls. - Now into 3 bowls (2 TBSP) each. In each different bowl add 2 drops of gel food coloring.

First bowl..(divide again in half) add red to one...add grey or silver to the other half; second bowl.. black; third bowl.. white. - Stir well to mix the colors within their bowls. -Using a small pastry bag filled with the yellow royal icing and a #2 tip. Start by outlining the body first.... Fill in only the body with the yellow gel food coloring. -Using the blue gel food coloring outline then color in the overalls. -Using the black ... color the boots, gloves, and back of glasses. Outline first then color in. -Using the red color outline and color in the mouth leaving the teeth untouched. (If the Minion calls for red lips). -Place the edible eyes then outline with grey for the glass frame.

-Allow to dry for 5-10 hours. -Ensure that the faces are dry, gently touch one of the images. If they are dry then.... -Cut the wax paper holding the completed images into squares surrounding that image. -If the images are dry peel them off of the wax paper.

*Before placing "Minion" use the difference colors of royal icing to add stripes on the each of the treats.....place "Minion" on each one in the center of the treat.