Are you wonder what is a pickleback? Don't worry we have the answer along with how to enjoy a shot of pickle brine paired with a shot of bourbon or Jameson Irish Whiskey.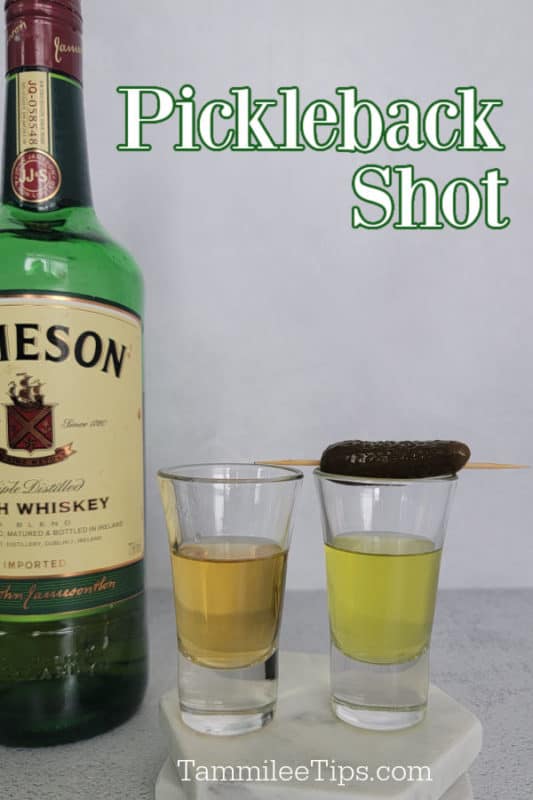 Pickleback Shot Recipe
A pickleback shot is a shot of whiskey chased by a shot of pickle juice.

I read that the Original Pickleback started at Brooklyn's Bushwick Country Club in March 2006. The country club is neighbors with McClure's Pickles and was storing some pickles for them in the bar's storage.
The bartender Reggie Cunningham decided to pair Old Crow Bourbon with a side of spicy pickle juice instead of the Pabst Blue Ribbon they had been serving. Customers loved it and the Pickleback was born.
Bartender Reggie Cunningham coined the term pickleback.
When the drink was brought to another bar in New York City it was changed to be paired with Jameson Irish Whiskey instead of bourbon.
This Whiskey chaser has become a modern cocktail phenomenon that has quickly escalated to being found on bar menus around the world.
While McClure's pickle juice is the original you can use any pickle juice you have available. Simply put this recipe is Irish Whiskey chased by a shot of pickle brine.
Using pickle juice in cocktails is not new. Many martini drinkers will add a splash of pickle brine to their martinis.
We even made a pickle juice martini for anyone who LOVES pickles.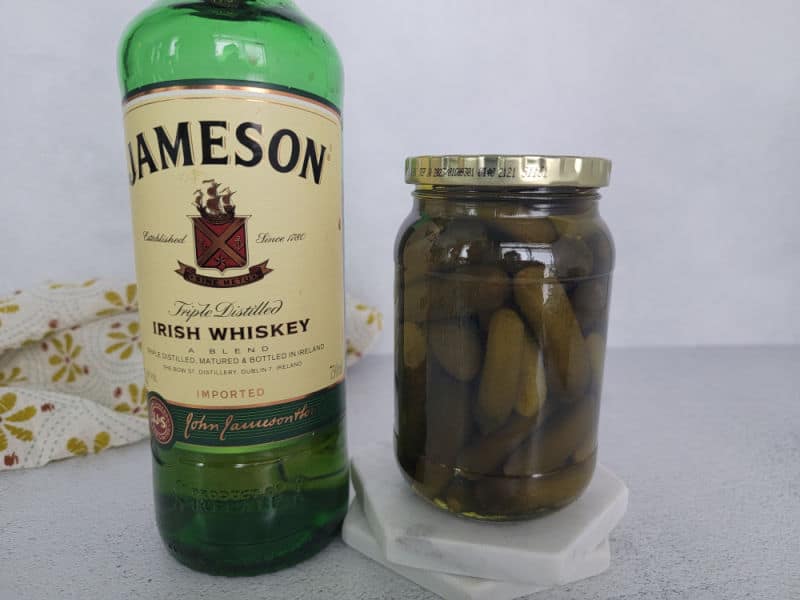 Ingredients Needed
Jameson Irish Whiskey
Pickle Brine/Juice
Garnish - Mini Pickle
Pickle Brine - We use dill pickle juice but you can use spicy pickle juice if you like the heat. The original is made with McClure's spicy pickle brine.
You can buy pickle juice by the bottle on Amazon or you can just pour it out of a jar of pickles.
Equipment Needed
Two 1 oz shot glass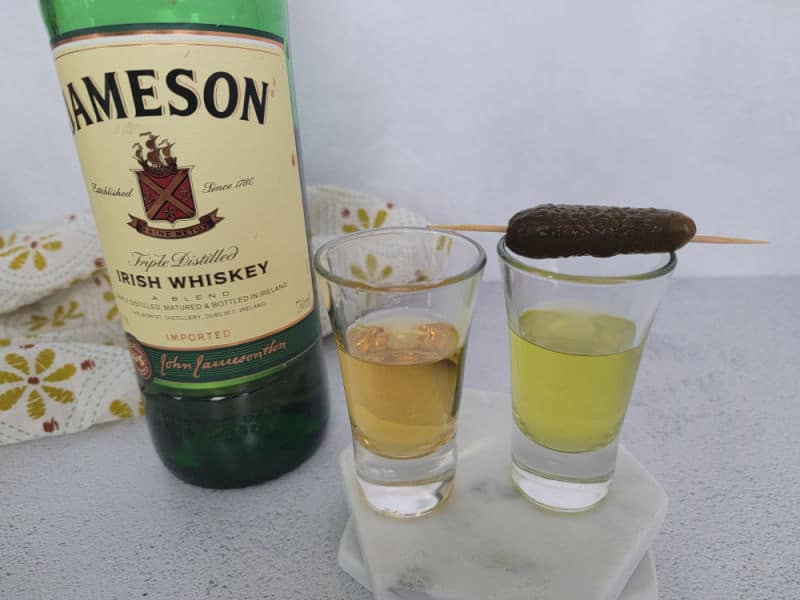 How to make a Pickleback Shot
Step 1 - Add Jameson Whiskey to a shot glass
Step 2 - Add pickle brine/juice to a separate shot glass
Step 3 - Drink the whiskey and then follow it with the pickle juice as a chaser.
Recipe Tips
You can follow this drink with a beer chaser.
This drink has also been called a pisky whickle, pickle puffers, or Jameson Pickleback.
Pickle lovers will love to say cheers with one of the best popular shots. It is packed with the salty brine pickle flavor.
Printable recipe card instructions are below.
Nutrition information, including calories, protein, calcium, carbohydrates, fiber, vitamin c, potassium, cholesterol, sodium, trans fat, monounsaturated fat, polyunsaturated fat, and more, will vary depending on the products used.
Great Cocktail Recipes
Check out all of our Cocktail Recipes
Did you see our article on funny drink names? There are so many unique cocktail names.
We have a ton of epic St. Patrick's Day Drinks perfect for your parties or family fun!
Do you love recipes? Check out our copy cat recipes, dessert recipes, and our Crock Pot Recipes.
Follow Tammilee Tips on MSN, Facebook, Instagram, Pinterest, and Twitter for all of our recipe posts.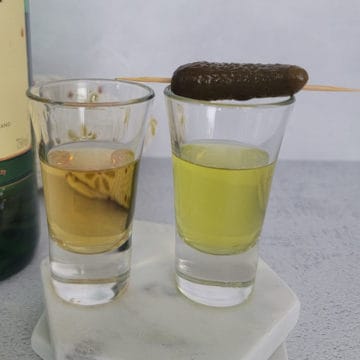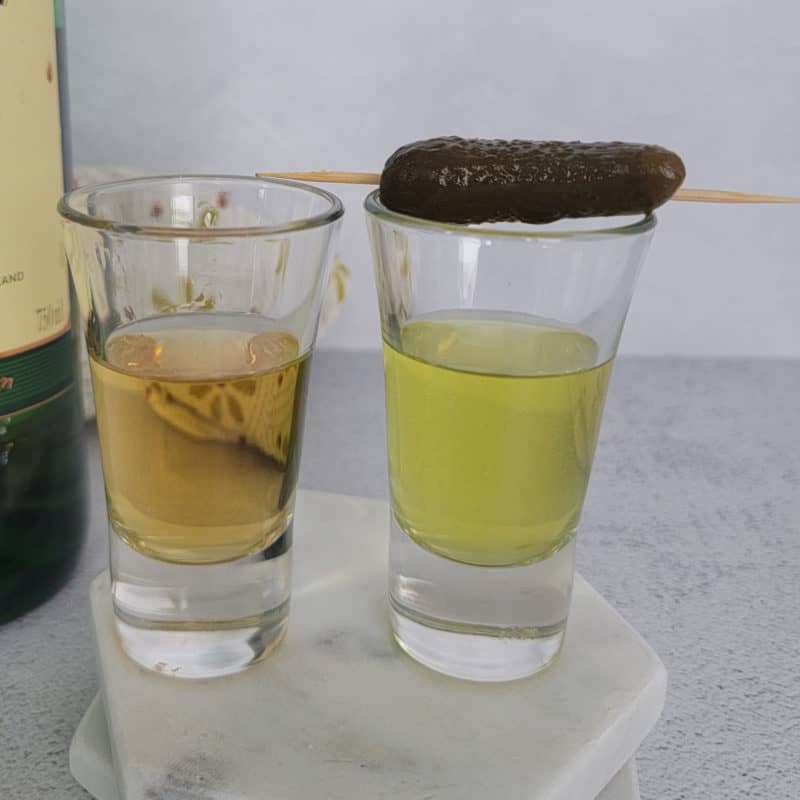 Pickleback Shot
Pickleback Shot Recipe paired with Jameson Irish Whiskey.
Print
Rate
Ingredients
1

Ounce

Jameson Irish whiskey

1

Ounce

Pickle Juice

Chilled
Instructions
Add 1oz Jameson Irish Whiskey to a shot glass.

Add 1 oz Pickle Juice to a separate shot glass.

Drink the Jameson and chase it with the Pickle Juice.
Nutrition
Nutrition Facts
Pickleback Shot
Amount Per Serving
Calories 79
% Daily Value*
Sodium 425mg18%
Potassium 1mg0%
Carbohydrates 2g1%
Iron 1mg6%
* Percent Daily Values are based on a 2000 calorie diet.