From Duck Farts to Nutty Irishmen, this funny drink names collection will have you giggling and finding tons of great new cocktails to enjoy!
Funny Drink Names
Part of crafting a cocktail recipe is choosing a memorable moniker that will stick. Have you ever wondered where some of your favorite cocktails got their odd names? You know, the ones you wouldn't dare say around family?
From the holiday season to Labor Day, keep the good times rolling with these titillatingly-named cocktails and shooters that will have you and your friends giggling.
You don't need to be a bartender to make these funny alcoholic drinks and non-alcoholic drink/mocktails! All you need to do is be willing to pour, shake, strain, and mix these amazing drinks.
While these cocktails have funny drink names, they all taste great!
You can make your own signature drinks by creating a cocktail menu filled with funny cocktail names. Create catchy drink names based on your party theme or event theme.
The best catchy names are plays on events, people, places, or a twist to a classic cocktail. It is up to you if you want to go sophisticated, naughty, quirky, or just plain fun.
From the classic Moscow Mule to a Pina Colada, drink names are always a mix of interesting names, and this list of cocktails hopefully provides you with ideas for your next favorite cocktail!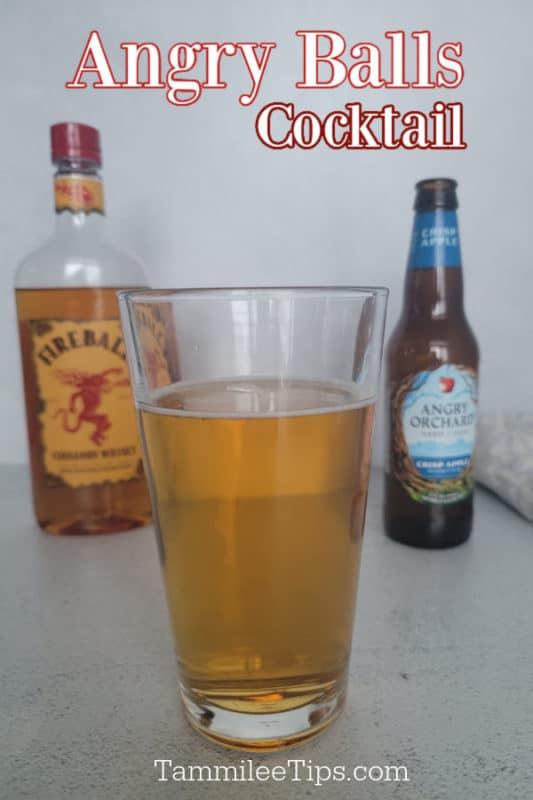 Ingredients: Fireball Whisky, Angry Orchard Hard Apple Cider
In this fall-ready Angry Balls beer cocktail, Angry Orchard gets a boozy boost from cinnamon-flavored Fireball Whisky.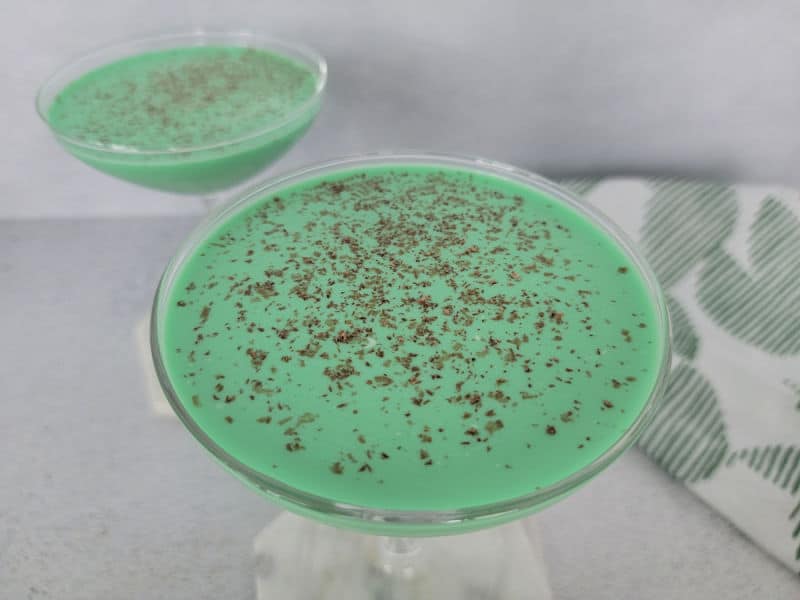 Ingredients: Light Crème de Menthe, Crème de Cacao Liqueur, Heavy Whipping Cream, Shaved Chocolate for Garnish
What's green, minty, chocolatey, and lightly spiked? The classic grasshopper cocktail, colored by green creme de menthe. Make it a flying grasshopper by adding one part of regular or vanilla vodka.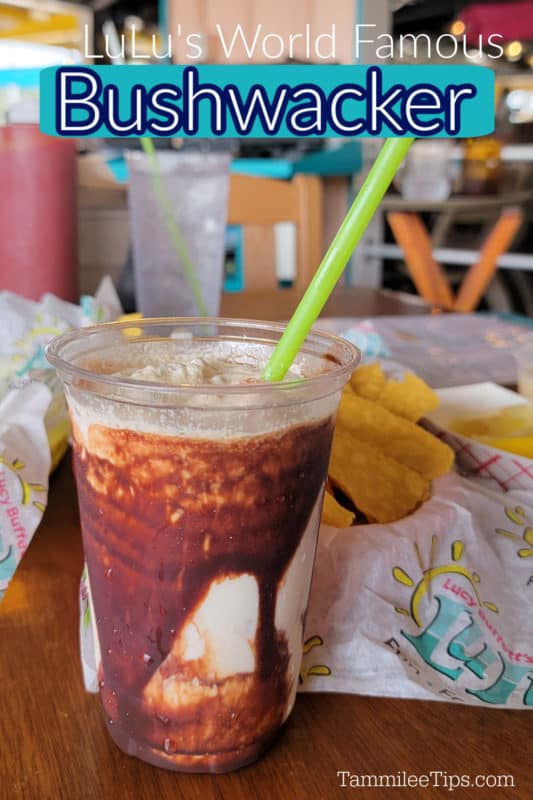 Ingredients: Kahlua Coffee Liqueur, Malibu Coconut Rum, Creme de Cacao Liqueur, Dark Rum, Half-and-Half, Vanilla Ice Cream, Crushed Ice, Chocolate Syrup, Maraschino Cherries for Garnish
This indulgent Pensacola favorite and tropical twist on the White Russian comes to us from Lucy Buffet's LuLu's Kitchen Cookbook. This drink has a really fun history and tastes amazing.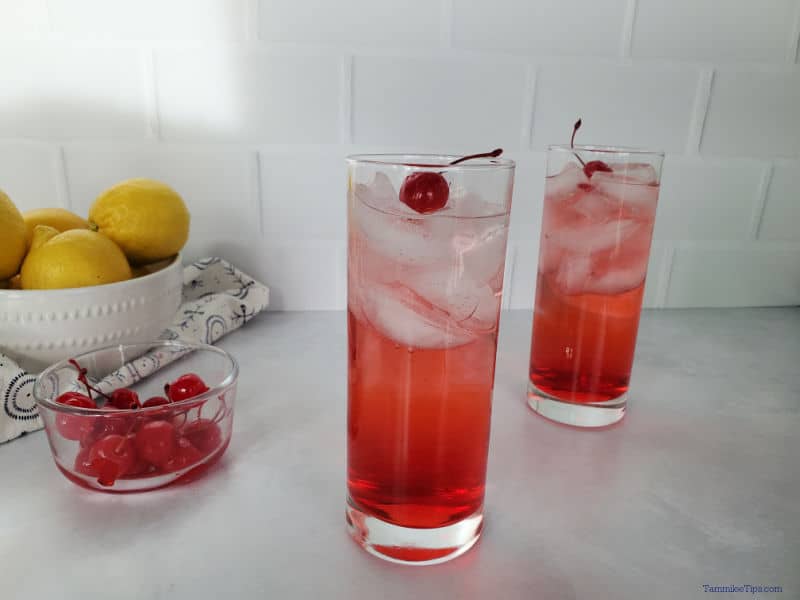 Ingredients: Vodka, Grenadine, Sprite or any lemon-lime soda, Ice
The addition of vodka makes the Dirty Shirley a grown-up version of the Shirley Temple. Although we use unflavored vodka in ours, you can mix it up with cherry or vanilla vodka.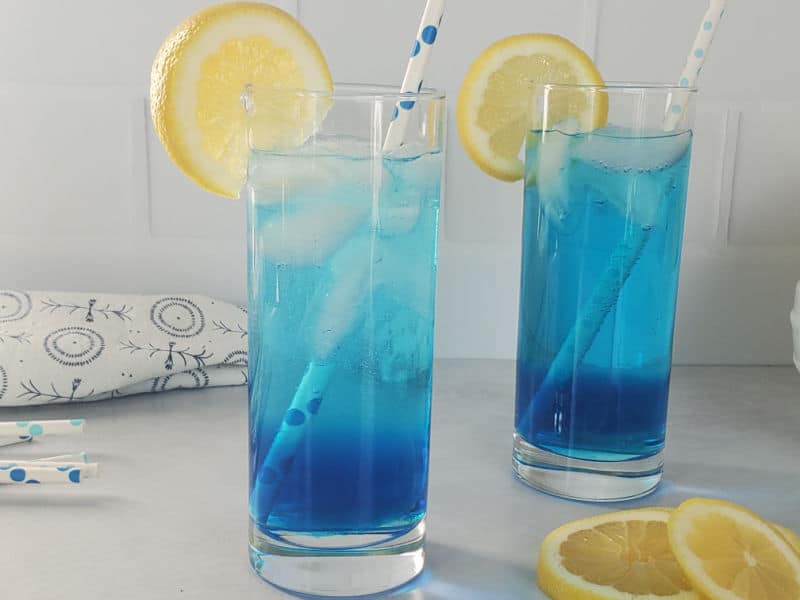 Ingredients: Peach Schnapps, Blue Curacao, Vodka, Sprite
The Sex in the Driveway cocktail is our blue curaçao-fueled twist on the popular Sex on the Beach cocktail. While we aren't sure of its origins, we encourage you to use your imagination for ideas about how it got its name.
Feel free to customize it to your palate. Rum can be used in place of vodka as a base spirit, and citrus-flavored sparkling water like Lacroix works as a healthier alternative to Sprite.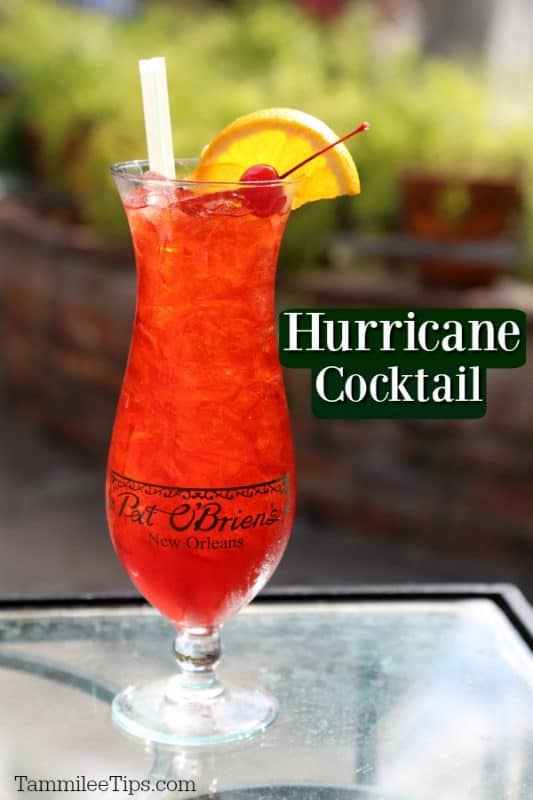 Ingredients: Light and Dark Rum, Passion Fruit and Orange Juices, Fresh Lime Juice, Simple Syrup, Grenadine, Ice
We savored this jazzy red cocktail at its birthplace, Pat O'Brien's, in New Orleans. It is so fruity and delicious that you'll hardly notice the four shots of rum.
If you like this cocktail, you'll also enjoy our adult-only Boozy Hurricane Popsicles.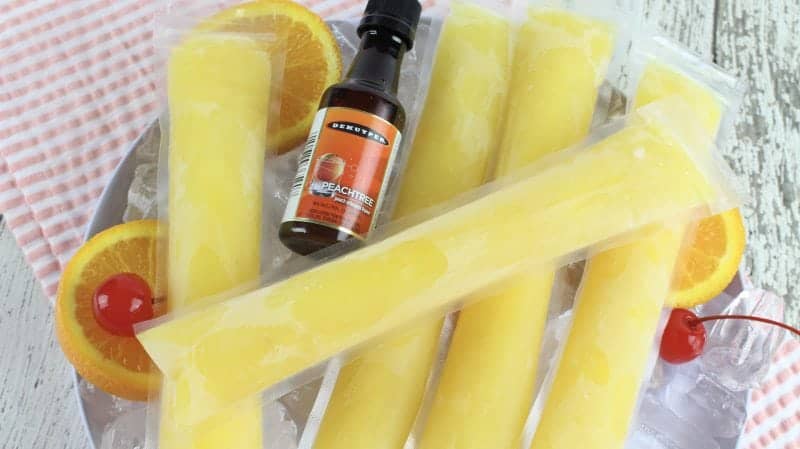 Ingredients: Pureed Large Peach, Orange Juice, Peach Schnapps
While seemingly a dig at the imbiber's hygiene, there's sense to this oddly-named fruity cocktail turned popsicle - the peach schnapps makes it fuzzy, while navel refers to the orange variety. We used these DIY popsicle pouches with funnel attachments to fill each without wasting product due to spillage.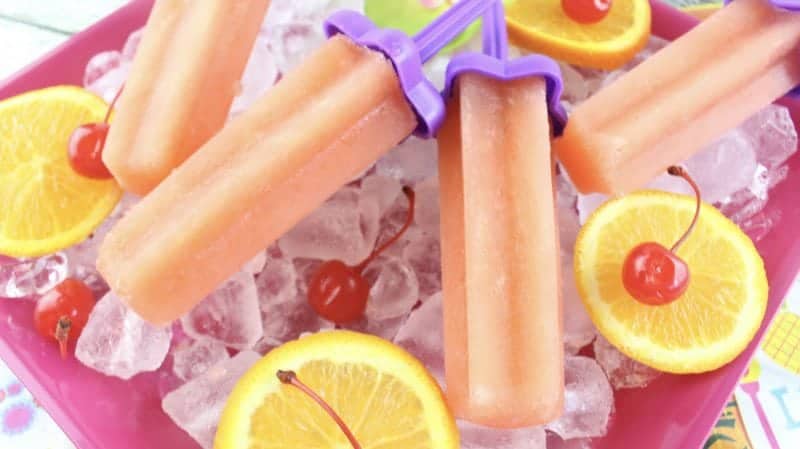 Ingredients: Orange and Pineapple Juices, Rum, Malibu Coconut Rum, Grenadine, Freshly Squeezed Lime Juice
The cocktail is said to be the namesake of Dottie Lee Anderson, a 1930s Caribbean dancer who entertained by the stage name "Bahama Mama." It's also rumored that the name came from the use of the Bahamas as a prohibition-era base for smuggling rum.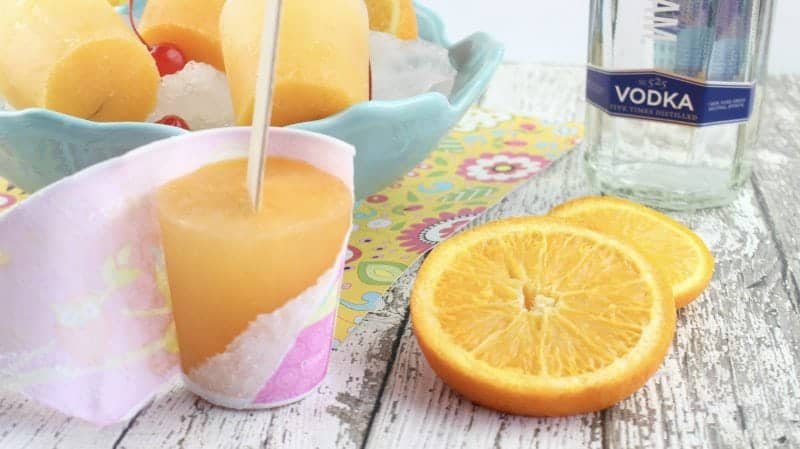 Ingredients: Orange Juice, Vodka
This cocktail was aptly named for the American oil workers stationed in the Persian Gulf who secretly mixed vodka into their orange juice with a screwdriver since it was the best mixing tool at their disposal.
Ingredients: Light Rum, Malibu Coconut Rum, Strawberries, Banana, Pineapple Juice, Cream of Coconut
Made to resemble a real-life volcano, this creamy tropical cocktail slushy is chock-full of rum, strawberries, pineapple juice, and coconut. The lava flow effect involves blending the drink in two stages. Serve it in your favorite tiki glass for paradise in a cup from wherever you are.
Funny Shot Names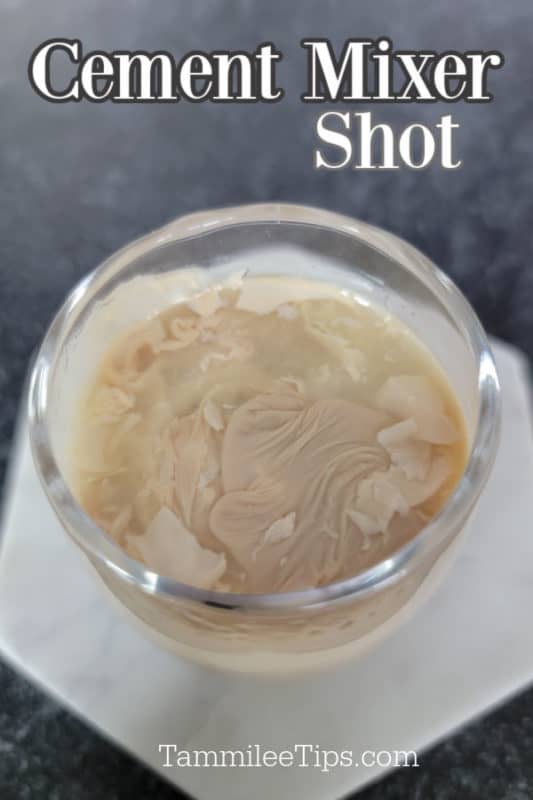 Ingredients: Bailey's Irish Cream, Lime Juice
The shot itself isn't horrible, as Irish cream and lime aren't the worst flavor pairings, but it gets its name from having a repulsive texture comparable that goes down like concrete. Don't try this one if you've been experiencing prior gastrointestinal issues.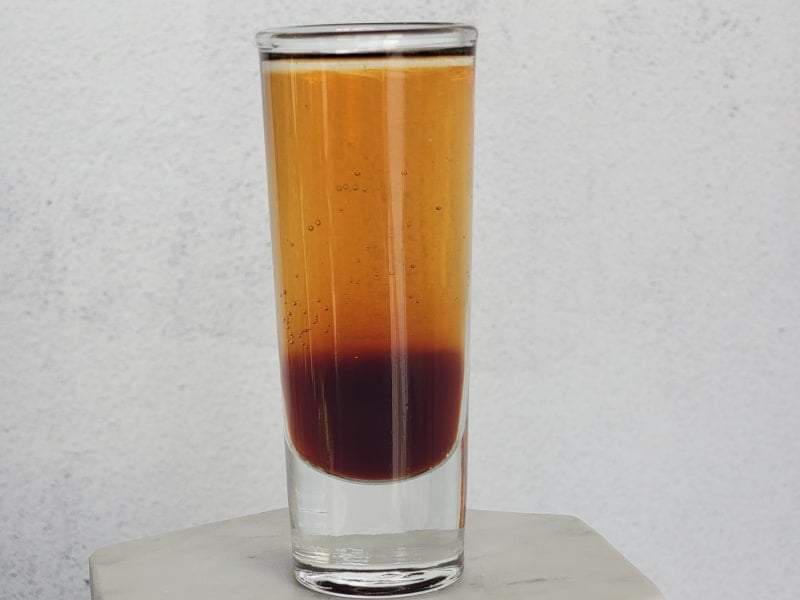 Ingredients: Kahlúa Coffee Liqueur, Vodka, Club Soda
This is one of the many vodka-based drinks that arose amid the popularity of the Russian spirit post-World War II. The layered Mind Eraser was inspired by the Black Russian, a mix of vodka and Kahlúa, and gets its name because it was to be swiftly sipped through a straw to cause brain freeze.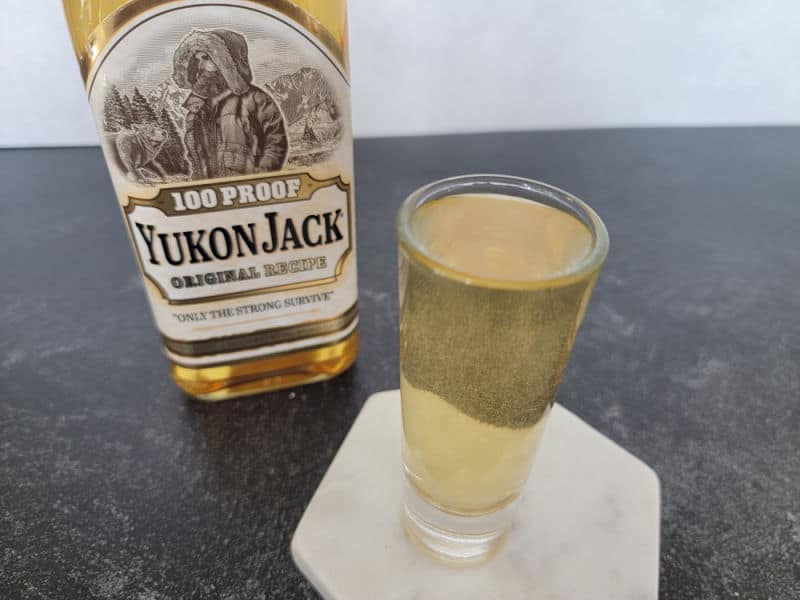 Ingredients: Yukon Jack, Rose's Sweetened Lime Juice
This simple shot is memorable for its simplicity - Yukon Jack, a sweet 100-proof honey whiskey, mixes with tart lime juice to produce an experience that will shock the system.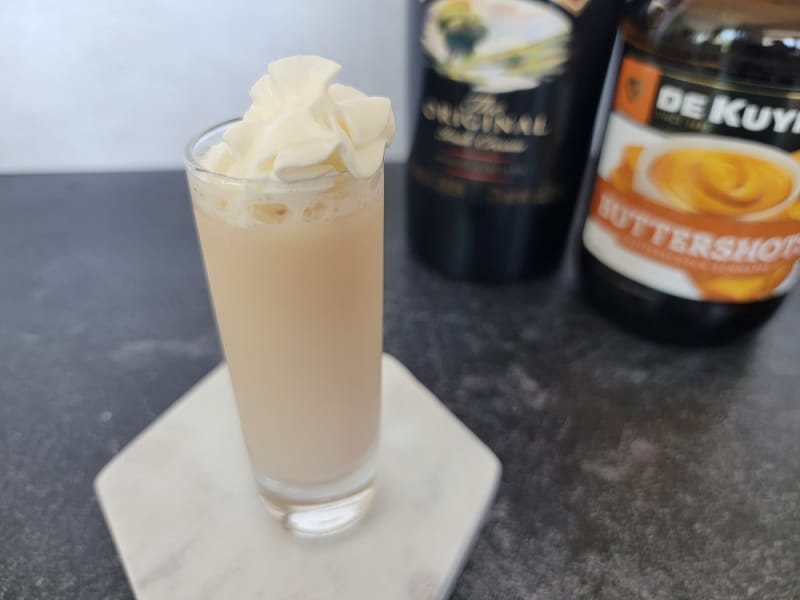 Ingredients: Butterscotch Schnapps, Bailey's Irish Cream, Whipped Cream
Also known as a butterball shot, this butterscotch schnapps shot gained popularity when adult-themed cocktail names, such as Sex on the Beach, ruled the drink scene.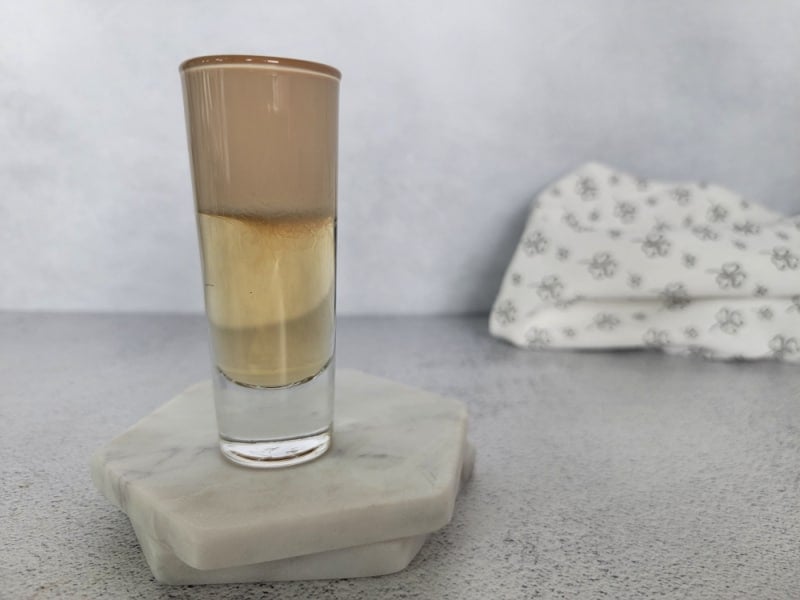 Ingredients: Frangelico, Bailey's Irish Cream
This delectable layered shot featuring Bailey's gets its nutty element from Frangelico, a hazelnut liqueur invented by Italian monks.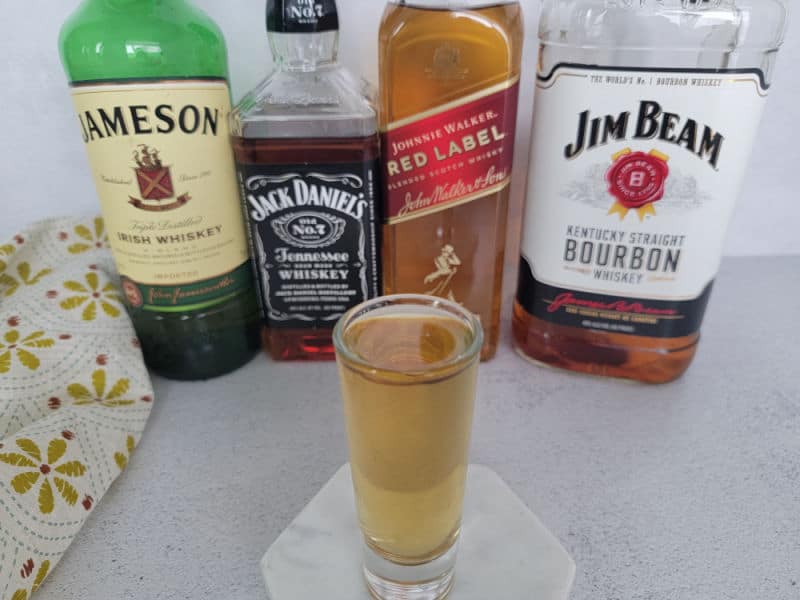 Ingredients: Johnnie Walker Scotch Whisky, Jim Beam Bourbon Whiskey, Jack Daniel's Tennessee Whiskey, Jameson Irish Whiskey
This gut-check shot is similar to the 3 Wise Men Shot, only with four regional whiskeys in one epic shooter. Did you also notice that all start with the letter J?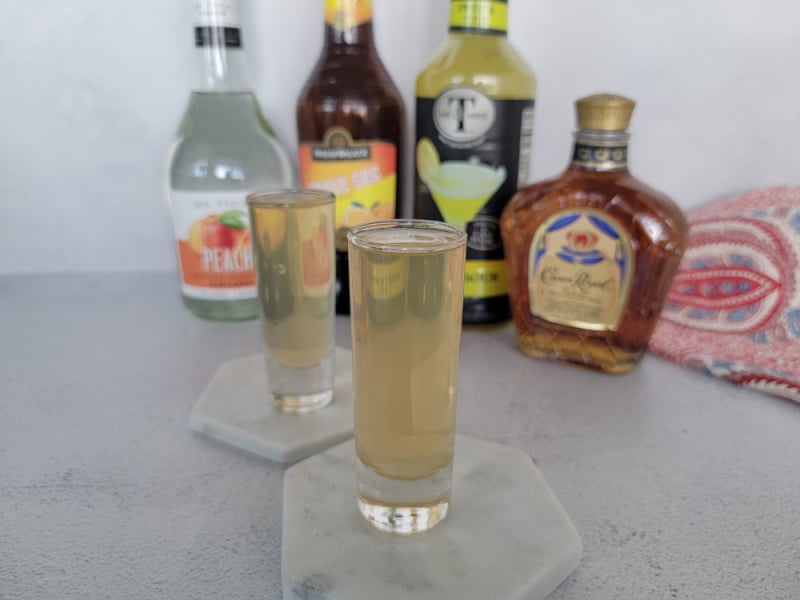 Ingredients: Peach Schnapps, Crown Royal Whiskey, Sweet and Sour Mix, Triple Sec
This potent shot featuring peach schnapps and Canadian Crown Royal likely draws inspiration from the fearsome water moccasin snake.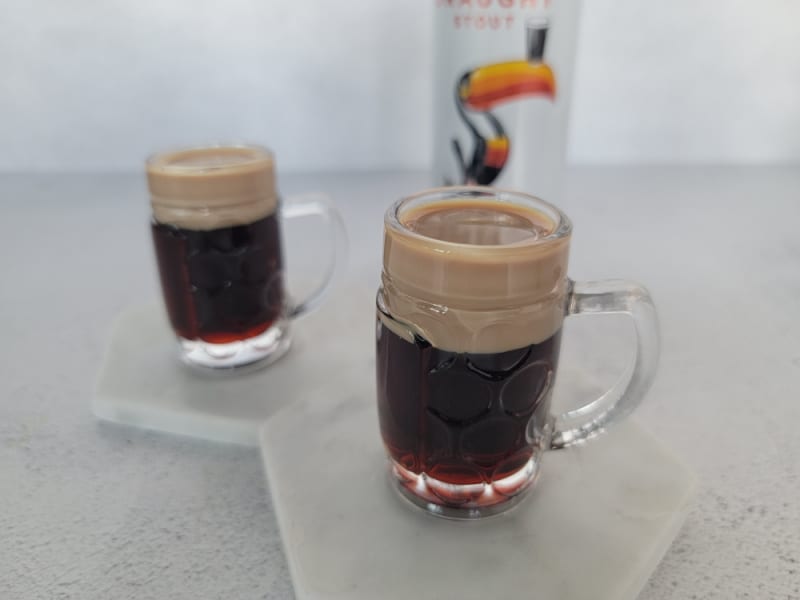 Ingredients: Kahlúa Coffee Liqueur, Bailey's Irish Cream
When served in our mini beer shot glasses, these Kahlúa and Bailey's shots looked like fresh-from-the-tap pours of Guinness.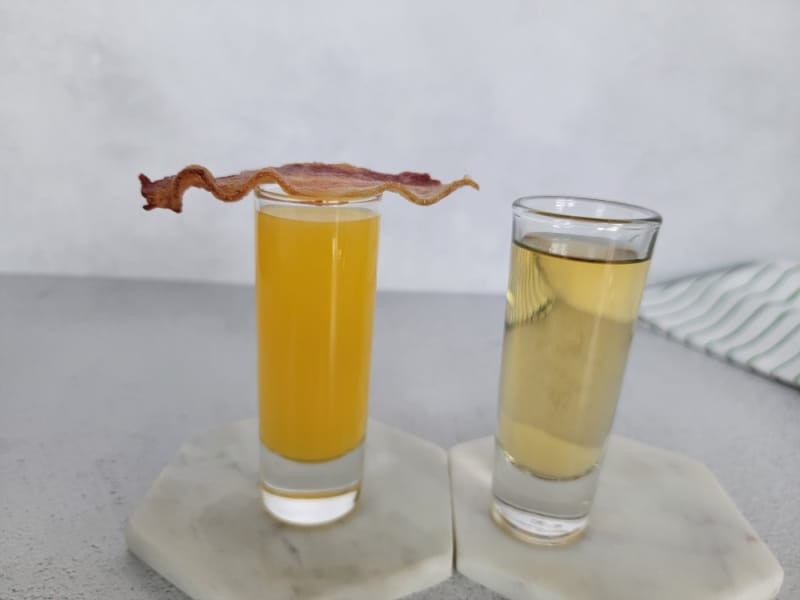 Ingredients: Jameson Irish Whiskey, Butterscotch Schnapps, Orange Juice, Slice of Bacon
Though we aren't sure this is the breakfast of champions, what's not to love about a shot served with orange juice and cooked bacon? Butterscotch schnapps gives this shooter a pleasant character reminiscent of pancakes.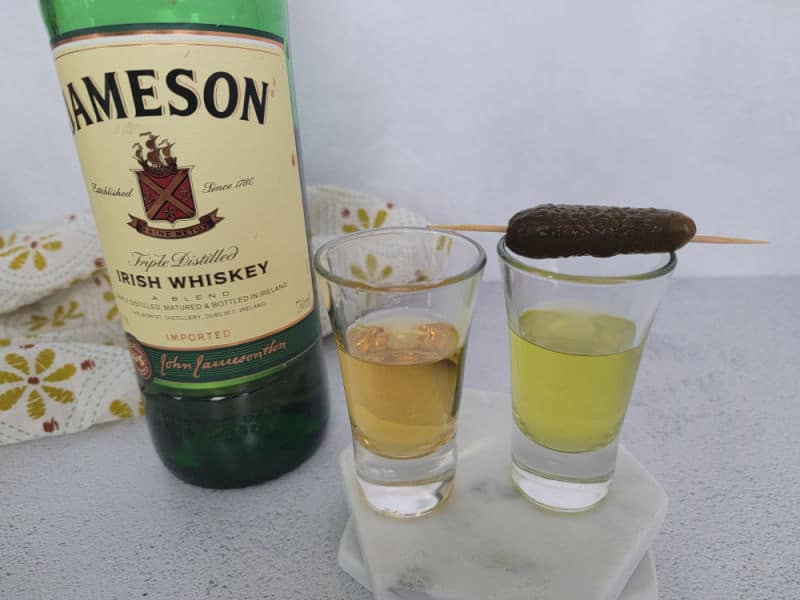 Ingredients: Jameson Irish Whiskey, Chilled Pickle Juice
No St. Patrick's Day celebration is complete without this oddball shot that uses pickle juice as a chaser for Jameson Irish whiskey. While the original kind uses McClure's pickle juice, you can use any you have.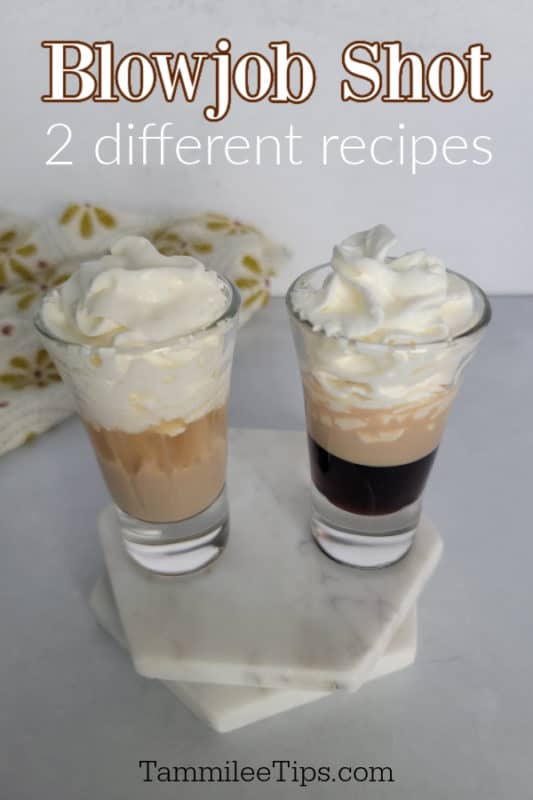 Ingredients: Kahlúa Coffee Liqueur, Bailey's Irish Cream
In the Blowjob Shot, Kahlúa and Bailey's are masterfully layered and topped with whipped cream. Like many shots made famous during the 1980s and 1990s, this shot has a cheeky name. The Bailey's in this recipe can be swapped for amaretto.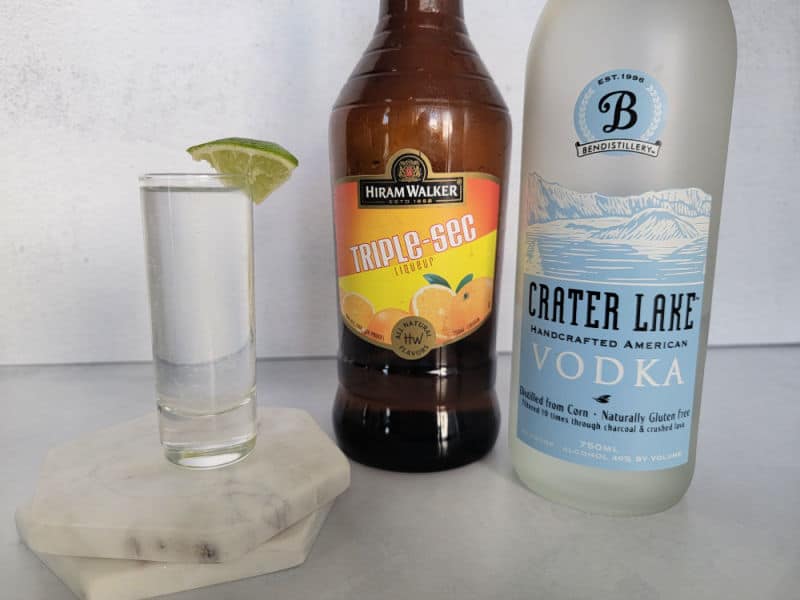 Ingredients: Vodka, Triple Sec, Fresh Lime Juice
Legend claims this elegant yet tasty shooter was developed during World War II at an American Naval Base in Japan.
Its name refers to the Japanese kamikaze bombers known for going on dangerous offensive missions. Kamikaze translates to "divine wind," which may also refer to the balanced experience of this vodka and citrus drink.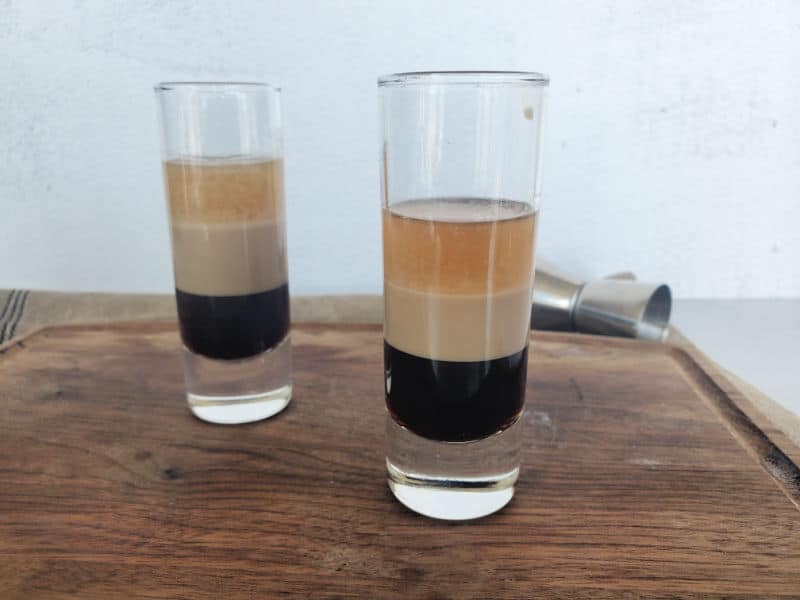 Ingredients: Kahlúa Coffee Liqueur, Bailey's Irish Cream, Crown Royal Canadian Whisky
We discovered the layered Duck Fart Shot at the Red Dog Saloon in Juneau, Alaska. True to form, this take on the B52 shot swaps Kahlúa for Crown Royal.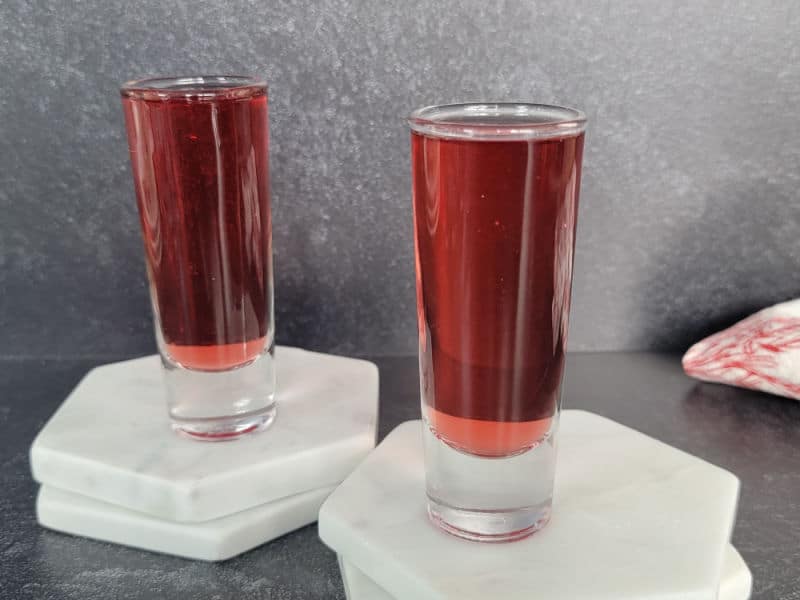 Ingredients: Crown Royal Canadian Whiskey, Amaretto, Cranberry Juice
Not to be confused with a Bloody Mary, smooth Crown Royal, nutty amaretto, and sweet-tart cranberry juice make this sip-worthy shooter feel balanced and tasty.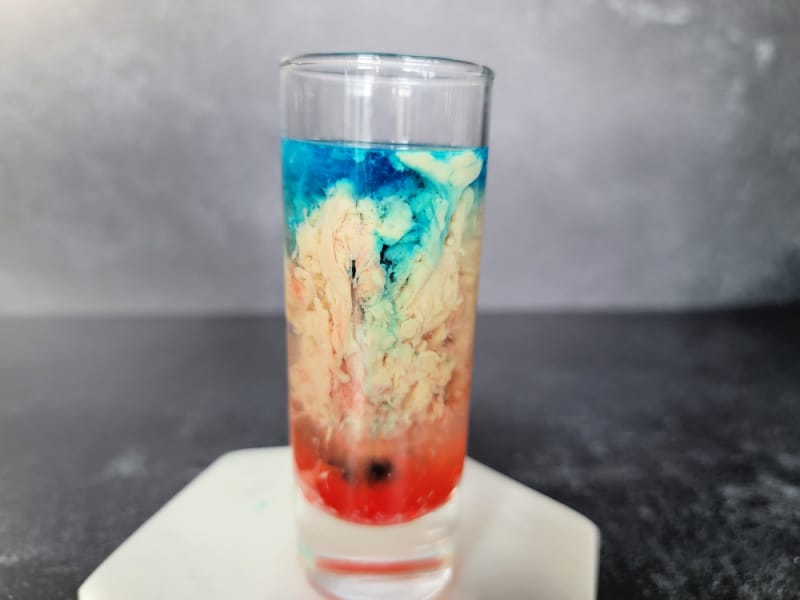 Ingredients: Peach Schnapps, Bailey's Irish Cream, Grenadine, Blue Curaçao
Blue Curaçao and grenadine syrup turn our Brain Hemorrhage Shot into a colorful and visually-pleasing experience. Since the fun colors swirling throughout your shot glass do not resemble anything of this planet, we affectionally named this our Alien Brain Hemorrhage Shot.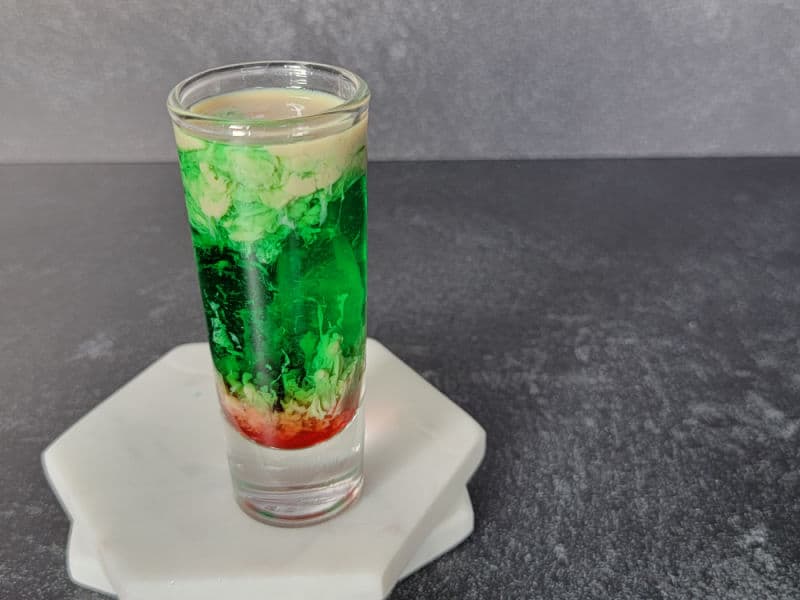 Ingredients: Peach Schnapps, Creme de Menthe, Bailey's Irish Cream, Grenadine
Peach, mint, and Irish cream combine to form a zombie-themed shot, making it a hit for any Halloween party.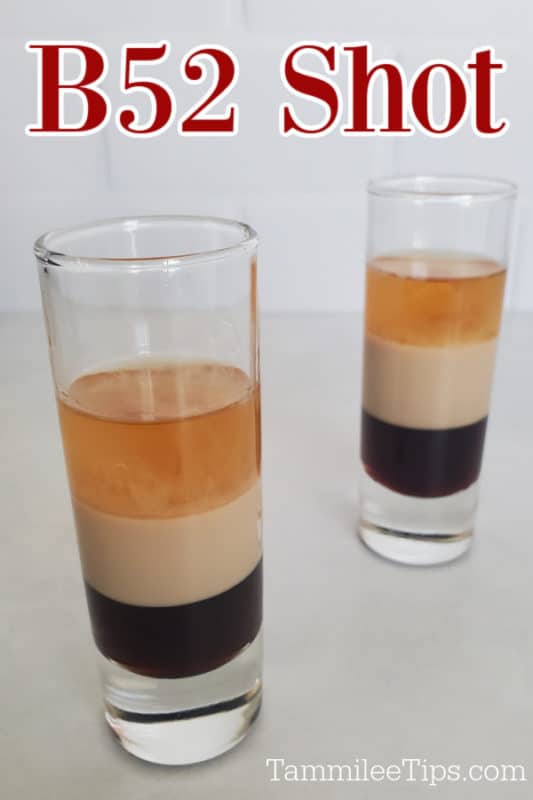 Ingredients: Kahlúa, Bailey's Irish Cream, Grand Marnier
Named after either the B52 bomber or the band the B-52s, this classic layered shot blends Kahlúa, Bailey's, and Grand Marnier for a delicious experience. It is traced back to the Banff Springs Hotel in Alberta, Canada. Drizzle high-proof liquor and carefully light it on fire to create a flaming B52 shot.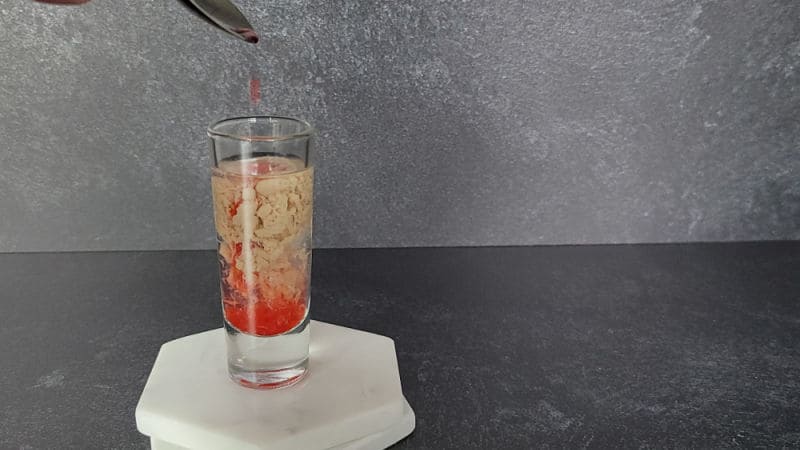 Ingredients: Peach Schnapps, Bailey's Irish Cream Liqueur, Grenadine
The Brain Hemorrhage Shot uses peach schnapps and Bailey's Irish Cream for a creepy yet fun visual of "curdled" brains.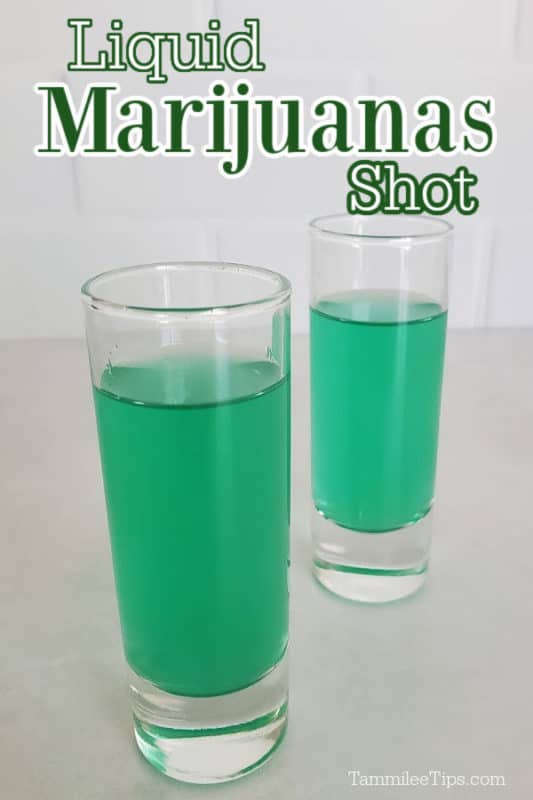 Ingredients: Spiced Rum, Midori Melon Liqueur, Blue Curaçao, Malibu Coconut Rum, Sweet and Sour, Pineapple Juice
This boozy four-liquor shot can also be upsized into cocktail form.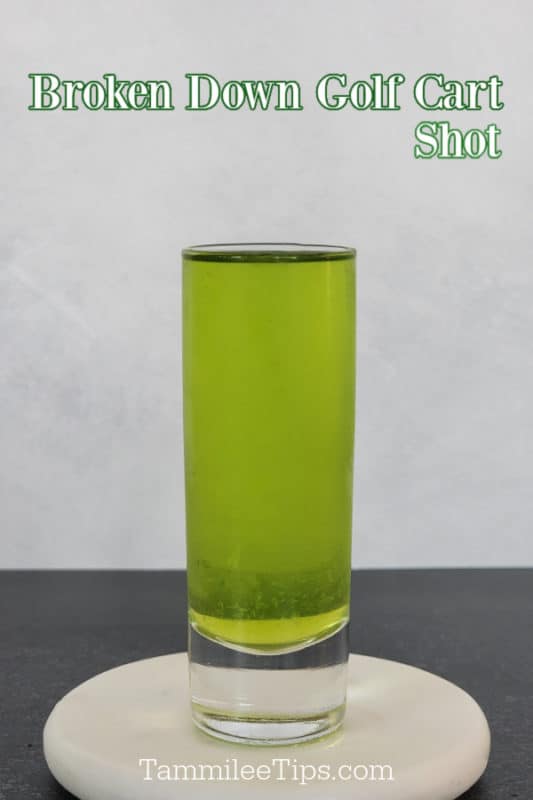 Ingredients: Amaretto Almond Liqueur, Midori melon liqueur, and Lime Juice.
This is the perfect bright green cocktail for golf games, summer parties, or when you want a delicious drink.
This recipe is also featured in our Spring Cocktails Recipe Collection.
Upcoming cocktails we plan to share that have funny names - Slippery Nipple Shot, Mudslide, Fuzzy Navel, Sex on the Beach, A.M.F.(Adios Mother ****er), Red Headed Slut Shot, Chuck Norris Shot, Slap Your Mama Cocktail, Screaming Orgasm Shot, Blue Balls Shot, Bee's Knees, Hair of the Dog, Hocus Pocus, and so many more cocktails with cool drink names.
Funny Non-Alcoholic Drink Names
It always makes me giggle a bit when I say frosted coffee. I am not sure why but every time my husband orders one at Chick fil A I giggle.
This bright blue mocktail is great for kids! Flavored with coconut and garnished with a gummy fish everyone will love this fun copycat drink.
This strawberry lemonade copy cat recipe is so easy to make and tastes amazing!
Purple Cow
Kids will love the combination of vanilla ice cream and grape Nehi soda in a float or shake.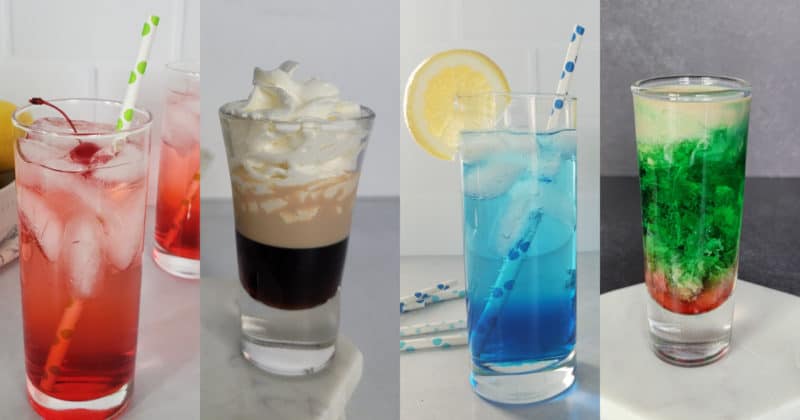 Favorite Cocktail Tools
These are some of our favorite cocktail tools for making epic cocktails with Funny Drink Names.
Ice Cube maker - This ice cube maker produces the most amazing cubes of ice perfect for cocktails. It easily fits in the freezer and you can make up to 3 trays of round ball ice at a time.
2 ounce shot glasses - We love these 2 oz shot glasses especially for layered shots.
Bar Spoon - Bar spoons help to create layers in the cocktail shot. They fit perfectly into the cocktail shot glass.
Cocktail Shaker – This cocktail shaker comes with a fantastic set of tools. You want to pick a cocktail shaker that is easy to hold and shake.
Stemless Martini Glasses - These stemless martini glasses are fantastic.
Martini Glass - We like the look of the classic martini glass
Jell-O Shot Cups - We suggest using two-ounce Jell-O shot cups.
OXO angled jiggers - these are our go-to measuring tools for cocktails. They work perfectly for pouring in layers for cocktails.
Margarita Glasses - We like the look of classic margarita glasses but you can use any glass for this great cocktail.
Champagne Flutes - We love the look of classic champagne flutes for Valentine's Day cocktails!
Hurricane Glass - For a truly tropical look serve this drink in a hurricane glass.
Copper Mule Mugs  - Copper Mule Mugs are the classic way to serve Moscow Mules. The copper mugs keep them nice and cold and look amazing.
Old Fashion Glass/Rocks Glass - Classic rocks glass for cocktails.
Cute Coffee Mugs - We really like the clear insulated coffee mugs that show off how epic your drink looks.
Printable recipe card instructions are available in each blog post. Simply click on the cocktail name and it will take you to the individual blog posts.
Nutrition information, including calories, protein, calcium, carbohydrates, fiber, vitamin c, potassium, cholesterol, sodium, trans fat, monounsaturated fat, polyunsaturated fat, and more, will vary depending on the products used.
We hope you enjoyed our favorite funny drink names! We are working on a lot more cocktail recipes and fun!
Do you love recipes? Check out our copycat recipes, dessert recipes, and our CrockPot Recipes.
Follow Tammilee Tips on MSN, Facebook, Instagram, and Pinterest, for all of our recipe posts.