Today, we bring you easy 2 ingredient cocktails and shots that require as little effort as they do ingredients from your home bar. Bonus: You can easily upsize the shots to cocktail form if you want to enjoy more of them!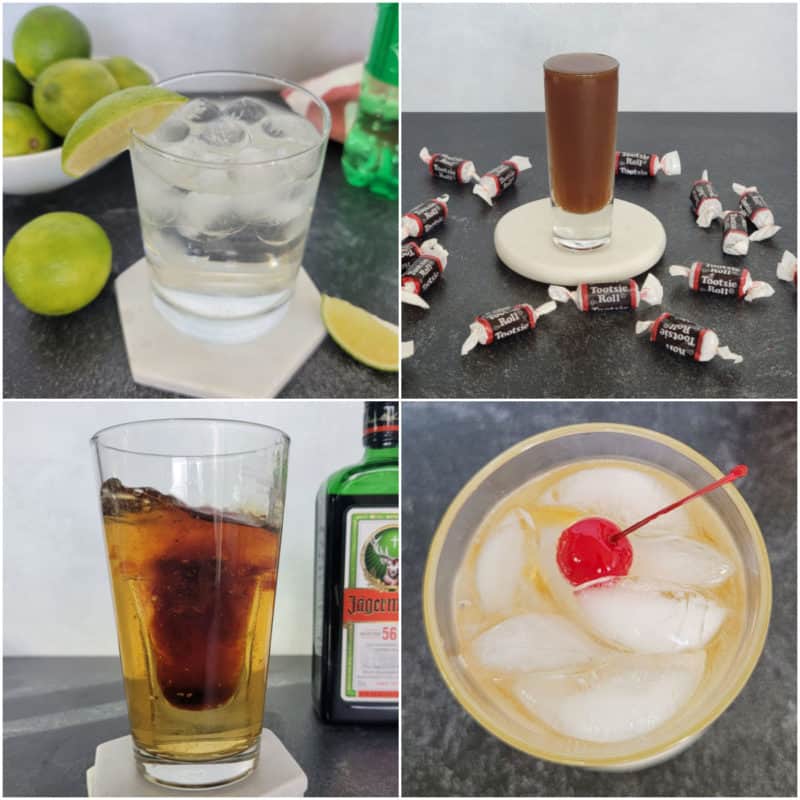 Cheers to Simplicity: 20 Two Ingredient Cocktails for Any Occasion
Today's cocktail scene is more robust than ever! Everywhere we've traveled and dined, we've seen expert bartenders whip up cocktails in the most creative ways.
Some mixology experts riff off the grand old classics to breathe new life into them. In contrast, others invent standalone libations that play with flavor, texture, and ingredients found elsewhere on the gastronomic spectrum.
While complicated beverages that result in pretty visuals and exhilarating tastes are experiences to behold, many home drinkers typically don't want to go through all the effort to serve themselves or their loved ones on any random day of the week.
These delicious 2 ingredient mixed drinks are super easy to make and taste great.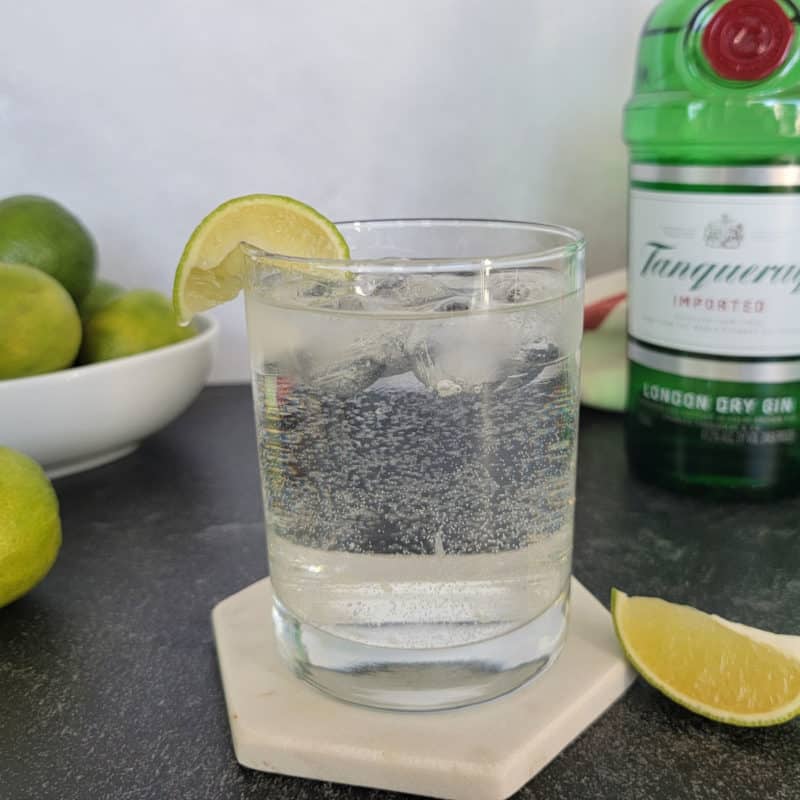 Ingredients: Gin, Sprite
The simple format of this two-ingredient cocktail lends well to different twists and turns you can use to make it your own.
At the simplest, you can garnish it with a fresh lime wedge, squeeze some lime juice for a zesty punch, or add mint leaves to refresh the palate. To kick up the flavor, use a flavored gin, like cucumber or strawberry, or any variation of Sprite you enjoy.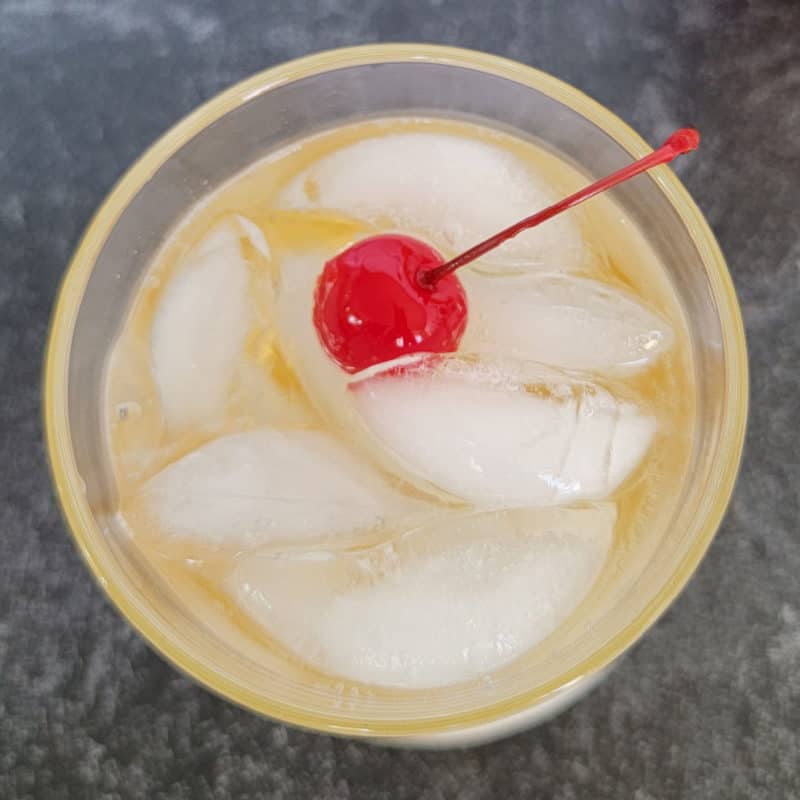 Ingredients: Fireball Cinnamon Whisky, Ginger Ale
Once sweater weather hits, we love using Fireball to infuse warming cinnamon flavors into our cocktails - we promise that it's way more versatile than the ways it was used in basement parties back in the day!
The ginger ale complements the cinnamon well and adds a refreshing fizziness that removes the need for a cocktail shaker and invites you to sit back and relax after a long day.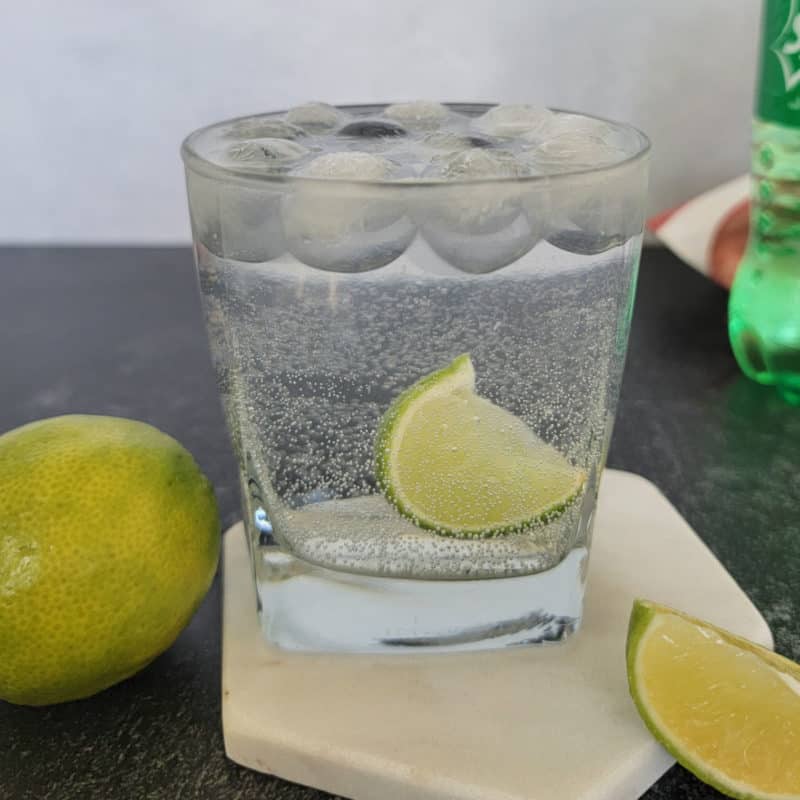 Ingredients: Vodka, Sprite
We know that many folks love vodka for its clean, neutral flavor. Similarly, pour-and-serve cocktails mean you don't need to be a trained bartender to make a solid drink.
In this two-ingredient cocktail, vodka and lemon-lime soda combine for one of the easiest cocktails you can make! As with our gin and Sprite cocktail, use flavored vodka or soda to add your signature twist to this versatile drink.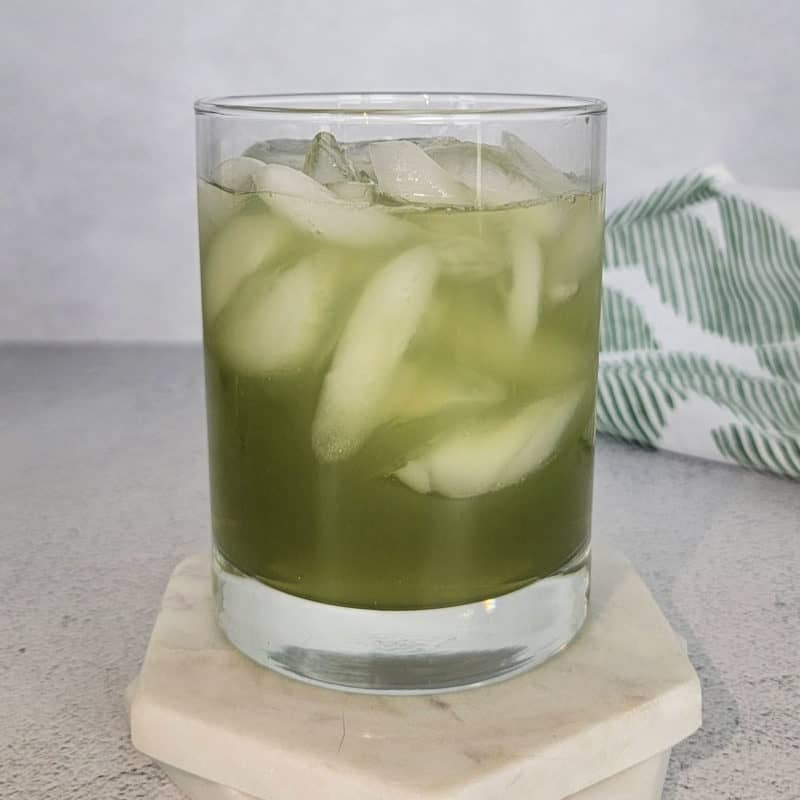 Ingredients: Hpnotiq, Hennessy Cognac
This cocktail's signature ingredients give it an elevated, mixologist-approved feel, while the pour-and-serve preparation makes it easy to batch-prepare and prepare for yourself in minutes.
While you can adjust the proportions to taste, we recommend sticking with equal parts to keep it green, as more Hpnotiq will turn it blue, and more Hennessy will muddy the color. Serve this themed cocktail for your next Marvel movie night or adult superhero party!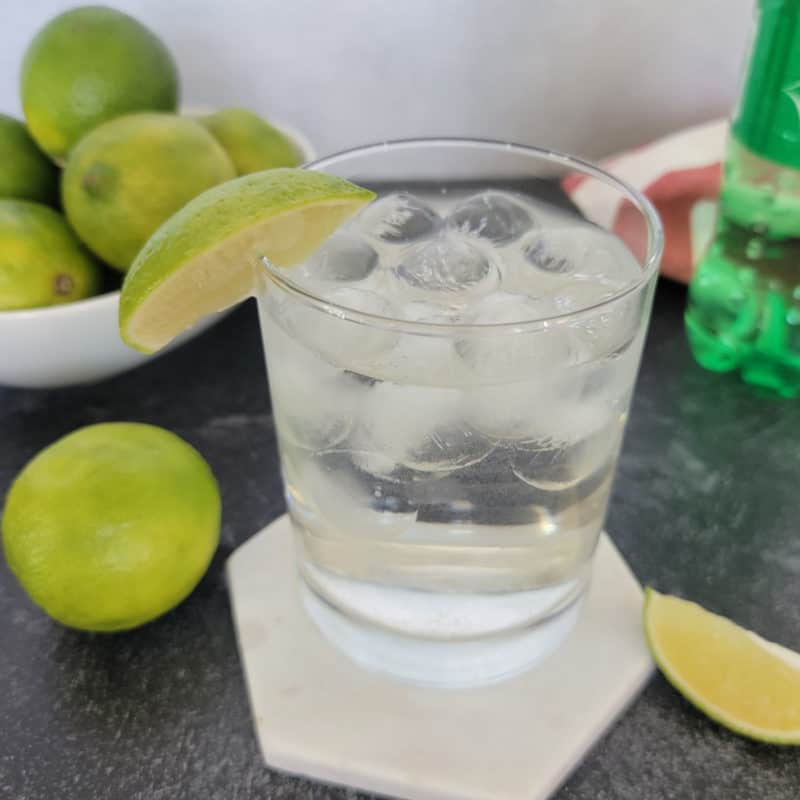 Ingredients: Rum, Sprite
While still a neutral spirit, rum has sugary notes that make it fantastic for springtime or summertime sipping.
We used an aged white rum in our no-mix drink, but you can experiment with dark, spiced, and flavored rum, such as coconut or peach, for a different taste.
Vegan drinkers should consider that not all flavored rum is animal-friendly, as some use animal by-products during processing. Malibu Coconut Rum is one example.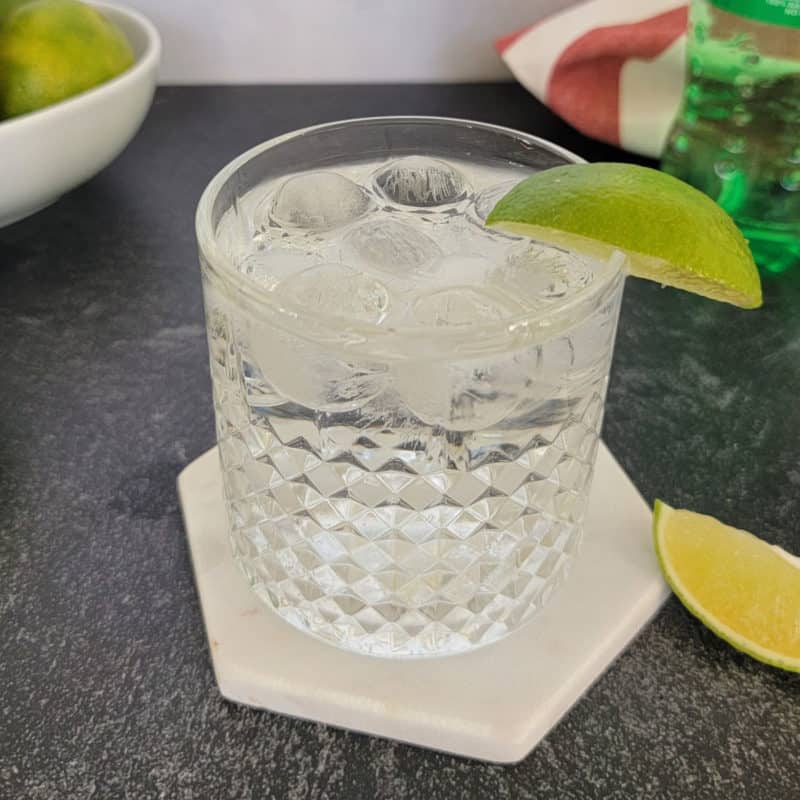 Ingredients: Tequila and Sprite
Hectic days are living proof of why high-proof cocktails that come together in minutes remain popular.
Wordplay aside, this tequila-based Sprite cocktail hits the spot when you want the taste of a margarita without the effort of assembling multiple ingredients and shaking up a drink.
You can use neutral silver tequila, aged reposado tequila, or even mezcal if you enjoy this smoky spirit.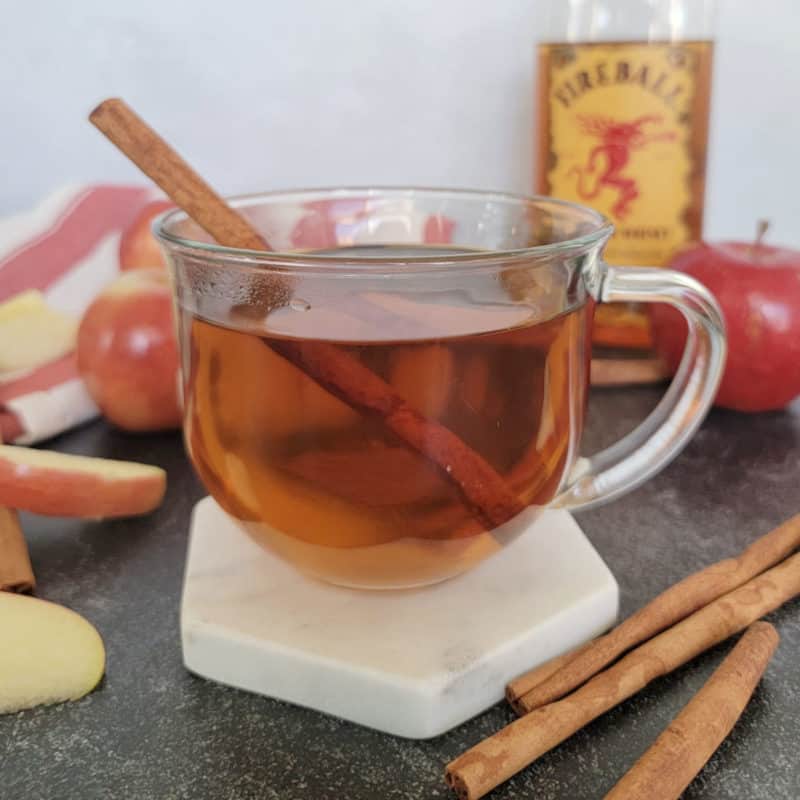 Ingredients: Fireball Cinnamon Whisky, Hot Apple Cider
This simple hot libation is another testament to our love for using Fireball in cocktails as soon as the first autumn chill prompts us to swap our summer clothing for sweaters and boots.
Apple cider and cinnamon will always be a winning fall combination, and the cooler months make a warm beverage particularly comforting. We drink ours in clear mugs to protect our hands and enjoy the drink's color, but you can serve yours in regular coffee mugs with handles if you don't have them.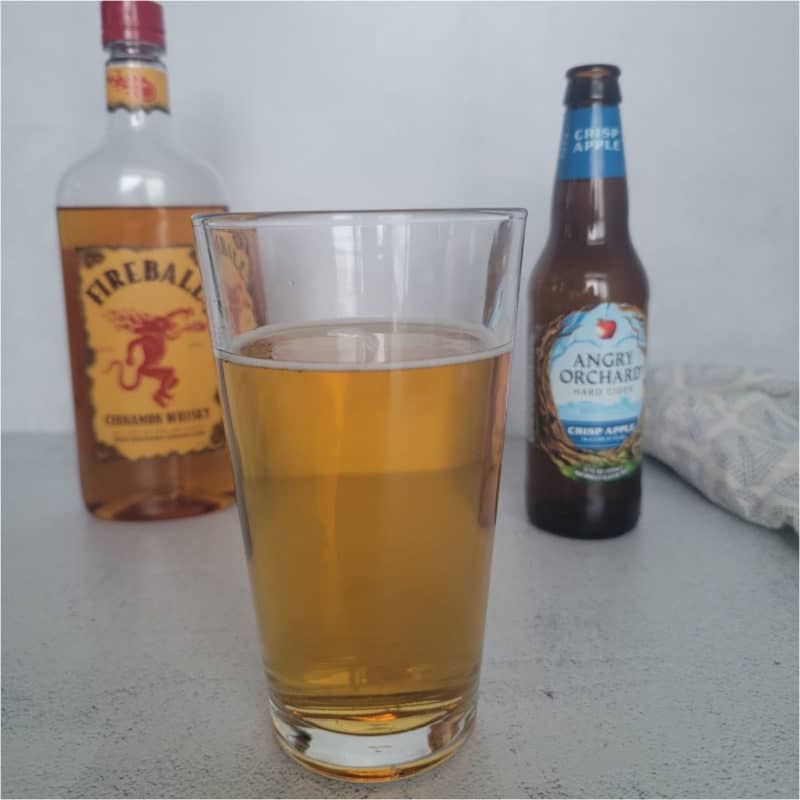 Ingredients: Fireball Cinnamon Whisky, Hard Apple Cider
The Angry Balls Drink is our ice-cold counterpart of the Fireball Apple Cider that has its flavors but adds a double-whammy of hard apple cider to keep spirits warm.
We use Angry Orchard Crisp Apple Cider, which you can easily find anywhere that sells beer and wine, but your favorite local craft cider would be just as yummy, if not more delicious!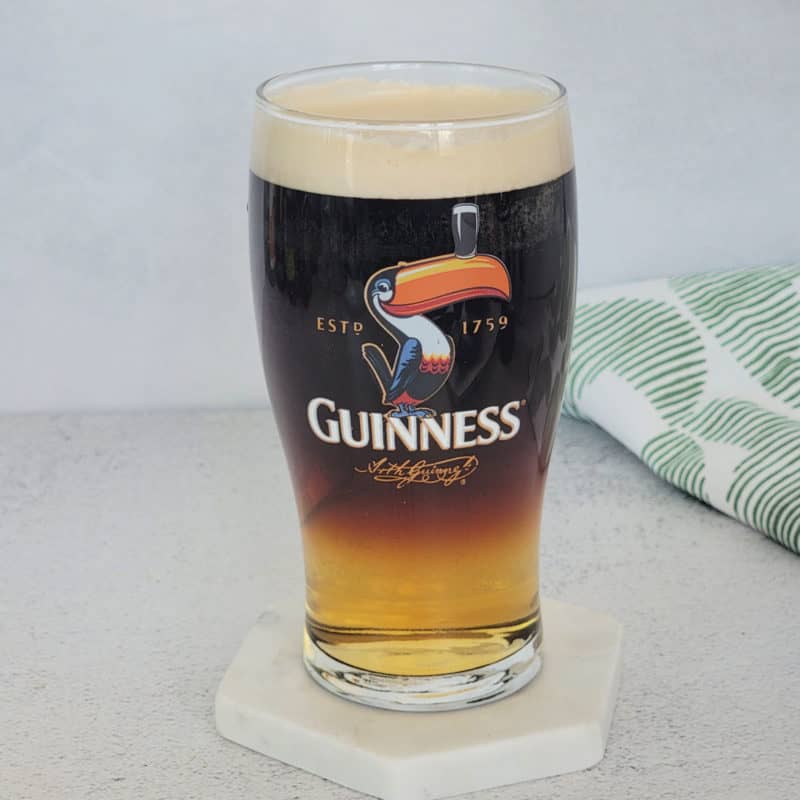 Ingredients: Guinness Draught Stout Beer, Hard Cider
This Guinness and Cider beer cocktail is our twist on the Snakebite drink, a mixture of lager and alcoholic cider popular at pubs across the pond.
It's fantastic for celebrating St. Patrick's Day, as this holiday of all things Irish never goes without a few pints of the most-known Irish stout, and is a fond reminder of the time I learned to pour a pint of Guinness at the Guinness Storehouse in Dublin a few years ago.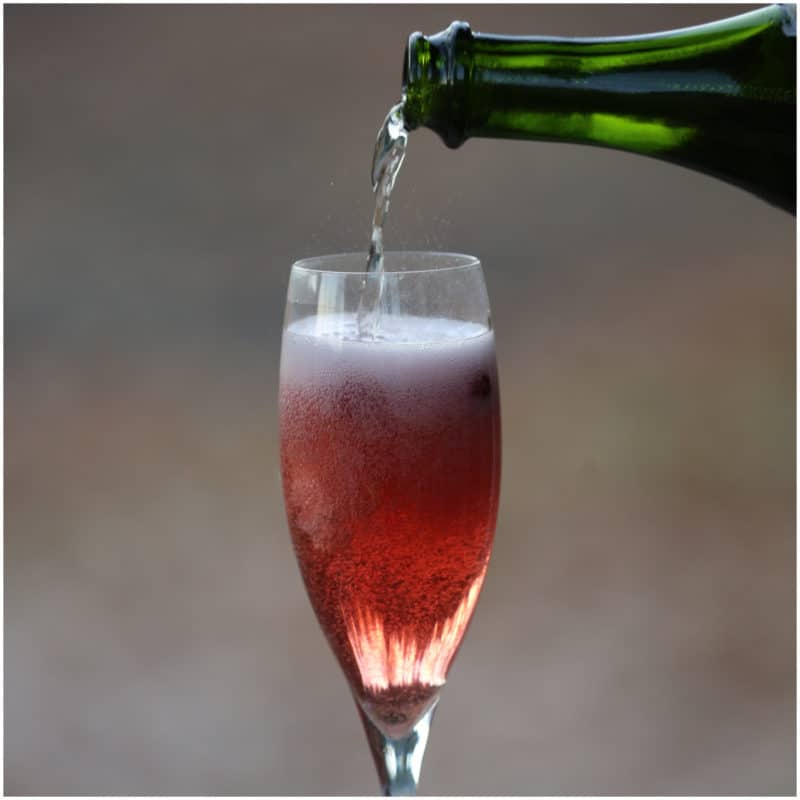 Ingredients: Champagne, Cranberry Juice
Raise a holiday toast to this bubbly seasonal libation that gets its festive red color from cranberry juice.
You can adjust the ratio of champagne to cranberry juice to taste, as the cranberry juice is pigmented enough to keep the two-ingredient cocktail red.
Feel free to swap the champagne with Prosecco, cava, or any sparkling wine you enjoy. You can even float sugared cranberries in each champagne flute for extra winter cheer.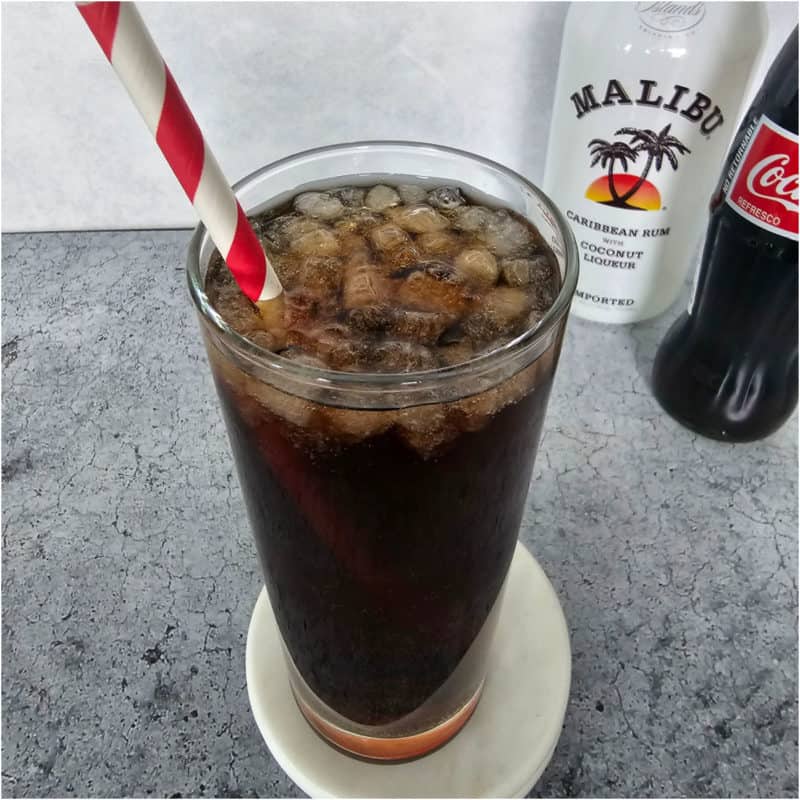 Ingredients: Malibu Coconut Rum, Coke or Diet Coke, or Flavored Coke
Easy Malibu and Coke Cocktail that tastes fantastic. The perfect combination of coconut rum and Coca Cola.
2 Ingredient Shots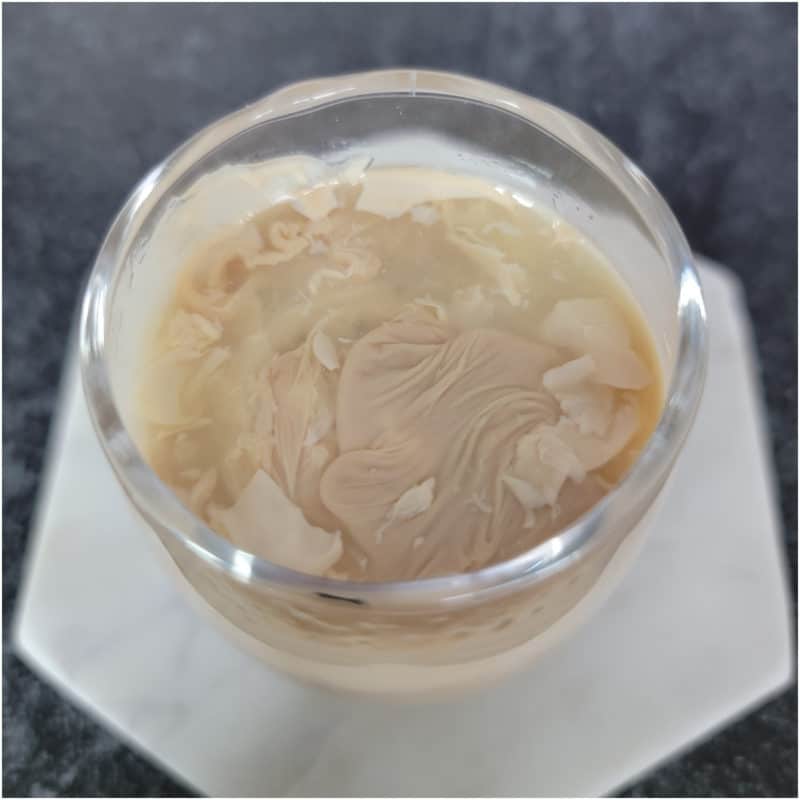 Ingredients: Bailey's Irish Cream, Lime Juice
This hard-to-stomach layered party shooter takes advantage of a standard chemical reaction to produce an experience you'll need to try at least once, maybe not for the right reasons.
We use Bailey's Irish Cream and freshly squeezed lime juice, but you can use any Irish cream and bottled lime juice. We have a homemade Irish cream recipe if you want to go the DIY route!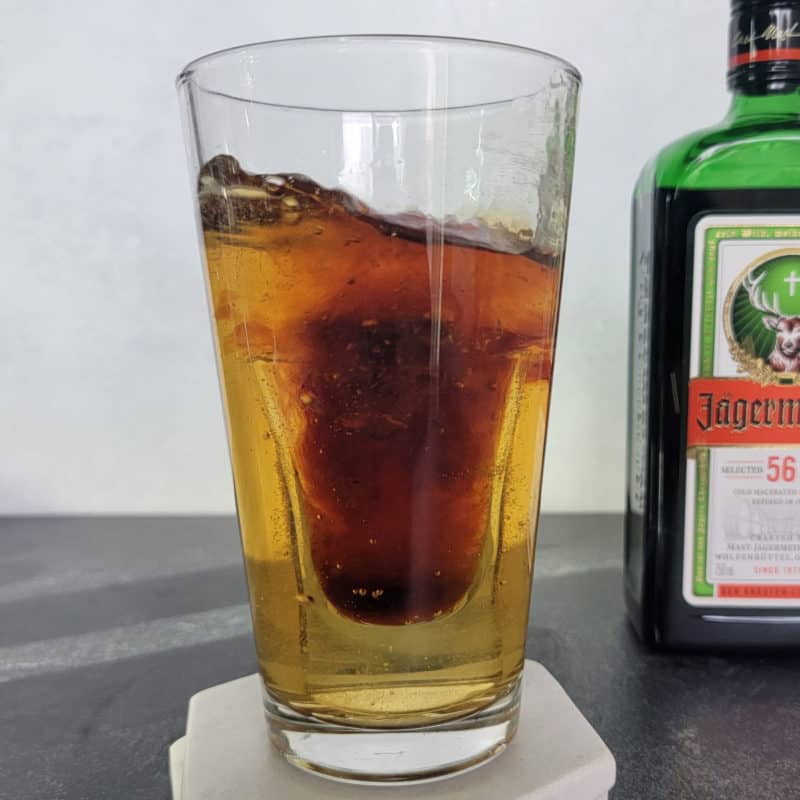 Ingredients: Jägermeister Liqueur, Red Bull
The Jäger Bomb has made waves in party scenes everywhere for its speedball effect, which involves countering a shot of anise-flavored, 35-percent-ABV Jägermeister with the self-professed "energy drink that gives you wings."
The "bomb" effect comes from its preparation, which we photographed in the recipe post. While you may think it was invented in a high-octane party destination like Vegas, sources trace its origins back to the 1997 Tahoe area.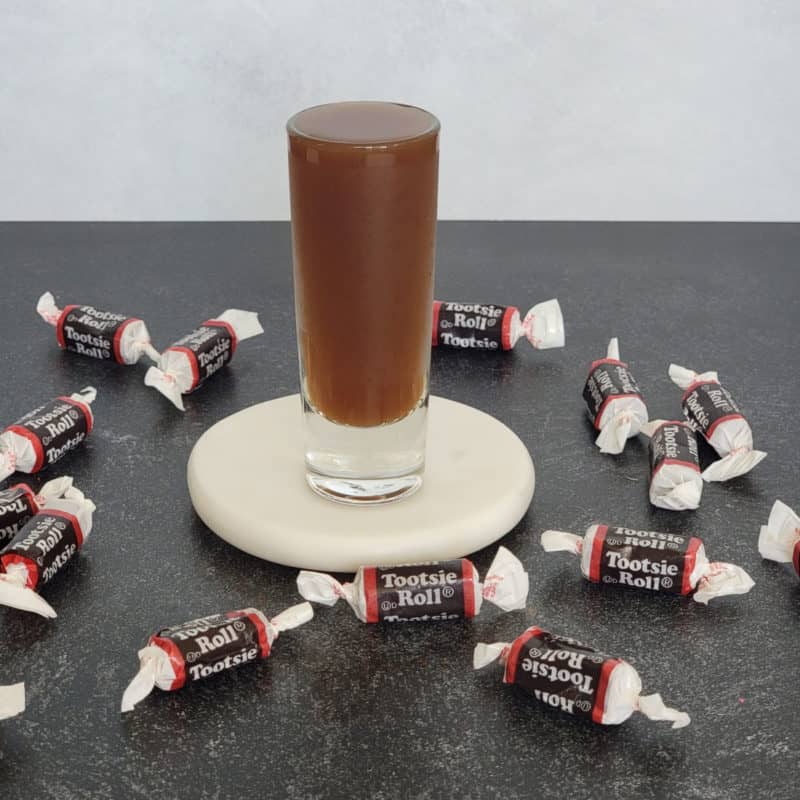 Ingredients: Kahlúa Coffee Liqueur, Orange Juice
We were as surprised as you may be now to discover that mixing Kahlúa and orange juice produces the flavor of the chewy chocolate candy classic that's adorned Halloween candy bowls since our childhood.
Any coffee liqueur captures this shooter's taste, but we recommend pulp-free orange juice for the smoothest texture. You can swap the orange juice with triple sec for a boozier shot.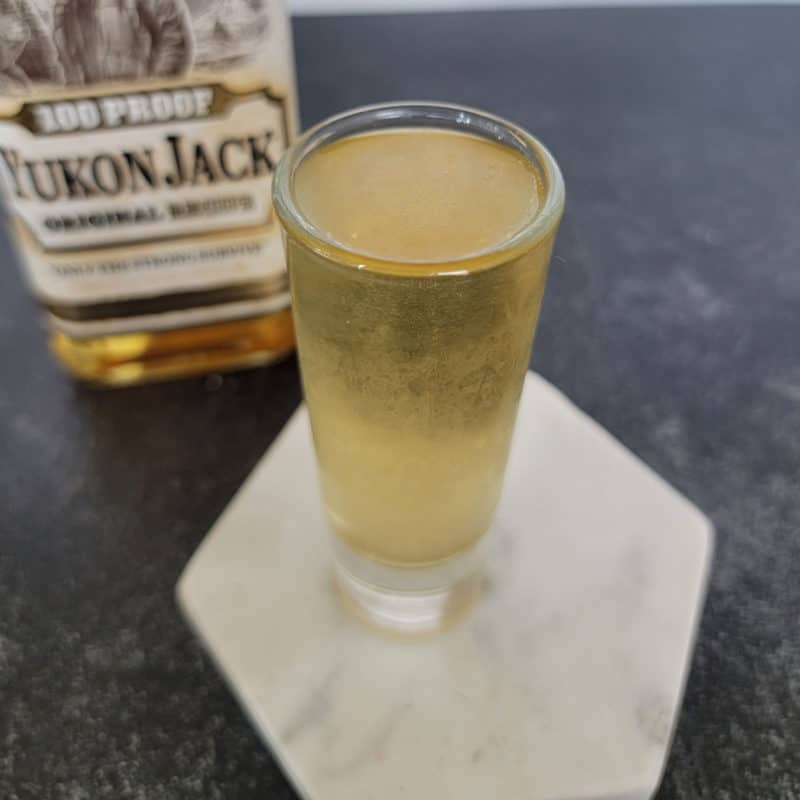 Ingredients: Yukon Jack Whiskey, Rose's Lime Juice
The Snakebite Shot proves you don't need many fancy ingredients to create a memorable drink experience; quality ingredients speak volumes for themselves!
In this not-for-the-faint-of-heart shot, we combine Yukon Jack, a honey-based, 100-proof Canadian whiskey, and lime cordial for a head-turner we've heard not all bartenders are willing to serve.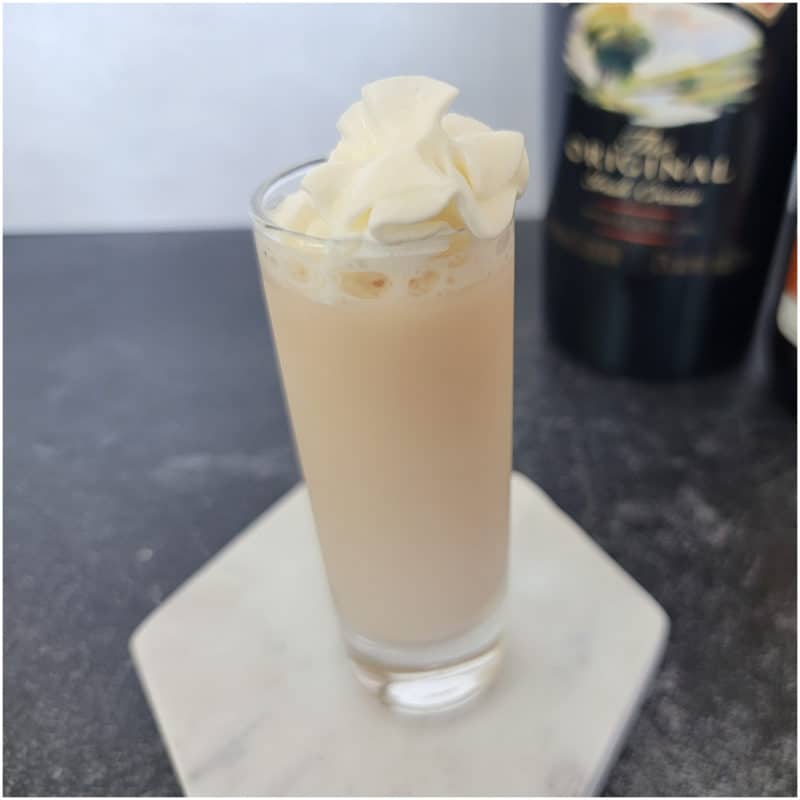 Ingredients: Bailey's Irish Cream, Butterscotch Schnapps, Optional Whipped Cream for Garnish
This decadent shot featuring sweet Irish cream and warm, brown sugar-flavored butterscotch schnapps is one of many retro cocktails that emerged in the 80s with innuendo-fueled names, and we encourage you to use your imagination about how this flesh-colored one got its forward name.
We have other drinks with funny names for a themed night that will have everyone rolling as they learn the names of their beverages!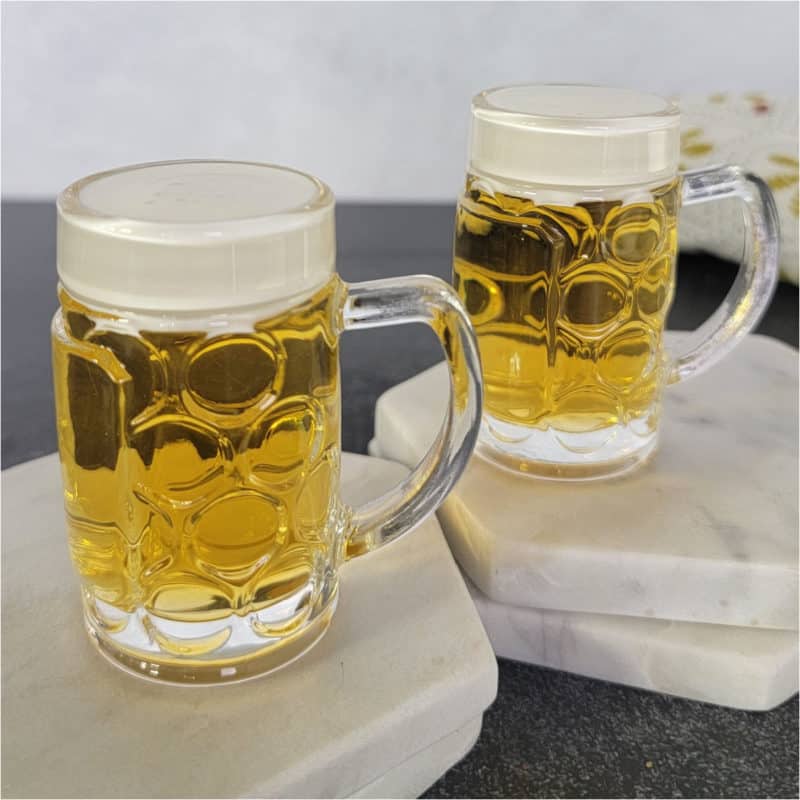 Ingredients: Licor 43, Heavy Whipping Cream
Not everything is what it seems when it comes to this fun layered party shot. While it deceivingly looks like a petite pint of beer, Licor 43, a smooth Spanish liqueur with vanilla and citrus notes, combines with heavy whipping cream, which simulates the frothy head of a draft-poured beer, for an inventive shot that tastes like an orange creamsicle.
We love serving this shot in mini beer glasses to keep up the illusion.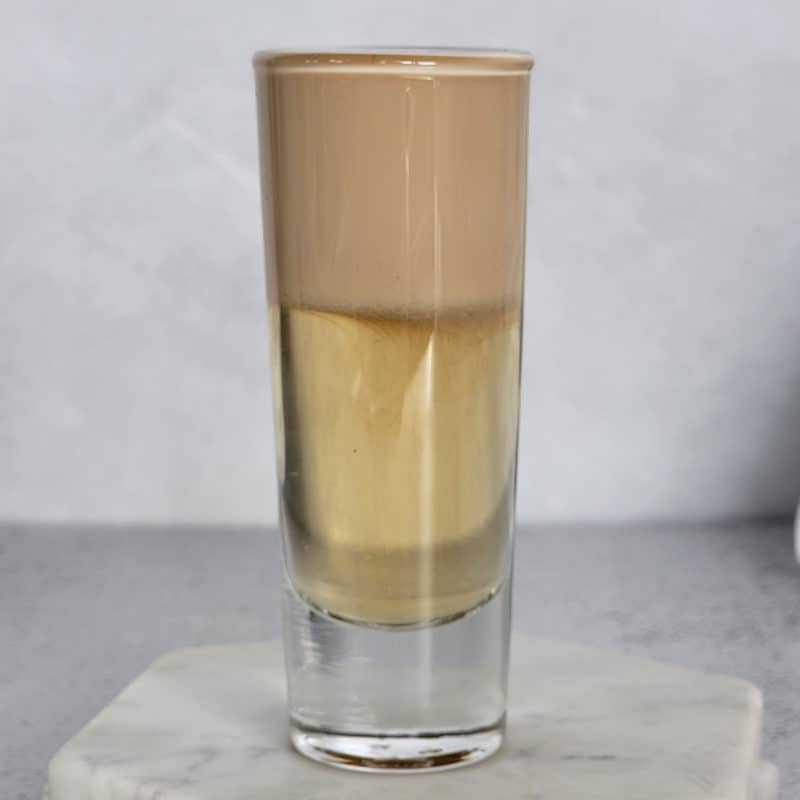 Ingredients: Frangelico, Bailey's Irish Cream
What's in a name? In the Nutty Irishman's case, hazelnut-flavored Frangelico and sweet Bailey's Irish Cream combine for a simple dessert shot you can upsize into a cocktail or add to a cup of coffee or hot chocolate.
Whichever way you serve it, the flavors are fantastic for St. Patrick's Day brunching. We have a Bailey's Whipped Cream recipe if you want a complementary topping that'll allow you to treat yourself.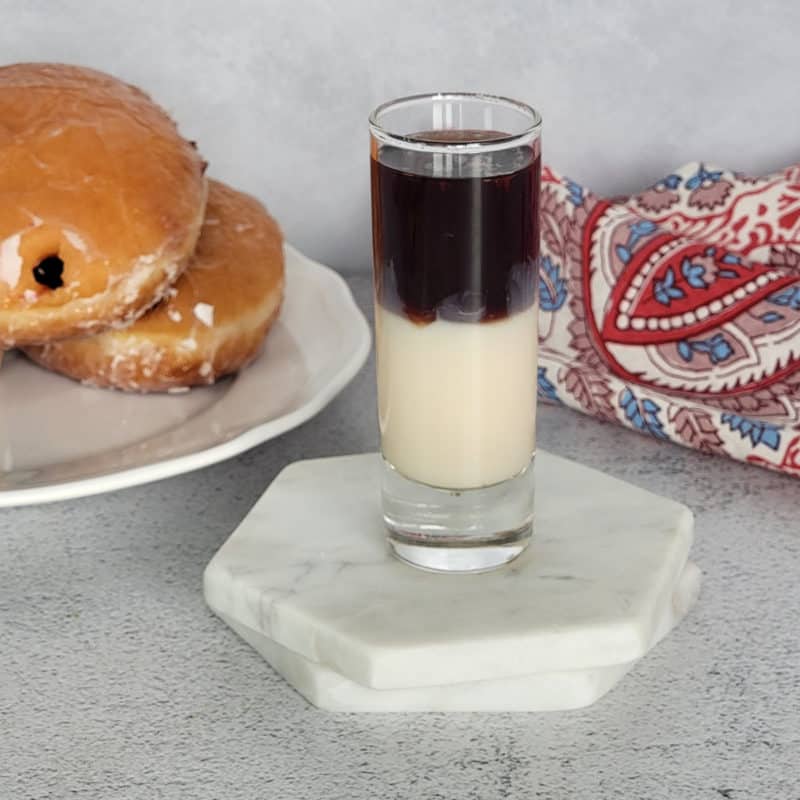 Ingredients: RumChata, Chambord
It's no secret that we're big fans of fun party shooters that go beyond guzzling straight liquor with a hint of mixer.
The epic jelly donuts from one of our favorite Spokane donut shops inspired this 100-percent-brunch-approved shot, which layers RumChata and the French raspberry liqueur Chambord for a shot that tastes just like a jelly donut.
We have a guide to layered shots if you need a refresher on this bar technique.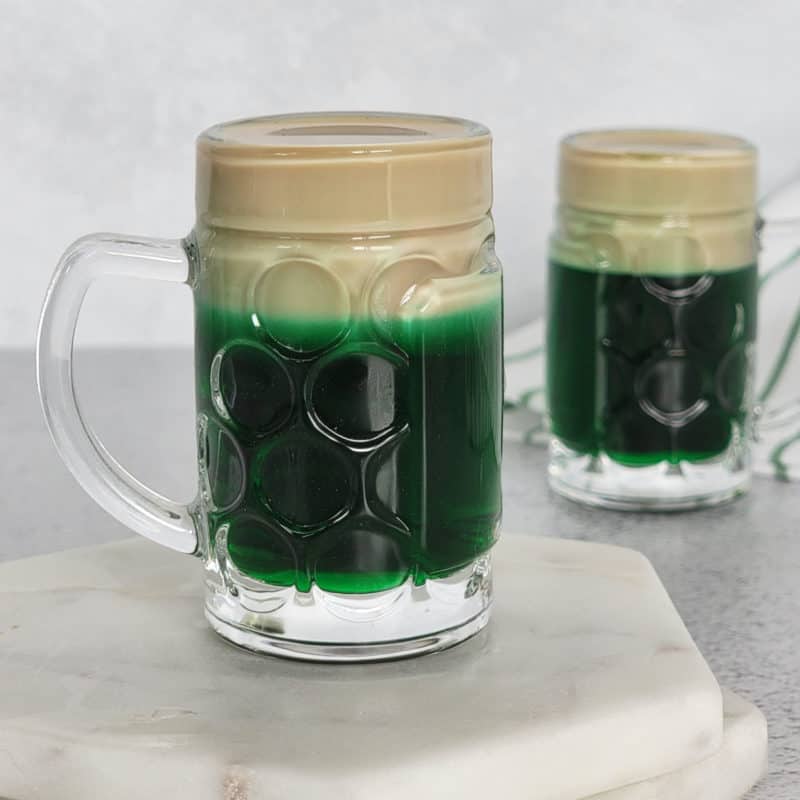 Ingredients: Green Creme de Menthe, Bailey's Irish Cream
This bright-eyed green shot manifested itself the year I dove into making a spread of all the St. Patrick's Day party dishes and drinks I could remember.
While you'd be hard-pressed to find it at a traditional Dublin pub, it's a palatable sweet mint cream shot infused with familiar St. Patrick's Day flavors worthy of a hearty Irish toast.
As with our Mini Beer Shot, we enjoy serving the Leprechaun Beer Shot in mini beer shot glasses.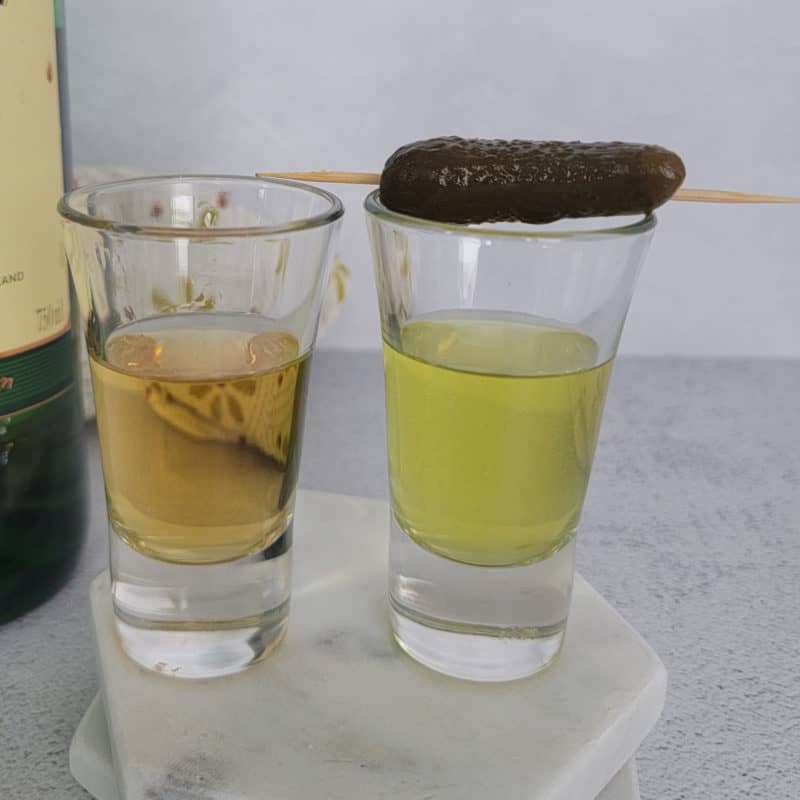 Ingredients: Jameson Irish Whiskey, Pickle Juice
While many shots came to fruition for taste or due to fads, did you know that there's science behind the Pickleback Shot?
Experts claim that chasing whiskey with pickle juice cuts the harshness of the whiskey, resulting in a milder drinking experience for your throat and stomach.
Combining briny mixers with strong spirits isn't a new concept, as anyone who enjoys dirty martinis knows. If you like this shot, you'll love our Dill Pickle Martini!
Our Favorite Bartending Tools
OXO angled jiggers - these are our go-to measuring tools for cocktails. They work perfectly for pouring in layers for cocktails.
2 ounce shot glasses - We love these 2 oz shot glasses especially for layered shots.
Bar Spoon - Bar spoons help to create layers in the cocktail shot. They fit perfectly into the cocktail shot glass.
Copper Mule Mugs  - Copper Mule Mugs are the classic way to serve Moscow Mules. The copper mugs keep them nice and cold and look amazing.
Cocktail Shaker – This cocktail shaker comes with a fantastic set of tools
Stemless Martini Glasses - These stemless martini glasses are fantastic.
Martini Glass - We like the look of the classic martini glass
Jell-O Shot Cups - We suggest using two-ounce Jell-O shot cups.
Fun Cocktail Recipe Collections
Chambord Cocktails - Great cocktail recipes made with delicious Chambord Liqueur.
Vodka Shot Recipes - Easy Vodka Shot Recipes that anyone can make! From classic cocktail shots to fun holiday shots, you will find the perfect drink.
Peppermint Schnapps Cocktails - Are you wondering what to make with a bottle of Peppermint Schnapps? Don't worry these easy Peppermint Schnapps Drinks taste amazing
Tequila Cocktails - Easy drinks made with tequila including margaritas and more.
Blue Cocktails - Blue cocktails are as eye-catching as they are tasty. Here are our blue cocktail favorites that can be made from home without needing to leave home and open a bar tab.
Check out all of our Cocktail Recipes
Do you love recipes? Check out our copycat recipes, dessert recipes, and our CrockPot Recipes.
Follow Tammilee Tips on MSN, Facebook, Instagram, Pinterest, and Twitter for all of our recipe posts.