How to make Stovetop Christmas Potpourri in minutes! The perfect way to bring holiday cheer and scent to your home! These can also be made into a great homemade holiday gift!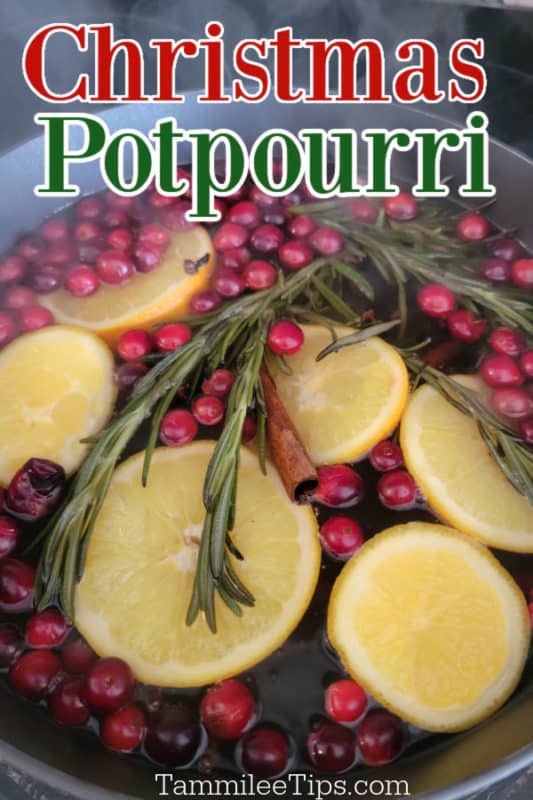 Stovetop Christmas Potpourri
I love being able to make stovetop potpourri perfect for Christmas. It is an easy way to make sure our house smells amazing.

We have six cats and I am always worried that I have gone nose blind to any scents in our house. Making Christmas Stovetop Potpourri is a great way to make sure any scents are seasonal and lovely.
You may have noticed I have been on a cranberry recipe kick. I bought way to many cranberries and have been finding a ton of fun ways to use them this holiday season. This Xmas Potpourri was the perfect way to use up the last cranberries in the bag.
It doesn't matter if the cranberries are a little tired or mushy they work great in this potpourri. I also used some random rosemary I had in the fridge, a few cinnamon sticks, a couple of whole cloves, and an orange that was ready to be used.
It takes minutes to prepare this scent booster and it will last for hours. All you have to do is add a bit more water as you see it simmering down to low.
If you have sad produce in your house that you know is on its last leg but you also feel like there has to be a way to use it....there is!!! Simmering potpourri!!!
You can also make this simmering Holiday potpourri in a slow cooker. The combination of cinnamon, cloves, fresh cranberries, oranges, and fresh rosemary smell like Christmas.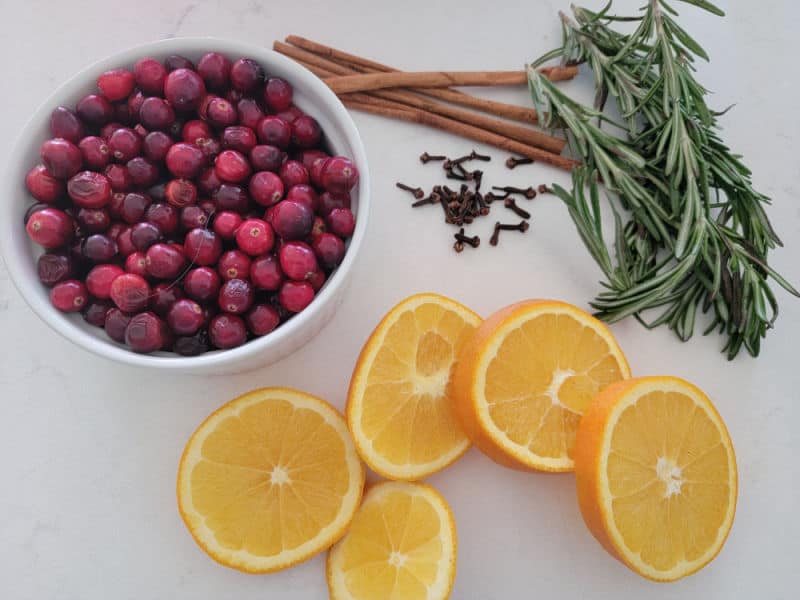 Ingredients
Cranberries
Fresh Oranges
Rosemary Sprigs
Water
Oranges - If you don't have an orange you can use a grapefruit, tangerine, lemon.
Additional Simmering Potpourri Ingredients
You can change up the scent by adding in whole allspice, star anise, bay leaves, nutmeg, vanilla extract, apples, pears, evergreen tree cutting (the part with the pine needles),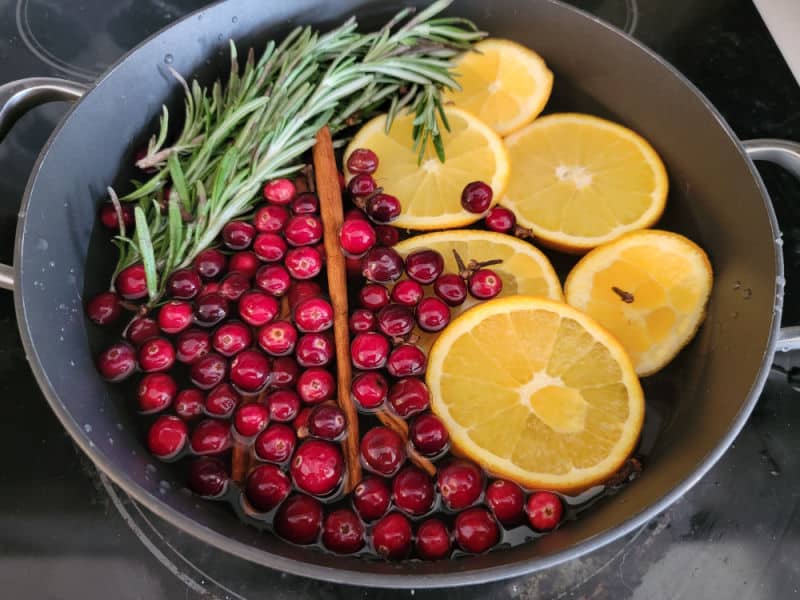 How to make Stovetop Christmas Potpourri
It is so dang easy to make this Christmas Simmering Potpourri! The hardest part is deciding if you want the orange sliced or cut into quarters.
Everything else you just plop into the pot and add water. Turn the stove on low and and bring to a simmer.
Turn the stove down to the lowest setting you can and still keep it simmering.
Every hour or so check on the DIY Christmas Stovetop Potpourri and add water to keep it going.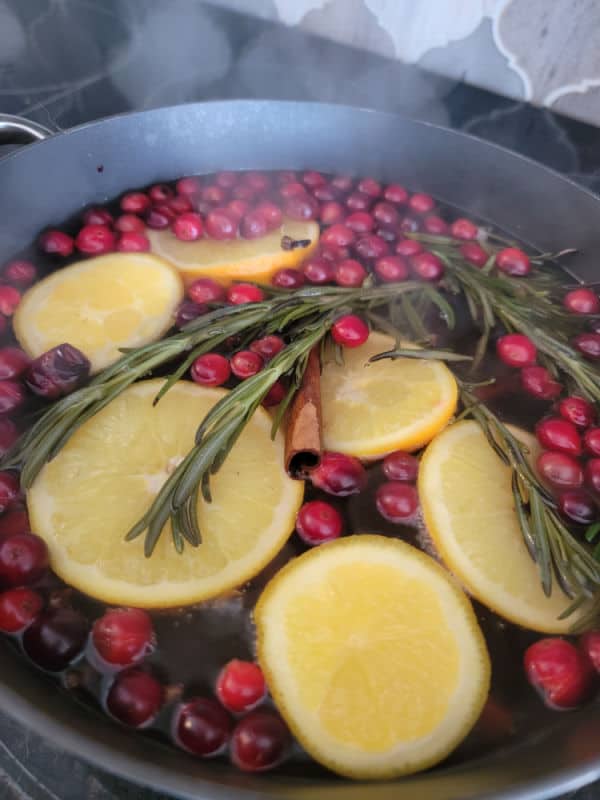 Recipe Tips
Please do not drink the potpourri. I know it is all edible but the combination is not wonderful for consuming.
Make sure to simmer not boil the water.
Keep the lid off of the pot so that the scent can spread.
Start your Christmas simmer pot about 30-45 minutes before your first guests are due to arrive. This will ensure the scent has spread through the room.
This simmer pot will last one to two days. Turn the stove off when you are done for the day and turn it back on when you need it the next day. I cover the pot so our pets can't get into it at night.
DIY Christmas Potpourri Gift Idea
If you are hosting a holiday party and use this potpourri recipe, I can guarantee guests are going to ask you how you made it. This makes a fantastic homemade Christmas gift or party favor!
You can package the ingredients in cellophane bags with instructions included. You can also make gifts by adding the ingredients to a mason jar and adding a gift tag tied with a ribbon/twine on how to use this great DIY Christmas gift.
Make the DIY Christmas Potpourri gifts ahead of time and store them in the refrigerator. We still use fresh oranges instead of dry orange slices because they smell so much better.
Great Christmas Recipes
Check out all of our Christmas Recipes
Do you love recipes? Check out our copy cat recipes, dessert recipes, and our Crock Pot Recipes.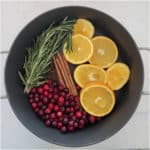 Print Recipe
Christmas Potpourri
How to make simmering Christmas Potpourri on the Stovetop. Quick and easy Christmas Potpourri recipe that takes minutes to prepare.
Ingredients
1-2

cups

cranberries

1

orange

sliced or quartered

1-2

Teaspoon

cloves

2-3

sprigs

rosemary

2-4

Cinnamon Sticks
Instructions
Place all of the ingredients in a sauce pan with 5-7 cups water. Bring to a simmer and turn stove to the lowest setting possible to maintain the simmer.

Refill with water as needed.