Saltine Cracker Toffee Christmas Crack is a classic holiday dessert perfect for Christmas Cookie gift exchanges. This Christmas Crack recipe takes less than 30 minutes to prepare and only needs 4 ingredients. Once you get the process down this can be made in about 15 minutes.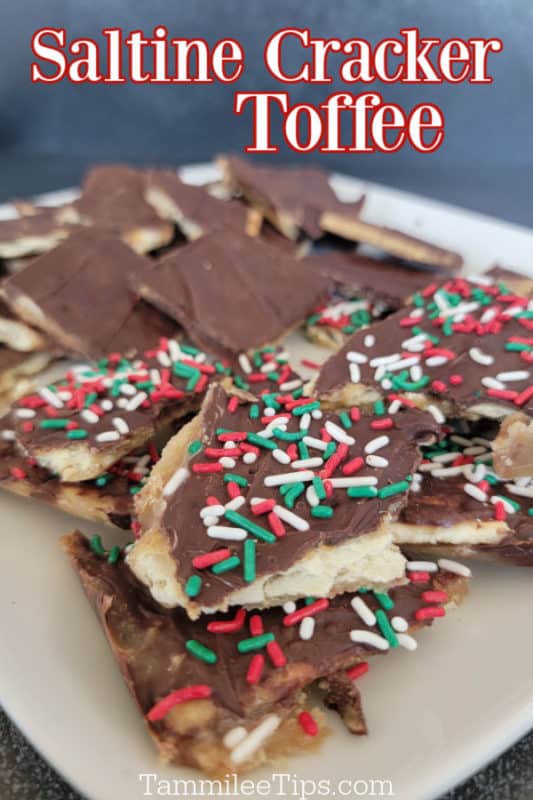 Saltine Cracker Toffee Christmas Crack
All you need is four basic pantry ingredients to make saltine cracker toffee plus some toppings if you want to get fancy and decorate them. If you have been to a holiday cookie exchange these are the cracker desserts everyone goes for 1st and loves.
Friends and family will love this Saltine Toffee Cracker Candy!
This Christmas Crack Candy is the perfect treat in December! You can customize it with holiday sprinkles and make it look super festive.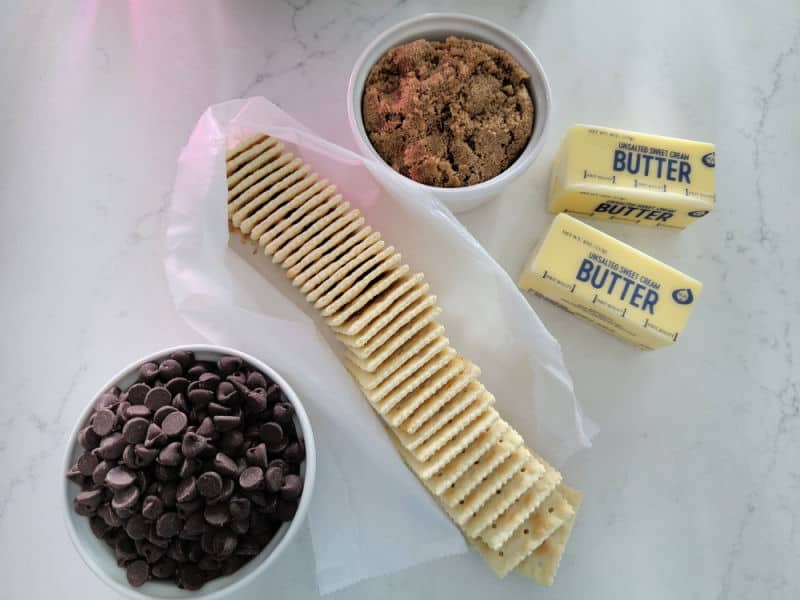 Ingredients
This is a quick overview of the simple ingredients that you'll need to make epic Saltine Cracker Toffee! Specific measurements and step-by-step instructions are included in the printable recipe card at the bottom of the post.
Butter
Brown Sugar
Saltine Crackers
Semi-Sweet Chocolate Chips
Optional toppings - nuts, broken pretzel pieces, sprinkles, Oreo cookie crumble, broken up candy bars, shredded coconut, crushed up candy canes, M&Ms, pecans, peanuts, almonds, walnuts, or sea salt.
Chocolate - We use semi-sweet milk chocolate chips but you can use white chocolate chips, dark chocolate chips, or any flavor that melts nicely. Some chocolate chips have an additive added to them to hold their shape. If your chocolate doesn't melt smoothly you may want to try chocolate bar pieces.
Change it up and use peanut butter chips for a fun new flavor or mix them with the Guittard or Ghirardelli chocolate chips.
Saltine Crackers - We like to use salted saltines so they help cut the sweetness from the toffee and chocolate. If you use unsalted crackers you may want to sprinkle a bit of salt over the toffee.
Butter - We use unsalted butter but you can definitely use salted butter or even vegan butter.
Equipment need to make Christmas Crack Toffee Candy
Non stick cooking spray
Saucepan
Measuring Cups
Jelly Roll Sheet Pan -We are huge fans of these baking sheets with sides.
Aluminum Foil
Wooden Spoon
Offset Spatula
How to make Saltine Cracker Toffee
I've included complete instructions in the printable recipe card at the bottom of the post, but here's a quick version.
Preheat oven to 350 degrees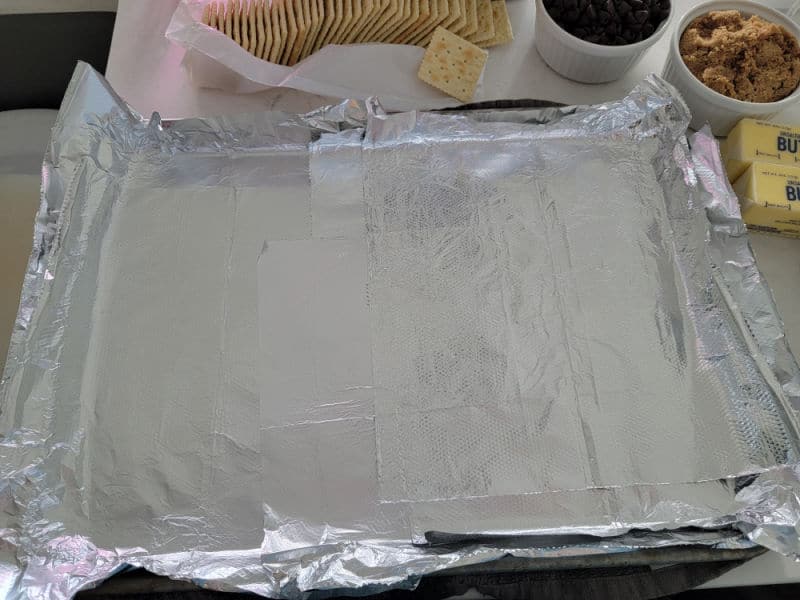 Step 1 - Line a jelly roll baking sheet with aluminum foil so it sticks up on the sides to catch any extra toffee. I like to spray the foil with non-stick spray to make it easier to remove the saltine cracker toffee.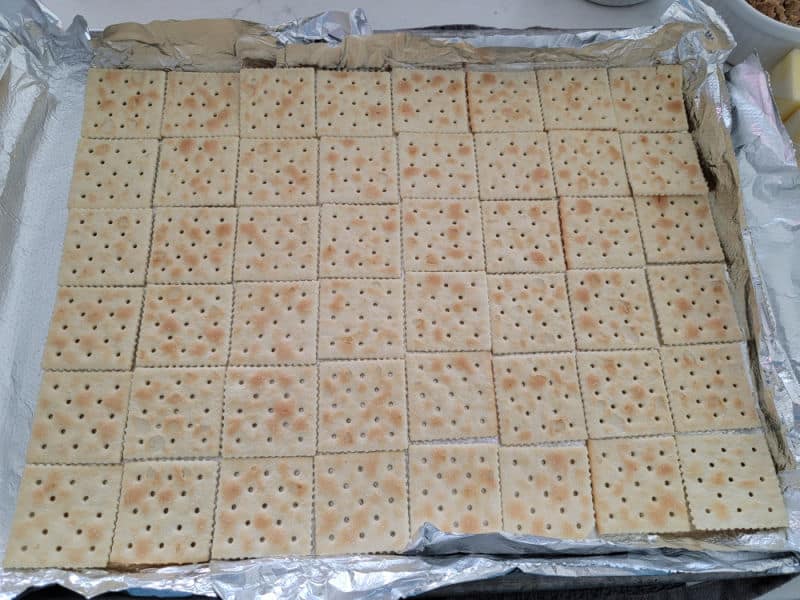 Step 2 - Line cookie sheet with saltine crackers in a single layer.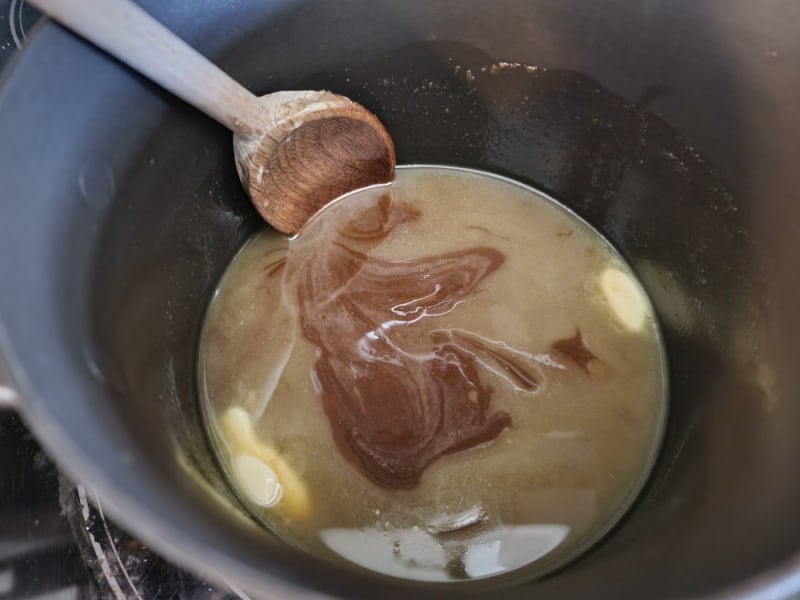 Step 3 - In a small saucepan melt the butter and brown sugar over medium high heat. Bring to a rolling boil, reduce heat to medium heat and allow to boil for 5 minutes. Make sure to set a timer so you don't burn the sugar.
Stir occasionally as the sugar and butter boil to caramel.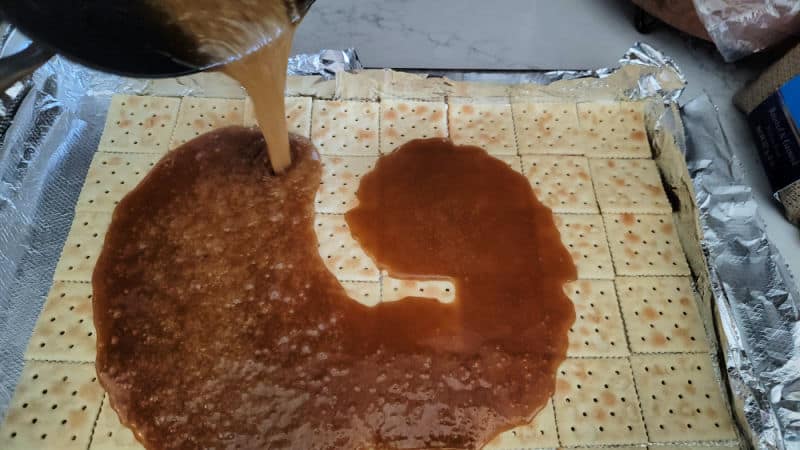 Step 4 - Quickly pour the brown sugar mixture over the saltine crackers and spread it out completely.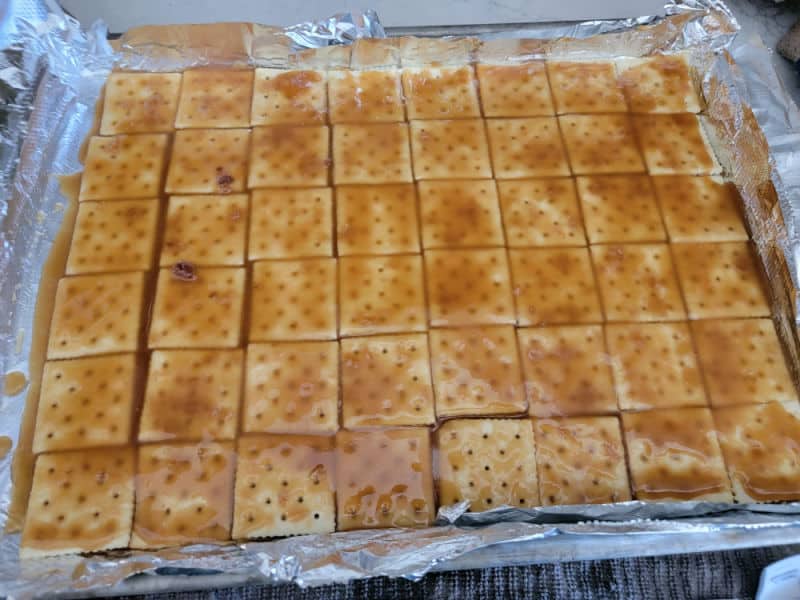 Step 5 - make sure sugar butter mixture is evenly spread out across all of the crackers. You may  have to scoop it from the edges to fill in blank areas.
Bake for 5 minutes in preheated oven.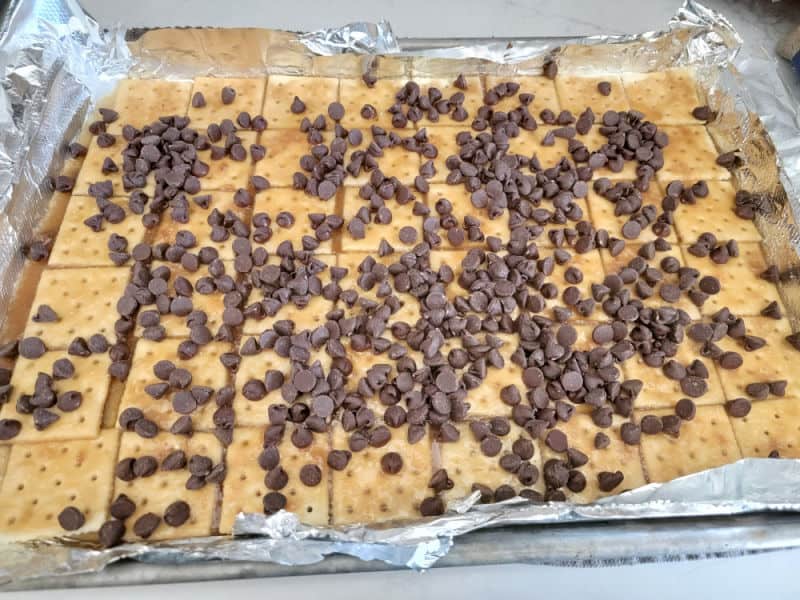 Step 6 - Spread chocolate chips evenly over the top of the saltines. Make sure the toffee layer is still warm when you spread the chocolate. This will help prevent the layers from separating.
Allow them to sit for a couple of minutes until the chocolate starts to look shiny and is soft enough to easily spread.
Spread over the crackers as evenly as possible. If the chocolate chips do not melt enough you can stick the pan in the oven for a minute or so to melt the chocolate chips.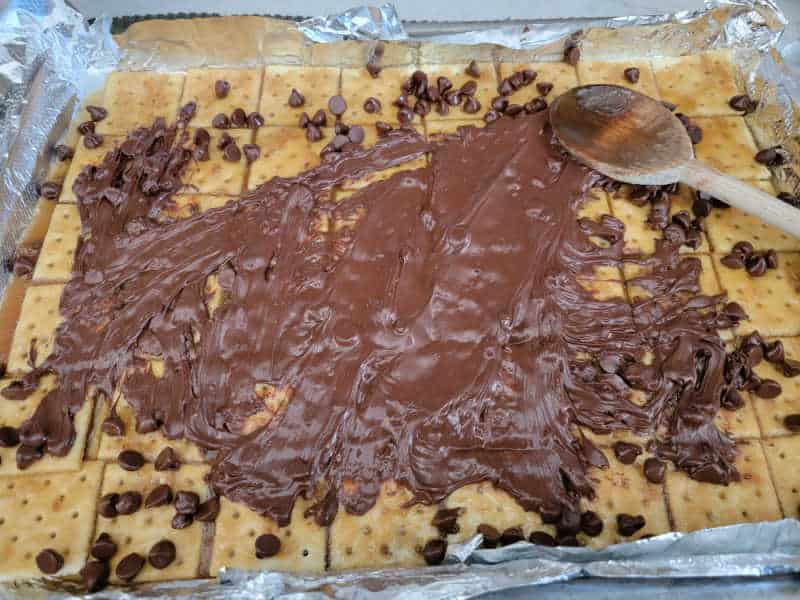 Step 7 - If you run out of chocolate just drop a few chocolate chips in the areas you need more coverage. This will help make sure all of the crackers are evenly covered.
Top with any toppings you love including sprinkles, nut pieces, pretzel pieces, cookie crumbs, or really anything.
Place the baking sheet in the refrigerator for 2hours to harden.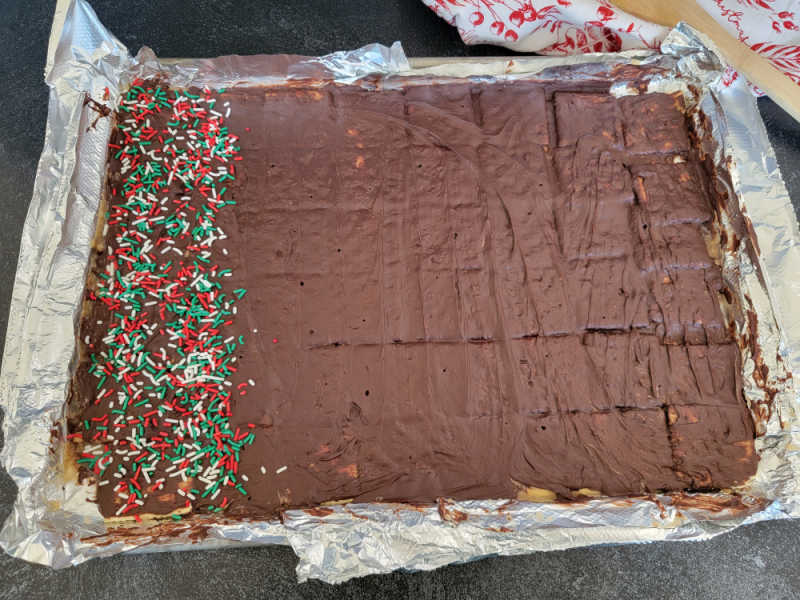 Step 8 - remove from the refrigerator and peel the foil away. Break into pieces and enjoy!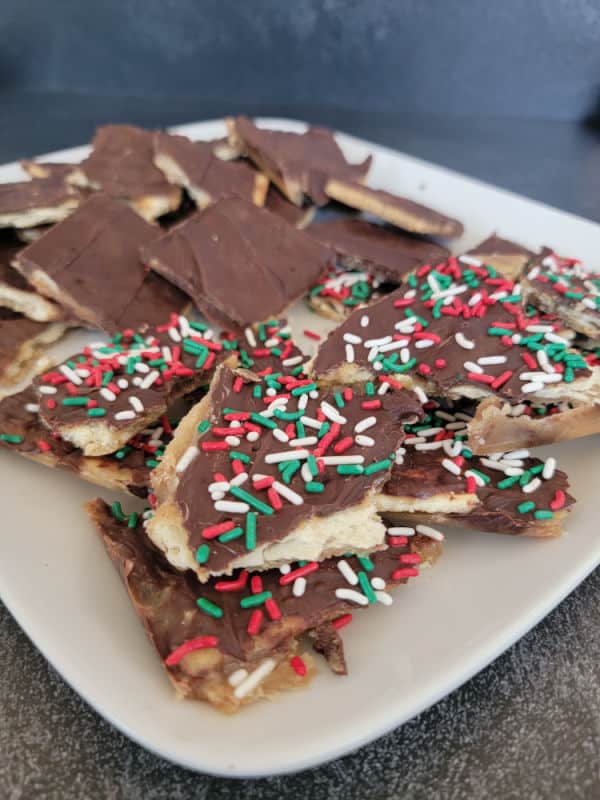 Preparation and Storage
Make Ahead – Saltine Toffee can be made up to 5 days before you plan to serve it. Storing it in the fridge helps prevent the crackers from getting soft.
Storage – Store Christmas Crack in an airtight container in the fridge.
Freezing/How to freeze –
Recipe Variations
Substitutions - Change the type of chocolate you are using. This recipe works great with milk or white chocolate also. Have fun and swirl two types of chocolate together.
You can change up the crackers and use Ritz or other types of crackers instead of Saltines.
Vegetarian Option - This recipe is vegetarian.
Vegan Option – I haven't tried it but this recipe could be made with vegan butter and vegan chocolate chips.
Gluten Free - Substitute gluten-free crackers instead of saltines.
Smaller Serving Size – The recipe serving size can be changed on the recipe card below.
Larger Group/More servings – While this recipe could be doubled you will want to make sure you have a pot and space to keep the toffee from burning. Make sure to spread it over two baking sheets.
Recipe Tips
No candy thermometer is required for this recipe.
This recipe can also be made on Ritz crackers or even graham crackers.
You can customize this Saltine Cracker Candy by adding different toppings in rows on the chocolate. Break them up and guests can enjoy their favorite ones.
If you have counters that are not a fan of heat make sure you put a protective barrier down like a trivet. The pan will be hot and you do not want to set it right on your countertop.
How to store Christmas Crack
Store your Christmas Crack toffee cracker candy in an airtight container in the refrigerator.
Separate layers with parchment paper to make it easier to get one or two pieces out.
When to serve Saltine Toffee Candy
Christmas parties
Potlucks
Holiday Gatherings
Movie Nights
Family dessert
Sweet snack
Great Holiday Recipes
Do you love recipes? Check out our copy cat recipes, dessert recipes, and our Crock Pot Recipes.
Follow Tammilee Tips on MSN, Facebook, Instagram, and Pinterest, for all of our recipe posts.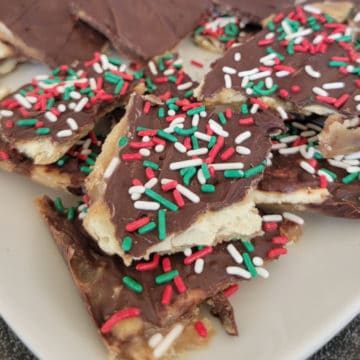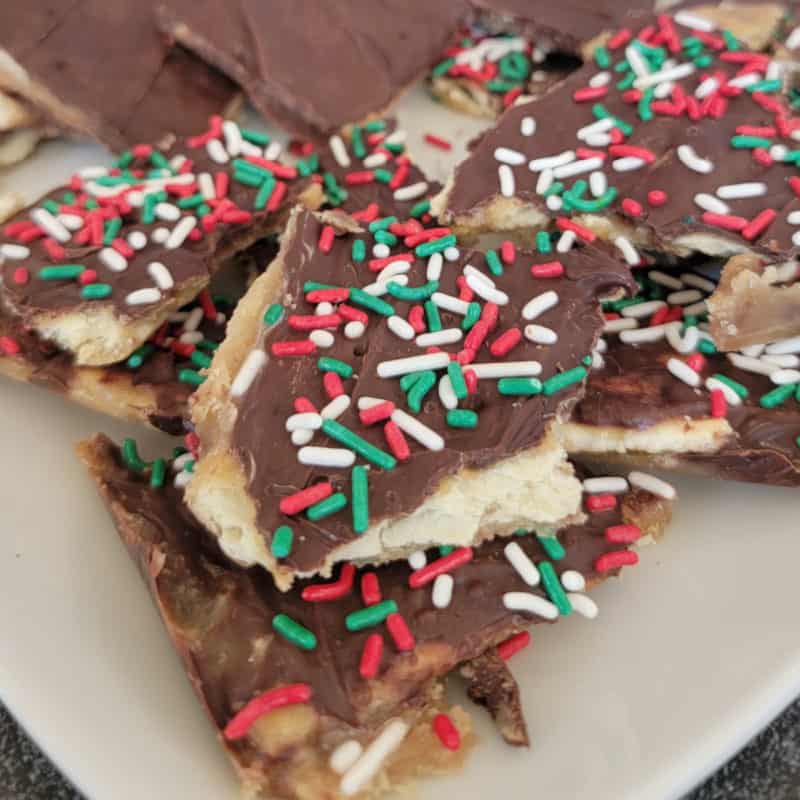 Saltine Cracker Toffee Recipe
Saltine Cracker Toffee is also known as Christmas Crack. This 4 ingredient classic holiday recipe takes less than 30 minutes to prepare and tastes amazing.
Print
Rate
Ingredients
1

Cup

Butter

1

Cup

Brown Sugar

48

Saltines

1.75

Cups

Chocolate Chips

semi sweet, dark chocolate, or white

Sprinkles, Candy, Nuts

Garnishes
Instructions
Preheat oven to 350 degrees

Prepare cookie sheet with sides by lining it with aluminum foil so it sticks up on the sides. This will keep the toffee in the pan.

Spread saltines in a single layer to cover the cookie sheet.

In a small saucepan melt butter and brown sugar, stirring frequently. Bring to a rolling boil and reduce heat to medium. Boil for 5 minutes, keeping track of your time.

Quickly pour toffee mixture over the saltines evenly. Spread to completely cover the saltine crackers. Bake in a 350 degree oven for 5 minutes.

Remove from the oven and spread chocolate chips evenly over the top of the crackers. Let the chocolate chips sit for 2-3 minutes until they are melting and shiny.

Evenly spread chocolate over the saltine crackers. If the chocolate is not melting you can place the pan in the oven for a minute or 2.

Add any desired toppings to the chocolate, place pan in the refrigerator for 2-3 hours to harden. Break into pieces and enjoy!
Nutrition
Nutrition Facts
Saltine Cracker Toffee Recipe
Amount Per Serving
Calories 133
Calories from Fat 72
% Daily Value*
Fat 8g12%
Cholesterol 15mg5%
Sodium 96mg4%
Potassium 16mg0%
Carbohydrates 15g5%
Protein 1g2%
Vitamin A 182IU4%
Vitamin C 1mg1%
Calcium 18mg2%
Iron 1mg6%
* Percent Daily Values are based on a 2000 calorie diet.