Easy Homemade Banana Bread Recipe passed down for generations. Super easy to make and tastes so good! The perfect way to use bananas that are turning brown.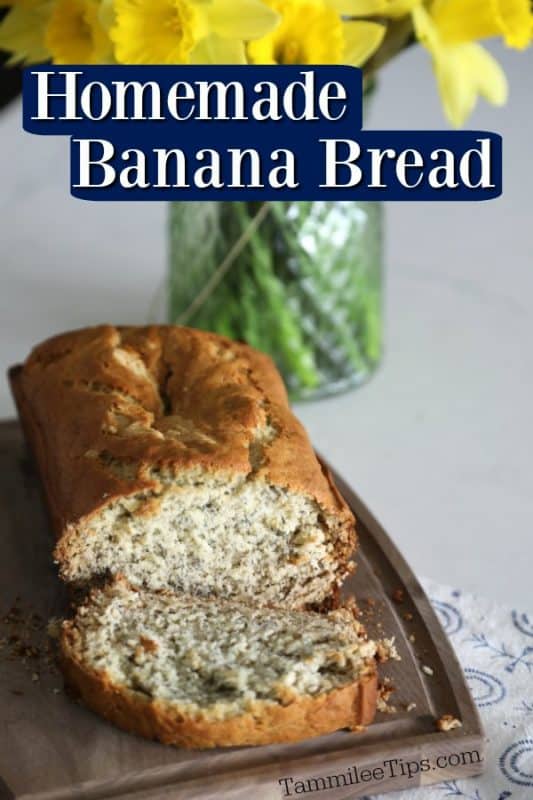 Homemade Banana Bread Recipe
This is my favorite Easy Homemade Banana Bread Recipe!  It was passed down on my Dad's side of the family and has been made for generations. I have an old recipe card that my Mom gave me when I was a teenager that is covered in splotches and stains from making this bread for years. We won't mention how many years it has been since I was a teenager. LOL!
I had to squint to read the recipe on the recipe card I have been using it for so long. I decided writing a blog post was the perfect way to preserve the recipe and know that I would have it for years to come. I can't believe we first shared this recipe back in June of 2011!
I realized this week that I hadn't updated the photos since 2011 and they were downright scary! I have made 100's of loaves of Banana Bread since 2011 and for some reason never realized I needed to take new pics of them. This was my perfect excuse for bright spring flowers in the house and making 5 beautiful loaves of bread to share.
This easy banana bread recipe is truly a family favorite that I hope you fall in love with! It is super easy to make and tastes so good!  I tend to make 2-3 loaves at a time of this bread because it disappears so quickly.
At our old house, I would have to make a couple of extras for the neighbors. John would show up at work with the best banana bread and by the end of the day, all his co-workers would stop by the house and see if there was any more left.  I would hide a loaf in the kitchen so we always had a bit for us and then give away all of the rest of the bread.
I am interested to see how long it takes our new neighbors to realize that I spend a large part of the week in the kitchen baking and trying new recipes. lol!
Did you know that National Banana Bread Day is February 23rd? Yes, you read that right - there's a day dedicated to celebrating this thrifty, time-honored morning treat!
To celebrate our love for banana bread, we've answered your questions about banana bread and rounded up our favorite recipes for you to recreate at home. Let's dive in!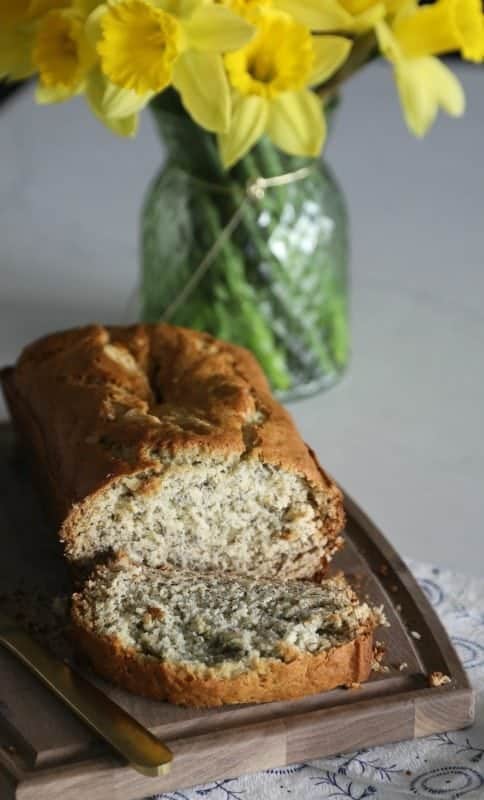 Ingredients needed
Butter - We use unsalted butter. If you use salted butter make sure you don't add in any additional salt.
Sugar - We use white sugar but you can use a mixture with brown sugar for a different flavor.
Egg - The eggs help bind everything together
Milk - We use non-fat milk but any type should work.
Baking Soda - Helps the bread rise at it is baking
Flour - We use all purpose flour but you can also use whole wheat flour
Mashed Bananas - I find that the best bananas are a bit dark and turning. The peel should be turning and the bananas soft on the inside. They mash much easier than bright green ripe bananas. We mash the bananas with a fork before adding them to the mixer for the best banana flavor.
Optional - You can add in a bit of salt and vanilla extract to enhance the flavor if desired.
What can you add to Banana Bread?
Nuts - Add in walnuts or pecans for a bit of crunch.
Dried fruit - Add in dried cranberries, raisins, apricots, blueberries to give the bread a bit more fruit flavor.
Chocolate Chips - Chocolate chips are always a good idea
Equipment Needed
Non-stick cooking spray - You can also use parchment paper to help make it easier to remove the bread from the pan.
Large Bowl - We are big fans of this large mixing bowl that has a handle. It makes it easy to mix ingredients and keep the mixing bowl steady on the counter.
Hand Mixer/Stand Mixer - You can mix this with either an electric hand mixer or your stand mixer. If you don't have an electric mixer this can also be made with a whisk but be prepare the banana mixture is thick.
Spatula - Make sure to stir the batter and check for any of the flour mixture at the bottom of the bowl.
Bread Loaf Pan - We use a regular size loaf pan but these can also be made into banana muffins
Heat resistant potholders - A couple of years ago we had a fire scare when we didn't realize we had turned a burner on and a cloth potholder caught fire. Thankfully we walked by the kitchen and saw the smoke and were able to get it out ourselves. Since then we have only used these heat-resistant potholders.
Toothpick/Butter Knife - to check and make sure the banana bread is fully cooked.
Wire Rack - We like to cook the best banana bread recipe on a wire rack before serving.
How to Store Banana Bread
If you plan to eat your banana bread within the next few days, you can safely store it at room temperature. Banana bread is a quick bread that remains fresh on your kitchen counter for about four days.
The ripe bananas keep the loaf moist and soft but spoil quickly if not stored correctly, so follow these instructions to ensure that your loaf remains as fresh as possible.
Cool your banana bread loaf thoroughly before transferring it to an airtight container. This avoids trapping warmth inside the container, which leads to soggy bread.
Wrap your loaf with care. Place a paper towel on the bottom of your storage container, then transfer your room-temperature loaf to the container. You may also consider placing a second paper towel on top of the loaf to absorb more excess moisture and keep it mold-free for longer.
Check your counter-stored banana bread over the next three to four days, and transfer it to the fridge to extend its storage life for up to a week. Freeze any leftovers that aren't likely to be eaten during the week.
Banana bread leftovers stored in the fridge tend to dry out. For warm, oven-fresh banana bread, microwave slices briefly for ten to 15 seconds, depending on the power of your microwave, or toast slices on low using your toaster or air fryer oven.
Can You Put Banana Bread Back in the Oven?
Ripe bananas moisten banana bread but can lead to undercooked banana bread if not baked thoroughly. Fortunately, correcting banana bread that came out too moist takes little effort.
Reheat your banana bread loaf at 350°F for ten to 15 minutes or until baked to satisfaction. You may consider covering the top with foil to keep it from browning too much.
If your banana bread has cooled but is still underdone, baking it again may harden and dry out the crust. Try these three methods to revive your banana bread loaf:
Toaster Oven: Pop slightly underdone banana bread in the toaster oven. Set the toaster oven to low to avoid overcooking it.
Faux French Toast: Cut your banana bread into slices and reheat them on a skillet with butter or oil. Dress them as you would French toast, including your favorite toppings such as maple syrup, honey, fruit, Nutella, and chopped nuts.
Save What You Can: Cut off salvageable parts and enjoy them as yummy snacks. Crumbled banana bread also works wonderfully as an ice cream topping.
How Long Does Banana Bread Last?
Freshly-baked banana bread lasts on your kitchen counter for about four days. Once transferred to the fridge, it keeps for about a week. Frozen banana bread lasts for two to three months.
How to Freeze Banana Bread
Tightly wrapping banana bread in plastic is the best way to freeze leftovers for safe enjoyment later. It also prevents your banana bread from drying out and tasting freezer burnt.
The entire perimeter of the loaf or slices should be covered, and there should be no air leaks. You may also place your banana bread inside a sealed freezer bag or wrap it with a second layer of plastic or aluminum foil for added protection.
No matter how you secure it, it is also worth adding a label with a date so that you always know how long your leftovers have been in the freezer.
Keep in mind that while freezing banana bread extends its shelf life, the disadvantage of doing so is that its flavor and texture will change the longer it is frozen.
Thawing Banana Bread
Once removed from the freezer, frozen banana bread will thaw naturally as the loaf adjusts to room temperature. Sliced banana bread will thaw in about half an hour, whereas a loaf of any size will take two to four hours to defrost on your kitchen counter.
Alternatively, you can reheat a full or partial loaf in the oven at 350°F or individual slices in the microwave for about 30 seconds. Depending on the size, it may take half an hour to an hour for a loaf to warm all the way through.
Can You Use Frozen Bananas for Banana Bread?
We like keeping a stockpile of frozen bananas on hand so that we always have some available for yummy baked goods with bananas. It's also an efficient and thrifty way to save overripe bananas from heading to the trash bin.
Bananas can be frozen whole or peeled and mashed, and it's a good idea to plan based on what you'd like to keep on hand.
Some recipes require specific quantities of entire bananas. For recipes that do not, peeled bananas consolidated into a freezer bag take up less room in the freezer and thaw faster.
Freezing sliced bananas is useful when you want to add sliced bananas as an oatmeal topping, cereal add-in, or anything similar. To help them maintain their shape, place them on a cookie sheet in the freezer until frozen solid, then transfer them to a freezer-safe storage bag.
The sweet spot for using frozen bananas is within three to six months of freezing. Bananas frozen for more than six months turn mushy when thawed.
Depending on how much time you have to spare, there are different ways to defrost frozen bananas. Once removed from the freezer, bananas take about two hours to thaw at room temperature. They can also be placed in the fridge overnight.
If you're short on time, you can also microwave your bananas at your device's lowest setting. Check them every minute to ensure you don't have a pool of mushy bananas in your microwave.
You may notice a puddle of runny brown juice as your bananas thaw. This is natural and not a cause for concern. Whether you incorporate the liquid back into the mash or strain it out depends on the banana recipe you wish to make, as you have the choice of a more liquid or chunky banana. If you opt for a thicker banana mix-in, you can strain the excess using a colander.
Recipe Tips
Printable recipe card instructions are below.
Nutrition information, including calories, protein, calcium, carbohydrates, fiber, vitamin c, potassium, cholesterol, sodium, trans fat, monounsaturated fat, polyunsaturated fat, and more, will vary depending on the products used.
Great Banana Bread Recipes
Here are some of our best moist banana bread recipe that everyone loves!
During the summer, we prefer making recipes with our slow cooker since, unlike the oven, our Crock Pot doesn't heat the entire house. We keep a stockpile of frozen bananas in our freezer to ensure we can always prepare this scratch-made banana bread.
This slow-cooker bourbon banana bread was inspired by a bottle of bourbon I brought back from a Carnival cruise to the Caribbean island of St. Thomas. Bourbon lovers will rejoice in the shot of bourbon present in the banana bread and its glaze.
Are you craving something other than a banana? Our Crock Pot Pumpkin Bread could be the trick.
There's nothing like banana bread to sweeten the senses in the morning. This banana bread recipe features swirls of Nutella goodness in every bite - need we say more?
Love Nutella? Here are some Easy Nutella Recipes Everyone Will Love!
You won't have to round up multiple dry ingredients to make this three-ingredient banana bread. Include your favorite add-ins, like chopped walnuts or chocolate chips, to make this no-fail recipe yours.
Yellow cake mix gives this banana bread a delightful golden yellow hue that'll brighten your morning. We enjoy how easily this recipe adapts to other cake mixes. Use spice cake mix for cinnamon banana bread or strawberry cake mix for strawberry banana bread.
This moist banana bread is loaded with melty semi-sweet chocolate chips. Peanut butter and dark chocolate chips are also delicious options for this recipe. Either way, mix the batter and scrape the sides of your mixing bowl to ensure that your loaf is as packed with flavor as you'd like.
By summer 2020, this was the eighth banana bread recipe we'd shared on our site. We know we weren't alone in our quest to bake vast amounts of this sweet treat since we received press releases confirming how much was being baked nationwide. Feel free to experiment with your favorite spices in this simple recipe for moist banana bread made slightly tangy with sour cream.
We made this comforting oatmeal after a two-week-long National Park road trip. We use cashew milk instead of regular milk to make it vegan, but you can use any milk you like to bring this banana bread-inspired recipe together.
We crafted this delicious banana bread recipe using one of the bottles of Ficklin Vineyards Tinta Port Wine we brought home from our Yosemite and Madera Wine Trail trip.
Did you know that there are so many ways to cook with wine? If you like this Tinta Port Wine recipe, you'll also enjoy our Carrot Cake with Pineapple, Coconut, and Port Wine and Crockpot Port Braised Beef Short Ribs.
Follow Tammilee Tips on MSN, Facebook, Instagram, Pinterest, and Twitter for all of our recipe posts.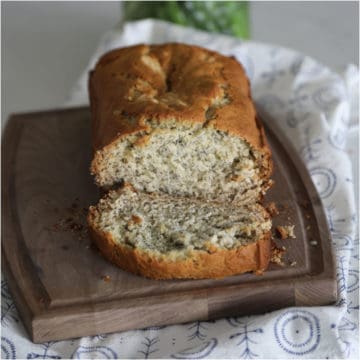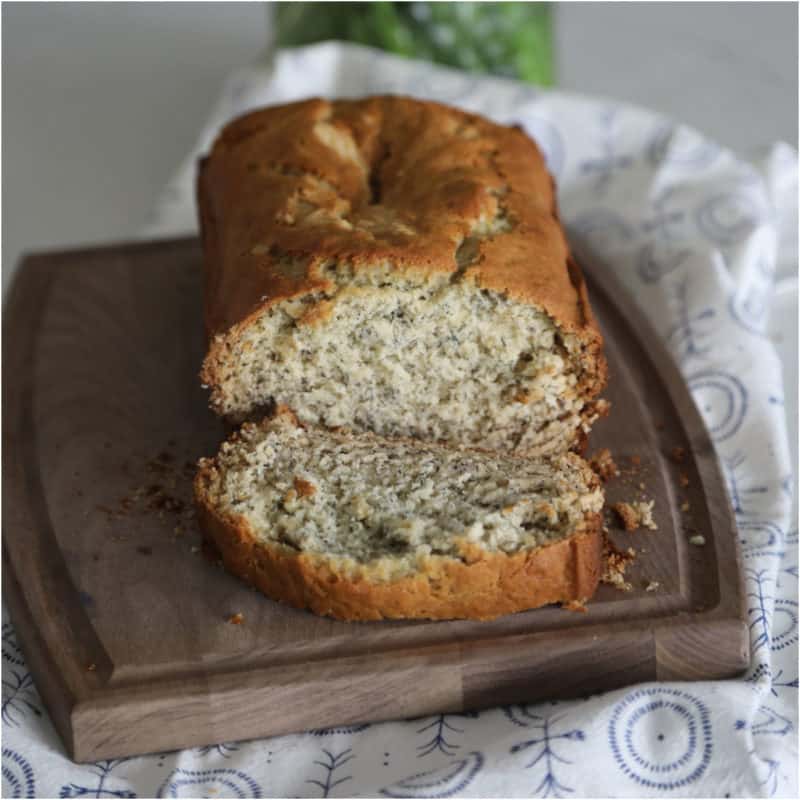 Easy Banana Bread Recipe
Super easy Banana Bread Recipe that will become a family favorite! The perfect comfort food that doesn't take hours to prepare
Print
Rate
Instructions
Cream the butter and sugar together

Add the egg and milk

Add the dry ingredients

Add the bananas

Bake in a loaf pan for an hour at 350 degrees
Notes
We end up with a lot of bananas around our house that are turning brown and not getting eaten. I mash these in a Ziploc bag and freeze them. That way I always have bananas ready to go for banana bread.
Nutrition
Nutrition Facts
Easy Banana Bread Recipe
Amount Per Serving
Calories 208
Calories from Fat 45
% Daily Value*
Fat 5g8%
Cholesterol 27mg9%
Sodium 97mg4%
Potassium 128mg4%
Carbohydrates 37g12%
Protein 2g4%
Vitamin A 190IU4%
Vitamin C 1.7mg2%
Calcium 23mg2%
Iron 1.1mg6%
* Percent Daily Values are based on a 2000 calorie diet.