I was reading the Gooseberry Patch The Christmas Table cookbook and found this Snickerdoodle Muffin Recipe. I just had to try them out! I am a huge fan of snickerdoodle cookies and figured the muffins would be amazing too. One thing I learned making these is it takes a fine balance of cinnamon sugar topping to muffin dough. If you decide to go a bit hog wild and coat the muffins like crazy you end up with cracked muffins that still taste good but are not very pretty.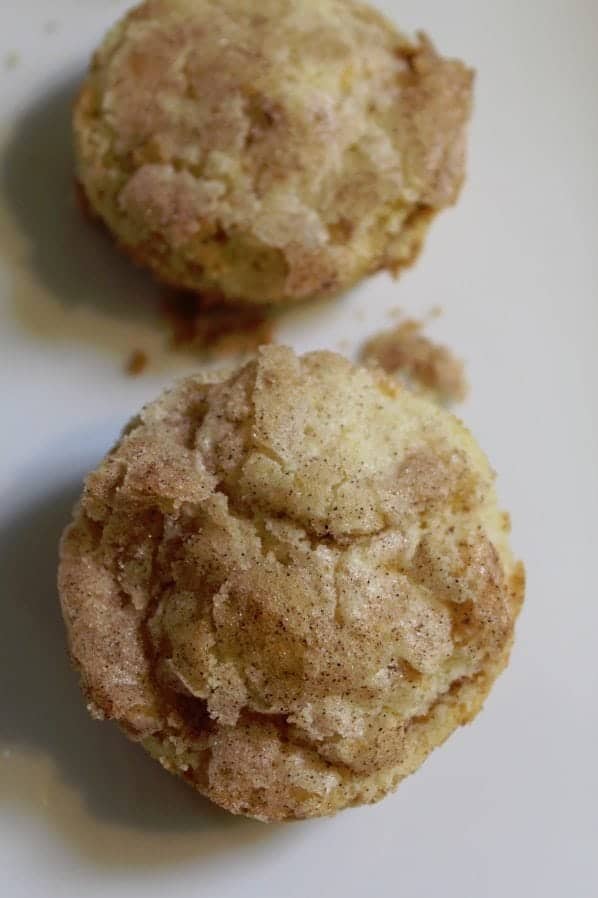 Snickerdoodle Muffin Recipe
Ingredients
1 cup butter, softened
2 cup sugar, divided
2 tsp vanilla extract
2 eggs
2 1/4 cup all purpose flour
3/4 tsp baking powder
3/4 tsp baking soda
3/4 tsp cream of tartar
1 1/4 cup sour cream
2 tsp cinnamon
Directions
1. Beat butter and 1 cup of sugar with an electric mixer until fluffy
2. Add vanilla and eggs one at a time, beat well
3. In a separate bowl, combine flour, baking powder, baking soda and cream of tartar
4. Add flour mixture and sour cream alternately to butter mixture
5. In a shallow bowl combine sugar and cinnamon
6. Using an ice cream scoop, scoop batter and drop into cinnamon/sugar, coat well
7. Place in greased muffin tin
8. Bake at 350 degrees for 20-22 minutes
Do you love recipes? Check out our copy cat recipes, dessert recipes, and our Crock Pot Recipes.

Snickerdoodle Muffin Recipe
Ingredients
1 cup butter, softened
2 cup sugar, divided
2 tsp vanilla extract
2 eggs
2 1/4 cup all purpose flour
3/4 tsp baking powder
3/4 tsp baking soda
3/4 tsp cream of tartar
1 1/4 cup sour cream
2 tsp cinnamon
Instructions
Beat butter and 1 cup of sugar with an electric mixer until fluffy
Add vanilla and eggs one at a time, beat well
In a separate bowl, combine flour, baking powder, baking soda and cream of tartar
Add flour mixture and sour cream alternately to butter mixture
In a shallow bowl combine sugar and cinnamon
Using an ice cream scoop, scoop batter and drop into cinnamon/sugar, coat well
Place in greased muffin tin
Bake at 350 degrees for 20-22 minutes
https://www.tammileetips.com/snickerdoodle-muffin-recipe/