How to make Cracker Barrel Pancakes! These delicious fluffy buttermilk pancakes only take six ingredients and taste amazing! The perfect breakfast or brunch recipe.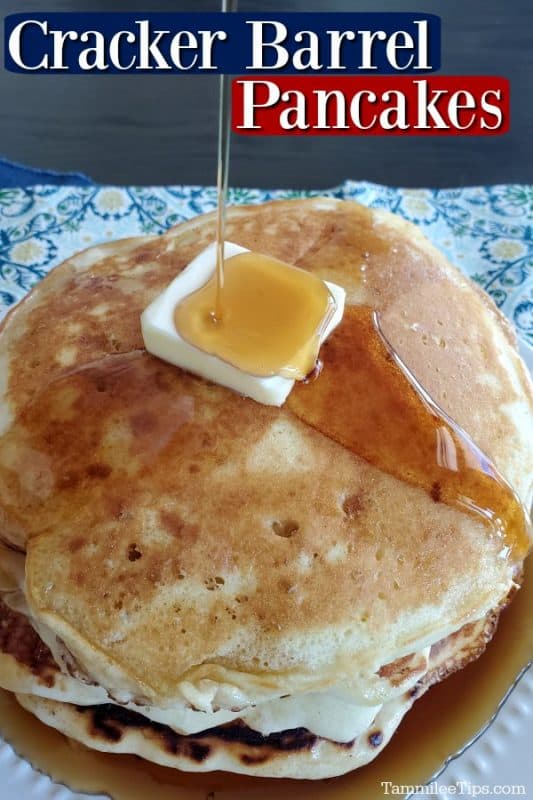 How to make Cracker Barrel Pancakes
I have a confession to make—I love Cracker Barrel! I mean, truly, hearts and flowers love Cracker Barrel.
Sadly, our closest Cracker Barrel is in Coeur d'Alene, Idaho. I decided to make copycat Cracker Barrel recipes like this Copycat Cracker Barrel Pancakes Recipe so we could enjoy a few of our favorite foods at home.
Whenever we are close to a Cracker Barrel, we make a point to stop in and enjoy their fantastic food.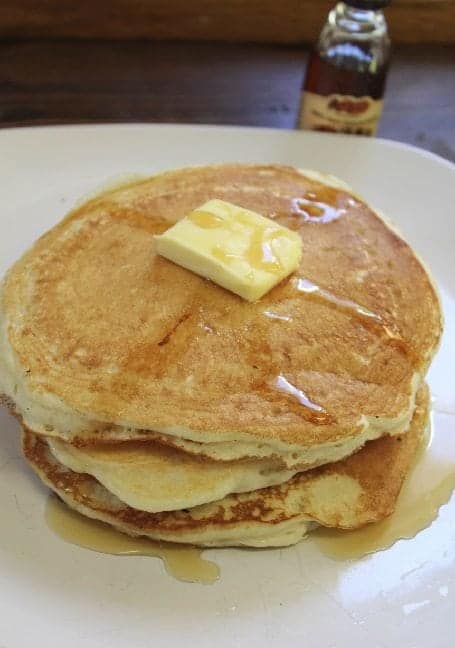 Here's what happened during one of our last trips to Florida.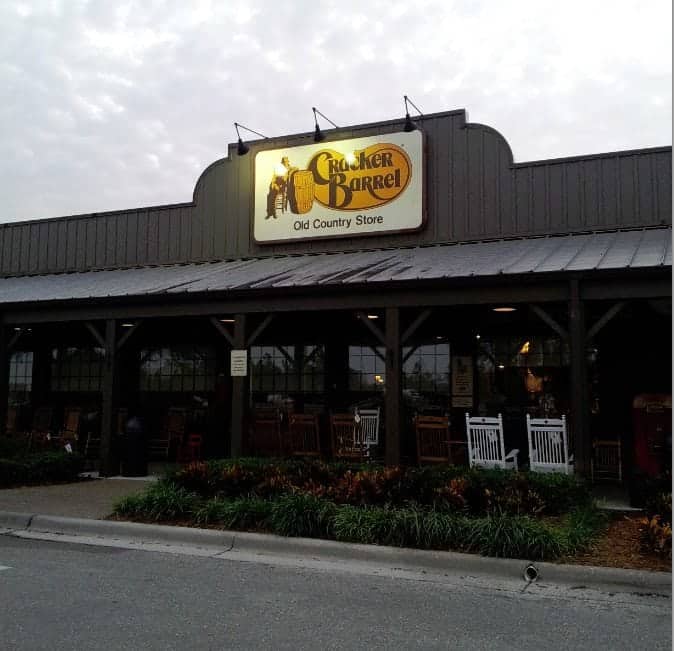 When we arrived in Florida a few weeks ago, our first stop after leaving the airport was Cracker Barrel. We then had Cracker Barrel the next day for breakfast. Yes, I like it very much.
Cracker Barrels in the United States usually open early, so they are the perfect stop on early mornings before heading out to national parks. Their breakfast menu has all the things we love.
It may be because we can't get Cracker Barrel whenever we want it that we tend to stop in every chance we can, or it is their down-home seriously yummy food.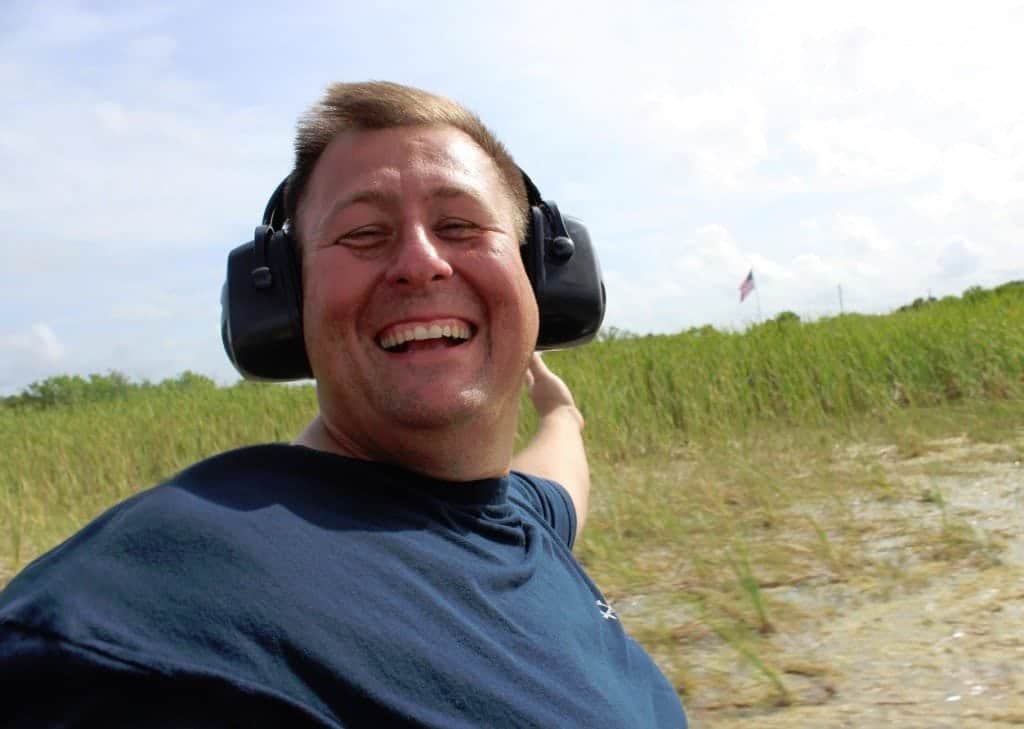 After breakfast at Cracker Barrel, we rode on an airboat near Everglades National Park. This excursion was the first time we experienced an airboat ride. WOW!
We had so much fun screaming through the water on the airboat. Watching John giggle as we raced over the grass and water was so much fun.
We saw a ton of alligators and birds and loved the wind flying through our hair.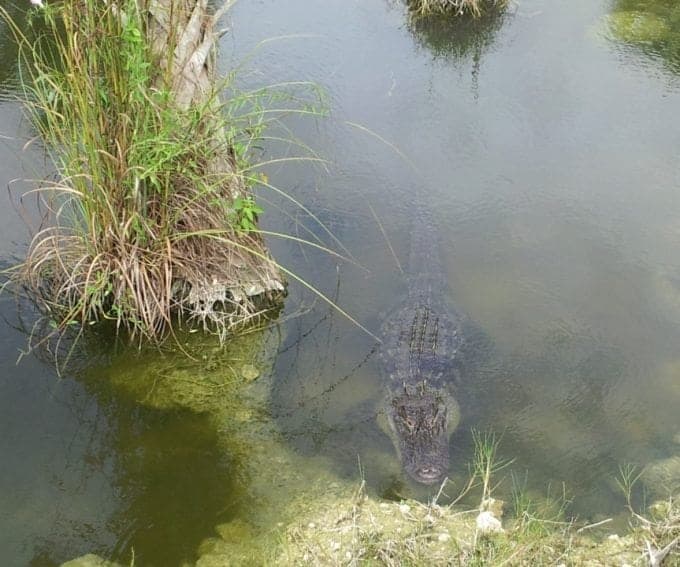 We saw this giant alligator at the end of our tour while we were on a swamp buggy. I was very thankful we were well out of his reach. I have zero plans of getting too close to one.
Are you lucky enough to have a Cracker Barrel near you? What is your favorite thing to order?
Ingredients
Here is a quick overview of the simple ingredients for making epic Cracker Barrel Pancakes! The printable recipe card at the bottom of the post includes specific measurements and step-by-step instructions.
Flour

Baking Soda

Salt

Sugar

Buttermilk

Egg 
Optional Toppings: Maple Syrup, Fruit Preserves, Peanut Butter, Bacon/Eggs, Butter, Nutella, Whipped Butter, blueberries, strawberries, fresh fruit, bananas
Equipment Needed
Large Mixing Bowl

: We are big fans of this glass batter bowl with a handle. It makes it easy to mix ingredients and keeps the mixing bowl steady on the counter.

Whisk

Griddle

: You can use any flat pan if you don't have a griddle cooking surface. A cast iron pan will give the pancakes a nice crispy edge. 
How to Make Cracker Barrel Pancakes
I've included complete instructions in the printable recipe card at the bottom of the post, but here's a quick version.
Combine dry ingredients in a mixing bowl. Add in the buttermilk and combine. Add in the egg and mix until just combined.

Grease the griddle with butter or non-stick spray.

Pour ½ cup of baking mix onto a hot griddle and spread the batter into a circle.

Flip the pancakes when you see bubbles.

Repeat with the remaining batter, making sure to butter/spray non-stick spray before each pancake. 

The fluffy pancakes should be golden brown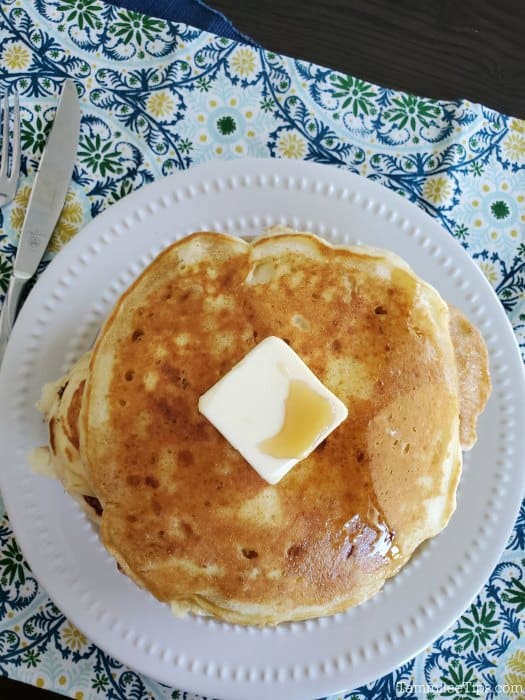 Preparation and Storage
Make-Ahead: For a make-ahead version of this Cracker Barrel breakfast favorite, you can prepare the batter and refrigerate it in an airtight container for up to four days.
Storage: Refrigerate leftovers in an airtight container and enjoy them within five days.
Freezing/How to Freeze: Freeze leftover pancakes in an airtight, freezer-safe container or Ziploc bag and enjoy them within three months.
How to Reheat: The microwave is our go-to method for reheating leftover pancakes. Depending on your microwave's power, you can reheat a stack of five in only a minute.
Recipe Variations
Substitutions:
If you don't have buttermilk, you can make enough for this recipe using the same amount of regular milk mixed with one tablespoon of lemon juice. The pancakes may not taste the same if you use a buttermilk substitute.
Vegetarian Option: This copycat recipe is 100 percent vegetarian.
Vegan Option: Swap the buttermilk and egg with plant-based substitutes to make this recipe vegan.
Gluten-Free: Replace the all-purpose flour with gluten-free flour to make these Cracker Barrel Pancakes safe for a gluten-free diet.
Smaller Serving Size + Larger Group/More Servings: The written recipe makes four servings and scales readily to your desired yield. 
Sugar-Free:
The recipe calls for a tablespoon of sugar for pancakes that contain 9 grams of sugar per serving. You can lower this amount or replace the white sugar with a sugar-free alternative if you are trying to reduce your sugar intake. It will change the sweetness of the pancakes.
Tips for the Best Cracker Barrel Pancakes
For the best results, combine the dry ingredients and mix the baking soda, salt, and sugar evenly into the flour.

A hot pan works great for making these buttermilk pancakes. Watch the heat so they don't start to burn as the griddle heats up. To test if your griddle is hot, drop a few drops of water on it and see if they dance around.

You can grease the griddle with melted butter or non-stick spray. You can brush on vegetable oil if you prefer.

When the Cracker Barrel Buttermilk pancakes start bubbling, flip to the other side. Make sure to flip your pancakes only once so they cook evenly.

If you don't want to make this pancake recipe from scratch, you can purchase pancake mixes in the gift shops of the restaurant.

The recipe calls for one teaspoon of salt. If you are trying to limit your salt intake, you can lower this amount.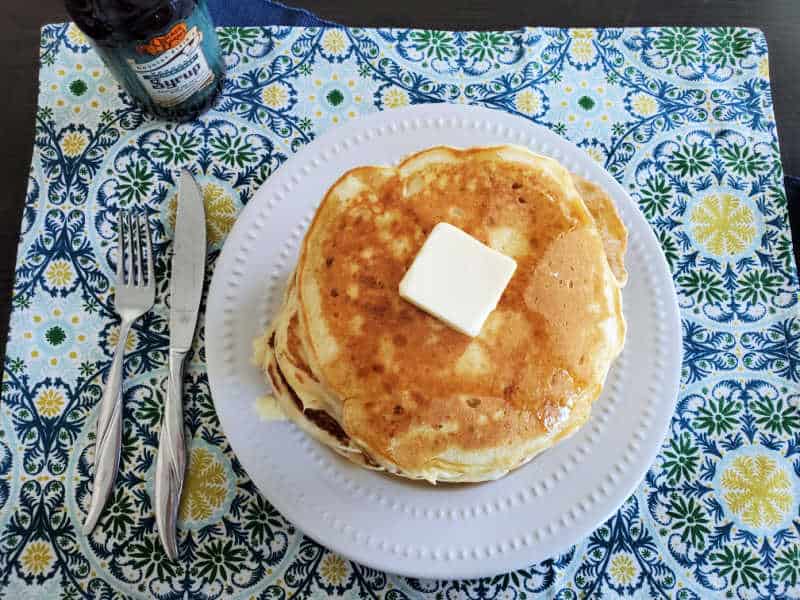 What to Serve with Cracker Barrel Pancakes
I hope you enjoy these perfect pancakes! Here are some menu planning suggestions for recreating the Cracker Barrel experience at home.
Sides: Cracker Barrel Hashbrown Casserole, Cracker Barrel Carrots, Cracker Barrel Pecan Pancakes, Cracker Barrel Green Beans, Crock Pot Fried Apples
Main Dishes: Cracker Barrel Chicken and Dumplings, Cracker Barrel Broccoli Cheddar Chicken
When to Serve
Breakfast

Brunch

Christmas Morning
Great Recipe Collections
Comfort Foods - An entire collection of comfort food recipes!
Easy Bread Recipes - These easy bread recipes come together with pantry staples and show you that you can whip up a loaf or a batch of bread favorites with much less time and effort!
Cake Mix Recipes - Boxed cake mix used intentionally can be a canvas for scrumptious yet creative cookies, brownies, cakes, and desserts.
Cool Whip Recipes - You will love how many ways you can use Cool Whip in Recipes.
Olive Garden Recipes - Including soups made in the slow cooker and all of your restaurant favorites.
Bacon Recipes - Bacon: it's what's for breakfast, lunch, dinner, and everything in between
Sweetened Condensed Milk Recipes - Epic recipes that use sweetened condensed milk
Do you love recipes? Check out our copycat recipes, dessert recipes, and our CrockPot Recipes.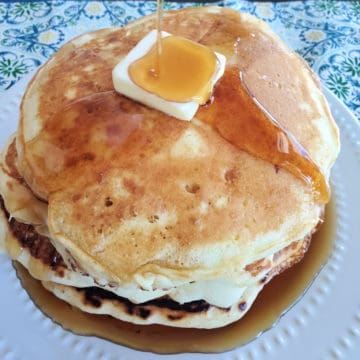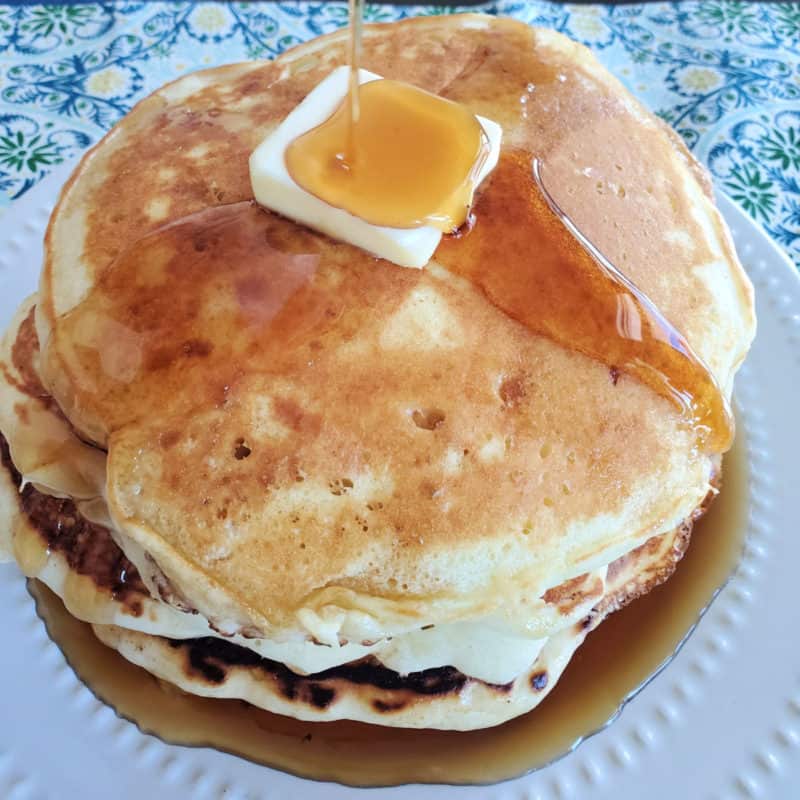 Copy Cat Cracker Barrel Pancakes
How to make delicious Copy Cat Cracker Barrel Pancakes at home
Print
Rate
Instructions
Combine dry ingredients in a mixing bowl, Add in the buttermilk and combine, Add in the egg and mix until just combined

Grease griddle with butter or non-stick spray

Pour ½ cup of baking mix onto a hot griddle and spread the batter into a circle.

Flip the pancakes when you see them bubbling.

Repeat with remaining batter, make sure to butter/spray non-stick spray before each pancake
Nutrition
Nutrition Facts
Copy Cat Cracker Barrel Pancakes
Amount Per Serving
Calories 329
Calories from Fat 54
% Daily Value*
Fat 6g9%
Cholesterol 54mg18%
Sodium 1039mg45%
Potassium 244mg7%
Carbohydrates 57g19%
Protein 12g24%
Vitamin A 257IU5%
Calcium 154mg15%
Iron 3mg17%
* Percent Daily Values are based on a 2000 calorie diet.
Recipe originally posted on September 12, 2013. Updated on May 29, 2020 and December 4, 2021