Top things to do in Ketchikan during an Alaska Cruise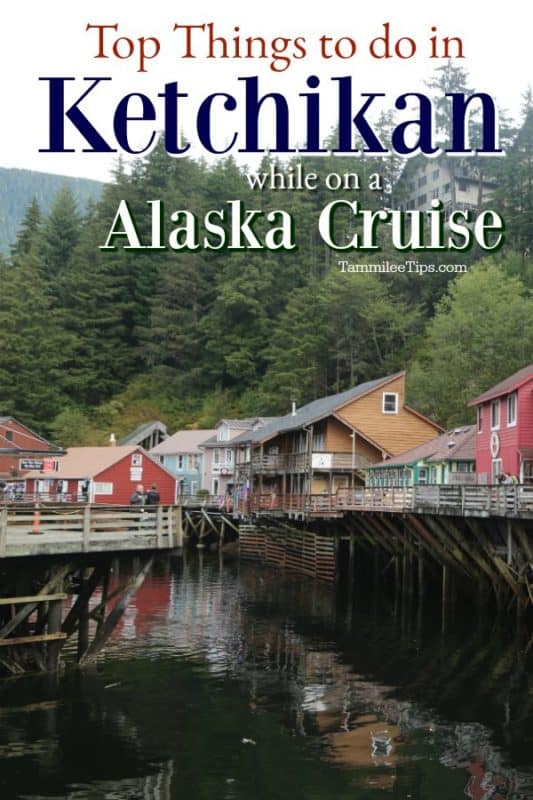 Top things to do in Ketchikan on an Alaska Cruise
Ketchikan is a really easy town to walk around on your own. From the top deck of our cruise ship, we could almost see from one end of town to the other end.

You can easily get to the majority of tourist stops in town on your own and within a few blocks. I really wanted to see Creek Street. On all of the maps I thought it was going to be a bit of a walk from the cruise ship dock. It actually is only about 4 blocks from the cruise dock if that. You can see the entire length of Creek Street from the boat.
We got off the boat super early in the morning since we were only in town for 5 hours. I was really worried we would not have enough time to see everything. I honestly had nothing to worry about. We were back on the boat an hour before the boat departed.
We started our morning with a walk along Creek Street which is really pretty. The houses are built up over the creek and really cool to look at. One bonus of getting off the ship early is we were the only people on Creek Street. We were able to get a ton of pictures of just the houses. John thought it was a bonus that we were out before any of the stores opened.
After walking through Creek Street we wandered through town for a bit and honestly after about an hour did not have much else to see. We decided to not walk down or take a cab to Totem Bright park so we would have something to do on our next visit.
We ended up splurging on tickets to the Lumberjack show. The Lumberjack Show ended up being the total highlight of our day in Ketchikan. It is so cheesy but so much fun. John was enthralled with the high powered chainsaws that the contestants use. I was amazed at how fast they could swing an axe and with such precision.
The show is perfect for all ages. The Lumberjacks interact with the crowd and make everyone feel welcome. We laughed and cheered for our Lumberjack team throughout the entire show. You cannot help but get caught up in the fun as you cheer on your Lumberjack. At the end of the show, you can have your picture taken with the Lumberjacks for free!!! This was a great fun photo to bring home. The Great American Lumberjack Show is a quick and easy walk from the cruise ship. This show lasts a couple of hours and is a great way to see the amazing work that these lumberjacks are able to do. Be prepared to get riled up and cheer for your lumberjack!
After picking up all of our free trinkets from our Alaska shopping book we headed back on the boat to relax until our next port.
You can book a floatplane trip to Misty Fjords National Monument, which I have to note is not a true National Monument so you will not see it on the National Park Website. Check out this post on Cruising to America's National Parks- Alaska Ports of Call to see all of the National Park properties you can visit during your cruise.
Totem Bight State Historical Park is located outside of town and you may want to grab a taxi to reach the park and have time to explore.
More than 250 species of birds have been identified around Ketchikan! Keep an eye out for Bald Eagles and other great birds.
Travel Tips for Ketchikan
-If you are up and off the cruise ship early in the morning the town is almost empty. We were able to get amazing photos of Creek Street without anyone in them.
-At the end of Creek Street there is a vernacular that goes up to a hotel. Early in the morning, the ride is free. Later in the day, I am pretty sure it only costs a few dollars. Outside of the hotel in their front-drive, there is a great grouping of totem poles.
-The Lumberjack Show is fantastic. It is a great hour of fun!
-Ketchikan is extremely easy to walk around. The boat pulls right up to the city and you can walk almost everywhere in town.
-There are a ton of shops and restaurants really close to where the boat docks. You can easily walk back onto the boat for lunch if you do not want to pay for it in town.
-It rains a lot in Ketchikan! Be prepared with a parka or rain jacket with you.
Have you been to Ketchikan? Are we missing any great travel tips for Ketchikan? Feel free to comment with suggested tips so we can add them to the list.
What time is it?
Ketchikan is located in the Alaska Time Zone, which is one hour earlier than the Pacific Time Zone. Alaska does follow Daylight Savings Time
What should I bring to wear?
Layers are your friend in Ketchikan no matter what time of year you visit. The weather can go from sunny and gorgeous to cool and cold in a matter of moments. Waterproof footwear is also a really great idea.
How many hours of daylight are there in Juneau?
The longest day in Juneau is June 21st, and there will be 18 hours and 18 minutes of daylight. The shortest day is December 21st with 6 hours and 21 minutes of daylight.
Do I need a fishing license to fish in Juneau?
Yes, a fishing license is required if you are over 16 years old. You can visit the Alaska Department of Fish and Game website for information on licenses, permits, and regulations. Permits and licenses can be purchased online and by mail if you want to buy them before your trip.
Is there a visitor center in Ketchikan?
Yes, the Ketchikan information center is located right near the port terminal. It is in the heart of Ketchikan next to Berth 2. The visitor center offers a free walking tour map and has a ton of brochures available. You can also book tours directly from the information center.
Will I have cell phone service in Ketchikan?
We have not had any issues having cell phone service while in town with T-Mobile. If you go outside of town your service may become a bit more spotty.
We spent the morning in Ketchikan on our Alaska Cruise. The Golden Princess arrived into Ketchikan pretty early in the morning. We only had a half-day in the city so John and I got up early and were ready to disembark as soon as we could.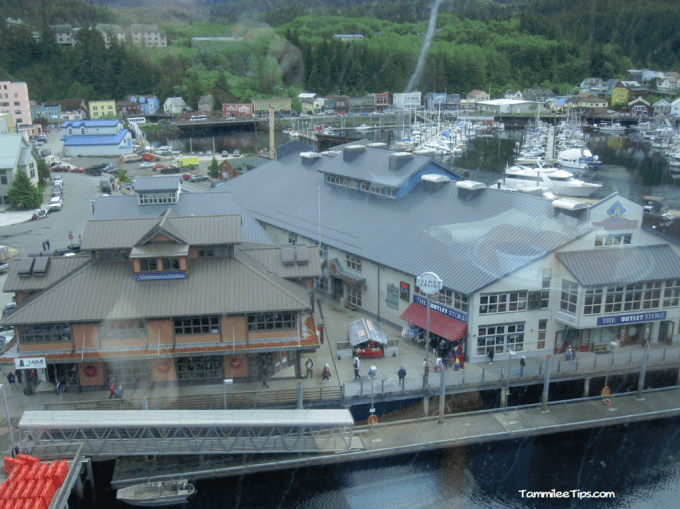 I was surprised when we docked in Ketchikan that we were right in the heart of the city. You literally walk off the cruise ship and you are in town. We were one of the first people off of the Golden Princess and had the opportunity to wander through town before the stores opened or it got crowded.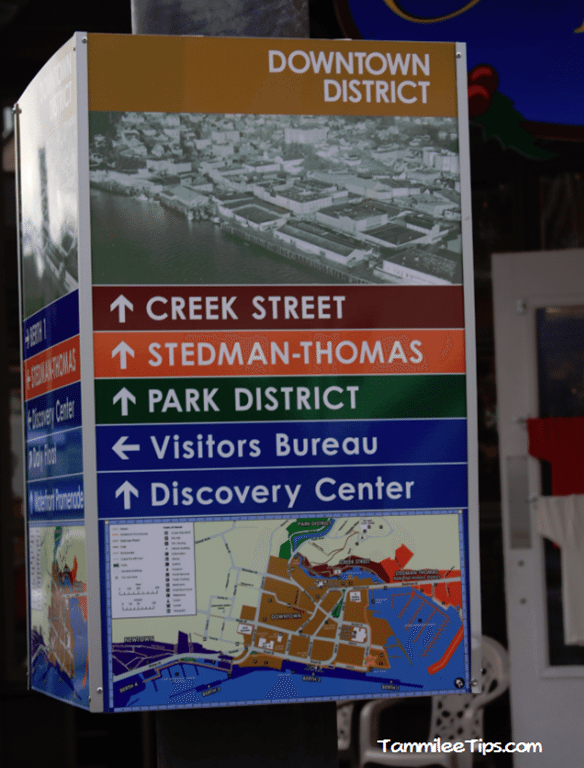 There are fantastic street signs and maps all over Ketchikan to help you find your way. We walked through the city and did not feel like we needed a car at any point during the day. The only thing we might have wanted a car or taxi for was to make it to the Totem Pole park outside of town but we decided to visit there on our next trip to Ketchikan.  We are already planning another Alaska Cruise vacation!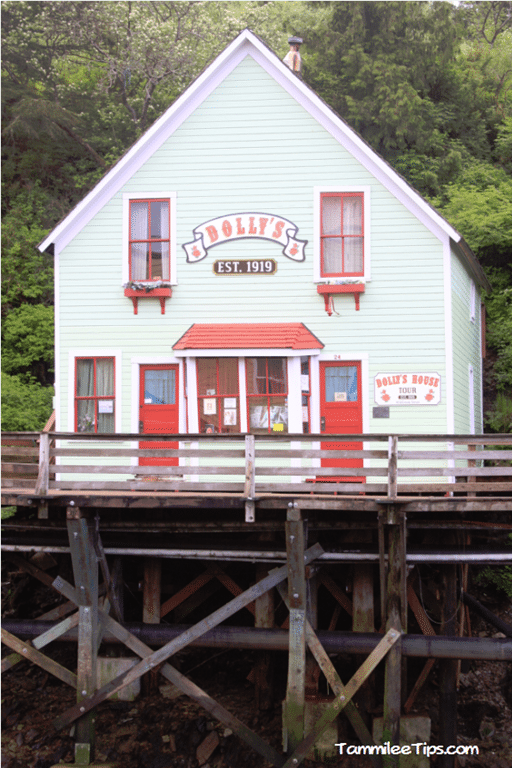 We were able to walk along Creek Street by ourselves. It was so much fun being able to take pictures and see all of the historic houses.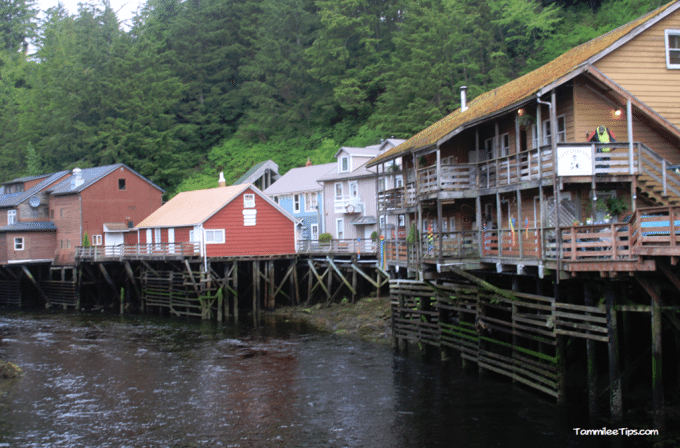 Creek Street was not as big as I thought it would be. We spent less than an hour walking up and down the street. The stores were still closed so we just took pictures and enjoyed the views.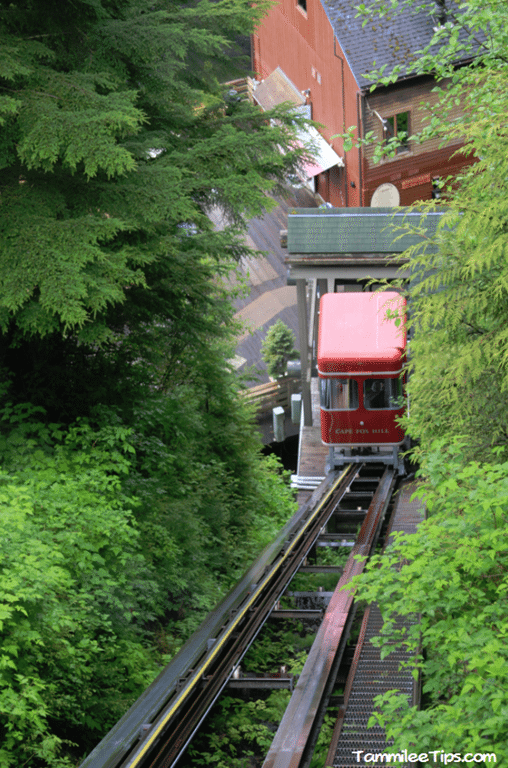 At the end of Creek Street, there is a vermicular that goes up to a great hotel at the top of the hill. During the day I think there is a dollar or so charge to ride the vermicular. We were there early in the morning so there was no one to pay.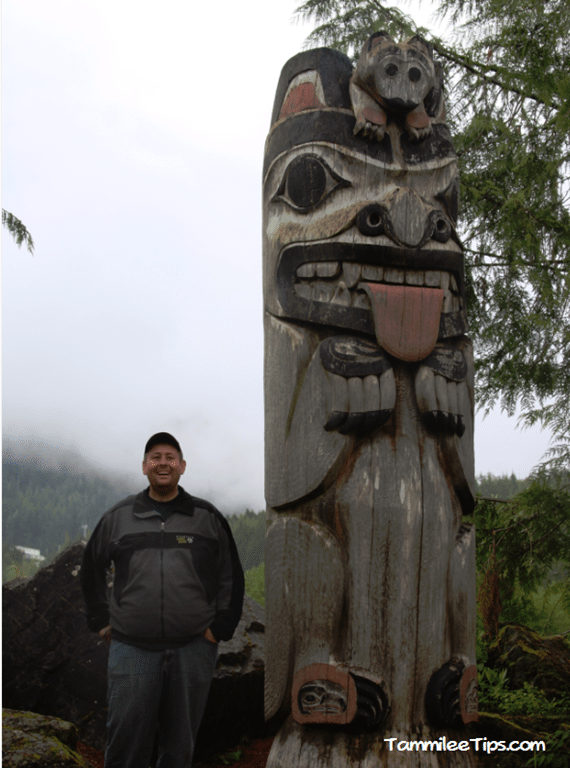 Outside of the hotel, there is a really nice display of totem poles. These were great to take pictures of and look around. There is a nice coffee shop inside the hotel to relax in and take a few moments to enjoy the scenery.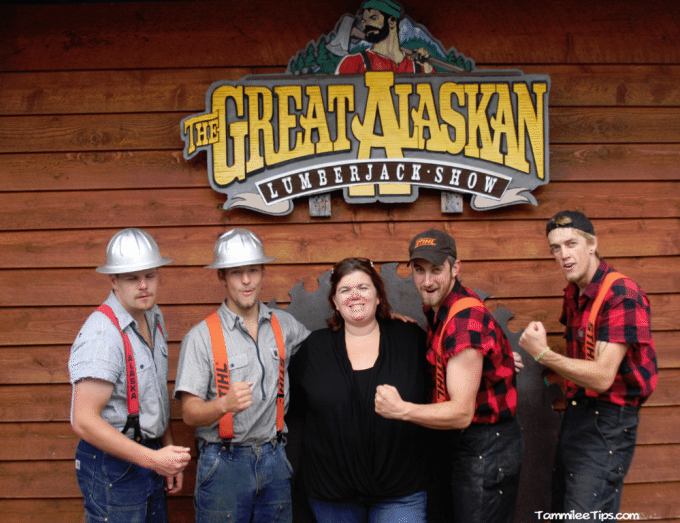 Our next stop was the Great Alaskan Lumberjack Show
Alaska Cruise Resources
Driving to the Yukon Territory from Skagway
What to pack for an Alaska Cruise
Check out all of our Alaska Cruise Guides