What to do with 5 Hours in Ketchikan during an Alaska Cruise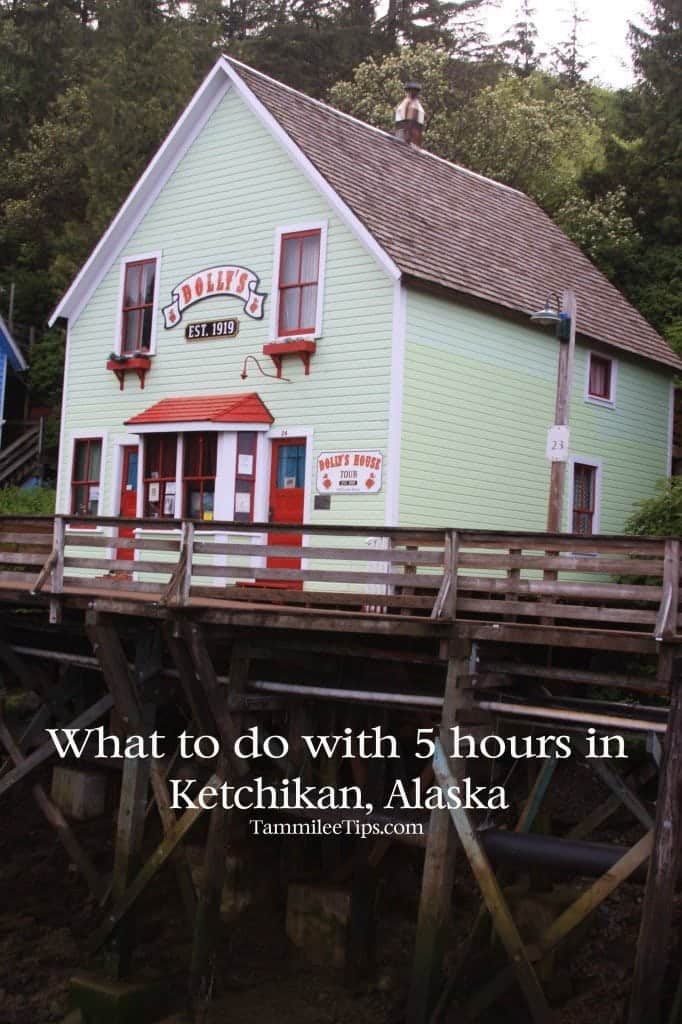 Ketchikan is a really easy town to walk around on your own. From the top deck of our cruise ship we could almost see from one end of town to the other end.
You can easily get to the majority of tourist stops in town on your own and within a few blocks. I really wanted to see Creek Street. On all of the maps I thought it was going to be a bit of a walk from the cruise ship dock. It actually is only about 4 blocks from the cruise dock if that. You can see the entire length of Creek Street from the boat.
We got off the boat super early in the morning since we were only in town for 5 hours. I was really worried we would not have enough time to see everything. I honestly had nothing to worry about. We were back on the boat an hour before the boat departed.
We started our morning with a walk along Creek Street which is really pretty. The houses are built up over the creek and really cool to look at. One bonus of getting off the ship early is we were the only people on Creek Street. We were able to get a ton of pictures of just the houses. John thought it was a bonus that we were out before any of the stores opened.
After walking through Creek Street we wandered through town for a bit and honestly after about an hour did not have much else to see. We decided to not walk down or take a cab to Totem Bright park so we would have something to do on our next visit.
We ended up splurging on tickets to the Lumberjack show. The Lumberjack Show ended up being the total highlight of our day in Ketchikan. It is so cheesy but so much fun. John was enthralled with the high powered chainsaws that the contestants use. I was amazed at how fast they could swing an axe and with such precision. The show is perfect for all ages. The Lumberjacks interact with the crowd and make everyone feel welcome. We laughed and cheered for our Lumberjack team throughout the entire show. You cannot help but get caught up in the fun as you cheer on your Lumberjack. At the end of the show you can have your picture taken with the Lumberjacks for free!!! This was a great fun photo to bring home.
After picking up all of our free trinkets from our Alaska shopping book we headed back on the boat to relax until our next port.