How to make air fryer cinnamon rolls! It is quick and easy to make premade canned cinnamon rolls in the air fryer. These are perfect for breakfast, brunch, or holiday mornings.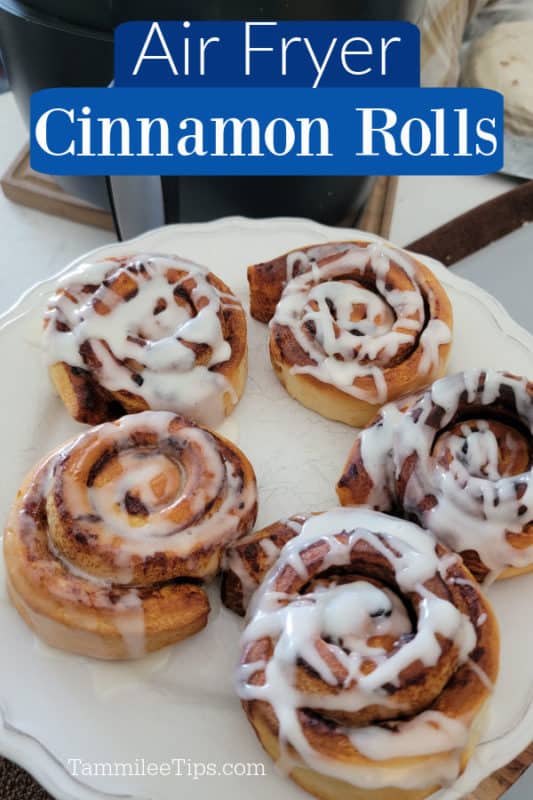 Air Fryer Cinnamon Rolls
I am going to admit that may be one of my favorite air fryer recipes. There is just something amazing about hot cinnamon rolls to start the day.
It has been so hot in Spokane that we have been trying to avoid using the stove/oven as much as possible. I figured why not throw some cinnamon rolls in the air fryer and see what happens.
Hello yum!!! I love that you can cook 1 cinnamon roll or multiple at a time depending on how many you want. They are the perfect delicious morning treat.
You do not need to do anything with the cinnamon roll dough other than getting it out of the can and place it in the air fryer. I always jump when I pop the cinnamon roll tubes. Even though I know they are going to make noise I still end up jumping a bit. LOL
It takes less than 10 minutes to cook the cinnamon rolls! Quick, easy, and delicious!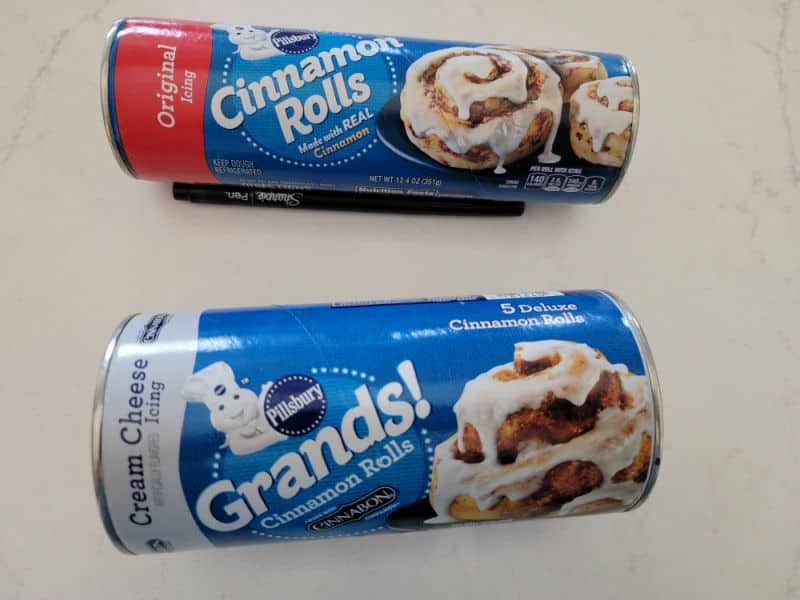 Ingredients
Canned refrigerator biscuits - We use Pillsbury Cinnamon Rolls but any variety should work.
Equipment Needed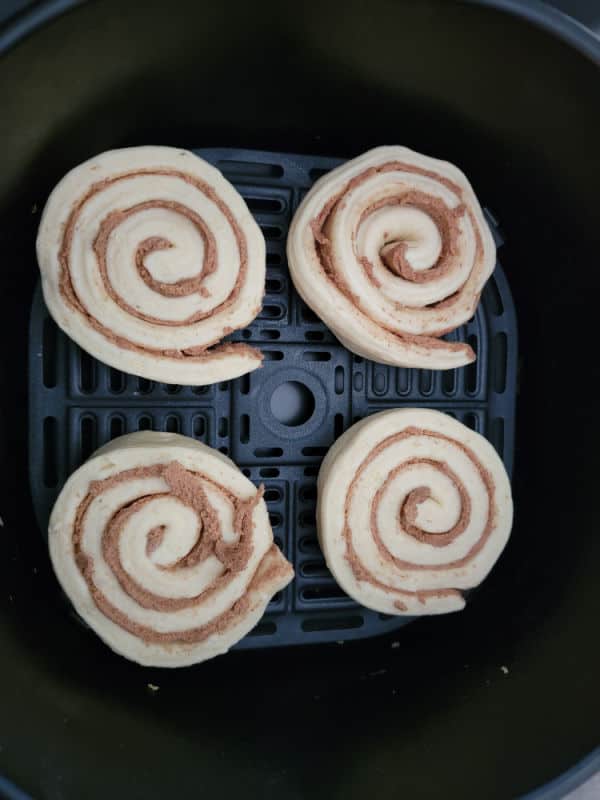 Recipe Tips
Make sure to evenly spread out the premade cinnamon rolls so they have room to grow and the hot air can circulate around them.
We do not pre-heat the air fryer for this recipe.
Make sure to set aside the icing so it is ready when the cinnamon rolls are done.
You can use air fryer parchment paper if you want to make sure the cinnamon rolls are easy to remove.
We do not use any non-stick cooking spray when making these. We will spritz some olive oil spray in the bottom of the air fryer basket every once in a while.
Cook times will vary depending on your air fryer. Make sure to keep an eye on the cinnamon rolls the first few times you air fry them to get the perfect time for your air fryer.
These can be topped with brown sugar, cream cheese, powdered sugar, or even bacon for more flavor.
Check out all of our Air Fryer Recipes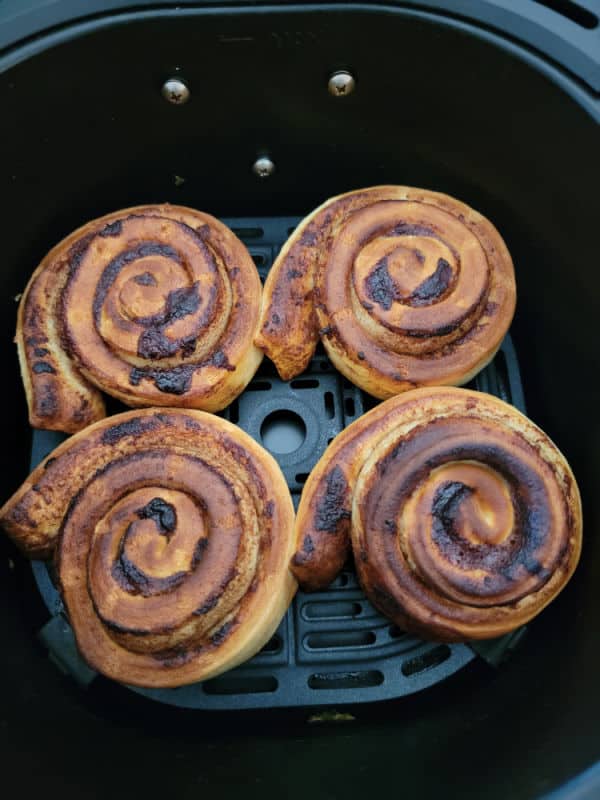 Great Air Fryer Recipes
Check out all of our vegetarian air fryer recipes.
Do you love recipes? Check out our copy cat recipes, dessert recipes, and our Crock Pot Recipes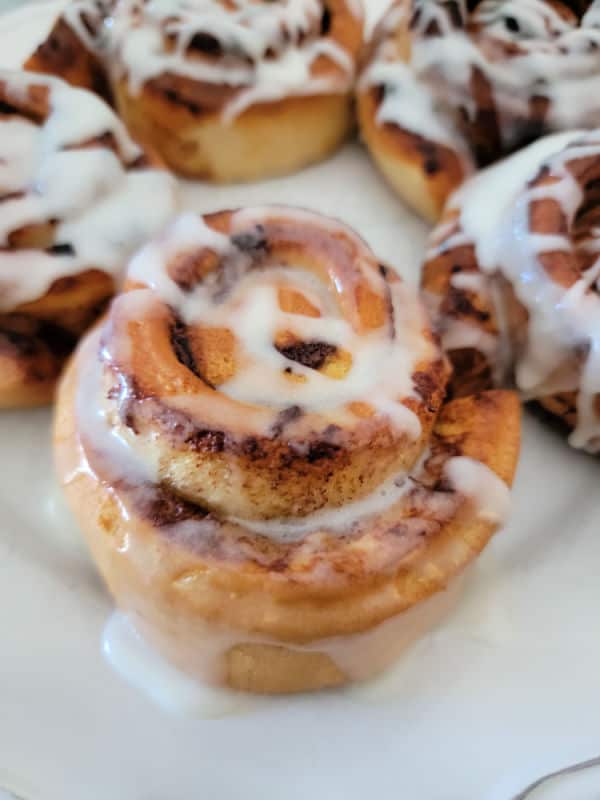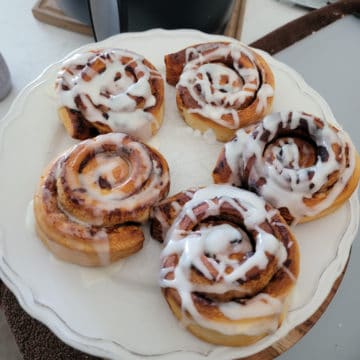 Air Fryer Cinnamon Rolls
How to cook premade canned cinnamon rolls in the air fryer
Print
Rate
Ingredients
5

Refrigerator Cinnamon Rolls
Instructions
Place cinnamon rolls in the air fryer basket evenly spread out. Set icing to the side

Air fry at 350 degrees for 8-10 minutes
Nutrition
Nutrition Facts
Air Fryer Cinnamon Rolls
Amount Per Serving
Calories 3
Calories from Fat 9
% Daily Value*
Fat 1g2%
Sodium 7mg0%
Carbohydrates 1g0%
Protein 1g2%
Iron 1mg6%
* Percent Daily Values are based on a 2000 calorie diet.