Easy Air Fryer Toaster Strudel! This quick and easy breakfast air fryer recipe uses frozen toaster strudel and only takes a few minutes to prepare. The perfect early morning treat.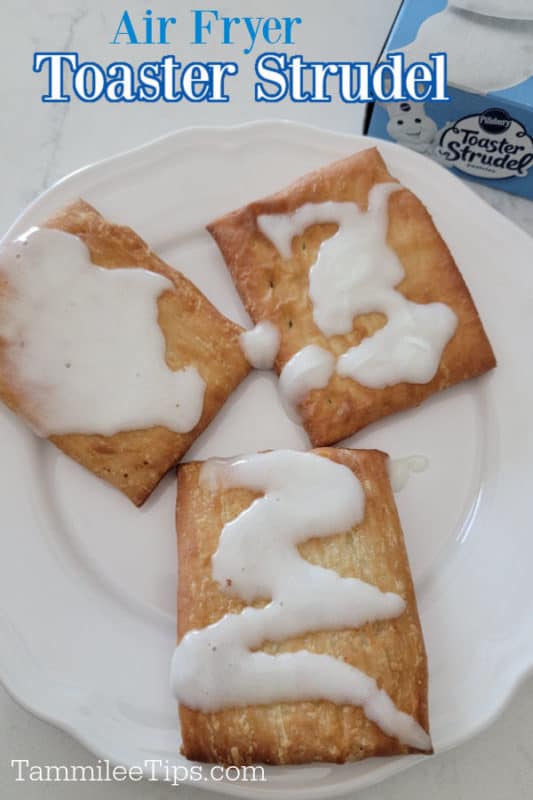 Air Fryer Toaster Strudel
There are mornings you just need a sweet treat to start the day with a hot cup of coffee or tea! We started using the air fryer to make frozen toaster strudel and it has been life changing.
We now keep boxes of toaster strudel in the back freezer so we are always prepared for those mornings we just need a little pick-me-up. As the weather gets colder all I want to do is curl up with a hot toaster strudel, a cup of chai tea, and the fireplace roaring.
Throw in a good book and I may not leave the couch for a while. I am sure my emails can wait an hour or two while I snuggle with one of the cats.
If you can't curl up in the chair all morning and have to run out the door don't worry these air fryer toaster strudels are great for enjoying on the road. They are really the perfect sweet handheld treat.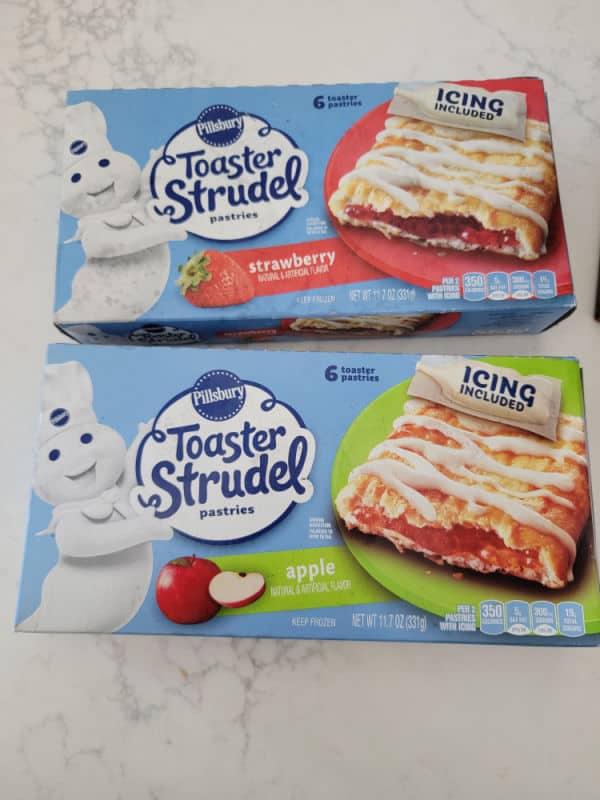 Ingredients
Frozen Toaster Strudel - Any flavor
We make this recipe with Pillsbury Toaster Strudel but you can use any store bought brand available in your local grocery store. Just make sure to check the cooking time just in case they are a different size.
The toaster strudel is kept in the freezer section.
Equipment
Air Fryer - We suggest getting an air fryer that is bigger than you think you will need. We found once we started using the air fryer, we ended up using it for more meals and larger meals.
Kitchen Tongs - We highly suggest getting a good pair of kitchen tongs to remove items from the air fryer and save your hands from getting burned.
How to toaster strudel in Air Fryer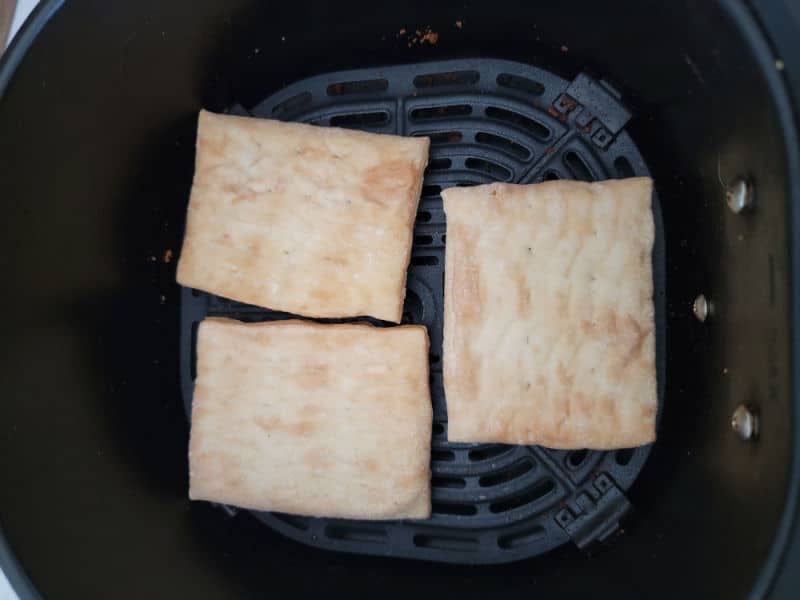 Step 1 - Evenly spread FROZEN toaster strudel in the air fryer. We can fit 3 pieces in our air fryer.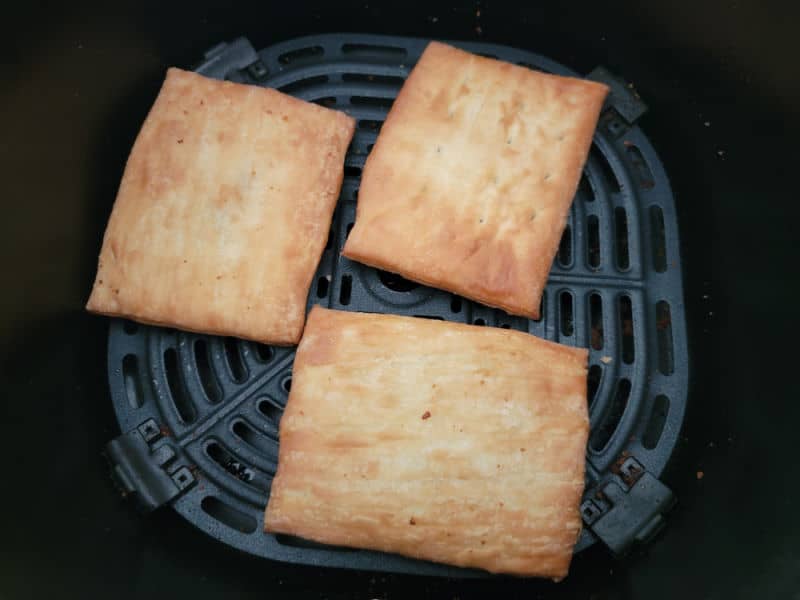 Step 2 - Air fry at 350 degrees.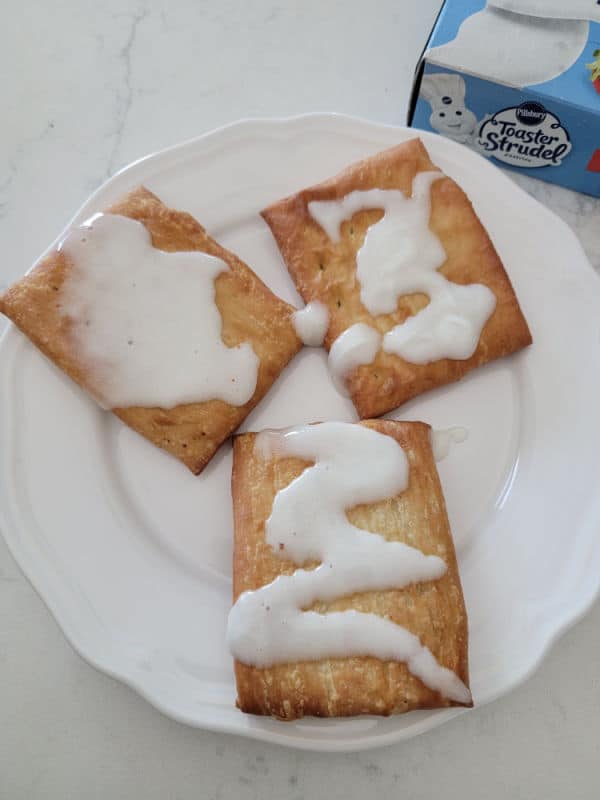 Step 3- Cover with icing and enjoy
Recipe Tips
We do not preheat the air fryer for this recipe.
Make sure to evenly spread out the toaster strudel so they have room to grow and the hot air can circulate around them.
Make sure to set aside the icing so it is ready when the strudel is done.
We do not use any non-stick cooking spray when making these. We will spritz some olive oil spray in the bottom of the air fryer basket every once in a while. You can also use air fryer parchment paper to help make it easier to remove the pastries.
Cook times will vary depending on your air fryer. Make sure to keep an eye on the toaster strudel the first few times you air fry them to get the perfect time for your air fryer.
If you are making multiple batches make sure to lower the cooking time for each subsequent batch. They will cook faster since the air fryer is hot.
Air Fryer Breakfast Recipes
Air Fryer Frozen Hash Brown Patties
Check out all of our Air Fryer Recipes including easy air fryer vegetarian recipes.
Do you love recipes? Check out our copy cat recipes, dessert recipes, and our Crock Pot Recipes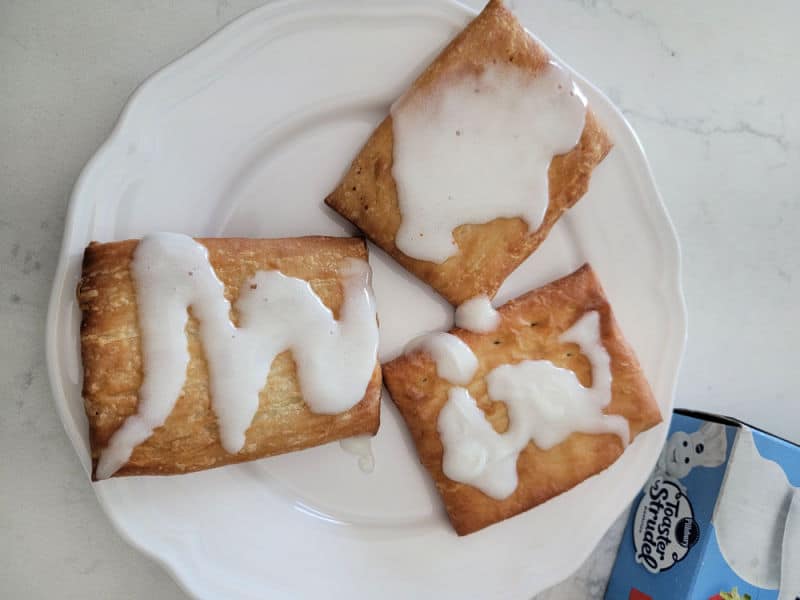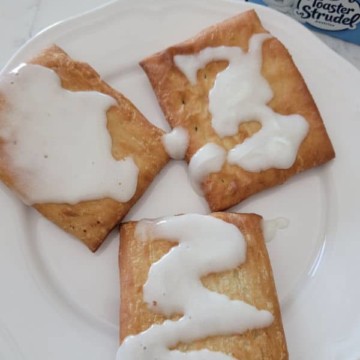 Air Fryer Toaster Strudel
Easy Air Fryer Toaster Strudel perfect for breakfast or a snack.
Print
Rate
Instructions
Place frozen toaster strudel in air fryer evenly spread out.

Air fry at 350 degrees for 5-7 minutes

Remove from air fryer and spread icing on the hot toaster strudel.