How to long to boil hot dogs to get them perfectly cooked and just right! This quick and easy hot dog recipe is perfect for a quick meal.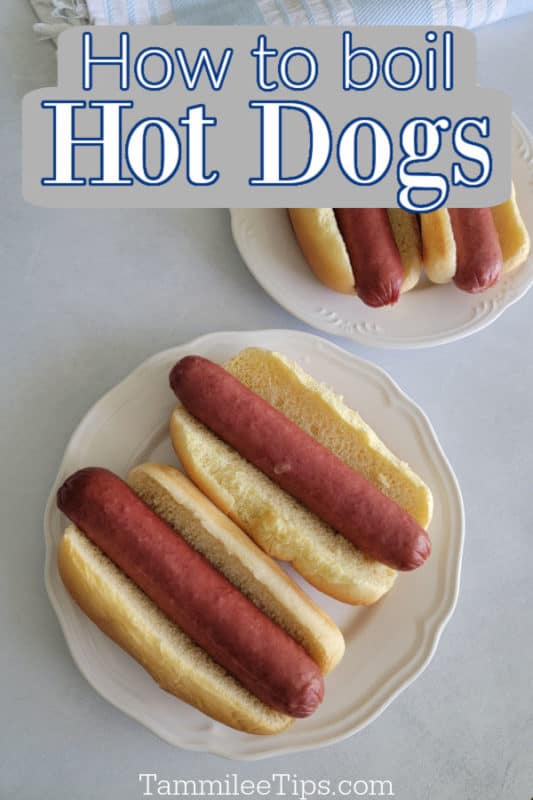 How Long to Boil Hot Dogs
There are quite a few cooking methods for hot dogs depending on how much time you have and the number of hot dogs you are preparing.
Boiling hot dogs is a great easy cooking method that only takes some water and a sauce pan.
This is the perfect way to cook hot dogs when grilling isn't an option. We like that they don't split like they tend to do when you cook them in the microwave.
I also love that you can cook one or two hot dogs or a large batch depending on how many people you need to serve.
I recently read that in 2018 more than $3 billion dollars was spent on Hot Dogs in US Grocery stores.
7 billion hot dogs are consumed from Memorial Day to Labor Day. I think it is safe to say that hot dogs are an American favorite.
So much so that Mickey Mouse's first words on screen were "Hot Dog"! All the way back in 1929 in Disney's The Karnival Kid cartoon.
Joey Chesnut is the World Hot Dog Eating Champion by consuming 76 hot dogs and buns in 10 minutes.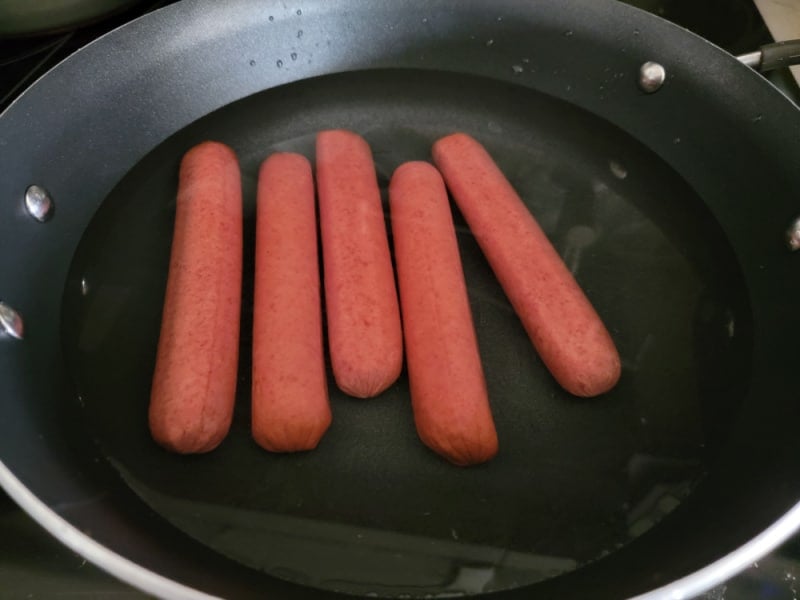 Ingredients
Additional ingredients - toasted hot dog buns
Hot Dog Toppings - hot dog chili, ketchup, mustard, relish, mayonnaise, sauerkraut, shredded cheese, coleslaw, sweet relish, jalapenos, BBQ sauce, onions, yum yum sauce, crumbled bacon, French fried onions, cheese, hot sauce, or a mix of everything.
What are your favorite toppings for hot dogs?
Equipment Needed
Saucepan - make sure to use a pan that is big enough for the water to fully cover the hot dogs.
Kitchen Tongs - Tongs make it really easy to remove the hot dogs from the boiling water.
You can also make Air Fryer Hot Dogs if you want a different way of cooking hot dogs.
How to Boil Hot Dogs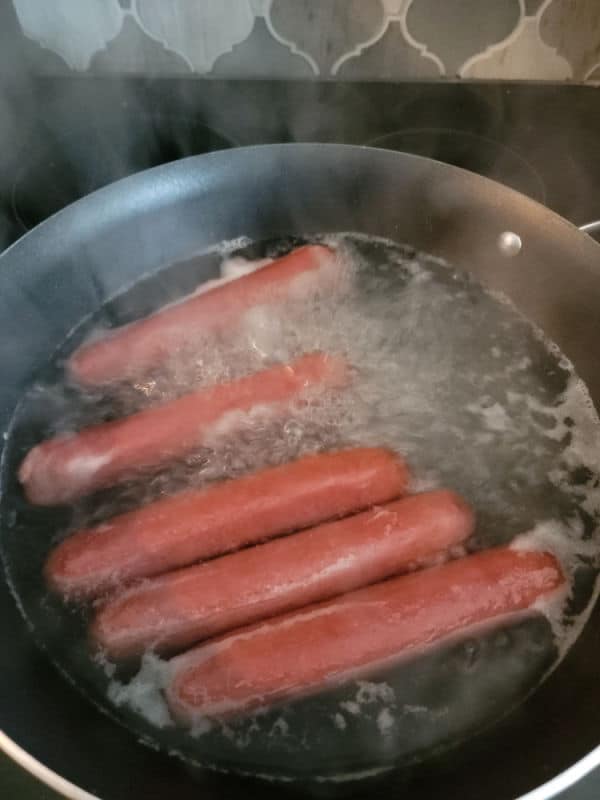 Step 1 - Add water and add the hot dogs to a saucepan. Bring to a boil over medium high heat.
Step 2 - Boil for 5 minutes, drain water, serve immediately.
You can place the boiled hot dogs on a couple paper towels to remove any water left on the skins.
How long to boil frozen hot dogs
Frozen hot dogs are going to take longer to boil to get the perfect hot dog. You will want to plan on them taking at least 10 minutes to cook.
Hot dogs are normally already fully cooked. Boiling water reheats them and kills any bacteria that may have begun to form.
Recipe Tips
This recipe can be scaled to boil more hot dogs. If you are having a large barbecue or event this is a great way to premake hot dogs for the event.
If you make boiled hot dogs ahead of time you can store them in the slow cooker on warm to keep them at a great temperature.
Cooking time should pretty consistent even with extra hot dogs in the pot. You may want to add a couple of minutes just in case but don't cook them so long that they split.
Toasting the buns is a great way to add a bit of texture.
You do not want to poke holes in the hot dogs or split them. The holes allow the flavor to leak out into the water and can change the taste of the hot dogs.
To add extra flavor you can drop a beef, chicken or vegetable bouillon cube in the water. The extra flavor will seep into the hot dogs.
You can even substitute the water for beer to add extra flavor.
This is the perfect recipe to make your Memorial Day, 4th of July, and summer barbecues a little easier. Just boil the hot dogs ahead of your party and keep them warm and ready for your guests.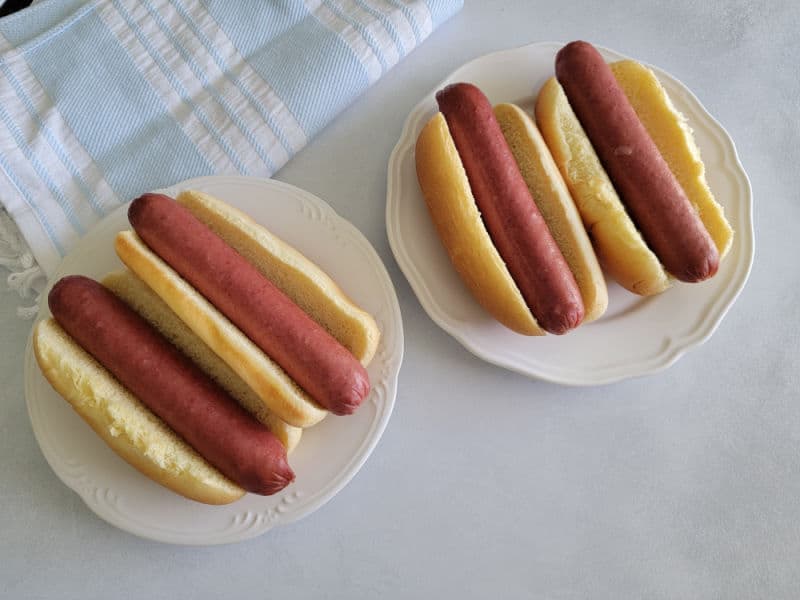 Great Recipes
Do you love recipes? Check out our copycat recipe, dessert recipes, and our Crock Pot Recipes.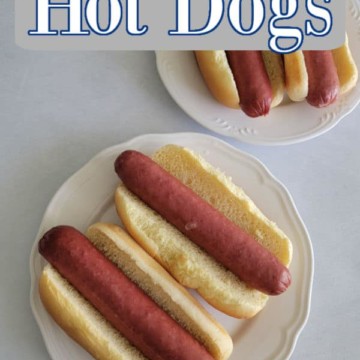 How to Boil Hot Dogs
It is really easy to boil hot dogs and have them turn out amazing.
Print
Rate
Instructions
Add hot dogs and water to a sauce pan. Bring to a boil

Boil for 5 minutes, drain and serve
Nutrition
Nutrition Facts
How to Boil Hot Dogs
Amount Per Serving
Calories 111
Calories from Fat 63
% Daily Value*
Fat 7g11%
Cholesterol 20mg7%
Sodium 316mg14%
Potassium 66mg2%
Carbohydrates 8g3%
Protein 5g10%
Vitamin C 1mg1%
Calcium 16mg2%
Iron 1mg6%
* Percent Daily Values are based on a 2000 calorie diet.