How to long to boil hot dogs to get them perfectly cooked and just right! This quick and easy hot dog recipe is perfect for a quick meal.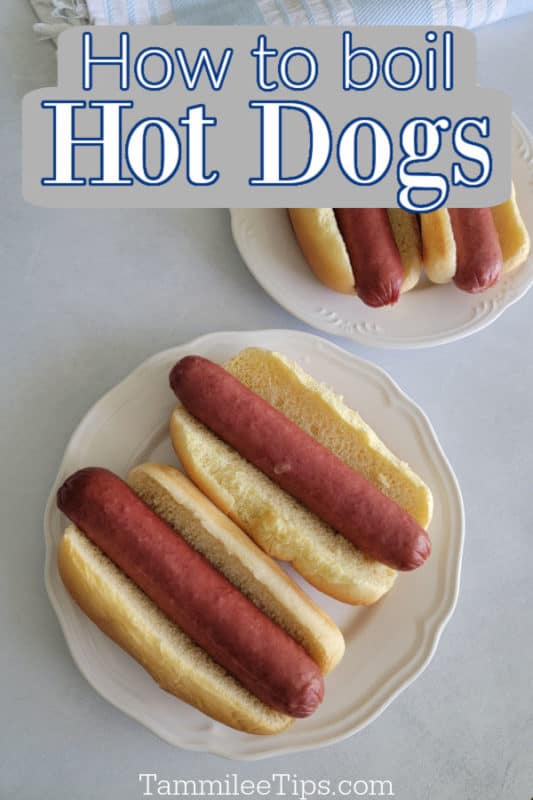 How Long to Boil Hot Dogs
Have you ever wondered how to boil perfectly cooked hot dogs for a quick meal or warm-weather gathering?
There are many cooking methods for hot dogs, depending on your available time and the number of hot dogs you prepare.
Boiling hot dogs is a great, easy cooking method that only takes some water and a saucepan.
It's the perfect way to cook hot dogs when grilling isn't an option. We like that they don't split like they tend to do when you cook them in the microwave.
I also love that you can cook one or two hot dogs or a large batch, depending on how many people you need to serve.
Did you know that in 2018, American consumers spent more than $3 billion on hot dogs at the grocery store?
Seven billion hot dogs are consumed from Memorial Day to Labor Day. It is safe to say that hot dogs are an American favorite, so much so that Mickey Mouse's first on-screen words in 1929 in Disney's The Karnival Kid cartoon were "Hot Dog"!
Joey Chesnut is the World Hot Dog Eating Champion, consuming 76 hot dogs and buns in 10 minutes. Hot diggity dog, is that a lot of hot dogs or what?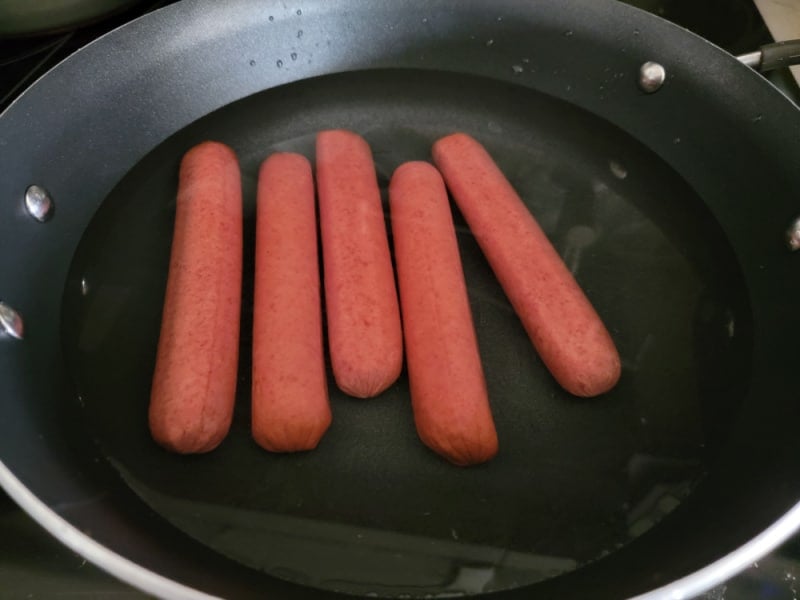 Ingredients
Here is a quick overview of the simple ingredients you'll need for making epic boiled hot dogs! The printable recipe card at the bottom of the post includes specific measurements and step-by-step instructions.
Additional Ingredients: Toasted Hot Dog Buns
Hot Dog Toppings - hot dog chili, ketchup, mustard, relish, mayonnaise, sauerkraut, shredded cheese, coleslaw, sweet relish, jalapenos, BBQ sauce, onions, yum yum sauce, crumbled bacon, French fried onions, cheese, hot sauce, or a mix of everything.
With regional standbys like the Coney and the Chicago Dog, America is an expert at taking creative liberties with the iconic hot dog beyond ketchup and mustard.
What are your favorite condiments and favorite toppings for hot dogs?
Equipment Needed
Saucepan - make sure to use a pan that is big enough for the water to fully cover the hot dogs.
Kitchen Tongs - Tongs make it really easy to remove the hot dogs from the boiling water.
You can also make Air Fryer Hot Dogs if you want a different way of cooking hot dogs.
How to Boil Hot Dogs
I've included complete instructions in the printable recipe card at the bottom of the post, but here's the short version.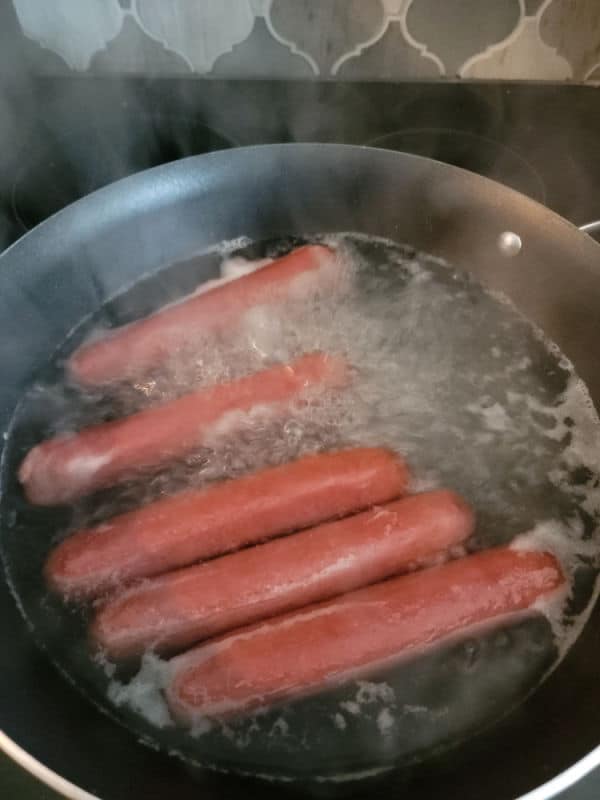 Step 1 - Add water and add the hot dogs to a saucepan on the stovetop. Bring to a boil over medium high heat.
Step 2 - Boil, drain water, serve immediately. Use tongs to carefully remove them from the pot of water.
You can place the boiled hot dogs on a couple paper towels to remove any water left on the skins.
How Long to Boil Frozen Hot Dogs
Frozen hot dogs will take longer to boil to get the perfect hot dog. You will want to plan on them taking at least 10 minutes to cook.
Hot dogs are normally already fully cooked. Boiling water reheats them and kills any bacteria that may have begun to form.
Preparation and Storage
Make Ahead: If you make boiled hot dogs ahead of time, you can store them in the slow cooker on warm to keep them at a great temperature.
Storage: Although hot dogs are a fully-cooked product, it's still essential to keep them refrigerated until it's time to cook them. An opened pack of hot dogs remains usable for up to a week.
Store leftover hot dogs in an airtight container in the fridge.
Freezing/How to Freeze: Hot dogs are safe to freeze indefinitely, but it's best to keep them frozen for no longer than two months for the best quality.
How to Reheat: Hot dogs are easy-peasy to reheat, as you can reheat them the same way you cook them. You can also pop them in the microwave until they reach temperature. 
Recipe Variations
Substitutions: While not necessarily a substitution, drop a beef, chicken, or vegetable bouillon cube in the water to add flavor. The extra flavor will seep into the hot dogs.
This recipe can be used for turkey, pork, or veggie hotdogs.
Vegetarian + Vegan Option: There are many yummy options on the market for plant-based eaters, and you can prepare these vegetarian and vegan options according to the same instructions.
Gluten-Free: As with vegetarian and vegan choices, there are many gluten-free hot dogs, buns, and condiment options to safely satisfy the appetites of your guests who can't consume gluten products.
Smaller Serving Size: We have a Crock Pot Corn Dog Casserole with sliced hot dogs.
Make it Spicy: Using spicy condiments and toppings is an easy way to get creative with amped-up hot dogs. Spicy hot dogs are also available for purchase in stores.
Larger Group/More Servings: This recipe is scalable for boiling more hot dogs. If you are having a large barbecue or event, this is a great way to premake hot dogs for the event.
Sugar-Free: Hot dogs typically don't contain sugar, but some flavored varieties may contain added sugars. Check the nutrition label on your hot dogs to verify their sugar content.
Tips for the Best Boiled Hot Dogs
Cooking time should be consistent, even with extra hot dogs in the pot. Consider adding a few minutes just in case but don't cook them so long that they split.

Toasting the buns is a great way to add a bit of texture.

You do not want to poke holes in the hot dogs or split them. The holes allow the flavor to leak out into the water and change the hot dogs' taste.

You can even substitute the water for beer to add extra flavor.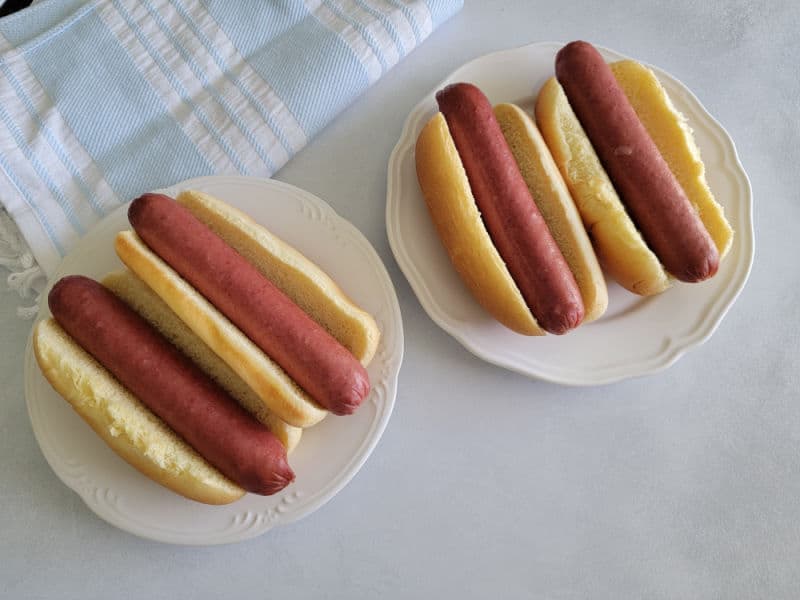 What to Serve With Boiled Hot Dogs
Sides: Viral TikTok Taco Pickles, Funeral Potatoes, BLT Pasta Salad, Pear Salad, Sauerkraut Salad, Southwest Black Bean & Corn Salad, Broccoli Slaw, Crockpot Bacon Wrapped Potatoes
Main Dishes: Slow Cooker Beer Chili, Philly Cheesesteak Stuffed Pepper, Crockpot Mac & Cheese, Tater Tot Chicken & Broccoli Casserole, Easy Macaroni Salad, Wilted Spinach Bacon Pasta 
Desserts: Classic Rice Krispie Treats, Red, White, and Blue Poke Cake, 
Drinks: Woo Woo Drink, Fireball & Ginger Ale Cocktail, Incredible Hulk Drink, Angry Balls Cocktail, Orange Moscow Mule, Ranch Water, Ranch Tea Cocktail, Beer Margaritas
When to Serve
This recipe is perfect for making your Memorial Day, 4th of July, and summer barbecues easier, giving you more time to spend in the sunshine and enjoy the best of the season. Just boil the hot dogs before your party and keep them warm and ready for your guests.
Great Recipe Collections
Celery Recipes - Are you wondering what to make with the celery that has been in your fridge? These are our favorite recipes with celery in them.
Bisquick Recipes - Everything from breakfast to snacks, to comfort food, and more! All of these recipes with Bisquick are made with simple ingredients and are quick and easy recipes!
3 Ingredient Recipes - Easy 3 Ingredient Recipes that taste amazing! Drinks, entrees, and desserts you can make with a few ingredients.
Desserts with 5 ingredients or less - All the recipes in this collection are made with five or fewer ingredients, ensuring you're never more than a few steps and ingredients away from sweet treat bliss.
Easy Dump Cake Recipes - including crockpot dump cakes and oven-based dump cakes! These are the perfect potluck and holiday desserts.
Epic Cream Cheese Recipes - Everything from cream cheese dips, desserts, entrees, appetizers, and so much more! Great ways to use cream cheese in recipes.
Do you love recipes? Check out our copycat recipes, dessert recipes, and our CrockPot Recipes.
Follow Tammilee Tips on MSN, Facebook, Instagram, and Pinterest for all our recipe posts.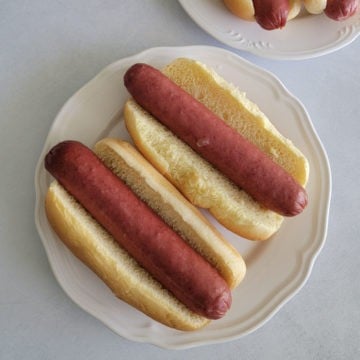 How to Boil Hot Dogs
It is really easy to boil hot dogs and have them turn out amazing.
Print
Rate
Instructions
Add hot dogs and water to a sauce pan. Bring to a boil

Boil for 5 minutes, drain and serve
Nutrition
Nutrition Facts
How to Boil Hot Dogs
Amount Per Serving
Calories 111
Calories from Fat 63
% Daily Value*
Fat 7g11%
Cholesterol 20mg7%
Sodium 316mg14%
Potassium 66mg2%
Carbohydrates 8g3%
Protein 5g10%
Vitamin C 1mg1%
Calcium 16mg2%
Iron 1mg6%
* Percent Daily Values are based on a 2000 calorie diet.