Easy Frozen Eggs Rolls in Air Fryer recipe! It is so easy to heat up any type of frozen egg rolls in the air fryer. A few minutes and you have hot crispy egg rolls to enjoy!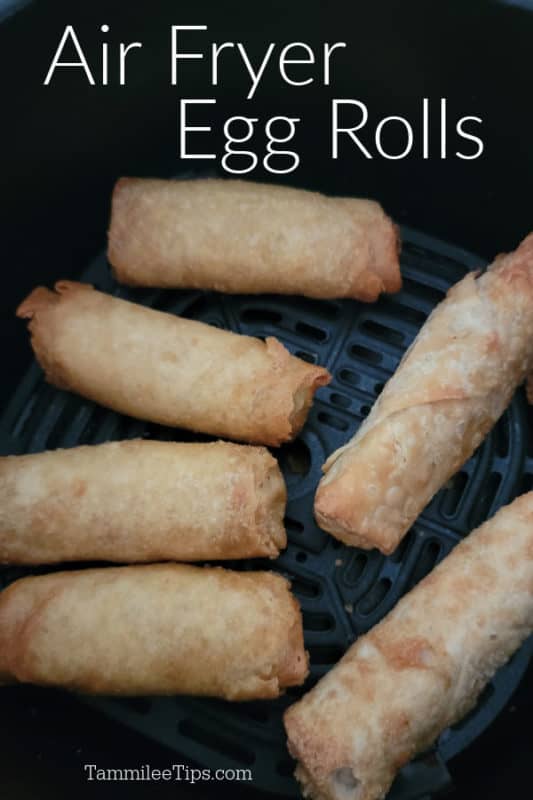 Frozen Eggs Rolls in Air Fryer
I am hooked on making all the things I can with our air fryers. My husband keeps laughing because I keep buying random frozen food to see if I can cook it in the air fryer better than the microwave or oven. It has been a random fun challenge this summer to work on new air fryer recipes.
One of our favorite recipes is making frozen egg rolls in the air fryer. They come out so crispy and taste amazing! I love the crunch you get from air frying them instead of making them in the microwave.
One thing to know is every frozen egg roll will cook just a little differently in the air fryer depending on how big they are, the type of fillings, and even how they are wrapped.
You will want to keep a close eye on the air fryer frozen egg rolls the first few times you make them until you get the perfect crispness with your air fryer.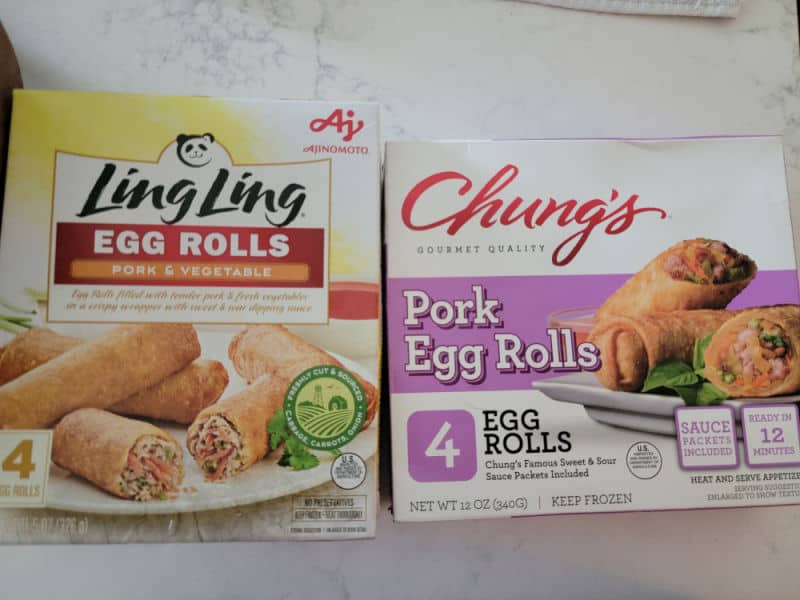 Ingredients
Frozen Egg Rolls - You can use any variety or size egg rolls that you prefer. Make sure to read the notes below for tips on cooking frozen egg rolls.
We made frozen pork egg rolls and pork & vegetable egg rolls for these photos.
Equipment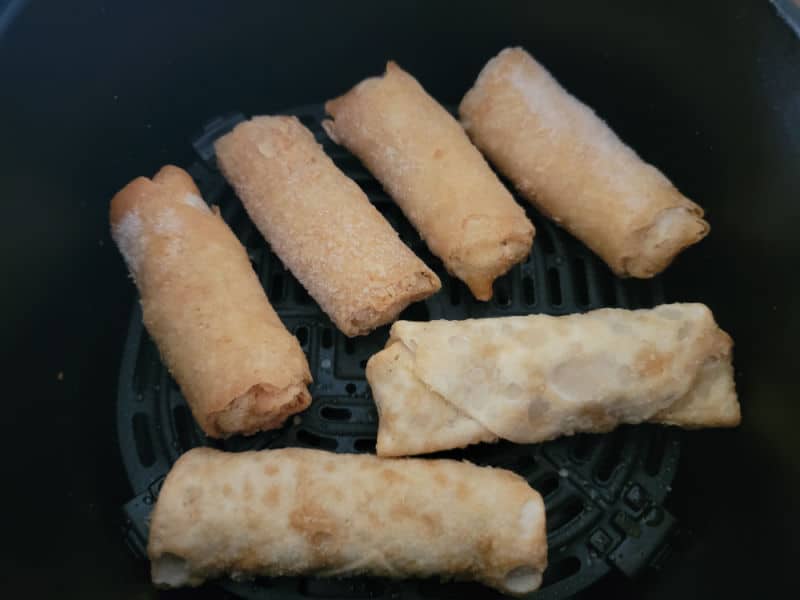 Recipe Tips
Do NOT Thaw the eggs rolls before cooking them in the air fryer
We do not preheat the air fryer before cooking with it.
We do not use extra oil to make these egg rolls.
Make sure to place the egg rolls in a single layer with space for the hot air from the air fryer to circulate around them.
Cooking time will vary depending on your air fryer. Make sure to start with the lowest cooking time and then add additional minutes until you get the crispiness you like.
Shake the air fryer basket halfway through cooking to make sure the egg rolls cook all the way through.  By flipping the egg rolls you get crispy crunch all the way around the egg roll without having to deep fry it.
If you are cooking multiple batches of egg rolls or spring rolls you will want to lower the cooking time for each subsequent batch. As the air fryer heats up it will take less time to get perfectly crispy egg rolls.
This quick and easy recipe is perfect for snacks, appetizers, or serving as your main meal. We rarely have leftover egg rolls everyone loves them so much.
Great Air Fryer Recipes
Check out all of our Air Fryer Recipes
Do you love recipes? Check out our copy cat recipes, dessert recipes, and our Crock Pot Recipes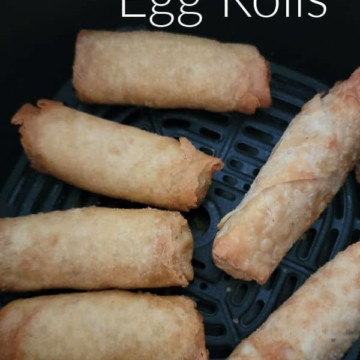 Frozen Eggs Rolls in Air Fryer
How to make frozen egg rolls in the air fryer. A great way to get crispy hot egg rolls without deep frying them.
Print
Rate
Instructions
Evenly spread the frozen egg rolls in the air fryer basket

Air fry at 340 degrees for 8-10 minutes, flip the egg rolls with tongs

Air fry at 400 degrees for 2-4 minutes until nice and crispy.