Easy Frozen Eggs Rolls in Air Fryer recipe! It is so easy to heat any type of frozen egg rolls in the air fryer. In a few minutes, you will have hot, crispy egg rolls to enjoy!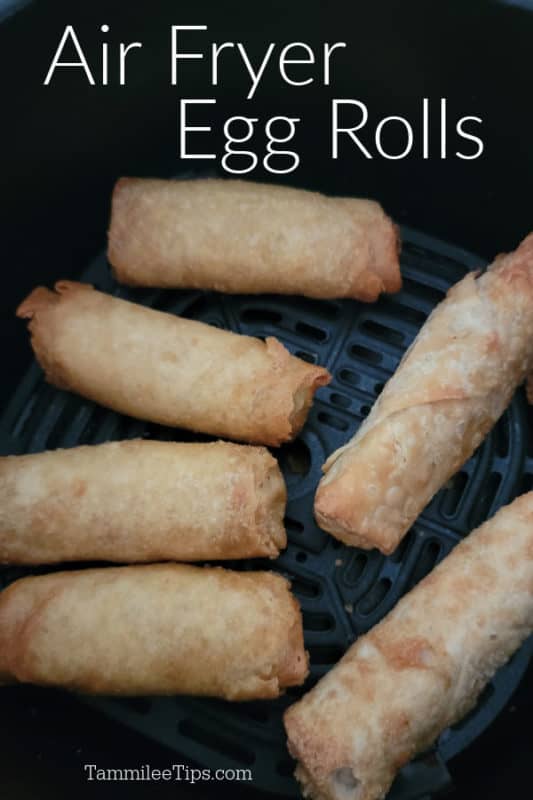 Frozen Eggs Rolls in Air Fryer
I love making everything I can with our air fryers. My husband keeps laughing because I keep buying random frozen food to see if I can cook it in the air fryer better than in the microwave or oven. It has been a quirky, fun challenge this summer to work on new air fryer recipes.
One of our favorite recipes is making frozen egg rolls in the air fryer. They come out so crispy and taste amazing! I love the crunch from air frying them instead of making them in the microwave.
One thing to know is every frozen egg roll will cook a little differently in the air fryer depending on how big they are, the type of fillings, and even the type of wrapper.
You will want to keep a close eye on the air fryer frozen egg rolls the first few times you make them until you get the perfect crispness with your air fryer.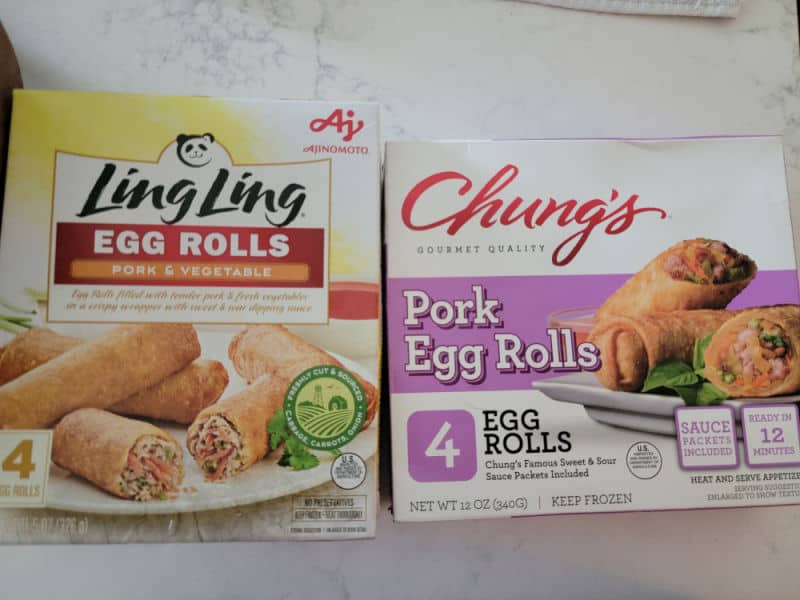 Ingredients
Here is a quick overview of the simple ingredients needed to make epic Air Fryer Egg Rolls! The printable recipe card at the bottom of the post includes specific measurements and step-by-step instructions.
Egg Rolls - This recipe works great with any variety of egg rolls including shrimp egg rolls, chicken egg rolls, Tai Pei Egg Rolls, Chung's Egg Rolls
Equipment Needed
Air Fryer

: We suggest getting an air fryer that is bigger than you think you will need. We found that once we started using the air fryer, we used it for more and larger meals.

Kitchen Tongs

: We highly suggest getting a good pair of kitchen tongs to remove items from the air fryer and save your hands from getting burned.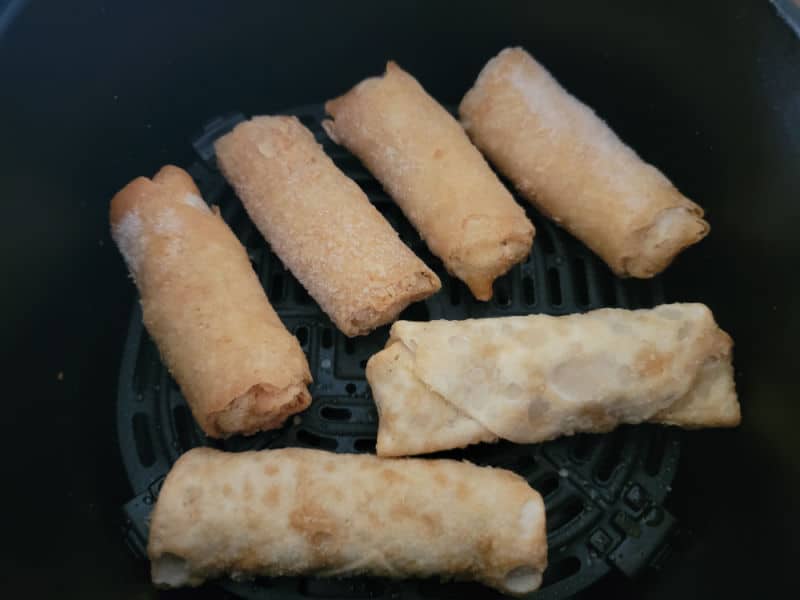 How to Make Air Fryer Egg Rolls
I've included complete instructions in the printable recipe card at the bottom of the post, but here's a quick version.
Evenly spread the frozen egg rolls in a single layer in the air fryer basket.

Air fry. Flip the egg rolls with tongs.

Air fry until nice and crispy. The egg roll wrappers should be golden brown. While the insides are hot.  
Preparation and Storage
Make Ahead: Cooking the egg rolls from frozen is a time-saving shortcut. Do NOT thaw the egg rolls before cooking them in the air fryer. We also do not preheat the air fryer before cooking with it.
You can pull the egg rolls straight from the freezer and place them in the air fryer.
Storage: Refrigerate any leftover egg rolls in an airtight container in the refrigerator and enjoy them within three days.
Freezing/How to Freeze: For quality and food safety reasons, it is best not to refreeze any frozen food you have cooked.
How to Reheat: You can reheat cooked leftover egg rolls in the air fryer to return them to crispy goodness!
Recipe Variations
Substitutions:
You can use any variety or size of egg rolls that you prefer. Read the notes below for tips on cooking frozen egg rolls. We made frozen pork egg rolls and pork and vegetable egg rolls for these photos.
Vegetarian Option: Use meatless egg rolls if you are vegetarian.
Vegan Option: Use vegan egg rolls if you are plant-based.
Gluten-Free: Make this recipe with gluten-free egg rolls to make it safe for a gluten-free diet.
Smaller Serving Size + Larger Group/More Servings: 
The recipe directions are for a pack of eight frozen egg rolls but adapt quickly to however many you need to make.
If you cook multiple batches of egg rolls or spring rolls, you will want to lower the cooking time for each subsequent batch. As the air fryer heats up, it will take less time to get perfectly crispy egg rolls.
Make It Spicy: Look for a spicy egg roll variety if you enjoy spicy food.
Sugar-Free: Egg rolls typically do not contain much sugar, but look for a pack with the lowest sugar content if this is a dietary concern.
Tips for the Best Air Fryer Egg Rolls
We do not use extra oil to make these egg rolls.

Make sure to place the egg rolls in a single layer with space for the hot air from the air fryer to circulate them.

Cooking time will vary depending on your air fryer. Start with the lowest cooking time and add minutes until you get the crispiness you like.

Shake the air fryer basket halfway through cooking to make sure the egg rolls cook all the way through. By flipping the egg rolls, you get a crispy crunch around the egg roll without having to deep-fry it.

This quick and easy recipe is perfect for snacks, appetizers, or serving as your main meal. We rarely have leftover egg rolls; everyone loves them so much.

Nutrition information, including calories, protein, calcium, carbohydrates, fiber, vitamin c, potassium, cholesterol, sodium, trans fat, monounsaturated fat, polyunsaturated fat, and more, will vary depending on the products used.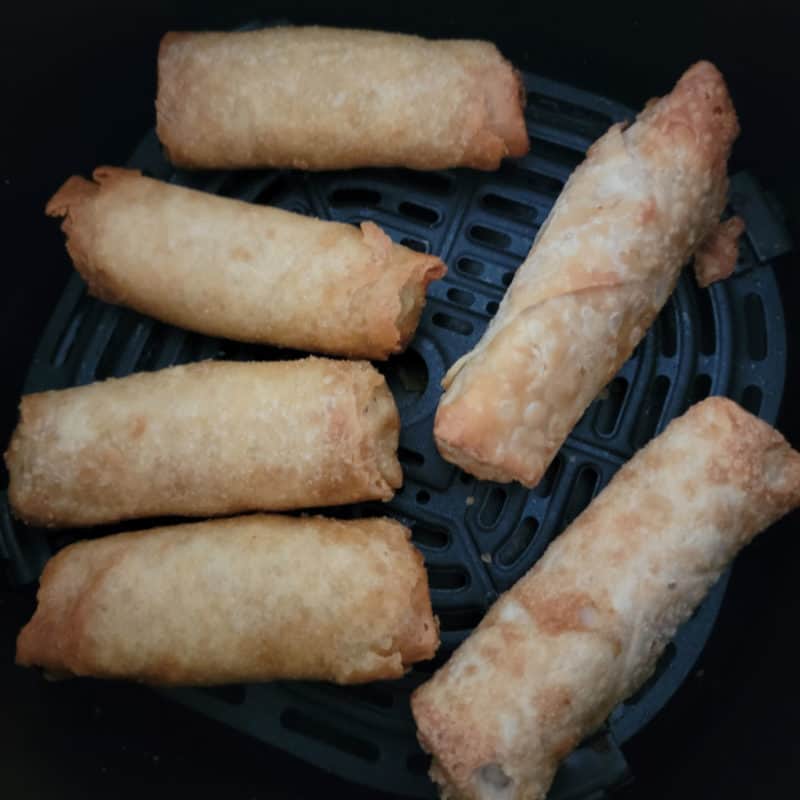 What to Serve with Air Fryer Egg Rolls
Pair this appetizer favorite air fry egg rolls with other Chinese-American classics for an Asian-inspired feast at home!
Favorite Dipping Sauces: Duck Sauce, Spicy mustard, Sweet chili sauce, Low Sodium Soy sauce, Sweet and Sour Sauce
Here are some menu pairing suggestions and cocktails that would go well.
Sides: Easy Fried Rice, Crock Pot Rice, Air Fryer Cream Cheese Rangoons
Main Dishes: Orange Chicken and Broccoli, Crock Pot Cashew Chicken, Asian Flank Steak, CrockPot Asian Chicken Lettuce Wraps, CrockPot Teriyaki Chicken, CrockPot Beef and Broccoli
Desserts: Mandarin Orange Jello Salad, Sriracha Caramel Corn, Mandarin Orange Angel Food Cake, 2 Ingredient Coconut Macaroon Cookies, Tropical No-Bake Truffles
Drinks: Spicy Chipotle Pineapple Martini, Orange Moscow Mule, Kamikaze Shot, Green Tea Shot, Restorative Basil Drop, Mai Tai
When to Serve
Lunch

Family Dinner

Date Night

Asian Night

Chinese Night

Afternoon Snack
Great Recipe Collections
Vegetarian Easy Air fryer Recipes - Epic easy vegetarian recipes you can make in the air fryer.
Easy Vegetable Side Dishes for Any Occasion - These are the perfect veggie side dishes for dinner or a holiday event. 
Easy CrockPot Ground Beef Recipes - Use your slow cooker to prepare a great ground beef based recipe.
3-Ingredient Recipes - Every recipe in this collection only has three ingredients! 
Carrot Recipes for Every Occasion - Wondering what to do with a bunch of carrots. These easy carrot recipes are great.
Easy Side Dishes for Chicken - Our favorite side dishes to pair with chicken.
Sour Cream Recipes - Check out all of our recipes with Sour Cream.
Do you love recipes? Check out our copycat recipes, dessert recipes, and our CrockPot Recipes.
Follow Tammilee Tips on MSN, Facebook, Instagram, and Pinterest for all our recipe posts.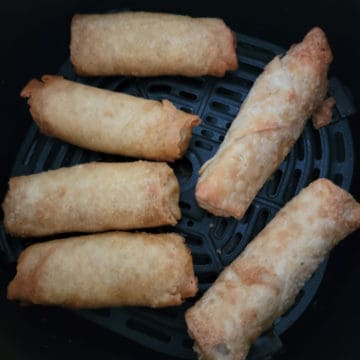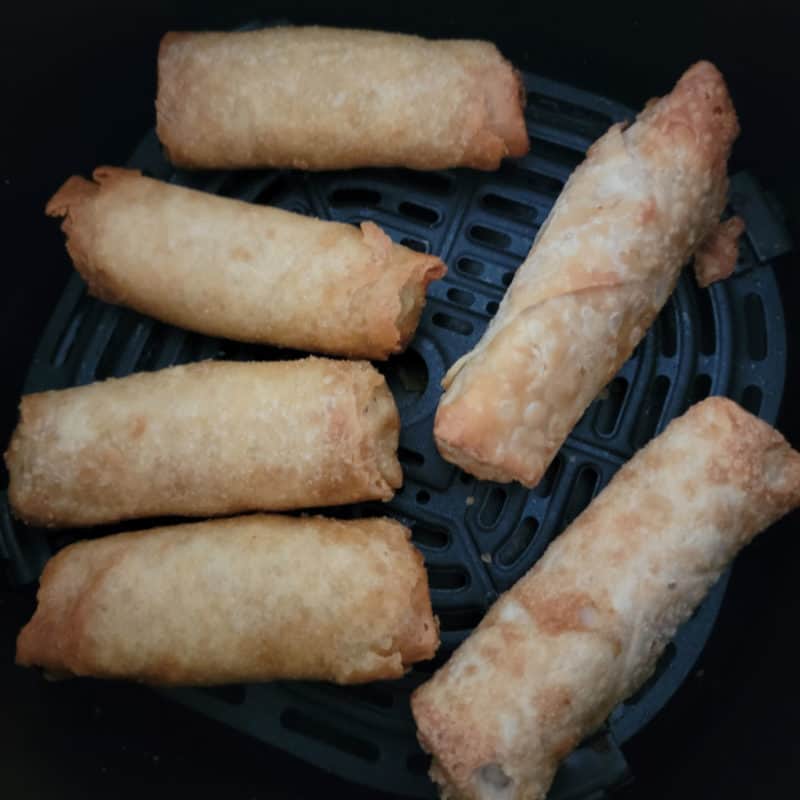 Frozen Eggs Rolls in Air Fryer
How to make frozen egg rolls in the air fryer. A great way to get crispy hot egg rolls without deep frying them.
Print
Rate
Instructions
Evenly spread the frozen egg rolls in the air fryer basket

Air fry at 340 degrees for 8-10 minutes, flip the egg rolls with tongs

Air fry at 400 degrees for 2-4 minutes until nice and crispy.