Complete guide to the newly renovated Carnival Radiance. Check out all of the updates, new restaurants, new entertainment, and more on this beautiful Carnival Cruise Ship.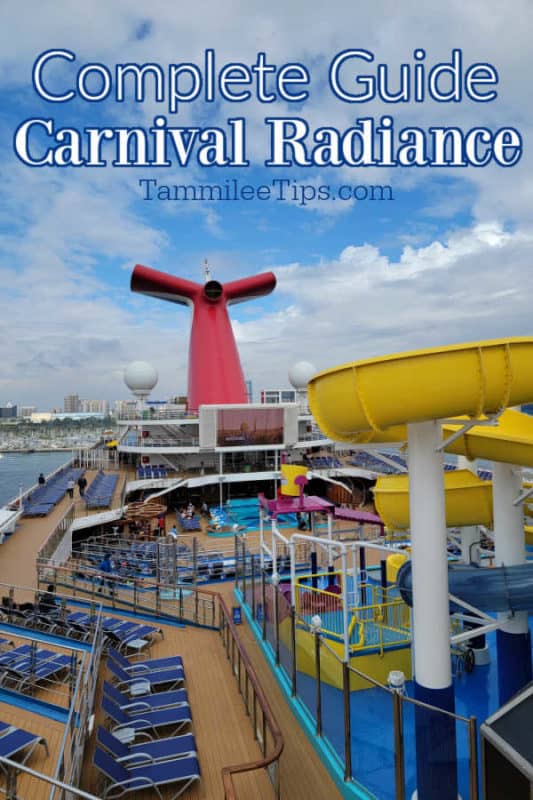 Epic Guide to the Carnival Radiance
The Carnival Radiance is the newly transformed Carnival Victory. The new ship renovations were launched in December 2021 after spending 38 days in dry dock in Cadiz, Spain.

During renovations, the Carnival team added additional rooms, more guest capacity, additional crew, and brought on a new ship godmother Lucille O'Neal.
The ship has freshly updated island-inspired interiors with bright colors and tropical pastels inspired by the Caribbean.
The ship underwent a $200 million dollar bow to the stern refurbishment that added some of the guests' favorite restaurants and entertainment options to the ship.
The Carnival Victory was introduced in 2000 as the third in the Destiny Class ships. The Destiny Class ships include the Carnival Destiny which became the Carnival Sunshine and the Carnival Triumph which became the Carnival Sunrise.
When the Carnival Victory hit the seas it was groundbreaking at 102,000 tons. It was among the largest cruise ships in the world.
The interior of the Carnival Victory was designed by noted interior architect Joe Farcus and you can still see some of his designs throughout the ship.
With the renovation, the Carnival Radiance is now considered part of the Sunshine Class of Ships which includes the Carnival Sunrise.
Check out epic cruise deals on Expedia
Restaurants on the Carnival Radiance
There are so many restaurants on the Carnival Radiance it can be hard to decide what you want to enjoy for each meal.
You don't want to miss Shaq's Big Chicken as it is only on two Carnival Cruise Ships right now with a third debuting soon.
Other favorites include Cucina Del Capitano, Blue's Iguana Cantina, Guy's Burger Joint, and you can't miss an epic fresh pizza from Pizzeria del Capitano!
Evening Restaurant Attire
If you are wondering what to pack for dinner here are a couple of quick and easy guides to help determine what to wear each night of the cruise.
Cruise Casual - Enjoy dinner while wearing your favorite cruise vacation clothes. The only clothing that is not acceptable is cut-off jeans, men's sleeveless shirts, gym or basketball shorts, baseball hats, flip flops, and bathing suit attire.
Cruise Elegant - Feel free to wear your finest evening attire. On cruise elegant night you will see everything ranging from a simple dress to a full tuxedo. It really depends on each individual and how dressy they want to be.
Please know that the following items are not allowed during cruise elegant night - jeans, men's sleeveless shirts, shorts, t-shirts, sportswear, baseball hats, flip flops, and bathing suit attire.
If you are not a cruise elegant person don't worry there are still dining options outside of the main dining room.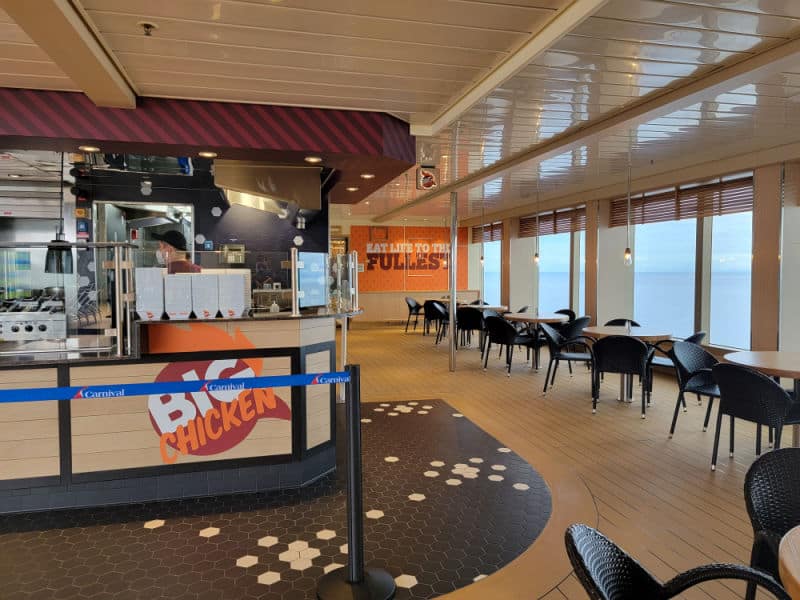 Cost - Included
The Carnival Radiance is home to one of the newest fast service restaurants on Carnival Cruises! Big Chicken is owned by Shaquille O'Neal and serves epic fried chicken sandwiches for breakfast and lunch.
Carnivals Chief fun officer continues to bring the fun with the addition of Big Chicken restaurants.

Cost - Included
Chef Guy Fieri partners with Carnival to bring an epic burger joint to every Carnival Cruise Ship!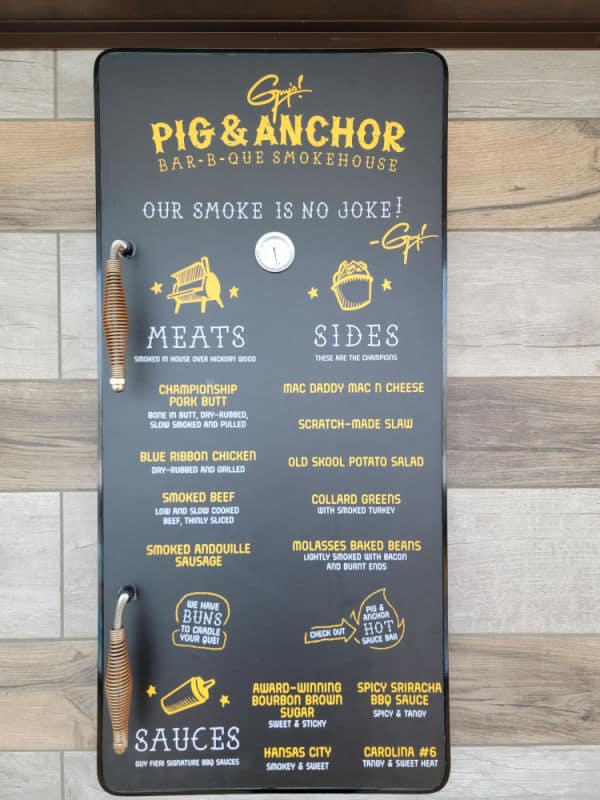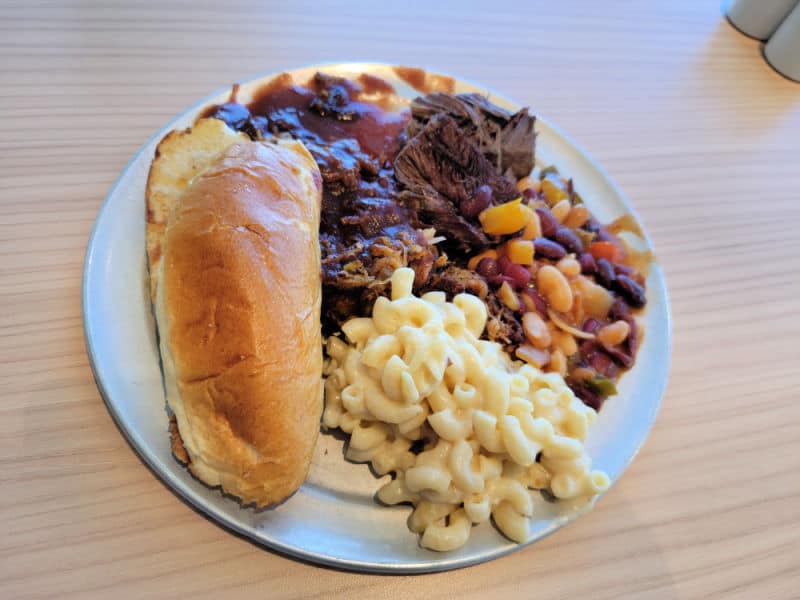 Guys Pig & Anchor Smokehouse
Cost - Included
One of the really great updates to the Carnival Radiance is Guy's Pig and Anchor Smokehouse has a permanent location above the Aft pool.
Tucked away on deck 10 you can enjoy epic BBQ including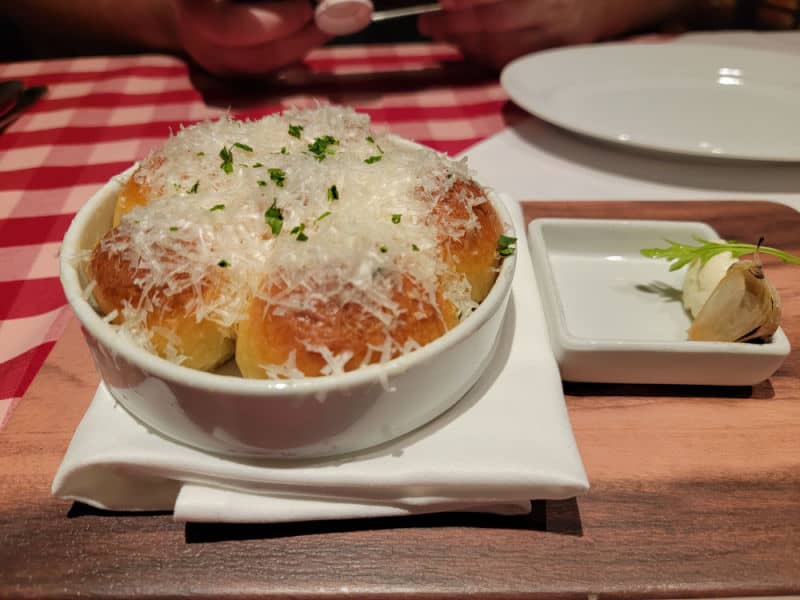 Cost - Lunch is included, dinner is additional
One of our absolute favorite Italian restaurants is located above the Lido Buffet on deck 10. Serving lunch and dinner with an exquisite menu of Italian restaurant favorites.
On the Carnival Radiance, they have Captain Stefano Bonica's favorite meal Pesce Spada E Melanzane which is his mother's recipe from her restaurant on the island of Sicily.
Pasta Pachcheri is cooked al dente and tossed with eggplant, capers, cherry tomatoes, swordfish, white wine, and finished with torn basil leaves and lemon rind.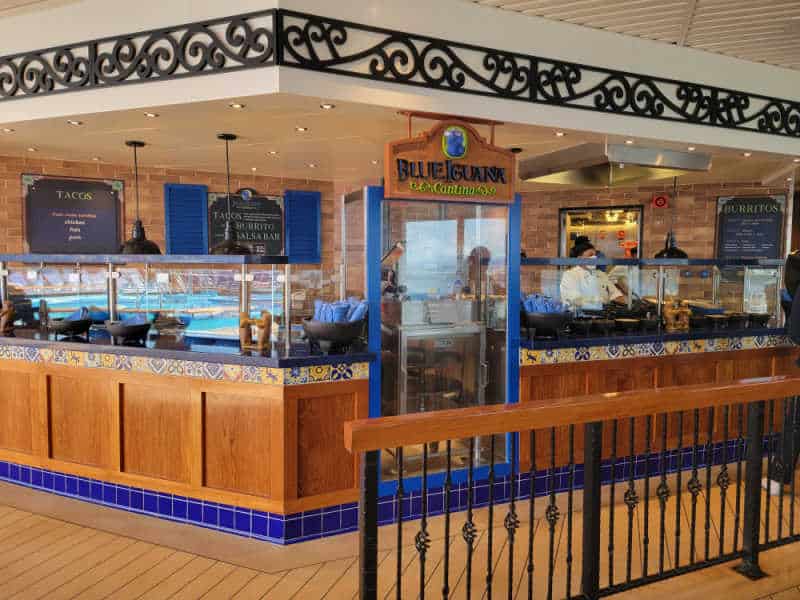 Cost - Included
Blue Iguana Cantina is open for breakfast and lunch daily onboard. They serve our favorite customizable breakfast burritos. They are the perfect easy breakfast to grab on port days.
For Breakfast you can choose wheat or jalapeno tortilla, Mexican style scrambled eggs, scrambled eggs, chicken sausage, ham, skillet hash brown potatoes, Monterey jack cheese, onion, iceberg lettuce, tomatoes with roasted tomato salad, crema fresca, Pico de Gallo, or tomatillo salsa.
They also have arepas and huevos rancheros.
For lunch, they have tacos or burritos and a salsa bar.
The tacos have fresh-made tortillas filled with your choice of chipotle rubbed chicken, ancho roast pork, or seasoned battered fish.
Cost - Additional
Fahrenheit 555 Steakhouse is a must-visit for anyone who loves steak or fine dining. You can enjoy a 5-star quality steakhouse onboard the ship for a minimal cost.
Every time we eat at Fahrenheit 555 we are amazed at the quality of food and the flavor.
Starter options include Iced & Smoked Oysters, Stuffed Mushrooms, Bone Marrow & Hand Cut Beef Tartare, Heritage Berkshire Pork Belly, Jumbo Shrimp Cocktail, Crab Mushroom Risotto, Tuna Tartare, Maine lobster bisque, Baked onion soup, Classic Caesar salad, and Baby leaf spinach & fresh mushrooms.
Entrée options include USDA Prime New York Strip Loin Steak, USDA Prime Cowboy Steak, Australian Wagyu, Spice-Rubbed USDA prime ribeye, Broiled Filet Mignon, Surf & Turf, Grilled lamb chops, Broiled Lobster tail, Colossal Shrimp, and Chilean Sea Bass.
Sauces include Three mustard, BBQ, Bearnaise, Red wine, Chimichurri.
Side dishes include baked potato with toppings, sauteed medley of fresh mushrooms, garlic rapini, Yukon gold mash with wasabi horseradish, onion rings, Mac & Cheese, and French fries with bourbon smoked paprika.
Dessert options include chocolate sphere, cheesecake, chocolate art at your table, fresh fruit, or a selection of homemade sherbet & Ice cream.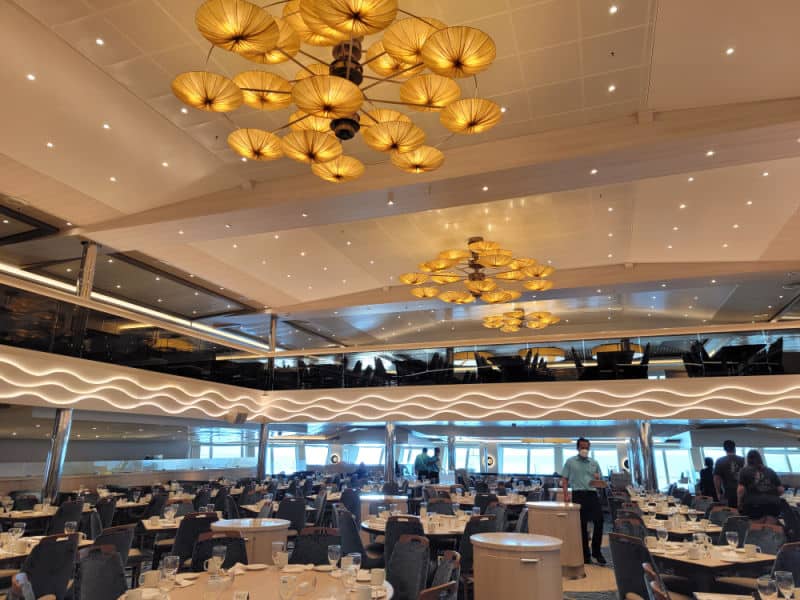 Main Dining Room
Cost - Included
Radiance Dining Room (forward)
Sunshine Dining Room (aft)
The main dining room offers sit-down dining for breakfast, lunch, and dinner. They also have afternoon tea on sea days which is not to be missed.
Every day the menu changes to include amazing options including vegan and vegetarian options.
Cost - Additional
The Chefs Table is an opportunity to not only view the galleys on board the ship but to meet an executive chef and have a meal prepared for you.
This multi-course menu is perfect for foodies, or anyone who loves trying new food.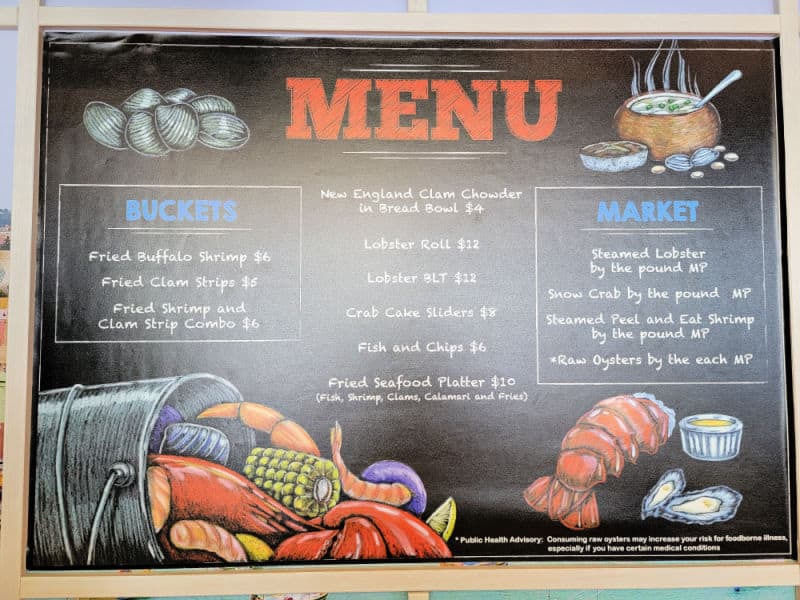 Seafood Shack
Cost - Additional
The seafood shack offers an amazing array of fresh seafood ready when you order it.
Bucket options include fried buffalo shrimp, fried clam strips, or a fried shrimp and clam strip combo.
They also offer New England clam chowder in a bread bowl, Lobster Roll, lobster blt, crab cake sliders, fish and chips, and a fried seafood platter.
You can purchase at market prices steamed lobster by the pound, snow crab by the pound, steamed peel and eat shrimp by the pound, and raw individually.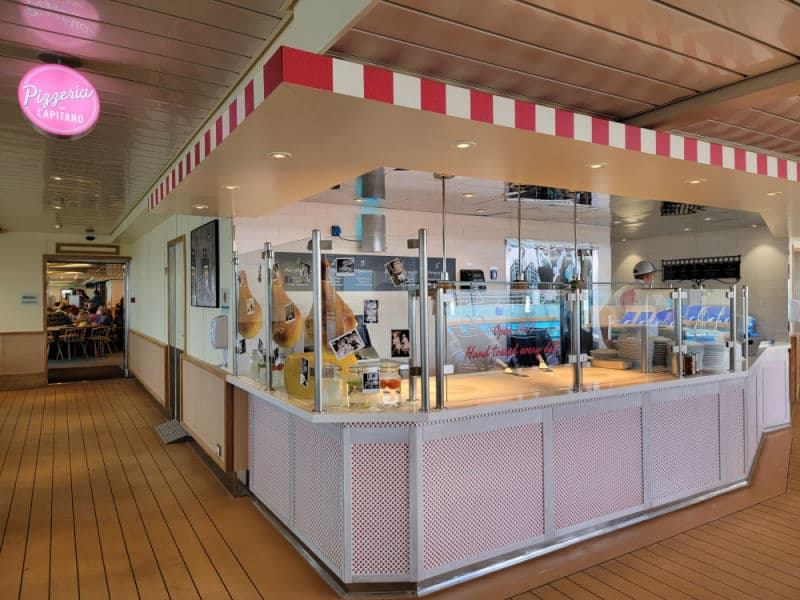 Pizzeria Del Capitano
Cost - Included
Pizzeria del Capitano is open 24/7 and has the most amazing pizzas! You can choose:
Margherita - Tomato sauce, basil, fresh mozzarella
Quattro Formaggi - Roasted garlic, gorgonzola, provolone, parmesan, fresh mozzarella
Funghi - Tomato sauce, mushrooms, fresh mozzarella
Pepperoni - Tomato sauce, Pepperoni, fresh mozzarella
Prosciutto - Roasted garlic, rucola, prosciutto, fresh mozzarella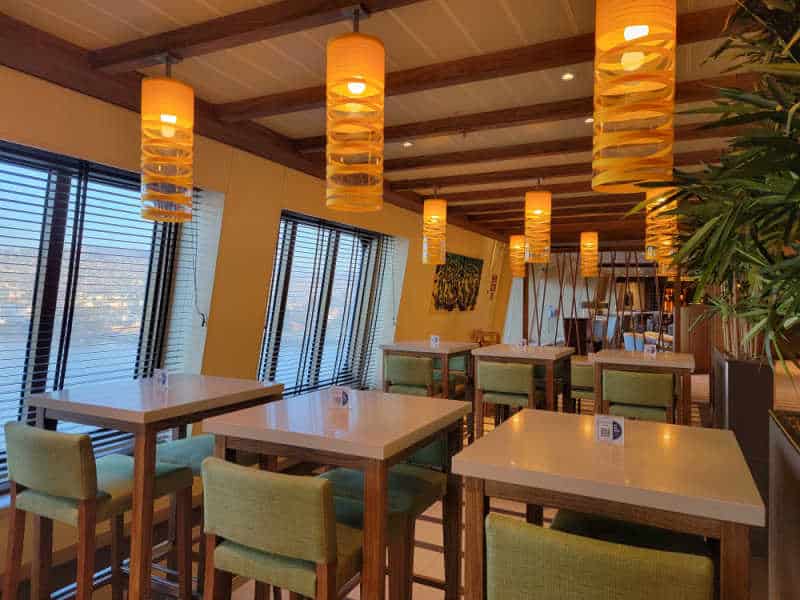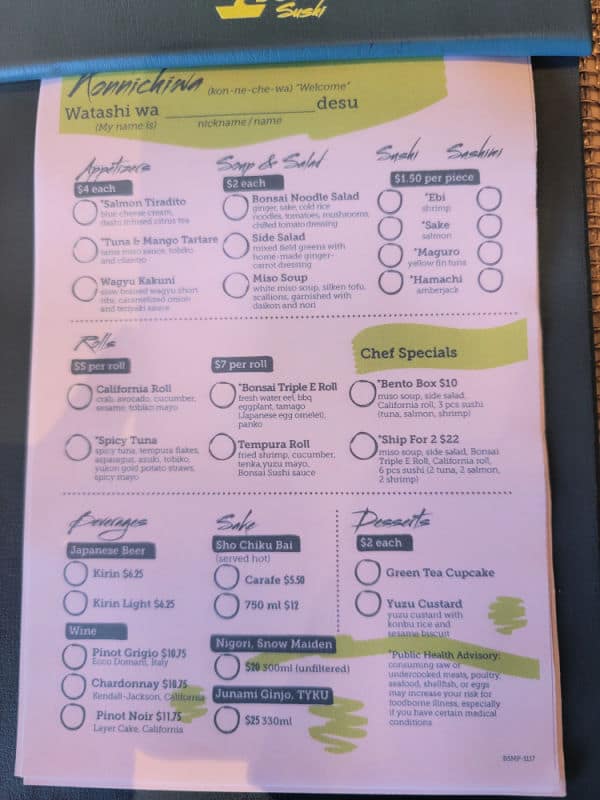 Cost - Additional
Bonsai Sushi offers Poke, sushi, sashimi, and rolls in a gorgeous setting. This restaurant is super zen and perfect for anyone who loves sushi.
Green Eggs and Ham Breakfast
Cost - Additional
The Green Eggs and Ham Breakfast is perfect for anyone who loves Dr. Seuss. Your favorite characters make an appearance, the menu is themed around Dr. Seuss and it is just so much fun!
Bars on the Carnival Radiance
There are quite a few bars and entertainment areas onboard the ship that offer delicious cocktails and exclusive Carnival Beers.
Check out the Carnival Cheers Package if you don't want to worry about the cost of each individual drink and pay one fee for the entire cruise.
Don't miss the Carnival-exclusive beers. Three of the fan-favorites Carnival has been brewing at sea the ParchedPig West Coast IPA, ThirstyFrog Caribbean Wheat, and the ParchedPig Toasted Amber Ale are now available as portable pints.
Carnival has canned these beers so you can enjoy them on additional ships not just the ones with a brewery on board.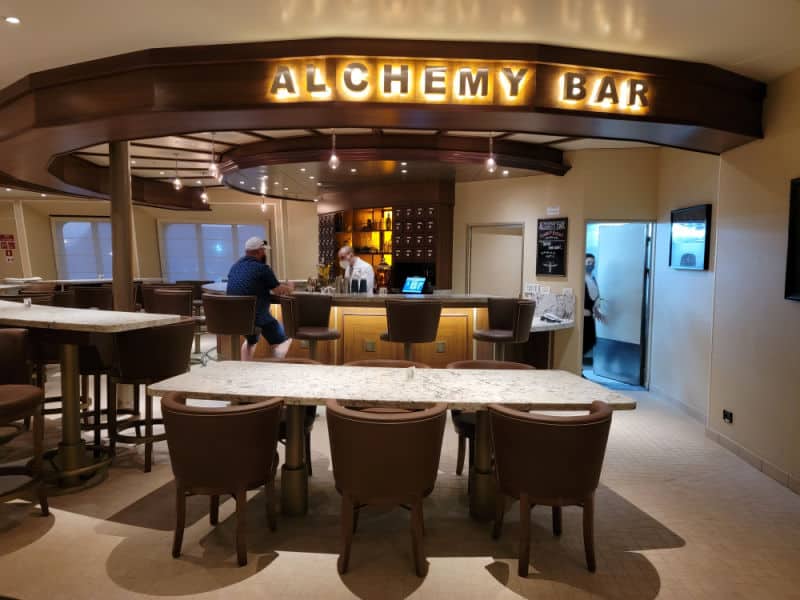 The Alchemy Bar is our favorite bar from Carnival Cruise Line. The highly trained alchemist bartenders can make you the perfect cocktail or mocktail.
They are master mixologists who can make you a dream cocktail just by asking a few questions.
Don't miss the 40 is the new 20, Alchemist Side Car, or Spicy Chipotle Pineapple Martini!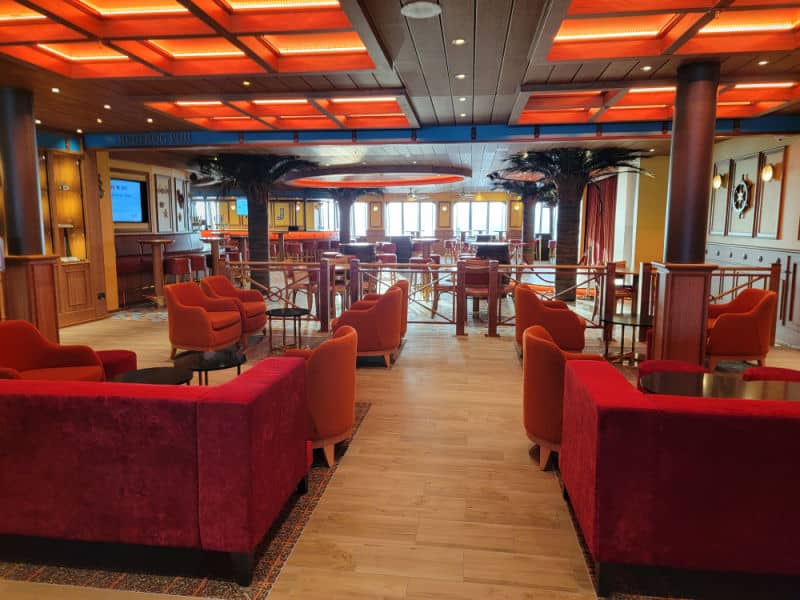 Redfrog Pub is the perfect place to relax with a cold Ting Mojito, Rum Jumper, or a Carnival exclusive beer. This tropical-themed bar has the perfect ambiance of the Caribbean.
You can relax to great live music, play bar games, or just read a book while enjoying the relaxing environment.
The Red Frog Pub on the Carnival Radiance is HUGE! There are amazing couches just outside the main entrance of the pub to relax on. The Red Frog Pub feels like it is one of the largest spaces on the ship.
It was the place to be for karaoke and hanging out during our cruise.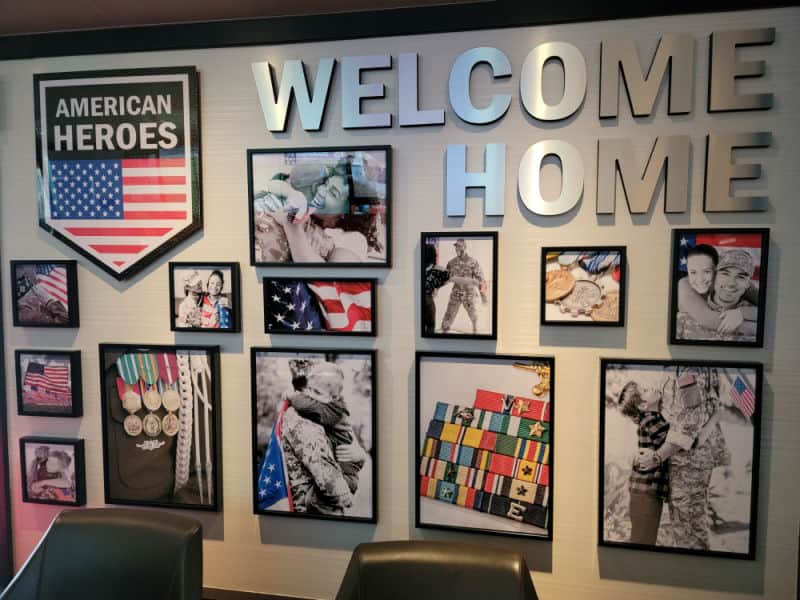 Heroes Tribute Bar
The Heroes Tribute Bar is Carnivals' tribute to the Men and Women who serve in the US Forces.
You may recognize this area as what used to be an EA Sports Bar. Carnival has updated the space with new photos of the US Forces.
You can still enjoy huge TV Screens filled with sports ranging from cricket to NBA basketball games, NFL Football Games, and more games.
We learned a lot about Cricket while spending time in the Heroes Tribute Bar working during port days. It was the perfect place to get some work done in the comfy booths.
Make sure to get a pint in the Heroes Bar pint glasses. For every pint they pour in this glass, Carnival donates $1 to Operation Homefront.
Menu highlights include the Heroes Tribute Martini, Afterburner, Bravo Alpha Romeo, Green Beret, Shore Leave, and At Ease.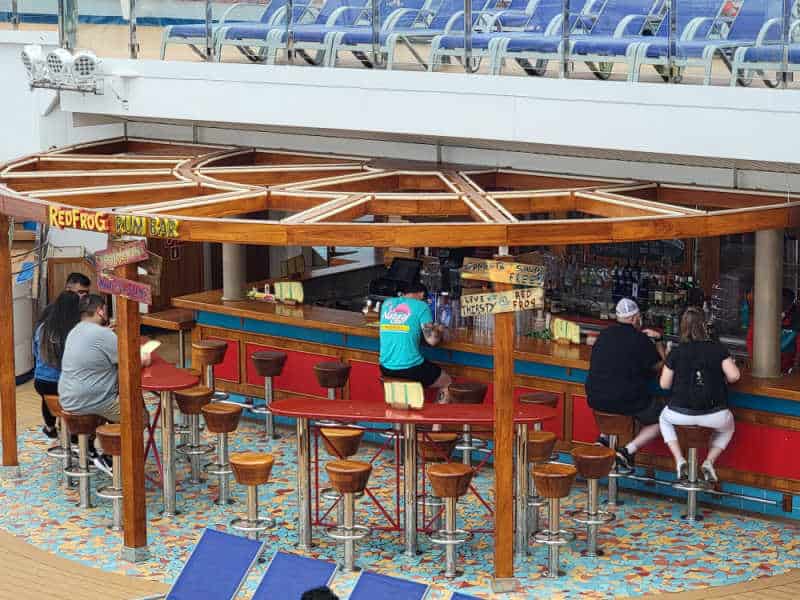 The Red Frog Rum Bar is located on the Lido Deck near the Midship pool. It is the perfect place to pick up a tropical cocktail or 2.
Some of our favorites include a Beachcomber, rum jumper, Caribbean Colada, Mango magic, strawberry daiquiri, and blue margarita.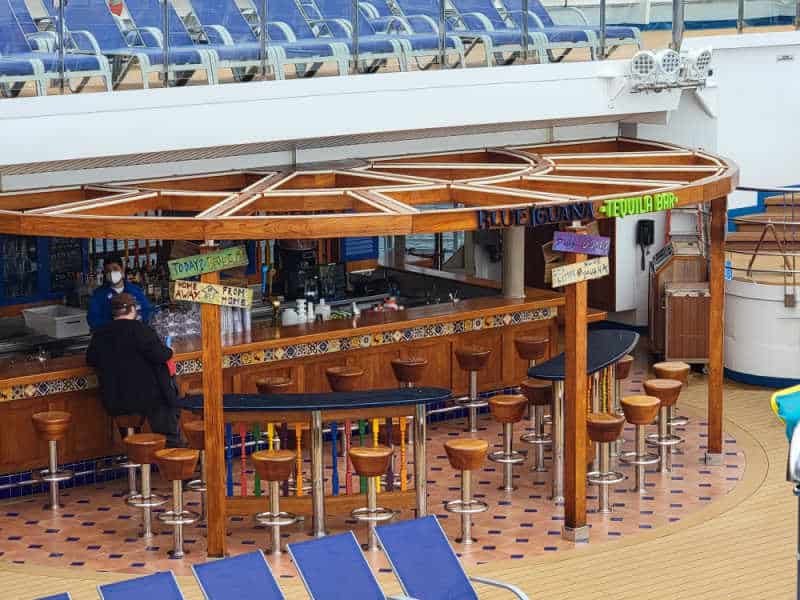 Blue Iguana Tequila Bar is located across from the Red Frog Rum Bar on the Lido Deck near the Midship Pool.
They have all of your favorite tequila cocktails and tropical drinks.
Some of our favorites include the mango margarita, green iguana, and of course the blue margarita.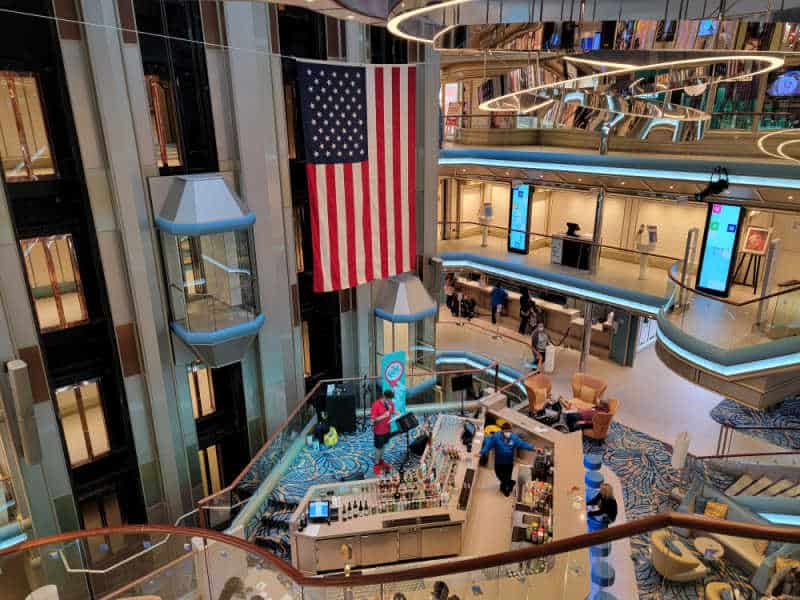 Atrium Bar
The atrium bar is a great space to relax and listen to live music in the afternoon. They have all of your favorite classic cocktails, tropical drinks, and more.
There are comfy chairs for relaxing and it is a great place to meet friends before dinner.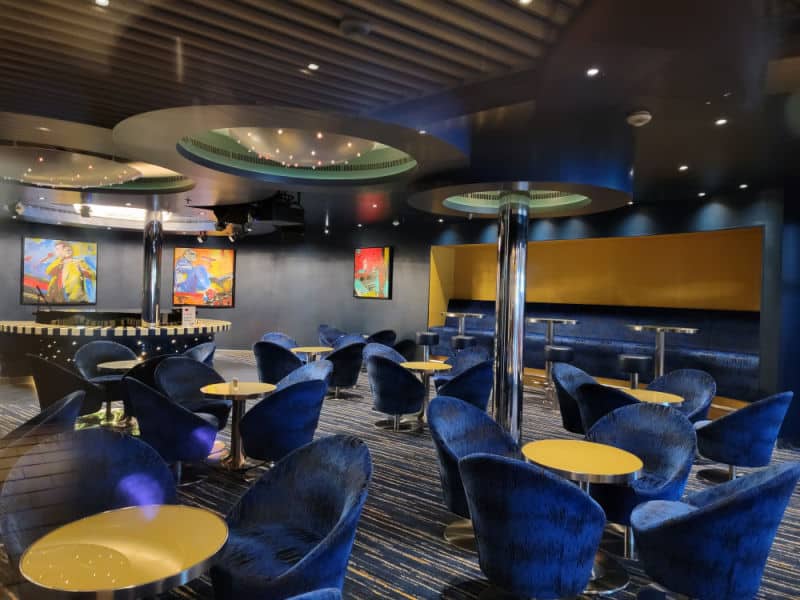 Piano Bar
The Piano Bar is a great bar for music lovers. Keep an eye out on the Carnival Hub to find out when it is open and rockin.
Drink options include the Blue Note, Ragtime, I want to sing, The Rockstar and Virtuoso Harmony.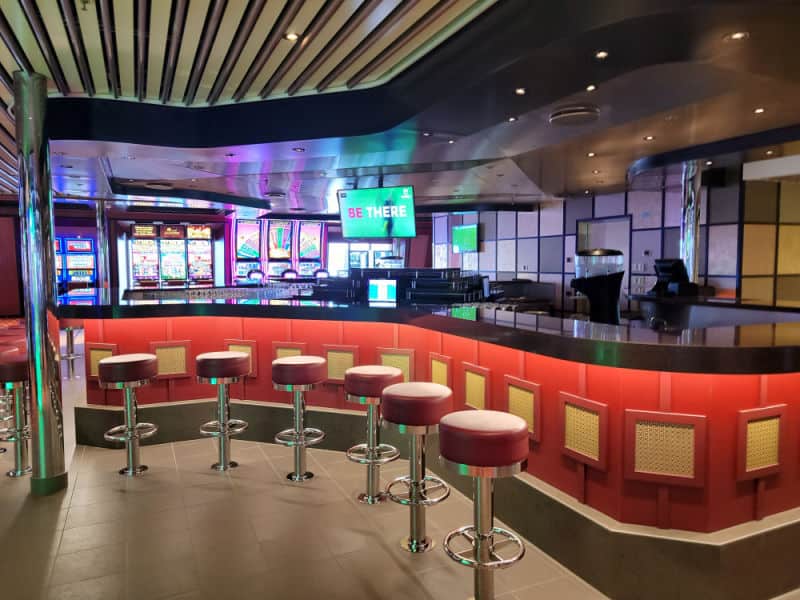 Casino Bar
The Casino Bar is located in the corner of the Carnival Radiance Casino. They offer a full menu of cocktails to enjoy while playing slots or table games.
Menu highlights include a Vesper Martini, The Carnival Cosmo, High Seas Tea, and Pomegranate Margarita.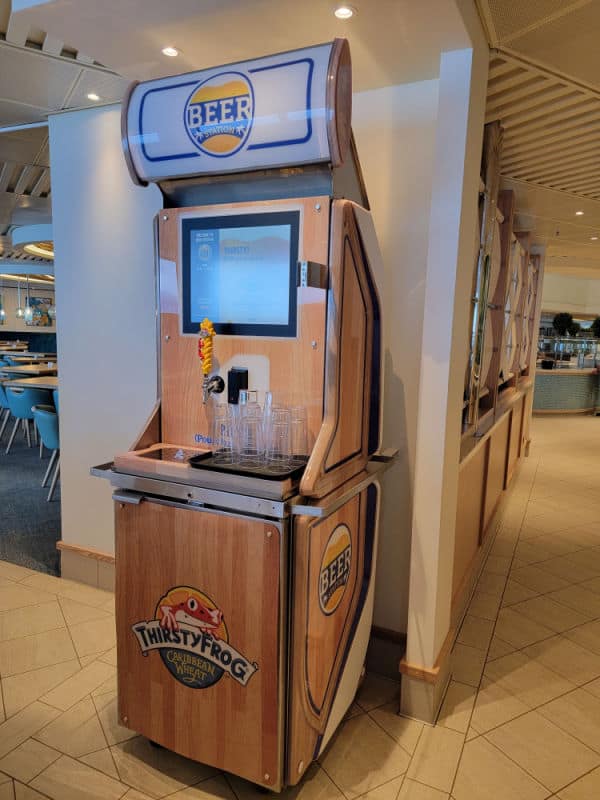 Beer Stations
There are beer stations set up in the Lido buffet along with other areas of the ship that allow you to pull your own pint of beer.
The beer stations serve ThirstyFrog® Red the special in-house brew for Carnival or fan-favorites from back on land like Heineken and Miller Lite.
During our cruise, the beer from the Beer Station cost $.40 and ounce with a 14oz cup costing approximately $5.60.
Aft Pool Bar
Tucked away at the back of the ship is the Aft Pool Bar. This hidden gem of a bar had fantastic bartenders during our cruise.
They introduced us to the sunburn cocktail, creamsicle cocktail, and made my cruise favorite Kiss on the Lips.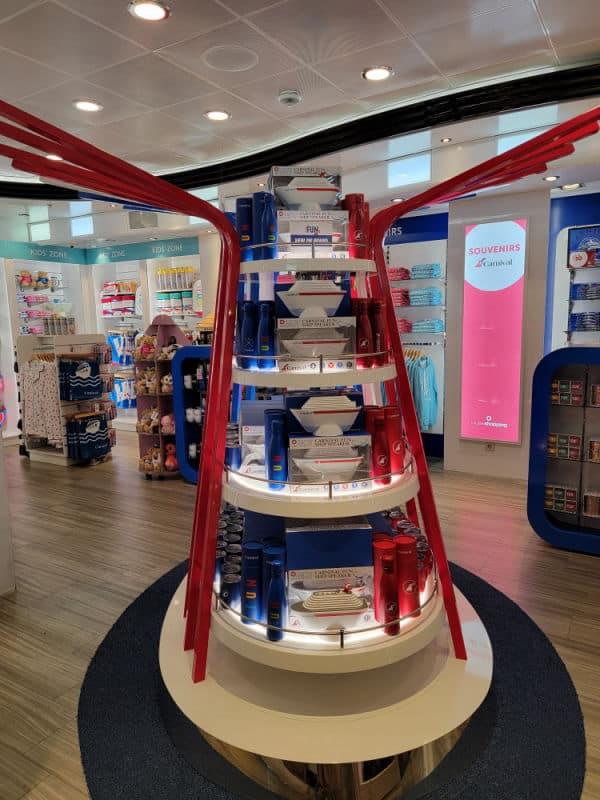 Shopping on the Carnival Radiance
The Fun Shops onboard have added new brands and experiences.
You can enjoy tax and duty-free savings on jewelry, liquor, and more.
Here is a sample of some of the brands you can find in the new improved Fun Shops
Beauty and Fragrance - Benefit, Chanel, Clarins, Clinique, Dior with Lip Studio, Estee Lauder, Lancôme, Shiseido, and Urban Decay.
Jewelry - Alex & Ani, Buckley, Charms, Effy, LG Adams, Marahlago, and Swarovski.
Watches - Bulova, Citizen, Ferrari, Frederique Constant, Guess, Hublot, Invicta, Montblanc, Movado, Phillip Stein, Raymond Well, Rolex (pre-owned), Swatch, Tag Heuer, Tissot, and Victorinox.
Cherry on Top
120 kinds of bulk candy and tons of fun Carnival adventure-themed souvenirs.
PortSide Liquor & Tobacco
The price for liquor on board is amazing. I ended up buying Hennessey, Baileys, and Disaronno during our cruise. I wasn't planning on bringing any liquor home with me but the prices were so good I had to take advantage of the savings.
Entertainment Areas on the Carnival Radiance
You will not be bored on the Carnival Radiance! There are two swimming pools, a Cloud 9 Spa, kids, and teen clubs, an outdoor obstacle course, basketball course, jogging track, serenity deck, deck parties, fun squad games, trivia, guess that song, high seas karaoke, art shows, comedy shows, playlist production shows, and movies at sea.
There is truly something for everyone available on board. The Carnival Hub app has an up-to-date schedule for onboard activities by the day.
Swimming Pools
There are two swimming pools on the Carnival Radiance. The Aft Pool is located at the back of the ship and has a small bar located near it.
The midship Lido pool has great seating around it and the big movie screen right above it.
There are multiple hot tubs near both swimming pools.
There are Carnival beach towels in your stateroom at the start of each cruise. You can also check out towels at the towel station on Lido deck 9.
Life jackets are available on the Lido Deck.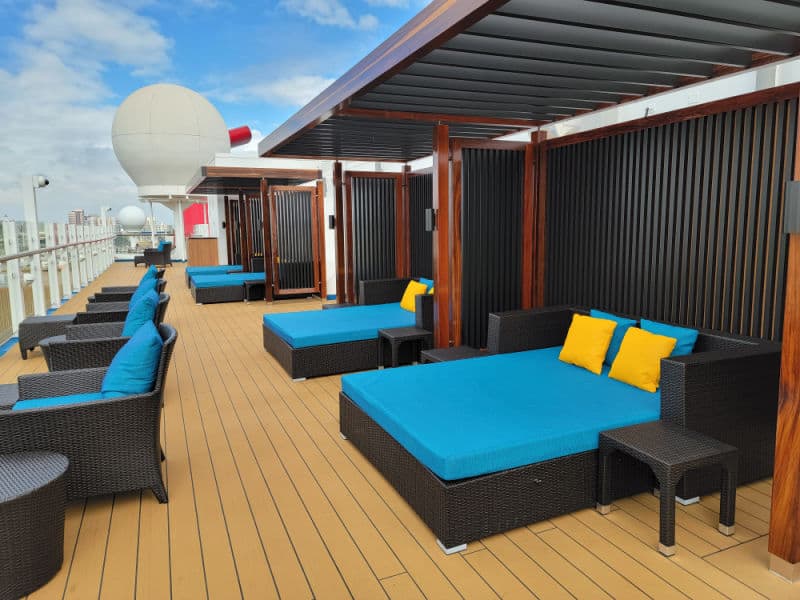 Serenity Deck
The Serenity Deck offers the chance for guests over 18 to get away from it all. You can enjoy plush lounge chairs, covered lounging beds, and a bar just for the Serenity Deck.
One thing to know about the Serenity Deck on the Carnival Radiance is the entrance is near the entrance to the Waterworks waterslides.
If you do not want to hear excited kids lining up for the waterslide I would suggest trying to grab a chair or serenity deck bed closer to the front of the ship.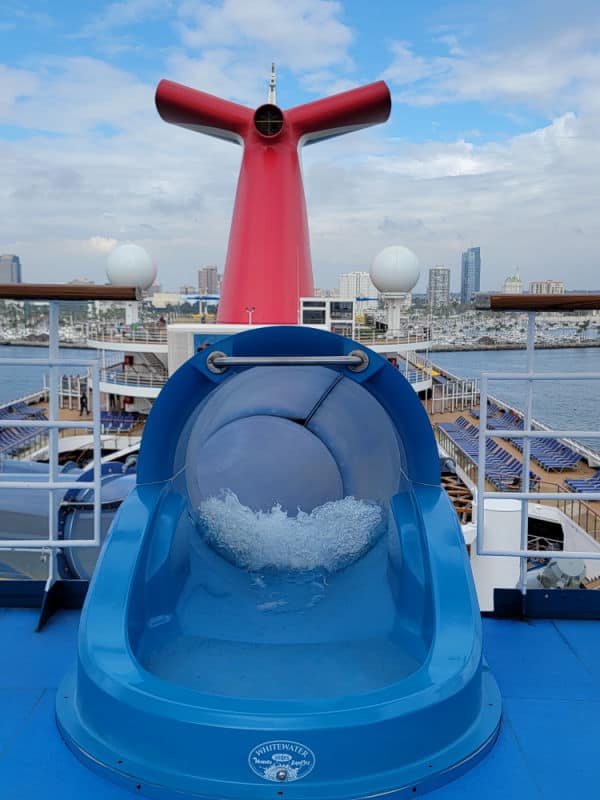 Waterworks
There are two waterslides and a water bucket that fills and dumps onto anyone below it. They are located above the Lido Deck offering parents a great area to watch from.
There are comfortable chairs near the base of the waterslides and the water play area.
Slides include the 203-foot long AquaTunnel and the 212 foot long Twister slide.
The PowerDrencher tips over with 75 gallons of water in it.
There is also a kiddie area for the little ones.
Playlist Productions
Get ready to enjoy a production show you won't believe is playing at sea! Carnivals Playlist Productions include live singers, dancers, and award-winning production design.
Epic shows include Rock Revolution and Soulbound.  You get to enjoy Broadway-quality shows at sea that is included in the cost of your cruise!
Camp Ocean
Kids 2-11
Camp Ocean can not accept children under the age of 2 unless they are turning 2 on the cruise.
Within the 2-11 age groups kids are broken into smaller groups of Penguins (age 2-5), Stingrays (age 6-8), and Sharks (age 9-11)
Activities are themed around the kid's ages and the Ocean theme.
Circle "C"
Kids 12-14
Pre-teens and teen sage 12-14 are invited to Circle "C" to meet new friends, play sports, video games, watch movies, and have a great time!
Club O2
Teens 15-17
Club O2 is the teen hangout! They can watch movies, listen to music, dance, do karaoke, and have a ton of fun.
Cloud 9 Spa
The Cloud 9 Spa offers massage, medi-spa cosmetic treatments, couples treatments, facials, detox wraps, and acupuncture.
There is also a salon onboard that offers keratin treatments, red carpet blowouts, shampoo, cut and style, manicures, pedicures, and men's treatments.
Carnival Radiance Thermal Suite offers the perfect place to relax and melt any stress away.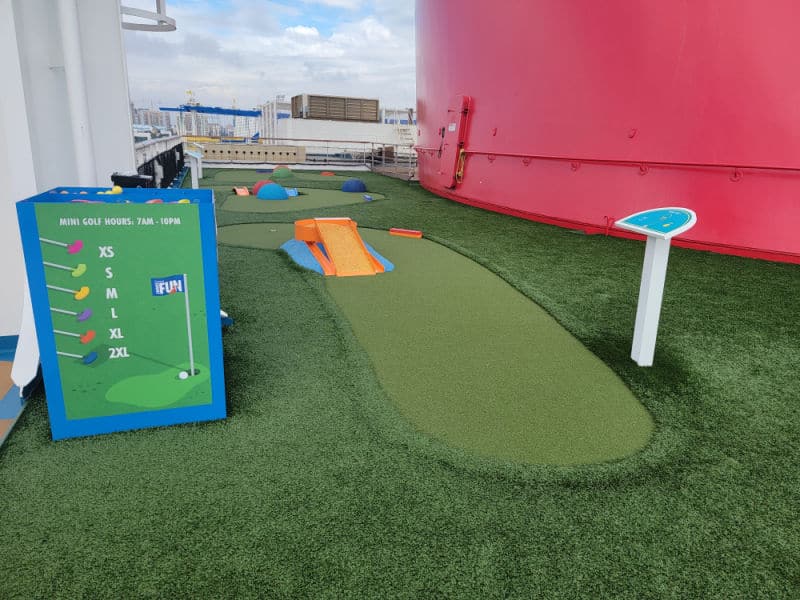 Mini Golf
The mini-golf course is small. If there was one area of the ship that did not get a ton of refurbishments it would be mini-golf.
It is a very basic course located on deck 11.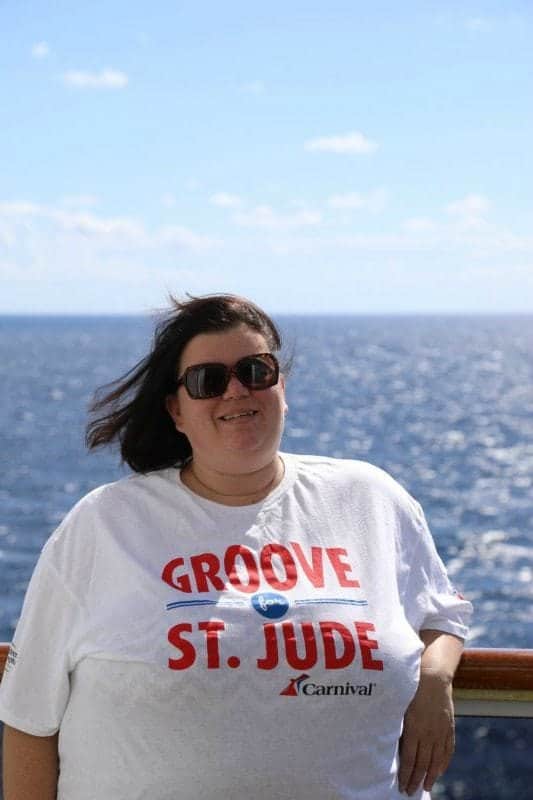 Groove for St Jude!
This is one of our favorite events on any Carnival Cruise Ship. The ability to help support one of our favorite charities while onboard is a must happen every cruise!
Carnival does so much to help support St. Jude as their official sponsor of fun. Check out the Carnival Dr. Seuss St Jude event I was lucky enough to attend a few years ago.
This event truly showed me how much Carnival cares for and supports the work that St. Jude is doing.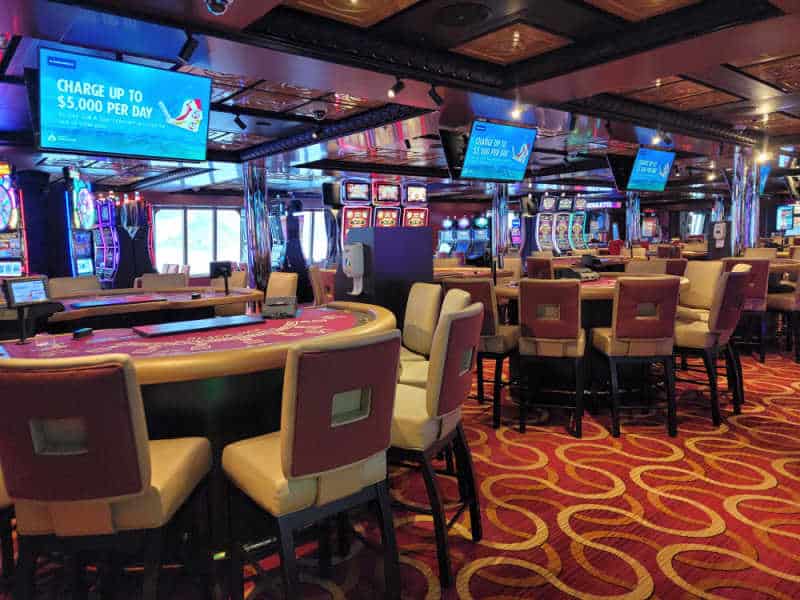 Casino
The Carnival Radiance casino has a combination of slot machines and table games. There is a casino bar available near the machines so you don't have to travel far for a great cocktail.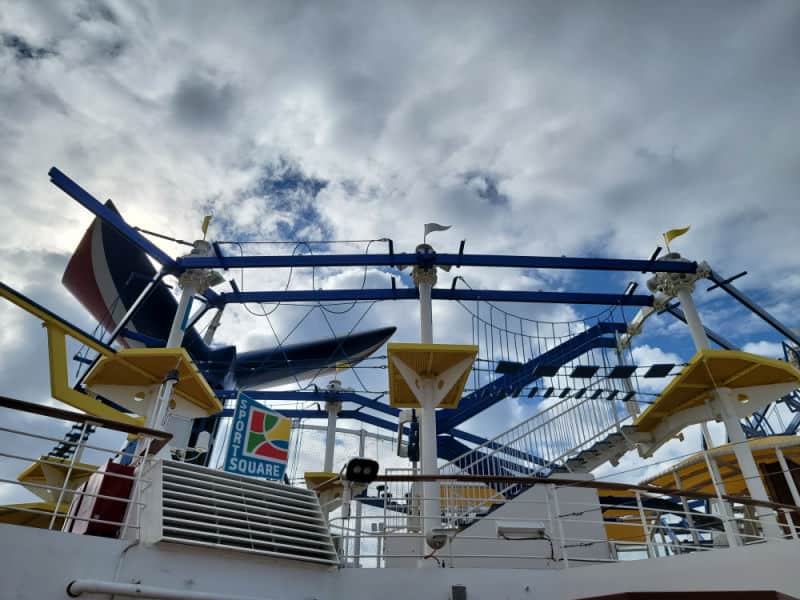 Sky Course
Are you ready for an adrenaline hit at sea? To feel the sea breeze as you maneuver through this epic ropes course.
This suspended ropes course is 150 feet above the sea!
Sports Court
At the Sports Court you can shoot some hoops, play ping pong, and enjoy epic sea views while having a great time.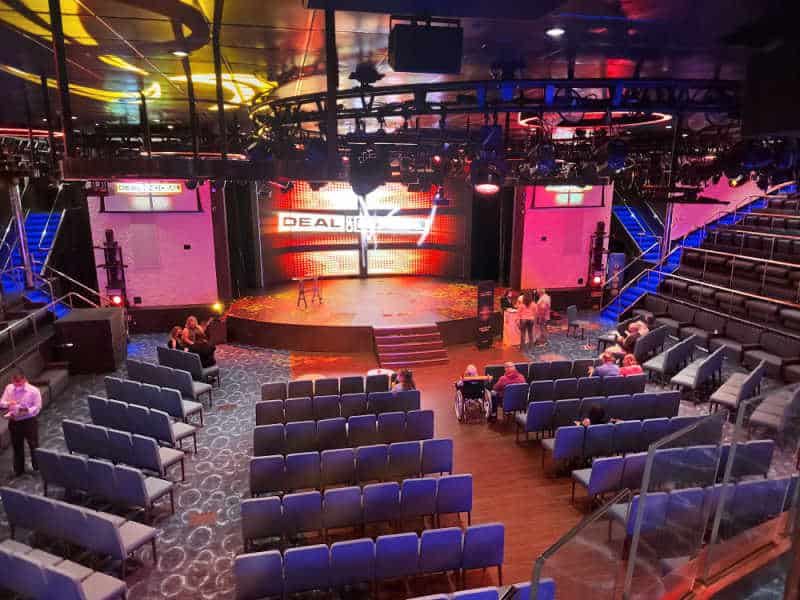 Limelight Lounge
The Limelight Lounge is now a double-duty entertainment venue. It not only hosts Punchliner Comedy Club Shows but it also turns into a nightclub later in the evening.
Dive In Theater
At night the Seaside Theater turns into movies under the stars.
This is one of our favorite activities when we cruise. The perfect date night at sea.
Additional things to know about the Carnival Radiance
Onboard Internet
I was really impressed with the speed of the onboard internet available on the Carnival Radiance. I did not have any issues editing a photo, uploading photos to social media, or checking emails.
There was no lag time and it was consistent throughout our entire cruise.
You can purchase different levels of internet packages depending on what you need for the cruise.
Laundry Services
Laundry Services are available during your cruise vacation. You can send a laundry bag down to the laundry for washing and folding.
There are also self-service laundry rooms with irons on decks 1, 2, 6, 7, 8, and 9.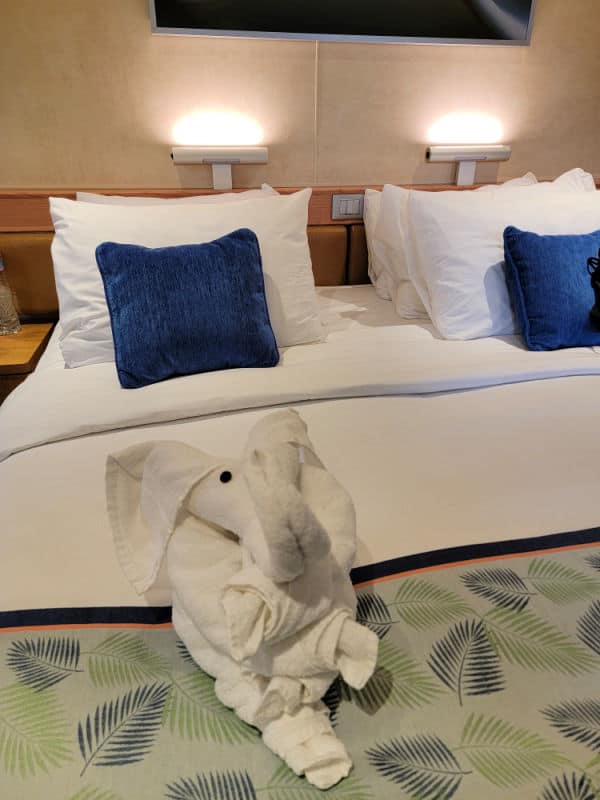 Carnival Radiance Rooms
The newly renovated Carnival Radiance offers multiple classes of staterooms including interior rooms, classic balcony cabins, extended balcony cabins, premium vista balcony staterooms, and suites.
We stayed in a premium vista balcony and it was absolutely amazing.
Balcony Captain Suites: 2
Balcony Grand Suites: 10
Balcony Ocean Suites: 41
Ocean View Balcony Staterooms: 502
Scenic Ocean View Staterooms: 6
Ocean View Window Staterooms: 304
Interior Staterooms: 527
Balcony Staterooms include Premium Balcony, Aft view extended balcony, Premium vista balcony, and Cloud 9 Spa Balcony staterooms.
Ocean Suites have a whirlpool tub.
Grand Suites have a whirlpool tub.
Captains Suites are located near the navigational bridge and offer floor-to-ceiling windows for optimal ocean views.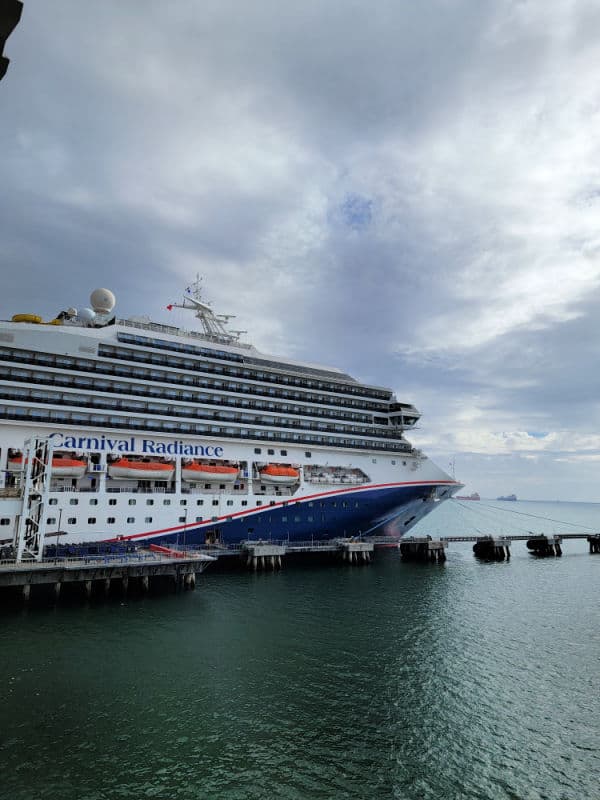 Details about the Carnival Radiance
How big is the Carnival Radiance
Carnival Radiance Tonnage - 101, 509
Length - 893 feet
Beam - 125 feet
Speed - 21 knots
Capacity - 3,873 guests and 1,108 crew
Accommodations - 1,507
Passenger Decks - 13
Godmother - Lucille O'Neal
Where will the Carnival Radiance Sail From?
Currently - Long Beach Terminal
Los Angeles, California
What ship was the Carnival Radiance?
Carnival Liberty
We hope you enjoyed this epic guide to the Carnival Radiance! Let us know if you cruise on the Radiance and how your experience is.
Check out our 4 day Baja Mexico Cruise!
Check out epic cruise deals on Expedia