During our cruise on the Carnival Vista, we had the opportunity to experience the new Carnival Hub app for the first time and it is amazing!
It was so user-friendly, convenient and informative.  I found myself using it more than I really thought I would.
It became my go-to when I got lost on the ship, needed times for shows or wanted to know what was happening on the ship. This Carnival Hub App Review will hopefully help you plan for your upcoming Carnival Cruise.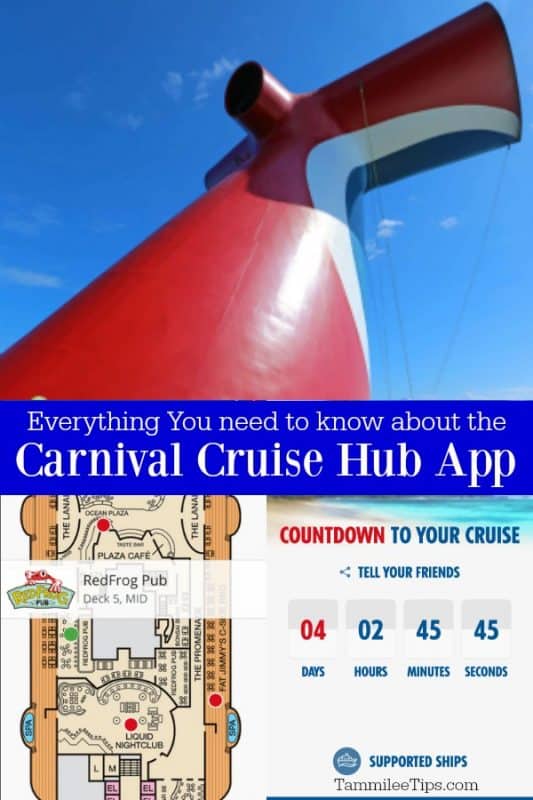 Carnival Hub App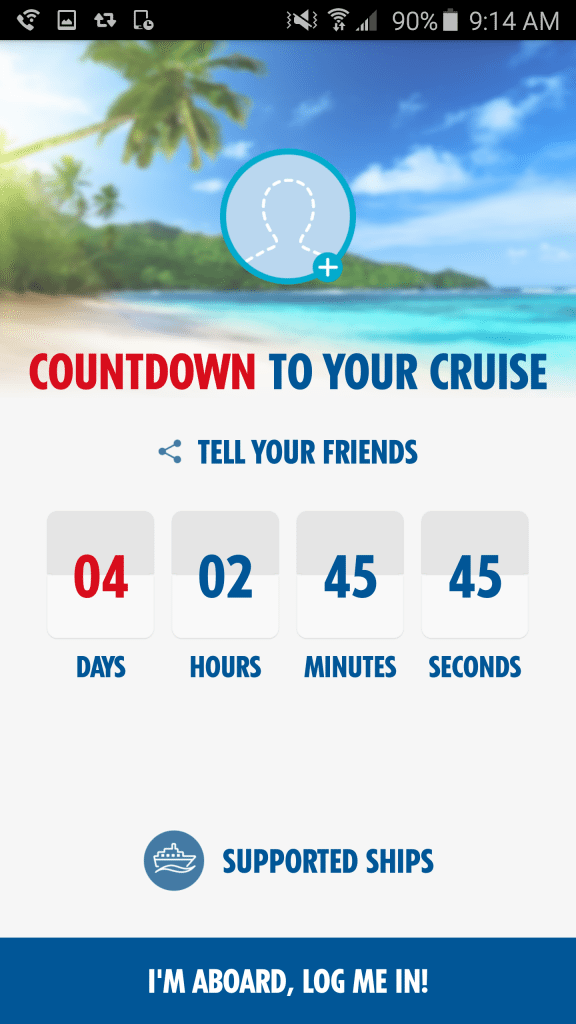 I suggest downloading the Carnival Hub app before you leave on your cruise. That way you know that it is loaded and you don't have to try and download it via wi-fi.
Plus it is just fun to watch the countdown clock and know that your vacation is happening soon!
Though Carnival has done some crazy amazing things to their wi-fi making it super fast and reliable.
Check out the new enhancements to the Carnival Hub App!
Pre-Cruise Functionality 
With the Hub App's new pre-cruise capabilities, you can now manage your booking, complete your online check-in, and conveniently purchase a wide variety of items and experiences before departure, including shore excursions, spa treatments, specialty dining reservations, Wi-Fi packages, and Fun Shop orders for stateroom delivery.
'Pizza Anywhere' Feature
First available on Carnival Horizon and Carnival Vista, the Hub App's popular "Pizza Anywhere" feature has been added to 11 other ships, including Carnival Victory, Carnival Magic, Carnival Breeze, Carnival Conquest, Carnival Dream, Carnival Sensation, Carnival Glory, Carnival Ecstasy, and Carnival Liberty.
With the "Pizza Anywhere" function, guests can satisfy their cravings at any time with the touch of a button.  To place an order, guests simply click on the ship's map to mark their location, take a selfie to identify themselves, and select their desired pizza and toppings. Five hand-tossed pizzas are available: Margherita, Funghi, prosciutto, pepperoni, and Quattro Formaggio.
Pizzas are cooked to order and delivered hot to the guest's location on board. Cost is $5 per pizza and automatically charged to guests' Sail & Sign shipboard accounts. With pizza delivery well in hand, Carnival is now working towards a pilot to expand "Pizza Anywhere" deliveries with the addition of beverages.
Family-Friendly Programming
Carnival recently made a big update to the app to help families!
HUB App now includes a comprehensive day-by-day schedule of onboard youth programming and activities with the ability to "like" favorites to receive reminders and updates.
Now, as part of the app's expanded capabilities and functionality, schedules and details for these options are available in one convenient and centralized area.
Carnival's age-specific youth programs featured on the app include:
Camp Ocean (ages 2-11) – an ocean-inspired area with 400+ arts & crafts, games, and educational activities; three age groups: Penguins (2-5), Sting Rays (6-8) and Sharks (9-11).
Circle "C" (ages 12-14) – colorful, vibrant teen space featuring active and video games, crafting activities, and dance parties.
Club O2(ages 15-17) – cool, high-tech hangout with theme nights, dance parties, movies, karaoke, and more.
A variety of family-friendly programming is also highlighted within the app, including:
Build-A-Bear Workshop At Sea – kids make their own customized furry friend keepsake.
Hasbro, The Game Show –  family-oriented entertainment option including larger-than-life adaptations of the brand's iconic games and activities.
Outdoor Attractions – operating hours for WaterWorks aqua parks, SportSquare outdoor recreation area, and other open-air spaces.
Punchliner Comedy Club – early evening hilarious family-friendly comedy performances for guests of all ages.
Seuss at Sea – a fleetwide program featuring Green Eggs and Ham with The Cat in the Hat and Friends, Seuss-a-palooza Parade and Story Time, and other activities.
Zumbini – high-energy early childhood music and movement class created by Zumba and BabyFirst combining singing, dancing and fun instruments; family classes offered on longer cruises for parent/child bonding.
Also new is a feature that allows parents to view a detailed, time-specific breakdown of activities and locations for Camp Ocean's daily programming as well as check-in and check-out information and reminders.
Here are just a few of the reasons you are going to fall in love with the Carnival Hub app!
What does the Carnival Hub App Do?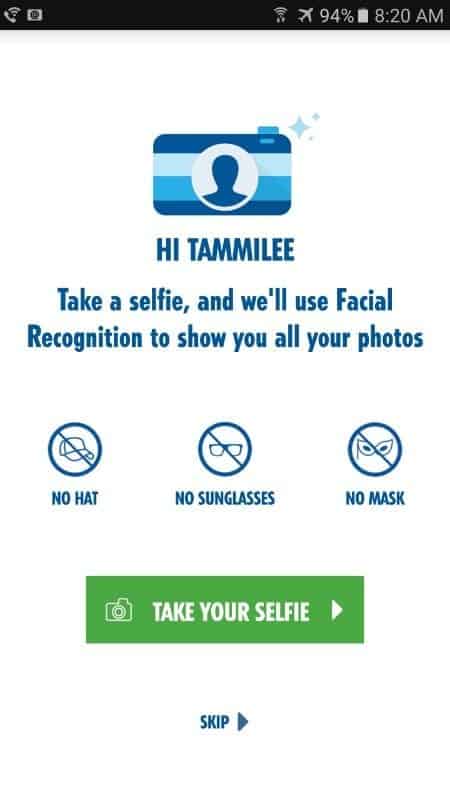 Carnival Hub App Photo Recognition
You no longer have to look up and down thousands of pics to find your photos from the cruise! With the Carnival Hub app, you can take a selfie and the program automatically pulls your photos based on facial recognition.
On the Carnival Vista and Carnival Horizon, they have giant touchscreens that you can use if you don't have the app to look through your pic. I love that the ship no longer has to print all of the photos to show them off.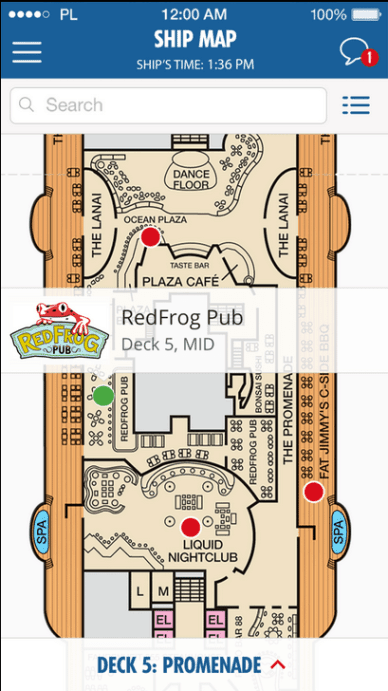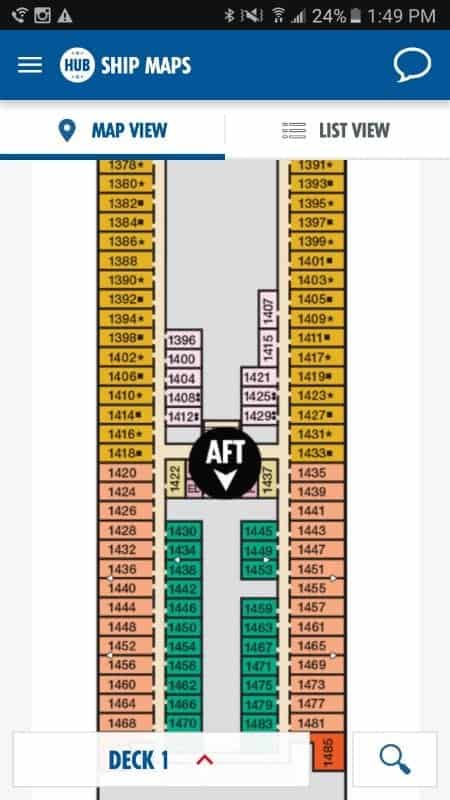 Carnival Ship Maps
I am the first one to admit that I get turned around and always seem to go in the wrong direction on cruise ships. I also can never remember if the Red Frog Pub is on deck 3, 4, or 5.
With the Carnival Hub app, you can search by restaurant, attraction, show, or bar and it tells you where things are on the ship.
I can get lost and no one has to know it! I can just look like I am looking at my phone when trying to figure out where I am on the ship. LOVE IT!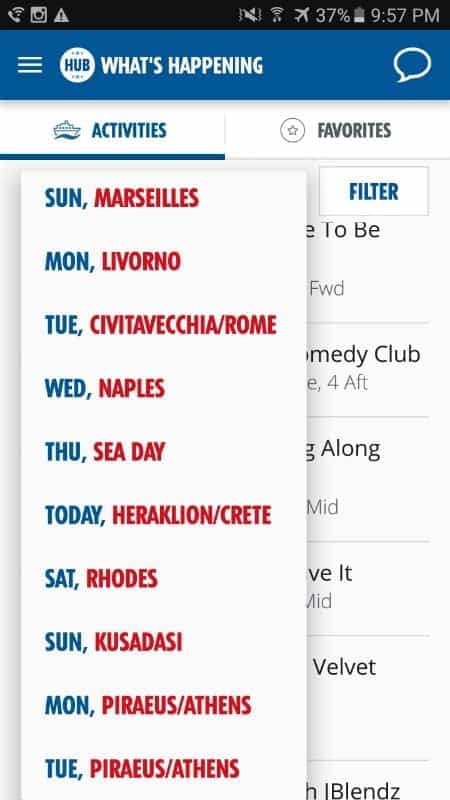 Carnival Cruise Itinerary
I am hoping I am not the only one who sometimes forgets what port they are going to the next day. With the Carnival Hub app, you can not only see what port you are going to but you can see when all aboard time is too. Along with the number to call if you happen to miss the ship, which I really hope does not happen.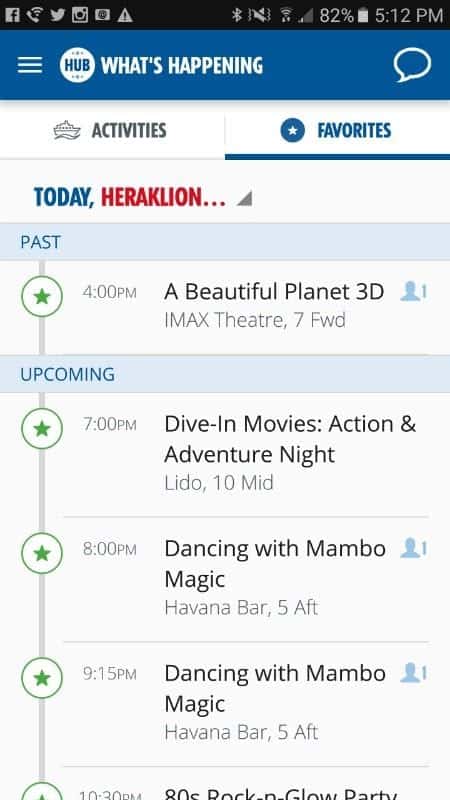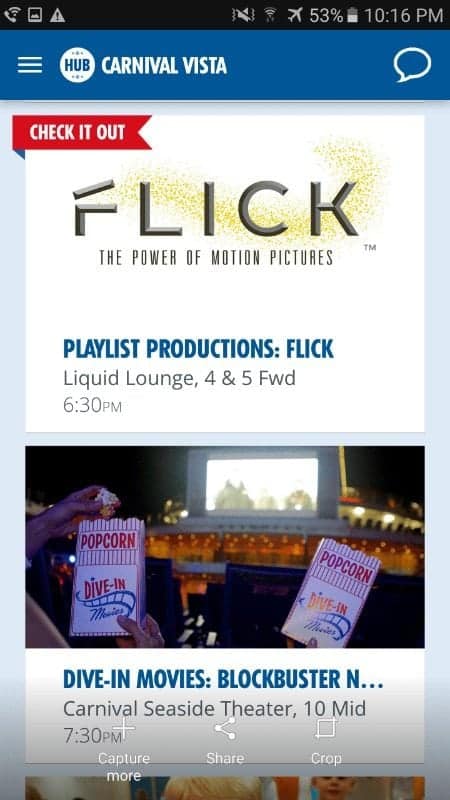 Carnival Cruise Showtimes
You can easily see which shows are playing on which night and what movies are playing at the Dive-In movies! Mark which ones are your favorite and the app will remind you that the show is coming up. That way you don't have to check your phone while talking to friends or enjoying dinner to see what time it is.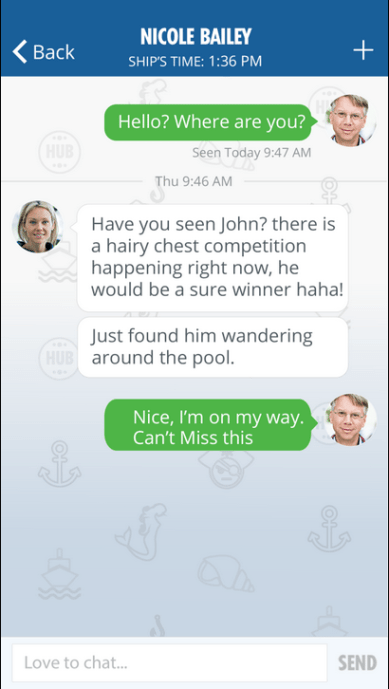 Carnival Hub App Chat
This is the only part of the app that costs money. For $5 you can access messenger in the app. We used it to keep in contact with friends who were on the ship. It worked out great to know where they were sitting in the theater, if they were ready for dinner and what they planned on doing for the day.
Frequent Questions about the Carnival Hub App:
Which Carnival Cruise Ships is the Carnival Hub App available on?
All Carnival Cruise Ships are now updated for the Carnival Hub App
Where do I download the Carnival Hub App?
Look for the app on Google Play and iTunes to download. You can also download the App from Carnival's website by clicking here.
How much does the Carnival Hub App Cost?
Are you wondering about the Carnival Hub App Cost? The app is free to download and use on Carnival Cruise Ships. You can add a $5 chat option to chat with other guests onboard the ship.
What is the Carnival Hub App Chat feature?
The Carnival Hub App Chat Features gives you the opportunity to chat with other guests onboard the ship. This is a great tool for keeping in touch with everyone in your family or group without having to search all over the ship for them,  Chat Access is limited to ages 13 years and older; for safety reasons, parents and guardians must give consent within the app for a guests 12 years and younger to activate onboard chat.
Additional Cruise Resources
10 things not to forget to pack for your cruise
10 Tips for saving money on your cruise
11 Things you should pack on your cruise