There are so many restaurants on the Carnival Sunshine it can be hard to choose where to go for dinner.
Each restaurant offers something different and amazing. The best part of having so many options is you can go to a different restaurant each night of your cruise!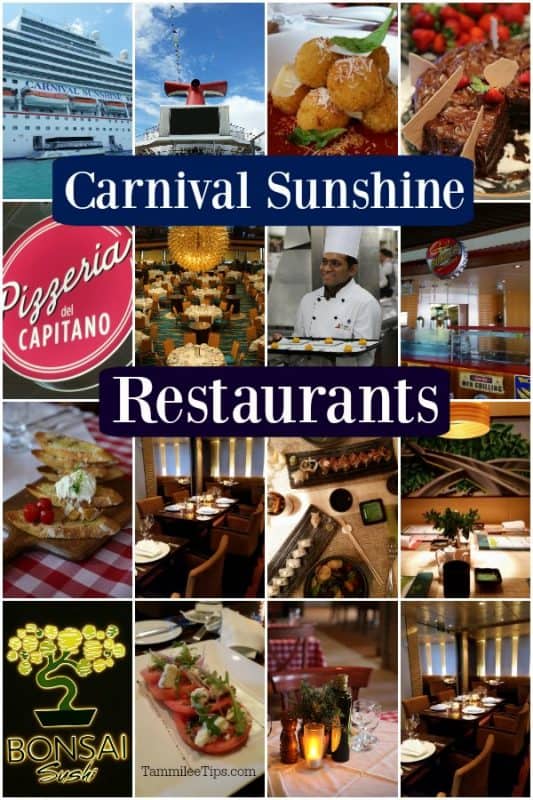 Restaurants on the Carnival Sunshine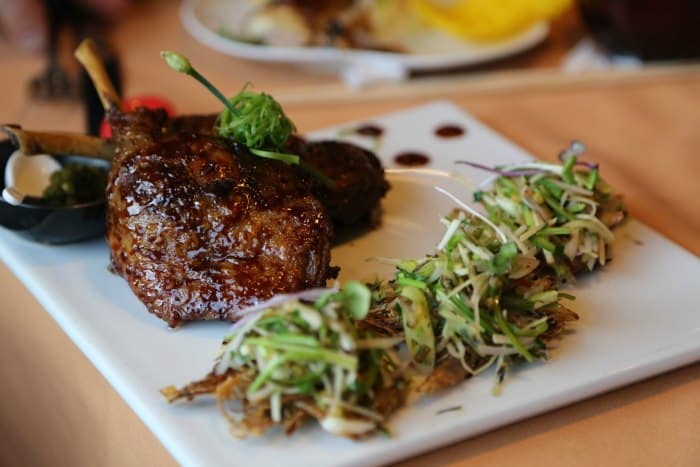 JiJi's Asian Restaurant
JiJi's Asian Restaurant is only $15 a person and you be served so much food it is amazing. You can choose from dishes that range from Nanjing Style Duck Appetizers, Chicken Spring Rolls, Slow-braised Wagyu Beef short ribs to Hakka Style Noodles. They also offer Japanese Beers and a full-service bar. The sangria is amazing!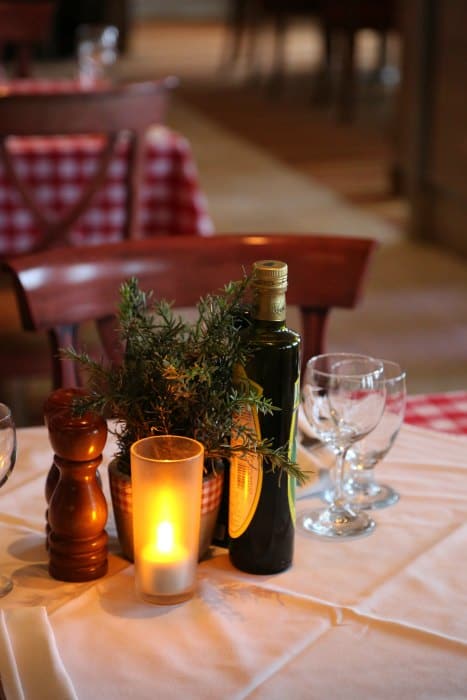 Cucina Del Capitano highlights amazing Italian food including many recipes from the Captain's family. You can enjoy Cucina Del Capitano for free at lunch with their pasta bar. For dinner, there is a charge of $15 for adults and $5 for children under 11. Be prepared to feast on amazing Italian food.
Each course is better than the last if that is possible. My personal favorite is the Risotto Balls, Garlic Bread, and of course the pasta! Dessert is a sweet treat to end out an amazing meal.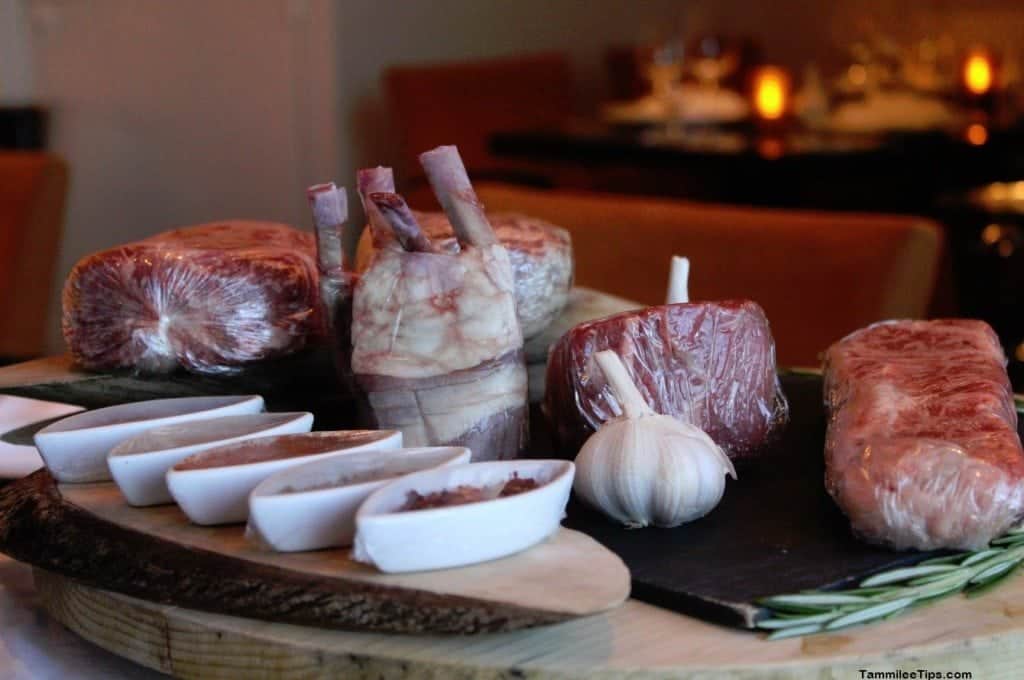 If you like fine dining you will love Fahrenheit 555. This classic American steakhouse has a surcharge of $35 a person and is so worth it. You can enjoy multiple courses prepared by the chefs in the restaurant.
From the French Onion soup to the multiple types of main entrees each option is amazing. Make sure and order the cheesecake for dessert. Be prepared it may be bigger than your head….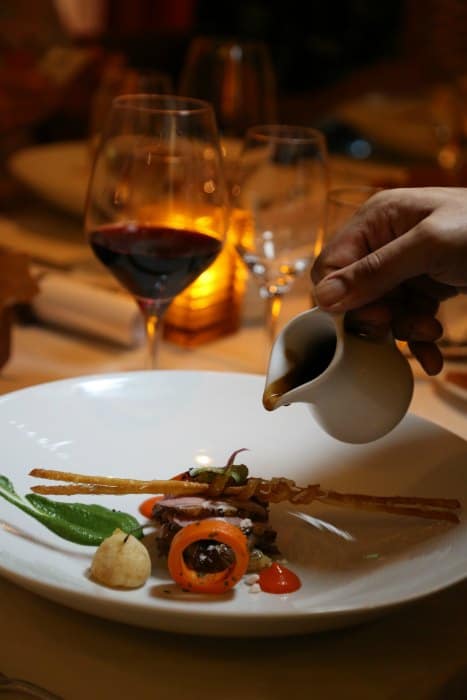 The Chef's Table is a foodies paradise. You have the opportunity to enjoy an amazing multi-course meal prepared by the Executive Chef onboard the Carnival Sunshine. The dining experience starts off with a tour of the galley where you can see all that goes into preparing meals for ship guests.
You are then escorted to a private dining room to continue your 7-course dining experience. The evening also includes a champagne reception.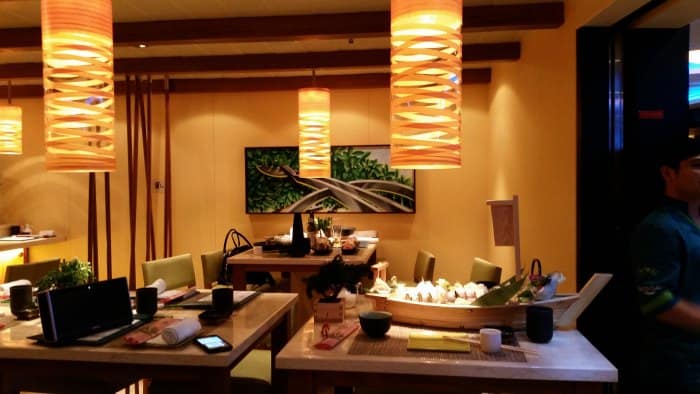 Bonsai Sushi is a full-service sushi restaurant. You can choose from menu items ranging from $1 to $15 that include sushi, sashimi and so much more. If you are dining as a group check out the sushi boat. You will not be disappointed.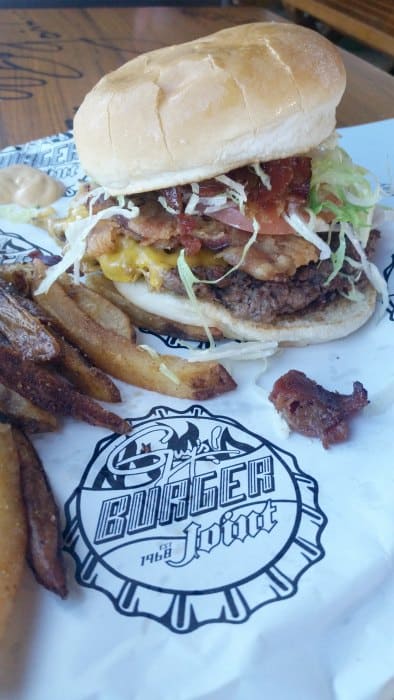 Carnival has partnered with Guy Fieri to bring you one amazing burger! Ok probably more than 1 burger after you get a taste of them. They are made with an 80/20 blend of hamburger and prepared on the pool deck for you. You can pick from the menu of Guy's favorites or make your own custom burger.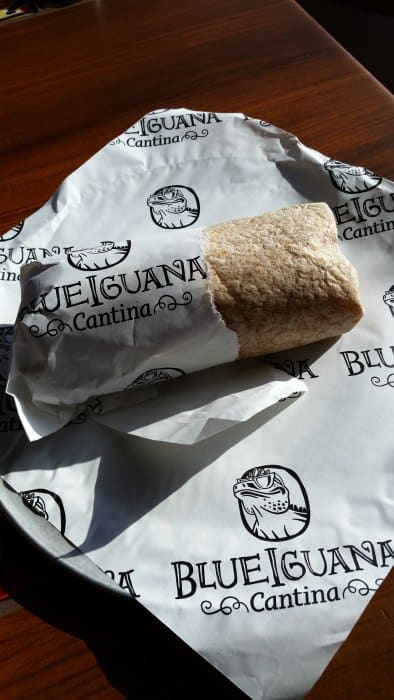 The Blue Iguana Cantina is open for breakfast and lunch on the pool deck. The tortillas are made in house and are amazing. There is a salsa and topping bar to top your favorite choices. The breakfast burritos are not to be missed! They are so good! one of our favorite things from our cruise
Taste Bar
Located near the Alchemy Bar the Taste Bar highlights a different restaurant each day of your cruise. This is the perfect place to taste test a restaurant you have been thinking about checking out.
Havana Bar
The Havana Bar offers amazing breakfast pastries and treats each morning. This is a hidden gem on the Carnival Sunshine. You can also enjoy Cuban sandwiches and other great items at lunch.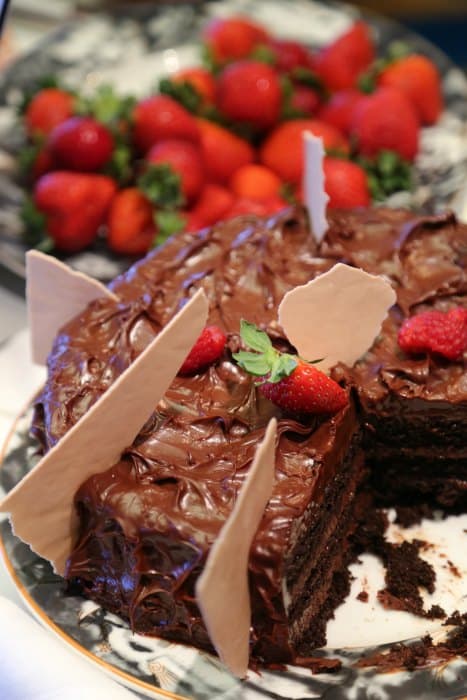 Tea Time
On sea days you can enjoy tea and a sweet treat in the dining room. The desserts are amazing!
Marketplace Café
Located on the Lido Deck the Marketplace Café is the buffet on board. Each meal they offer a wide variety of dining options.  Keep an eye out for the chocolate bar during a sea day.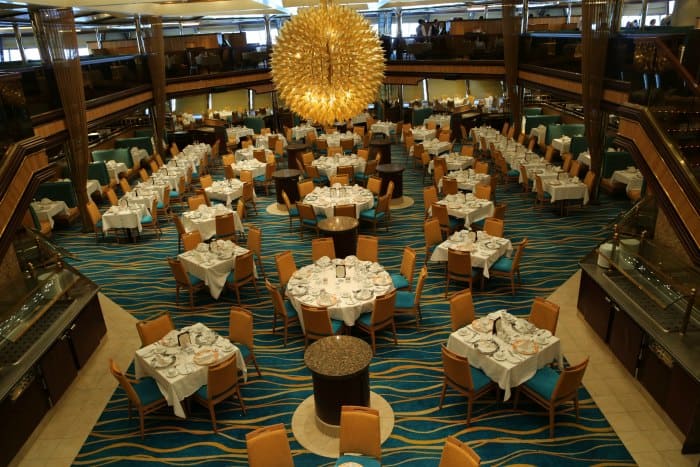 Main dining room
The main dining room offers sit down dinner, sea day brunch, and tea time.
Additional Carnival Sunshine Resources
Cloud 9 Spa Room - Video and photo tour of what it is like to stay in a Cloud 9 Spa Room
10 things we loved on the Carnival Sunshine - Check out our favorite things on the ship
Carnival Hub App - Why you need this app downloaded before your cruise
Ways to help St. Jude - Check out all the ways you can help support St. Jude Children's Hospital during your cruise
Carnival Warm Chocolate Melting Cake - Make this great dessert at home!
Balmoral Island Excursion in the Bahamas - If you are cruising to the Bahamas on the Carnival Sunshine this is a great excursion to spend the day at the beach.
Caribbean Cruise Packing List - Make sure you remember to bring these things on your cruise
Caribbean Cruise Tips - All the things we wish we would have known on our first Caribbean Cruise