Easy Hot Chocolate Recipes that taste amazing! Everything from slow cooker hot chocolate to Hot Cocoa Cocktails we have you covered!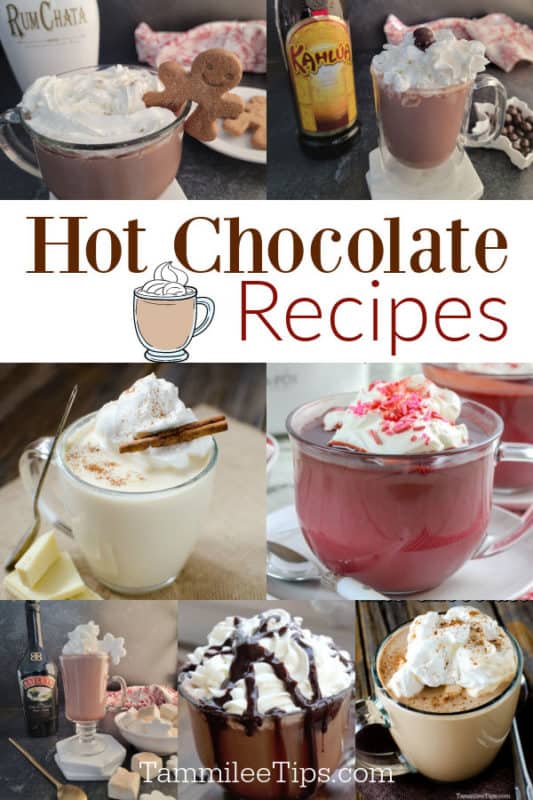 Hot chocolate is a time-honored winter treat that warms the soul with sweet chocolate. It is also far easier to make delicious hot chocolate than it looks.
National Hot Chocolate Day is celebrated on January 31st!
Here we dive into your questions about hot chocolate, then finish with a roundup of our favorite hot chocolate recipes that we've shared on our blog. Let's get started!
Are Hot Chocolate and Cocoa the Same?
Whether you like it plain or with a bunch of toppings, hot chocolate is joy in cup form and one of the best parts of the winter season. You may be surprised that hot chocolate and cocoa aren't the same.
A packet of hot cocoa mix combines cocoa powder, powdered milk, and sugar to produce a sweet, light-bodied chocolate beverage. Flavors like vanilla or warm spices like ground cinnamon are frequent in hot cocoa mixes, as are additives and preservatives intended to enhance flavor and shelf life.
Hot cocoa is easier to make than hot chocolate, as preparing it is as simple as adding the mix and hot water or milk to a cup, then stirring to the desired consistency.
How Hot Chocolate Is Made
On the other hand, hot chocolate is white, milk, or dark chocolate that has been shaved or chopped finely so that it melts fast when combined with hot water, milk, or cream. Similar to hot cocoa mix, it may contain vanilla flavoring. Sugar usually isn't added, however, since chocolate already contains sugar.
When mixed with hot milk or water, hot chocolate is a palatable, rich beverage that is less sweet than hot cocoa and more robust in chocolate flavor.
Different regions have their unique takes on hot chocolate. Mexican hot chocolate, for instance, is made in solid disc form with a blend of sugar, cinnamon, and cacao nibs. Chili powder is sometimes added for a more complex flavor. The result is a less sweet yet still sweetly spiced beverage.
Can Hot Chocolate Powder Expire?
While instant hot chocolate lacks an expiry date, it will lose flavor and quality with time. Most manufacturers recommend using powdered hot chocolate mixes within one to two years of opening and no more than twelve months past the printed date.
For the best results, secure your hot chocolate powder in an airtight container and store it in a cool, dry area.
Remember that hot chocolate is a milk-derived product, and dairy products consumed past their expiration date have an unpleasant taste and can lead to unpleasant issues with digestion.
What Hot Chocolate Is Gluten-Free?
Most hot chocolate, including hot chocolate mixes from your local grocery store, is naturally gluten-free. Its main components - cocoa powder, powdered milk, and sugar - are not gluten-containing.
Hershey's, Swiss Miss, and Starbucks hot chocolate mixes are labeled gluten-free, while the hot beverage menus and Dunkin' Donuts are gluten-free. To avoid the issue of cross-contamination, it's recommended to stick to brands that display a gluten-free label.
What Hot Chocolate Is Vegan?
Hershey's, Ghirardelli, Starbucks, and Equal Exchange are two common supermarket brands of vegan hot cocoa mix. Good & Gather, a Target private label brand, has hot cocoa mixes that are also considered vegan.
Can You Make Hot Chocolate in a Coffee Maker?
Yes, you can make hot chocolate with your coffee maker! Here are three ways to do it.
Fill the Coffee Basket With Cocoa Mix
Fill your coffee basket with your favorite powdered hot cocoa mix instead of ground coffee. Want to make a mocha? Add ground coffee and a tablespoon of powdered cocoa to the basket.
It's crucial not to overdo it on the powdered cocoa mix, as the powder is a substance that gets sticky and solidifies when exposed to liquid. Too much powder may clog your system. You may also consider using a disposable coffee filter to protect your equipment.
You may be tempted to add milk instead of water to your coffee machine's water reservoir. We advise against this, however, since boiled milk leaves behind a hard-to-clean residue that may damage your coffee maker and create a breeding ground for foodborne illness.
More advanced coffee makers may come with a milk-frothing attachment. If you want the surface of your hot cocoa to be as frothy as if a barista made it, assemble your milk frothing according to your machine's instructions.
Hot Water Method
This method involves using your coffee maker to heat water to add to your hot chocolate mix.
Fill the coffee maker according to the volume of hot chocolate you wish to make. Even sweetened pre-made mixes can be too intense in excess, so we recommend sticking to one envelope per cup.
Run the machine with the basket empty. Once the coffee maker has stopped, pour the now hot water from the carafe into your cup containing the hot chocolate mix. Stir until dissolved to your liking.
Want more chocolatey goodness? Add chocolate chips or glaze the inside of a clear cup with chocolate syrup swirls before pouring the hot water over your cocoa mix.
Use Hot Chocolate Capsules
This is the easiest of the three methods, but it only works if you have a pod-based coffee maker. Place your favorite hot chocolate capsule into the pod, power the coffee machine on, and voila, hot chocolatey goodness at your fingertips.
Best Hot Chocolate Recipes
Here are some of our favorite hot chocolate recipes including homemade hot chocolate, hot cocoa adaptions, and more!
Hot Chocolate Garnishes - If you are looking to upgrade your favorite hot chocolate we love garnishing with homemade whipped cream or coconut whipped cream, chocolate sauce, mini marshmallows, crushed OREOs, crushed graham crackers, cinnamon, chocolate shavings, caramel sauce, peanut butter, and milk chocolate chips.
Add a splash of vanilla extract for even more flavor! Have fun experimenting with different combinations to find your favorite!
Recipe Variations
The majority of these hot cocoa recipes are made with regular non-fat or whole milk here are a few ways you can adapt them for dietary restrictions.
Alternative Milks - soy milk, oat milk, coconut milk, almond milk, or your favorite dairy-free milk works great.
Chocolates - Try using different chocolates for fun new flavors - Semi-sweet chocolate, bittersweet chocolate, dark chocolate, white chocolate, or your favorite chocolate blend. High quality chocolate helps create the best creamy texture for hot chocolate.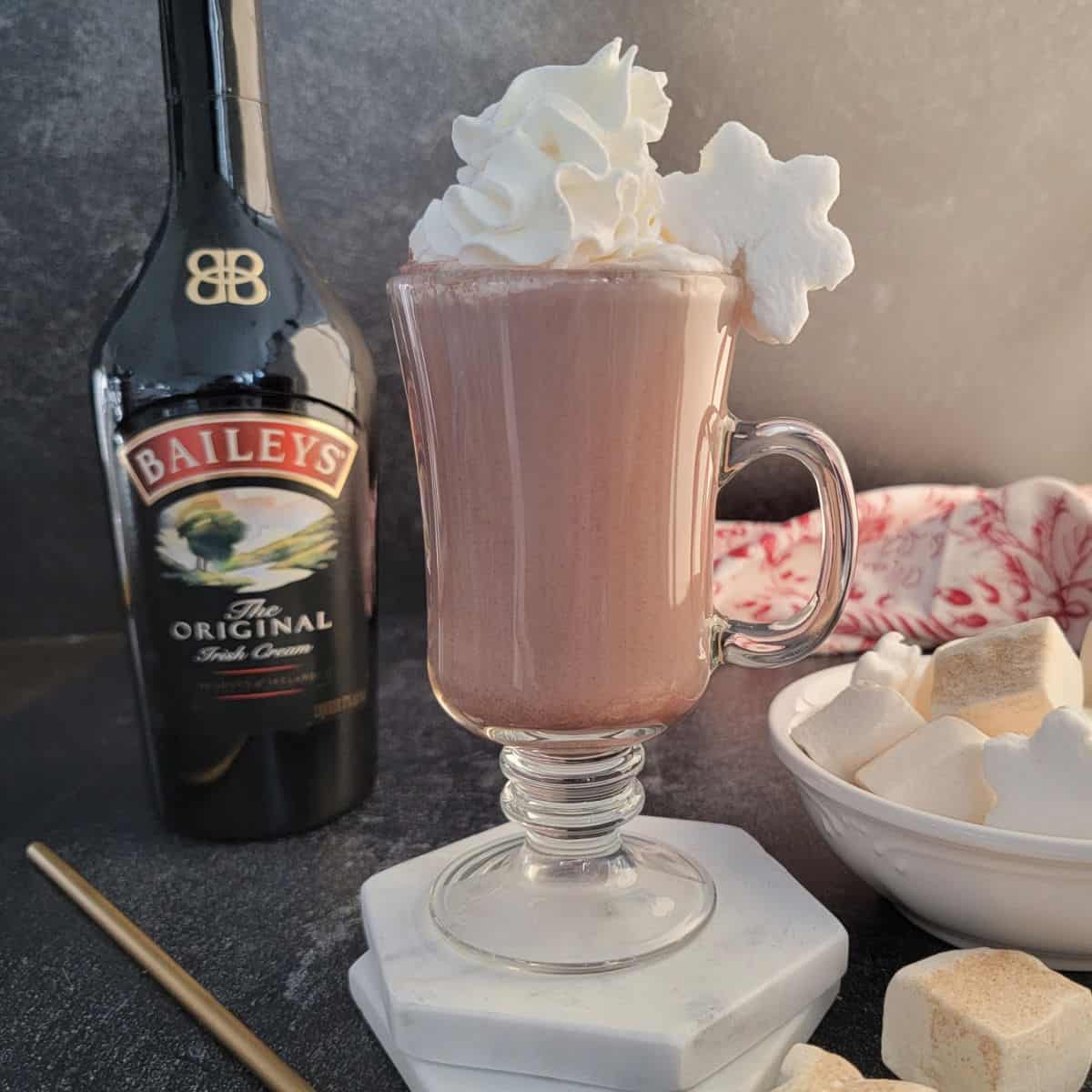 Some days you need to stretch your creative muscles, while on others, tried-and-true classics, like Bailey's and hot chocolate, hit the spot. Make this spin on an Irish coffee even sweeter by expanding beyond Bailey's original and using other flavors, like Salted Caramel, Espresso Creme, or Vanilla Cinnamon.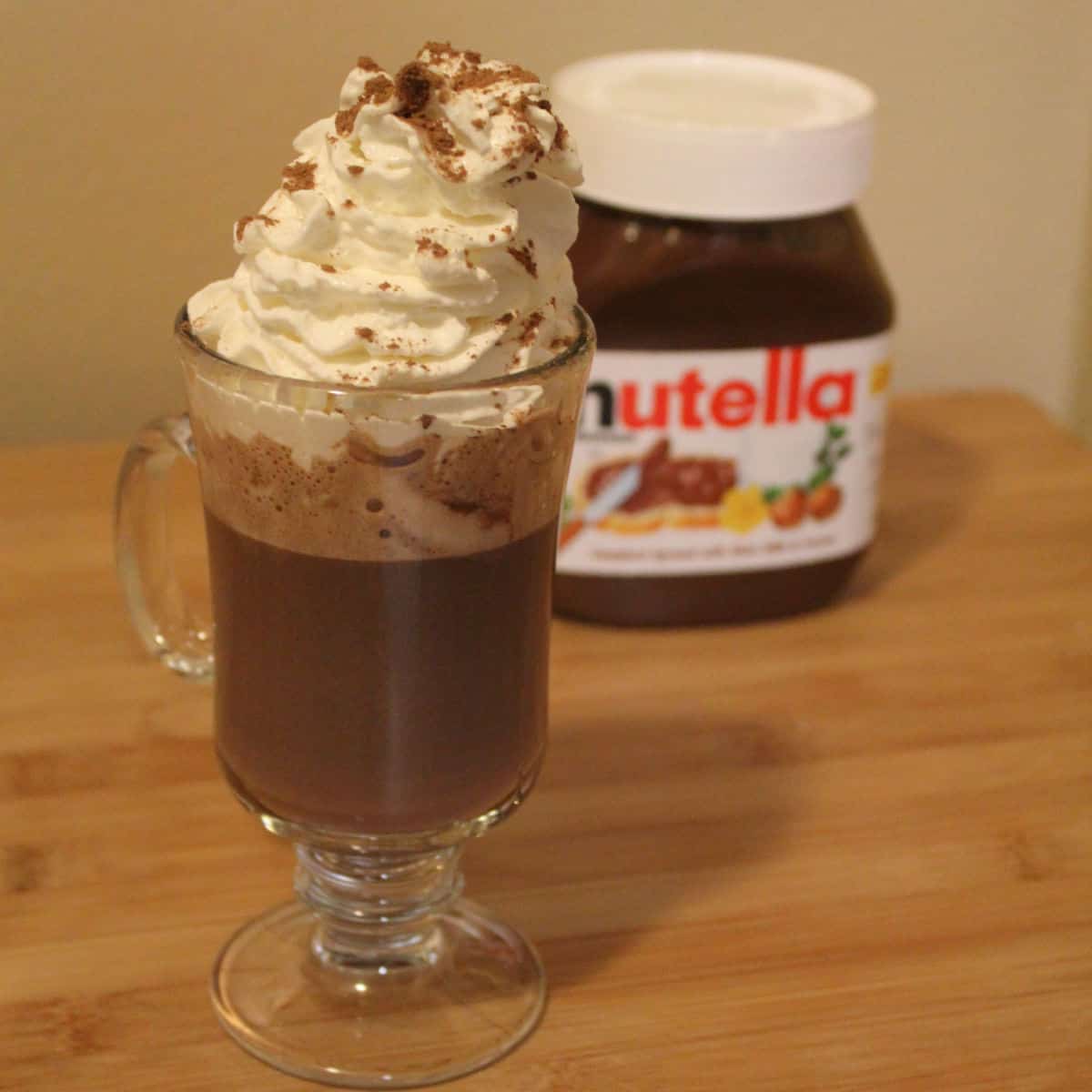 Our Nutella-loving household loves inventing ways to incorporate the chocolate hazelnut spread into food. Hot cocoa is delicious alone, but simmering it with a few generous spoonfuls of Nutella takes it to a new level.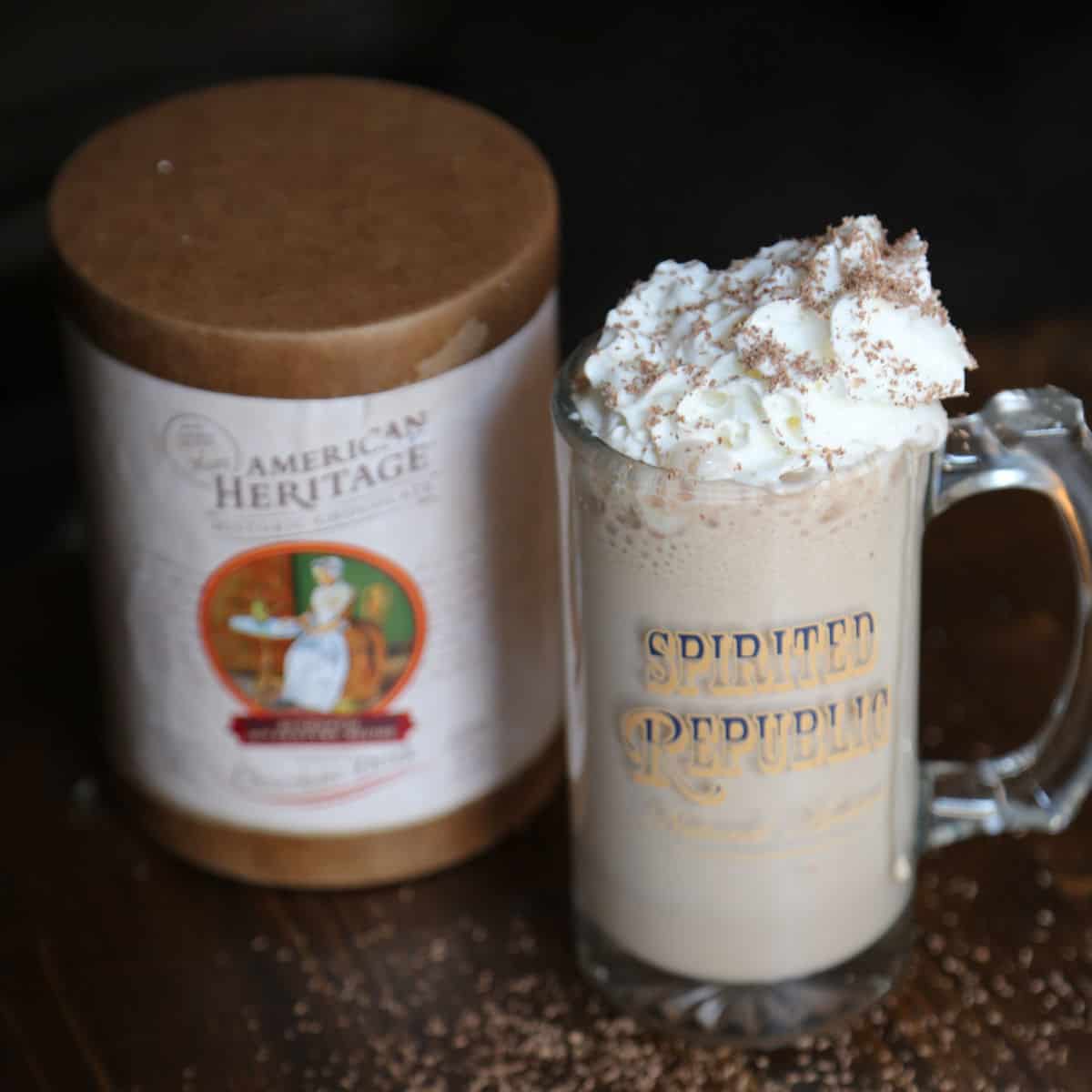 This boozy frozen hot chocolate is one of our favorite takeaways from our weekend in Washington, DC courtesy of American Heritage Chocolate. It is also perfect for warming up during the cooler months.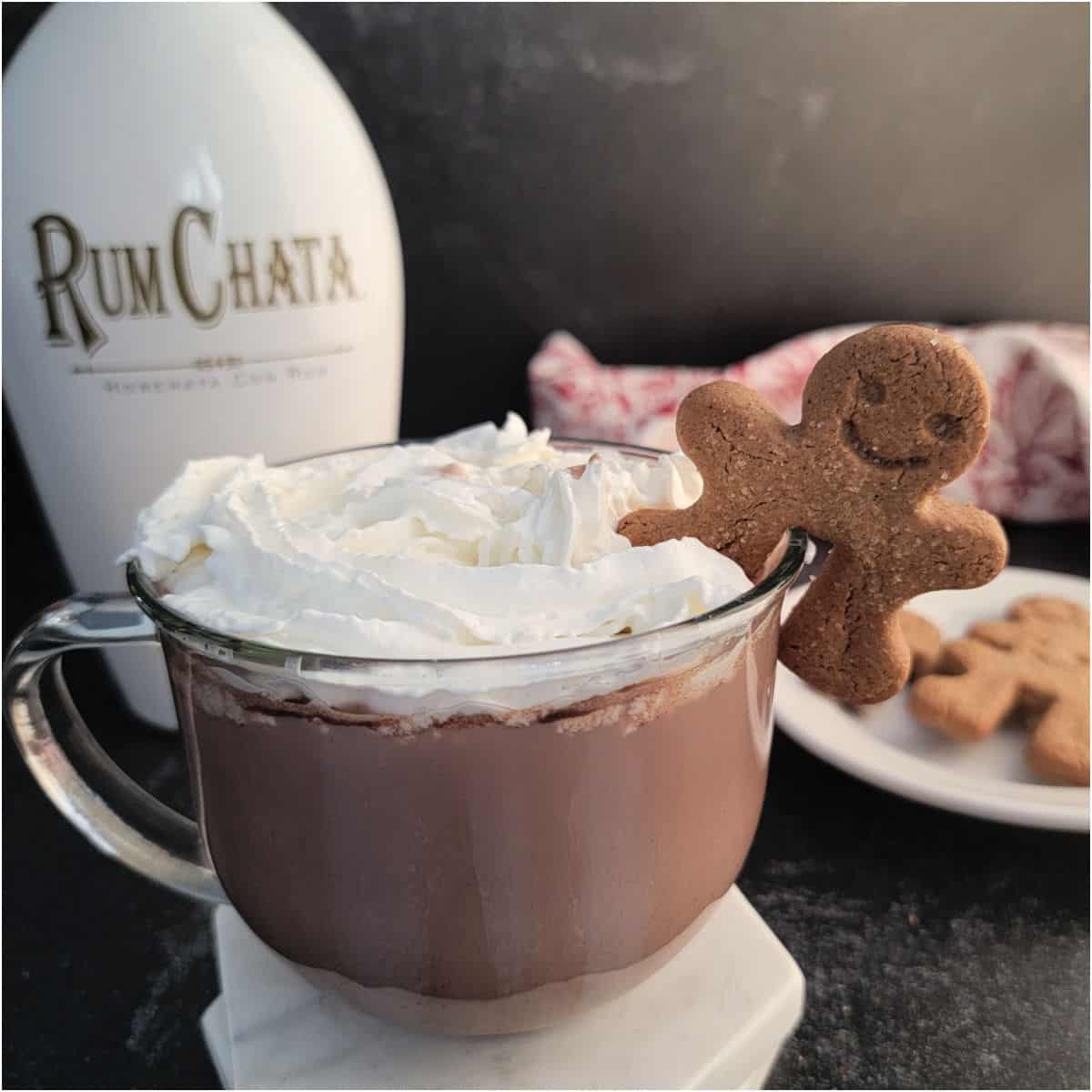 We often whip up hot cocoa from scratch or use a pre-made mix to satisfy our craving for something to keep us warm during a Spokane winter. The spiced rum cream flavor of RumChata makes it perfect for turning regular hot cocoa into the boozy adult version.
For more holiday cocktail favorites, check out our Christmas Drinks roundup.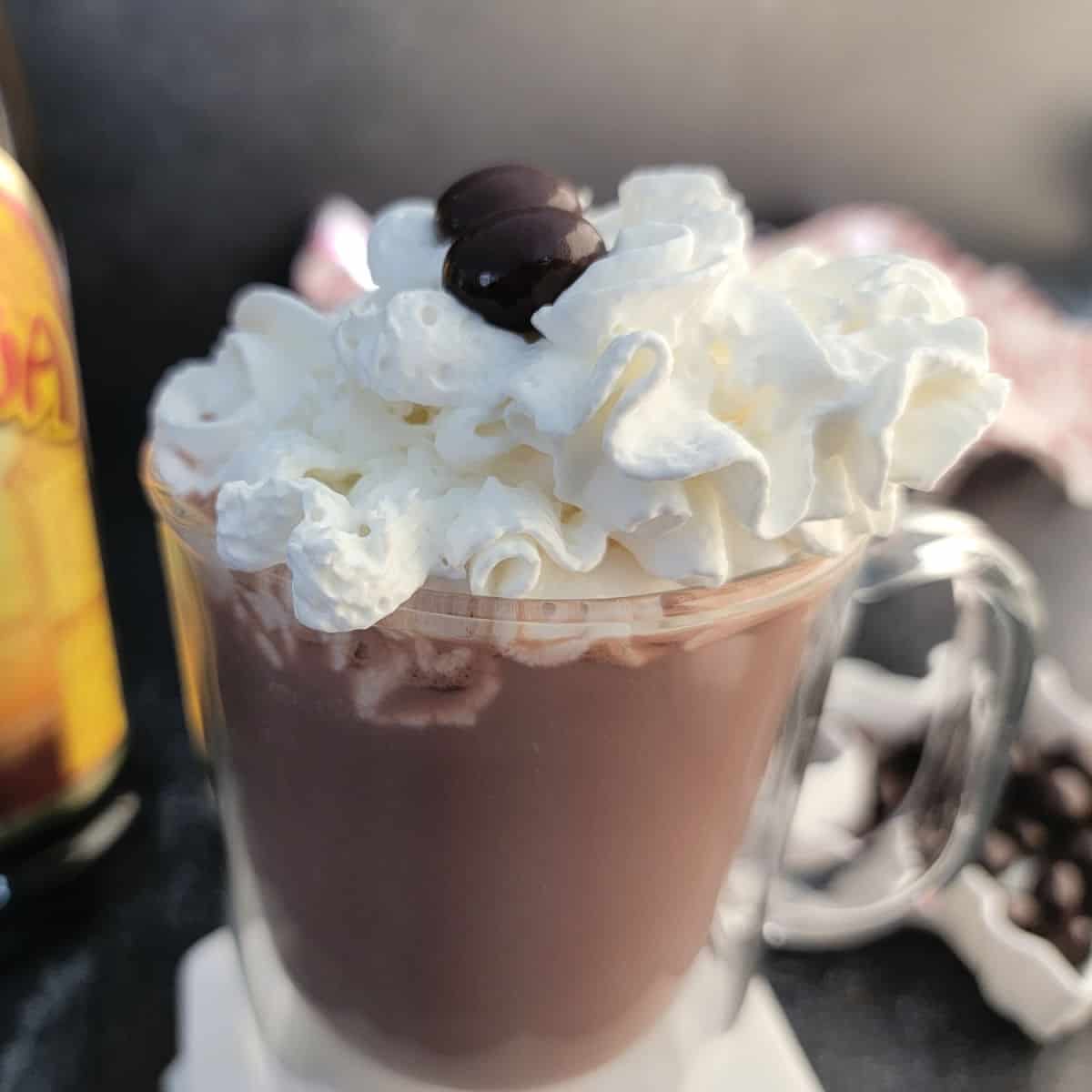 While this boozy hot chocolate uses packaged hot cocoa mix, you can replace this with any Mexican hot chocolate brand, such as Abuelita, for south-of-the-border flair. Fun garnishes include cinnamon sticks, cocoa or cinnamon powder, mini marshmallows, and caramel drizzle.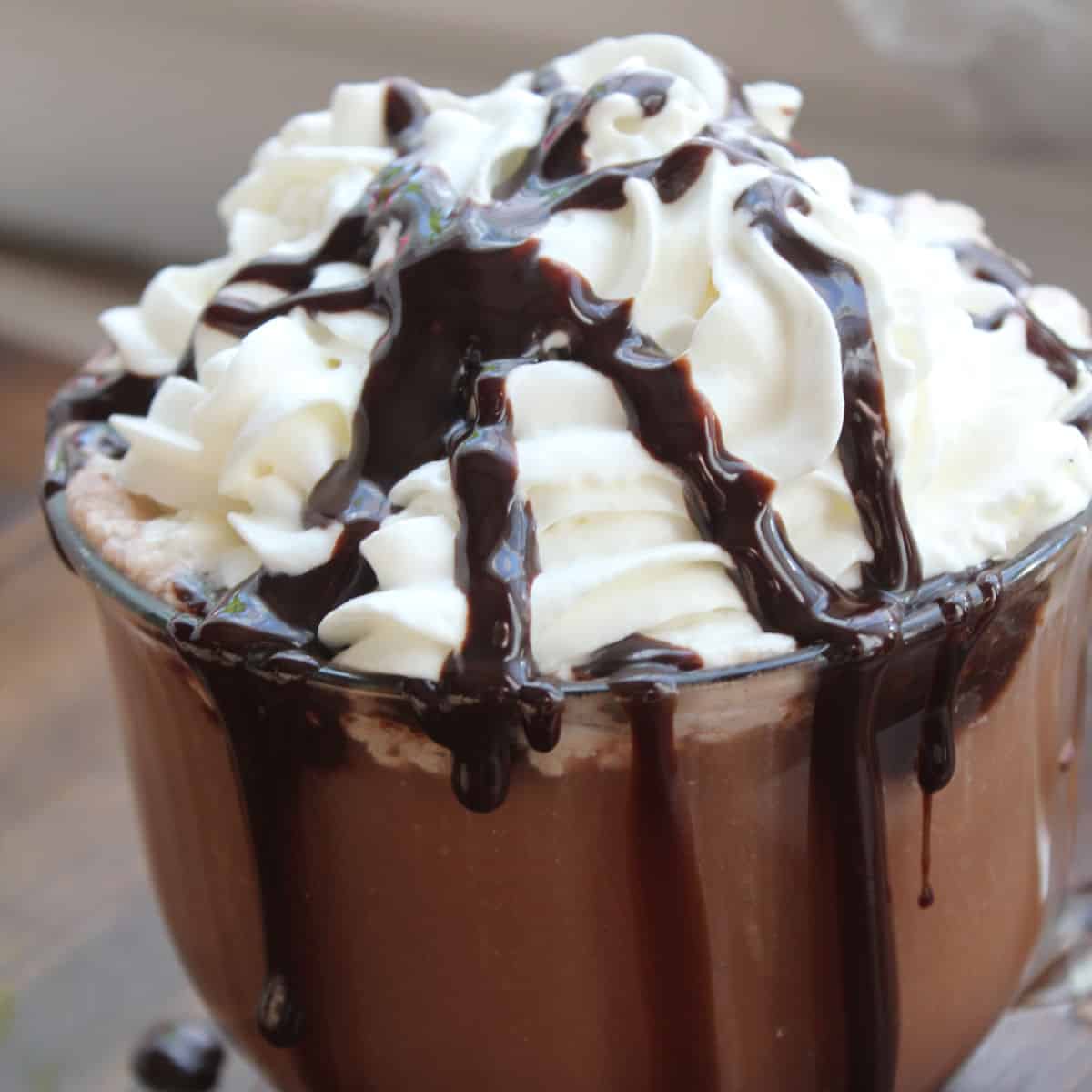 Not only is Crock Pot Hot Chocolate great when one cup isn't enough, but it's also an economical way to prepare hot cocoa for a large group. This recipe can be part of a hot chocolate bar. Add condiments on the side, like whipped cream, Nutella, marshmallows, and chocolate and caramel syrups, for guests to customize their cups of chocolatey joy.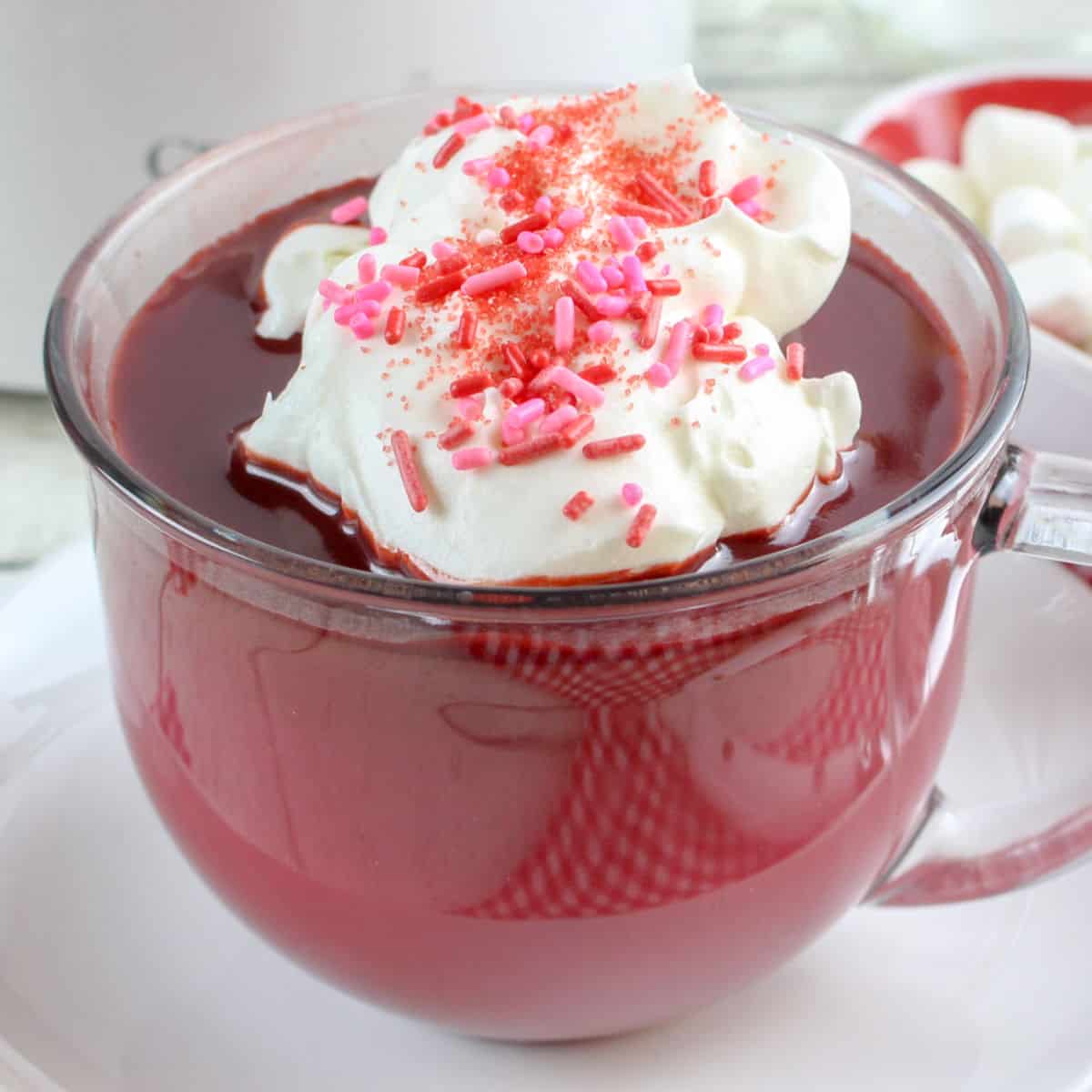 Serve this slow-cooker red velvet hot chocolate, which pairs superbly with crème de cacao for a boozy kick, to your sweetie on Valentine's Day or to yourself on a cold winter afternoon.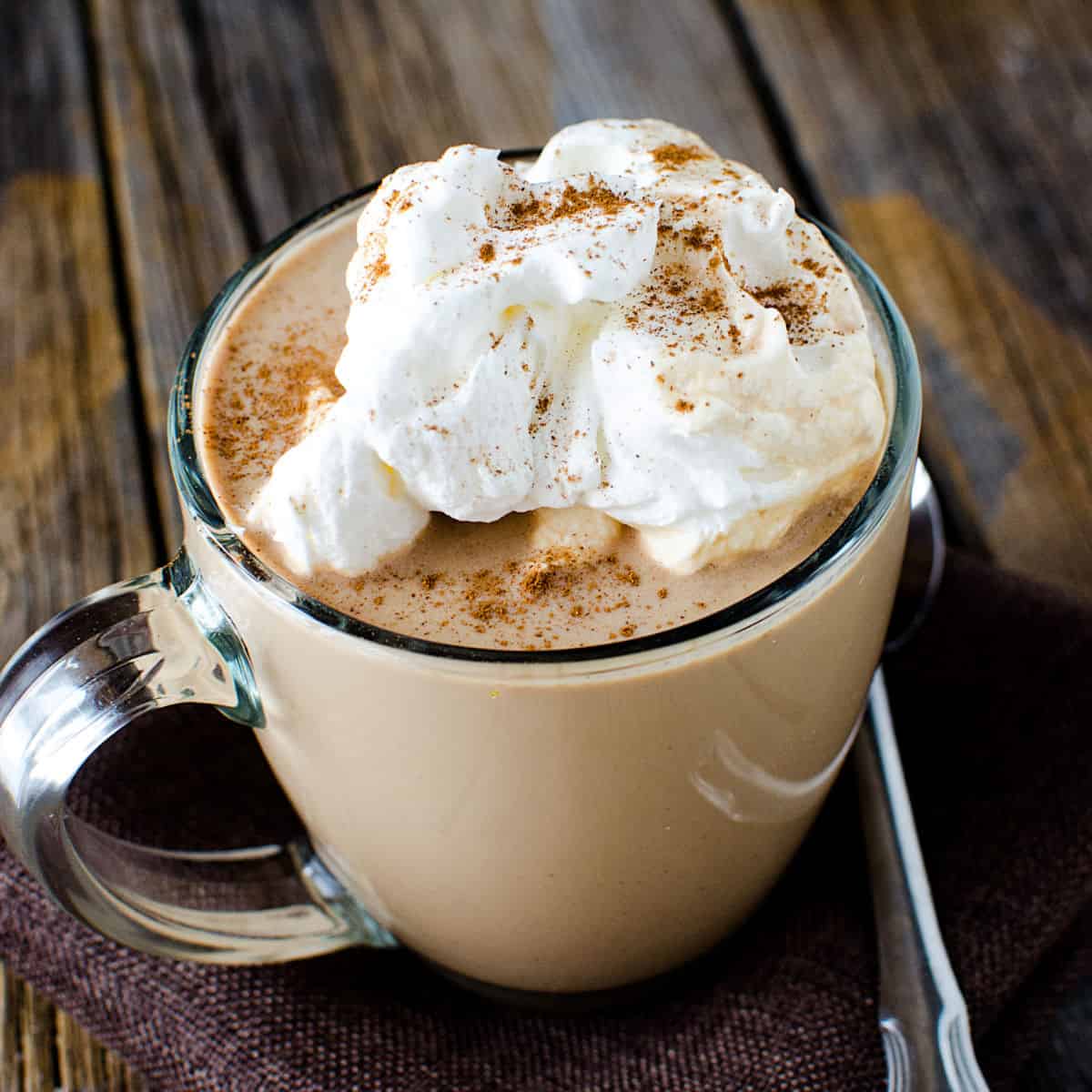 This ancho chili-spiced hot cocoa may not be for the faint of heart, but it could be just the thing for your favorite spice lover. Eliminating the ancho chili leaves you with a cinnamon-spiced cocoa, which easily pleases your guests who want flavor without a kick. We even like to keep both versions of this hot cocoa available at parties so guests can choose. Make it boozy with tequila or your favorite liquor.
 "What I love is Mexican hot chocolate, like a spicy hot chocolate - adding cayenne pepper to the Hershey's cocoa and making a spicy-sweet treat." - Kimberly Williams-Paisley
Check out more Hot Chocolate Quotes at the bottom of the post. Perfect for sharing your favorite hot chocolate recipes on Instagram.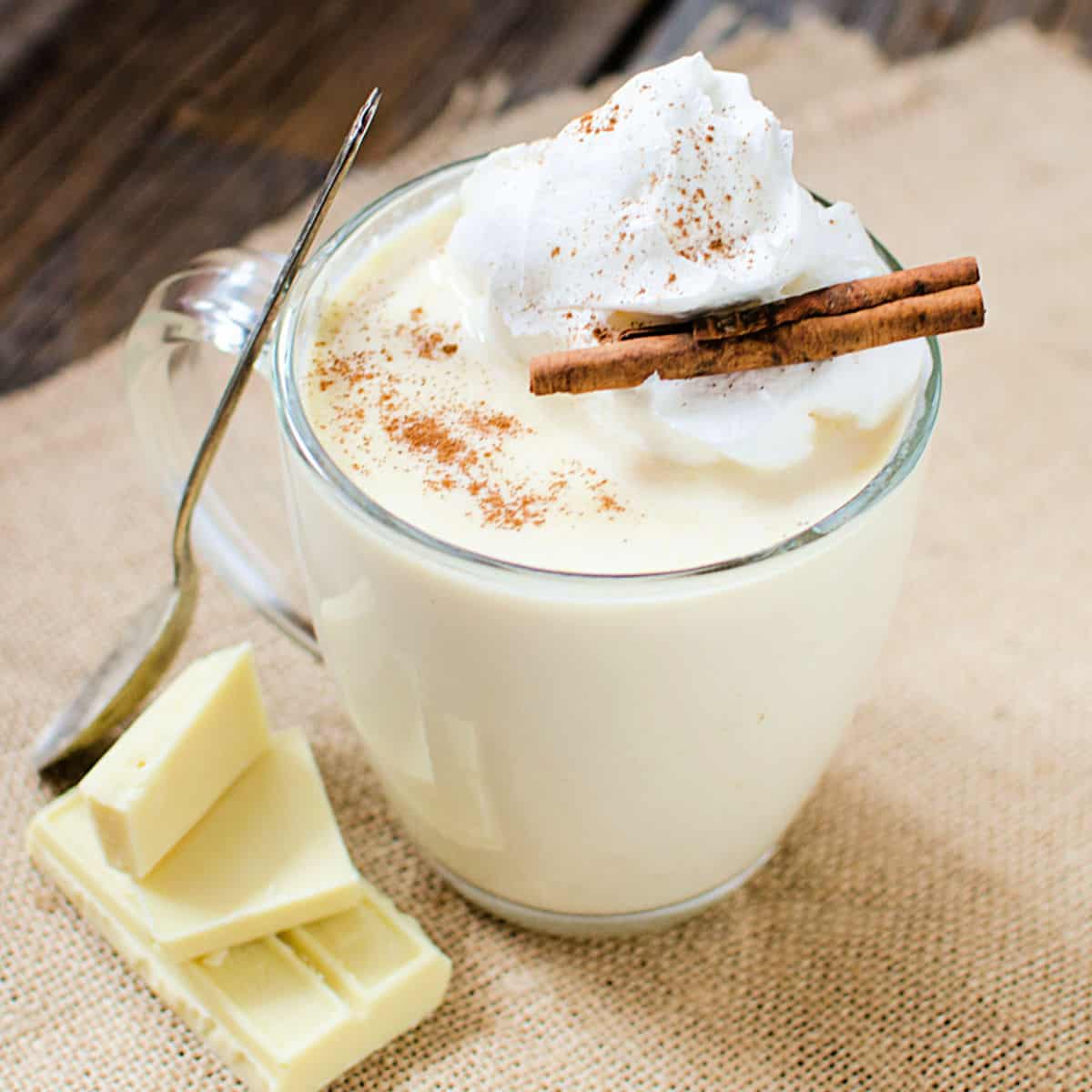 Though we're never ready for a snow day, we're always up for a piping hot cup of this Crock Pot cocoa made with white chocolate, marshmallow fluff, vanilla, nutmeg, and cinnamon sticks. Consider making this part of your next wintertime hot chocolate bar.
Whipped Hot Chocolate
Coming soon - Enjoy a fun twist on classic hot chocolate with this new tiktok inspired whipped hot chocolate!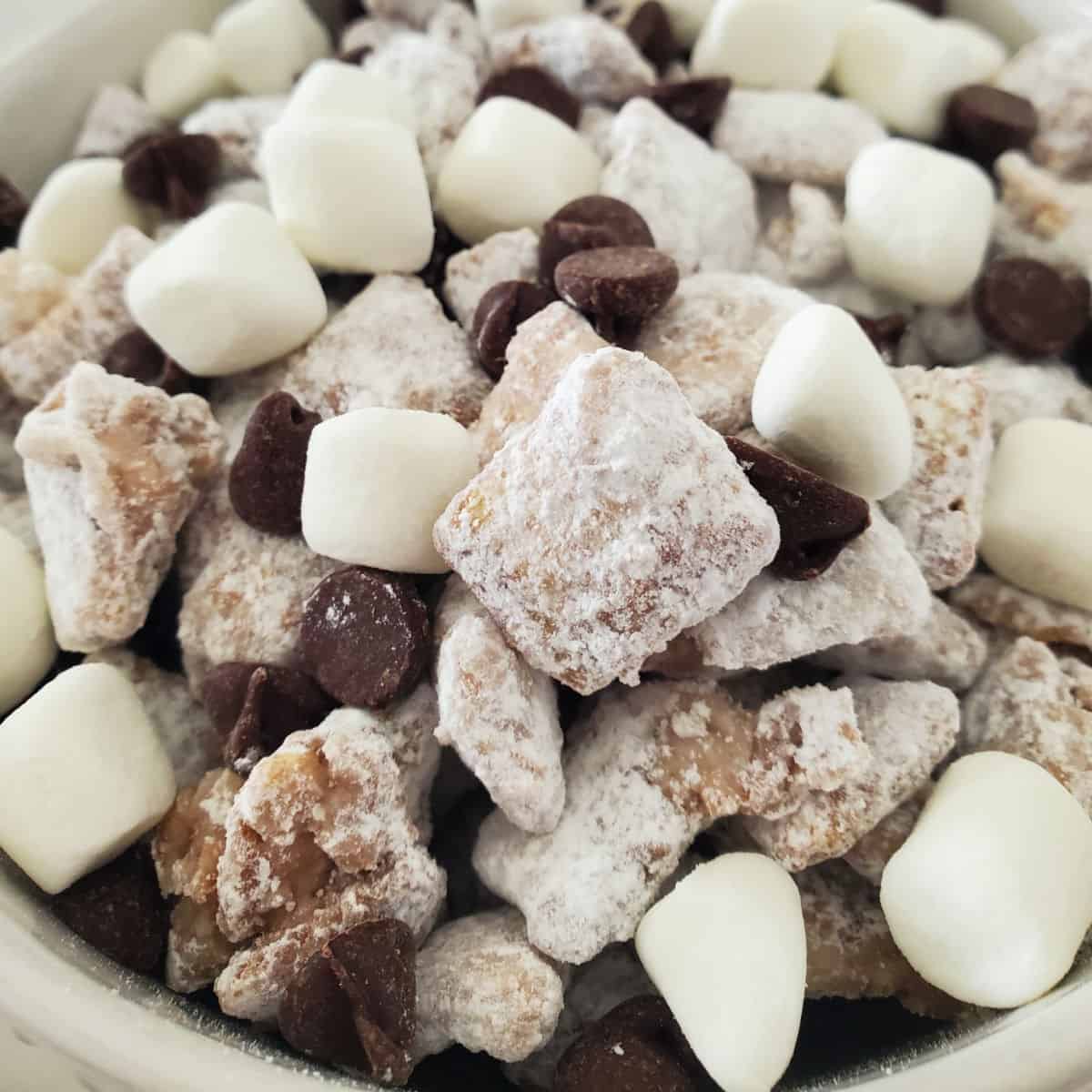 Whether you call them muddy buddies or puppy chow, this delicious combination of vanilla Chex and hot cocoa mix with marshmallows is great for holiday party snacking. They're also a cute DIY gift when packaged in festive gift bags.
We also have a delicious Apple Cider Muddy Buddies recipe for your household's fall snacking needs.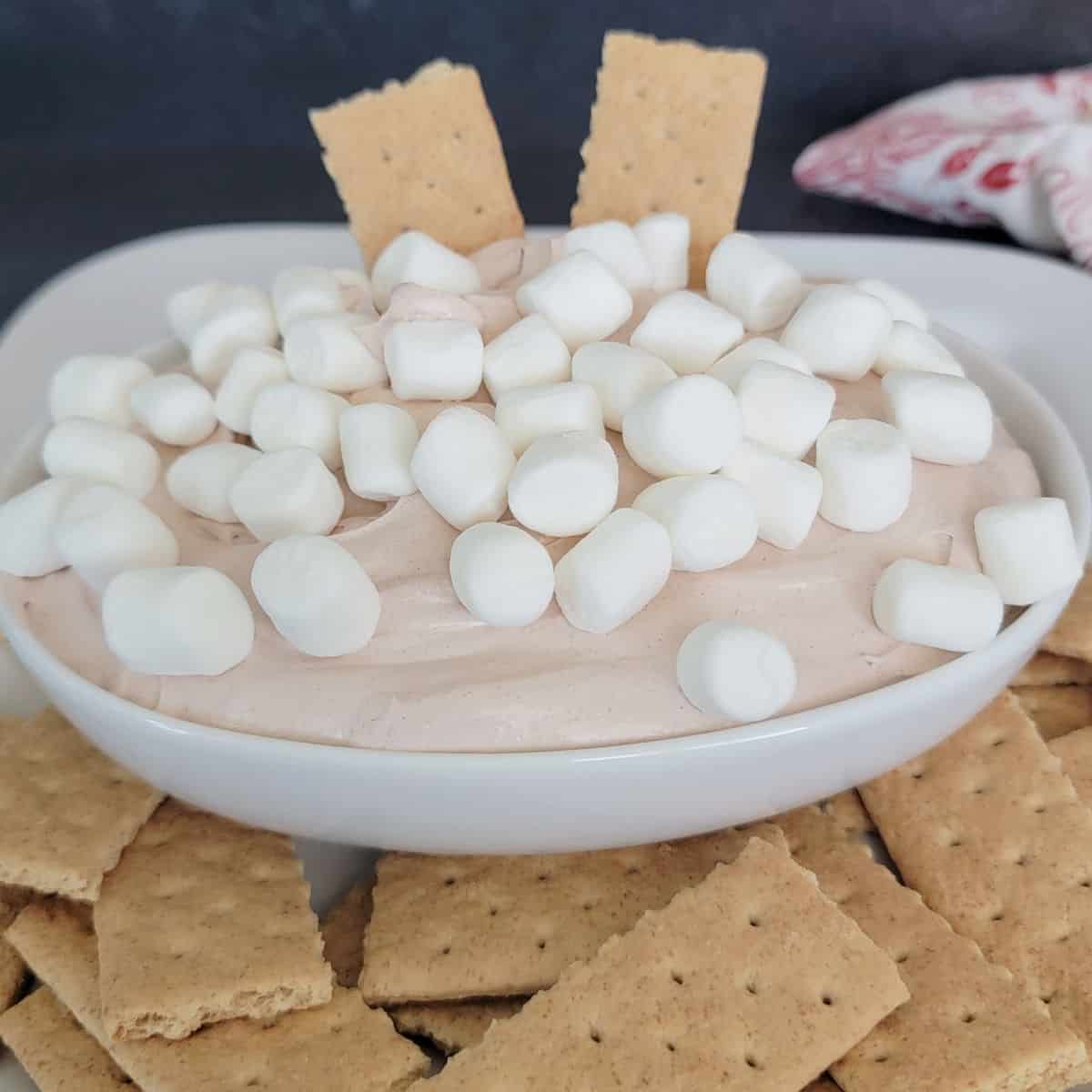 There's something pleasantly nostalgic about dipping a cookie, graham cracker, or fruit into a dessert dip. We made our no-bake, hot cocoa-inspired Dunkaroo Dip while under a winter storm warning, which for our home means piping hot mugs of chocolate all around. For a holiday twist, add peppermint extract to turn it into a festive Peppermint Hot Cocoa Dip.
We hope you have enjoyed these fun Hot Chocolate Recipes!!!
Printable recipe card instructions are available by clicking on the Hot Chocolate Recipe name and visiting each individual post.
Nutrition information, including calories, protein, calcium, carbohydrates, fiber, vitamin c, potassium, cholesterol, sodium, trans fat, monounsaturated fat, polyunsaturated fat, and more, will vary depending on the products used.
Hot Chocolate Quotes
"There's nothing like hot chocolate and a hug for making the nightmares go away." - Neil Gaiman
"An ordinary bar, a handful of slow hours, a hot chocolate and a dream to watch calmly." - Fabrizio Caramagna
"Because the best gift in life, is just having someone to drink hot chocolate with." - Tessa Shaffer
"The superiority of chocolate, both for health and nourishment, will soon give it the preference over tea and coffee in America which it has in Spain." - Thomas Jefferson
"Love is like swallowing hot chocolate before it has cooled off. It takes you by surprise at first but keeps you warm for a long time." - Henri Frederic Amiel
We go together like hot chocolate and marshmallows.
Today is a hot chocolate kind of day.
Live. Love. Hot Chocolate.
Keep calm and get your hot chocolate on.
Happiness is hot chocolate.
Never underestimate the power of hot chocolate.
Let's get lost in a world full of books and hot chocolate.
Snuggling with my hot chocolate.
Why can't hot cocoa be enough? It makes me fuzzy and melts all my problems away.
May your life be filled with happiness and overflowing hot chocolate!
My love for you is like a hot cocoa that is sweet and warm to the heart.
Today is hot chocolate day
Keep calm and get your hot chocolate on
Snow is falling, hot cocoa is calling
Forget love… I'd rather fall in chocolate
Hot Chocolate is the answer. Who cares what the question is?
Chocolate comes from cocoa, which is a tree, that makes it a plant, chocolate is a salad
When to serve Hot Chocolate
Breakfast
Afternoon snack
Dessert
Christmas morning
After spending time outdoors
Après Ski
Potlucks
House parties
Family get-togethers
There is always a good reason to serve a mug of hot chocolate! It is the perfect comforting sweet drink.
Favorite Kitchen Tools for making Hot Chocolate
Whisk - A great whisk will help incorporate the high-quality chocolate into your hot chocolate.
Saucepan - You want to use a saucepan that is comfortable to pour from if you plan to pour directly from the pan. We suggest using a scoop to serve the hot cocoa.
Milk Frother for Hot Chocolate - We love making frothy delicious hot chocolates.
Crockpot - We suggest using a crockpot that has a digital timer that automatically switches the slow cooker to warm after a set amount of time. This helps make sure your dinner cooks perfectly and you don't have to stress about what time it is going to be done.
Blender - We are big fans of the Ninja Blender and how well it makes frozen drinks.
Cute Coffee Mugs - We really like the clear insulated coffee mugs that show off how epic your drink looks.
Great Recipe Collections
3 Ingredient Recipes - Easy 3 Ingredient Recipes that taste amazing! Drinks, entrees, and desserts you can make with a few ingredients.
5 Ingredient or Less dessert recipes - check out the epic desserts you can make with only 5 or less ingredients.
Bisquick Recipes - Everything from breakfast to snacks, to comfort food, and more! All of these recipes with Bisquick are made with simple ingredients and are quick and easy recipes!
Cake Mix Recipes - Boxed cake mix used intentionally can be a canvas for scrumptious yet creative cookies, brownies, cakes, and desserts.
Eggnog Recipes - These Eggnog Recipes are a great way to use a bottle of Eggnog this holiday season.
Sweetened Condensed Milk Recipes - Epic recipes that use sweetened condensed milk.
Do you love recipes? Check out our copycat recipes, dessert recipes, and our CrockPot Recipes.
Follow Tammilee Tips on MSN, Facebook, Instagram, and Pinterest, for all of our recipe posts.