Copycat Chick fil A Frosted Lemonade is the perfect ice cream drink for hot summer days. So easy to make and tastes refreshing.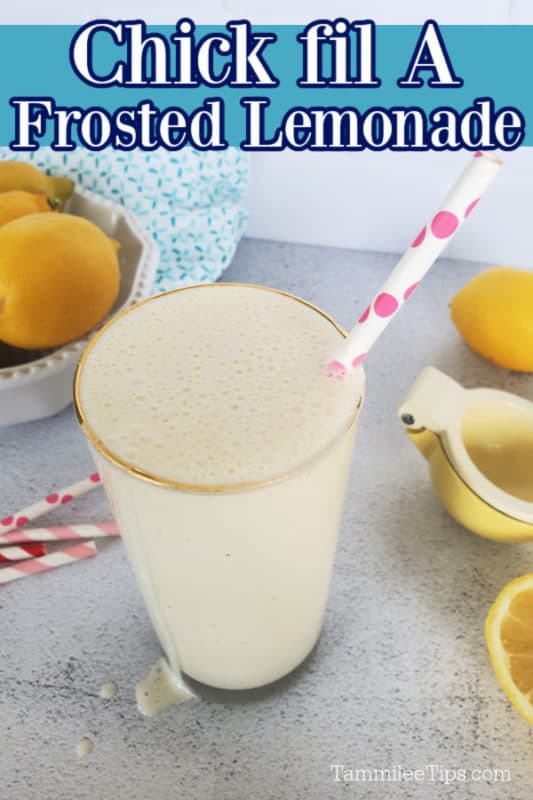 Copycat Chick fil A Frosted Lemonade
Chick fil A makes their frosted lemonade with their signature lemonade and signature  Icedream® dessert which is soft-serve ice cream.
I think it is so cool that the Frosted Lemonade started by team members who would make it to enjoy on their work breaks. After hearing the rumors Chick fil A corporate decided to test it out and see how it was.
After test markets raved about it they decided to roll out Frosted Lemonade nationwide.
This is amazing until you live in an area that doesn't have a Chick fil A! We didn't have a Chick fil A for years until finally, they opened a Spokane Chick fil A this past year.
Since we didn't have a Chick-fil-A restaurant in Spokane we started making copycat recipes at home so we could enjoy our favorites.
So far we have made Chick fil A Sauce, Chick fil A Lemonade, Polynesian Sauce, frosted coffee and now Frosted Lemonade. I am not sure which recipe we are going to make next.
I have been thinking about the peppermint milkshake that rolls out around Christmas and how fun that would be to make at home.
Thankfully we do not have to think about Christmas or cold weather for a while! We are about to finally get warm weather and I am so ready for it!
We use vanilla ice cream since we don't have a soft-serve ice cream machine at home. I tried to convince my husband that getting a soft-serve ice cream machine made sense but he gave me the look.
You know the look when your spouse thinks you have lost your mind but doesn't want to say it out loud.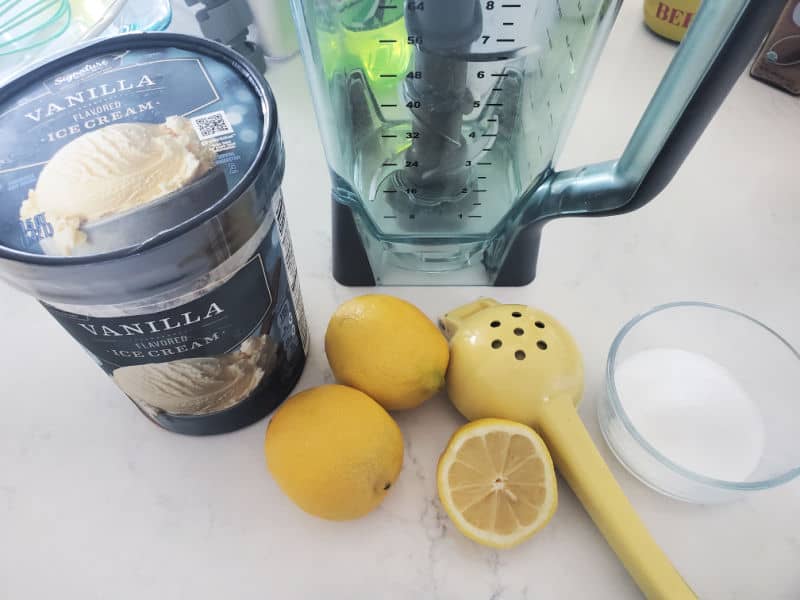 Ingredients
Fresh Squeezed Lemonade
Sugar
Vanilla Ice Cream
Water
Lemons - Chick fil A uses Sunkist Lemons for their lemonade and frosted lemonades.
Equipment Needed
Lemon Juicer - I like to use a metal lemon juicer after having a plastic one break in my hand. I had lemon juice fly all over the place and a broken plastic juicer. Since then I have switched to a nice metal lemon juicer and it is amazing.
Blender
Measuring Cups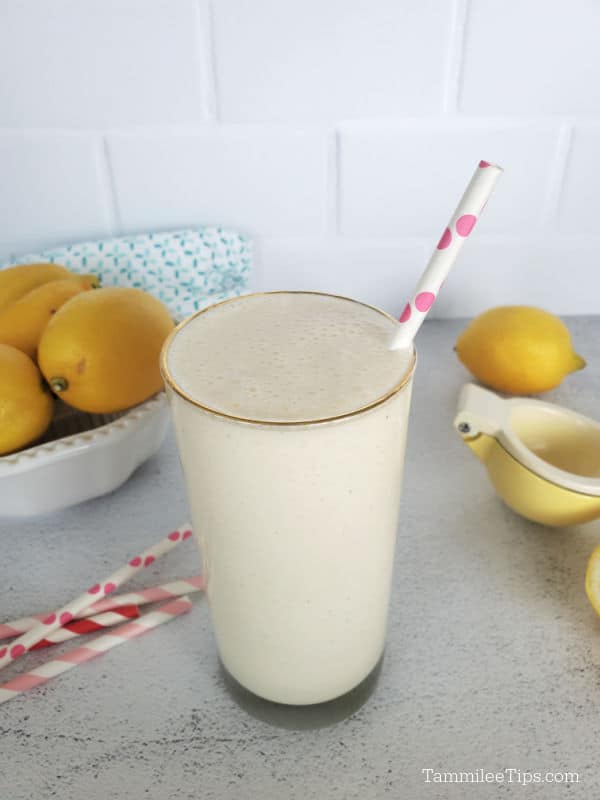 Recipe Tips
You can make Chick fil A Frosted Lemonade with diet lemonade to save on calories. Use Minute Maid light or other diet lemonades instead of fresh squeezed lemons and sugar.
If you don't have lemons you can easily make this recipe with pre-made chilled lemonade. Just add it in with the vanilla ice cream until you get the texture you want. The flavor may be a bit different from the Chick fil A Frosted Lemonade since it is not made with fresh lemon juice but it still tastes amazing.
The ratio is around 1 cup lemonade to 2 cups vanilla ice cream. You can add more or less ice cream to reach your desired consistency.
You can make a vegan frosted lemonade by using dairy-free vanilla ice cream.
To lower the sugar feel free to use a sugar-free lemonade and ice cream to make this recipe.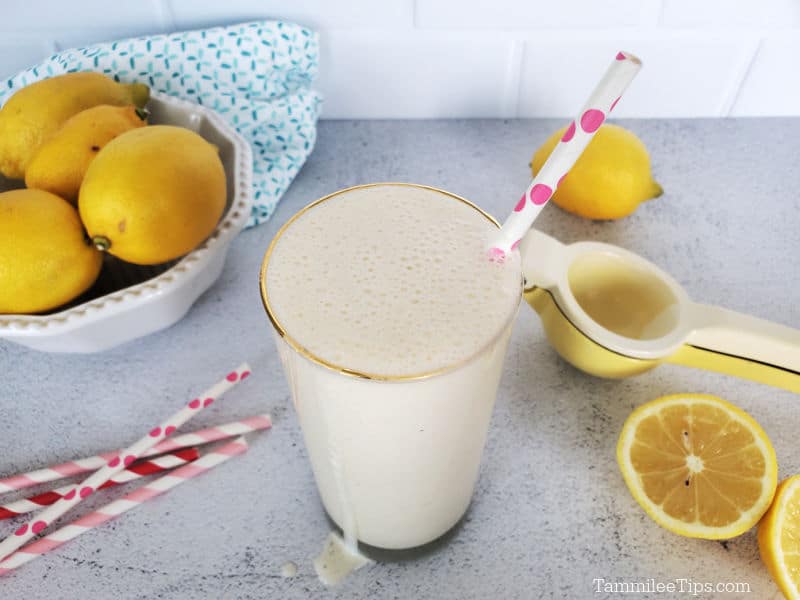 Great Copycat Recipes
Cracker Barrel Chicken and Dumplings
Do you love recipes? Check out our copycat recipe, dessert recipes, and our Crock Pot Recipes.
This recipe makes 1 glass of Frosted Lemonade. You can easily double, triple, or more this recipe to make a large batch. I kept it at 1 glass so I didn't end up drinking an entire pitcher of frosted lemonade on a hot summer day. Not that there is anything wrong with that. lol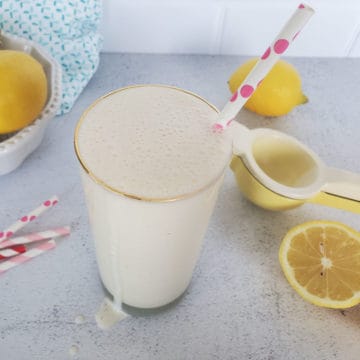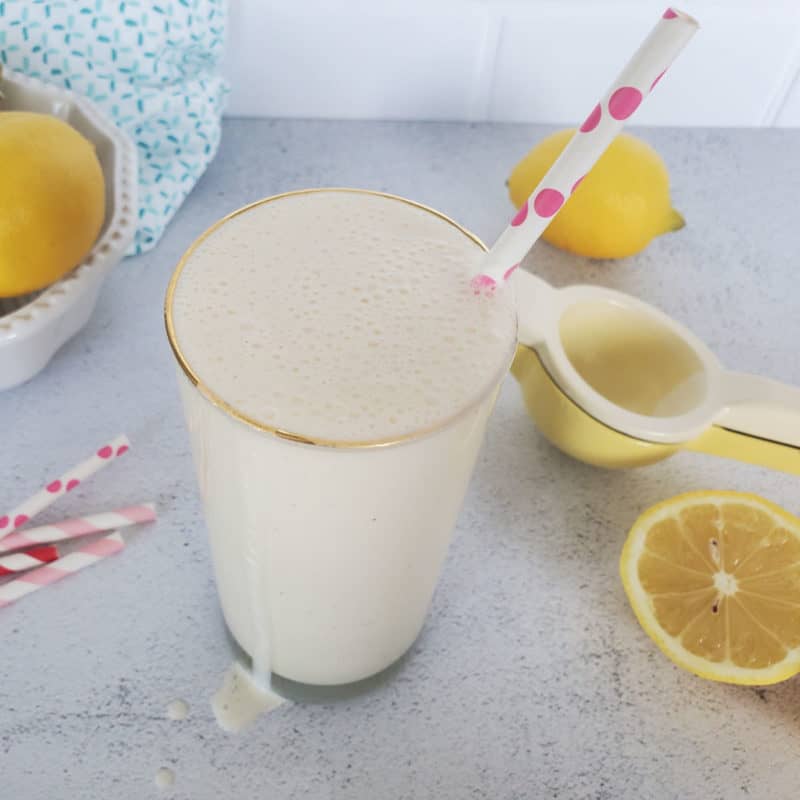 Chick fil A Frosted Lemonade Recipe
How to make Chick fil A Frosted Lemonade at home. This easy 4 ingredient recipe is the perfect refreshing lemonade milkshake.
Print
Rate
Instructions
Add Lemon Juice, Sugar, water, and ice cream to the blender. Blend until smooth

Pour into glass and enjoy.
Nutrition
Nutrition Facts
Chick fil A Frosted Lemonade Recipe
Amount Per Serving
Calories 767
Calories from Fat 261
% Daily Value*
Fat 29g45%
Cholesterol 116mg39%
Sodium 222mg10%
Potassium 652mg19%
Carbohydrates 121g40%
Protein 10g20%
Vitamin A 1119IU22%
Vitamin C 49mg59%
Calcium 351mg35%
Iron 1mg6%
* Percent Daily Values are based on a 2000 calorie diet.