Easy Copycat Chick Fil A Sauce Recipe perfect for dipping fries, tater tots, on burgers, whatever you want to use it for! This honey mustard BBQ sauce is so easy to make at home.

Copycat Chick Fil A Sauce Recipe
Chick-Fil-A is one of the restaurants we try to visit while we are traveling. We were super excited when the Spokane Chick Fil A opened in 2020. BUT the lines to get into the restaurant can be over an hour long.
There was a building sign put out a few months ago and it caused traffic jams people were so excited. Now that the restaurant is open it is busy all the time. Except on Sundays of course when they are closed.
In order to surprise my husband's mom with her favorite Chick Fil A Chicken Biscuits, we have gone at 6:30 am right when they open and still waited in line. U
Since the line can take hours I started making copycat Chick Fil A Sauce at home. We have been on a tater tot and french fries kick for snacks lately. So much so that I am researching a new air fryer to get the best french fries and tater tots possible. Let me know if you have any recommendations for a killer air fryer/toaster.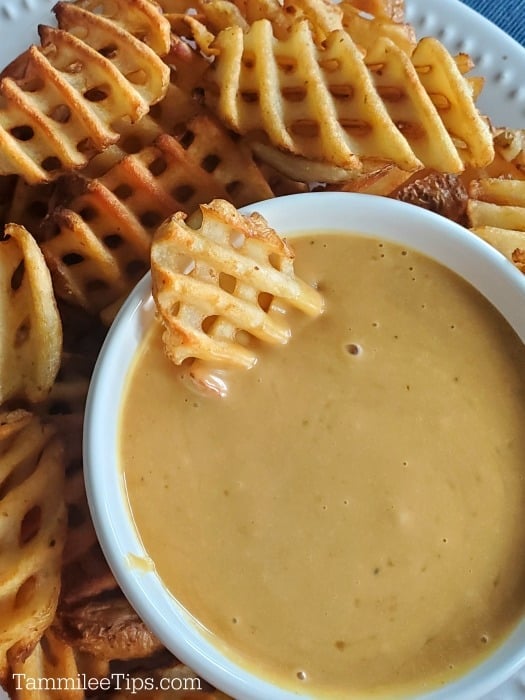 Chick Fil A Sauce tastes like a tangy honey mustard bbq sauce.  When it comes to fast-food restaurants' sauces this sauce is a winner!
How can you go wrong with a delicious dipping sauce that is begging for waffle fries or chicken nuggets to be dipped in it?
I am so excited the Spokane Chick Fil A opened but I am still not really feeling a couple of hours of waiting in line.  Please tell us what we have to try as soon as we can. I know the chicken sandwiches are world-famous but I am also hearing the Polynesian sauce is pretty darn amazing and we haven't tried it.
We also love the Chick fil A Lemonade and Frosted Lemonade and Frosted Coffee!
Can I confess something to all of you? When we went to Alabama to see John's family a few years ago I thought Chick Fil A was pronounced Chick Filla. I asked his sister what to get at Chick Filla and she had no idea what restaurant I was talking about. They had to tell me how to properly pronounce Chick Fil A. LOL.
How to make Chick Fil A Sauce
It is so dang easy to make Chick Fil A Sauce at home! Seriously all you need is a bowl, a whisk, and a few minutes!
We like to let the sauce rest in the fridge for a couple of hours so it really melds the flavors together.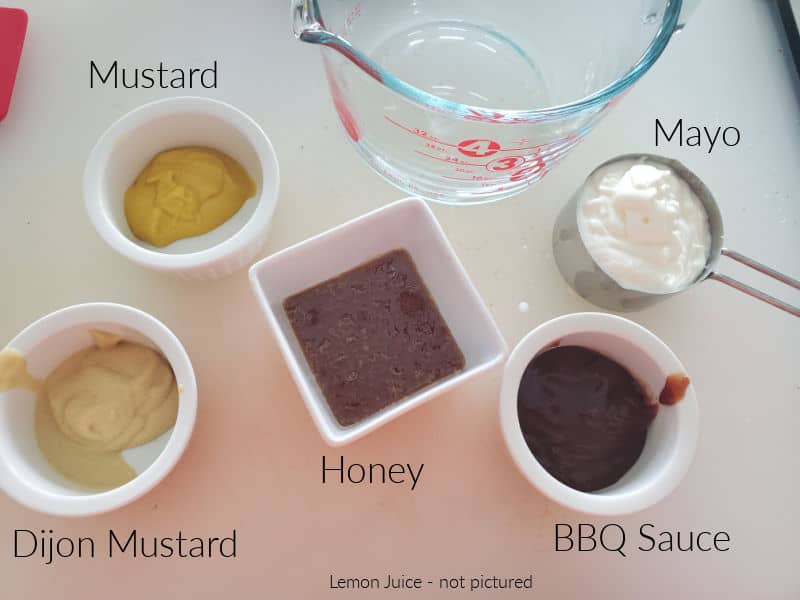 Ingredients
Honey
Mustard
Barbecue Sauce - I used Sweet Baby Rays
Lemon Juice
Dijon Mustard
Mayonnaise
If you like your sauce even smokier you can add a couple of drops of liquid smoke to the mixture.
Barbecue Sauce - I like to use original Sweet Baby Rays to get the flavor we love. If you use a sweeter bbq sauce you may want to use less honey so you don't get a super sweet sauce.
Mustard - You can make this with just yellow mustard instead of the combination of yellow mustard and dijon mustard. The flavor will be a little different but if you only have one mustard in the fridge go with it.
Equipment Needed
Medium bow
Whisk
I like to use my large 4 cup measuring cup when I make this recipe. Having a handle to hold onto helps when I am whisking all of the ingredients together and then pouring it into either a serving dish or airtight container for the refrigerator.
Recipe Tips
Make sure to plan time for this Chick Fil A Sauce Recipe to rest in the fridge. I like to let the sauce rest for at least an hour in the refrigerator so all of the flavors meld together.
Store this sauce in the refrigerator in an airtight container.
We love serving this with waffle fries, chicken nuggets, french fries, or really anything.
Can you buy Chick Fil A Sauce
Great Copycat Recipes
Cracker Barrel Hashbrown Casserole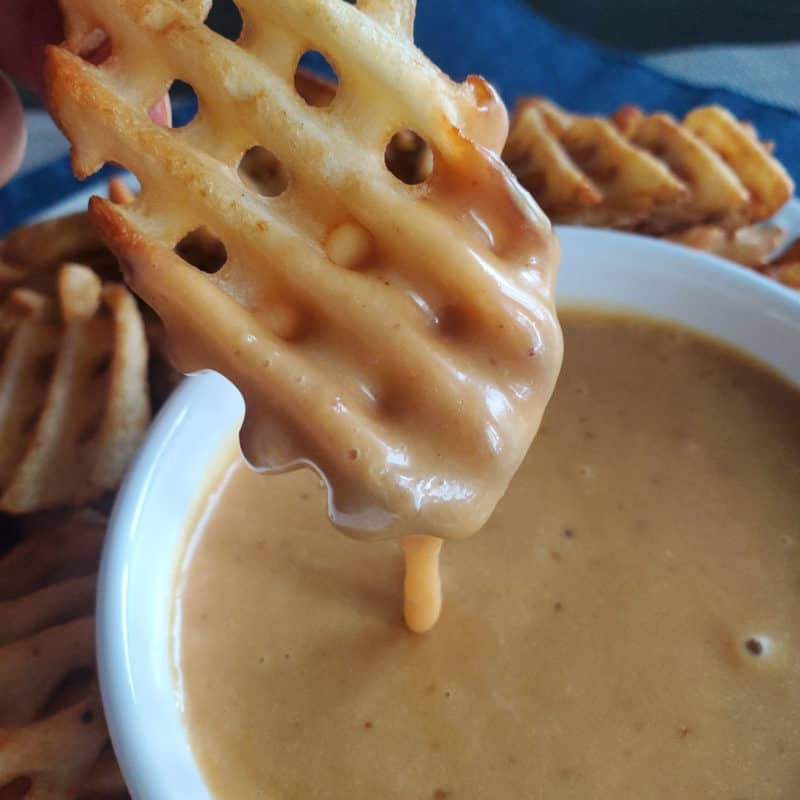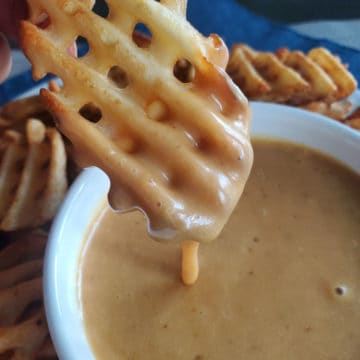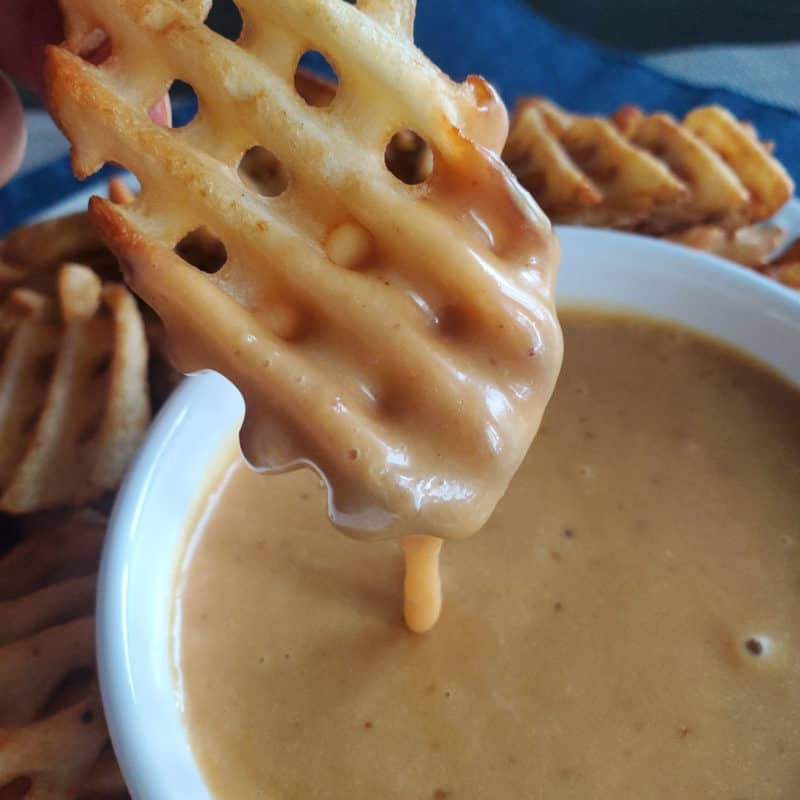 Copycat Chick Fil A Sauce Recipe
How to make easy Copycat Chick Fil A Sauce Recipe at home. Super easy and great for dipping french fries, tater tots, and on burgers
Print
Rate
Instructions
Combine all ingredients in a bowl and stir together
Nutrition
Nutrition Facts
Copycat Chick Fil A Sauce Recipe
Amount Per Serving
Calories 147
Calories from Fat 99
% Daily Value*
Fat 11g17%
Cholesterol 6mg2%
Sodium 245mg11%
Potassium 31mg1%
Carbohydrates 13g4%
Protein 1g2%
Vitamin A 29IU1%
Vitamin C 1mg1%
Calcium 5mg1%
Iron 1mg6%
* Percent Daily Values are based on a 2000 calorie diet.