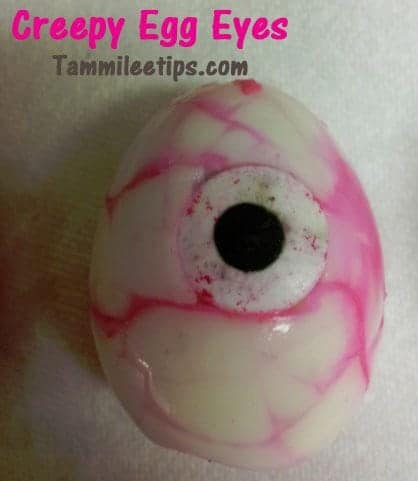 Creepy Egg Eyes
These creepy egg eyes were so much fun to make! I have to admit that I had never hard boiled an egg prior to making these. I am not sure why I have never hard boiled an egg. I love eating them and always seem to forget to make them.
These eggs were really easy to make and look seriously creepy on a plate.
Ingredients
eggs
Candy eyes/chocolate chip
Directions
1. Hard Boil the eggs
2. Once the eggs are boiled and cooled pull them out of the water and crack the shells. Crack them until you have a nice pattern around the egg.
3. Place the eggs back into the water and add food coloring. I used hot pink food coloring to make these.
4. Bring the water to a boil and then cool the eggs in the water.
5. Once the eggs are cool remove them from the water and peel the eggs. You will have a marbled pattern on the eggs.
6. I scooped out a bit of the egg and put in a candy eye. You could also use a chocolate chip and stick it into the egg for the dark eye.