I love when you make a recipe and everyone asks for seconds! That is exactly what happened with this Crock Pot Pineapple Chicken! John was a bit skeptical of cooking pineapple and chicken together because honestly he is not a fan of cooked pineapple so the moment I mentioned it he made the face.
You know the face your spouse makes when they are really not excited about what you are planning to cook but don't want to be mean and tell you it doesn't sound good to them. Yep that is the face I got! Well being the stubborn wife that I can be I smiled sweetly and said, "oh honey! I am sure your Mom will like it…." and proceeded to make this lovely Crock Pot Pineapple Chicken.
As the chicken cooked a funny thing happened….John kept mentioning how good the house smelled. I just smiled and let him know when lunch would be ready.
When his Mom arrived at the house she also commented on how great the house smelled! This is an added bonus to a great crock pot recipe when the smells entice your guests and have them salivating for lunch.
Both John and his Mom asked for seconds of this dish and John's Mom mentioned she really hoped I had enough to send some home with her for later. Second bonus of Crock Pot Recipes…..They make a ton and you can dish up extras for your guests to enjoy the next day. Love it!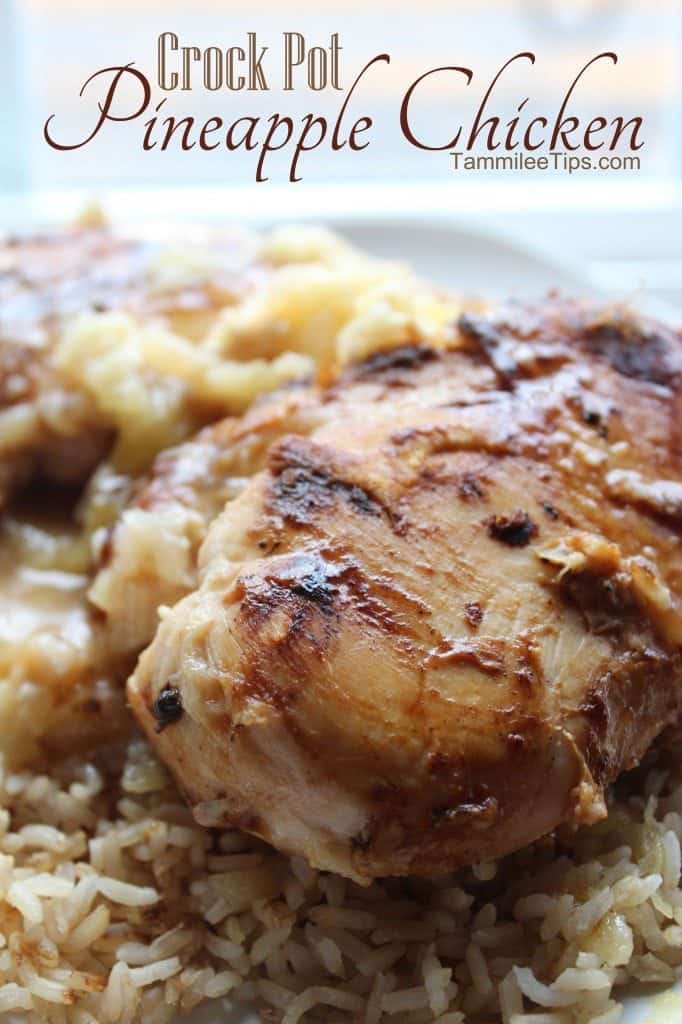 This recipe is so dang easy to make! Which I love! If only all recipes were this easy!
Crock Pot Hawaiian Chicken
Ingredients
6 boneless chicken breasts
1 tbsp oil
14 1/2 oz can chicken broth
20 oz can pineapple chunks
1/4 cup vinegar
2 tbsp brown sugar
2 tsp soy sauce
1 garlic clove, minced
3 tbsp cornstarch
1/4 cup water
Directions
1. Brown chicken in oil, transfer to crock pot
2. Combine remaining ingredients and pour over chicken
3. Cover and cook on high for 4-6 hours
4. Serve over rice
If you happen to forget to brown the chicken before transferring it to the Crock Pot you can easily do it afterwards.
Do you love recipes? Check out our copy cat recipes, dessert recipes, and our Crock Pot Recipes.