Easy Crockpot Chicken Recipes that take minutes to prep! We love these easy slow cooker chicken breast recipes that make it so easy to make dinner.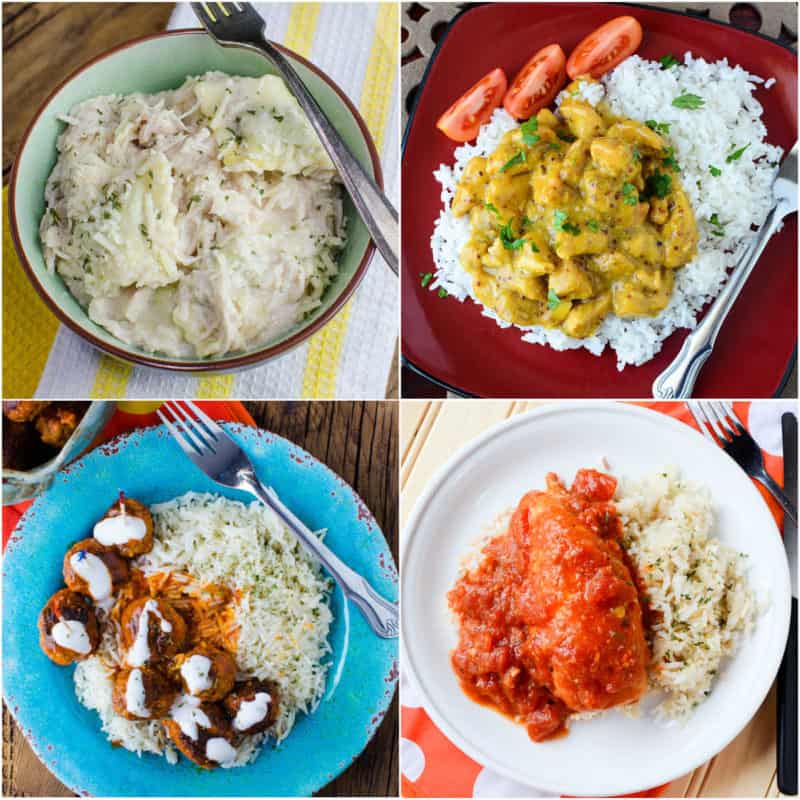 Crockpot Chicken Recipes
If you're anything like our household, you might wind up with more chicken than you'd like to handle. Chicken is, after all, a thrifty and clean protein source that takes flavor on excellently and is a must-have stock-up item. In addition, precooked options like Costco rotisserie chicken are a hunk of meat you must use or reappropriate before it goes off.
Well, fear no more and say "winner winner, chicken dinner" to these Crock Pot chicken dinners ready to put your chicken stash to good use!
There are familiar options that will scratch the comfort food itch and globally-inspired recipes for the days you feel more adventurous or are craving something specific.
We use boneless skinless chicken breasts for most of our recipes, but you can easily use chicken thighs.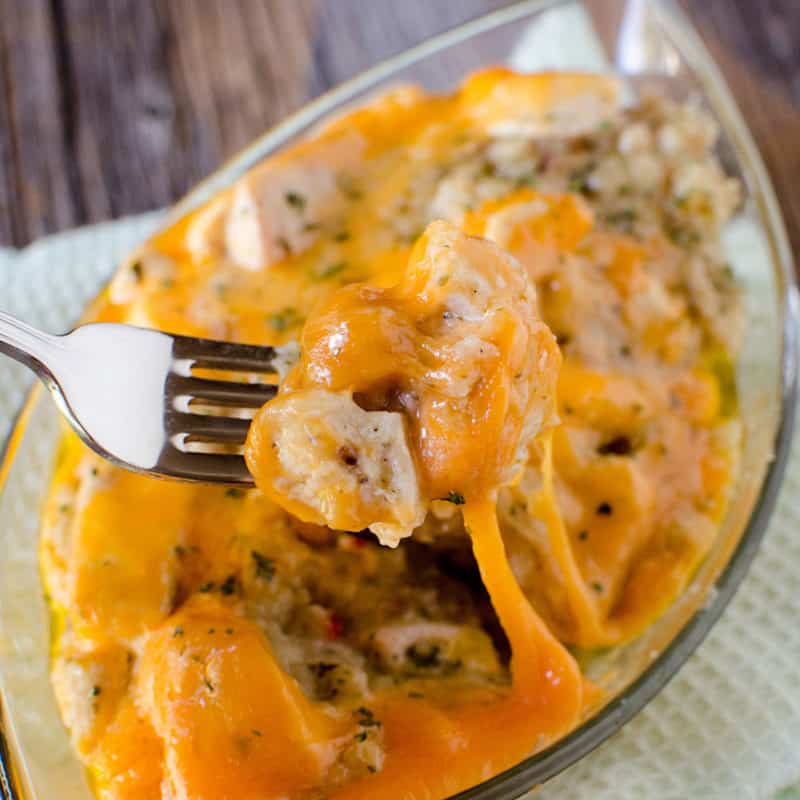 This turkey-free chicken stuffing casserole is a great way to turn stockpile chicken into a satisfying comfort food that feeds the entire family and mixes up the post-Thanksgiving dinner rotation.
As a time-saving shortcut, we buy Costco rotisserie chicken so we don't have to cook the meat. The stuffing mix can be substituted for any leftover Thanksgiving stuffing.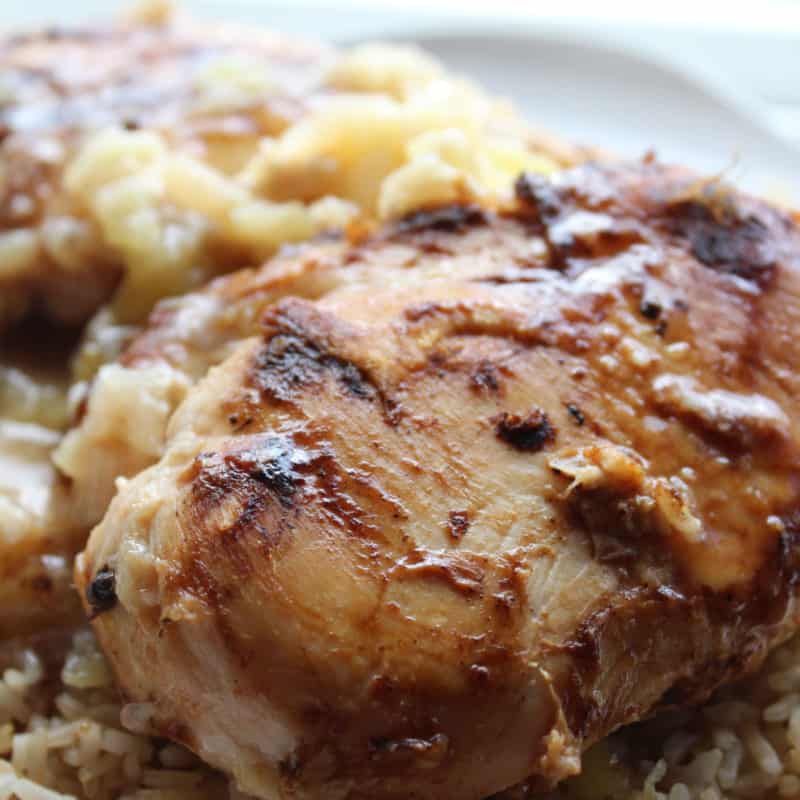 John wasn't initially thrilled by the combination of chicken and pineapple, but this sweet and savory Aloha-style Crock Pot meal won his taste buds in no time.
Even better, the chicken and be browned before or after transfer to the Crock Pot. We recommend serving this with your favorite white or brown rice.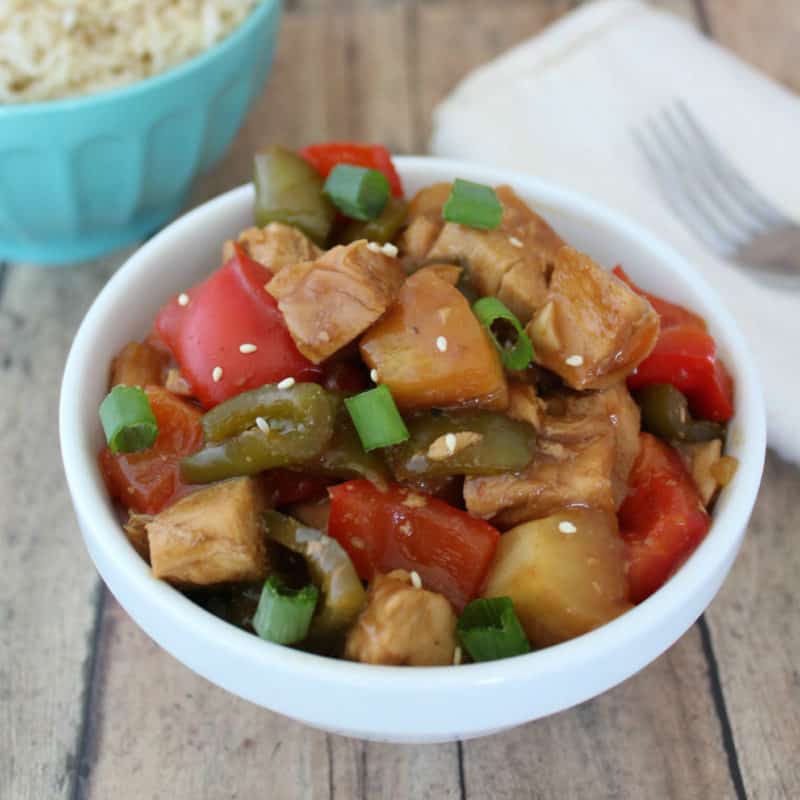 This slow cooker recipe for sweet and sour chicken lets you create this Chinese-American takeout classic from the comfort of home. Fresh or canned pineapple chunks can be used in this recipe. For some pleasant pops of color, we also used one green and one red bell pepper.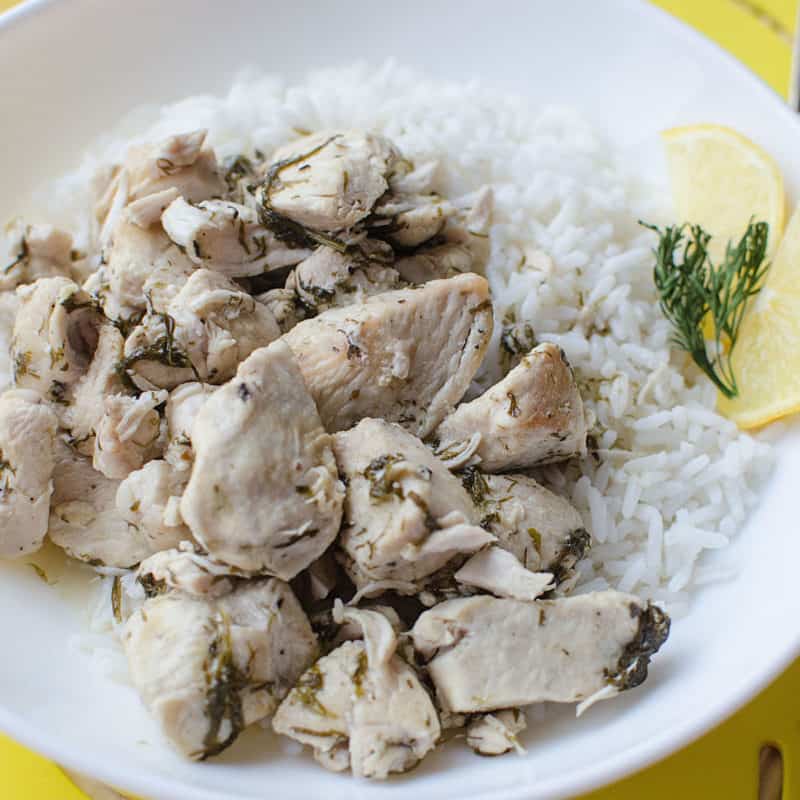 Lemon and dill are a common pairing for salmon, but did you know they're just as bright and delicious in chicken? This slow-cooker chicken is an excellent spring and summer entree with rice or pasta.
Onion lovers will appreciate the extra step of adding a quarter cup of chopped onions to taste. We also enjoy eating this lemon chicken in next-day salads.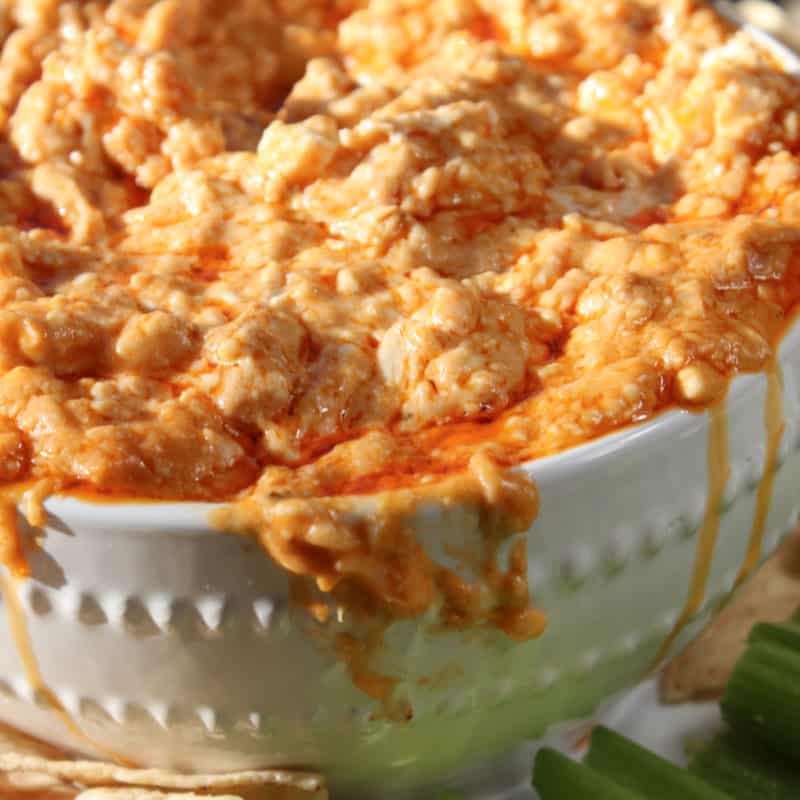 Buffalo chicken is as much of a party food as they come. This easy-to-make dip only takes two hours to prepare from start to finish, meaning you can set it and forget it as you get the rest of your football tailgating party in order.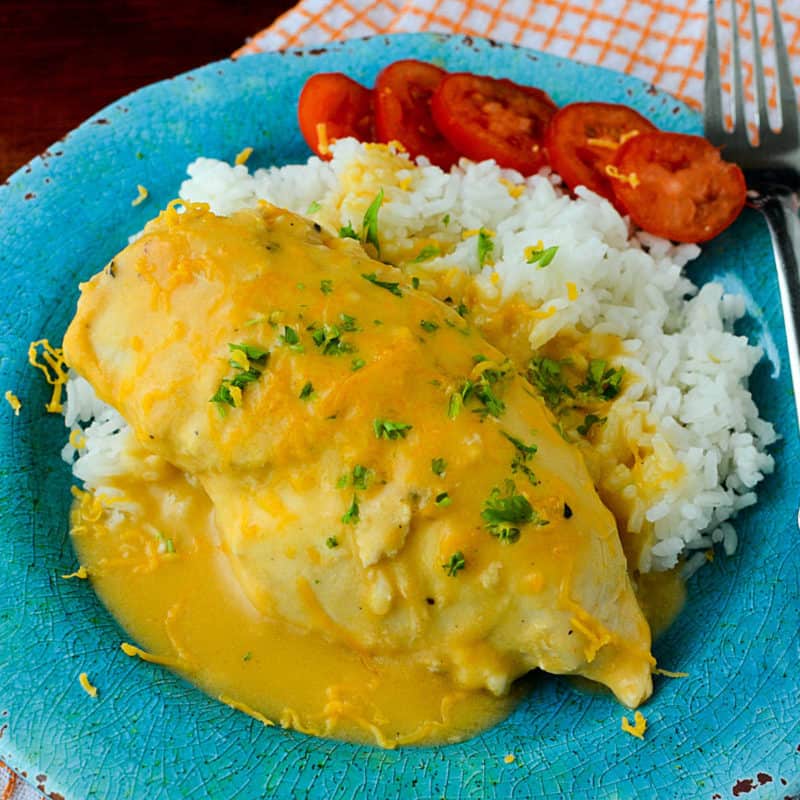 We released this comfort food recipe in 2018 alongside Slow Cooker Sunday, a weekly series of live cooking shows we ran for some time to help busy families learn ways to get the most out of their Crock Pots. This recipe makes six servings, making the leftovers make this a win-win even if you only cook for two.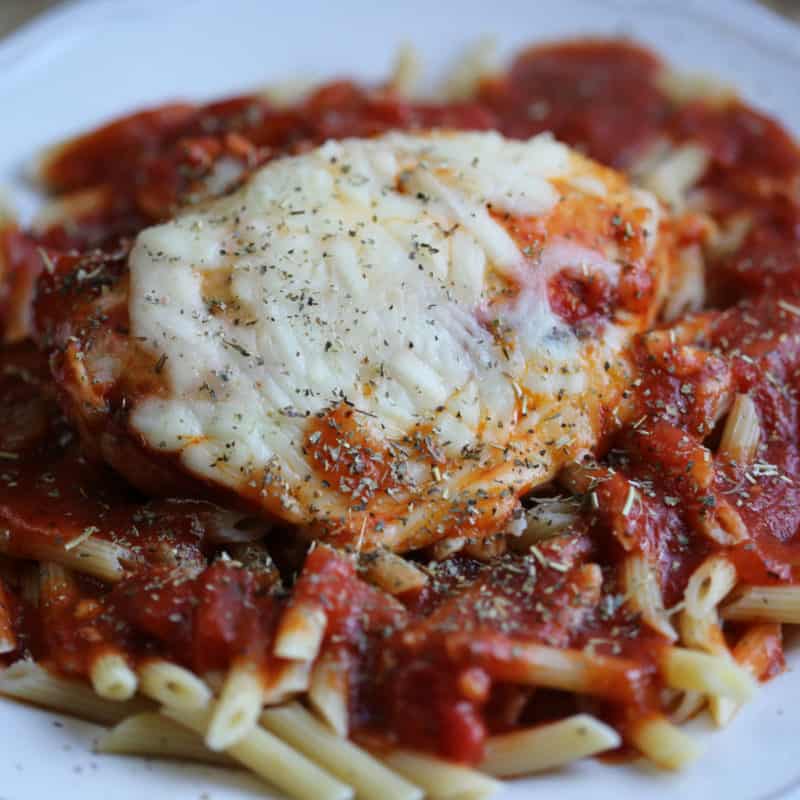 Let the flavors from this Italian dinner classic waft divinely through your home as your Crock Pot cooks this no-fuss entree to perfection. We use Parmesan and mozzarella to get the best of both worlds. We also use penne for the pasta, but you can use any similarly sized pasta in your pantry.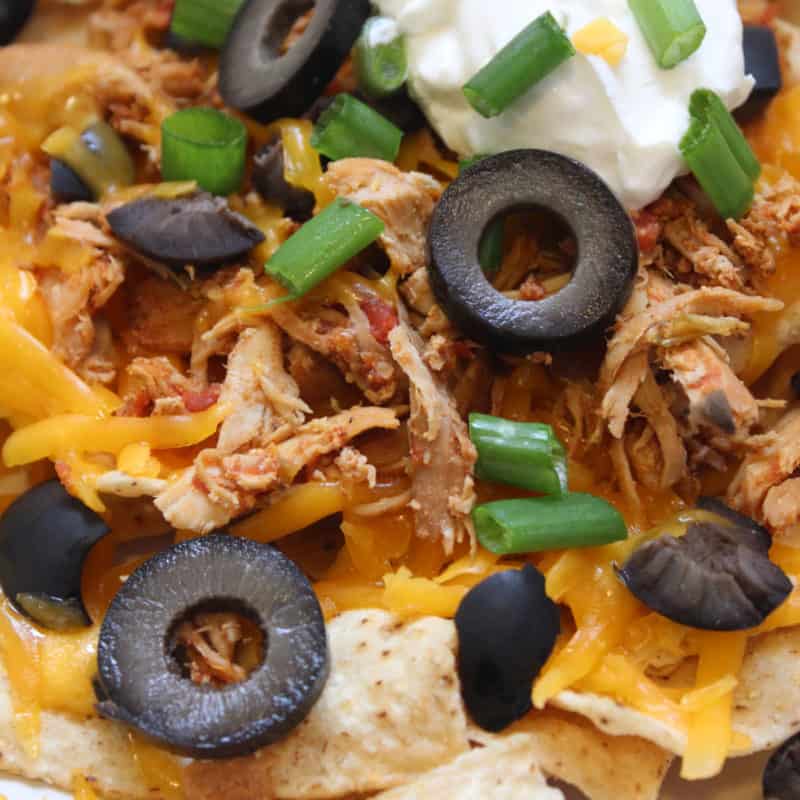 I experimented with many chicken-based Crock Pot recipes before arriving at this game-day-friendly recipe. Spread this jazzed-up queso dip over tortilla chips, use it as a taco or burrito filling, or toss it in with eggs and cheese for a hearty breakfast omelet.
This nacho shredded chicken works great in chicken tacos and/or chicken enchiladas! Top with shredded cheddar cheese, and your favorite taco fillings. Great for game days.
I like to make a big batch of Crockpot Nacho Chicken and use it on salads and for lunches. Just store it in the refrigerator in an airtight container.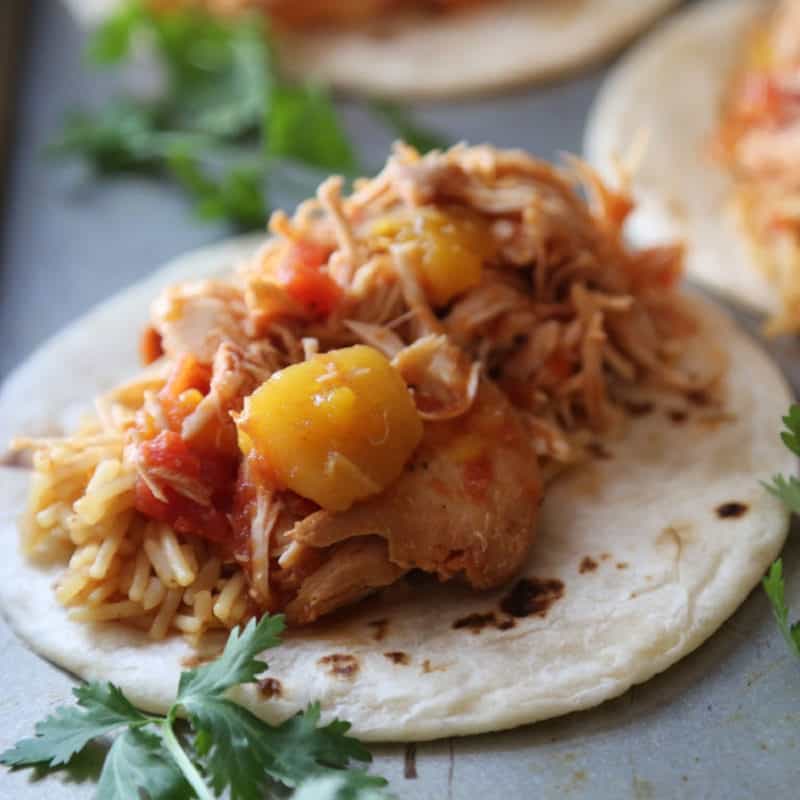 This impossibly easy shredded mango salsa chicken recipe only requires three ingredients - frozen mango chunks, a jar of salsa, and chicken breast. We've used this versatile and flavorful south-of-the-border entree as a topper for tacos, nachos, rice, and pizza.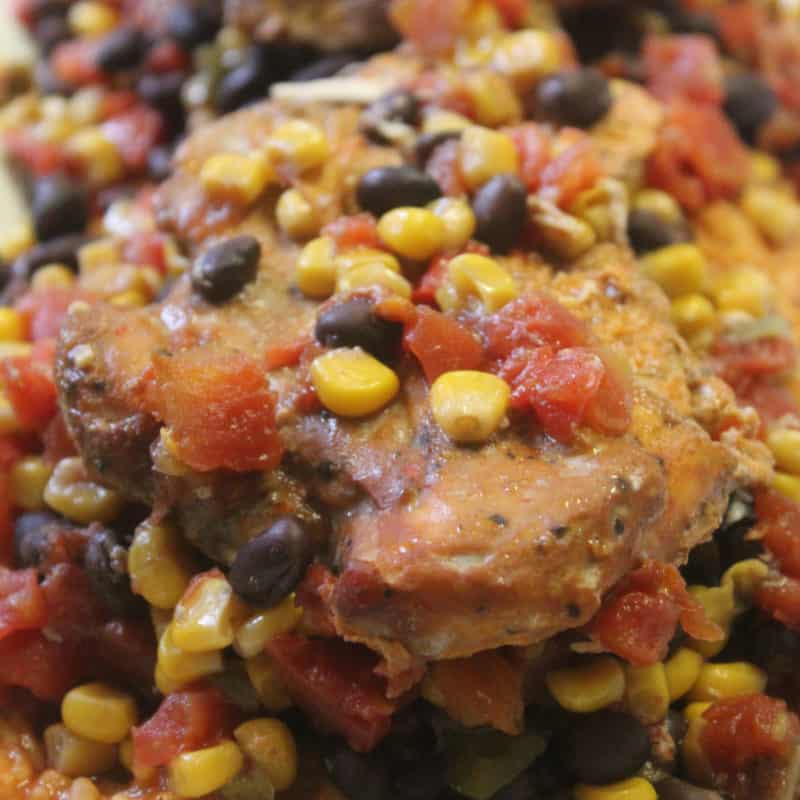 Ro-Tel diced tomatoes, canned black beans, Green Giant Mexi-corn, and chicken breast are behind this Southwestern-inspired slow cooker meal that will clear your pantry of precious real estate. We served our dish over a bed of Spanish rice, but you can also shred the chicken and use the filling in Taco Tuesday tacos.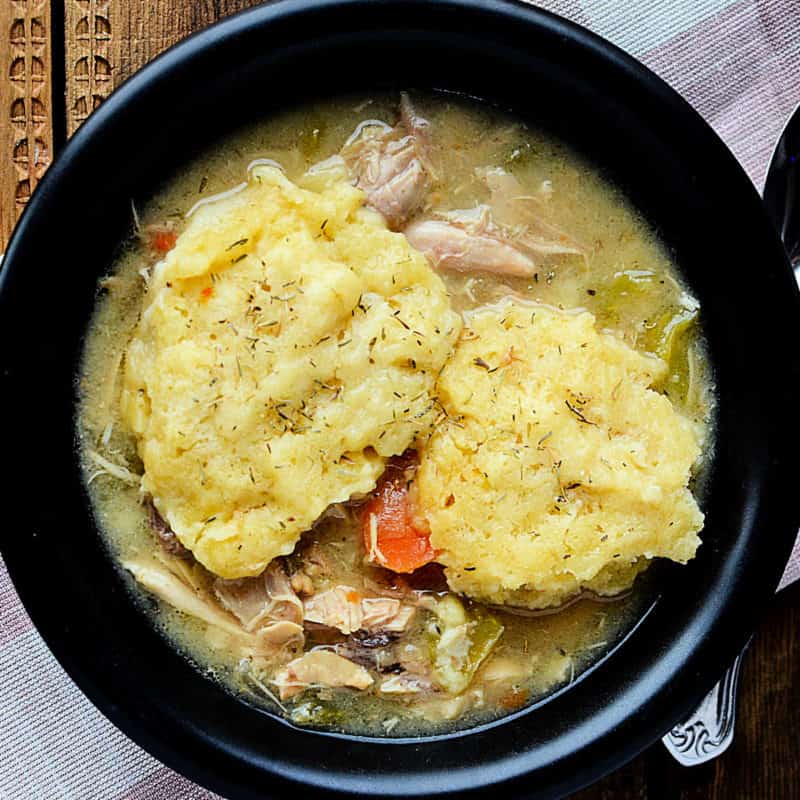 Chicken and dumplings are a cozy Southern and Midwestern go-to for the occasional blustery spring evening or whenever you need a comforting soup-like meal. The preparation is simple, as the chicken and dumplings are simmered to perfection in your Crock Pot alongside healthy veggies and yummy herbs. We use a Bisquick baking mix to make the dumplings come together effortlessly, so feel free to choose your favorite variety.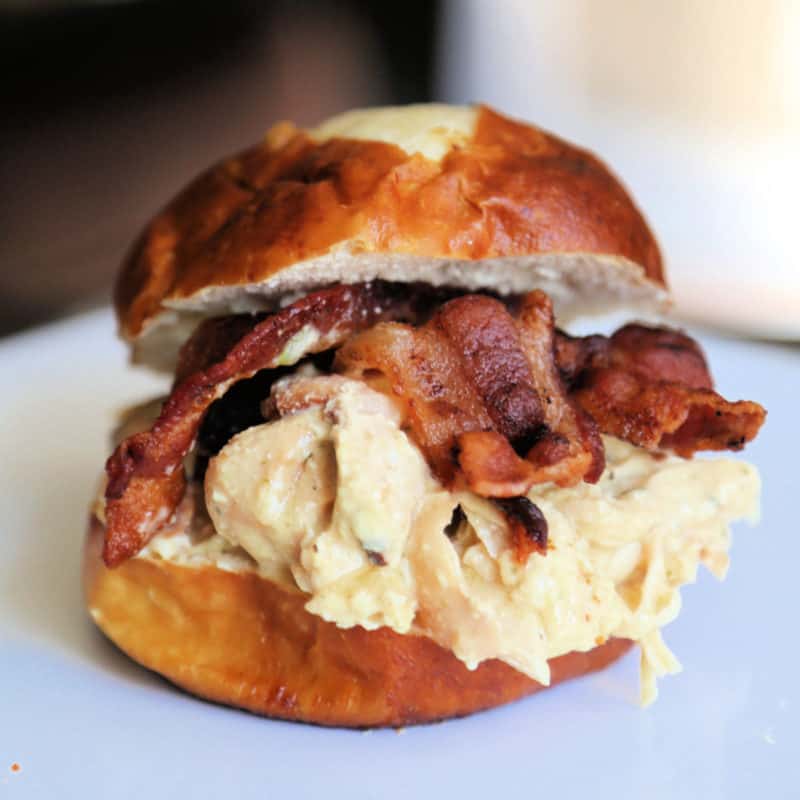 This slow cooker bacon ranch chicken makes yummy sliders that your family and friends will enjoy year-round. We serve ours with pretzel slider rolls for that restaurant-quality touch, but this versatile recipe is just as delicious, served with egg noodles, sandwiches, or salads. Fry up some bacon instead of using premade bacon bits for extra pizzazz.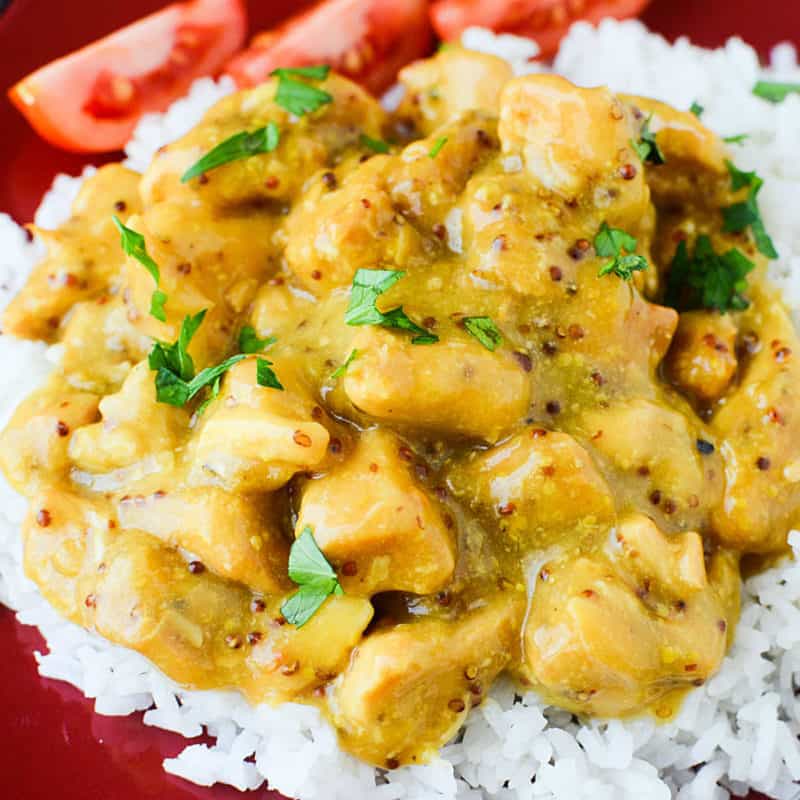 Did you know that salad dressing can be an excellent slow-cooker chicken marinade? Your favorite honey mustard dressing is behind this boneless chicken breast entree that serves wonderfully over white or brown rice. We dilute the dressing with half a cup of water to help it distribute better while cooking.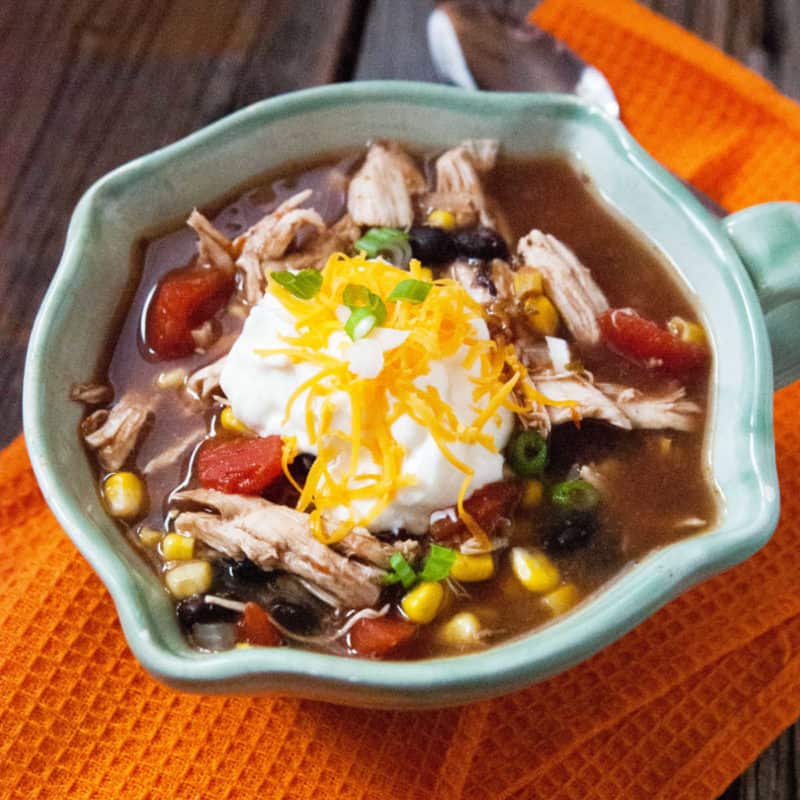 There are so many ways to make this Crock Pot chicken enchilada soup with a kick or not spicy at all. For additional heat, swap the petite diced tomatoes with a spicy variety and add chili powder to taste.
You can also use black beans for pinto beans for a fun twist. Top with tortilla chips, sour cream, shredded cheese, diced avocados, or your favorite Mexican fixings.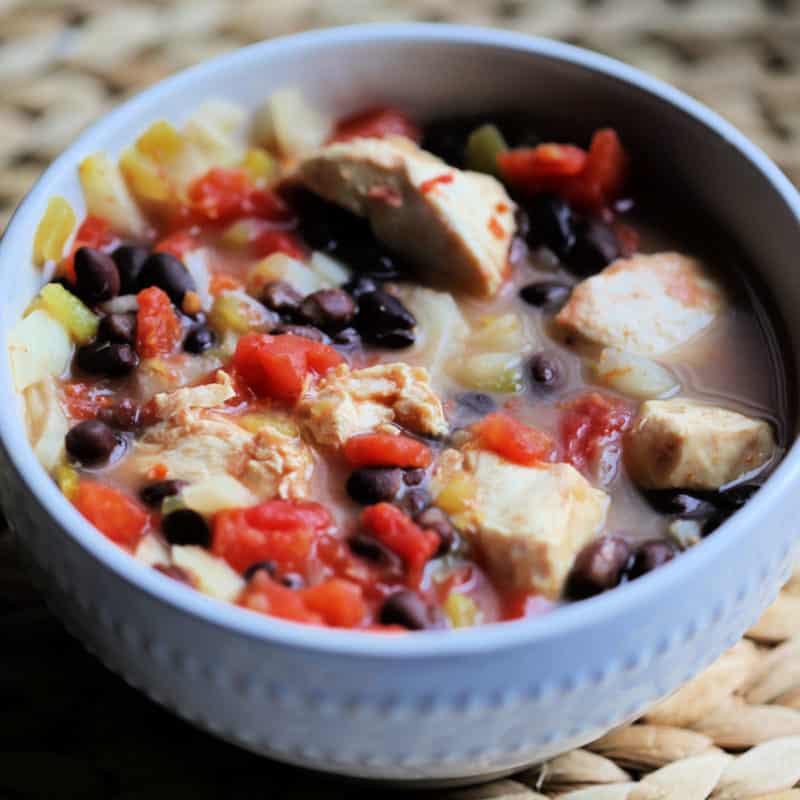 I crafted this Crock Pot chicken chili recipe during a busy time when I had just returned from an Orlando trip to Walt Disney World for a fun event. Like my many other recipes on the site, it's got a kick to suit John's spice-loving palate. The savory scent it leaves behind as it cooks in your slow cooker is divine.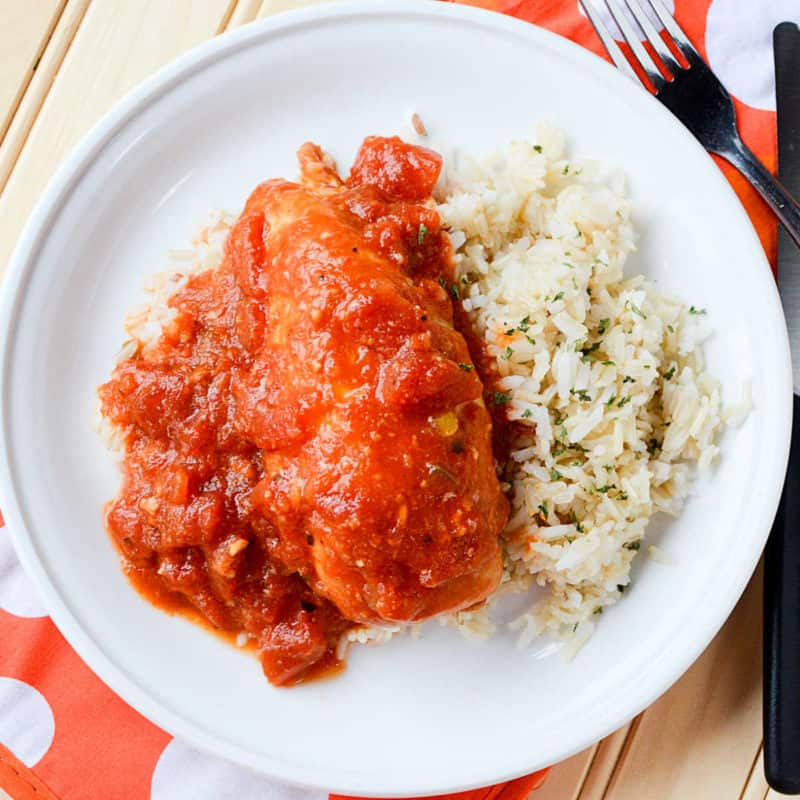 Time seems to slip away in a jiffy, and having reliable Crock Pot chicken recipes that you will want to make and eat can make dinnertime infinitely less stressful and time-consuming. Use this bold Mexican-inspired chicken breast in tacos, burritos, salads, soups, or even pizza and flatbread.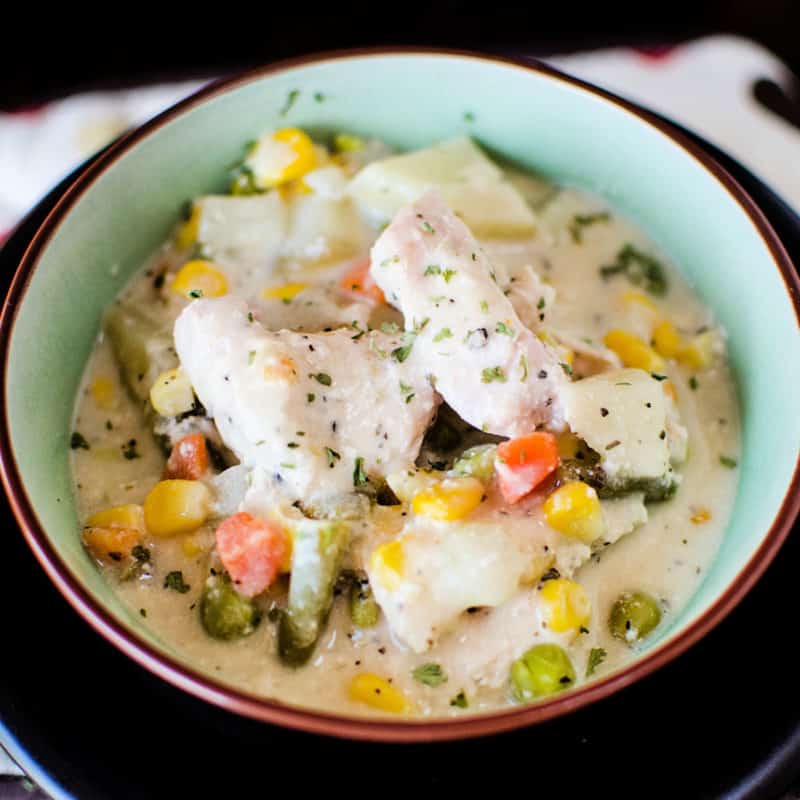 It takes only 20 minutes of prep time to put together this stew that combines the Italian-inspired goodness of Alfredo sauce, chicken, and potatoes. Prefer a more filling soup? Just add your favorite bite-sized pasta.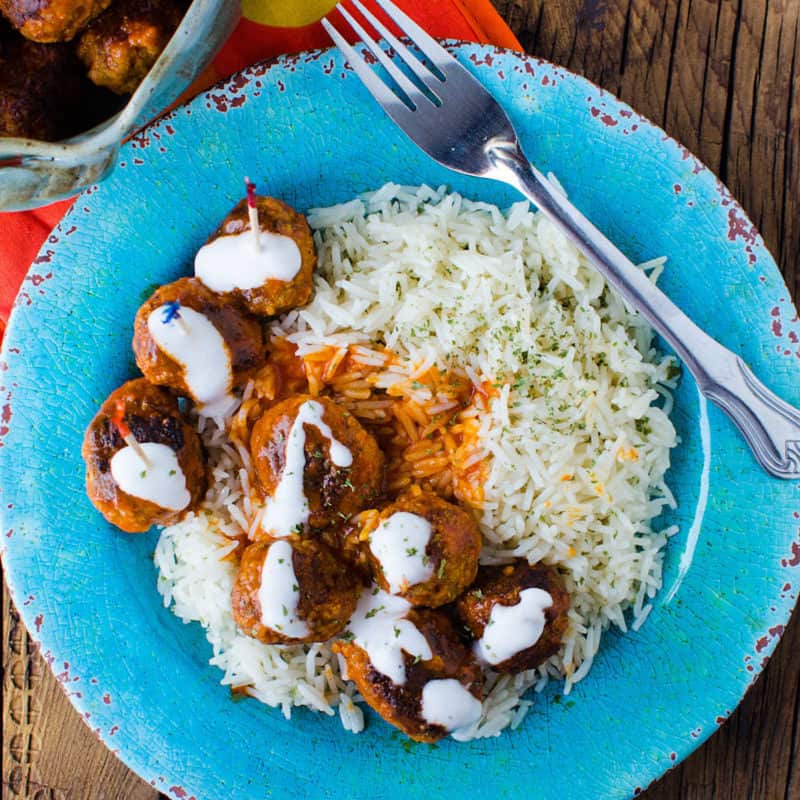 Meatball platters are a fantastic tailgating appetizer that scales to any crowd you serve. These buffalo chicken meatballs come together using pantry basics and are slow-cooked in your Crock Pot to save time and effort. Consider placing blue cheese dressing and sesame seeds on the side if guests crave any toppings.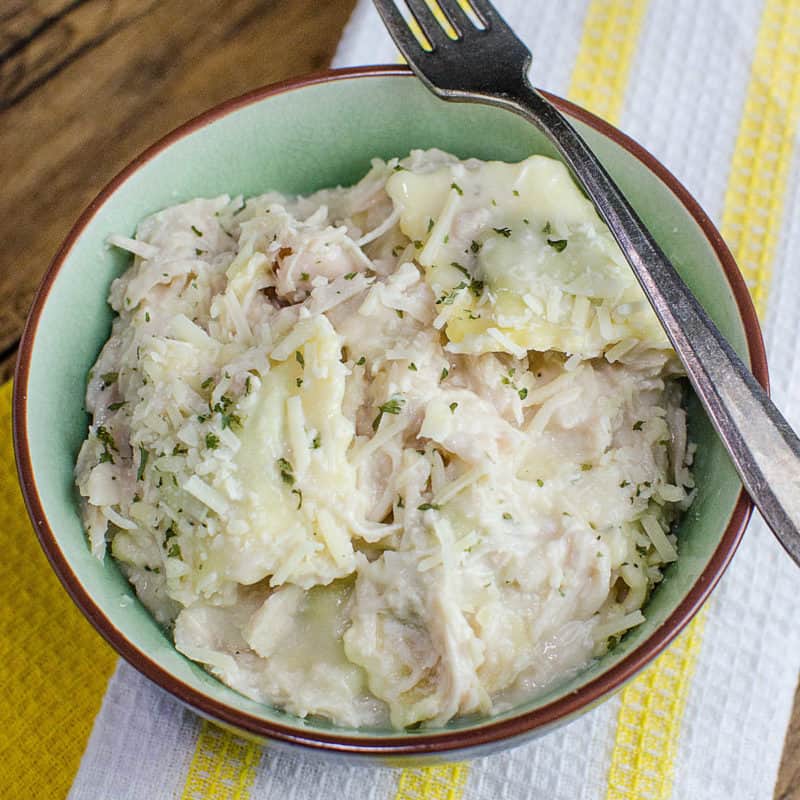 This Crock Pot chicken recipe features boneless chicken breast and spinach ravioli cooked in a creamy Alfredo sauce. Whole milk is an optional addition that lets you control the consistency of the sauce.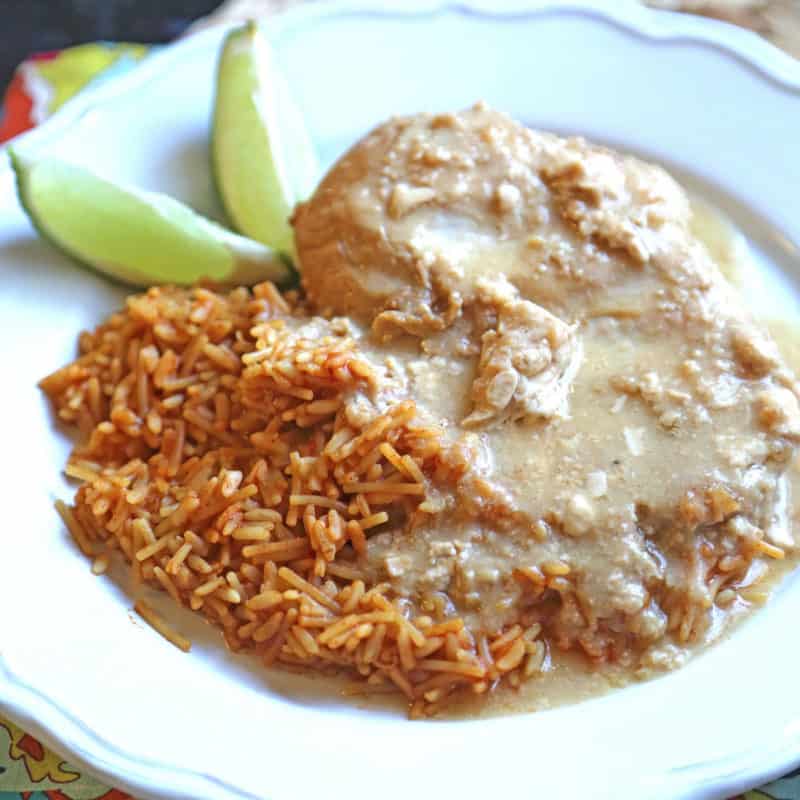 Our household also calls this margarita chicken due to the margarita mix and tequila that give it an unmistakably smoky flavor once the alcohol cooks off. It's a must-have for celebrating National Tequila Day - margarita in hand!
Need a margarita recommendation? Prepare these Freezer Strawberry Margaritas for grab-and-go fruit margaritas that come straight from your freezer.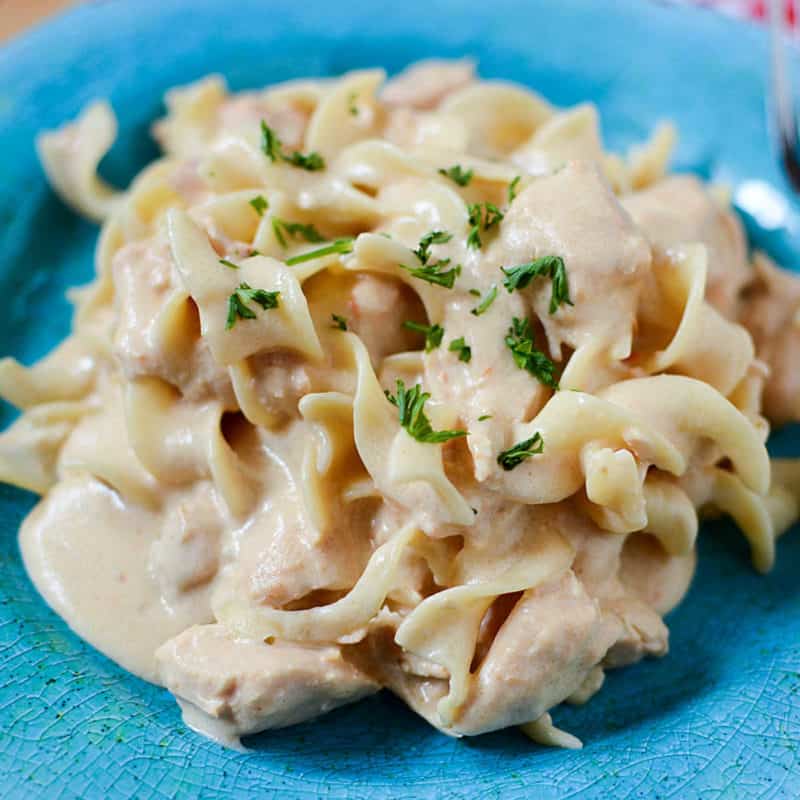 Stroganoff is typically made with beef, but this recipe delivers all the stroganoff flavor you need if you're cutting back on red meat. We highly recommend mixing fresh or canned mushrooms into the broth just before cooking time ends.
Crave more of this traditional Russian dish? We've got a Garlic Beef Stroganoff, a Steak Stroganoff, and a Porter Beef Stroganoff just for you and your loved ones.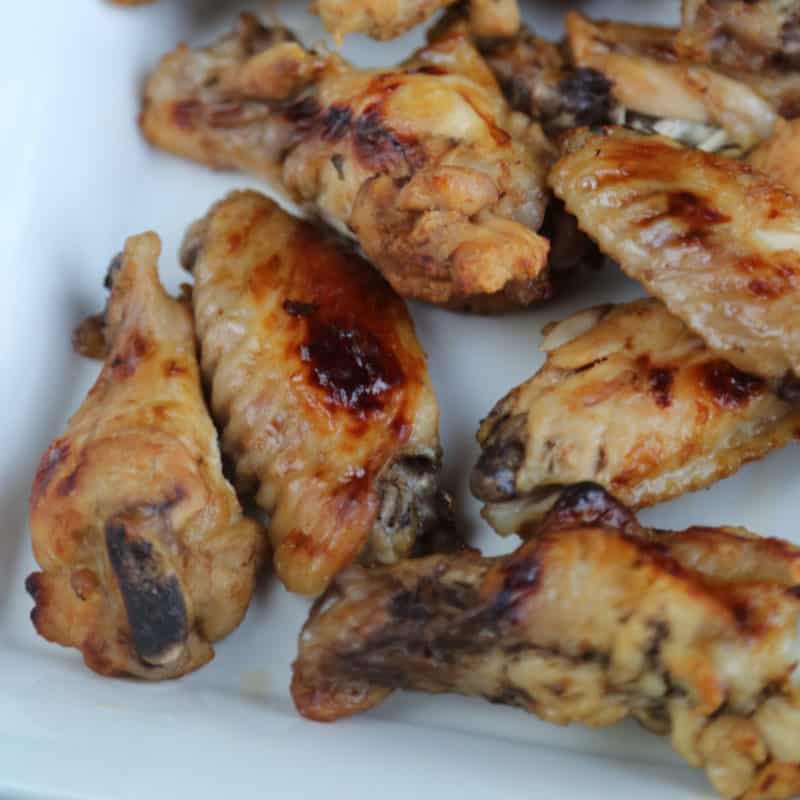 Let these creative wings be on the starting roster of your next tailgating party. Mango nectar makes them fruity and sweet, while jerk seasoning lets you add a kick to your liking. To top it off, brown sugar both complements and adds welcome warmth.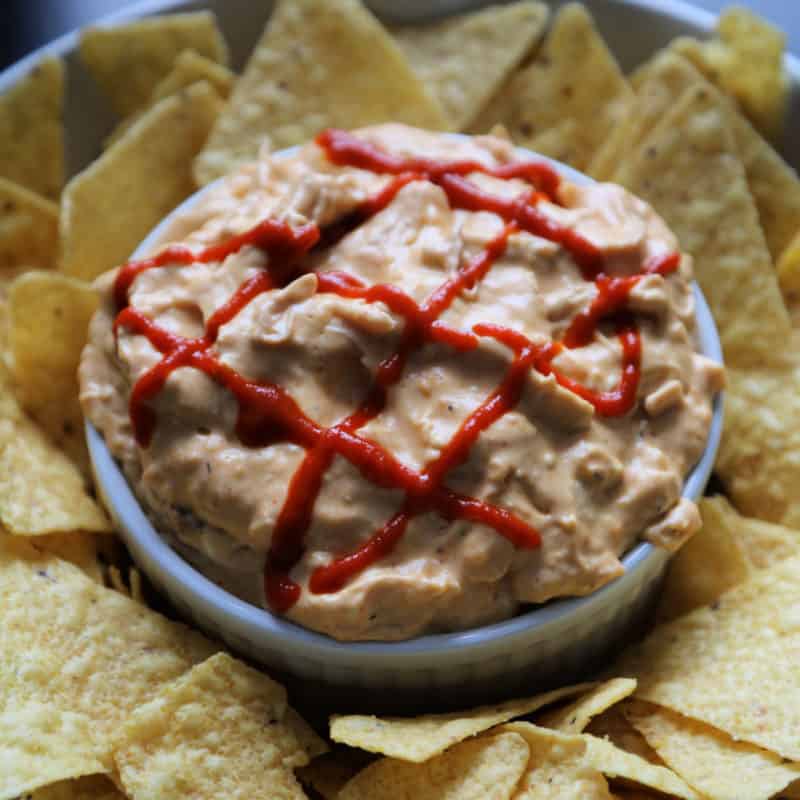 We initially shared this dip for a weekend Seahawks game on a platter of tortilla chips and cold cuts. The ranch does an excellent job of tempering the sriracha and adding some nice creaminess and tang.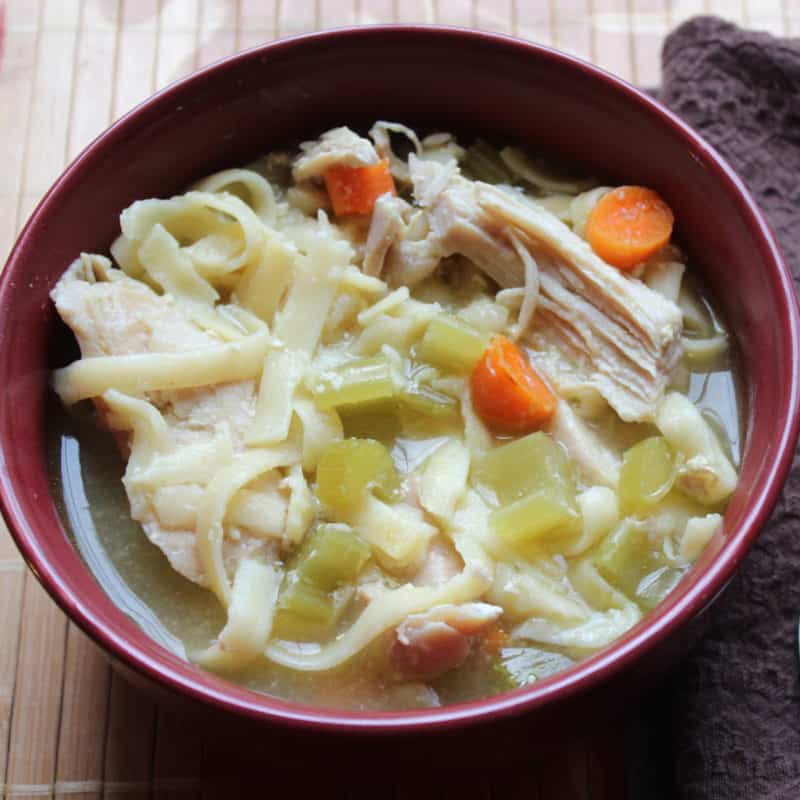 Chicken noodle soup is a known go-to for sick days and snow days, and the slow cooker makes the process simple. We prefer making the broth from a blend of chicken bouillon cubes and water, but you can also use chicken stock or low-sodium chicken broth. Then, add a bay leaf for a burst of flavor.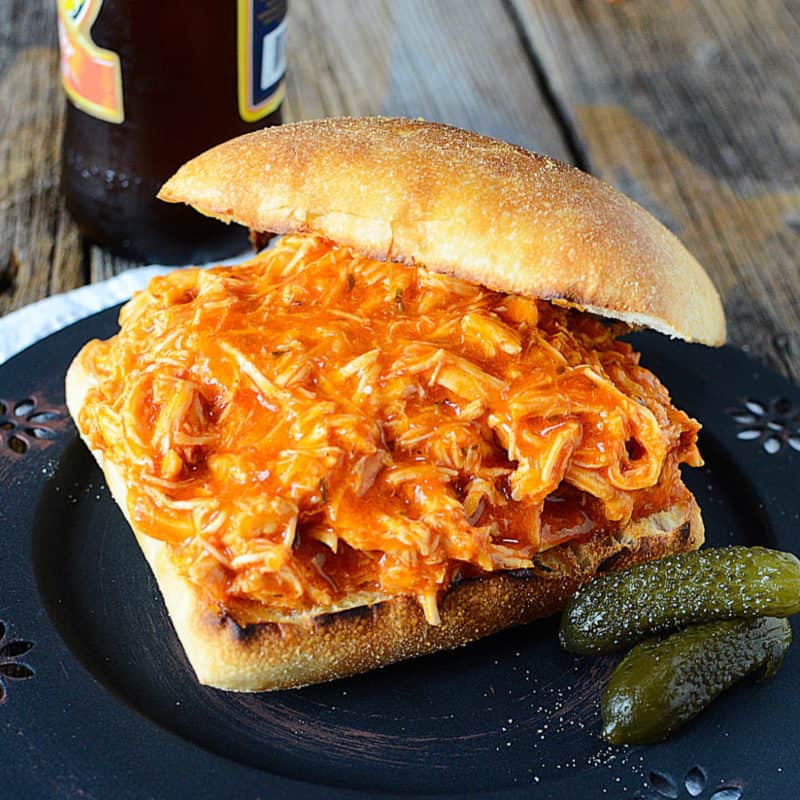 We first released this recipe in 2012 and revamped it with updated photos in 2020. The combination of Frank's Red Hot and ranch mix deliver enough flavor and heat to keep John happy but feel free to adjust these ingredients to your household's palate needs. This tailgate-approved pulled chicken also freezes well for future enjoyment.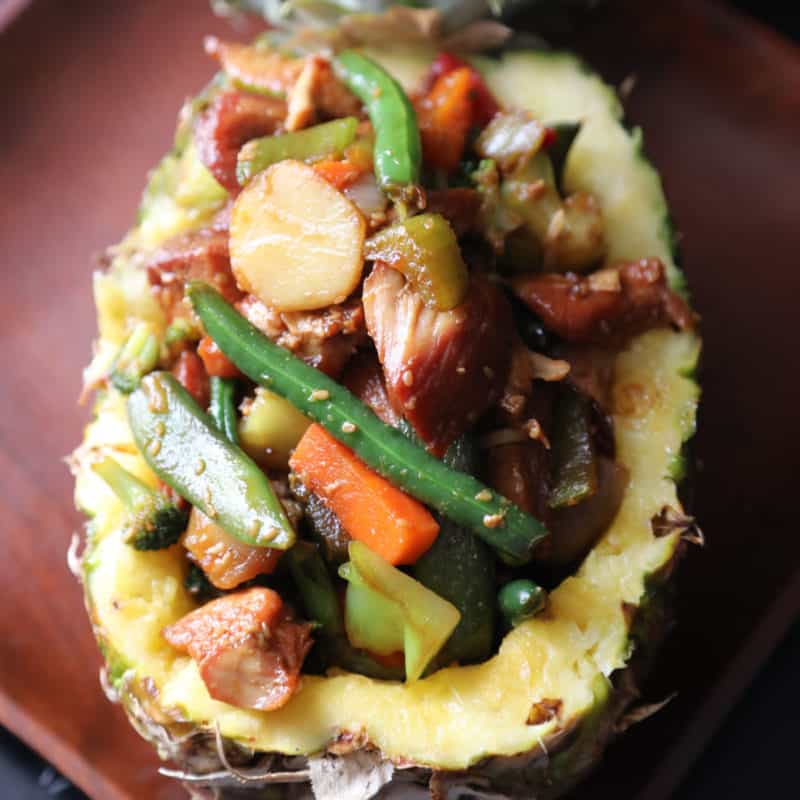 This Crock Pot take on a Japanese cuisine favorite features Teriyaki Marinade, one of my favorite Target offerings. We serve this combination of teriyaki-flavored chicken and Asian veggies in gutted-out pineapple halves for extra flair, making it a perfect inclusion for your next tiki party. Of course, you can also serve it over fried rice.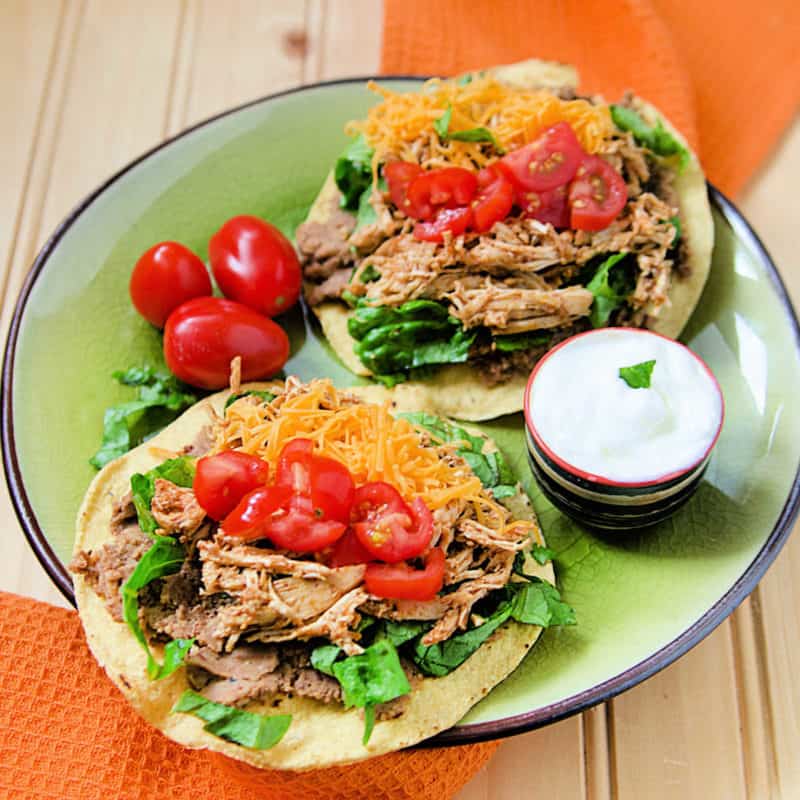 These jalapeño, garlic, and chili Crock Pot chicken tostadas are a fantastic way to switch up Taco Tuesday night. You can either use premade tostadas or prepare your own from tortillas. Need a great side to pair with your south-of-the-border meal? We've got a cilantro lime rice recipe that's bright, flavorful, and ready to star on your dinner table.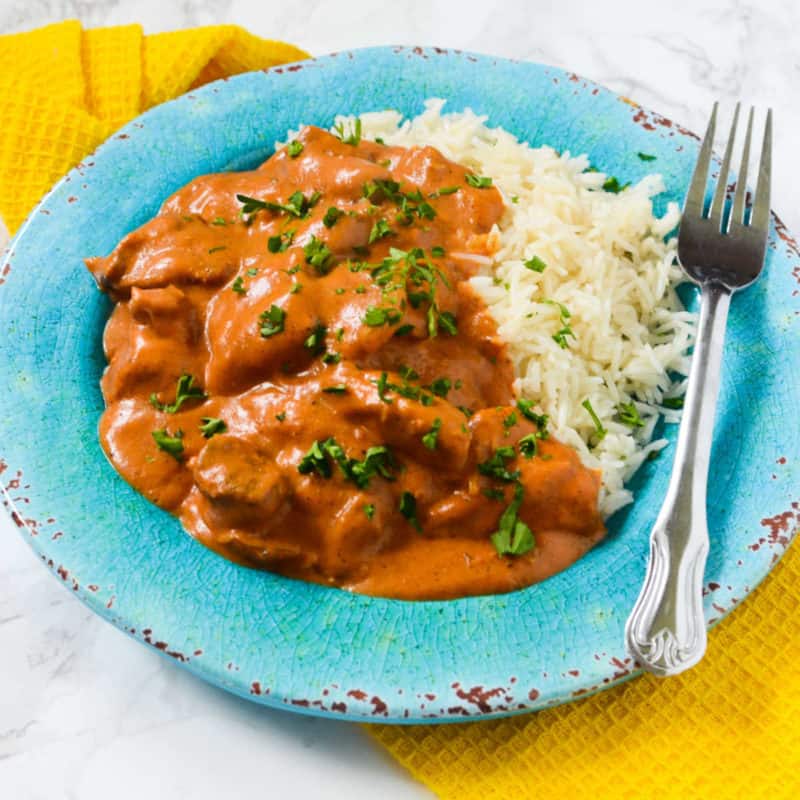 Chicken is a versatile meat staple that lends well to flavors from all around the world. A thoughtful blend of fragrant Indian spices is the magic behind this Crock Pot chicken tikka masala that will soon rival your favorite Indian restaurant. We add a slurry of heavy whipping cream and cornstarch toward the end to enrich the final result.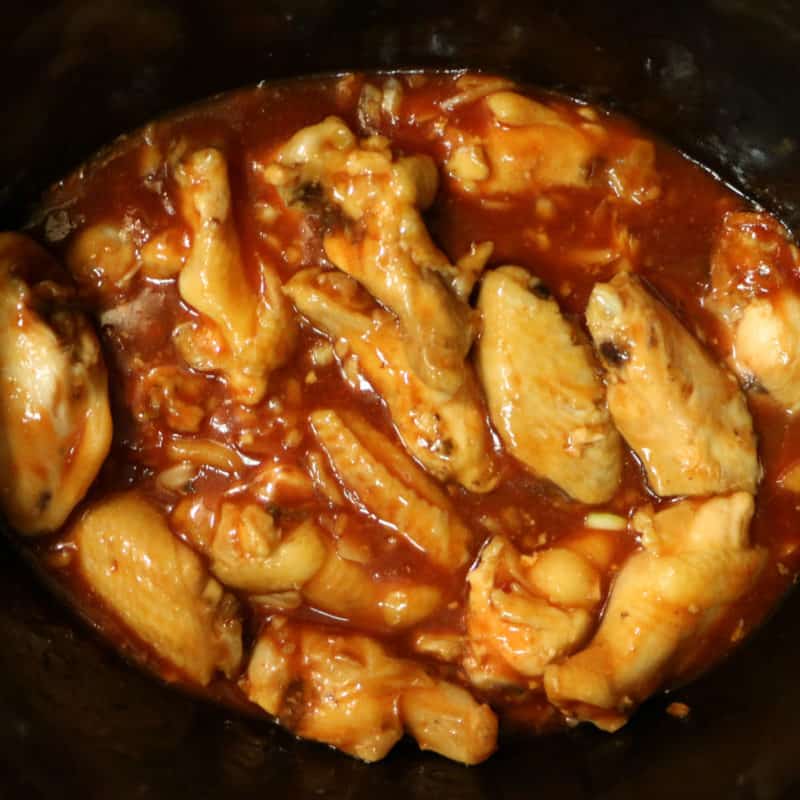 These Crock Pot honey sriracha barbecue wings are made with Cha!, a Texas Pete sauce similar to sriracha. This sauce is also John's favorite, making it a treat whenever we make it in our household.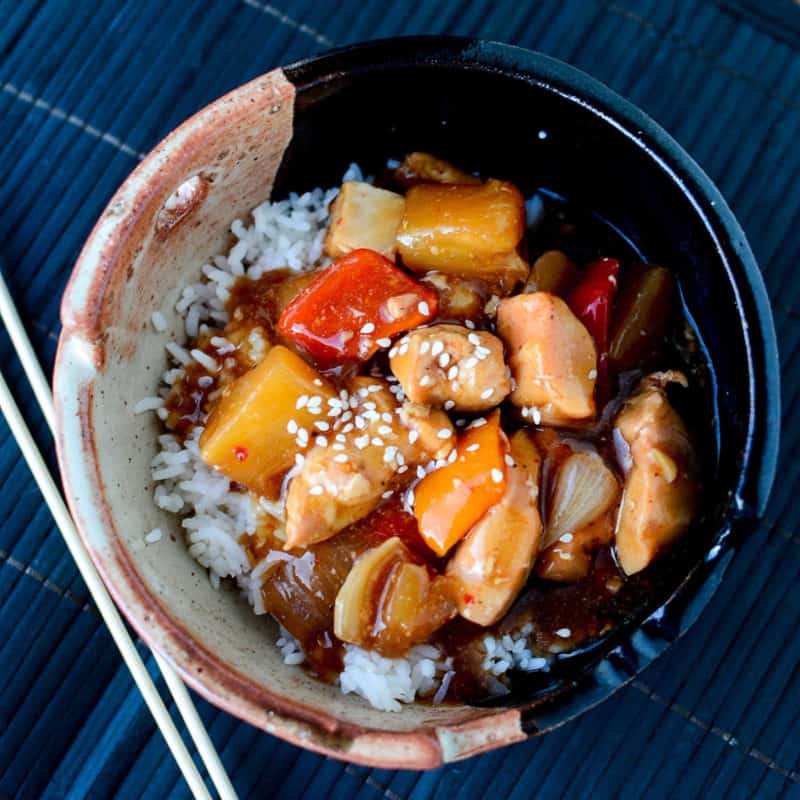 Save money on take-out and make this Slow Cooker Crock Pot Teriyaki Chicken Recipe at home! This recipe is so dang easy to make and tastes amazing.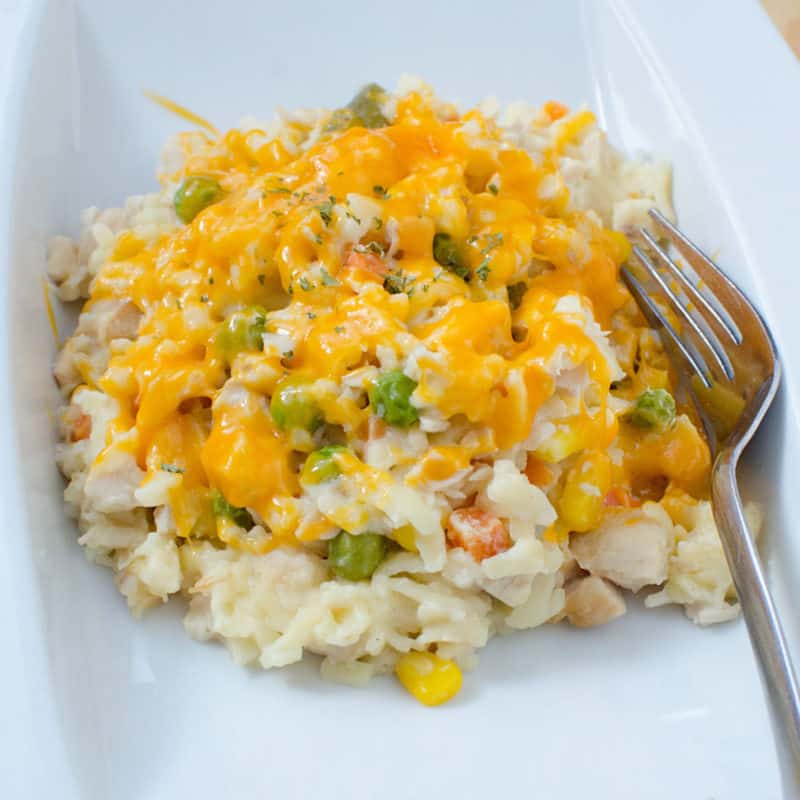 Easy chicken orzo casserole that takes minutes to prepare and tastes amazing.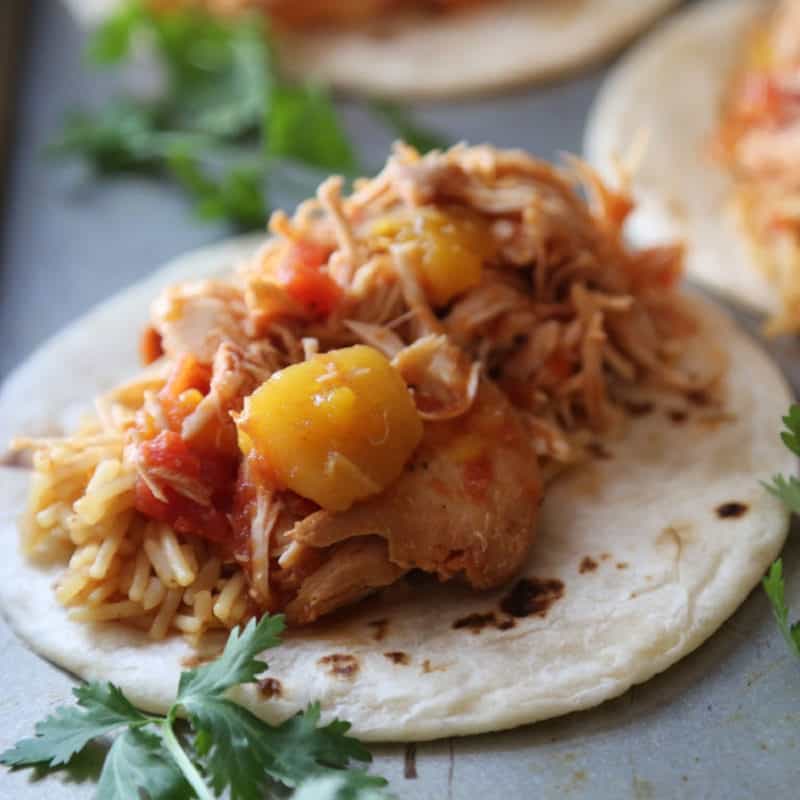 3 ingredient mango salsa chicken in the slow cooker is a great option for tacos, burritos, enchiladas, or to top salads. So easy to make!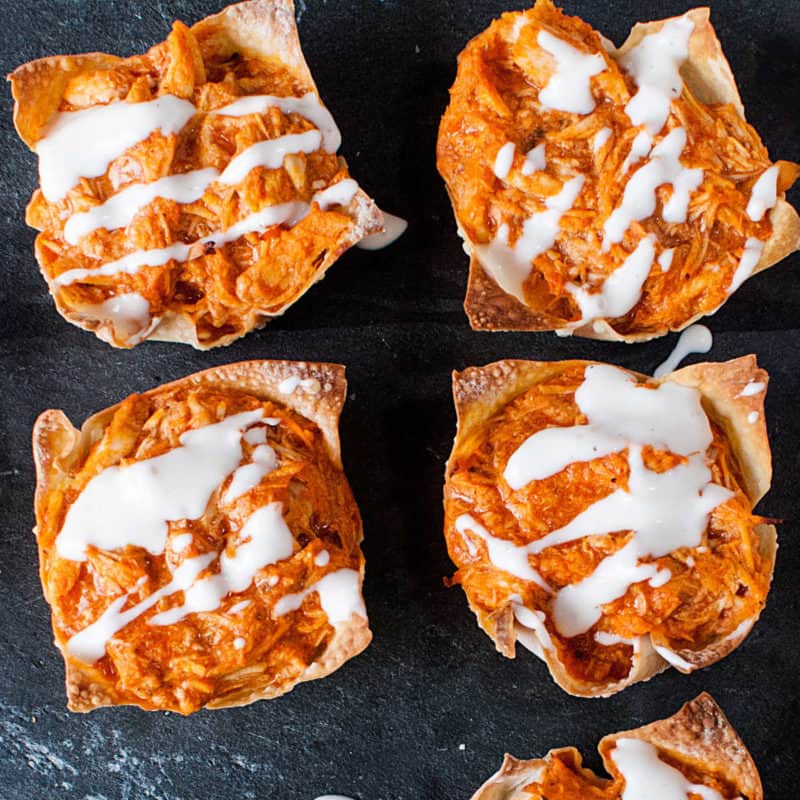 These crockpot buffalo chicken wontons are the perfect game day appetizer! Easy shredded buffalo chicken added to wontons to make an easy finger food for parties.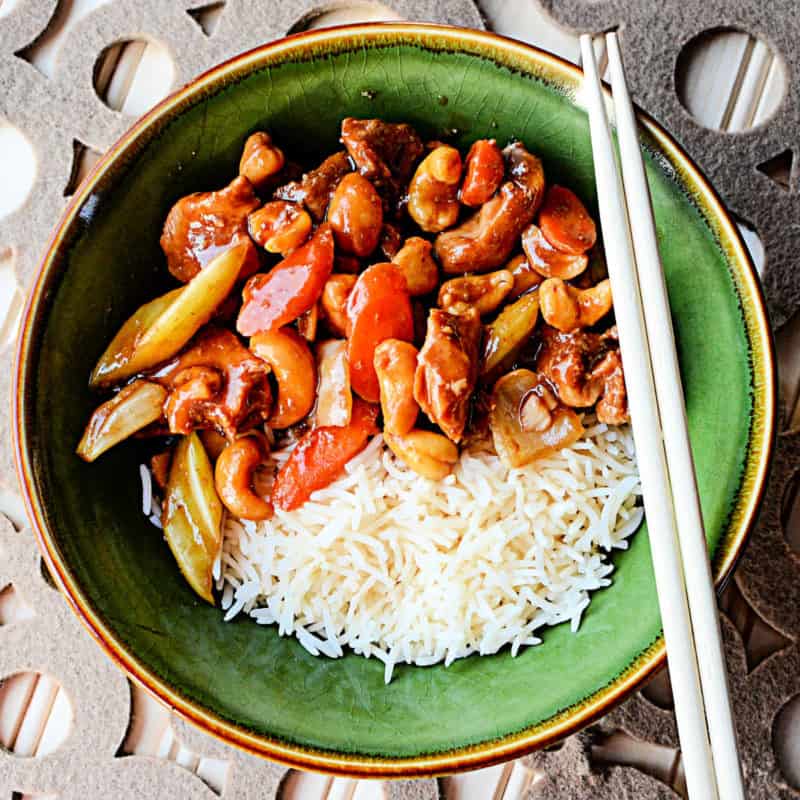 Hello yum! This Slow Cooker Crock Pot Cashew Chicken Recipe is delicious! This Asian inspired slow cooker recipe tastes amazing and is so easy to make!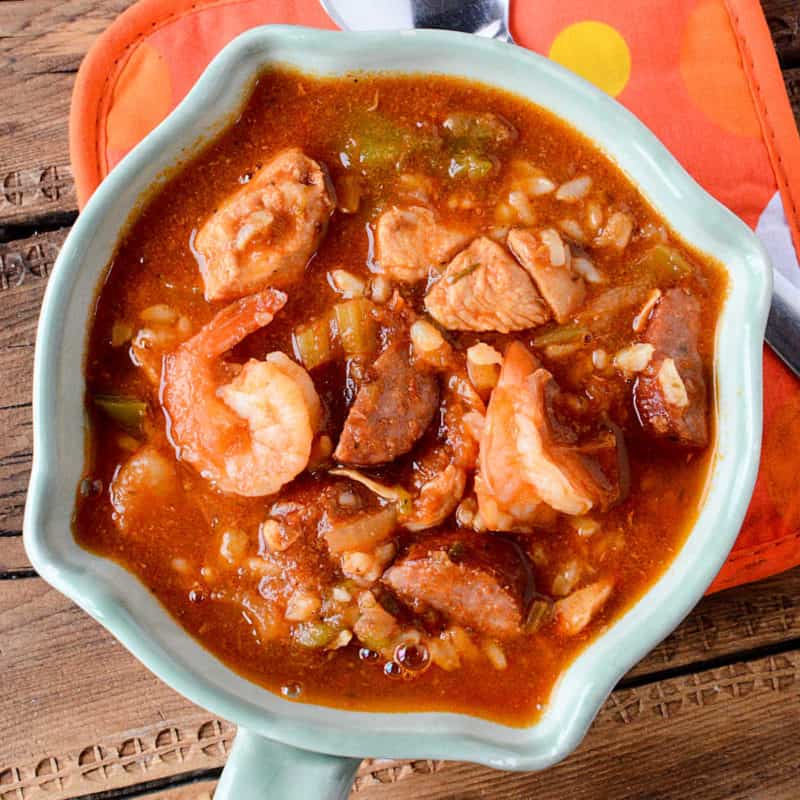 Amazing Crockpot Gumbo Recipe is full of flavor! The perfect combination of sausage, chicken, and shrimp with Cajun spices!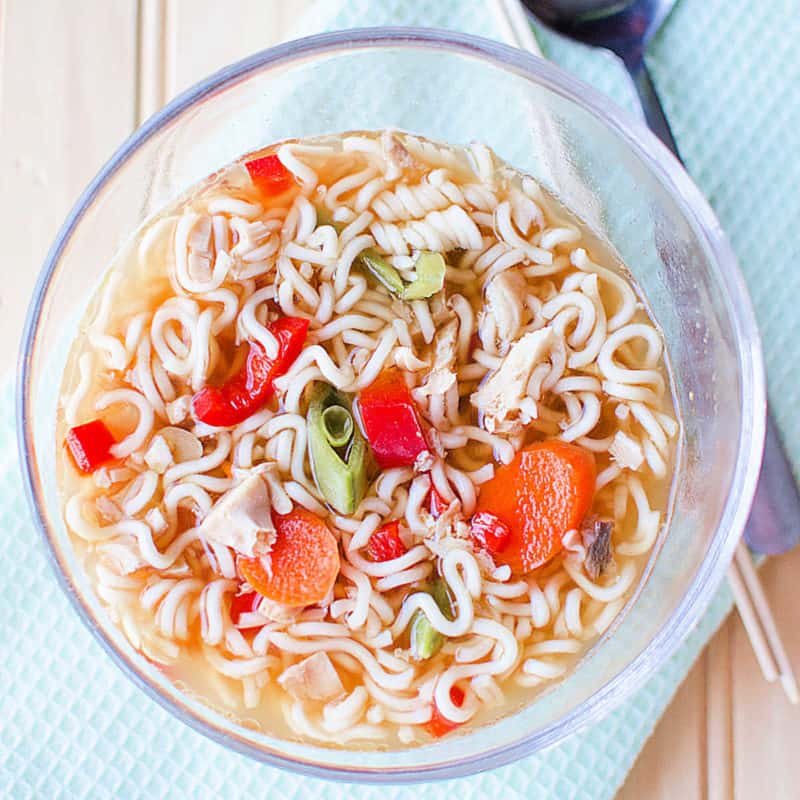 This Slow Cooker Crock Pot Chicken Ramen Recipe is pure comfort food! So filling, so easy to make and it tastes so good.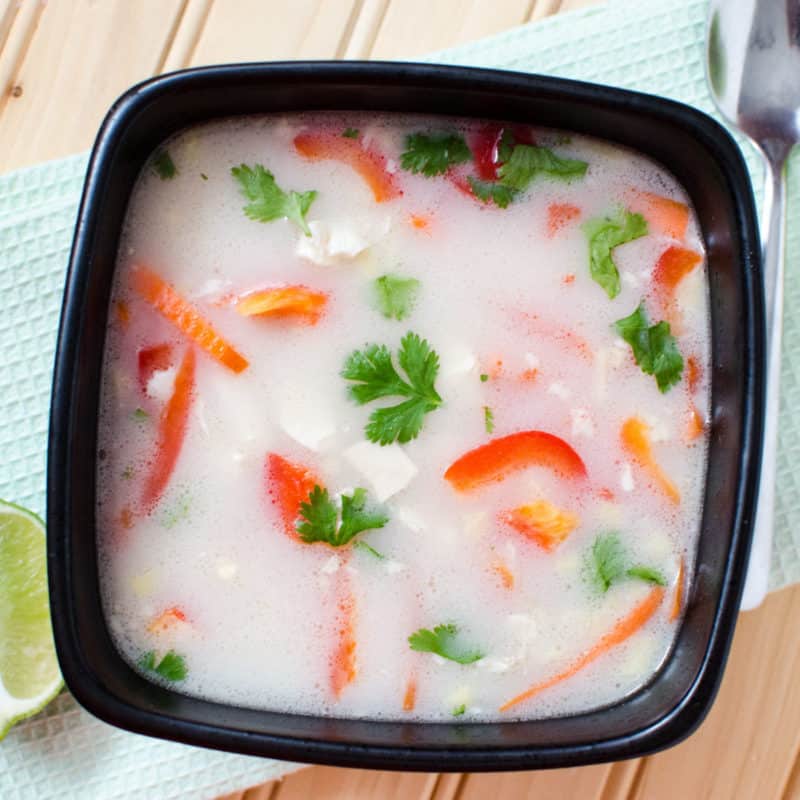 This easy Slow Cooker Thai Coconut Chicken Soup Recipe will transport you to Thailand with its amazing combination of coconut, ginger, and chicken!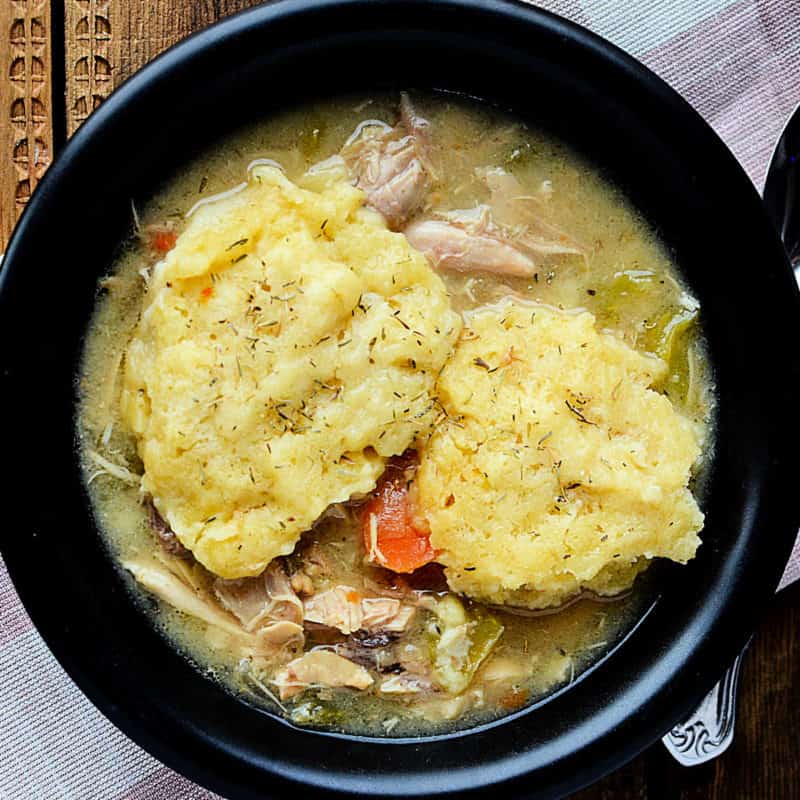 This Crock Pot Chicken and Dumplings Recipe is super easy to make and turns out amazing! Your house will smell wonderful!!!
This is the perfect recipe for a cool fall evening!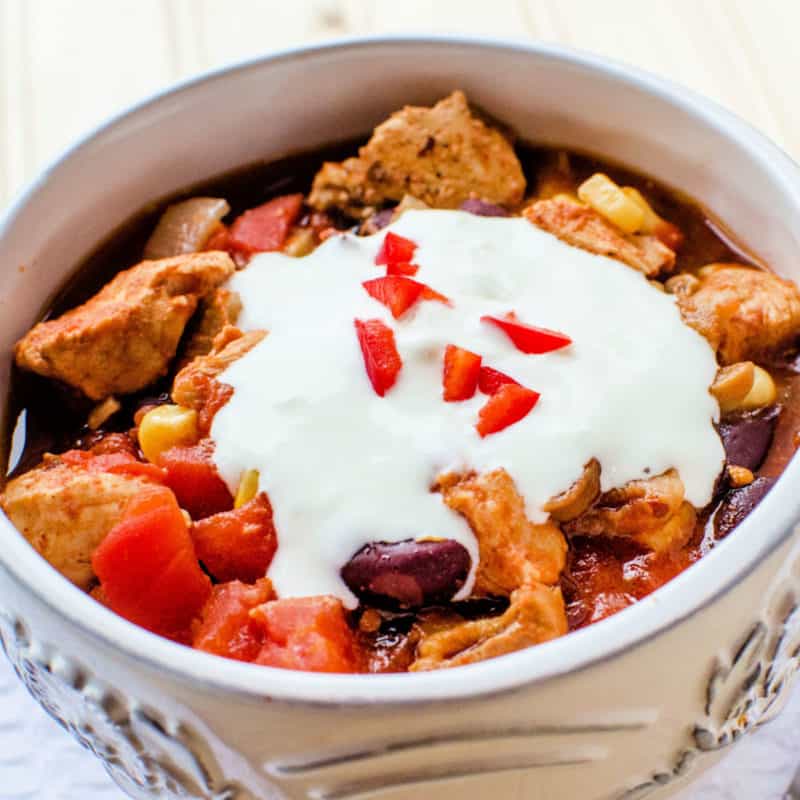 You just can't go wrong with a hot bowl of chili on a cold winter night. So filling and so easy to make! Packed with flavor.
Crockpot Pineapple Salsa Chicken - A great easy shredded chicken with tropical flavors
Crockpot Sriracha Chicken Dip - Easy spicy chicken dip perfect for parties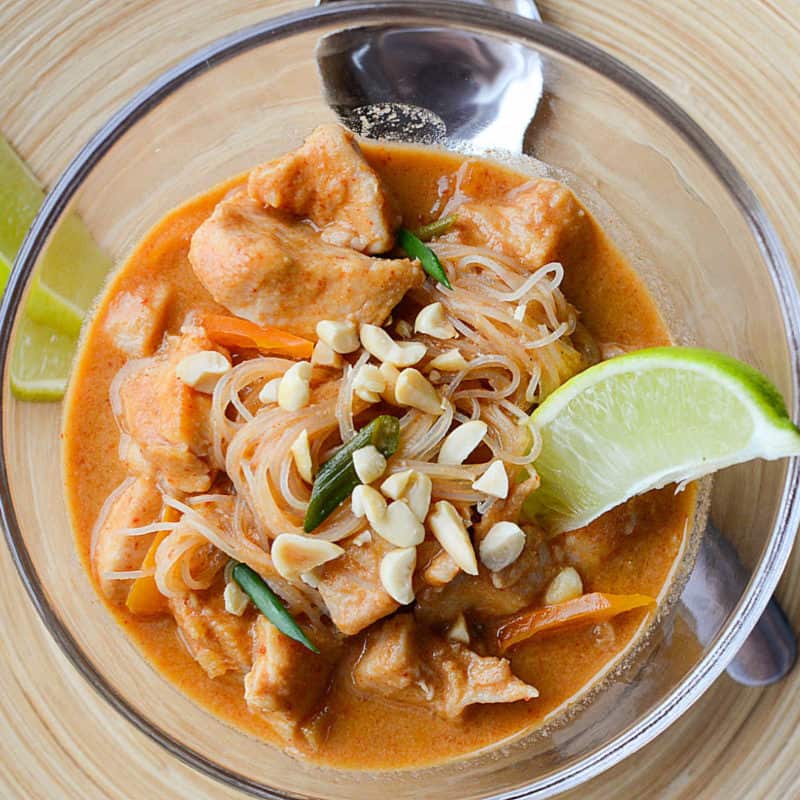 This Crock Pot Thai Chicken Stew Recipe is super easy to make and tastes delicious!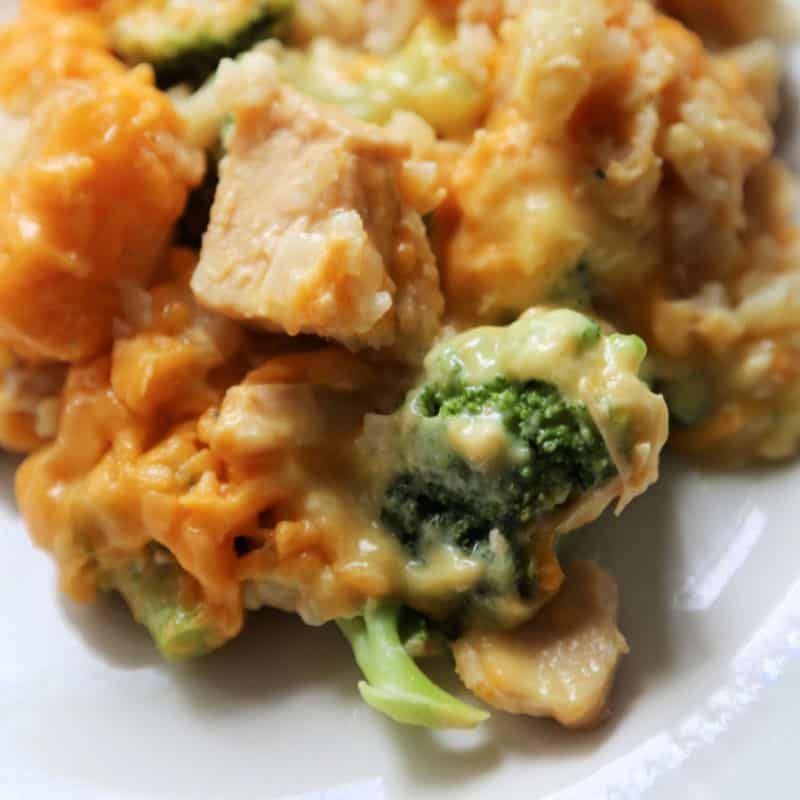 The perfect chicken comfort food dinner! Easy to make and tastes amazing!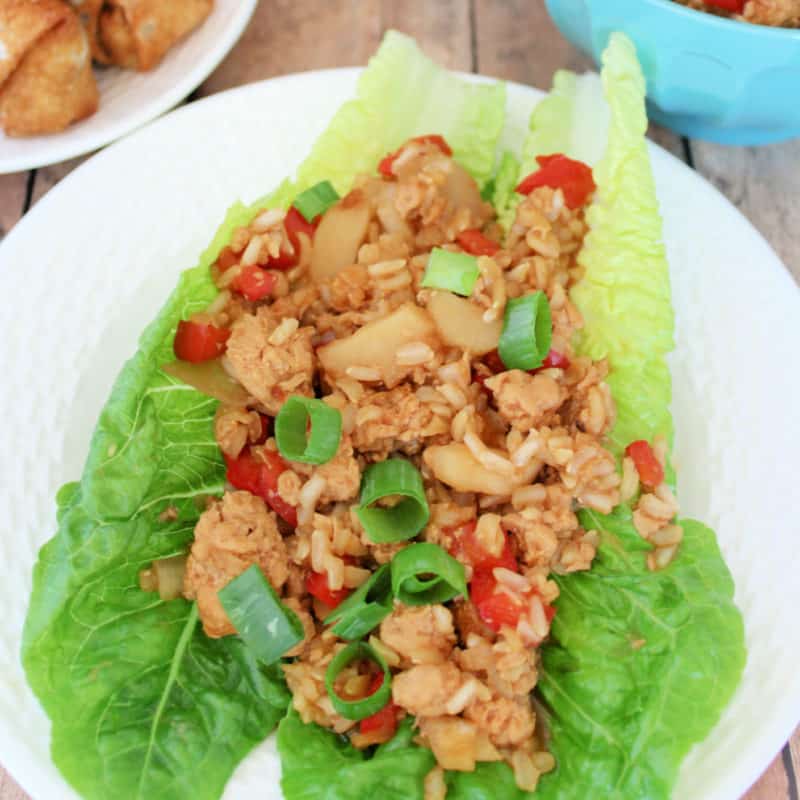 Delicious chicken lettuce wraps that are packed with flavor and so easy to make.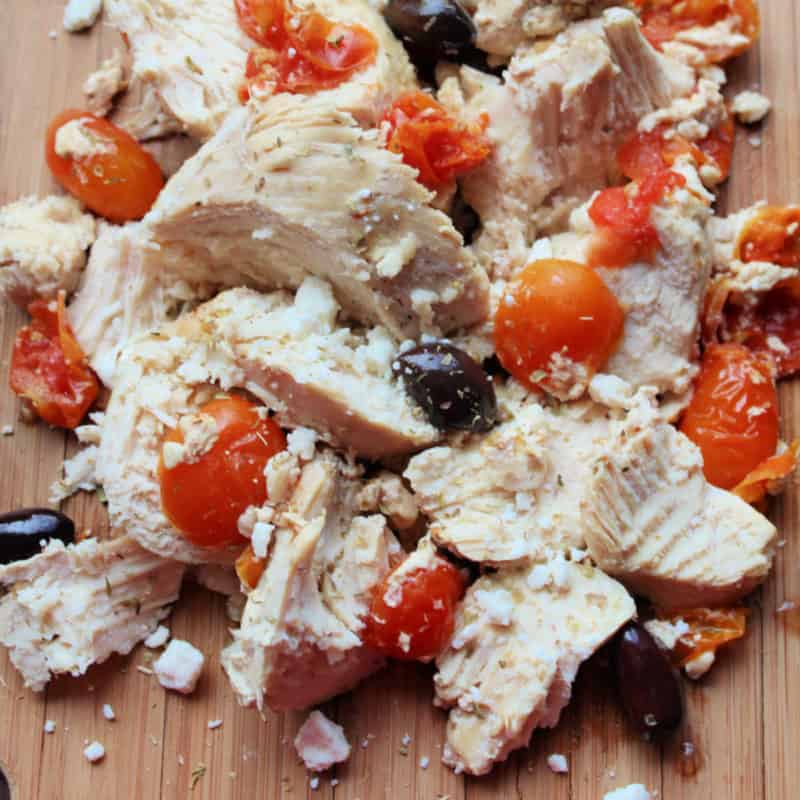 Easy Crockpot Greek Chicken Recipe is packed with flavor! The perfect combination of chicken breast, garlic, tomatoes, kalamata olives and feta!
Recipe Tips
Store any slow cooker chicken recipe leftovers in an airtight container in the fridge.
Use your favorite seasonings including salt, black pepper, garlic powder, onion powder, paprika, thyme, fresh herbs, green onions, taco seasoning, or even cream cheese to add flavor to crockpot chicken recipes.
Cauliflower rice can be substituted for white rice.
Printable recipe card instructions are available in each recipe.
Nutrition information, including calories, protein, calcium, carbohydrates, fiber, vitamin c, potassium, cholesterol, sodium, trans fat, monounsaturated fat, polyunsaturated fat, and more, will vary depending on the products used.
Great Recipe Collections
Ground Beef Crockpot Recipes - Easy Ground Beef Crockpot Recipes perfect for every occasion! From family dinners to potlucks these ground beef recipes are perfect!
Slow Cooker Soups - These Crock Pot Soup Recipes are filling, oh so delicious and best of all, super easy to make!
Bisquick Recipes - Everything from breakfast to snacks, to comfort food, and more! All of these recipes with Bisquick are made with simple ingredients and are quick and easy recipes!
3 Ingredient Recipes - Easy recipes that only take 3 ingredients you probably have in the pantry.
Do you love recipes? Check out our copycat recipes, dessert recipes, and our CrockPot Recipes.
Follow Tammilee Tips on MSN, Facebook, Instagram, and Pinterest, for all of our recipe posts.