During my visit to Costa Maya, Mexico I had the chance to go on the Chacchoben Mayans Ruins Excursion and it was fantastic. I wasn't sure what to expect going into it. I knew that we would see ruins but I wasn't sure if they would be worth the drive.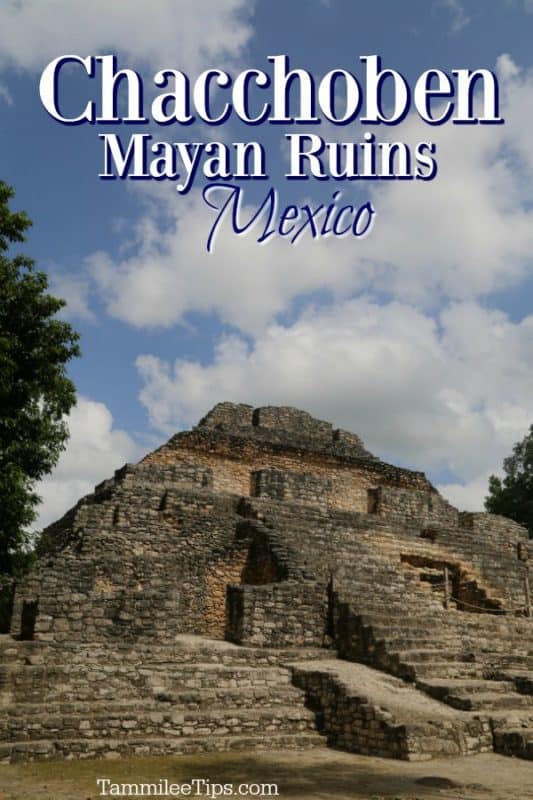 Chacchoben Mayan Ruins Excursion in Costa Maya, Mexico
I know that probably sounds bad but I have to admit it is crazy hot and humid in Mexico. I wasn't sure if the heat and humidity were going to be worth wandering around the ruins baking and sweating. I am so thankful that they were.
The Chacchoben Mayan Ruins site is 10 acres filled with history and gorgeous lush vegetation. It is crazy to think that not all of the ruins have been excavated. There are areas where you can presume there are probably ruins under the trees and vegetation. The way the plants grow up a hill makes you start to picture ruins all over the place.
The tour left right from the Costa Maya port terminal. As we boarded the bus we were handed a paper bag with snacks and a bottle of ice water. The snacks were such a great unexpected treat. It was fun to sample Mexican varieties of the snack we enjoy at home. We tried Mexican Doritos which are spicier than the ones we have at home along with some chocolate treats.
The ice water was so needed in the heat and humidity.  It is about an hour's drive to the Chacchoben Ruins.  Our tour guide did share a lot of information about Mayan culture, the ruins, and the surrounding area on the way in.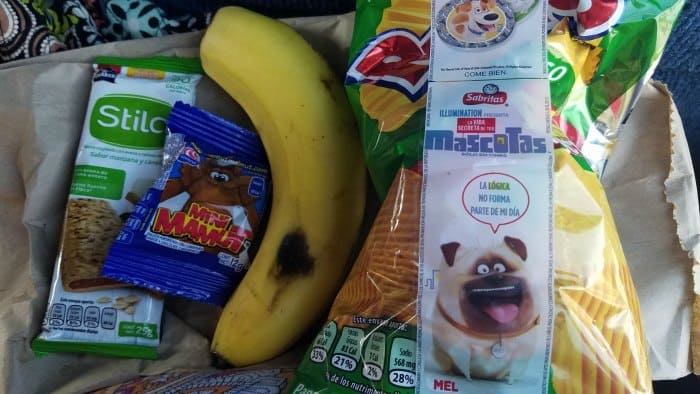 If you take this tour I highly suggest bringing a washcloth or small towel with you. I wish I would have thought of this. I was a bit jealous seeing other passengers walking around being able to wipe the sweat from their faces instead of just dripping like I was. Not a pretty image I know but I want you to be prepared. 🙂
Once on-site, we had the chance to run to the bathroom before beginning the tour. One interesting thing is guides are only allowed to have 25 people on a tour without help. If they go over 25 they have to have an assistant for every additional 25 people. The group size worked out great with 50 of us. Everyone stayed together and had a great time.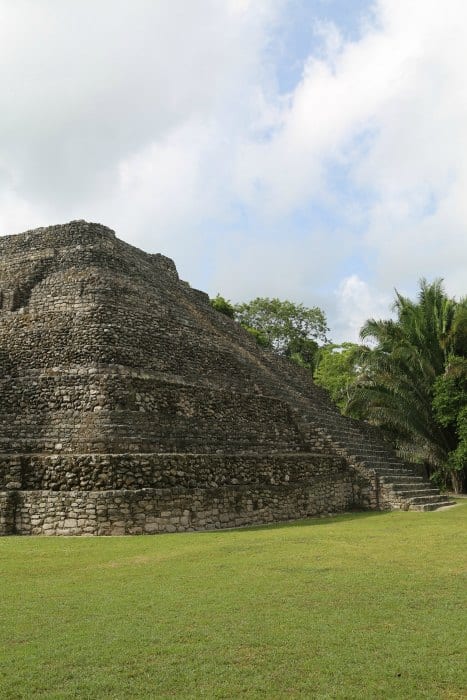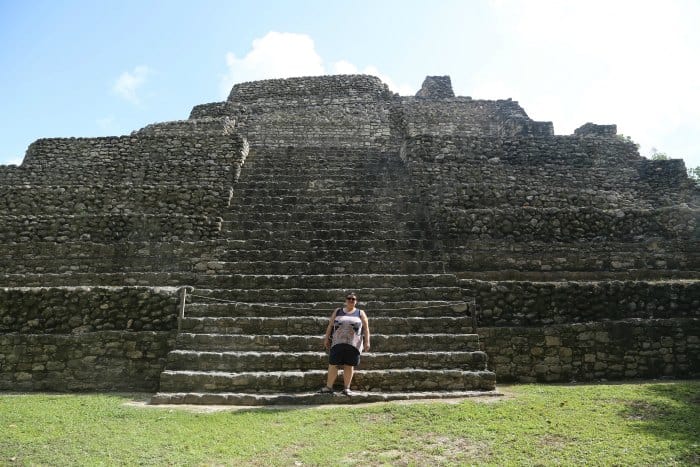 Our guide was amazing. He shared history and info on the ruins while keeping us all entertained. We spent about 2 hours wandering around the Chacchoben Ruins. I wasn't sure if this was going to be enough time but with the heat and humidity, it was the perfect amount of time.
We had more than enough time to wander and get the photos we wanted while still making sure we were with our guide. I didn't realize before this tour that there have been over 1,000 Mayan settlements mapped in the area. For some reason, I didn't think of their being that many ruins.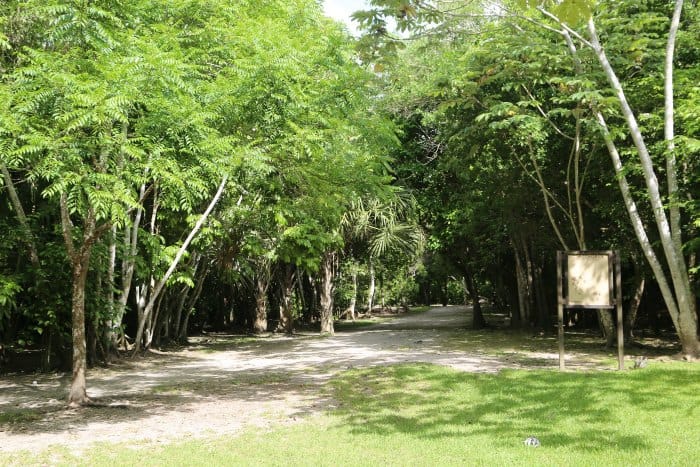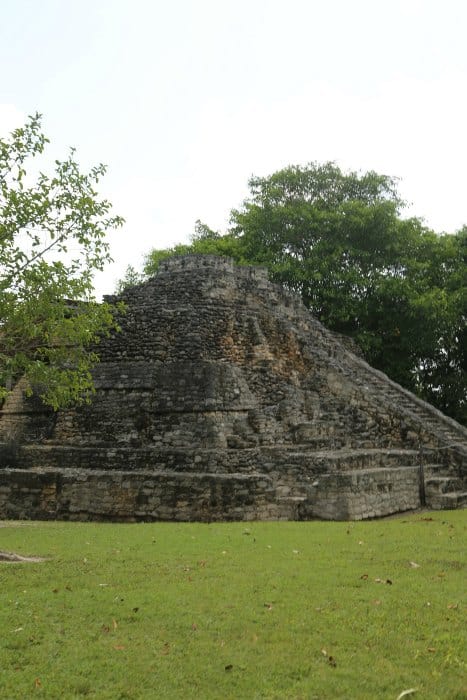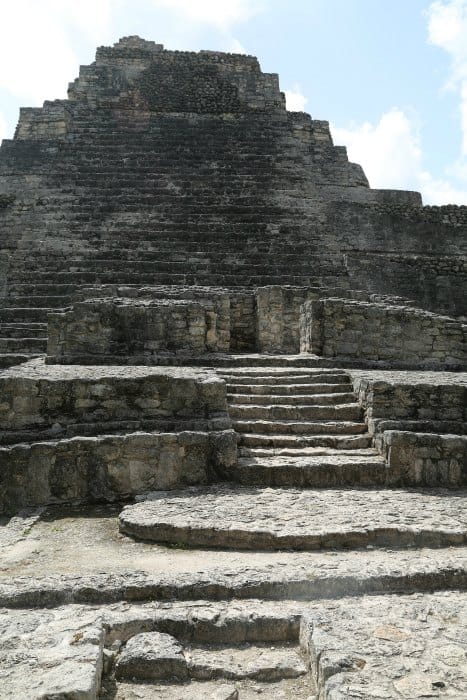 It was really interesting hearing about the history of the area and that many residents in the area still learn Mayan as their primary language. They do not learn Spanish until they go to elementary school.
You have the opportunity to order a print done in Mayan while on the bus ride to the ruins. You can pick it up when you get to the port after the tour our guide said.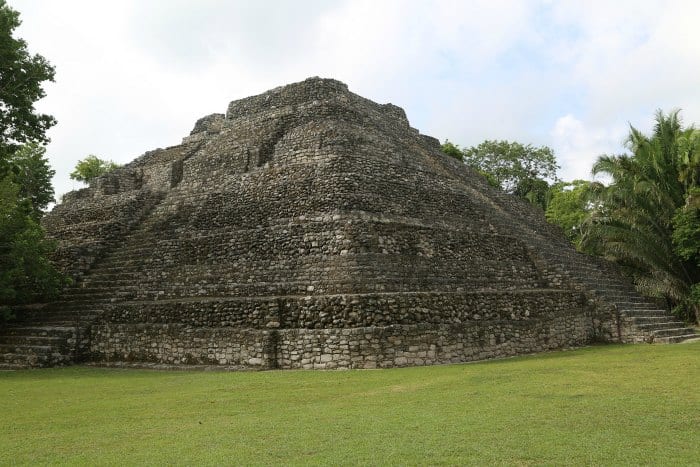 Travel tips
-Make sure you have water with you! It is hot in the ruins
-Bring a washcloth you can get damp and wipe the sweat and grime off you or use to cool yourself down.
-It is a drive to get to the ruins. If you have little ones with you be prepared with entertainment, a soft towel for a pillow.
-There are a few stands right near the entrance with souvenirs and snacks.
-Wear comfortable shoes! There is a lot of walking and stairs!!!
-Wear comfortable clothes you can sweat in and not hate that you have to sit in them for an hour's drive back to the port terminal.
-A travel backpack is a great way to carry extra water, sunscreen, and more.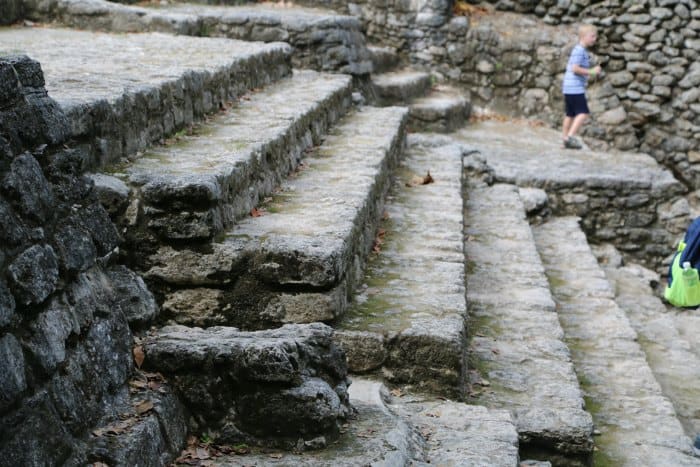 Additional Travel Articles
Altun Ha Mayan Ruins - Belize
Snorkeling Belize World Famous Barrier Reef
Salsa, Salsa and Margaritas Excursion - Cozumel
Check out all of our Cruise Travel Guides