Easy Edible Fake Blood perfect for decorating Halloween desserts and treats. So easy to make with a couple of ingredients.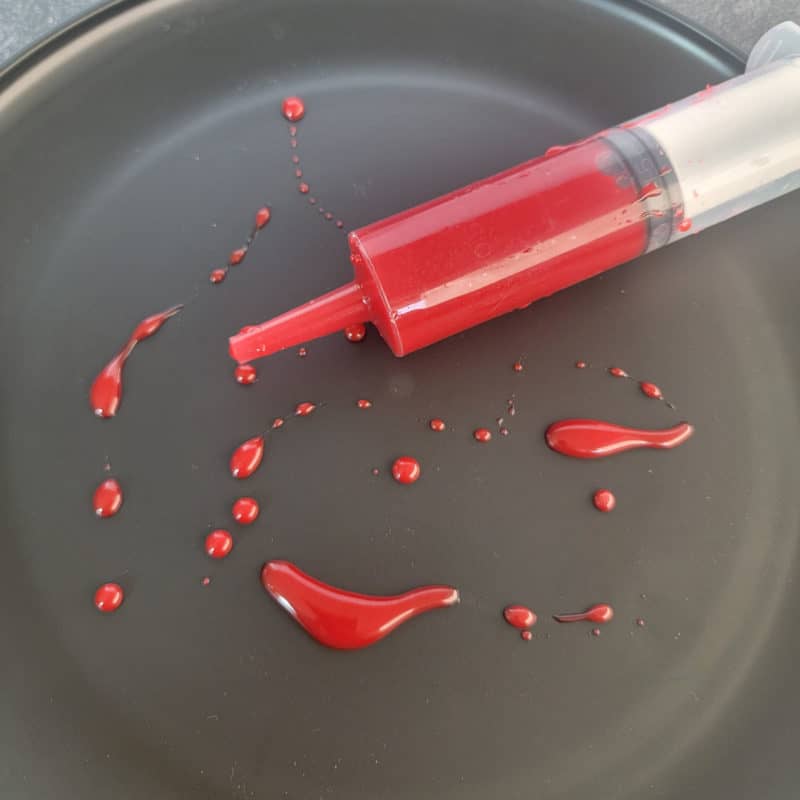 Edible Fake Blood
I love how easy this edible blood is to make! It looks really cool on cupcakes, Halloween cakes, cookies, or any Halloween treats.
We used this edible blood on our bloody bandage cookies, Bloody Colada Cocktail, and a few new recipes we need to share still.
It is sweet so you may not want to use it on savory recipes unless you are ok with a bit of a sugar added to them. I love drizzling drops along the side of treats so it looks like there is blood spatter.
It is quick and easy to make and you can store it in the refrigerator. We make up a mason jar of fake edible blood a couple weeks before Halloween so we can easily add it to Halloween treats.
This edible fake blood recipe takes minutes to prepare and looks epic. We love filling a Jello Shot Syringe with the red fake blood and letting it drip across our serving platter.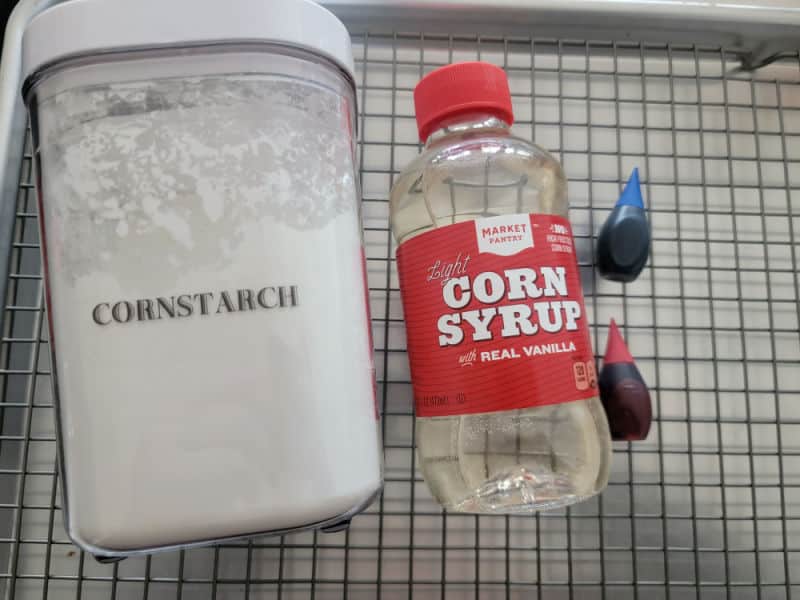 Ingredients
This is a quick overview of the simple ingredients that you'll need to make Edible Blood! Specific measurements and step-by-step instructions are included in the printable recipe card at the bottom of the post.
Corn Syrup
Red gel food coloring
Optional - cornstarch
Chocolate syrup - If you want a darker red blood color/deep red-brown blood color you can add in a bit of chocolate syrup until the color is perfect.
Equipment Needed
Lidded Container - We used a mason jar that was easy to shake and mix the color together.
Spoon/Skewer - We use a long wooden skewer to stir everything together.
Whisk - A whisk works great if you encounter any lumps
Baking Sheets - We are huge fans of these baking sheets with sides. I use a baking sheet every time I am working with this fake blood. I really want to make sure I do not get red food coloring on our white counters.
Paper Towel - Make sure to keep paper towels and cleaner near by just in case.
Plastic Syringe - We love how cool the edible blood looks when served in a plastic syringe. Let your Halloween party guests decorate their own treats.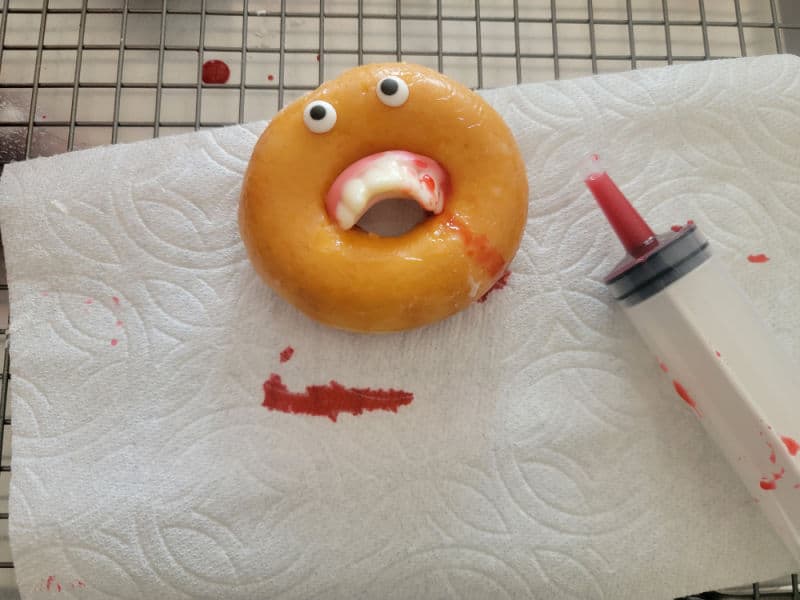 Preparation and Storage
Make Ahead –This Edible Blood Recipe can be made a day or two ahead of when you need it. I wouldn't add any cornstarch until you are ready to use the fake blood. Otherwise it will get really thick in the container.
Storage – Store in an airtight container, we used a mason jar so it was easy to clean.
Freezing/How to freeze – We have not tried freezing this edible blood. Our understanding is the texture of the corn syrup will change when placed in the freezer.
Recipe Variations
Substitutions - You can also use thickened cherry juice if you do not want to use corn syrup. You will need to thicken it over low heat in a small pan.
Vegetarian Option - This recipe is vegetarian.
Vegan Option –Corn Syrup is vegan but you can also use Agave Nectar.
Gluten Free - Corn Syrup is gluten free, cornstarch is also gluten free
Smaller Serving Size – This recipe can be adapted to make a smaller container.
Larger Group/More servings – This recipe can be doubled or more just make sure you can safely stir and store the edible blood so it doesn't stain your counters or work area.
Recipe Tips
If you use cornstarch to thicken the fake blood mixture you will want to stir it often. If it sits in the fridge for a while you may end up with a brick of fake blood at the bottom of your container.
These candy eyes have blood spots on them which works great with this blood.
If you are worried about adding to much sugar to a recipe you can also use strawberry jam or raspberry jam.
If you don't have Karo Corn Syrup you can also use glucose syrup.
Make sure to store in a small bowl with a lid or storage container/sealed jar so the red blood can not spill.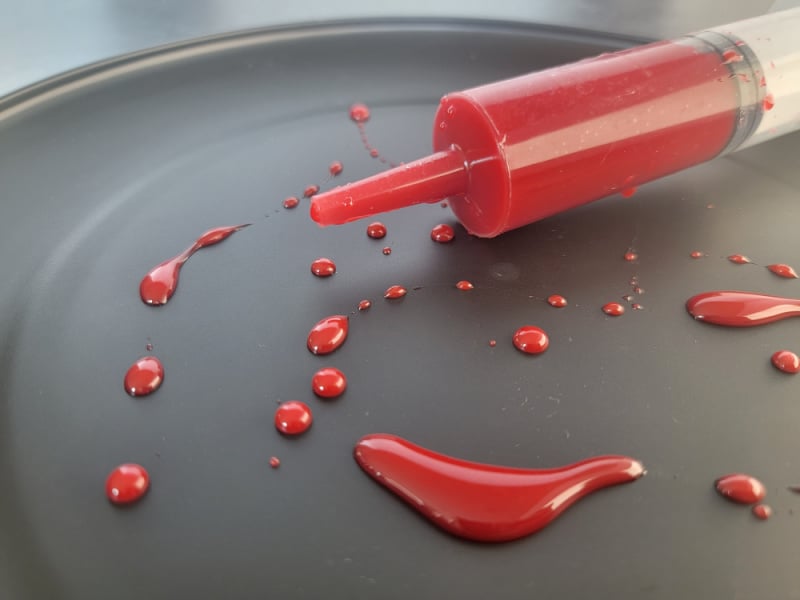 What to serve with Edible Blood
Desserts - We love drizzling Edible Blood over epic Halloween Desserts. Some favorites include Bloody Bandages, Mummy Rice Krispie Treats, Frankenstein Twinkies, Marshmallow Ghost, Nutter Butter Ghosts
Main Dish/entrée - Green Halloween Pasta, Mummy Quesadilla, Mummy Dogs
When to serve
Halloween Party
Movie Night (horror, thriller themed)
Cocktail Garnish
Book club
Haunted Houses
Spooky Themed events
Great Halloween Recipes
Check out all of our Halloween Recipes
Do you love recipes? Check out our copycat recipes, dessert recipes, and our CrockPot Recipes.
Follow Tammilee Tips on MSN, Facebook, Instagram, Pinterest, and Twitter for all of our recipe posts.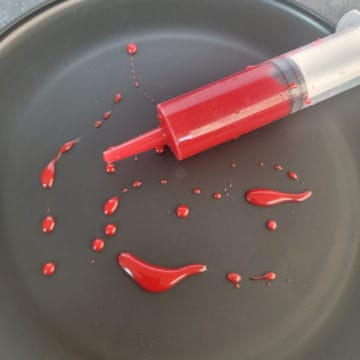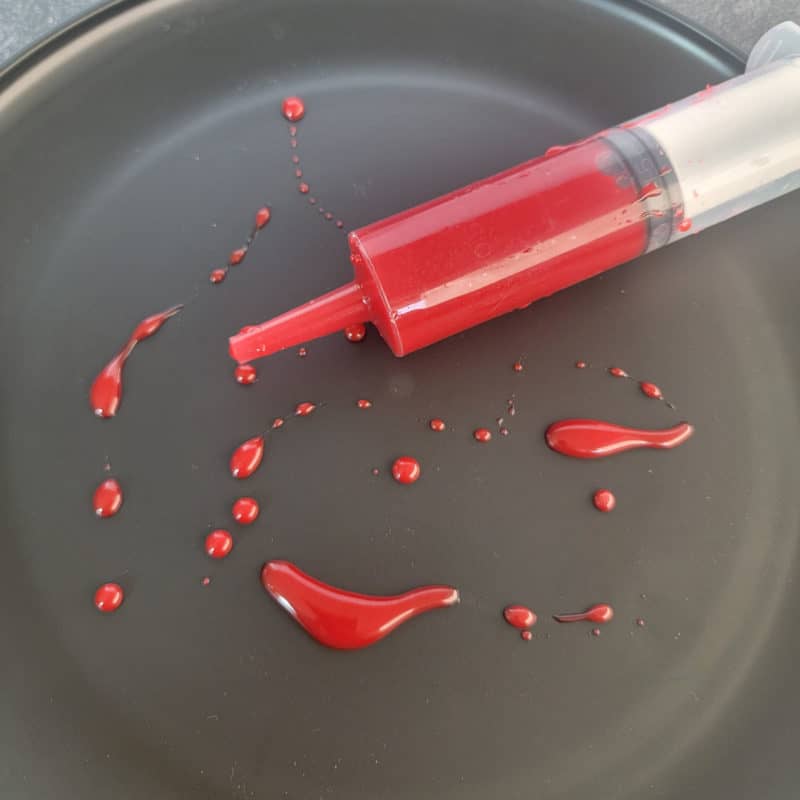 Edible Fake Blood
Easy Edible Fake Blood perfect for Halloween cakes, cupcakes, and treats.
Print
Rate
Instructions
Combine Corn Syrup and Red Food Coloring until you achieve the desired color.
Notes
To darken the blood color - add in drops of chocolate syrup
To thicken the blood - Add in cornstarch and stir together. 
Nutrition
Nutrition Facts
Edible Fake Blood
Amount Per Serving
Calories 975
% Daily Value*
Sodium 529mg23%
Potassium 150mg4%
Carbohydrates 265g88%
Calcium 61mg6%
Iron 1mg6%
* Percent Daily Values are based on a 2000 calorie diet.