Easy green Halloween Pasta is the creepy, gross Halloween dinner everyone will love. All you need is a few ingredients, and you can serve a cauldron full of green pasta.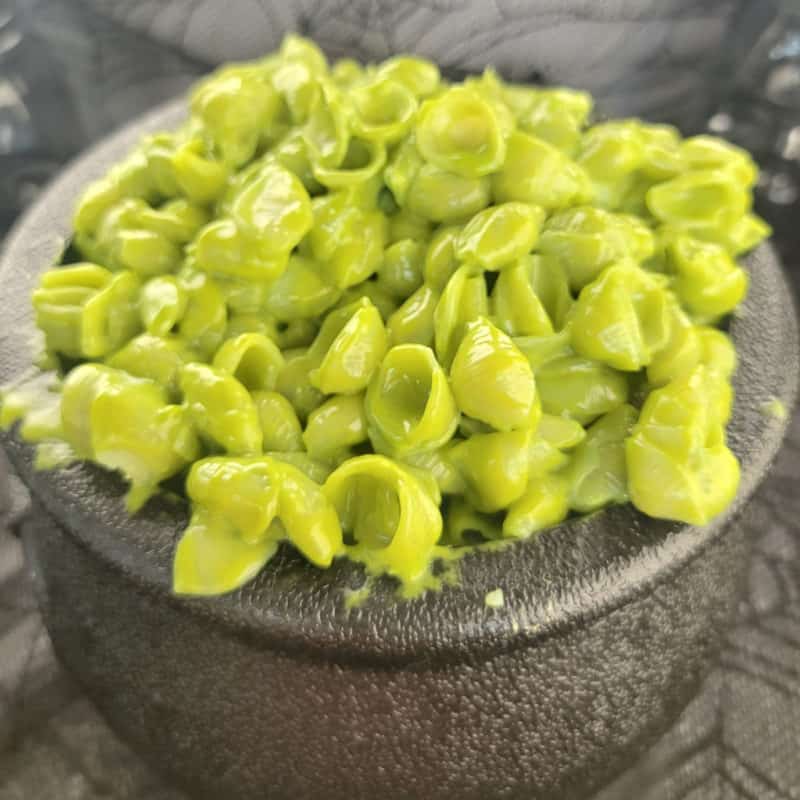 Green Halloween Pasta
This year I have been on a mission to make as many Halloween recipes as I could fit in! My goal was to make my husband laugh and cringe every night when he came home and saw what I had made during the day.
I have been trying to make some creepy Halloween recipes instead of just cute fun ones. I did a week of mummy recipes so I figured I needed to add in some recipes that are a bit grosser.
I love that this Halloween pasta recipe is made with a pantry staple and you don't have to stress about finding ingredients or tools.
It is quick and easy to make and tastes fantastic. We are working on more Halloween Dinner recipes. Do you make anything creepy or scary for Halloween every year?
Kids will love eating out of cauldrons before trick or treating.
Ingredients
This is a quick overview of the simple ingredients that you'll need to make super fun green pasta for Halloween! Specific measurements and step-by-step instructions are included in the printable recipe card at the bottom of the post.
Velveeta Shells and Cheese
Blue Food Coloring
Blue food coloring - We used this Wilton gel food coloring and it worked great.
Garnish - Parmesan cheese, chopped basil
Equipment Needed
Pasta Pot/large pot and Strainer
Small Black Cauldron - We love the look of serving this Halloween Pasta in a cauldron. It helps add to the creep factor. This can also be served in a large bowl.
This green pasta would look really fun served in individual mini cauldrons.
How to make Green Halloween Pasta
I've included complete instructions in the printable recipe card at the bottom of the post, but here's a quick version.
Step 1 - Boil pasta water, stir in shells, cook and drain.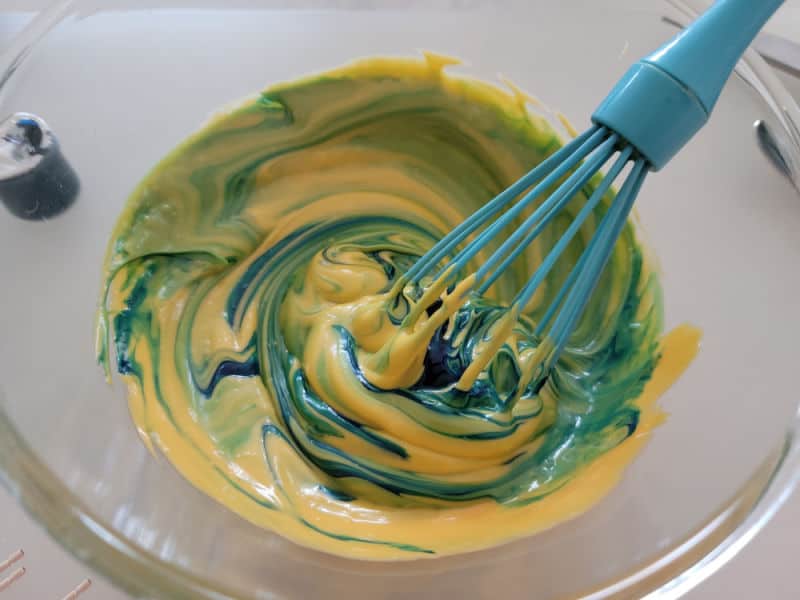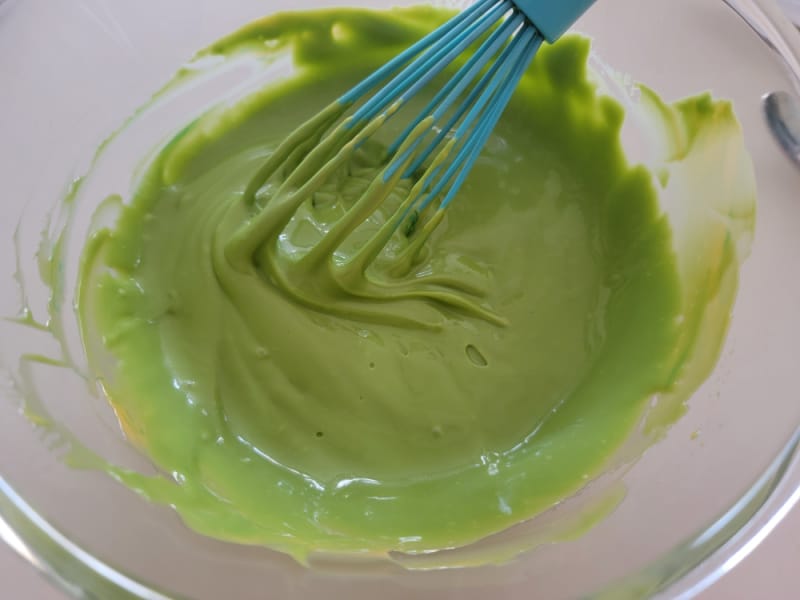 Step 2 - Color the yellow cheese mix with blue coloring. Slowly add in the blue coloring until you get the green color you want.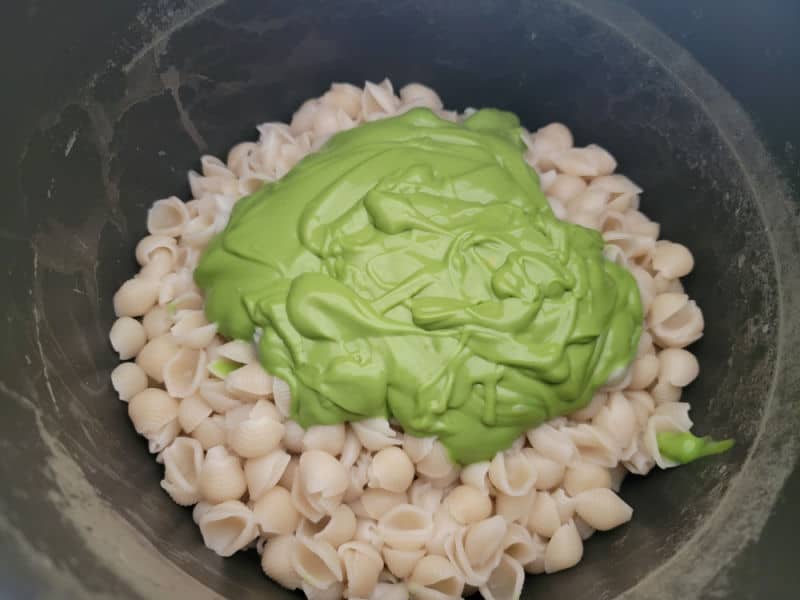 Step 3 - Stir the green cheese sauce with the pasta shells until evenly coated.
Serve in a Black Cauldron or fun Halloween bowl.
Recipe Tips
Start with a small amount of blue food coloring and add in more slowly until you get the color you want. To much coloring and the pasta can start to turn a muddy green or even brownish color.
We used a bowl and a couple of plastic lids to fill in the bottom of the cauldron we used. I made 2 boxes of Velveeta Shells and Cheese and it wasn't enough to fill the entire cauldron so I used the bowls and plastic lids to lift the green pasta up over the top.
Preparation and Storage
Make Ahead – This can be made ahead of time and stored in the refrigerator.
Storage – Store in an airtight container in the fridge.
Freezing/How to freeze –Place the pasta in a freezer safe container and freeze. Thaw before heating in the microwave or stove top.
How to reheat – Reheat in the microwave or in a small pot on the stove top.
Recipe Variations
Substitutions - You can use any brand of pasta (Spaghetti) and pasta sauce. Alfredo Sauce can also be dyed green with food coloring.
Add in sliced black olives in mozzarella balls for eyeballs. Add meatballs.
Vegetarian Option - This recipe is vegetarian.
Vegan Option –Use a vegan shells and cheese brand (Annie's, Daiya, Banza)
Gluten Free - Use gluten free pasta and cheese.
Smaller Serving Size – The easiest way to make a smaller size is to prepare the box as detailed and freeze the portion not being used.
Make it Spicy – Add in your favorite hot sauce or spices.
Larger Group/More servings – This recipe can easily be doubled and made with two boxes.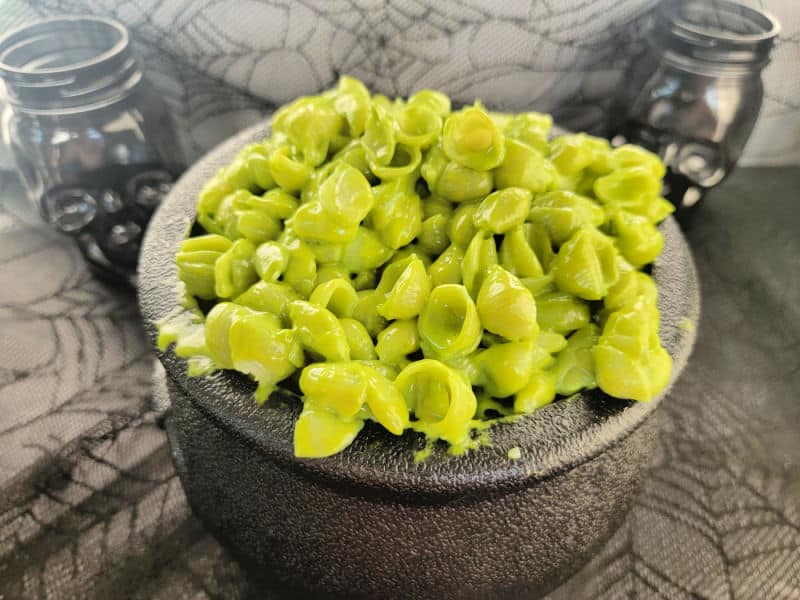 What to serve with Halloween Pasta
Side Dish - Cheesy garlic bread, Texas Toast, roasted veggies, cherry tomatoes,
Snacks - Monster Munch, Candy corn and peanuts, Kool Aid Pickles, Salted Caramel Popcorn, Ghost Pretzels,
Desserts - Pumpkin Rice Krispie Treats, Frankenstein Rice Krispie treats, Witch Hat Cookies, Reese's Bats, Marshmallow Ghosts,  and of course a lot of Halloween Candy.
Main Dishes/Entrée - Mummy Quesadilla , Mummy Hot Dogs
When to serve
Fun Halloween Dinner/Spooky Dinner
St. Patrick's Day (Just serve in a regular bowl)
Spring
Christmas with red peppers added.
Halloween Night
Halloween Party
Great Halloween Recipes
Check out all of our Halloween Recipes
Do you love recipes? Check out our copycat recipes, dessert recipes, and our CrockPot Recipes.
Follow Tammilee Tips on MSN, Facebook, Instagram, Pinterest, and Twitter for all of our recipe posts.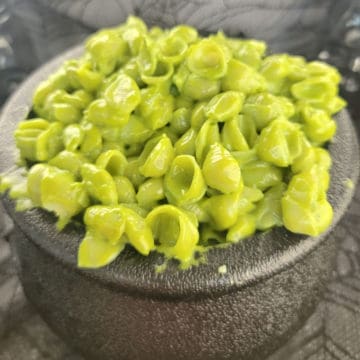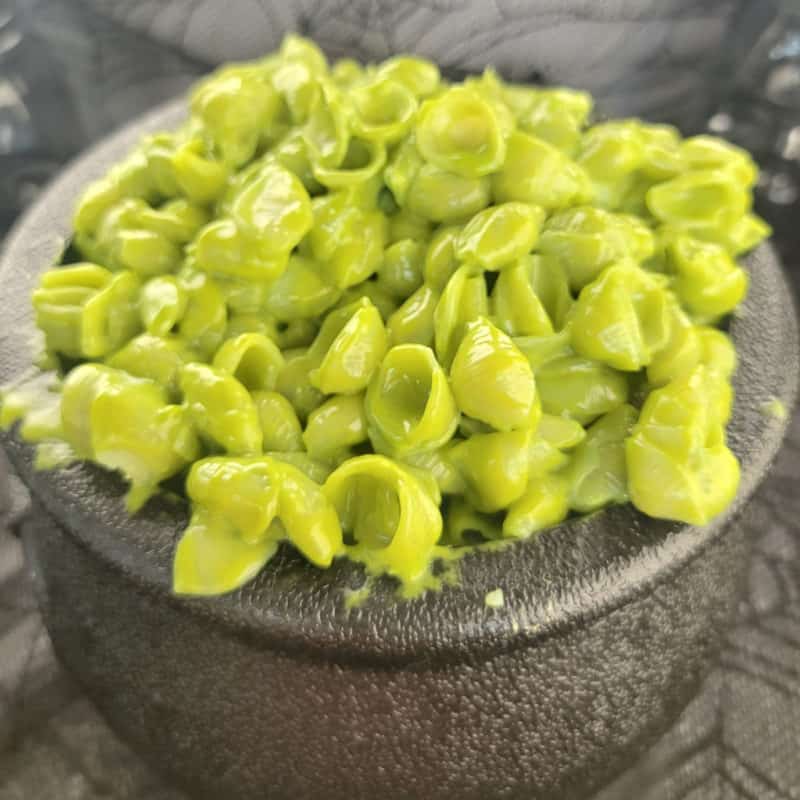 Green Halloween Pasta
Easy Green Halloween Pastas is the perfect Halloween Dinner entree
Print
Rate
Instructions
Cook Velveeta Shells and Cheese according to the package instructions

Add cheese sauce to a bowl and stir in blue food coloring until you reach the desired green color

Stir green cheese with pasta shells. Serve
Nutrition
Nutrition Facts
Green Halloween Pasta
Amount Per Serving
Calories 0.4
% Daily Value*
Fat 0.02g0%
Cholesterol 0.1mg0%
Sodium 3mg0%
Potassium 1mg0%
Carbohydrates 0.02g0%
Protein 0.04g0%
Vitamin A 2IU0%
Calcium 1mg0%
* Percent Daily Values are based on a 2000 calorie diet.