Chicken Casserole with Ritz Crackers is the perfect comfort food dinner. The combination of shredded chicken breast, sour cream, cream of chicken soup, and crushed Ritz Crackers combine to make an epic chicken casserole.

Chicken Casserole with Ritz Crackers Recipe
This Ritz Cracker Chicken Casserole is a family favorite. The perfect combination of Ritz cracker topping, chicken soup, and sour cream.
I made this as part of our weekly meal kits we take to my husband's mom and grandmother. I knew they would love the combination of shredded chicken, sour cream, and buttery Ritz Crackers. I paired this with Creamed Corn Casserole and Bisquick Peach Cobbler.
I have to tell you a funny family story...when I went over to my husband's grandmothers to drop off the meal kits his mom told me they had a big box of HoHo's someone had brought them and she wanted to know if we wanted any of them.
In my mind, I was picturing chocolate cake goodness and said yes please! I mean how can you turn down HoHO chocolate cakes.
Well, imagine my surprise when she brings out a box of Ritz Crackers and says take as many HoHo's as you like. I thought I was being punked and looked at my Husband John for help.
He shrugged his shoulders and looked at me super confused. I asked his mom where the chocolate was and she said WHAT these are HoHo's as she handed me a sleeve of Ritz Crackers.
I pointed to the Ritz Cracker name on the box and she told me well I know them as HoHo's...
You can imagine my thought process trying to go from chocolate cakes to butter crackers and not upset his mom by asking too many questions.
Now when I make this creamy Chicken Casserole with Ritz Crackers I tease my husband that he doesn't need to worry I didn't make it with chocolate cakes I made it with actual crackers.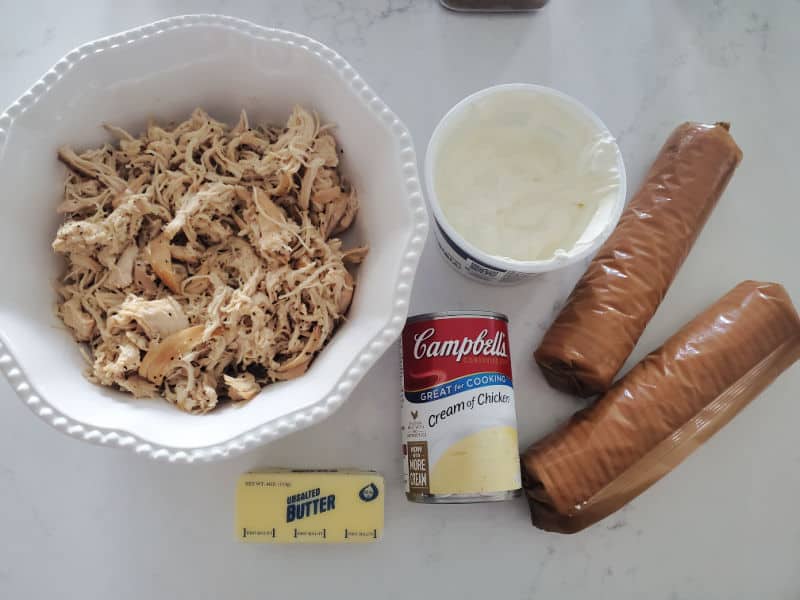 Ingredients
Chicken, cooked - shredded
Ritz Crackers
Sour Cream
Butter
Condensed Cream of Chicken Soup
Salt and pepper
Chicken - I make Crockpot Shredded Chicken for this recipe. You can easily prepare the shredded chicken the day before or in the morning so it is ready to throw into this casserole. If you don't have time to cook the chicken in the crockpot don't worry you can tear up a rotisserie chicken and use it in this recipe. You could also use canned chicken but you will want to add a bit more spices into the recipe since the canned chicken has no seasoning.
Ritz Crackers - If you don't have access to Ritz crackers you can use any butter cracker you have available. This casserole would be great with flavored ritz or even Chicken in Biscuit crackers.
Cream of Chicken Soup - I use regular cream of chicken soup but you can definitely use cream of chicken soup with herbs or even cream of mushroom soup or cream of celery.
Additional toppings/mix-ins
If you want to change up the flavor a bit you can add in a cup of shredded cheddar cheese or really any shredded cheese you love into the casserole or the ritz cracker crumbs.
You can easily add in broccoli or peas to get some veggies into this Ritz Chicken Casserole.
Some people add poppy seeds to the Ritz Cracker Crumbs but I have left them out. You can easily add in a couple of tablespoons if you enjoy them.
You can easily substitute diced turkey or ham for the chicken in this recipe.
Optional - Top with fresh parsley, add in egg noodles, rice, or diced vegetables.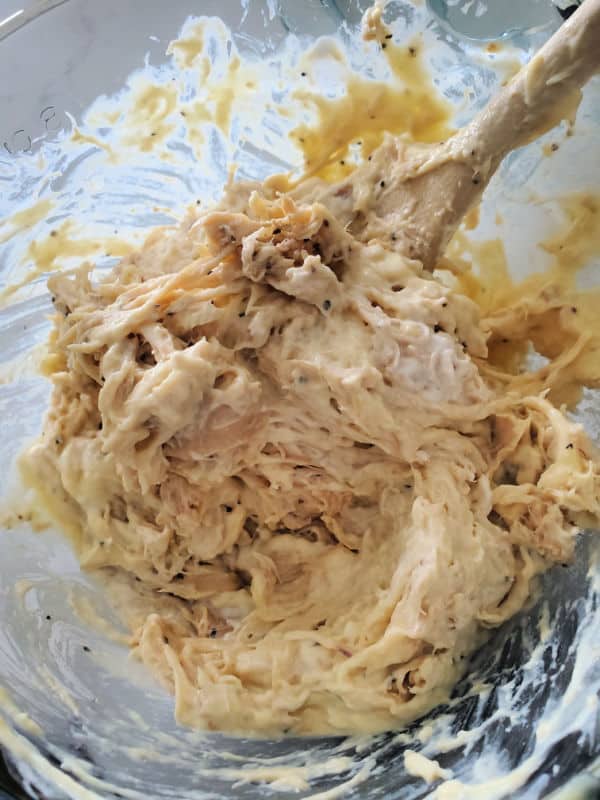 Equipment Needed
9x13 casserole dish - I like to use a 9 x 13 baking dish for this casserole. All of the ingredients are evenly spread in the 9 x 13. If you want a thicker casserole with more toppings on each piece you can use a 8 x 8 baking dish.
Large Mixing Bowl - We are big fans of this glass batter bowl that has a handle. It makes it easy to mix ingredients and keeps the mixing bowl steady on the counter.
Non-stick Cooking Spray - This will help make serving the chicken casserole with Ritz Crackers easier and help with clean-up.
Ziploc Bag - I try to crush the Ritz with my hand in the sleeve they come in but you can also put them in a Ziploc bag and roll a rolling pin over them to get cracker crumbs. If you have helpers in the kitchen they can help smash the ritz crackers.
Microwave Silicone cover - I swear by these lid covers to help prevent butter splatters when melting butter in the microwave. I have had way too many butter explosions while baking. These lid covers help keep the butter in the bowl and not on the roof of your microwave.
Heat resistant potholders - A couple of years ago we had a fire scare when we didn't realize we had turned a burner on and a cloth potholder caught fire. Thankfully we walked by the kitchen and saw the smoke and were able to get it out ourselves. Since then we have only used these heat-resistant potholders.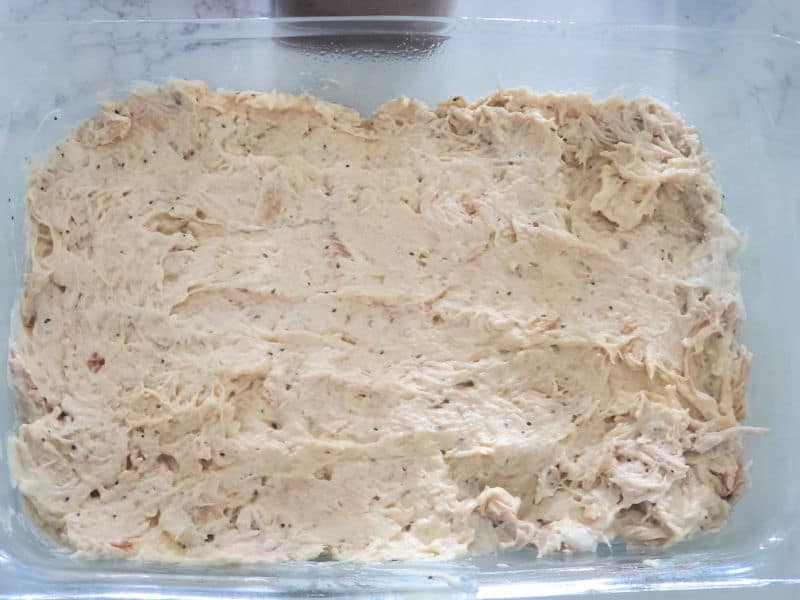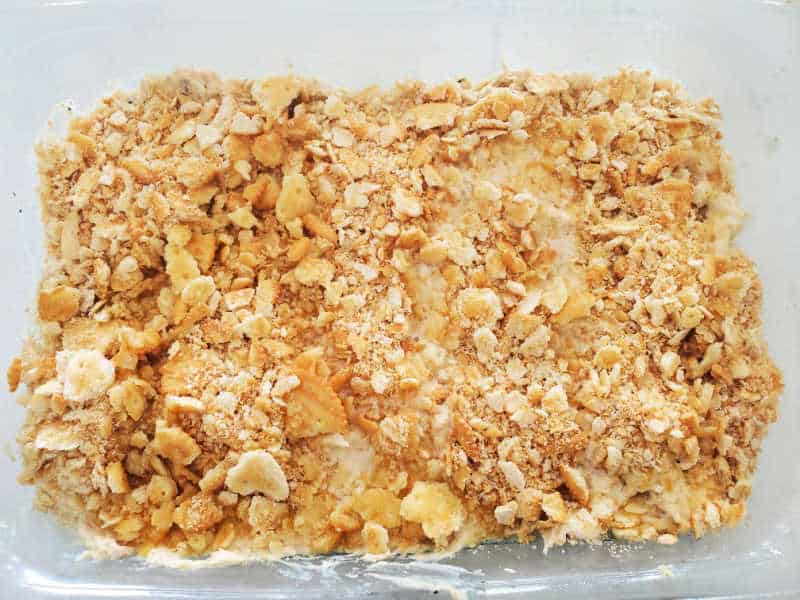 Recipe Tips
Don't forget to preheat the oven to 350 degrees.
If you want a bit more flavor added to this Ritz Chicken Casserole you can add in ½ teaspoon of onion powder, ¼ teaspoon of garlic powder, or any of your favorite seasoning blends.
For a creamier chicken mixture, you can add in cream cheese to the soup and sour cream mix to make a creamy sauce.
You can easily double this recipe so you have one chicken casserole for the freezer. You can freeze this chicken casserole baked or unbaked. Make sure to thaw the frozen casserole completely before baking it.
If you don't have Ritz Crackers you can also use bread crumbs or panko crumbs for this recipe.
Store in an Airtight container in the fridge.
Nutrition Information including calories, carbohydrates, protein, cholesterol, sodium, potassium, calcium, Vitamin C, fiber, trans fat, and more below along with printable instructions.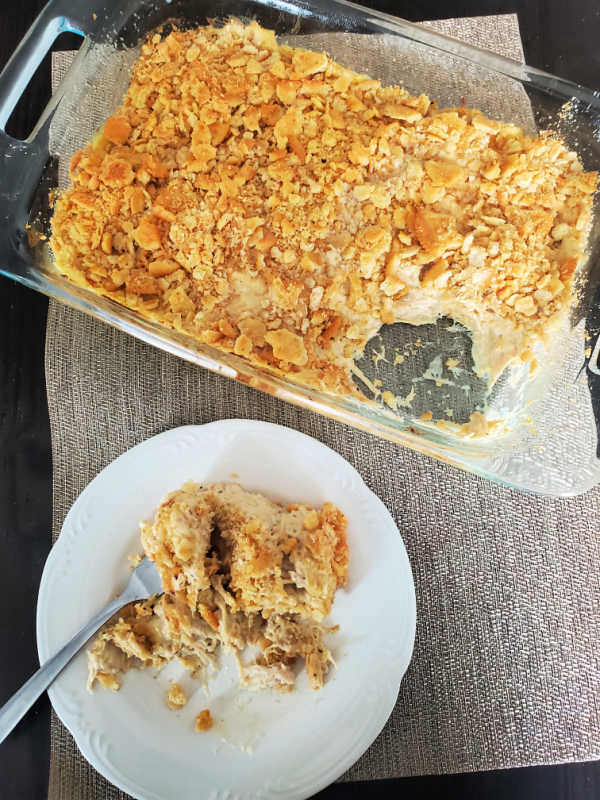 Great Dinner Recipes
Do you love recipes? Check out our copy cat recipes, dessert recipes, and our Crock Pot Recipes
Follow Tammilee Tips on MSN, Facebook, Instagram, Pinterest, and Twitter for all of our recipe posts.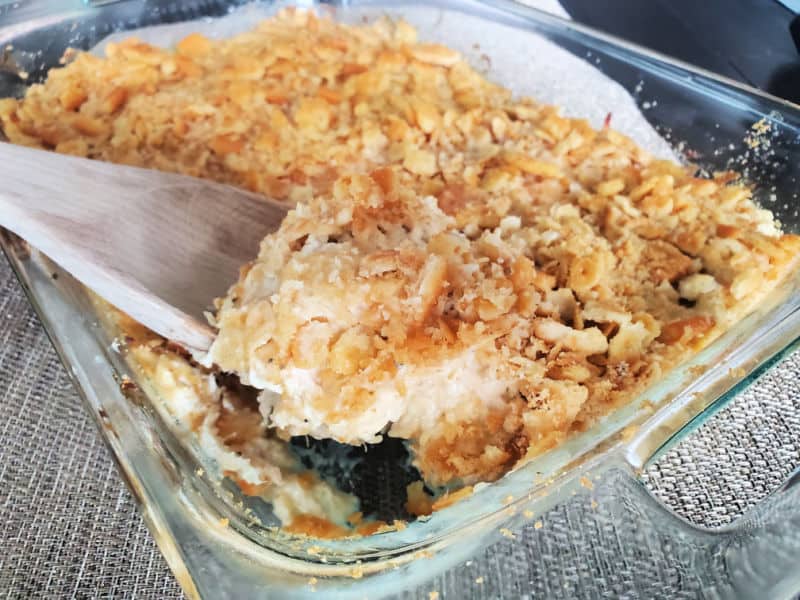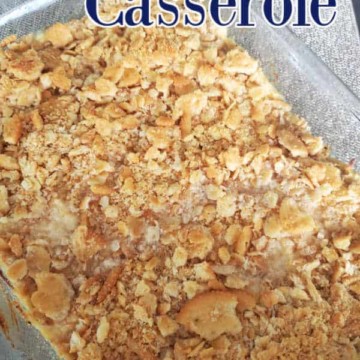 Chicken Casserole with Ritz Crackers
Easy Ritz Cracker Chicken Casserole is a great comfort food dinner that takes minutes to prepare.
Print
Rate
Instructions
Preheat oven to 350 degrees, spray baking dish with non-stick spray.

Combine cream of chicken soup, sour cream, and shredded chicken in a large bowl. Stir to combine.

Pour chicken mixture into baking dish. Top with crushed Ritz crackers and pour melted butter over the crackers.
Nutrition
Nutrition Facts
Chicken Casserole with Ritz Crackers
Amount Per Serving
Calories 255
Calories from Fat 234
% Daily Value*
Fat 26g40%
Cholesterol 65mg22%
Sodium 516mg22%
Potassium 83mg2%
Carbohydrates 5g2%
Protein 2g4%
Vitamin A 802IU16%
Vitamin C 1mg1%
Calcium 54mg5%
Iron 1mg6%
* Percent Daily Values are based on a 2000 calorie diet.