Chicken Casserole with Ritz Crackers is the perfect comfort food dinner. The combination of shredded chicken breast, sour cream, cream of chicken soup, and crushed Ritz Crackers combine to make an epic chicken casserole.

Chicken Casserole with Ritz Crackers Recipe
This Ritz Cracker Chicken Casserole is a family favorite. The perfect combination of Ritz cracker topping, chicken soup, and sour cream.
I made this as part of our weekly meal kits we take to my husband's mom and grandmother. I knew they would love the combination of shredded chicken, sour cream, and buttery Ritz Crackers. I paired this with Creamed Corn Casserole and Bisquick Peach Cobbler.
I have to tell you a funny family story...when I went over to my husband's grandmothers to drop off the meal kits his mom told me they had a big box of HoHo's someone had brought them and she wanted to know if we wanted any of them.
In my mind, I was picturing chocolate cake goodness and said yes please! I mean how can you turn down HoHO chocolate cakes.
Well, imagine my surprise when she brings out a box of Ritz Crackers and says take as many HoHo's as you like. I thought I was being punked and looked at my Husband John for help.
He shrugged his shoulders and looked at me super confused. I asked his mom where the chocolate was and she said WHAT these are HoHo's as she handed me a sleeve of Ritz Crackers.
I pointed to the Ritz Cracker name on the box and she told me well I know them as HoHo's...
You can imagine my thought process trying to go from chocolate cakes to butter crackers and not upset his mom by asking too many questions.
Now when I make this creamy Chicken Casserole with Ritz Crackers I tease my husband that he doesn't need to worry I didn't make it with chocolate cakes I made it with actual crackers.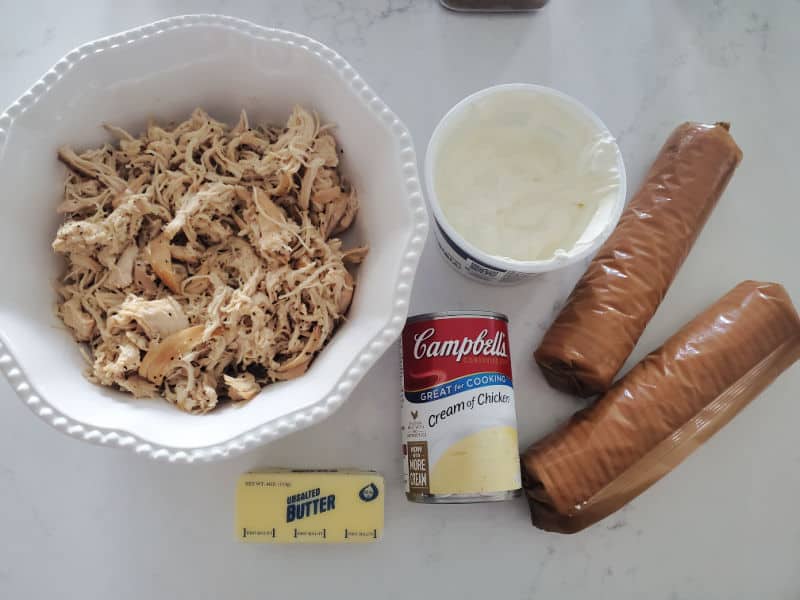 Here is a quick overview of the simple ingredients for making an epic Chicken Casserole with Ritz Crackers! The printable recipe card at the bottom of the post includes specific measurements and step-by-step instructions.
Shredded, Pre-Cooked Chicken: I make Crockpot Shredded Chicken for this recipe. You can prepare it the day before or in the morning so it is ready to throw into this casserole. 

Ritz Crackers

Butter

Condensed Cream of Chicken Soup

Salt and Pepper
Additional Toppings/Mix-Ins
If you want to change the flavor, sprinkle a cup of shredded cheddar cheese or any shredded cheese you love into the casserole or the Ritz cracker crumbs.
Add broccoli or peas to get some veggies into this Ritz Chicken Casserole.
Some people add poppy seeds to the Ritz Cracker Crumbs, but I have left them out. You can easily add in a couple of tablespoons if you enjoy them.
Optional: Top with fresh parsley or add egg noodles, basil, thyme, rice, or diced vegetables.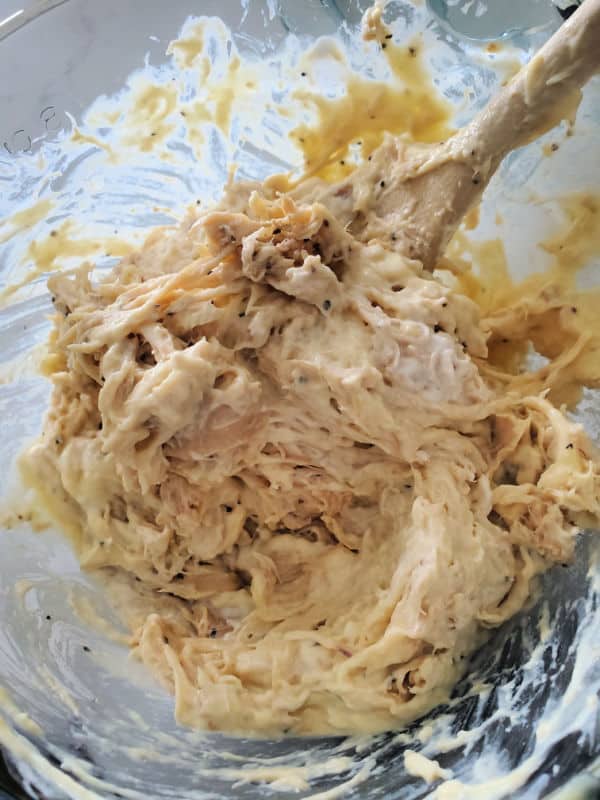 Equipment Needed
9x13 Casserole Dish

: I like to use a 9x13 baking dish for this casserole to allow room for spreading all the ingredients evenly. For a thicker version with more toppings on each piece, you can use an

8x8 baking dish

.

Large Mixing Bowl

: We are big fans of this glass batter bowl with a handle. It makes it easy to mix ingredients and keeps the mixing bowl steady on the counter.

Non-Stick Cooking Spray: This kitchen essential will make serving the chicken casserole with Ritz Crackers easier and help with clean-up.

Ziploc Bag: I try to crush the Ritz with my hand in the sleeve they come in, but you can also put them in a Ziploc bag and roll a rolling pin over them to get cracker crumbs. If you have helpers in the kitchen, they can help smash the Ritz crackers.

Microwave Silicone Cover

: I swear by these lid covers to help prevent butter splatters when melting butter in the microwave. I have had too many butter explosions while baking, and using a lid cover helps keep the butter in the bowl and not on the roof of your microwave.

Heat-Resistant Potholders

: A couple of years ago, we had a fire scare when we didn't realize we had turned a burner on, and a cloth potholder caught fire. Thankfully, we walked by the kitchen, saw the smoke, and got it out ourselves. Since then, we have only used these heat-resistant potholders.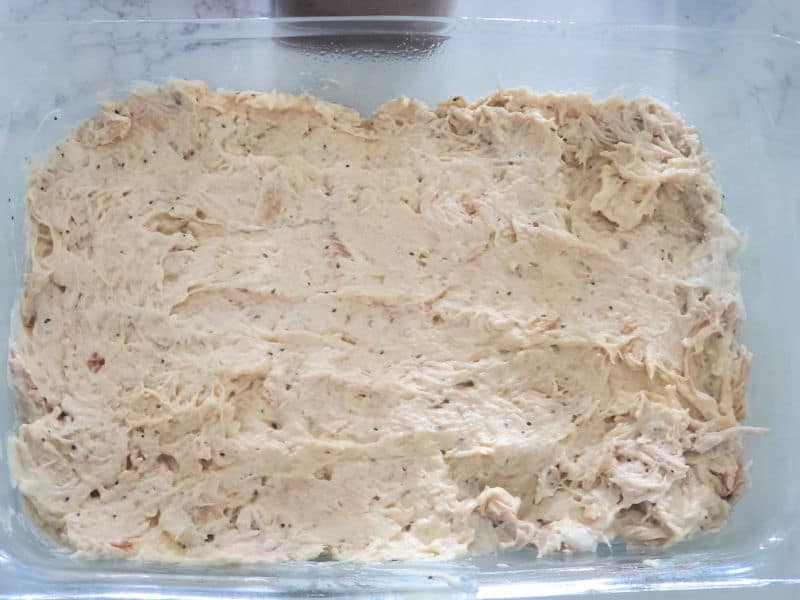 How to Make Chicken Casserole with Ritz Crackers
I've included complete instructions in the printable recipe card at the bottom of the post, but here's a quick version.
Preheat oven, and spray the baking dish with non-stick spray.

Combine cream of chicken soup, sour cream, and shredded chicken in a large bowl. Stir to combine.

Pour the chicken mixture into the baking dish. Top with crushed Ritz crackers, and pour melted butter over the crackers.

Bake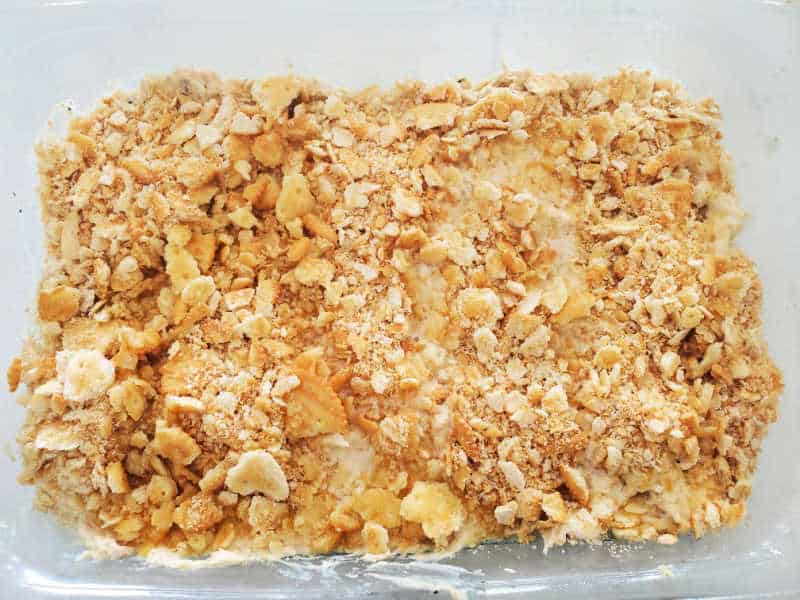 Preparation and Storage
Make-Ahead + Freezing/How to Freeze: This Ritz Cracker Chicken Casserole Recipe is make-ahead-friendly! You can freeze this chicken casserole, baked or unbaked, in an airtight Container that is a freezer-safe container, where it can remain for up to four months. Make sure to thaw it completely before baking so that it cooks evenly.
Storage: As mentioned above, always store leftovers in an airtight, freezer-safe container if you want to freeze them later. 
Store in the refrigerator in an airtight container.
How to Reheat: We microwave individual leftovers for speed and efficiency. Reheat larger portions in a foil-coved casserole dish at 350°F until just heated through so it doesn't dry out; this takes 20 to 30 minutes.
Recipe Variations
Substitutions:
If you don't have time to cook the chicken in the Crockpot, don't worry; you can tear up a rotisserie chicken and use it in this recipe. You could also use canned chicken, but you will want to add more spices.
You can use any butter cracker if you don't have Ritz crackers. This casserole would be great with flavored Ritz or Chicken in Biscuit crackers. You can use bread or panko crumbs for this recipe. Our Pringles Chicken recipe even uses potato chips as a salty, textured coating for chicken!
I use regular cream of chicken soup, but you can use cream of chicken soup with herbs or even cream of mushroom soup or celery.
You can easily substitute diced turkey or ham for the chicken in this recipe.
Vegetarian Option: Replace the chicken with your favorite chicken alternative and the cream of chicken soup with a vegetable-based variety, such as cream of potato or celery, to make this dish vegetarian-safe.
Vegan Option: If you're making this Ritz Chicken Casserole vegan, use the vegetarian suggestions above, but take them a step further with plant-based sour cream and butter substitutes.
Gluten-Free: Whether this recipe is gluten-free depends on your ingredients, so check all the nutrition labels before starting. Ritz Crackers and many condensed soups contain gluten, so seek gluten-free alternatives for these components.
Smaller Serving Size: This recipe yields six servings. Although you can scale it down for fewer servings, we like having leftovers we can eat later in the week or freeze if we don't get to them in time.
Larger Group/More Servings: You can easily double this recipe to reserve one chicken casserole for the freezer.
Sugar-Free: This Chicken Casserole with Ritz Crackers has 1 gram of sugar per serving.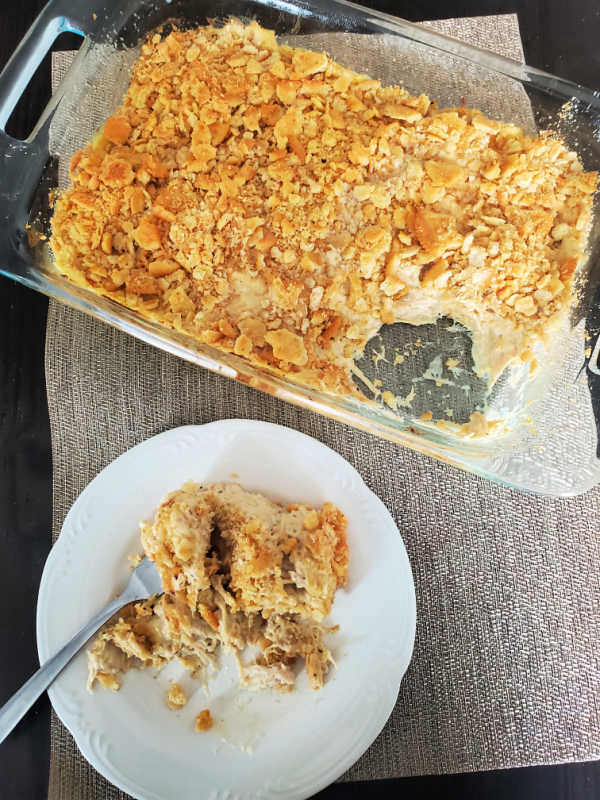 Tips for the Best Chicken Casserole with Ritz Crackers
Remember to preheat the oven to 350°F for more accurate cook time.

If you want more flavor added to this Ritz Chicken Casserole, add ½ teaspoon of onion powder, ¼ teaspoon of garlic powder, or any of your favorite seasoning blends.

For a creamier chicken mixture, you can add cream cheese to the soup and sour cream mix to make a creamy sauce.
When to Serve + What to Serve With Ritz Chicken Casserole
Whether you're overdue on your next grocery trip and need to cook with pantry staples, have leftover cooked chicken to repurpose, want an easy weeknight comfort food dinner, or don't have lots of time to prepare for a larger gathering like a potluck, there are more reasons than not to whip up an easy Ritz Chicken Casserole!
Sides: Carrot Soufflé, Creamed Corn Casserole, Southern Style Green Beans, Slow Cooker Sweet Potatoes and Apples, Loaded Mashed Slow Cooker Cauliflower, Crockpot Scalloped Potatoes and Ham, Crockpot Corn Pudding, Kale & Apple Potato Salad
Main Dishes: Cracker Barrel Broccoli Cheddar Chicken, Crock Pot Chicken Stroganoff, Stove Top Stuffing Meatloaf, Philly Cheesesteak Casserole, Crockpot Rosemary Pork, Mushroom Pasta Casserole, Crockpot Salisbury Steak, Crockpot Swedish Meatballs
Desserts: Classic Rice Krispie Treats, Ambrosia Salad, Magnolia Bakery Banana Pudding, Lemon Dump Cake, Bisquick Peach Cobbler, Salty & Sweet Ruffles Marshmallow Treats
Drinks: Cherry Limeade, Ocean Water, Frosted Lemonade, Freckled Lemonade, Passion Tea Lemonade
Great Dinner Recipes
Don't miss all of our easy casserole recipes.
Do you love recipes? Check out our copycat recipes, dessert recipes, and our CrockPot Recipes.
Follow Tammilee Tips on MSN, Facebook, Instagram, and Pinterest for our recipe posts.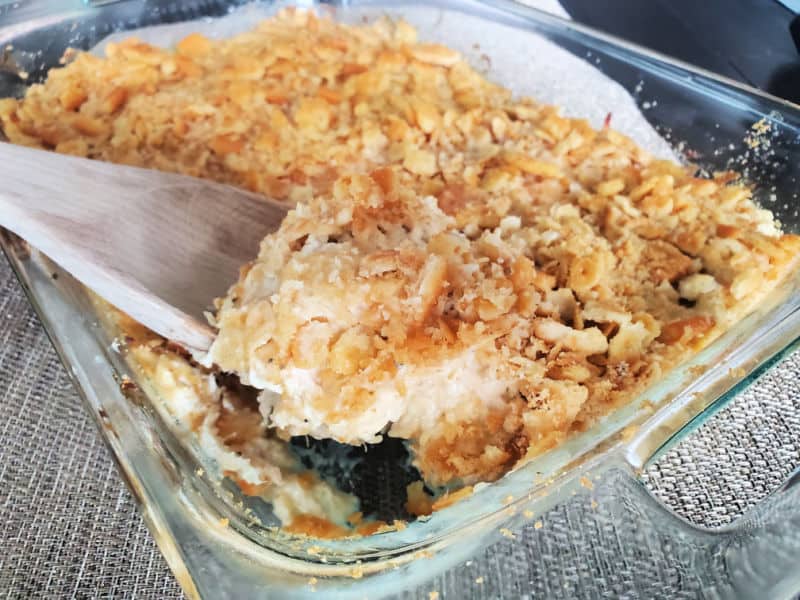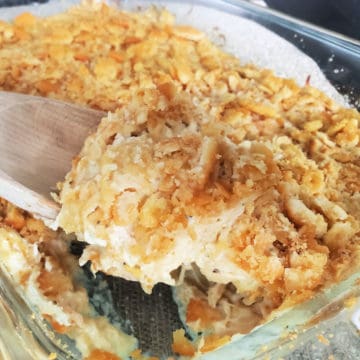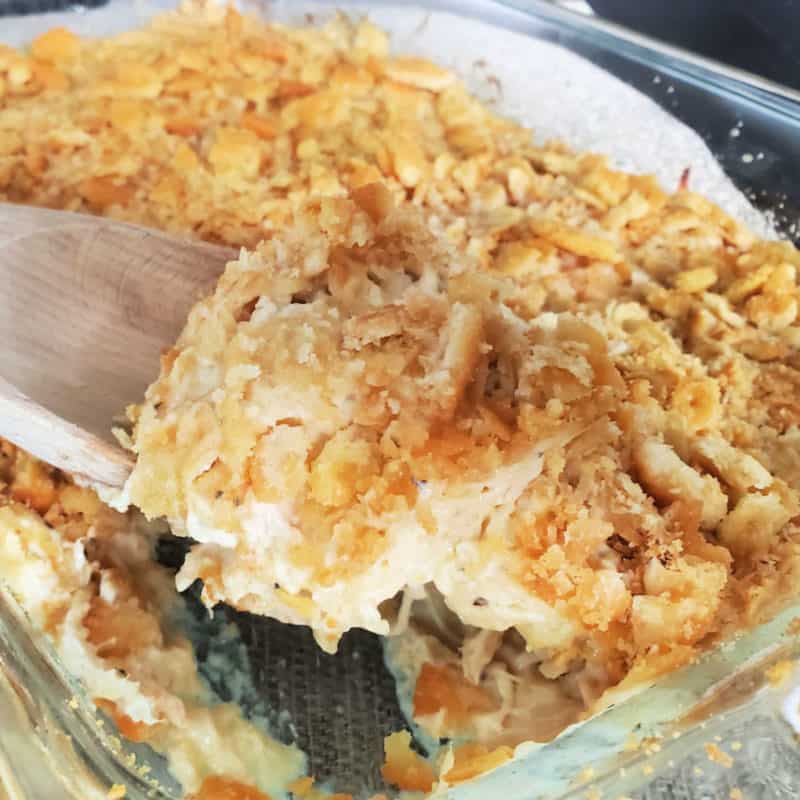 Chicken Casserole with Ritz Crackers
Easy Ritz Cracker Chicken Casserole is a great comfort food dinner that takes minutes to prepare.
Print
Rate
Instructions
Preheat oven to 350 degrees, spray baking dish with non-stick spray.

Combine cream of chicken soup, sour cream, and shredded chicken in a large bowl. Stir to combine.

Pour chicken mixture into baking dish. Top with crushed Ritz crackers and pour melted butter over the crackers.
Nutrition
Nutrition Facts
Chicken Casserole with Ritz Crackers
Amount Per Serving
Calories 255
Calories from Fat 234
% Daily Value*
Fat 26g40%
Cholesterol 65mg22%
Sodium 516mg22%
Potassium 83mg2%
Carbohydrates 5g2%
Protein 2g4%
Vitamin A 802IU16%
Vitamin C 1mg1%
Calcium 54mg5%
Iron 1mg6%
* Percent Daily Values are based on a 2000 calorie diet.