John Wayne Casserole is an easy ground beef casserole that is filled with flavor! It has a biscuit base and is loaded with diced tomatoes, onions, cheese, sour cream, taco seasoning, and more cheese! This is one of our favorite easy ground beef casseroles to make for dinner.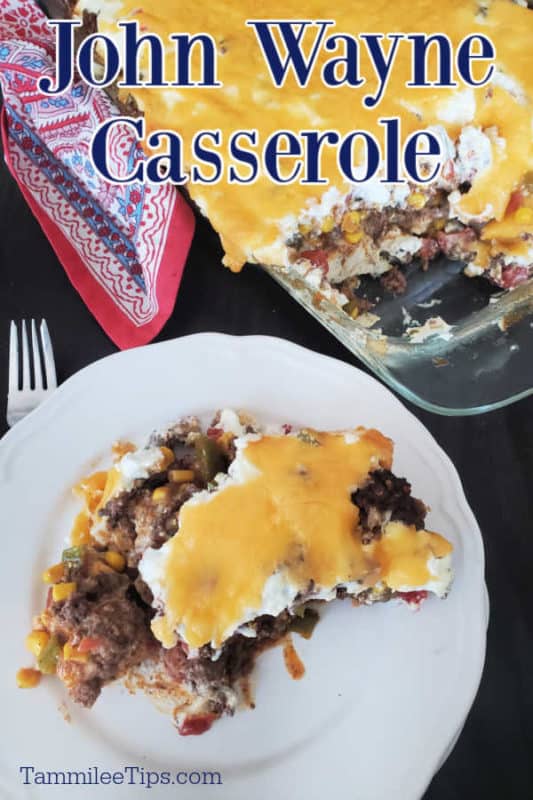 John Wayne Casserole
Named after the iconic Western actor, John Wayne Casserole is an easy ground beef casserole filled with flavor! It has a biscuit base loaded with diced tomatoes, onions, cheese, sour cream, taco seasoning, and more cheese! It is one of our favorite easy ground beef dinner casseroles.
This hearty casserole is one of our favorite comfort food dinners with ground beef. When I have hamburger ground beef in the fridge that I need to use, this is the recipe I work on. I love that you can customize it based on what you have in the house.
This casserole is similar to a beef fajita but in casserole form. I incorporate different ingredients based on what we have available. It is one of those beef casserole dishes you can easily change based on what you and your family enjoy.
I love that it has a Bisquick baking mix base that turns out amazing. It is amazing all of the things you can make with Bisquick Mix. We have been making Bisquick Waffles, Bisquick Peach Cobbler, Pancake Muffins, and Bisquick beer bread, just to name a few things.
We started buying giant boxes of Bisquick from Costco; we have been using them so much. It is so versatile and always tastes amazing. 
I found a John Wayne Cookbook on our last trip to Oakhurst, California and can't wait to dive into it! I am hoping we can make an epic cowboy casserole and more easy casserole recipes.
In reading up on this recipe it sounds like John Wayne himself contributed this casserole recipe to a 1979 cookbook titled, Cooking with Love from Cara and her Friends, compiled by author Cara Connery.
I have not seen this cookbook but now I need to find it when I am out searching for church cookbooks and old school cookbooks. They are so much fun to go through.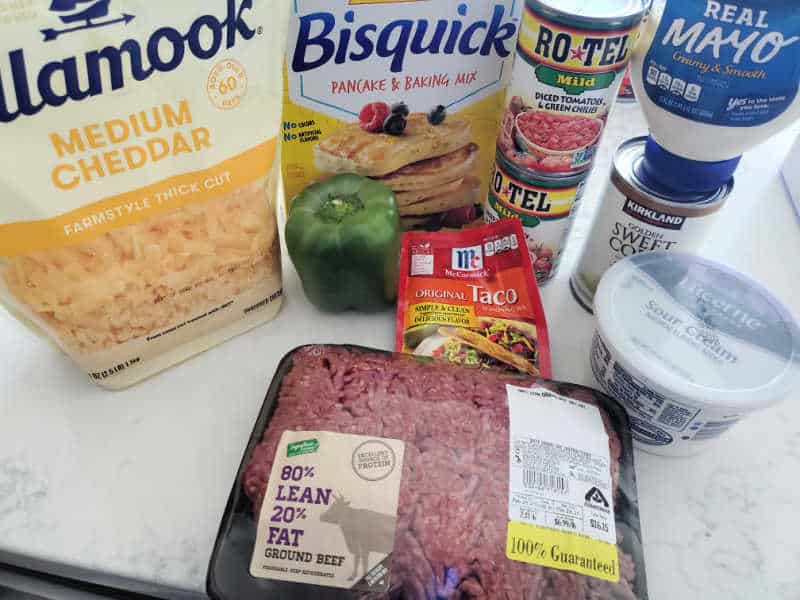 Ingredients
Here is a quick overview of the simple ingredients needed to make an epic John Wayne Casserole! The printable recipe card at the bottom of the post includes specific measurements and step-by-step instructions.
Ground Beef

Taco Seasoning

Rotel Diced Tomatoes and Green Chilies

Corn

Bisquick Biscuit Mix

Cream Cheese

Cheddar Cheese or Sharp cheddar cheese

Mayo

Red Bell peppers or Green Bell Peppers
 Optional additions - black olives, black beans, jalapeño peppers ( just make sure there is space for them in the casserole dish)
Equipment Needed
Large Skillet

Large Spoon

Large Mixing Bowl

: We are big fans of this glass batter bowl with a handle. It makes it easy to mix ingredients and keeps the mixing bowl steady on the counter.

Hamburger Chopper

- I love using the hamburger mix and chop to break up ground beef while cooking. I use this tool for a ton of recipes. It is one of my most used kitchen tools.

Heat-Resistant Potholders

: A couple of years ago, we had a fire scare when we didn't realize we had turned a burner on, and a cloth potholder caught fire. Thankfully, we walked by the kitchen, saw the smoke, and got it out ourselves. Since then, we have only used these heat-resistant potholders.

Non-Stick Cooking Spray: I use nonstick spray on the casserole dish to make it easier to serve. I also add it to my hands when pushing the Bisquick dough into the casserole dish.

Spider Strainer

: I love using a spider strainer to drain the ground beef easily

Baking Sheets

: We are huge fans of these baking sheets with sides. They help contain any sour cream mixture that may ooze over the top of the dish as it cooks and the biscuit crust cooks. 
How to make John Wayne Casserole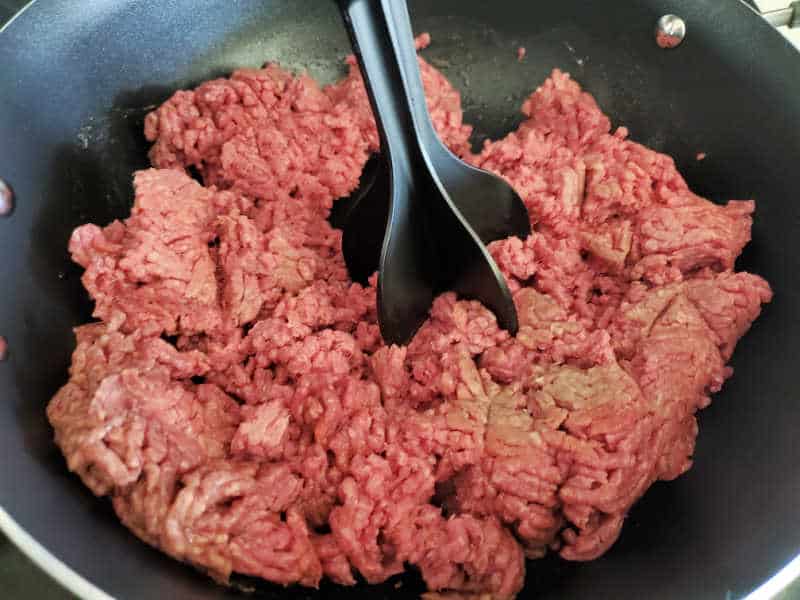 Brown the beef and add taco seasoning and water. I use a Hamburger Chopper to break up the ground beef and mix in the packet taco seasoning.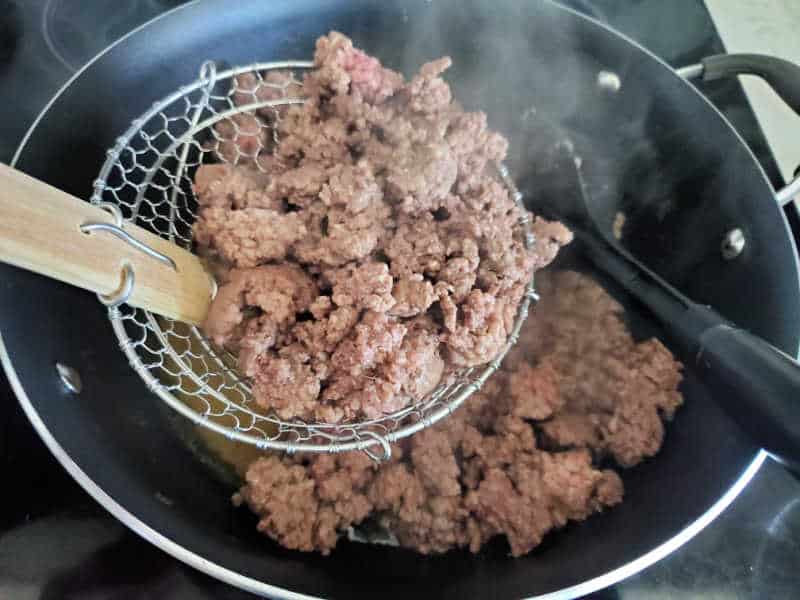 Use a spider strainer to remove the ground beef from the pan and drain the fat and grease out before adding the rest of the ingredients.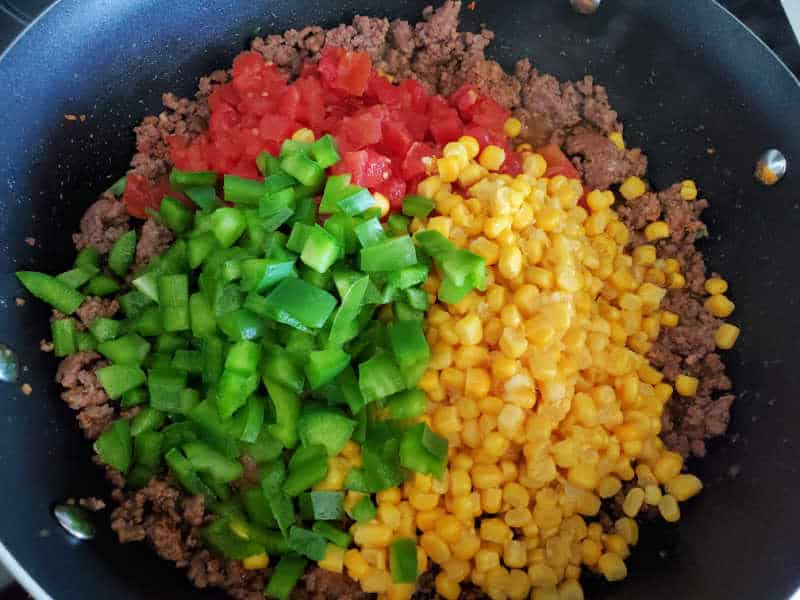 Add in Rotel, canned corn, and cook together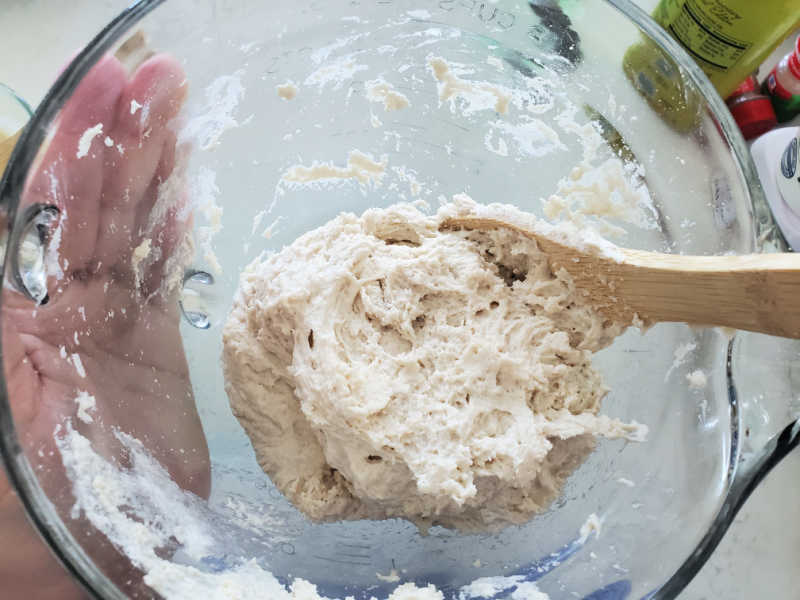 While this is cooking combine Bisquick biscuit mix and water in a mixing bowl until a soft dough ball forms. Pat dough into the bottom of a greased casserole dish.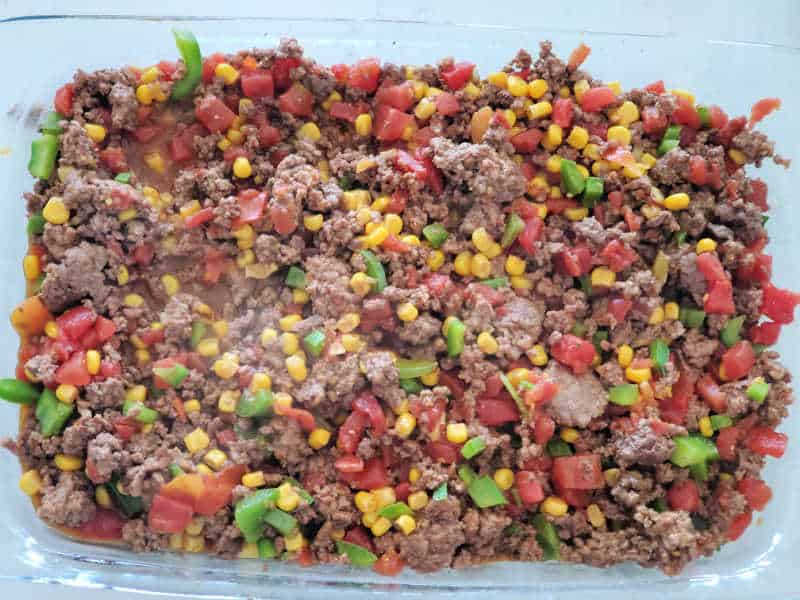 Top biscuit dough with the browned ground beef and veggies and spread it evenly over the dough.
In a separate bowl combine sour cream and mayonnaise together until smooth. Spread cream cheese mixture over the brown ground beef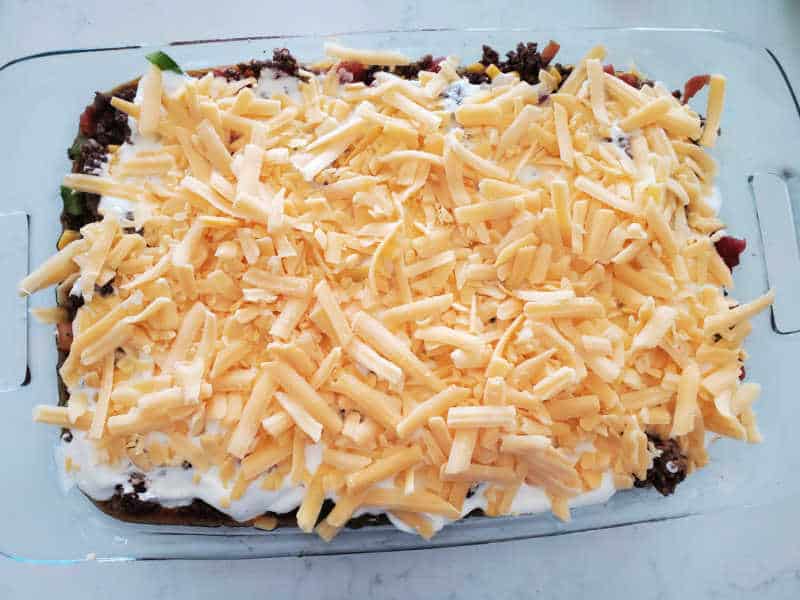 Top with cheddar cheese and bake! I highly suggest putting a baking sheet under the casserole dish to catch any drips or spills that may occur when this is baking. I fill my casserole dish to the top and it tends to drop over the side.
One thing to take into consideration is when the Bisquick dough bakes the other layers of ingredients inch up the sides of the casserole dish.
If the cheddar cheese starts to get a little to golden you can cover the dish with tented aluminum foil.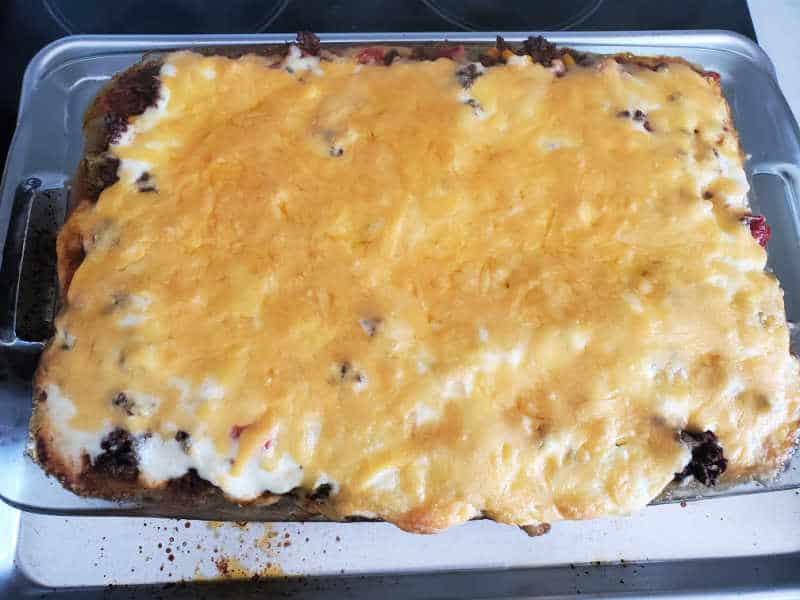 Allow the John Wayne Casserole to sit for a few minutes before serving.
Preparation and Storage
Make-Ahead + Storage: Casseroles are incredibly make-ahead-friendly, and this John Wayne Casserole is no exception! Prepare the recipe until the baking step, Cover the prepared baking dish, then refrigerate it in an airtight container for up to three days.
Freezing/How to Freeze: Freeze your leftover casserole in an airtight, freezer-safe container or a double layer of plastic wrap and foil for up to three months. We don't recommend freezing unbaked meat casseroles for food safety reasons unless you use a plant-based meat alternative.
How to Reheat: Individual refrigerated leftovers microwave easily; ensure each portion is heated thoroughly. For even cooking, thaw frozen leftovers in the fridge until visibly unfrozen.
Recipe Variations
Substitutions:
Ground Beef: You can easily change the ground beef to ground turkey, ground chicken, or a meat alternative like Beyond Beef.
Cheddar Cheese: Feel free to change out the cheddar cheese for Colby Jack, mozzarella, pepper jack cheese, or any mix of cheeses.
Vegetarian + Vegan Options: Make this recipe vegetarian by swapping the ground beef for an alternative, such as Beyond Meat. Vegans should also use plant-based sour cream, mayonnaise, and cheese substitutes. Bisquick Baking Mix is vegan if you use suitable milk and egg substitutes.
Gluten-Free: Gluten-free diners can use Bisquick's gluten-free baking mix.
Make it Spicy: I use mild Rotel and one regular taco seasoning packet from the grocery store, but you can use a spicy variety of both if you don't mind the heat.
Sugar-Free: The written recipe contains 12 grams of sugar. We're unsure whether it's possible to make it sugar-free, but you can use ingredients with the lowest sugar content to decrease the amount you consume.
Tips for the Best John Wayne Casserole
Remember to preheat your oven. This step is essential to accurate cooking time.

Feel free to add diced red peppers.

If you don't have a biscuit mix, you can easily make this with Pillsbury Grands biscuits spread on the bottom of the baking dish. Just make sure to push them together so they fill the pan. You will want to bake them for half their normal baking time to set them in the bottom of the casserole dish before adding the beef mixture.

Put a baking sheet under your casserole dish in the oven. When the Bisquick dough bakes, it pushes the other ingredients higher and higher in the pan, which may cause some toppings and casserole juices to spill over the side.

I didn't add onions to the recipe because I ran out. You can easily add a cup of diced onions and cook them with ground beef to soften them and add yummy flavor to your meat.

Our John Wayne Casserole Recipe does not have potatoes, tater tots, or tomato slices. I wonder if the original John Wayne Casserole Recipe had these variations.

Find this recipe and other featured homecooked delights in our

cream cheese recipe

collection.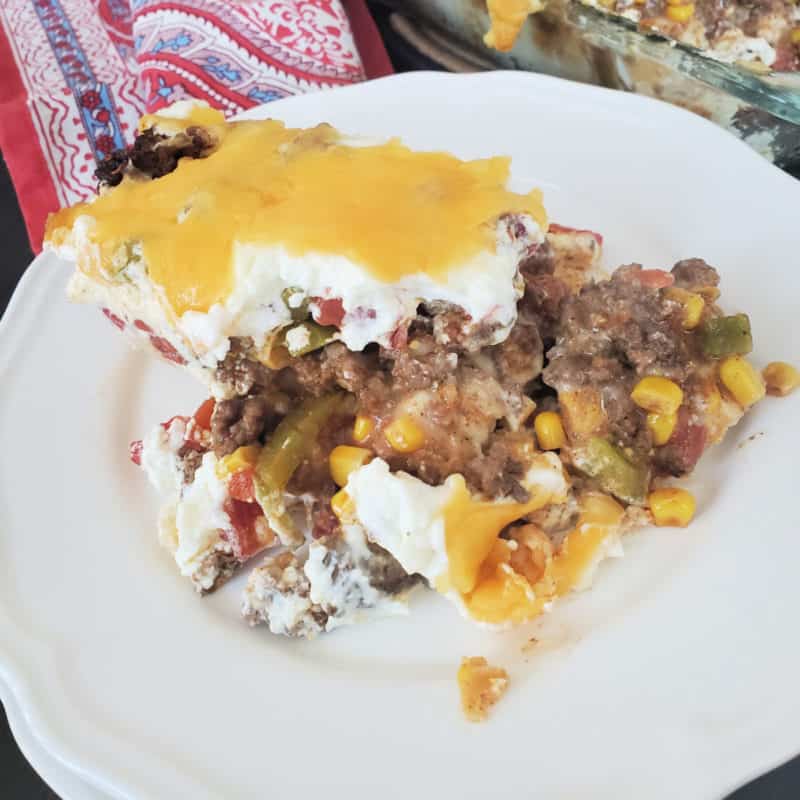 When to Serve + What to Serve With John Wayne Casserole
Hearty and filling, John Wayne Casserole is the perfect breakfast, brunch, or breakfast-for-dinner meal in a casserole dish! Here are some menu planning ideas.
Sides: 2 Ingredient Cinnamon Roll Apple Pie Cups, Sausage Breakfast Biscuit Cups, Cinnamon Roll Waffles, Bacon Gravy, Easy Pancake Muffins, Crock Pot Cinnamon Roll Monkey Bread, Easy Homemade Banana Bread
Main Dishes: Easy German Apple Pancake, French Toast Casserole, Crock Pot Peaches & Cream Oatmeal, Apple & Raisin French Toast, Cracker Barrel Pecan Pancakes, Crock Pot Carrot Cake Oatmeal
Desserts: Air Fryer Donuts, Lemon Dutch Baby, Cinnamon & Sugar Crescents, Raspberry Coffee Cake, Biscuit Donuts
Great Dinner Recipes
Ham and Cheese Crescent Roll Casserole
Chicken Casserole with Ritz Crackers
Spaghetti Stuffed Garlic Bread
Check out all of our Rotel Recipes and Bisquick Recipes  we are working on a ton of easy casseroles recipes perfect for family dinner.
Do you love recipes? Check out our copy cat recipes, dessert recipes, and our Crock Pot Recipes.
Follow Tammilee Tips on MSN, Facebook, Instagram, Pinterest, and Twitter for all of our recipe posts.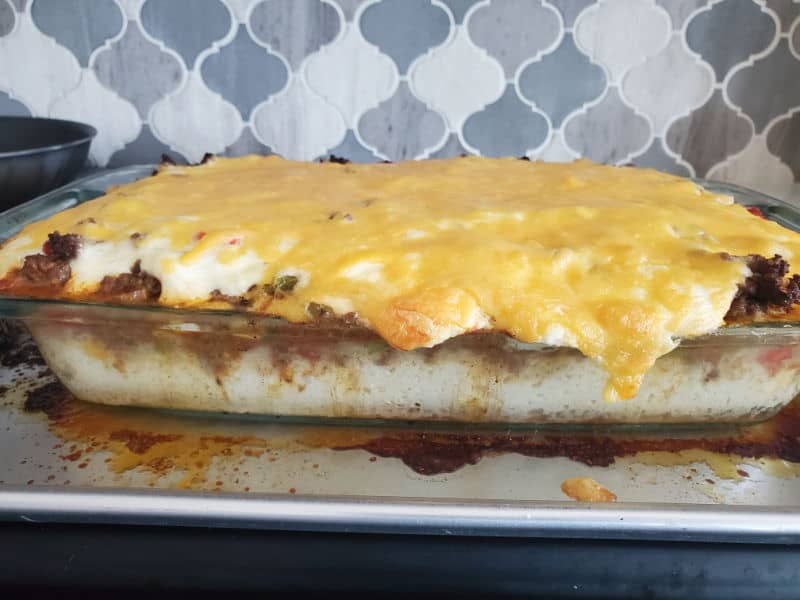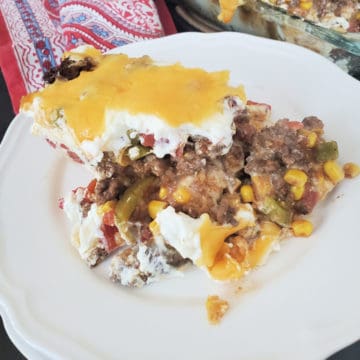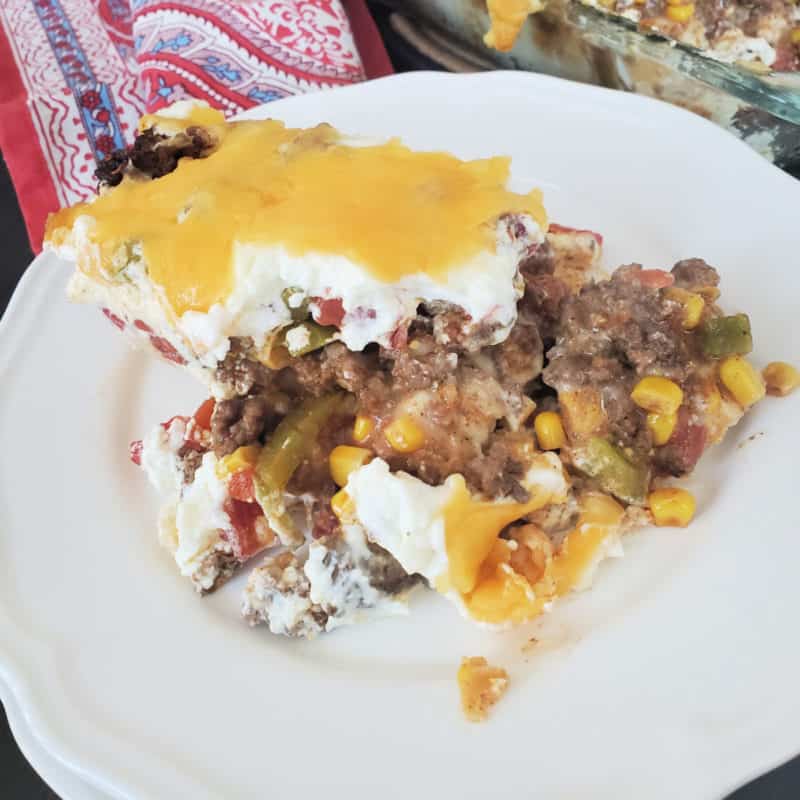 John Wayne Casserole Recipe
Delicious John Wayne Casserole is an easy ground beef casserole packed with flavor. A biscuit base is loaded with hamburger, tomatoes, chilies, taco seasoning, corn and cheese to make a flavorful delicious comfort food dinner.
Print
Rate
Instructions
Preheat Oven to 325 degrees

Brown ground beef in a large pan over medium heat. Break up the ground beef as it cooks

Remove the ground beef and drain the grease from the pan. Add the ground beef back into the pan and top with taco seasoning and add in 1 cup of water.

Simmer for 5 minutes. Add in the Rotel, Green Pepper, and Corn and mix into the ground beef.

Combine Bisquick Baking Mix and Water and stir until a dough ball forms.

Grease a 9x13 pan with nonstick spray. Spread Bisquick dough out evenly into the pan.

Combine sour cream, mayonaise, onion poweder, and salt in a bowl and mix together. Set to th side

Pour ground beef mixture over the bisquick dough and spread evenly. Spread sour cream mayo mixture over the beef mixture evenly. Top with cheddar cheese.

Place casserole dish on top of a baking sheet with sides and bake for 40 minutes. Remove casserole from the oven and allow to sit for a few minutes before serving.
Nutrition
Nutrition Facts
John Wayne Casserole Recipe
Amount Per Serving
Calories 904
Calories from Fat 594
% Daily Value*
Fat 66g102%
Cholesterol 132mg44%
Sodium 1778mg77%
Potassium 683mg20%
Carbohydrates 48g16%
Protein 32g64%
Vitamin A 1234IU25%
Vitamin C 24mg29%
Calcium 469mg47%
Iron 5mg28%
* Percent Daily Values are based on a 2000 calorie diet.