I am hooked on Muddy Buddies...These are just way to simple to make and taste amazing.
Today we are sharing Hot Chocolate Muddy Buddies or as I hear they are also called Hot Chocolate Puppy Chow.
I am still at odds with the puppy chow name. I just can't bring myself to say that I am serving puppy chow at a party or to my friends. It just feels wrong.
My love of Muddy Buddies started with the Apple Cider Muddy Buddies recipe we shared a few weeks ago. Ever since then I have been having so much fun making new recipes.
These are just so dang easy to make that they are the perfect holiday treat.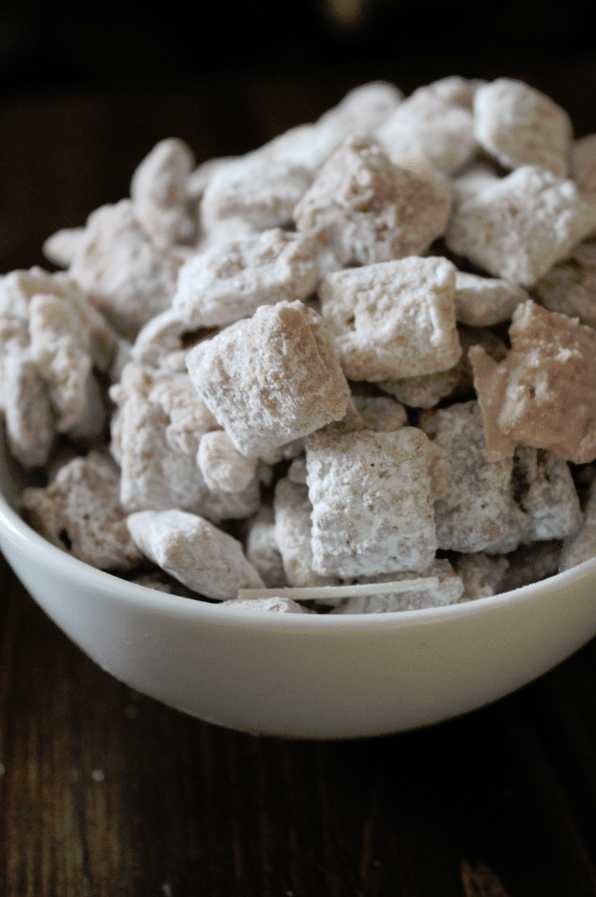 We had a discussion on our Facebook page about whether to call these Muddy Buddies or Puppy Chow. Where do you fall in this hard core discussion of food names?
 Hot Chocolate Muddy Buddies
Ingredients
1 box Vanilla Chex Cereal
1 package Vanilla Almond Bark
2 envelops hot cocoa mix with mini marshmallows
1 1/2 cups powdered sugar
Directions
1. Divide Vanilla Chex into 2 1-gallon size zippered bags
2. Pour hot cocoa mix into the bag and shake it all about
3. Melt Almond Bark according to package instructions. Once melted pour half in each bag, shake it all about again
4. Pour powdered sugar over the top and zip up the bag tightly because it is time to shake it all about again
5. Place in a serving bowl and enjoy
Step #5 is a really important step. Not to take anything away from zipping the bag so powdered sugar doesn't fly all over the place and you become coated but I skipped step #5 with one of the bags and sadly it did not go well.
It seems if you leave a portion of your hot chocolate muddy buddies in the bag over night they all fall deeply madly in love with each other and become one big bonded group of muddy buddies that do not like parting from each other. They have wrapped their arms around each other and are holding on tight in one giant muddy buddy brick.......
Do you love recipes? Check out our copy cat recipes, dessert recipes, and our Crock Pot Recipes.