How to make Smores in the Oven! This easy recipe is the perfect way to make Smores at home! You can have your favorite camping treat in minutes straight from the oven with no open fires needed.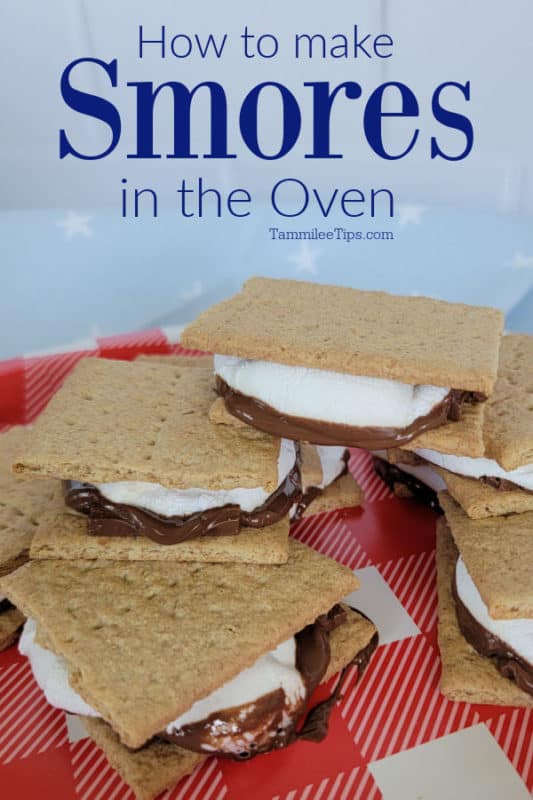 How to make Smores in the Oven
There are days you just crave smores but may not be able to make a fire or cook them outdoors.
Indoor Smores are the perfect way to enjoy classic Smores without having to build a fire.
My husband was a park ranger for 20 years and spent a lot of time enjoying smores while working in the campground. Now that he is retired and writing about parks he still loves to enjoy Smores.
While we have a fire ring and can make a fire most of the year we also live in an area that has fire restrictions for most of the summer due to wildfires.
I started making smores in the oven so we could still enjoy this classic summer treat even during fire restrictions. The best part of this recipe is you can make anywhere from 1 smores to 20+ depending on the size of your pan.
This is a great way to prepare smores for a large party or event. You can have a bunch of smores ready at the same time. Plus you don't have to worry about flaming marshmallow balls of fire from making them on the campfire.
When I was a camp counselor the scariest part of our days was making smores over a campfire. I was always worried the kids would catch the marshmallows on fire and fling a marshmallow covered in flames into the woods.
While making smores over a fire pit or bonfire is amazing I love that oven smores can be made year-round.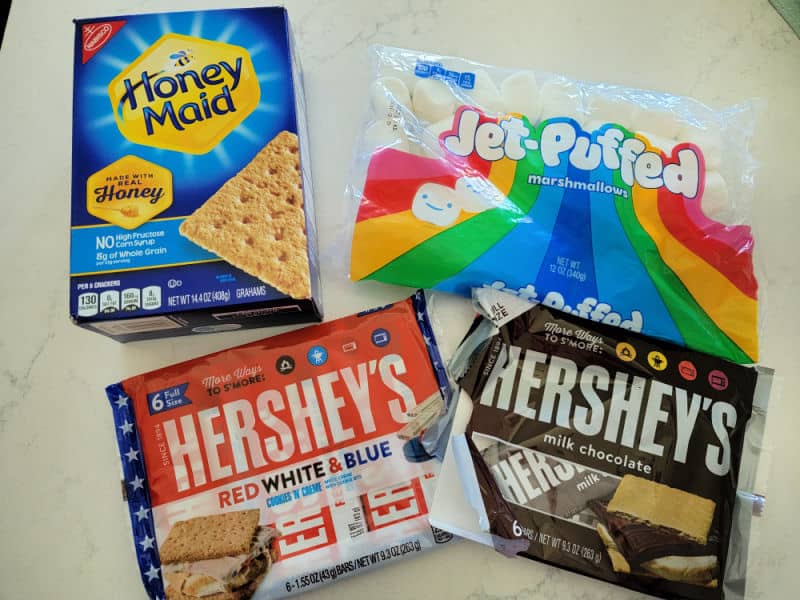 Ingredients
Graham Crackers
Marshmallows
Hershey Chocolate Bars
For a fun twist on smores, you can change up the milk chocolate pieces and try using white chocolate chips, peanut butter cups, dark chocolate, or any chocolate that will fit on the graham crackers.
We use regular graham crackers, but you can use cinnamon, honey, organic, or chocolate graham crackers. Go crazy and try oven smores with pretzel crisps or another fun smores variations.
Equipment Needed
Baking Sheets - We are huge fans of this sheet pan with sides. You don't have to worry; you will remove the smores from the oven and have them slide right off.
A cast iron skillet can also be used; just make sure you have a spatula to remove the smores from the hot pan.
Parchment Paper - Parchment paper is your BFF when it comes to easy clean up and serving these oven smores. You can slide the parchment paper onto a serving platter and everyone can dive in.
You can also use aluminum foil to make clean-up easier.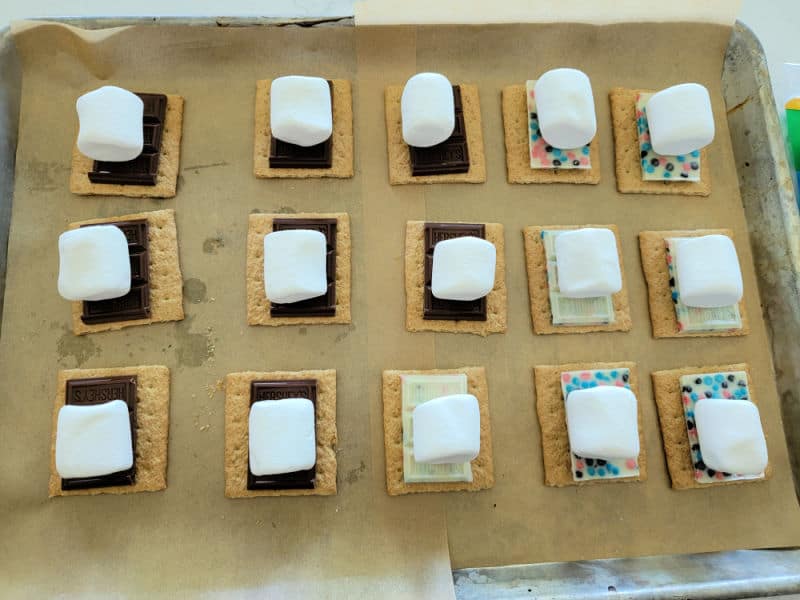 Step 1 - Pre-heat oven to 400 degrees
Line a baking sheet with parchment paper and place graham crackers in a single layer evenly spread out. Top with your chocolate of choice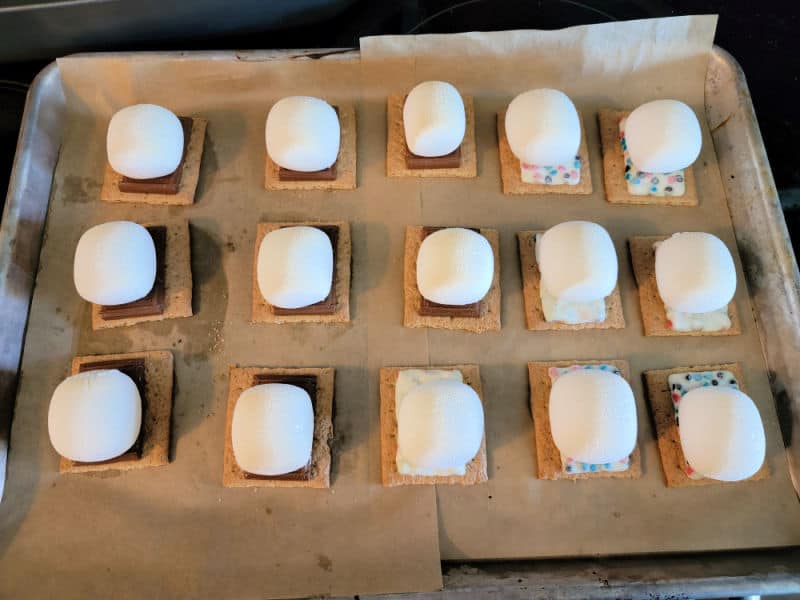 Step 2 - Add a large marshmallow on top and bake for 3-5 minutes until the marshmallow is puffy and starts to brown.
If you prefer your marshmallows a bit more burnt you can turn on the broil and watch closely to get the perfect golden brown color you love.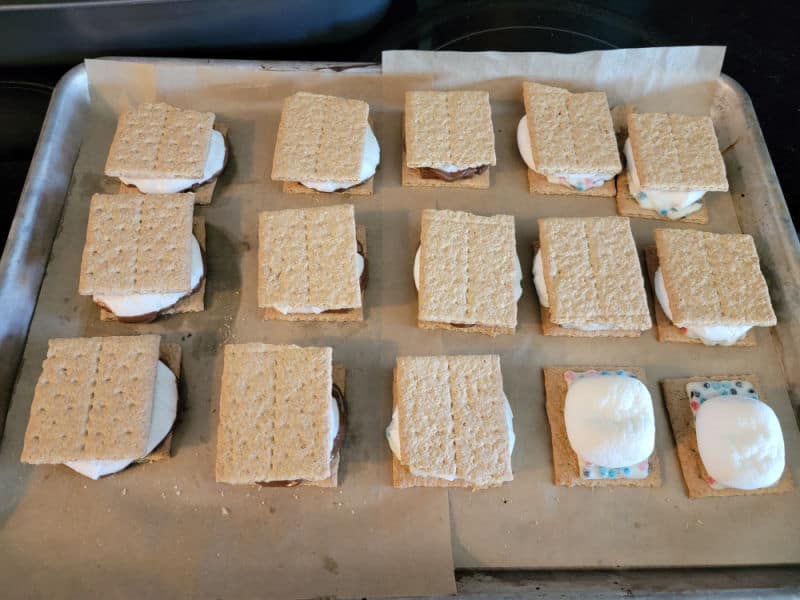 Step 3 -  Remove from the oven and top with remaining graham crackers and enjoy!
If you are serving these to kids make sure they are prepared for the marshmallows to be hot.
Recipe Tips
Make sure to keep an eye on your smores in the oven so they do not burn.
You can change up the chocolate to your favorite candy bars. We used a mix of 4th of July red white and blue chocolate bars and regular Hershey bars for these photos.
Printable recipe card instructions are below.
Nutrition information, including calories, protein, calcium, carbohydrates, fiber, vitamin c, potassium, cholesterol, sodium, trans fat, monounsaturated fat, polyunsaturated fat, and more, will vary depending on the products used.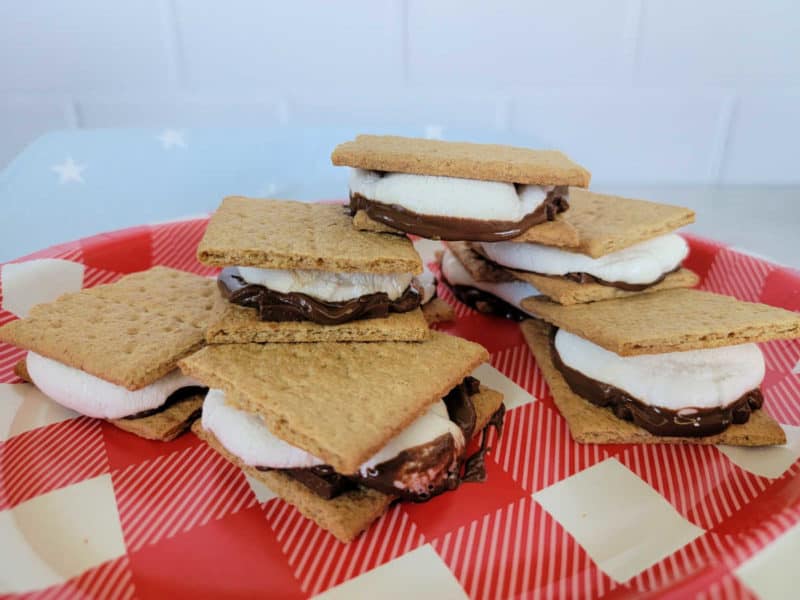 Great Dessert Recipes
Check out all of our Dessert Recipes
Do you love recipes? Check out our copycat recipes, dessert recipes, and our CrockPot Recipes.
Follow Tammilee Tips on MSN, Facebook, Instagram, Twitter, and Pinterest, for all of our recipe posts.
Share with hashtag #TammileeTips on social media.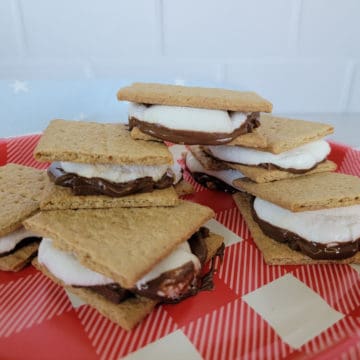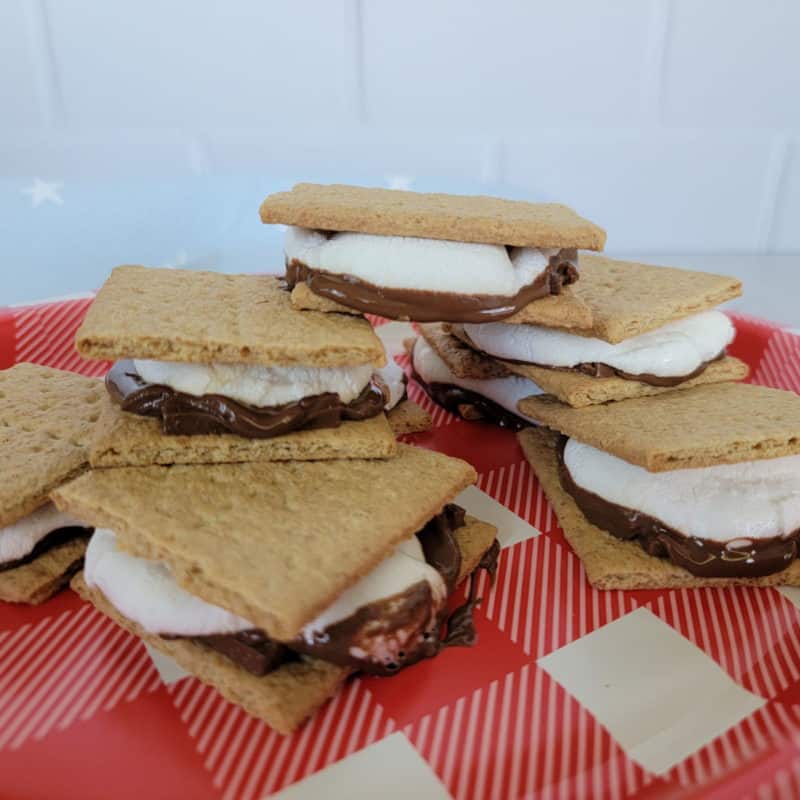 How to make Smores in the Oven
How to make Smores in the Oven so you can enjoy them year-round. So easy to make and they taste amazing
Print
Rate
Instructions
Preheat oven to 400 degrees

Line a baking sheet with parchment paper, Spread graham cracker halfs on the baking sheet

Top graham crackers with a piece of chocolate and marshmallow

Carefully place the baking sheet in the oven and bake for 3-5 minutes until the marshmallows are puffy and starting to turn golden brown.

Remove the baking sheet from the oven and top the marshmallows with the 2nd piece of graham cracker.
Nutrition
Nutrition Facts
How to make Smores in the Oven
Amount Per Serving
Calories 129
Calories from Fat 45
% Daily Value*
Fat 5g8%
Sodium 99mg4%
Potassium 52mg1%
Carbohydrates 22g7%
Protein 1g2%
Calcium 14mg1%
Iron 1mg6%
* Percent Daily Values are based on a 2000 calorie diet.