Easy Oreo Poke Cake is the perfect cookies and cream chocolate cake everyone will love. Super easy to make with a boxed chocolate cake mix, topped with cookies and cream pudding, and whipped Oreo topping.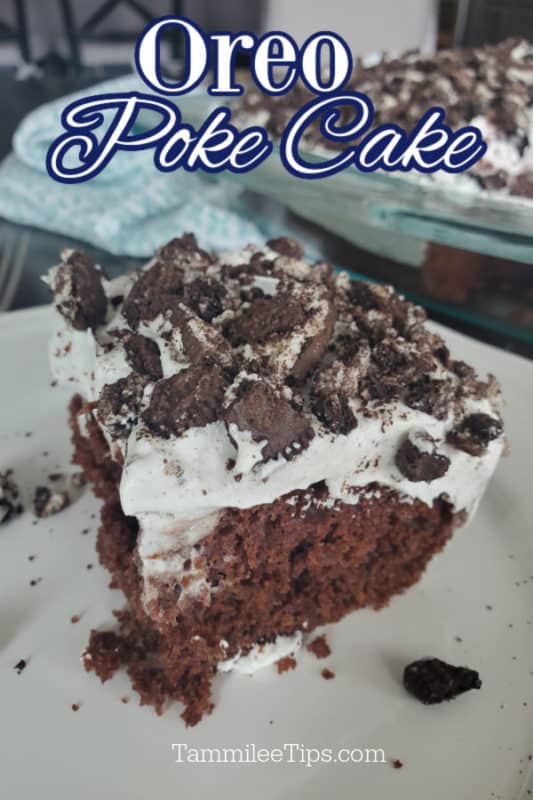 Oreo Poke Cake Recipe
I have been on an Oreo baking kick. It all started when I was at the local grocery store and there was a killer deal on Oreo's. I stocked up on way to many packages and then decided it was time to make some new favorites to share with everyone.
Did you see the Oreo Fluff I shared a few weeks ago? Hello YUM!
I also make Oreo Rice Krispie Treats and have a few other recipes almost ready to share with everyone.
If you love poke cakes don't miss this epic banana pudding poke cake and Strawberry Poke Cake.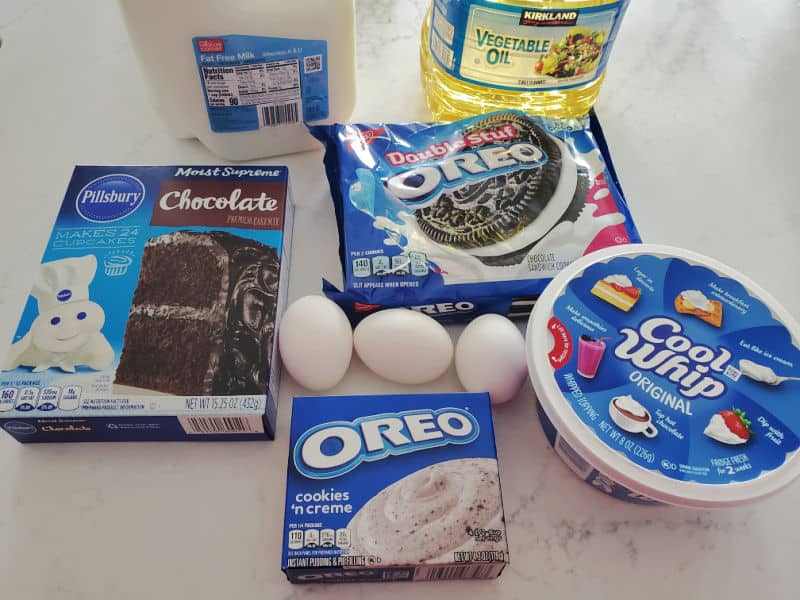 Ingredients
Chocolate Cake Mix + Ingredients needed according to the box (Normally oil, eggs, and water)
Milk
Oreo Cookies
Cool Whip Frozen Whipped Topping
Chocolate Cake Mix - You can use your favorite chocolate cake mix for this recipe. I grab whatever we have available in the pantry.
Oreo Cookies and Cream Instant Pudding - You can find this normally in the baking aisle with the other types of instant pudding. If you can't find it you could use a vanilla instant pudding and add crushed Oreos as an option.
Milk - I use whatever we have in the house. I have only tried this with regular milk and have not tried it with any non-dairy kinds of milk.
Oreo Cookies - You can use any flavor of Oreos you love. I tend to stick to original or Double Stuff but feel free to change it up.
Cool Whip - Make sure to plan time for the Cool Whip to defrost in the fridge so it is ready to use. Check out all of our Cool Whip Recipes.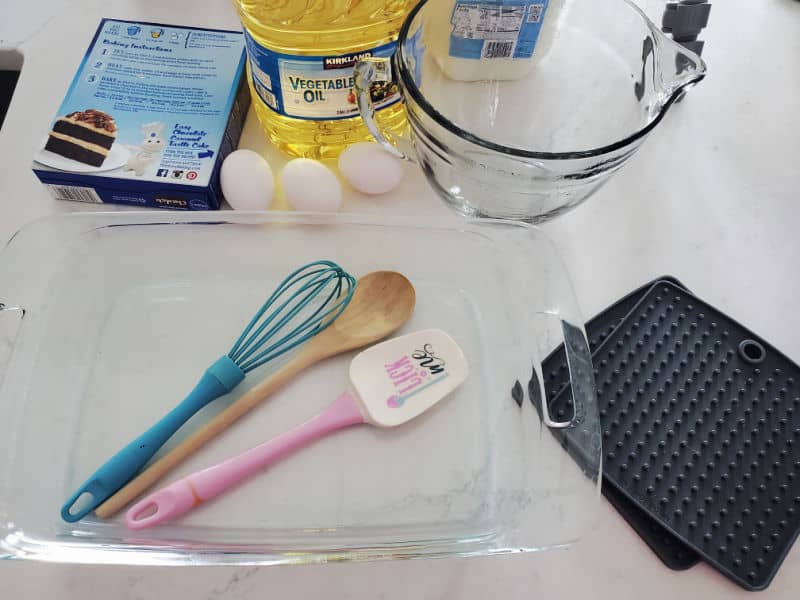 Equipment Needed
Large Mixing Bowl - We are big fans of this glass batter bowl that has a handle. It makes it easy to mix ingredients and keeps the mixing bowl steady on the counter.
Medium Mixing Bowl - to mix the pudding mixture in and then the whipped topping in. Make sure your bowl is big enough to handle everything. The last time I made this I was super close to the top of the bowl and made a mess.
Whisk/spatula - whichever you prefer for mixing things together and to spread the whipped topping.
Wooden Spoon - The end of a wooden spoon is the perfect kitchen tool to get even holes into your cake.
Non-stick spray - this will help make it a lot easier to remove the cake from the pan.
Aluminum Foil - To cover the dish while it rests in the fridge.
Heat resistant potholders - A couple of years ago we had a fire scare when we didn't realize we had turned a burner on and a cloth potholder caught fire. Thankfully we walked by the kitchen and saw the smoke and were able to get it out ourselves. Since then we have only used these heat-resistant potholders.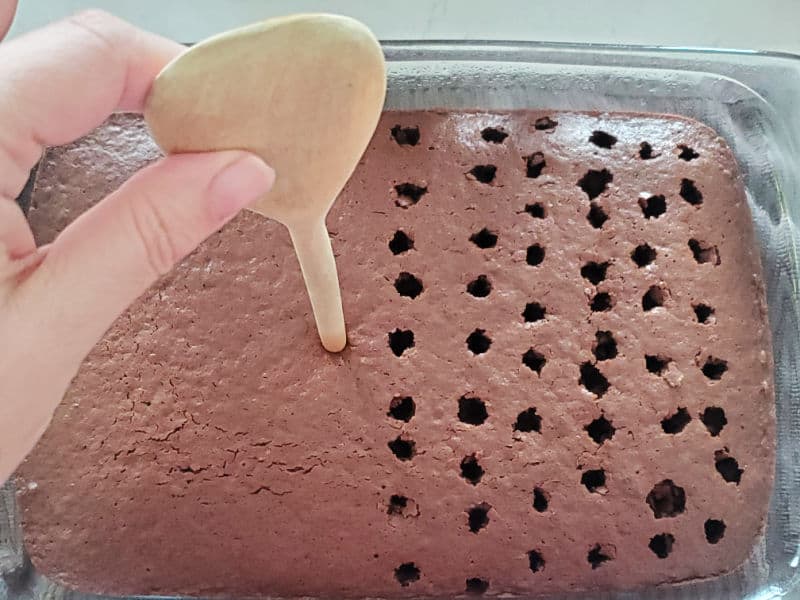 Recipe Tips
Don't forget to preheat the oven to 350 degrees.
You can use any chocolate cake mix that you love. We used a basic chocolate cake mix but you can use a German Chocolate cake mix, Devils Food Cake Mix or change it up and make a red velvet Oreo Poke Cake for something completely different.
You just want to bake the cake according to the box directions.
The end of a wooden spoon works great for poking holes in the cake. Try to get at least 50% down into the cake so the pudding soaks all the way through and you get a really moist delicious chocolate poke cake.
Try to poke the holes in a warm cake so it is easier to get them into the cake without it falling apart.
Evenly spread the pudding mixture over the top and corners.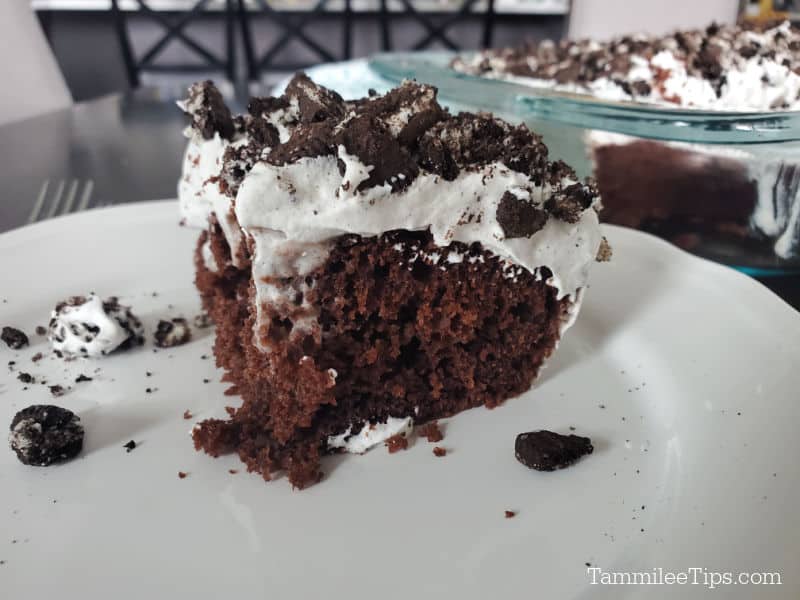 You can crush the Oreos in a ziploc bag with a rolling pin or by hand whichever works best for you. I have friends who will use a food processor but I like it with thicker chunks of Oreos that show in the topping.
If you can't find Oreo Pudding in your grocery store you can use vanilla or cheesecake pudding and mix in crushed Oreos to make the pudding mixture or just leave the Oreos out and add them to the top of the cake.
Make sure to plan a couple of hours for the cake to cool and set in the refrigerator while the pudding mixture soaks in.
Sprinkle the Oreos over the whipped cream topping at the last minute to keep the Oreos from getting soggy and not crunch.
You can easily make this cake a day ahead of time. This will help the pudding mixture really soak into the cake and save you stress when you need to be at a potluck or birthday party on time.
Leftovers should be refrigerated.
For even more decadence you can add in chocolate chips, drizzle with chocolate or caramel syrup, or top with chocolate icing. This oreo pudding poke cake can be customized with your favorite flavors.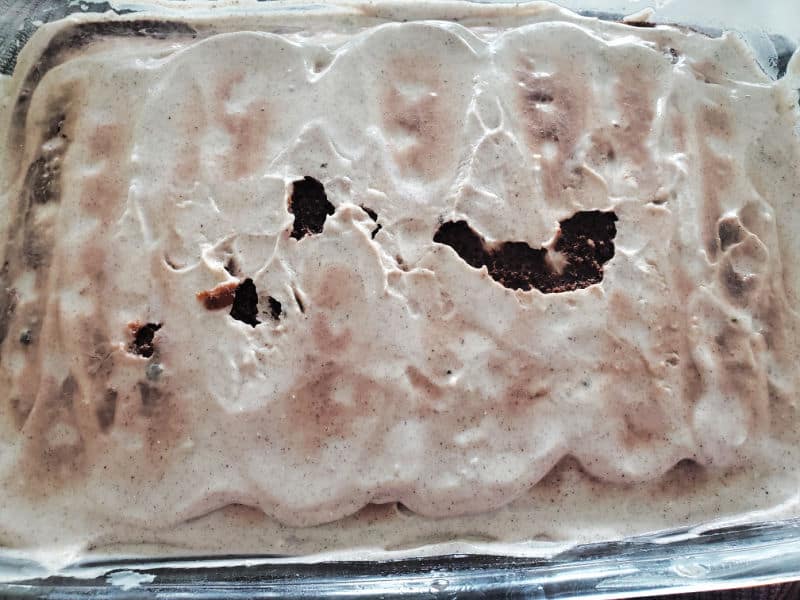 When you store the cake in the refrigerator to rest make sure there isn't anything that can fall on it or push the aluminum foil or cover down on it. It is easy to smear the topping again if it gets bumped but just in case make sure you have enough space for the pan.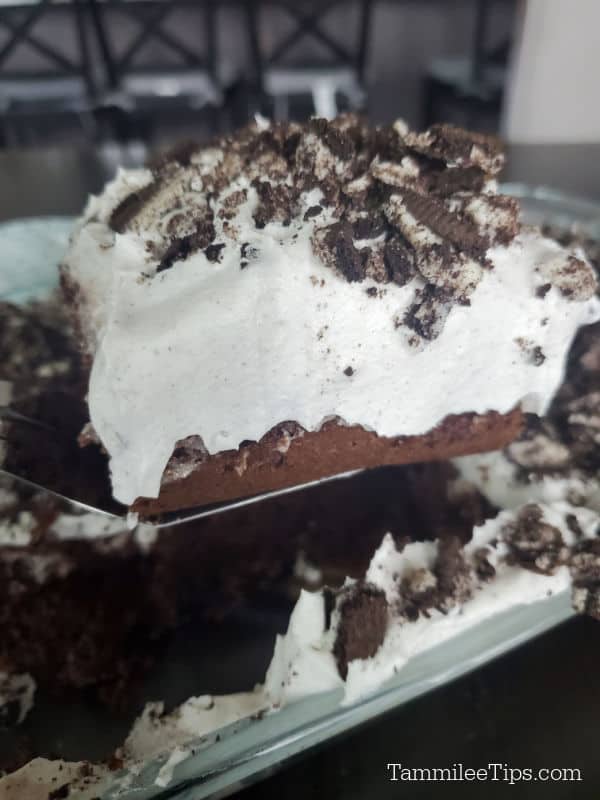 Great Easy Dessert Recipes
Check out all of our Chocolate Cake Mix Recipes
Do you love recipes? Check out our copy cat recipes, dessert recipes, and our Crock Pot Recipes.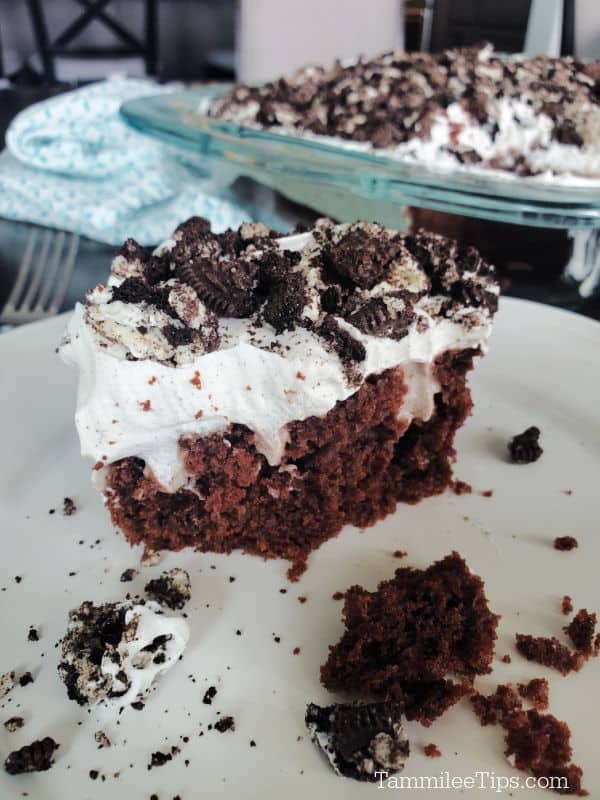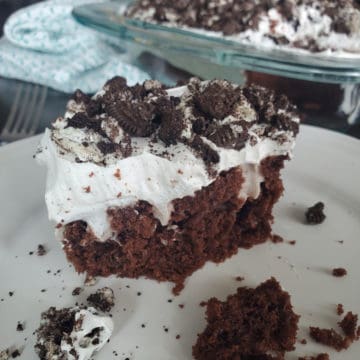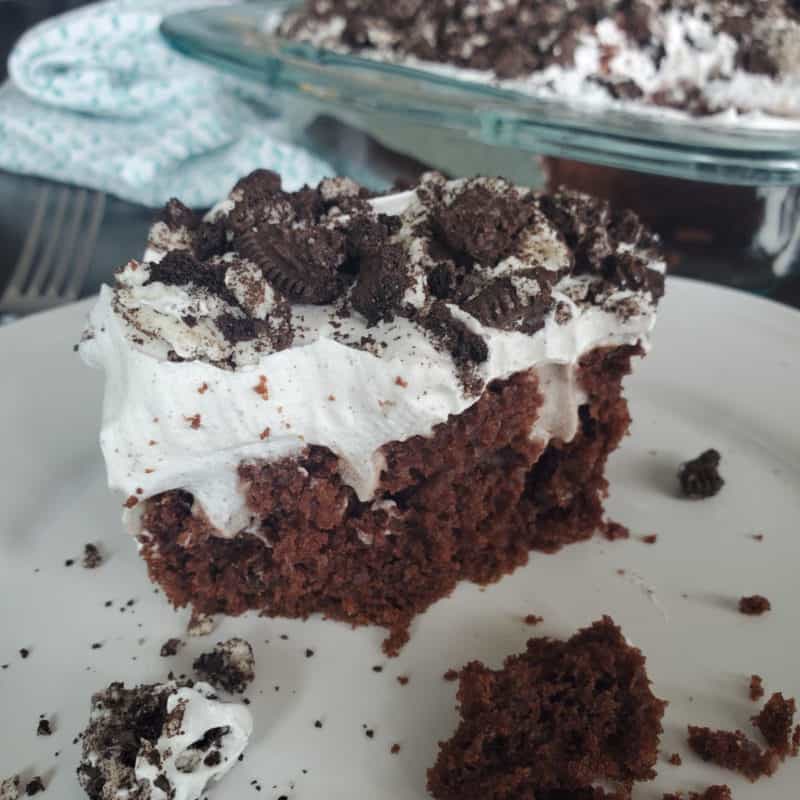 Oreo Poke Cake Recipe
Delicious easy Oreo Pudding Poke Cake is the perfect moist chocolate cake covered in Oreo pudding and cool whip. Great for potlucks, birthday parties, and family dinners.
Print
Rate
Instructions
Preheat oven to 350 degrees

Prepare chocolate cake mix according to directions on the box and bake.

Remove cake from the oven and use a wooden spoon to poke holes all over the cake.

While the cake cools, combine Oreo Pudding Mix and milk until it just starts to thicken.

Pour ½ of the Oreo pudding mix over the top of the cake making sure to get it into the holes in the cake.

Cover the cake with aluminum foil or a cover and refrigerate for at least 2 hours or longer.

Combine remaining Oreo pudding mix with cool whip until mixed together and refrigerate.

When you are ready to serve the cake cover it with Oreo pudding cool whip mixture evenly spread out over the top. Sprinkle crumbled Oreos over the entire cake.
Nutrition
Nutrition Facts
Oreo Poke Cake Recipe
Amount Per Serving
Calories 164
Calories from Fat 45
% Daily Value*
Fat 5g8%
Cholesterol 4mg1%
Sodium 177mg8%
Potassium 125mg4%
Carbohydrates 29g10%
Protein 3g6%
Vitamin A 117IU2%
Calcium 75mg8%
Iron 2mg11%
* Percent Daily Values are based on a 2000 calorie diet.