Nutter Butter Banana Pudding is a delicious twist on classic banana pudding. A scratch-made nutter butter crust adds the perfect flavor to banana pudding.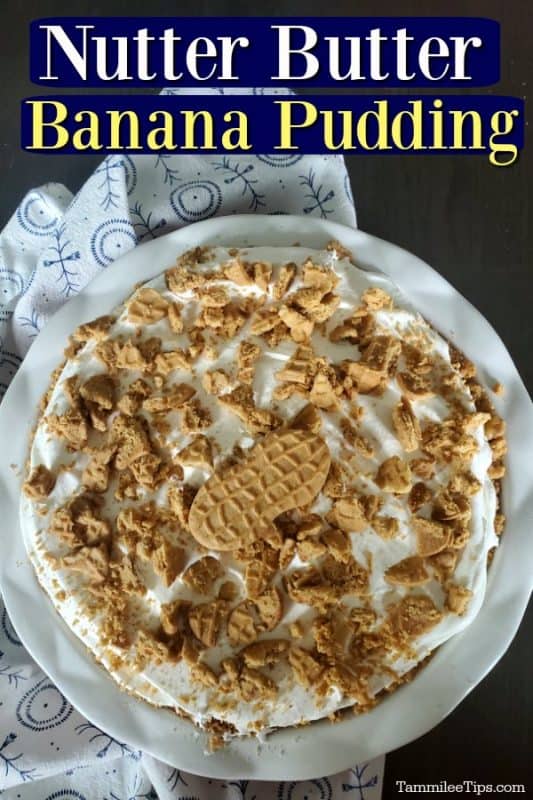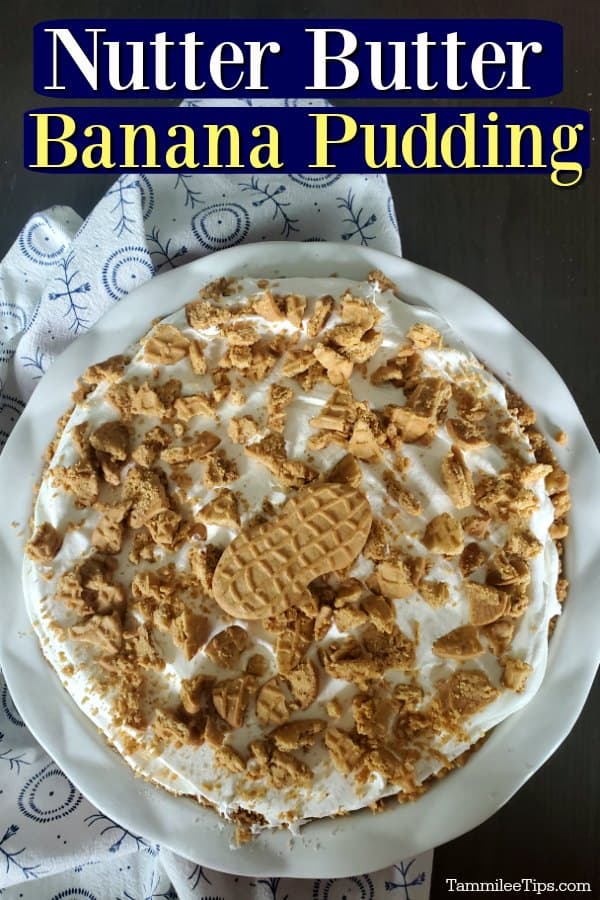 Nutter Butter Banana Pudding Recipe
My amazing husband grew up in Alabama and LOVES all things Southern foods. One of his absolute favorites is Banana Pudding. Being a food and recipe blogger I felt like it was time to make a fun new twist on classic banana pudding.

Ok, that is kind of stretching the truth a bit. What really happened is we didn't have any nilla wafers in the house and my husband mentioned about 82 times how great banana pudding sounded. We did have a new package of Nutter Butters I had managed to hide from him in the pantry.
I figured banana and peanut butter were good enough for Elvis it should be good enough for a new twist on Banana Pudding. I whipped out a Nutter Butter Crust and then had to get my husband to wait just a bit while everything set up.
You guys this Nutter Butter Banana Pudding Recipe is going to be my new go-to potluck, picnic, barbecue, Sunday morning I don't want to make breakfast at least there is some fruit in it dish!
This dessert is so easy to make and it tastes amazing! My husband was nice enough to part with 2 slices of this banana pudding pie for his mom and she raved about it. Little does she know I had to pry the 2 slices from him and promise to make it again really soon. LOL
Ingredients
Recipe Tips
Make sure to save a couple of Nutter Butters from the package to crumble up and sprinkle over the top of the pie when it is done. I also like sticking 1 cookie right in the middle as a hint to the treat that is down below with the Nutter Butter Crust. You can also top with bananas but I always worry they are going to brown before I get the layered dessert served.
I try to slice the banana fairly evenly so they sit across the crust nicely. If you are serving it to people that love bananas you could easily do a couple of layers of bananas on the bottom.
Carefully spread the pudding mixture over bananas. You don't want the bananas to shift around in the crust too much or get mushed.
Make sure the mixture is thoroughly chilled before serving so the layers stay together. I know it is hard to wait but it is worth it.
We like to cover and chill 2 to 24 hours depending on when we are serving.
We used a pie server to serve the pie. Depending on how thick you make the Nutter Butter Crust you may want to cut the crust with a knife before serving. This will make it easier to get everything out of the pie dish.
Great Dessert Recipes
Grilled Peaches with Cinnamon Sugar
Nutter Butter Crust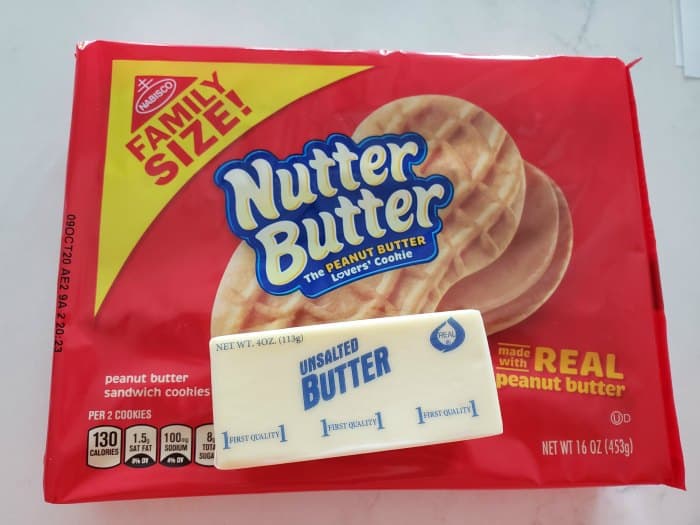 I used the family size package of Nutter Butters along with ½ a stick of melted butter to make the Nutter Butter crust.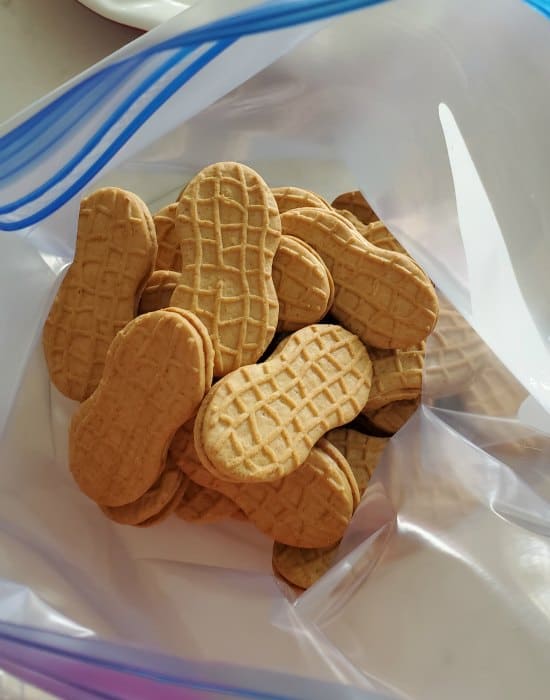 Place Nutter Butters in a ziploc bag and seal with most of the air removed from the bag.
Use a rolling pin to crush the cookies into small pieces. You can also process the Nutter Butters in a food processor if you want an even crust.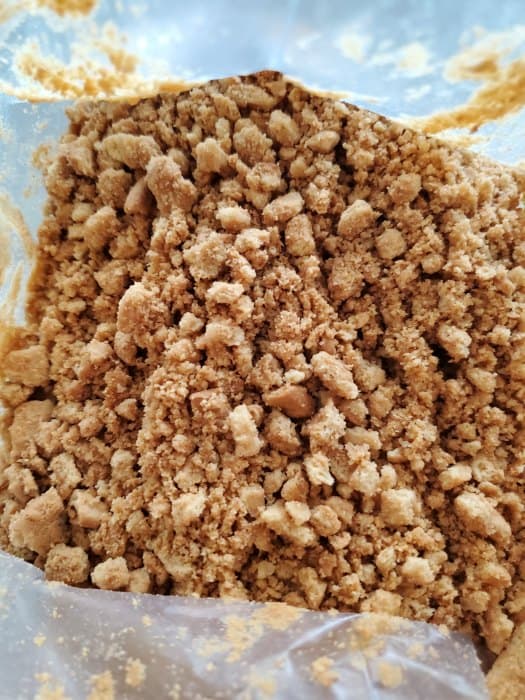 To help save on washing a bowl we pour the melted butter into the bag and spread it between the Nutter Butter crumbs.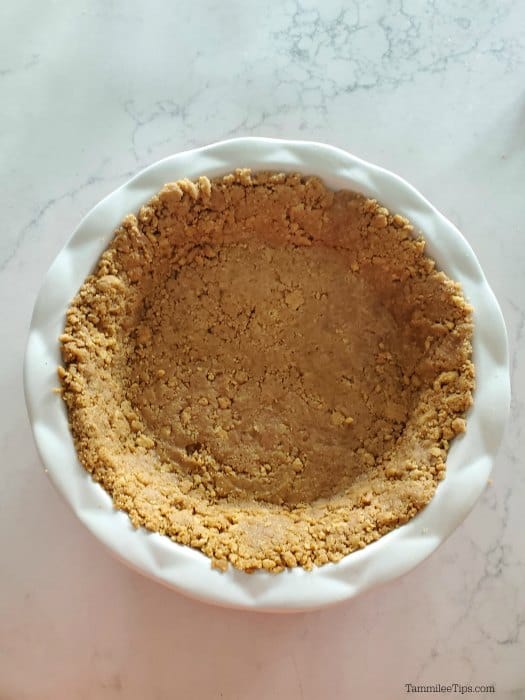 Press crumbs into a pie pan. You can use the bottom of a drinking glass or a cup size measuring cup to press the crumbs into the bottom of the pie pan. Use your hands to press the crumbs up the side of the pie dish.
Once you have the crust formed you will want to let it set in the refrigerator.
Banana Pudding Steps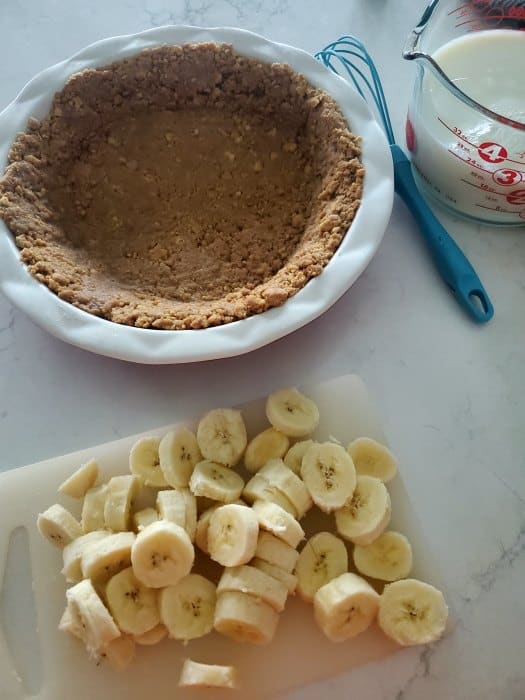 We try to cut the banana pieces pretty evenly so they cover the bottom of the pie.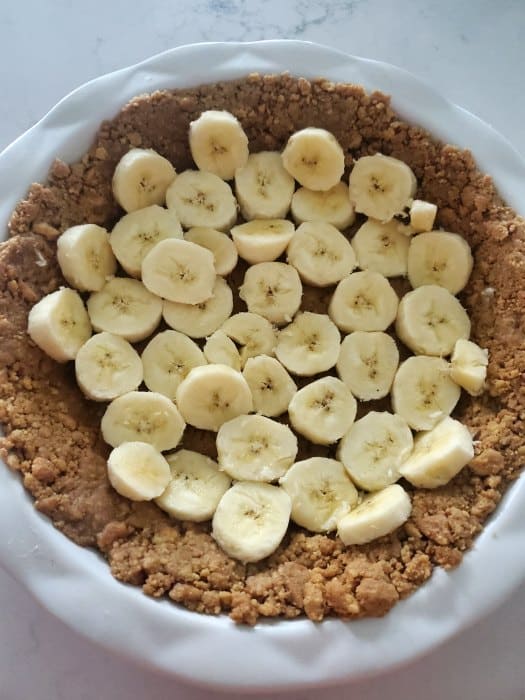 I like to leave some small spaces between the bananas so the pudding will sink in.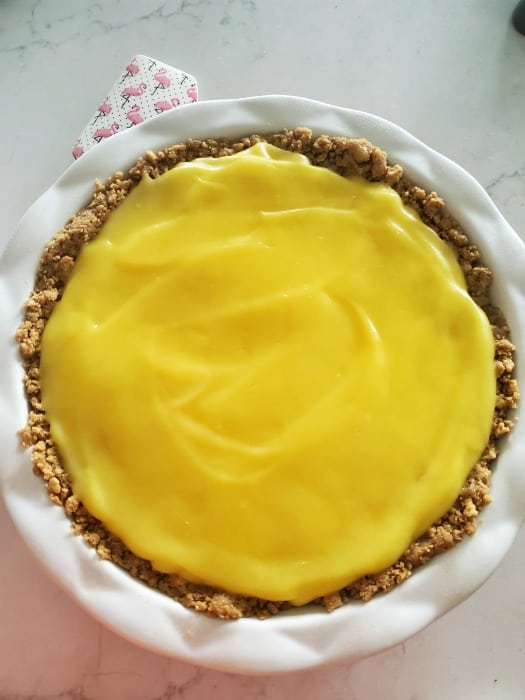 Evenly spread the instant vanilla pudding over the bananas and allow it to set in the refrigerator for a couple of hours.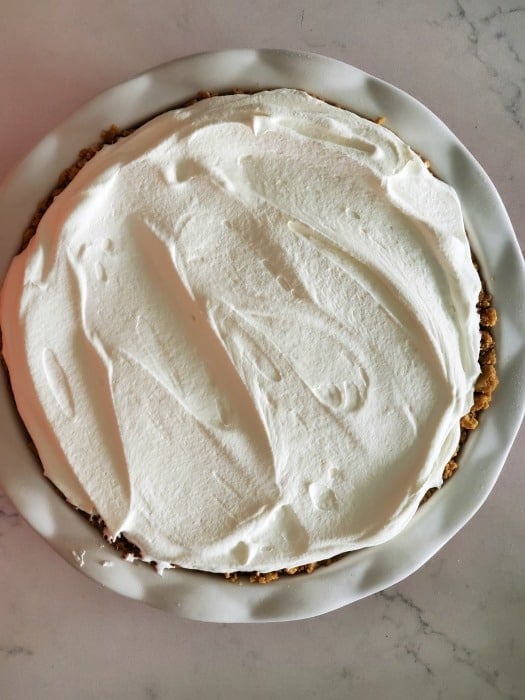 Once the vanilla pudding has set spread Cool-Whip or whipped cream over the top. You can serve the Nutter Butter Banana Pudding like this or...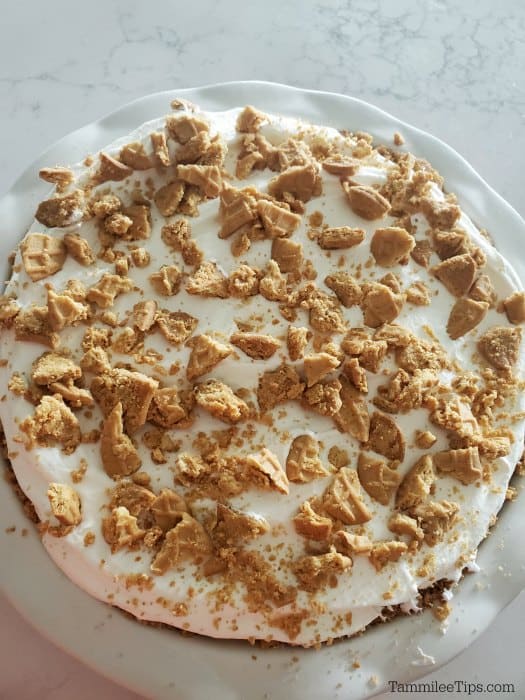 To take your cake over the top in goodness spread crumbled Nutter Butters over the top before serving.
Just looking at this Nutter Butter Banana Pudding Pie makes me want to make another one already.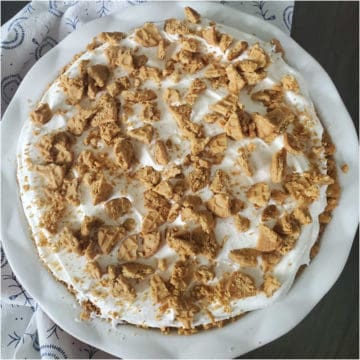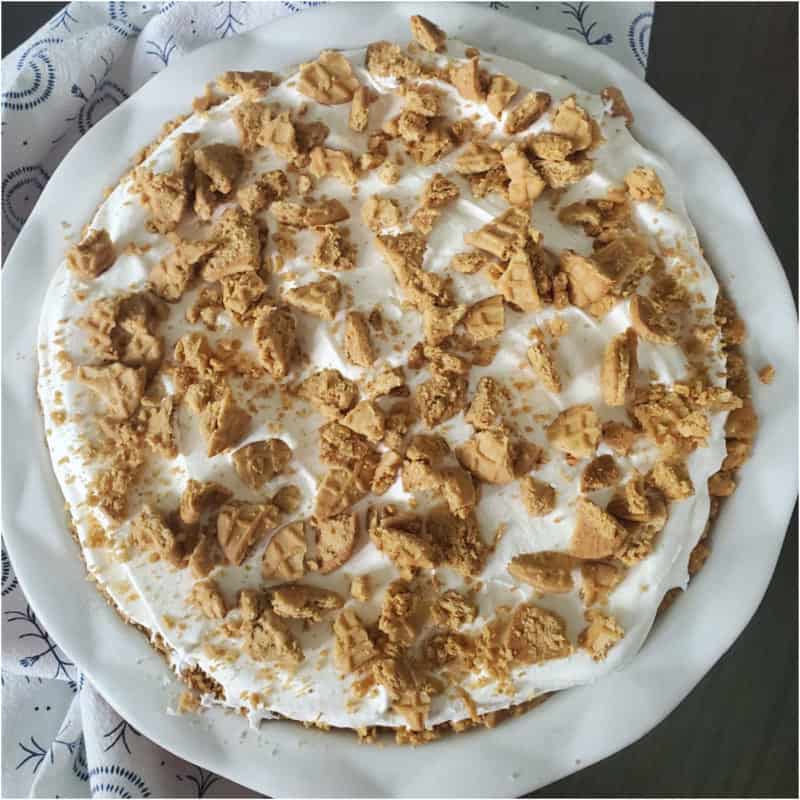 Nutter Butter Banana Pudding
This Nutter Butter Banana Pudding is a great twist on a classic banana pudding. Made with a scratch made Nutter Butter crust
Print
Rate
Ingredients
½

cup

Butter

melted

5.1

Ounce

Vanilla Pudding

3

cups

Milk

Cold

Cool Whip

2

Bananas
Instructions
Nutter Butter Crust
Crush 26-30 Nutter Butters in a sealed baggie.

Mix crushed Nutter Butters with melted butter and pour into pie dish

Press Nutter Butters around the pie dish until a crust is formed

Refrigerate for a few hours for pie crust to set
Banana Pudding
Combine Vanilla Pudding with Cold Milk. Pour into Nutter Butter pie crust

Place in the fridge for an hour or two to set

Top with Cool Whip and crushed Nutter Butters
Nutrition
Nutrition Facts
Nutter Butter Banana Pudding
Amount Per Serving
Calories 228
Calories from Fat 108
% Daily Value*
Fat 12g18%
Cholesterol 32mg11%
Sodium 255mg11%
Potassium 249mg7%
Carbohydrates 28g9%
Protein 4g8%
Vitamin A 561IU11%
Vitamin C 3mg4%
Calcium 117mg12%
Iron 1mg6%
* Percent Daily Values are based on a 2000 calorie diet.