Are you wondering how to make Snow Ice Cream? We are excited to share this easy Snow Ice Cream Recipe that is the perfect fun winter activity. So easy to make and it tastes great!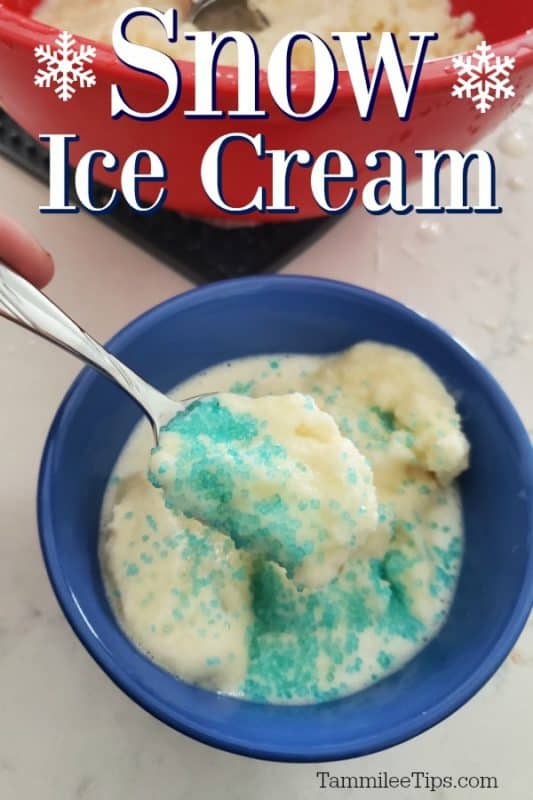 How to make Snow Ice Cream
To cap off a year to remember we got 9+ inches of snow in one day. We decided to make Snow Ice Cream as a fun sweet treat and distraction from cleaning off our driveway and sidewalks. LOL!
Nothing like ending the year with a big snowstorm. Since we are not really going anywhere right now it was the perfect excuse for a movie night and relaxing. We made up a batch of Crockpot Hot Chocolate and relaxed.
I still have not wrapped my brain around the fact that it is New Year's Eve. This year was a year we will not forget anytime soon. The days blended together into months and somehow we are at the end of December.
I truly hope that this next year brings so much joy and happiness to all of us. After a really hard year, we all need a bit more joy and positive excitement in our lives.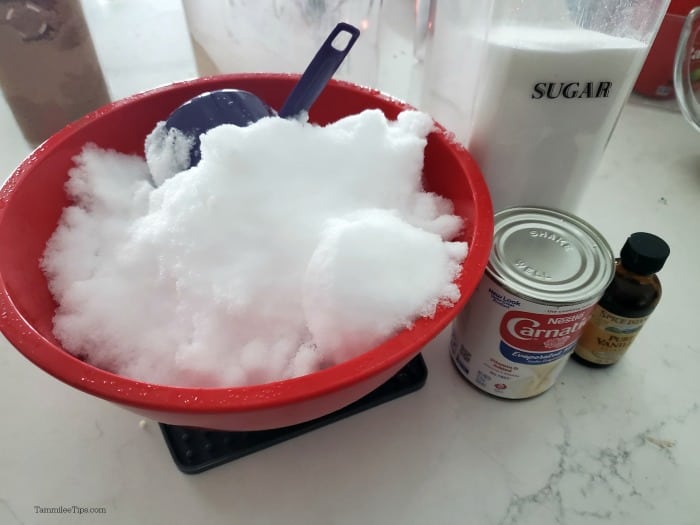 I love that this is the perfect snow day easy recipe. Quick and easy all you need are cups of snow, milk, sugar, and vanilla. Make sure you get clean snow and have access to add more snow if you want to make more ice cream.
Kids and Moms will love how fun this recipe is to make and how great this sweet treat tastes.
Snow Cream Ingredients
Fresh Snow
Evaporated Milk
Vanilla
Sugar
Toppings - You can top your snow ice cream with all of your favorite ice cream toppings. If you want to really theme it out check out these Snowflake Sprinkles on Amazon.
Chocolate Snow Ice Cream - To make chocolate-flavored snow ice cream you will want to add in 5 teaspoons of cocoa powder. You can add in mini chocolate chips for even more flavor.
Maple Snow Ice Cream - Add in ¼ cup of pure maple syrup and skip the sugar.
Strawberry Ice Cream - You can add in a strawberry jam to flavor the ice cream.
Equipment Needed
Large Bowl - Make sure your bowl is large enough to allow you to mix the ice cream in it.
Whisk or spatula - I used a spatula to stir everything together. You can also use a whisk, wooden spoon, or whatever you have available.
Ice Cream Scoop - You can use a scoop or large spoon to serve this great dessert.
Recipe Tips
Make sure you use a large mixing bowl that you have space to mix everything together.
You can use regular milk if you do not have evaporated milk the mixture may be a little less sweet. You can also use Sweetened Condensed Milk for sweeter ice cream. If you use sweetened condensed milk you will not need sugar or just a little depending on how sweet you want your ice cream.
If you know you are going to make Snow Storm Ice Cream I would highly suggest sticking your bowl in the fridge/freezer so it is cold when you mix the ice cream. This will help the ice cream keep a firmer texture and desired consistency.
You will want to be prepared to eat the snow ice cream as soon as you make it. I know it will not be a surprise but the snow ice cream does melt fairly quickly at room temperature.
Fluffy snow works the best and gives the best consistency. Just toss it in the bowl don't pack it down.
We used fresh snow that had just fallen to make this ice cream. I grabbed some before we cleared off the driveway to make sure it was as fresh as possible. If you are worried about anything being in the snow or pollution you can also make this recipe with snow cone ice or shaved ice.
If you really want to plan ahead and know that snow is coming you can set a few big bowls outside overnight or all day and just let the snow fill the bowls so you don't have to spend much time outside in the cold.
Amazon has some really fun Family Ice Cream Bowls that would be cute for photos. They also have a fun Ice Cream Party kit if you are making this while traveling or out somewhere.
You can switch the vanilla extract for any other extract flavor if you want to try new flavors.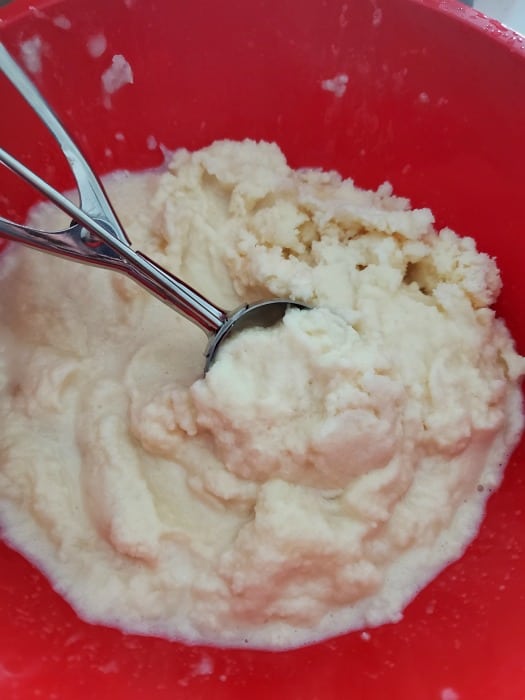 Great Dessert Recipes
Do you love recipes? Check out our copy cat recipes, dessert recipes, and our Crock Pot Recipes.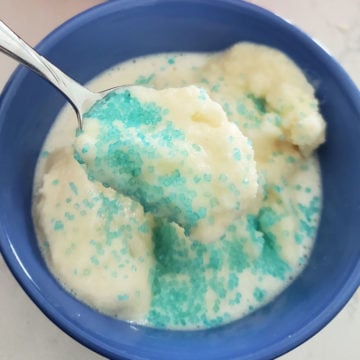 Snow Ice Cream
How to make Snow Ice Cream with fresh snow and a few ingredients.
Print
Rate
Instructions
Collect fresh snow in a large bowl

Stir in evaporated milk, vanilla, and sugar until combined.

Top with your favorite topping and enjoy
Nutrition
Nutrition Facts
Snow Ice Cream
Amount Per Serving
Calories 208
Calories from Fat 36
% Daily Value*
Fat 4g6%
Cholesterol 16mg5%
Sodium 80mg3%
Potassium 172mg5%
Carbohydrates 39g13%
Protein 4g8%
Vitamin A 136IU3%
Vitamin C 1mg1%
Calcium 160mg16%
Iron 1mg6%
* Percent Daily Values are based on a 2000 calorie diet.