Ooey Gooey Butter Cake is decadent, rich, and buttery! It is hard to believe that it is made with a yellow cake mix.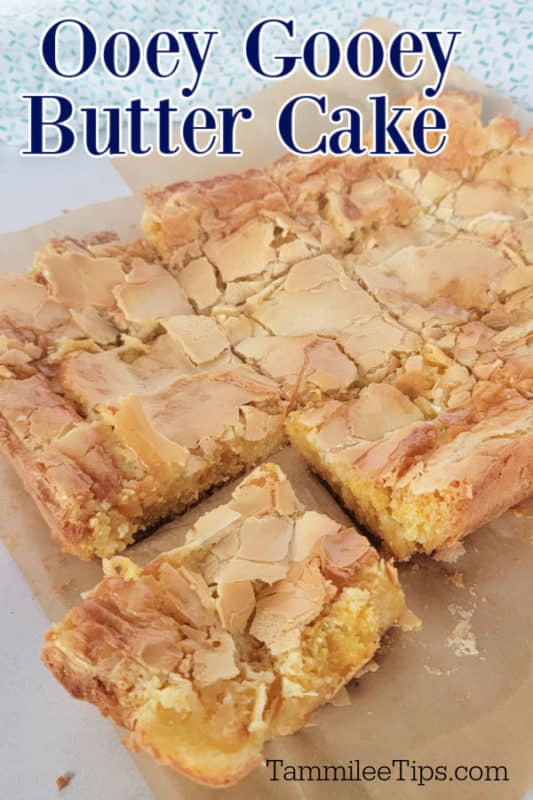 Ooey Gooey Butter Cake Recipe
I first heard about Gooey Butter Cake recipe from friends who live in St. Louis, Missouri. They kept telling me it was the best Ooey Gooey cake you could make and how epic and delicious it was. This sent me on a path to making the best gooey cake I could make.
I have seen these Gooey Butter Cake Bars listed as the Original Neiman Marcus Bars, St. Louis Gooey Butter Cake, the Paula Deen Ooey Gooey Butter Cake, or simply Gooey Butter Cake and Texas Gold Bars depending on what articles you read.
Paula Deen's Ooey Gooey Butter Cake is famous and served in all of her restaurants. There are even pumpkin gooey butter cakes and chocolate gooey butter cakes that I am going to have to work on making soon.
In researching this Gooey Butter Cake Bar recipe I learned that they became famous in the 1930s in St. Louis. Recipe legends say that this recipe was made by mistake. That a local St. Louis baker accidently changed the ratio of flour and butter in one of their bakery recipes.
We like making this for potlucks, family dinners, and summer barbecues. Everyone loves how it tastes and it is a great sweet treat.
We took these over to my husband's mom and grandmother and they were gone before I even realized it. They LOVED THEM!!!
They keep asking when I am going to make them again and bring them over. LOL.
I love that you don't have to measure out flour, baking powder, and so on to make these. We skip making the from scratch and use a cake mix instead.
There are two distinct layers of goodness in this ooey gooey butter cake recipe. The bottom layer is yellow cake and the top layer is cream cheese goodness.
The bottom layer has a firm texture while the top layer is melt in your mouth goodness. Combined they make the perfect sweet treat.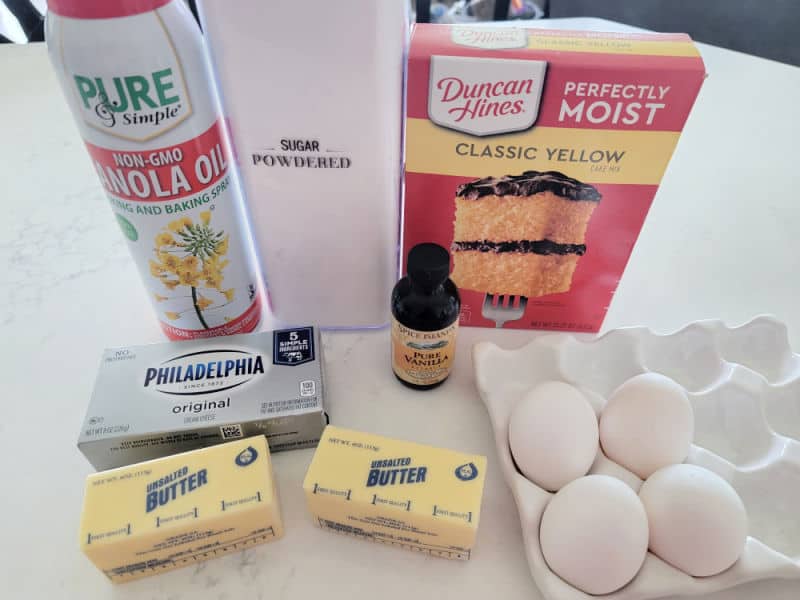 Ingredients
This is a quick overview of the simple ingredients that you'll need to make an epic Gooey Butter Cake Bars! Specific measurements and step by step instructions are included in the printable recipe card at the bottom of the post.
Yellow Cake Mix
Eggs
Vanilla Extract
Unsalted Butter
Cream Cheese
Confectioners' Sugar/powdered sugar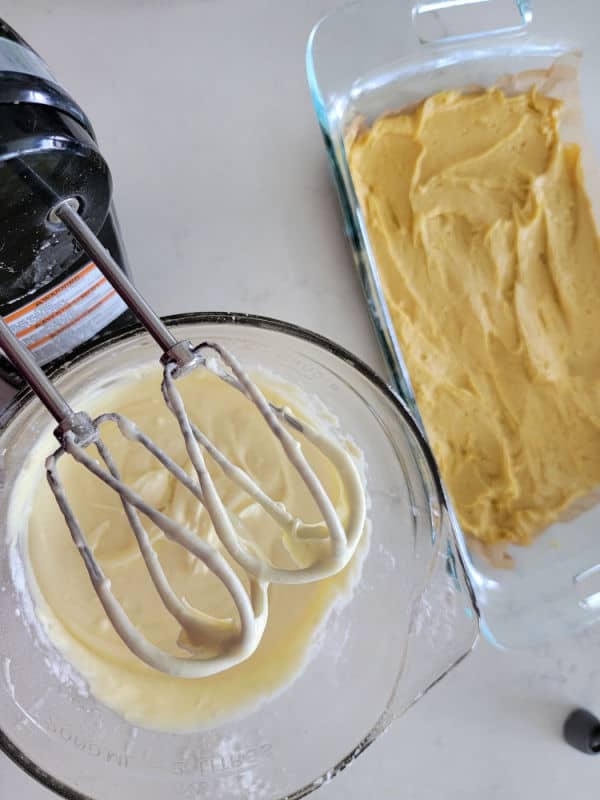 Equipment Needed
9 x 13 baking dish - A 3 quart baking dish works perfectly for this recipe
Non-stick cooking spray
Parchment Paper - We suggest using parchment paper to make it easier to remove these cake bars.
Heat resistant potholders - A couple of years ago we had a fire scare when we didn't realize we had turned a burner on and a cloth potholder caught fire. Thankfully we walked by the kitchen and saw the smoke and were able to get it out ourselves. Since then we have only used these heat-resistant potholders.
Hand Mixer - A hand electric mixer makes this recipe easy to mix. You can also stir with a wooden spoon or spatula. A stand mixer with the paddle attachment would also work.
How to make Gooey Butter Cake
I've included complete instructions in the printable recipe card at the bottom of the post but here's a quick version.
Combine cake mix, egg, vanilla, and melted butter. Press the bottom cake layer into the bottom of the prepared baking dish.
Mix together cream cheese, eggs, vanilla, and melted butter with a hand mixer until creamy. Then add in confectioner sugar.
Spread over cake batter layer
Bake and cool! Make sure to cool completely before slicing.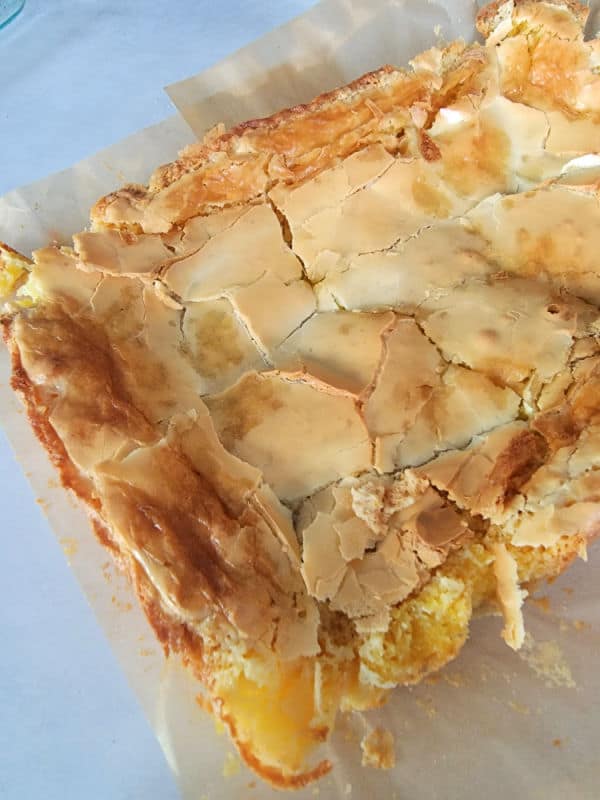 Preparation and Storage
Make Ahead - You can prep, assemble, bake and cool the cake 24-48 hours ahead of serving it to make life a little easier.
Storage - Store leftovers in an airtight container at room temperature or in the refrigerator. Serve at room temperature.
Freezing - You can freeze individual servings by wrapping them in plastic wrap and then aluminum foil. To freeze the entire gooey butter cake wrap it in plastic wrap and place it in a freezer bag. Store for up to 3 months in the freezer.
Recipe Variations
Garnish - Fresh berries
Cake Mix - Change up the recipe base by using different cake mixes. Try using a lemon cake mix, strawberry cake mix, chocolate cake mix, pound cake, or pumpkin cake mix. We love making epic cake recipes.
Lemon - Use a lemon cake mix and add a bit of fresh squeezed lemon juice to the cream cheese mixture.
Add ins - Add in extra flavor by mixing in chocolate chips, toffee bits, nuts, coconut flakes, or crushed candy bars (Butterfinger, Snickers, kit kat)
Magic version - Mix all of the ingredients in one large bowl and bake together. You will not have the layers within the gooey cake bars but you will have epic buttery flavor in a delicious cake.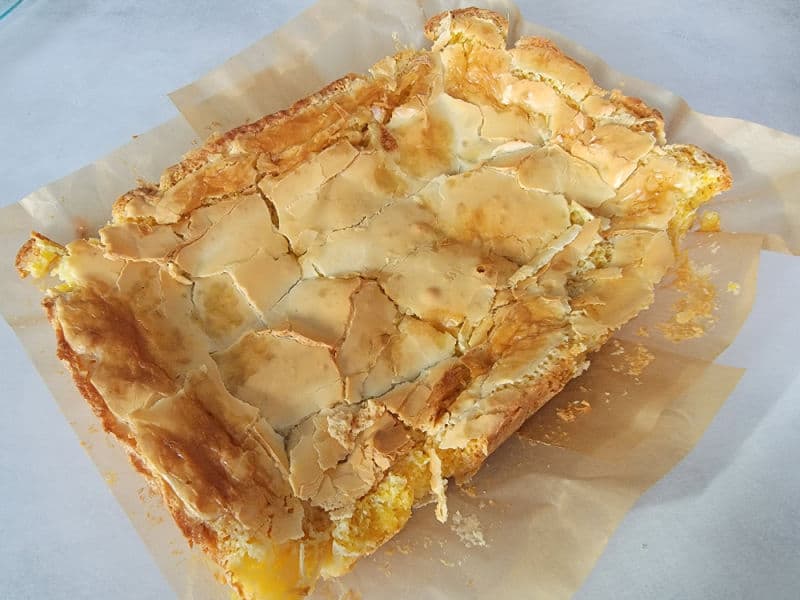 Recipe Tips
Don't forget to set out the cream cheese and butter so it can reach room temperature.
Make sure to preheat oven to 350 degrees
We suggest spraying the pan with a bit of cooking spray so the parchment paper does not move around the prepared pan when you add the cake mix bottom layer.
Serve these Ooey Gooey Butter bars with a napkin or 3. They are definitely packed with butter and the bottoms of them can be a bit buttery.
Make sure to allow the bars to cool completely before serving.
Cooking times may vary depending on your oven and elevation.
The top layer will deflate as the bars cool and start to crack! Don't worry this is how they are supposed to look.
Printable recipe card instructions are below.
Nutrition information, including calories, protein, calcium, carbohydrates, fiber, vitamin c, potassium, cholesterol, sodium, trans fat, monounsaturated fat, polyunsaturated fat, and more, will vary depending on the products used.
When to serve Ooey Gooey Butter Cake
Here are some of our favorite occasions to serve this delicious butter cake:
Easter
Family Dinner
Barbecue
Potluck
Picnic
Party Food
Game Day
Great Dessert Recipes
No bake chocolate oatmeal bars
We have a ton of recipes with yellow cake mix that taste amazing! Plus 60+ more Cream Cheese Recipes to try.
Do you love recipes? Check out our copycat recipes, dessert recipes, and our CrockPot Recipes.
Follow Tammilee Tips on MSN, Facebook, Instagram, and Pinterest, for all of our recipe posts.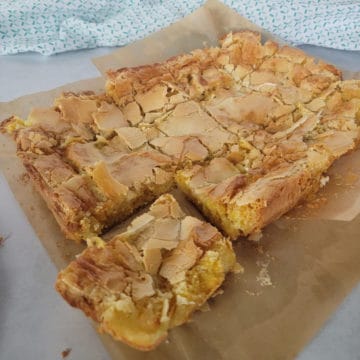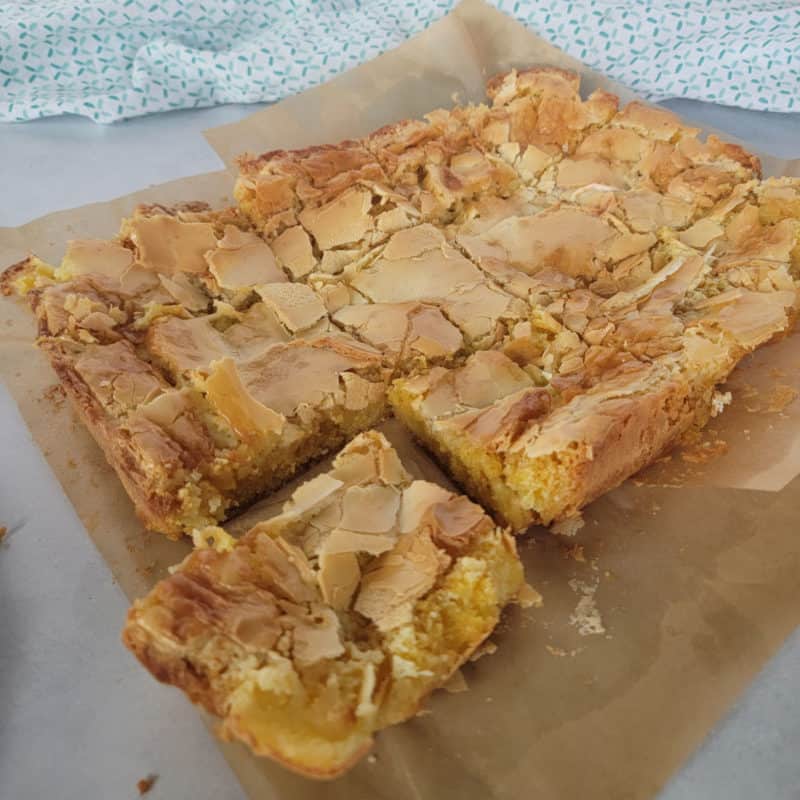 Ooey Gooey Butter Cake Recipe
How to make delicious Ooey Gooey Butter Cake bars with a yellow cake mix! So easy to make and they taste amazing.
Print
Rate
Instructions
Preheat oven to 350 degrees

Line a 9x13 pan with parchment paper. We suggest spraying the pan with non-stick spray to help hold the parchment paper in place.

Mix together the yellow cake mix, eggs, vanilla, and melted butter. This batter is super thick to spread!

Flatten the cake batter as much as you can in the bottom of the pan.

Mix together softened cream cheese, eggs, vanilla, and melted butter with a hand mixer.

Slowly add in confectioner sugar 1 cup at a time until combined

Spread cream cheese mixture over the cake batter layer evenly.

Bake for 35-40 minutes, cool before serving. The cake will deflate a bit and the top will crack as it cools.
Nutrition
Nutrition Facts
Ooey Gooey Butter Cake Recipe
Amount Per Serving
Calories 537
Calories from Fat 216
% Daily Value*
Fat 24g37%
Cholesterol 116mg39%
Sodium 531mg23%
Potassium 73mg2%
Carbohydrates 76g25%
Protein 5g10%
Vitamin A 806IU16%
Calcium 123mg12%
Iron 1mg6%
* Percent Daily Values are based on a 2000 calorie diet.