Planning a trip to Puerto Vallarta? These Puerto Vallarta Travel Tips are designed to make your trip amazing! Puerto Vallarta is one of my favorite places to visit. There is just something about the city that is so welcoming and amazing.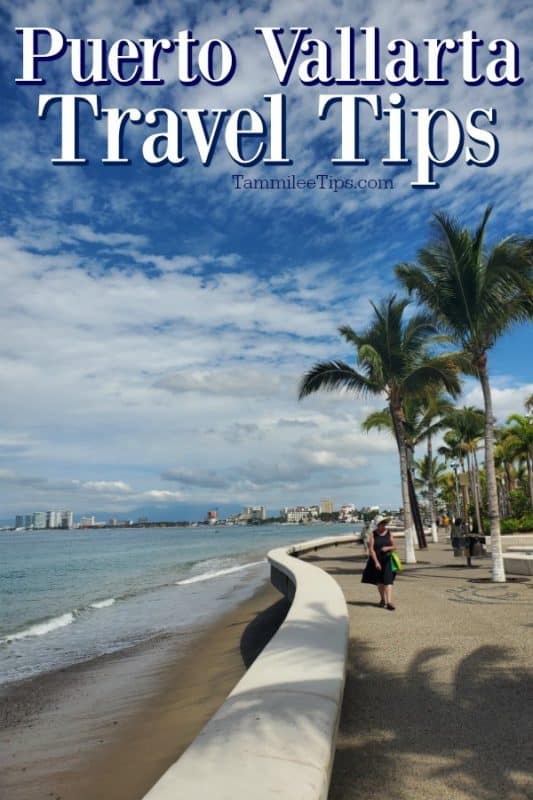 Puerto Vallarta Travel Tips
You can't go wrong wandering along the Malecon, enjoying fresh ceviche, and checking out the art galleries.
Puerto Vallarta is a pretty easy city to maneuver through but there are some things to know before your visit. I am always surprised at just how big the city is and how many different things there are to do. Even after multiple trip to Puerto Vallarta I am still finding new things to see and do during each visit.
~ Pack triple the sunscreen you normally pack.
Buying sunscreen in Puerto Vallarta is expensive. 1 Bottle of spray-on Bull Frog Sunscreen cost me $24.50
~Pack aloe vera! Trust me it is better to have it than to need it and not have it
~Puerto Vallarta is a very artsy city that has amazing food and drinks. Ask your hotel or a local for recommendations on great restaurants. Some of our favorites are included in this Restaurant to try in Puerto Vallarta post.
~Dress is tropical casual but nice. Sundresses, cute shorts, and tops, cute sandals.  Puerto Vallarta in the evening can be dressy, chic, and really put together. From nice dresses to shirts and ties for men. It really depends on where you are going.
~Pack a hat and sunglasses, the sun is bright and hot. Don't end up looking like a raccoon-like I did from falling asleep with only sunglasses on
~If you are staying downtown look for the statue that is on the Malecon near your hotel. This is a great icon to take a pic of and show to a cab driver in case you don't speak Spanish and are struggling to communicate which hotel you are going to.
~ Be prepared when you get to the airport to walk through a madhouse of people calling to you. From hotel shuttles to cab drivers it feels like you are going through a reality show gauntlet to get to out of the airport.
~Keep a hold of the customs form you are given when you arrive. It costs at least $50 to replace it at the airport and you have to have it to exit the country.
~Try the local taco stands! These stands have been in Puerto Vallarta for at least 30 years. That is the last time that licenses were given out for stands in the city. Know that these taco stands have been there for multiple generations and are local favorites.
~Visit the Churro Stand a few blocks off the Malecon! It is amazing!
~There are 2 main roads in and out of Puerto Vallarta's downtown area. They can be incredibly busy and congested. Be prepared for traffic.
~Be careful about renting a car. Driving in Puerto Vallarta is an adventure or downright scary depending on how you feel about crazy driving.
Check out these great places to eat and visit during your trip to Puerto Vallarta
Do you have any great tips for visiting Puerto Vallarta? We would love to add them to our list.
Additional Puerto Vallarta Travel Articles
Vallarta Adventures Sunset Sail
Puerto Vallarta by Cruise Ship
Top things to do in Puerto Vallarta
Puerto Vallarta Botanical Gardens
Check out all of our Puerto Vallarta Travel Guides