During my amazing trip to Puerto Vallarta, I had the chance to take a Vallarta Adventures Sunset Sail. This sunset sail was quite the adventure!
One of the guys on the trip warned us that he tended to irritate the sea gods and have interesting boat rides when he travels. I didn't really know what to say and just kind of laughed when he told us......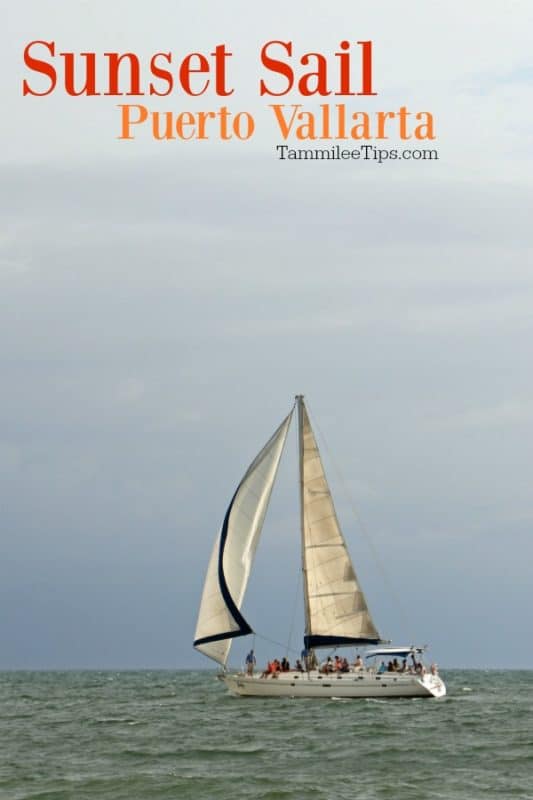 Vallarta Adventures Sunset Sail in Puerto Vallarta
Well, his premonition was right. Our sunset sail turned into quite the adventure...
We ended up enjoying a bit of a windy stormy sail. Even with the crazy weather, we had a great time.
Our adventure began at the Vallarta Adventures office. We quickly signed a waiver and met our captain for the trip. They walked us over to the sailboat and we left our shoes with them.
One tip ~ This is not a boat trip to wear high heels or fancy shoes! You will give your shoes to the crew before boarding the boat barefoot.
Once on the boat, we were offered a variety of beverages including margaritas, water, and juice. We were also given a plate of snacks that included fruit, bread, and cheese.
This is about the point that our adventure began. As we headed out into open water the wind picked up as did the spray from the ocean.
It was a bit of a wild fun ride for a while.
Another tip ~ Depending on the weather you may want to wear clothes that can be sprayed by saltwater. Also, bring a protective cover or bag for camera equipment.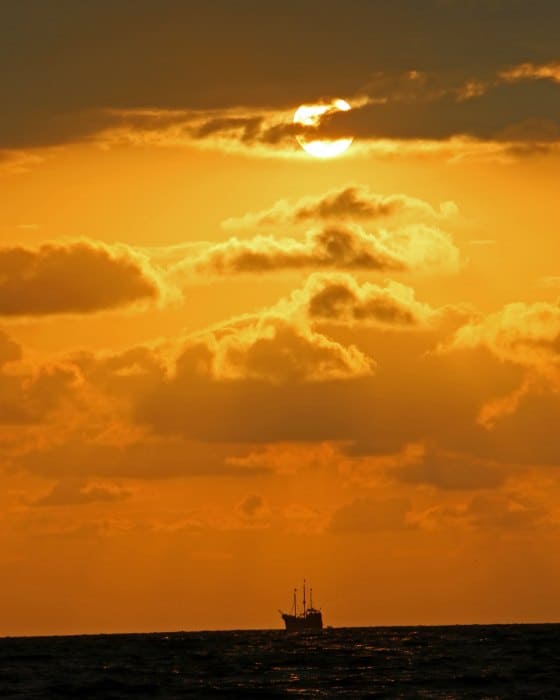 We sailed along the coast by Puerto Vallarta and had beautiful views of the city and the sunset.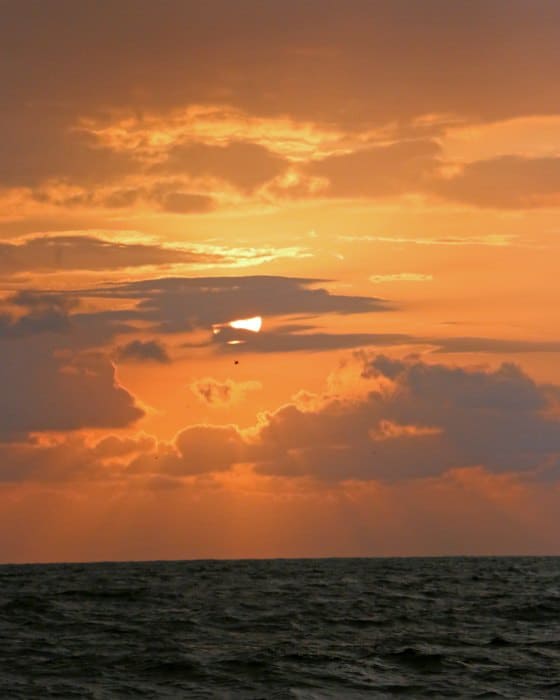 There really is nothing quite like a gorgeous sunset on the water.
I wish I could say that our sunset sail was a calm, relaxing, romantic sail but that was not in the cards for us that night.
We had a bit of rough water, wind, and oh a thunderstorm comes in.
I sent out a Facebook note that I was in the middle of the bay on a sailboat in a thunderstorm and I was checking in on Facebook.
It was really one of those moments you could either freak out and worry about getting struck by lightning or giggle and just go with it.
I chose to go with it because well what else are you going to do.
The group I was traveling with was fantastic and we all had a great laugh at our adventures.
I was reassured that most sunset sails are nowhere near the adventure that we had. I guess you could say that we were lucky and got a bit of an adventure thrown in on our luxury sailboat cruise.
Even with the crazy storm and adventure we had, I would highly recommend a sunset sail with Vallarta Adventures.
The crew was amazing! They were calm, cool, and collected during the adventure and kept us all entertained.
You can find out more about Vallarta Adventures on their Website or by calling 888-526-2238
The Vallarta Adventures website has a ton of great information on all of the activities that they offer in Puerto Vallarta!
Additional Puerto Vallarta Resources
Visiting Puerto Vallarta on a cruise
Top Things to do in Puerto Vallarta
Puerto Vallarta Botanical Gardens
Top restaurants in Puerto Vallarta
Check out all of our Puerto Vallarta Travel Guides
Dreaming of Mexico? Check out Isla Holbox for another epic place to visit.
I was provided with a sunset cruise to help facilitate our post. As always, all opinions are my own.