Easy Red White and Blue Poke Cake Recipe perfect for the Fourth of July, Memorial Day, the Olympics, or any day you want a fun easy moist cake recipe. This Patriotic Poke Cake is so easy to make and tastes amazing! The perfect 4th of July Cake that can be made ahead of time.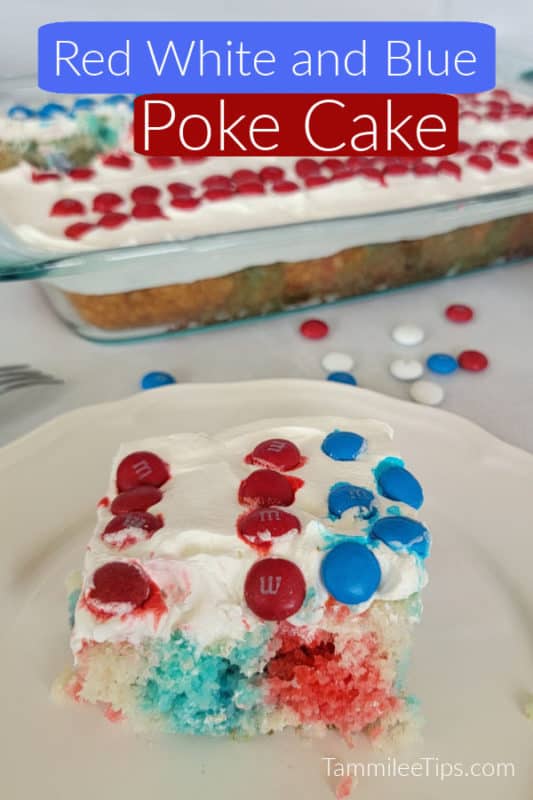 Red White and Blue Poke Cake
We are so excited for summer this year! It is time to get outside and visit with friends and family finally! We have been on a roll making fun patriotic desserts that will be perfect for not only the summer holidays but maybe the summer Olympics depending on how things are going.
It is hard to plan for events right now but it is not hard to prepare this cake. So even if things don't look the way they would normally look you can still make this fun red white and blue poke cake!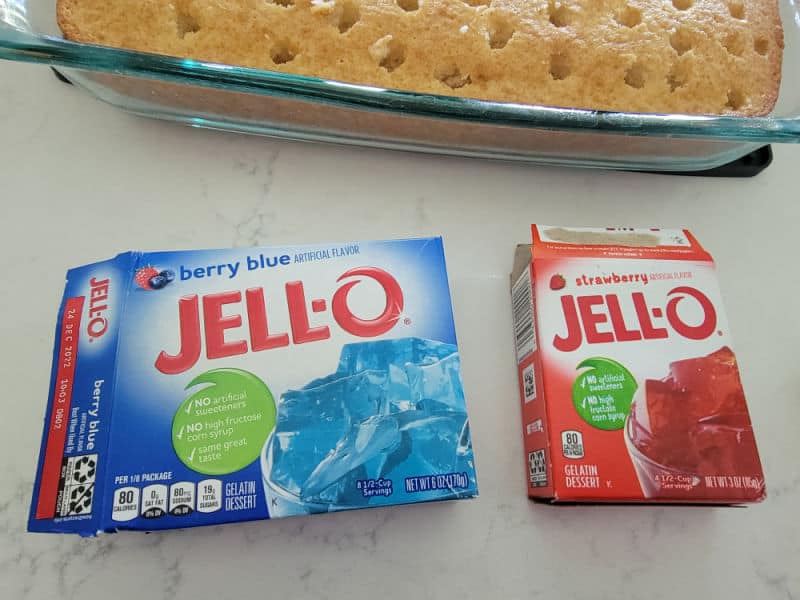 Ingredients
White Cake Mix + eggs and oil to prepare the cake.
Red Jello
Blue Jello
Boiling water and cold water
Cool Whip Topping
Red White and Blue M&Ms
Equipment Needed
Large Mixing Bowl - We are big fans of this glass batter bowl that has a handle. It makes it easy to mix ingredients and keep the mixing bowl steady on the counter.
Spatula
Wooden Spoon - The handle of a wooden spoon is the perfect kitchen tool for poking holes in your cake. Make sure to cool completely before making holes in the cake. If you poke them to early chunks of cake will come out.
Non-Stick Spray
Heat resistant potholders - A couple of years ago we had a fire scare when we didn't realize we had turned a burner on and a cloth potholder caught fire. Thankfully we walked by the kitchen and saw the smoke and were able to get it out ourselves. Since then we have only used these heat-resistant potholders.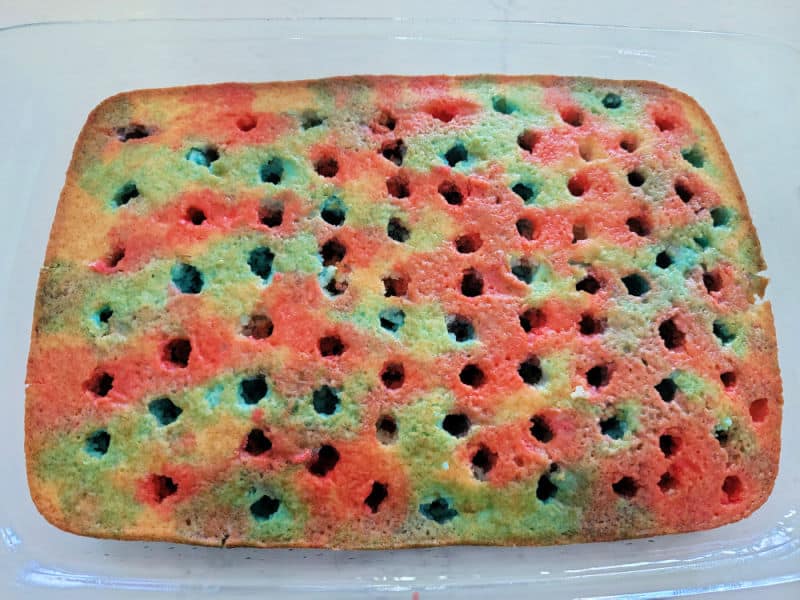 Recipe Tips
Plan time for your cake to set in the refrigerator for at least 3-4 hours. The longer the cake sets the better it tastes.
You can spread the red and blue Jello in a random pattern or try to alternate it between holes in the cake. It is really up to you how you want the design to look. We try to alternate holes so that each slice of cake shows both colors. Don't worry if the holes are not filled after you pour the Jello. The liquid spreads into the cake making it super moist.
We top the cake with Cool Whip instead of using homemade whipped cream. The Cool Whip is more stable and holds it shape better.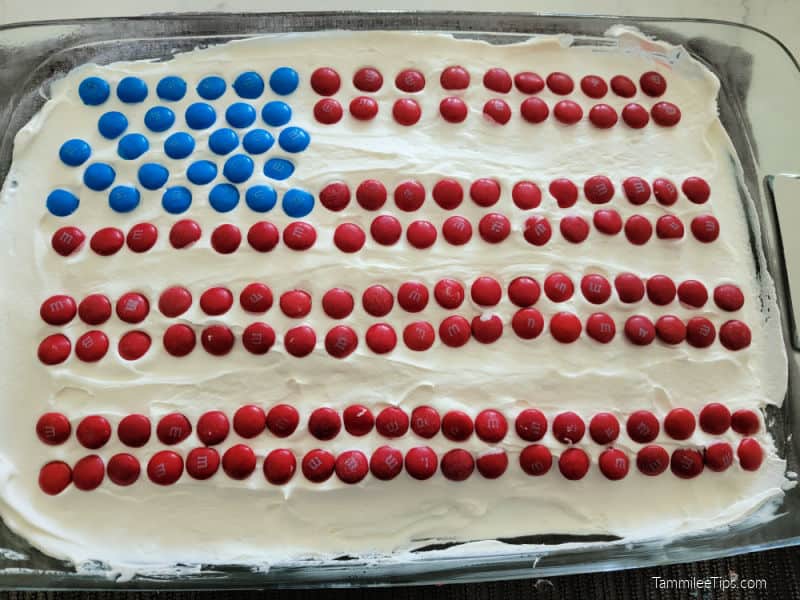 We topped the cake with Red and Blue M&Ms in the shape of the American Flag. We fully admit that we were not able to get all 50 stars on the cake so we adapted it a bit.
If you don't want to top the cake with M&Ms you can use strawberries and blueberries, or just use fun Red, White and Blue sprinkles for a fun topper.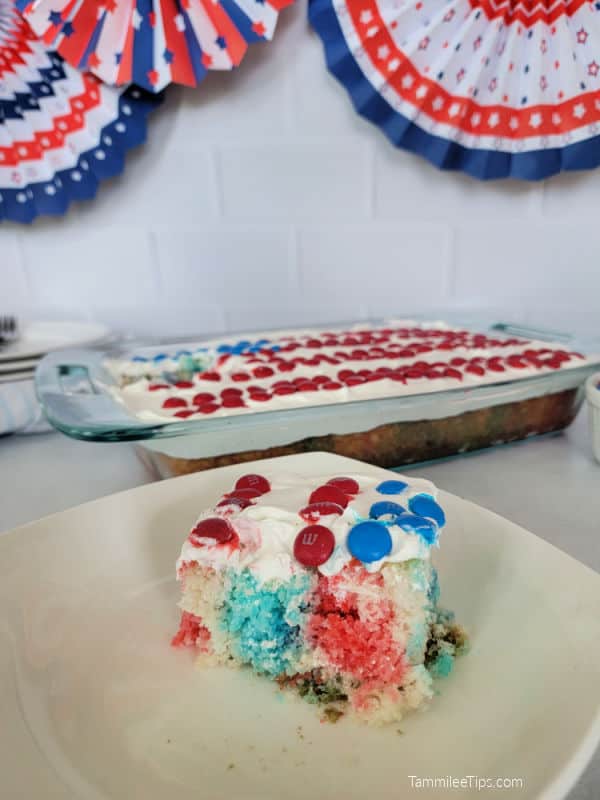 Great Summer Dessert Recipes
Red White and Blue Angel Food Cake
Red White and Blue Cocktail Recipe
Red White and Blue Cake Mix Cookies
Red White and Blue Jello Shots
We have a ton of fun cake mix recipes and Cool Whip Recipes
Do you love recipes? Check out our copy cat recipes, dessert recipes, and our Crock Pot Recipes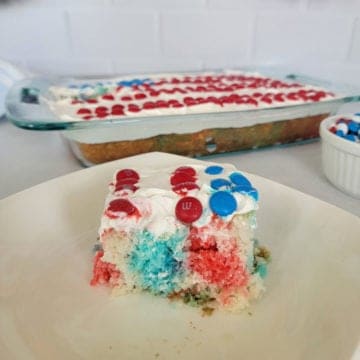 Red White and Blue Poke Cake Recipe
Easy Red, White and Blue Poke Cake recipe made with a boxed cake mix perfect for 4th of July.
Print
Rate
Instructions
Bake white cake mix according to box directions, allow to cool.

Poke the top of the cake with the end of a wooden spoon

Mix Red Jello with ¾ cup of boiling water until dissolved. Add in ½ cup cold water. Pour the Red Jello on to the cake in your chosen pattern.

Mix Blue Jello with ¾ cup of boiling water until dissolved. Add in ½ cup cold water. Pour the blue Jello onto the cake in your chosen pattern.

Cover the cake and refrigerate for 3-4 hours.

Spread Cool whip over the cake and decorate with your chosen toppings.
Nutrition
Nutrition Facts
Red White and Blue Poke Cake Recipe
Amount Per Serving
Calories 232
Calories from Fat 18
% Daily Value*
Fat 2g3%
Cholesterol 1mg0%
Sodium 387mg17%
Potassium 28mg1%
Carbohydrates 52g17%
Protein 3g6%
Vitamin A 1IU0%
Calcium 95mg10%
Iron 1mg6%
* Percent Daily Values are based on a 2000 calorie diet.