I recently had the opportunity to stay at the Villa Premiere Boutique Hotel in Puerto Vallarta twice and fell in love with this property. My first trip was with a group of travel writers who were invited to Puerto Vallarta to explore the city. My second trip was a romantic getaway with John to celebrate our 8th wedding anniversary.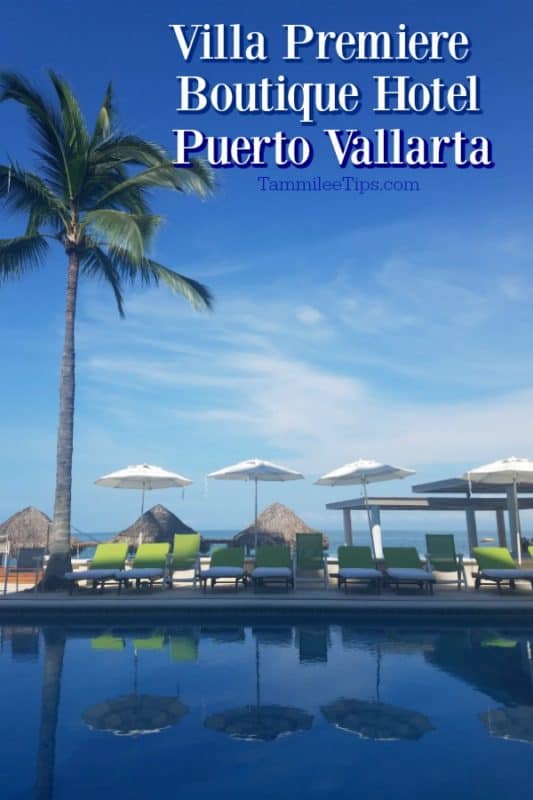 Villa Premiere Boutique Hotel in Puerto Vallarta, Mexico
While these trips were quite different from each other the one mainstay between them was staying at the beautiful Villa Premiere Boutique Hotel. This hotel was the perfect place to escape for a few days and just soak up the sun.
Honestly, during my trip with John for our anniversary, we only left the property once to have dinner with a friend. The rest of our trip was spent lounging in the sun, drinking delicious frosty cocktails in the pool, and doing absolutely nothing! It was pure bliss.
From the moment you walk into the main lobby of the Villa Premiere Boutique Hotel you know you are in for a treat.  The wide-open lobby is filled with really interesting art and the amazing friendly staff of the hotel. You are greeted the moment you hop out of your cab by the bellhop who helps you with your bags and escort you into the lobby.
To kick off your trip you can enjoy a welcome massage from the spa staff. This welcome message is just a preview of the incredible spa services offered at the resort.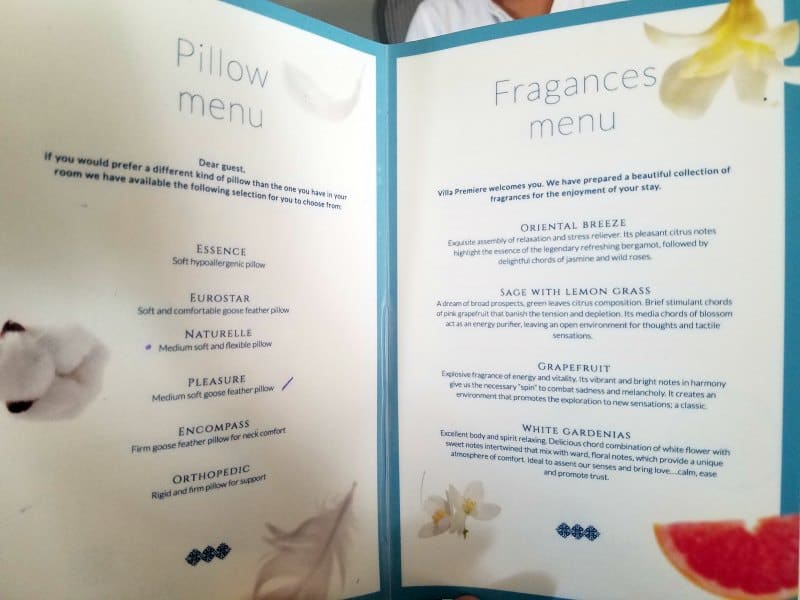 Once you are checked in your personal butler walks you to your room and gives you a tour of the amenities in the room. They also check to make sure your minibar/fridge is filled with your favorite beverages, that you know how to use the a/c, and that you are aware of the great restaurants at the hotel.
Oh did I mention that ahead of your trip you can choose a signature scent for your room and pick which pillows you want on the bed.  Before each of my stays, I had the opportunity to fill out a questionnaire so my butler knew exactly what I wanted in my room.
I highly recommend the vanilla grapefruit aromatherapy! It is lovely and light in the room.
During my anniversary trip with John, we upgraded our room to a honeymoon suite and it was perfect for our romantic getaway.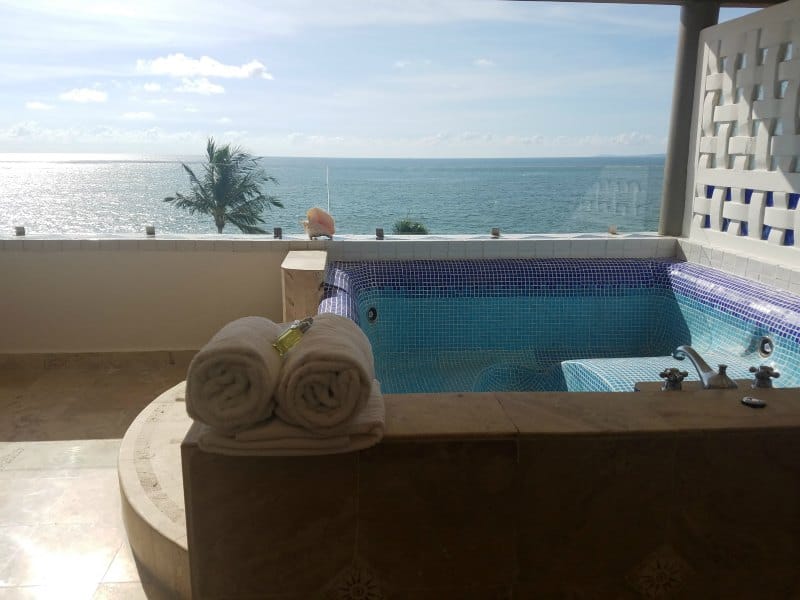 We were on the third floor and enjoyed a jacuzzi tub on our deck overlooking the Bay of Banderas. We soaked in the tub every day that we were in Puerto Vallarta.
One night we had the chance to relax in the tub while a storm passed by and it was blissful. One thing to know about the tubs is they are not 100% private, you can see them from other rooms so keep that in mind if you are on a romantic getaway and want to soak without your suit 🙂
We had an all-inclusive package at the hotel so we enjoyed dining in each of the restaurants on-site. There are three restaurants to choose from along with 24-hour room service.
Room service offers a combination of delicious Mexican options along with hamburgers and grilled cheese sandwiches. Make sure and order the passion fruit creme brulee! It is delicious!
La Ceiba is the breakfast and lunch restaurant located right next to the beach! This two-story open-air restaurant offers a casual and contemporary menu featuring delicious Mexican options. Every meal I enjoyed at La Ceiba was exquisite! I dream of their morning pastries, exotic juice blend, and the amazing view.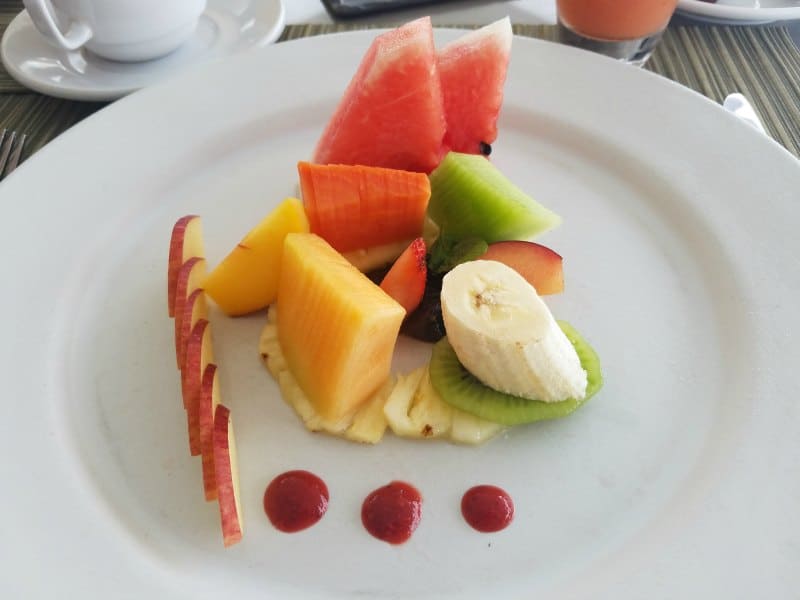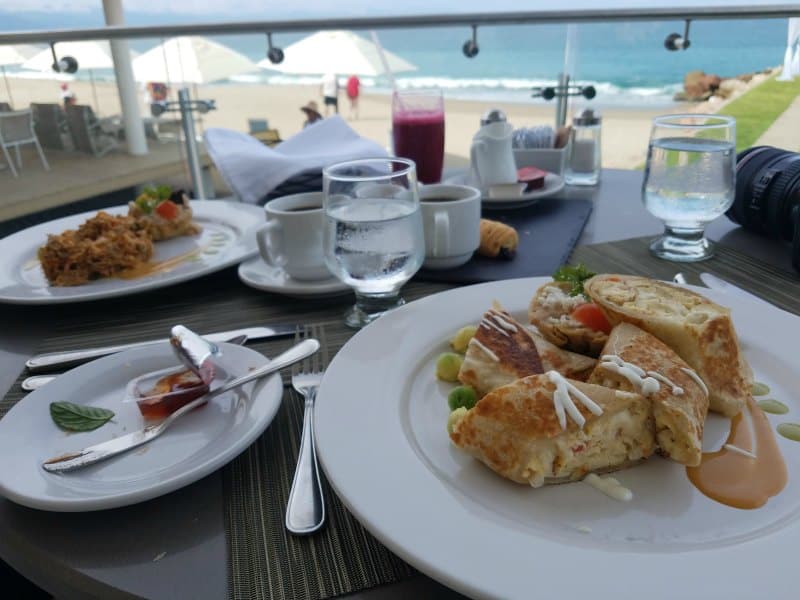 Murales is open for dinner and offers traditional Mexican cuisine with a set menu. Every day you can see the menu next to the hotel to decide if you are ready for four courses of delicious food. On the night John and I dined at Murales they offered octopus tacos, passion fruit soup, enchiladas, and a trio of desserts. The desserts included chocolate mole, corn cake and corn ice cream, and avocado mousse.
La Corona is fine dining that will blow your taste buds away. The perfect date night restaurant during a romantic getaway. Get dressed up a tiny bit and spend the evening enjoying delicious food and a gorgeous sunset.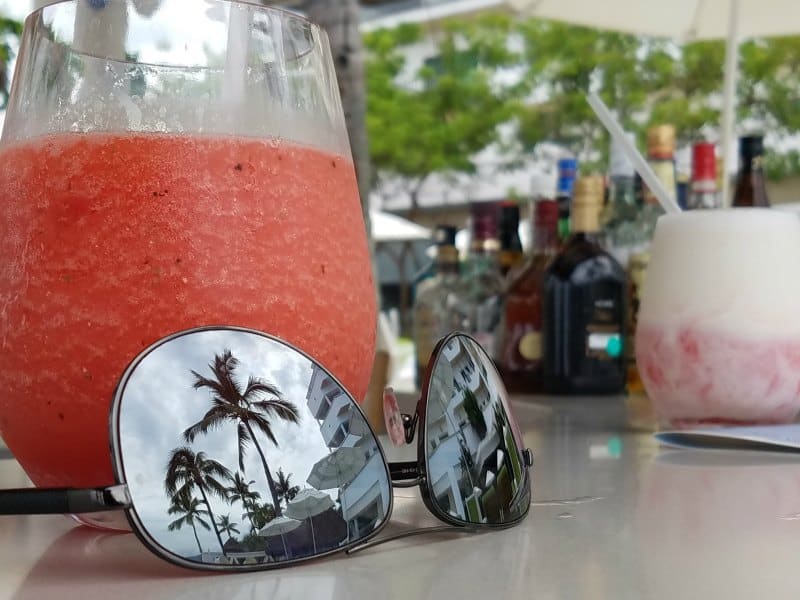 If you are looking for a fruity beverage or Mexican beer look no further than Roberto at the pool bar. Roberto is a master mixologist who can whip up a cocktail based on your favorite flavors. I asked for something fruity each time and every drink he made me was delicious.
He also took John through a mini tequila tasting and shared the different types of tequila and what made each one special. This was all done while lounging at the pool bar! Perfection!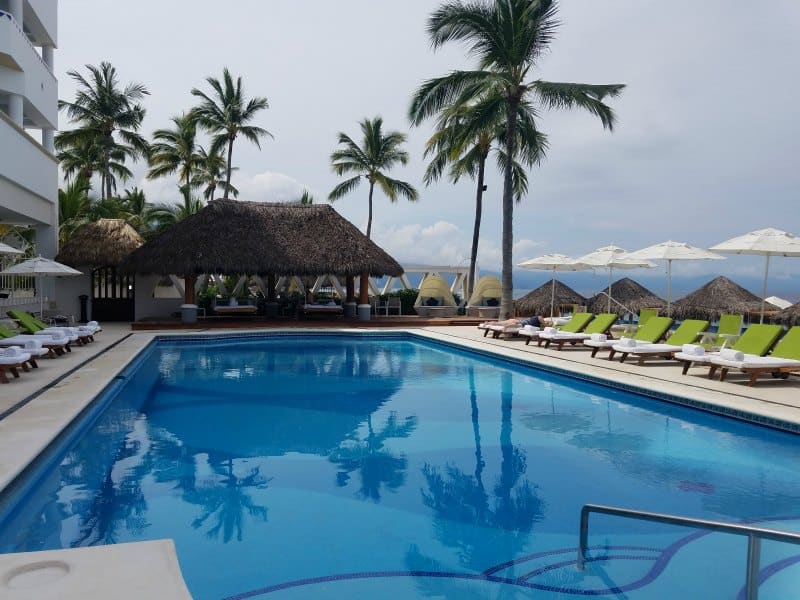 Villa Premiere just finished a major renovation right as I was arriving for my first trip. It was so cool being back a second time to see all of the changes that had happened in the span of a few weeks.
Even while we were checking out some of the artwork was being moved around to make sure it was in the best spot in the hotel.
I would highly suggest the Exquisite All-Inclusive Gourmet plan for any stay at Villa Premiere. The all-inclusive plan includes the restaurants, bars, room service, and in-room minibar set up that is replenished daily.
I love that you don't have to think about the cost of each meal or drink you can just savor the great food.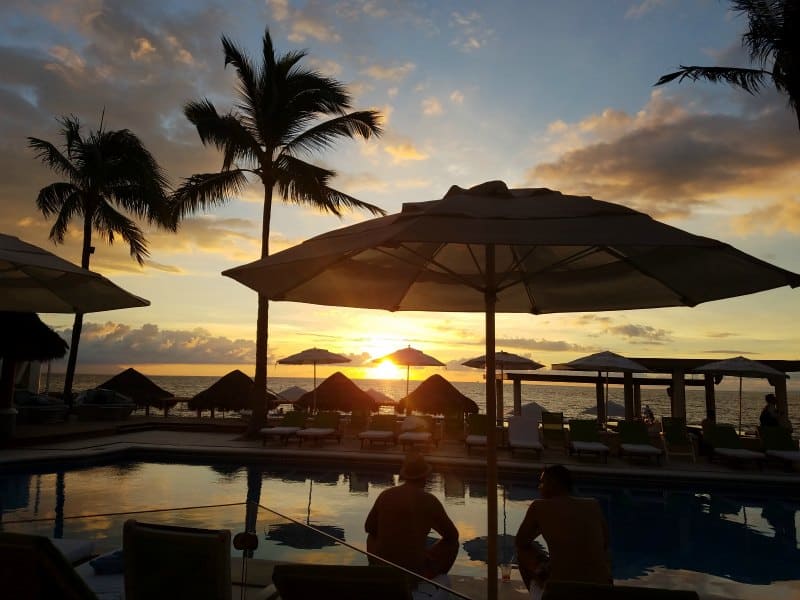 Villa Premiere is located very close to the Malecon in Puerto Vallarta but you wouldn't know it while staying there. The property is super quiet and relaxing but you can easily walk out the main lobby and down the street and be in the heart of Puerto Vallarta in minutes. If you want to do something around town the concierge can easily set you up with tours, a private card, or dinner reservations.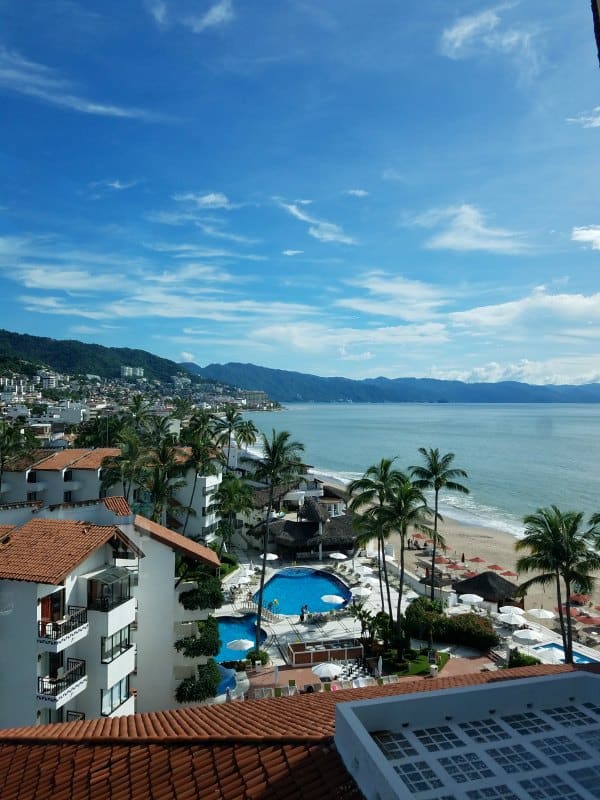 During my first trip to Villa Premiere Luxury Hotel, I stayed in a 2 queen room with a gorgeous view of the Bay of Banderas.

Hotel Name: Villa Premiere Boutique Hotel & Romantic Getaway
Official accounts:
Facebook: https://www.facebook.com/VillaPremiereHotel
Instagram: https://instagram.com/villapremiere/
Twitter: https://twitter.com/villa_premiere
Website: http://www.premiereonline.com.mx/
Hashtags: #VillaPremiere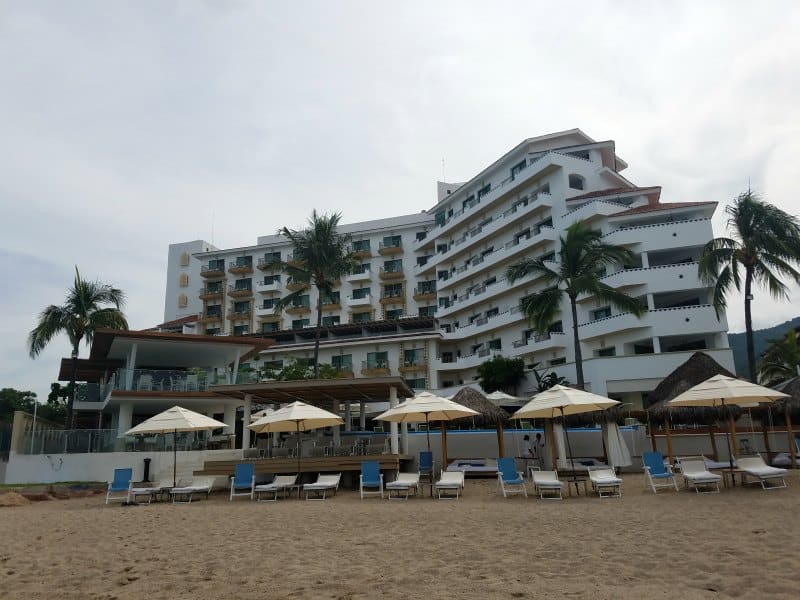 Additional Puerto Vallarta Travel Resources
Puerto Vallarta Restaurants Guide
Best Things to do in Puerto Vallarta
Best All-Inclusive Mexican Resorts for Families
Check out all of our Puerto Vallarta Travel Guides