Salsa Salsa and Margarita Cozumel is a fully interactive excursion. You learn how to make 4 salsas, guacamole, and margaritas during the class. We also got a lesson in salsa dancing. It was so cool learning how to make salsa from scratch with fresh ingredients. I can't wait to remake the recipes when we are home.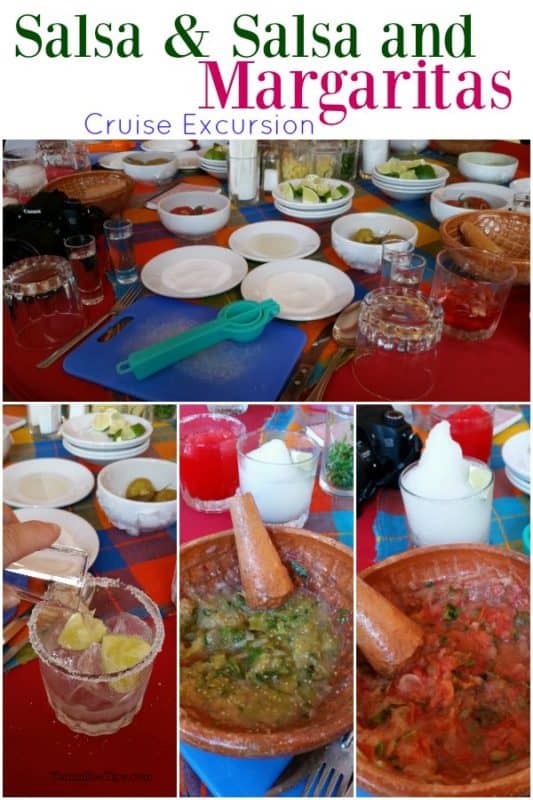 Salsa & Salsa and Margaritas in Cozumel Mexico!
You know a class is going to be great when your first lesson is a lime margarita. Freshly squeezed lime, a bit of tequila, and oh so much fun!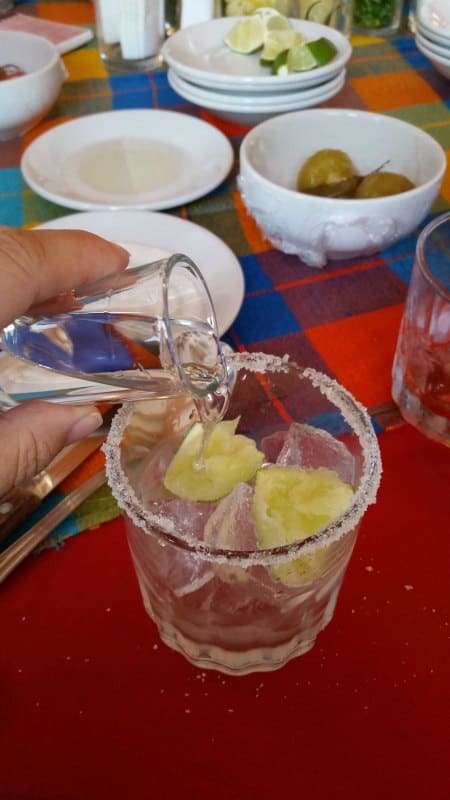 After making and enjoying our first lime margarita we learned how to make a great frozen strawberry margarita.
This class is filled with tips and tricks to make sure you can make the best margarita and salsa.
We made a red salsa, green salsa, guacamole, pico de Gallo, tropical salsa, and dessert salsa during the class. Each of these was so dang good!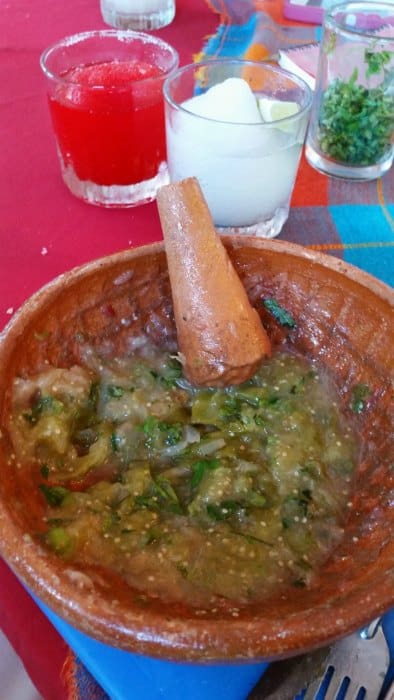 Tangy Salsa Verde Recipe
Ingredients
1-3 cloves roasted garlic
¼ white onion roasted chopped
½ a Serrano chili, remove the seeds for a milder salsa
4 roasted tomatillos
pinch of cilantro, lime juice, and salt to taste
Directions
1. grind the garlic in the molcajete, add chili, onion and tomatoes, a pinch of cilantro, salt, and a few drops of lime juice
2. Mash until mixture is well blended
Enjoy!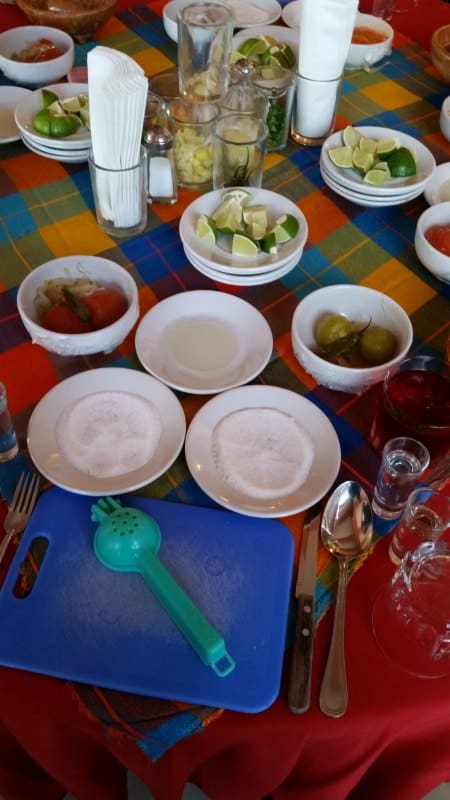 At the end of the class, we learned salsa dancing. This was hilarious! I must say we are not professional dancers but we had a great time. It was fun to just let go and have fun with it.
You have the choice at the end of the excursion to stay and enjoy the pool or beach or head back to the port terminal.
Salsa & Salsa and Margaritas with Carnival Cruise Line
No Minimum Age
Activity Level: Moderate
Duration: 4.5 Hours
Experiences: Adventure, Family, Interactive
Description:
Join the famous Dancing Chefs for a margarita-mixing, salsa-making good time with lots of fun; drinking, eating, and salsa-dancing. Learn to blend Mexico's authentic lime and frozen strawberry Margaritas. Salsa and Salsa also offers a refreshing Hibiscus Tea and bottles of water.
Tease your taste buds as you learn to make a variety of salsas including the Fiery Red Salsa, the Tangy Green Salsa, and everybody's favorite Oaxaca style Guacamole, the classic Pico de Gallo, and the tempting dessert salsa!
Snack on tasty cheese quesadillas, crispy taquitos and dip freshly fried corn chips into your culinary creations. Once you have mastered your cooking skills, the dancing chefs will have you moving and swinging to the lively sounds of Salsa Music!
Trip Advisor has awarded their highest rating, the "Certificate of Excellence" to Salsa and Salsa, for the last 4 years running! The tour is located at a 4-star beachfront resort, with stunning beach views.
After class, you will have the choice to relax on the beach, or splash it up in the largest swimming pool on the island! Snorkel gear is available for rent from the onsite and there is good snorkeling from the shore.
Note: Lockers and towels are available for an optional fee. Ground Transportation is provided to and from the ship.
The minimum drinking age is 21 years. All minors must be accompanied by a paying adult. Aquatic activities are not included however there is free time afterward to enjoy the resort and the beach.
Great Caribbean Cruise Articles
Catamaran Sail and Snorkel Excursion - Cozumel
Passion Island by Catamaran Excursion - Cozumel
Mahogany Bay - Roatan
Check out all of our Caribbean Cruise posts