Super Easy 3 ingredient Berry Coconut Sorbet Recipe! This recipe takes minutes to prepare and tastes amazing!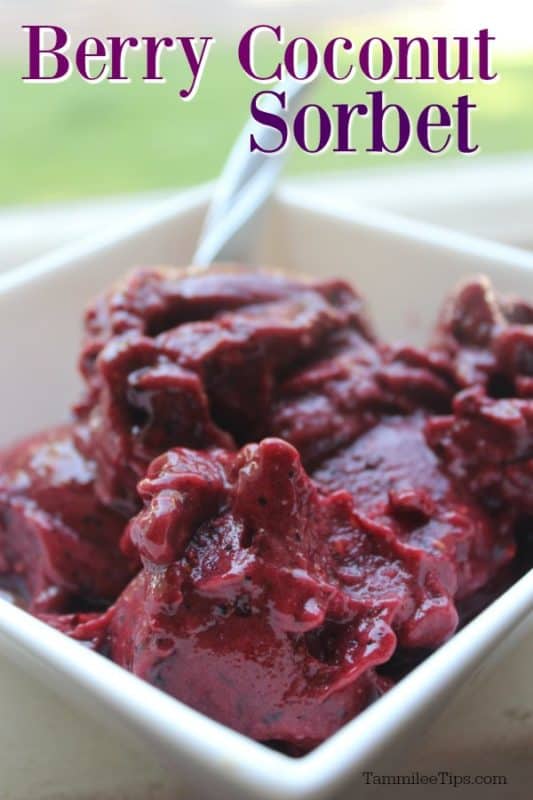 Berry and Coconut Sorbet Recipe!
While we were in LA we had the chance to talk with Gwyneth Paltrow about Iron Man 3 and her new It's All Good: Delicious, Easy Recipes That Will Make You Look Good and Feel Great

Cookbook.
During our conversation, Gwyneth was very candid and open about her cookbook, what cooking means to her, how she started writing cookbooks and so much more.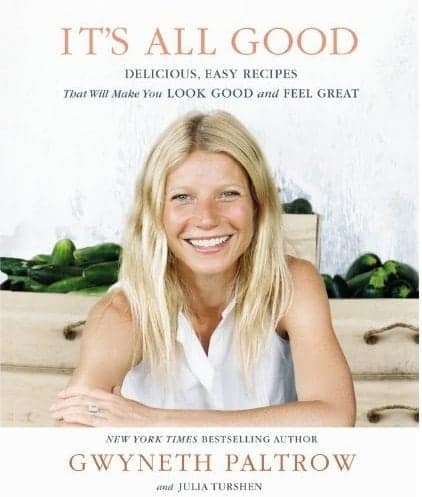 During our interview Gwyneth Paltrow was down-to-earth, friendly and so enjoyable to talk with.  I love that she brought her best friend Julia, who she has been friends with since 7th grade to the interview.
When we asked Gwyneth how she started writing cookbooks she laughed and told us how her friends would call and ask for help. They wanted to know what to cook when they had a guy coming over for dinner or what temperature to roast something at.  Gwyneth started writing down all of her recipes and then when her Dad died she continued as a tribute to him.
Her new cookbook It's All Good originated because of her son's really bad eczema. She wanted to make him a book that is a mini-encyclopedia of totally yummy comfort food that is on his diet.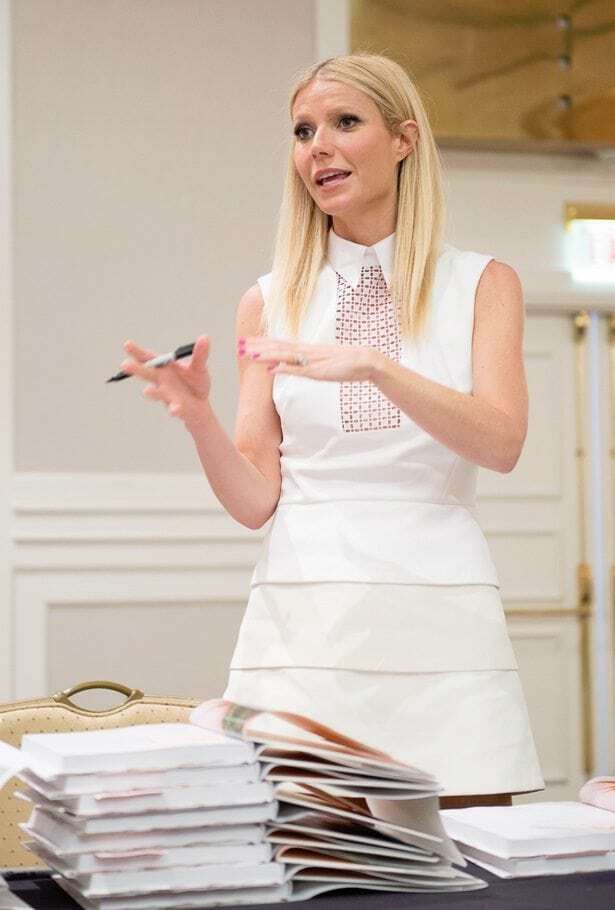 photo credit - Dear Crissy
Listening to Gwyneth talk about her Dad was heartwarming and such an amazing reminder to enjoy life and your parents while you have them. Gwyneth talked about how she felt her Dad in the kitchen because it was such a huge part of their relationship. Writing her first cookbook was a way to pay homage and was also cathartic for her.  Gwyneth's dad taught her to cook and they had an amazing connection to food and spending time in the kitchen together.
Gwyneth was very open and candid about a health scare she had two years ago. She shared with us that she thought she was having a stroke. She had an anxiety attack on top of a migraine that made her whole right side numb. She was laying in bed and could hear her kids playing in the garden and she did not feel up to going out and playing with them. She went to the doctor and got tested for everything they could possibly test for.
She found out that she had run herself into the ground. She had incredibly high-stress hormones that were killing her adrenals. She had low vitamin D, Vitamin B, her estrogen was messed up and everything was just off. Her doctors suggested that she go on an elimination diet. She was advised to eat super clean, just like how our ancestors would have eaten.
Part of the diet meant giving up coffee, alcohol, sugar, Velveeta cheese, and in three weeks her blood work was considerably better. Gwyneth said, "food really is medicine" during our conversation. When asked the best advice she could give on good nutrition Gwyneth said that a nutritionist once talked to her about how our diets have changed in the past 50 years. What would happen if you showed your grandmother or great grandmother what we eat now?
One of the great pieces of advice Gwyneth mentioned was she tries to cook really healthy at home because she can not control what they eat at a friend's house nor does she want to. She wants her kids to be able to make choices and have a life.  When asked how she keeps her kids healthy while they are traveling Gwyneth talked about being in Paris and how hard it is to eat gluten-free in Paris.
She smiled and talked about finding alternative choices in a gluten heavy area. They went out for Japanese Food and Mexican Food that have gluten-free options without losing the amazing flavor and variety of food.
During our conversation, you could tell how passionate Gwyneth Paltrow is about being a Mom. Her smile lit up her face when she talked about her kids and how much fun she is having teaching them to cook. She creates teaching moments in the kitchen to help her kids try new things but also feel a sense of accomplishment when they achieve a new skill or try something difficult.
She talked about setting them up to succeed and giving them an area to have great success in. She mentioned that her Dad created these situations for her and how important they were to their relationship and her love of cooking.
I loved hearing that she does math in the kitchen with her kids. I had a flashback to learning fractions with my Mom at the kitchen table with a huge bowl of flour and mixing cups. We made a huge mess but by the end of the day, I was a master at fractions. I still think of this lesson 25+ years later when I am cooking.
One of the funniest moments from our interview was when a fellow blogger asked Gwyneth Paltrow if she raps in the kitchen. The look of shock and disbelief on Gwyneth's face was priceless. She asked if we had a hidden camera in her kitchen. She said they are 100% a hop hop household.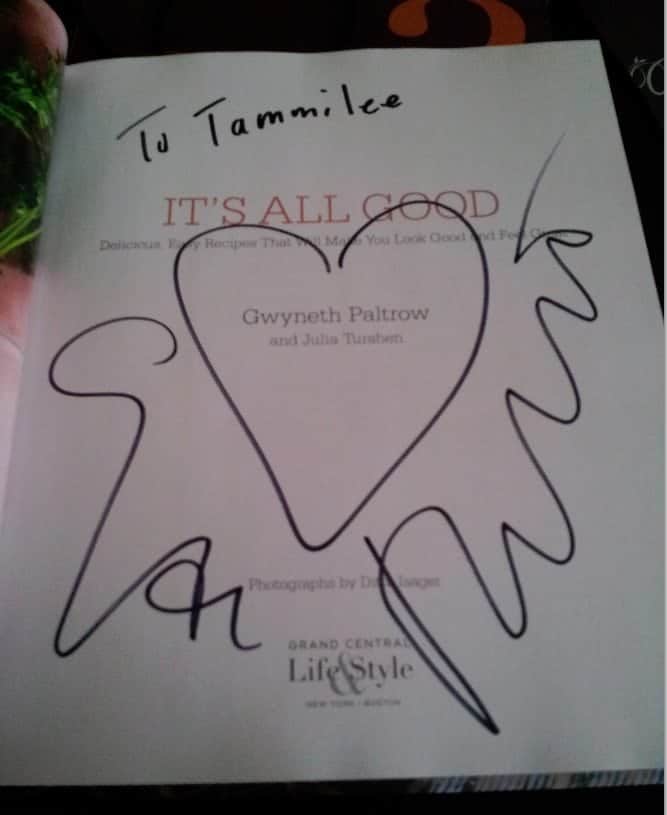 A huge thank you to Gwyneth Paltrow for taking the time to personalize our cookbooks!  This cookbook is filled with a huge variety of food that is delicious and easy to prepare. I love the stories that are included in the cookbook.  I can not wait to make so many of these recipes. I have post its sticking out of the cookbook all over the place marking the recipes I plan on making.
The first recipe I made is Instant Berry and Coconut Sherbet! I love how simple this recipe is but so amazing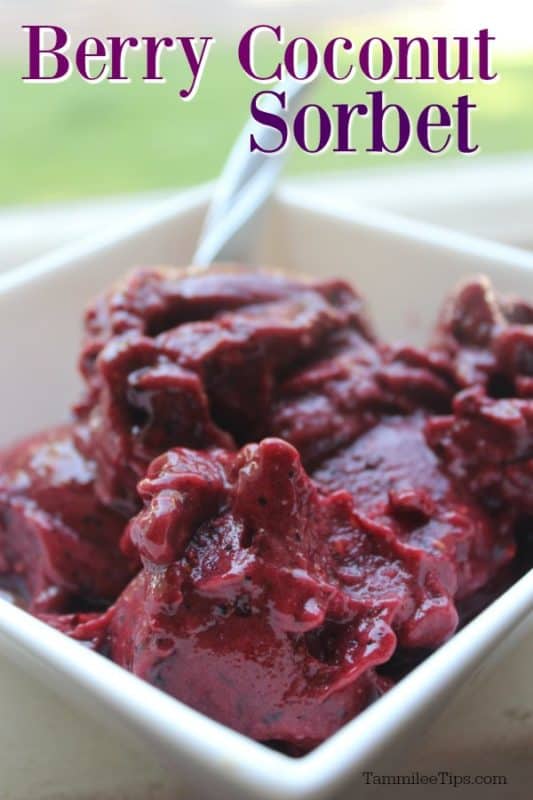 Berry and Coconut Sorbet
Ingredients
Frozen berries, a mix of blueberries, blackberries, raspberries
Coconut milk
Good quality maple syrup
Great Easy Dessert Recipes
3 ingredient peanut butter cookies
2 ingredient coconut macaroons
2 ingredient pineapple angel food cake
Do you love recipes? Check out our copy cat recipes, dessert recipes, and our Crock Pot Recipes.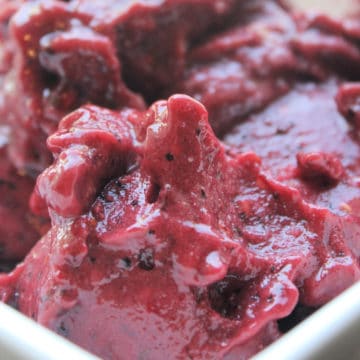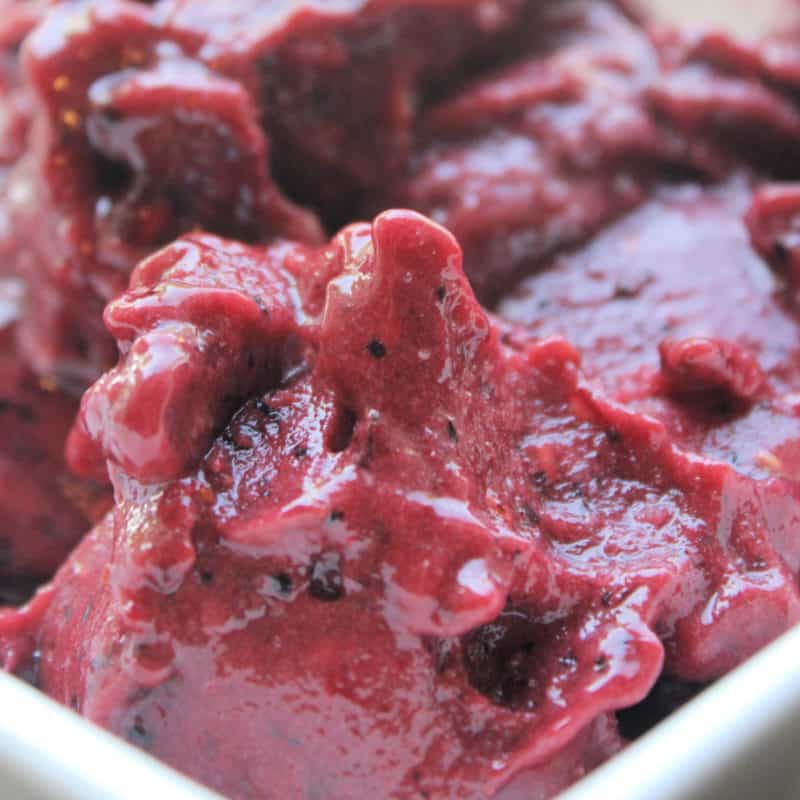 Berry and Coconut Sherbet
How to make a delicious easy Berry and Coconut Sherbet
Print
Rate
Instructions
Combine everything in a food processor and pulse until completely smooth

Eat immediately or freeze for about 10 minutes to soften before serving
Nutrition
Nutrition Facts
Berry and Coconut Sherbet
Amount Per Serving
Calories 489
Calories from Fat 234
% Daily Value*
Fat 26g40%
Sodium 21mg1%
Potassium 506mg14%
Carbohydrates 68g23%
Protein 4g8%
Vitamin A 143IU3%
Vitamin C 9mg11%
Calcium 89mg9%
Iron 4mg22%
* Percent Daily Values are based on a 2000 calorie diet.
Recipe originally shared on May 10, 2013. Updated December 2020
A huge thank you to Disney for giving me the chance to meet with Gwyneth Paltrow during the Iron Man 3 press event. All opinions expressed are my own.