Things I didn't know I needed in my life until I went to the Lake Charles Mardi Gras Celebration! I love it when a moment in life surprises you and makes you want to do it over and over again. That is how I feel about celebrating Mardi Gras in Lake Charles, Louisiana. I want to do it every year I possibly can.
You all know I love Lake Charles and talk about the amazing bird watching that I experienced last year often.  My inner bird nerd gets so excited just thinking about taking more photos of birds but I digress from today's reasoning for loving Lake Charles...Mardi Gras!
SO MUCH FUN! I can barely put into words how hard I fell in love with Lake Charles again but I am going to try. So here are the things I didn't know I needed in my life until I went to Mardi Gras in Lake Charles...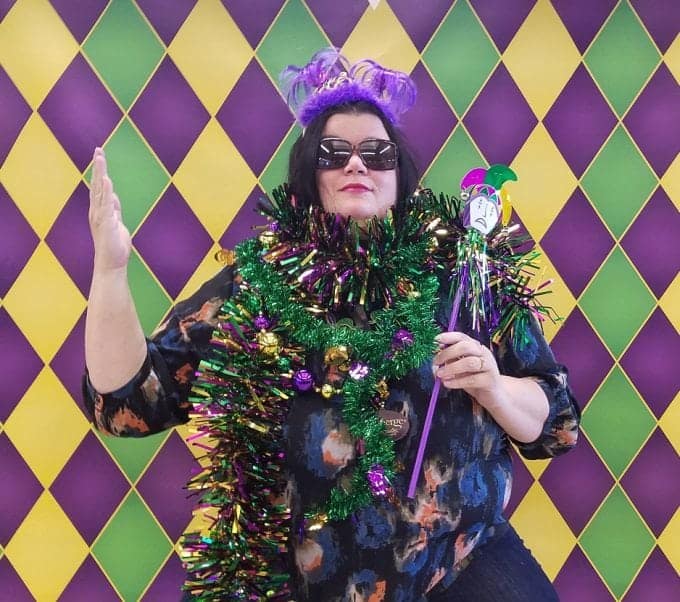 Lake Charles Mardi Gras Celebration
Wear Everything purple, gold, and green
There is just something about being at a Mardi Gras celebration that makes you want to wear everything purple, gold, and green. So much so that I may be wearing some of the table decorations that were set up at the Lake Charles Visitor Center. Yes, I admit it we put on table decorations for our photos.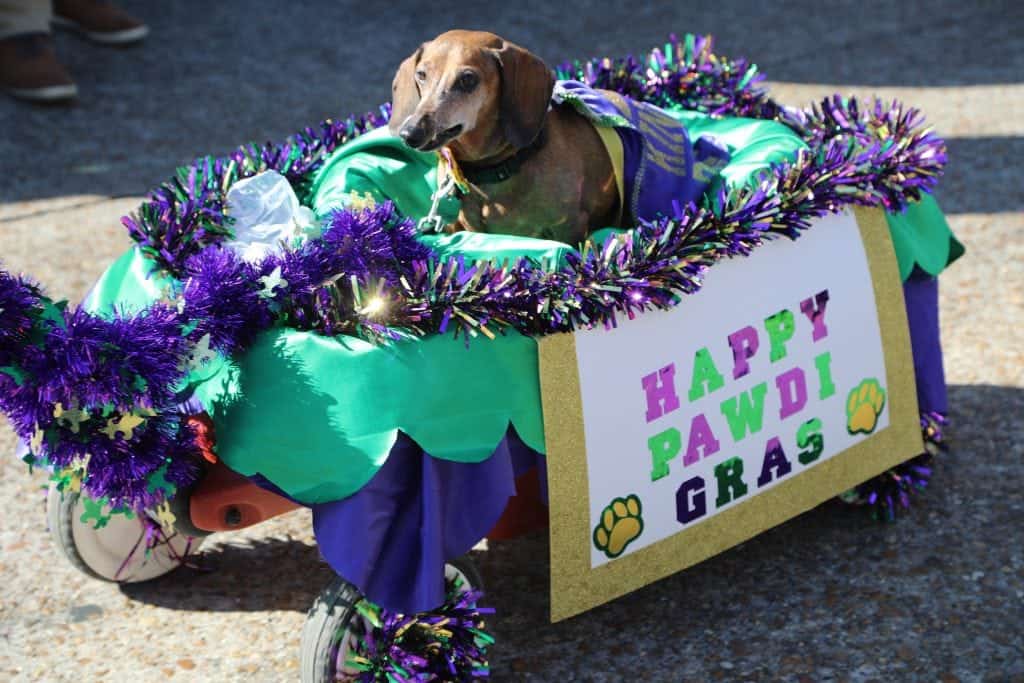 You guys there is a parade for dogs dressed up in Mardi Gras costumes...can you even handle it! It was ah-mazing, so cute, and I just wanted it to happen over and over again so I could keep taking pics of all the costumes.
I have a full post coming out soon because the pups were that dang cute and I loved it that much.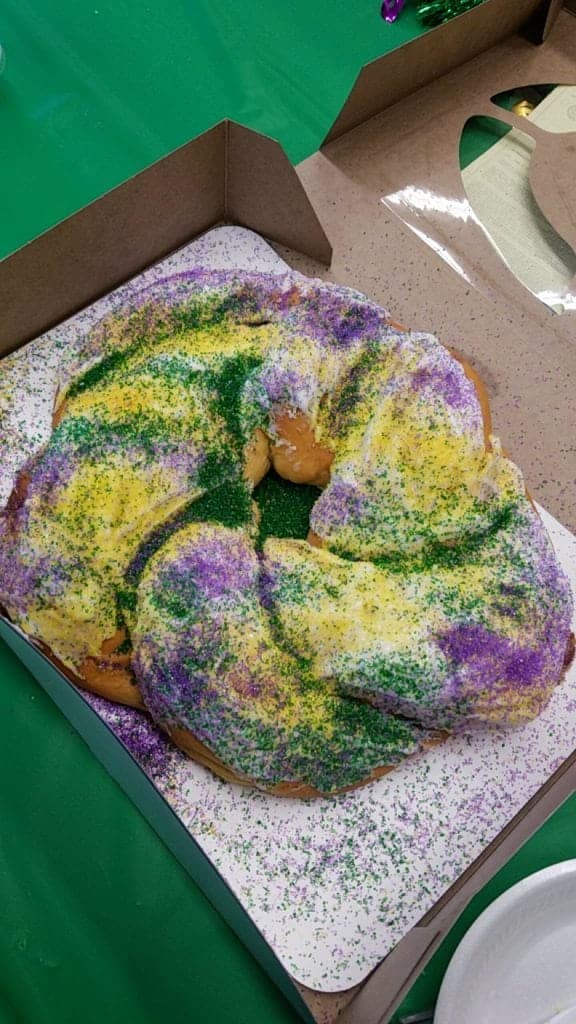 King Cake all day every day and every way possible 
It is a good thing that King Cake is not available year-round in Spokane or while I am traveling. I am pretty sure those sprinkles contain some form of an addictive substance that makes you dream of your next piece of King Cake. So delicious!
The Lake Charles Visitor Bureau was nice enough to send this cake home to Spokane for me after I decorated it. John was more than willing to dive into the King Cake and spread the Mardi Gras love a little longer.
Also, did you know that there is a King Cake Vodka...I need to try this soon.
Plus there is King Cake ice cream, coffee, and other sweet treats. Pretty sure I need to make a trip to Lake Charles just to sample every form of King Cake I can find.
Maybe not the healthiest of reasons but one of the most delicious.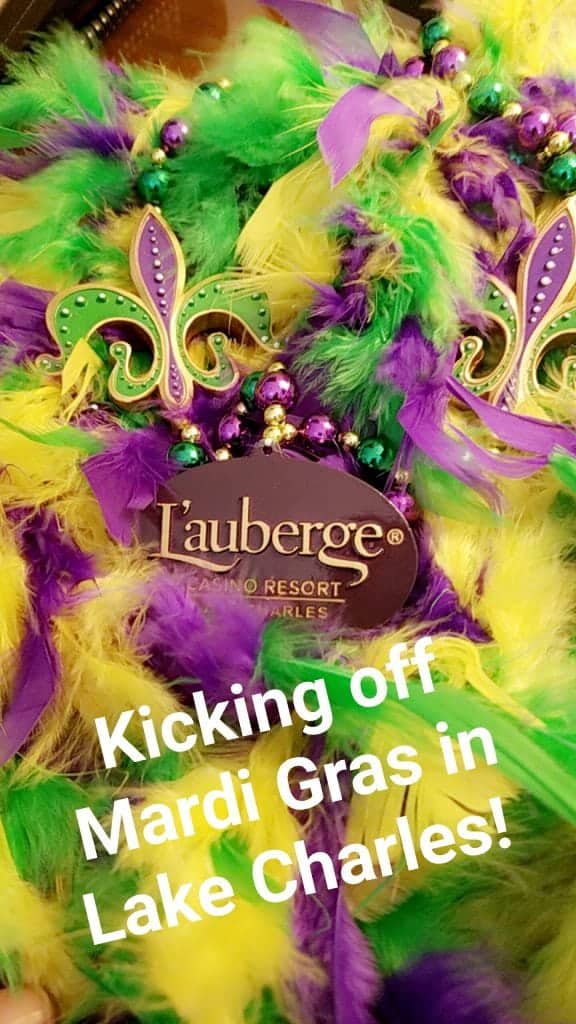 Beads and more beads
We have all heard stories about how to earn beads during Mardi Gras...
Thankfully in Lake Charles, all you have to do is smile and wave your hands in excitement and beads get thrown at you.
No flashing required, expected, or needed to cover yourself head to toe in beads.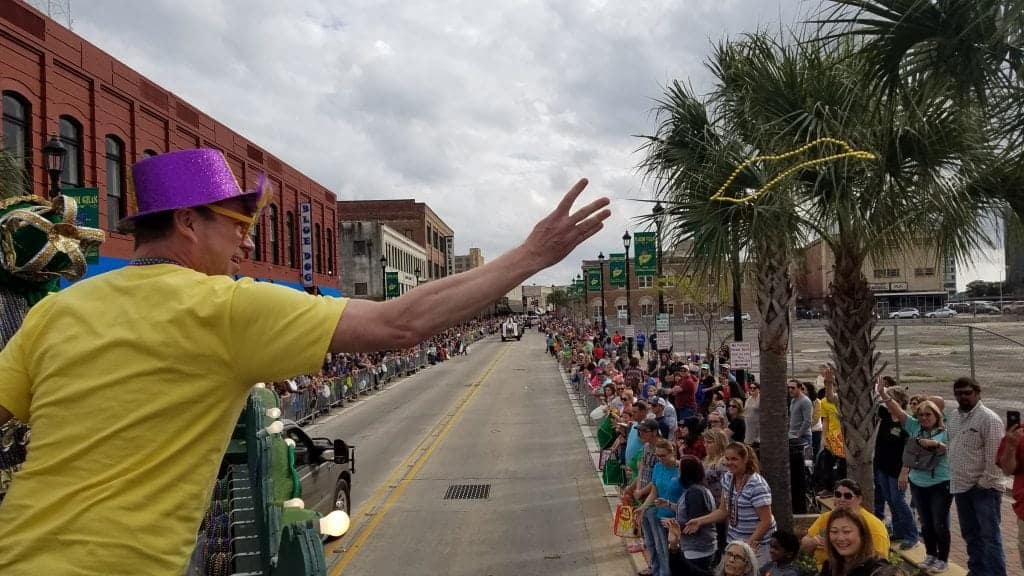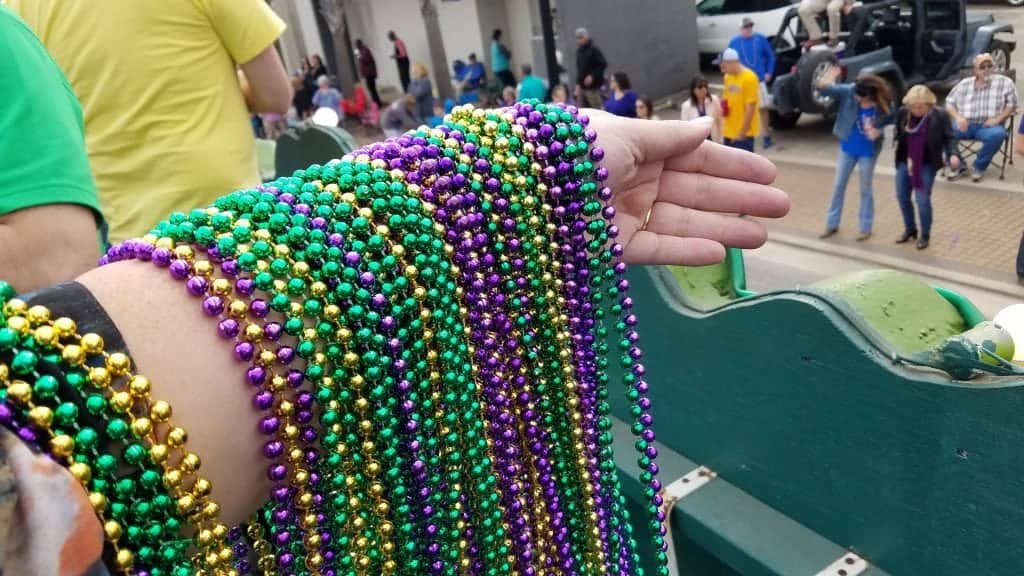 Spreading joy throwing beads in the kid's parade.
I have mentioned a few times that my goal for 2017 is to spread joy any way I possibly can. Well riding on the alligator float for the Mardi Gras kids parade was pure joy!
The smiles and excitement on everyone's faces when you throw them beads is pretty darn priceless. I can't wait to share more about this amazing experience soon.
Check out my post on what it was like to ride on a float in the Mardi Gras parade.

Learning to Zydeco dance and line dance.
We took Zydeco dance lessons and they were amazing. I may need to start Zydeco dancing around my living room!
It was such a fun workout. We were all a bit sweaty and laughing like crazy at the end.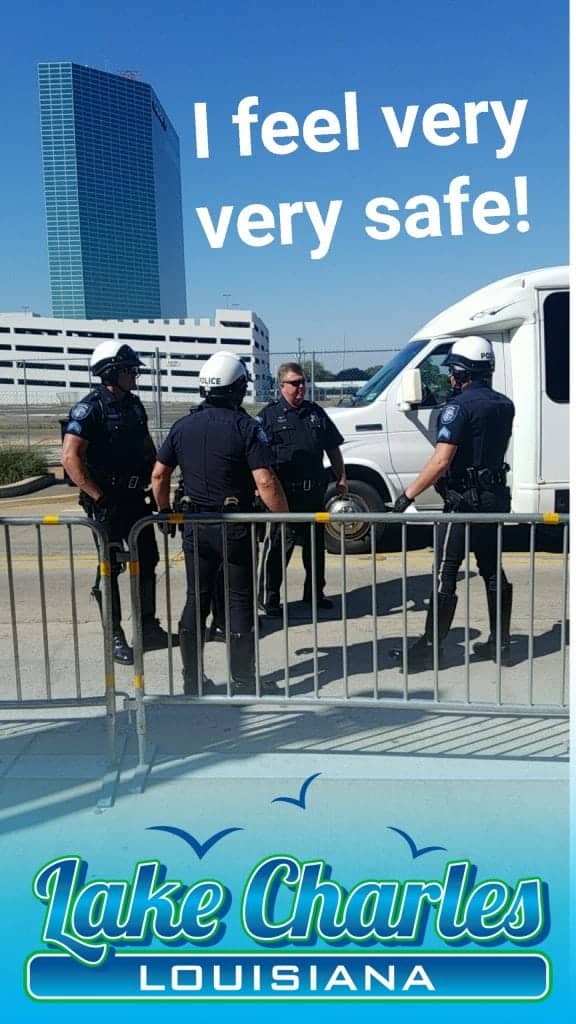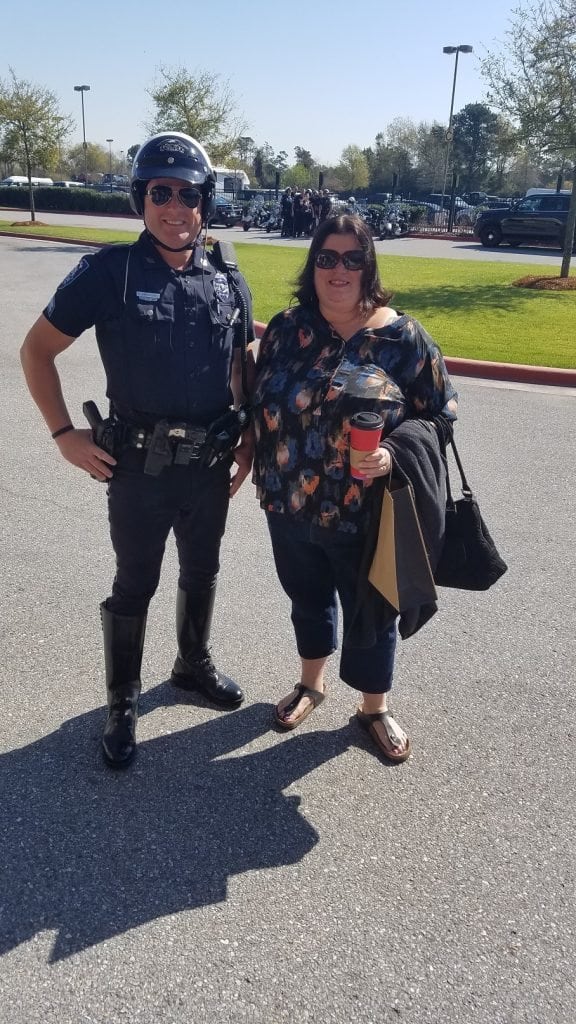 Have a police escort to brunch
One thing with Mardi Gras is the roads get shut down early for the parades. This can make getting around town an interesting adventure if you need to make it downtown.
We ended up with a quite lovely police escort to brunch and it was amazing. Imagine walking out of your hotel room to find a group of motorcycle patrolmen along with a few cars waiting for you.
I felt a bit presidential or like royalty driving down the roads with motorcycles zooming around us to make sure we had a clear path to breakfast. Oh, and did I mention that Lake Charles has some mighty fine law enforcement officers who took very good care of us. 🙂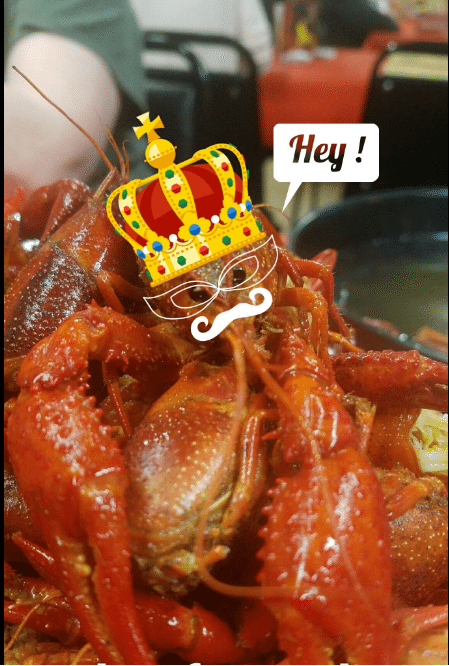 Put a crown on a crawfish
This is what happens when you don't get enough sleep at night and find yourself playing on your phone with a new editing app. Yep...I put a crown and glasses on a crawfish.
Definitely, something I never knew I needed to do in my life. 🙂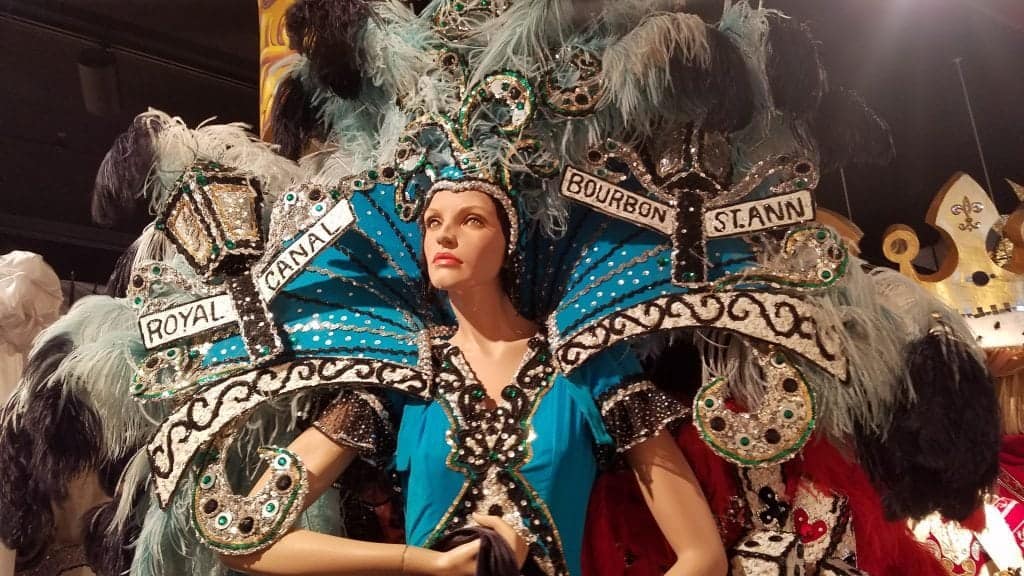 Want to create my own krewe
After seeing the amazing work that the krewes do and how much fun they have together I really think it may be time to create my own Krewe.
Plus how fun would it be to elect royalty and get to wear gorgeous regalia each year. I loved seeing all of the creativity and work that went into the costumes we saw at the Royal Gala of the Krewe.
Did you know that some of the costumes can take over 1,000 hours of hand sewing and weigh more than 35 pounds? Crazy but so cool at the same time!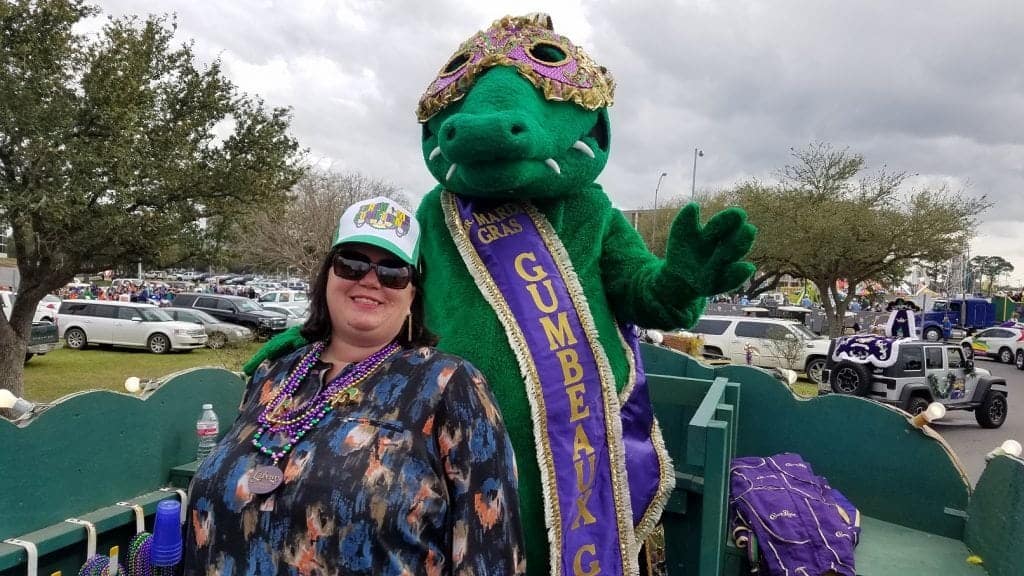 Hug Gumbeaux Gator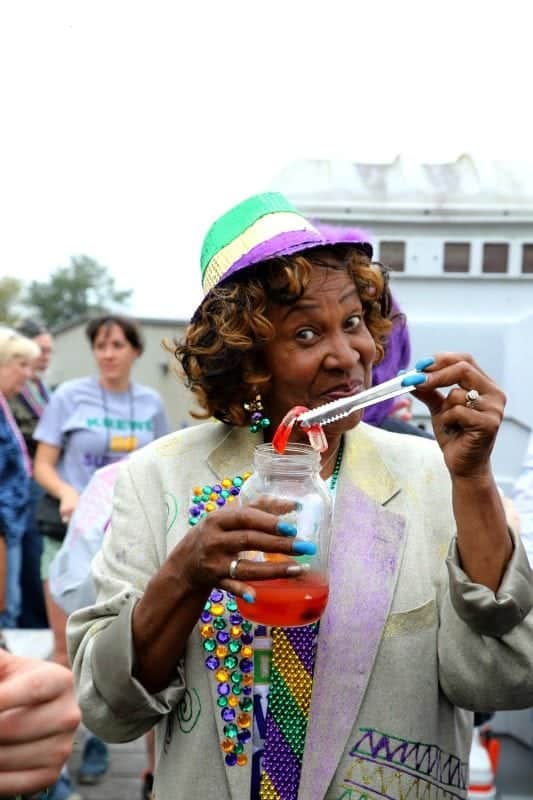 Try a tequila-soaked gummy bear while riding a float
Truly I never knew I needed a tequila-soaked gummy worm in my life whether I was on a float or not but it seems that I did.
In fact, I didn't need just one I needed three of them in my life. I am happy to say that I can now feel my tongue again a few days later. LOL!
Miss Doris was amazing! I would love to sit down with her and share some king cake and learn more about her. She told me that at 70-years young she wants each of us to live our lives to the fullest and have as much fun as possible. She brought a huge smile to my face and made me want to have more fun as often as possible.
Check out our article on the Iowa Chicken Run.
One of my favorite things about visiting Lake Charles, Louisiana is the people that live there.  Southern hospitality is a way of life and we were embraced like family members. Looking back on an amazing few days what sticks out to me is not only the amazingness that was Mardi Gras but truly the people who took us in and shared their love for their city and their traditions.
I can't wait to hopefully return to Lake Charles, Louisiana again soon and experience more of this amazing city!
Additional Lake Charles Articles
Top things to do in Lake Charles
Southwest Louisiana Boudin Trail
Cameron Prairie National Wildlife Refuge
Check out all of our Louisiana Travel Guides