I love using the Crock Pot to make great meals year round. It is so nice coming home to dinner taken care of and ready to go. This year I really want to try more Crock-Pot recipes. The first recipe I tried is Spicy Buffalo Ranch Chicken. I have to tell you the house smelled amazing while this was cooking. John came home from work and was trying it before he even changed clothes. John said it was fantastic. I ended up making enough that John had it for lunch the next couple of days. It kept really well in the fridge and I was able to freeze some of it for another meal.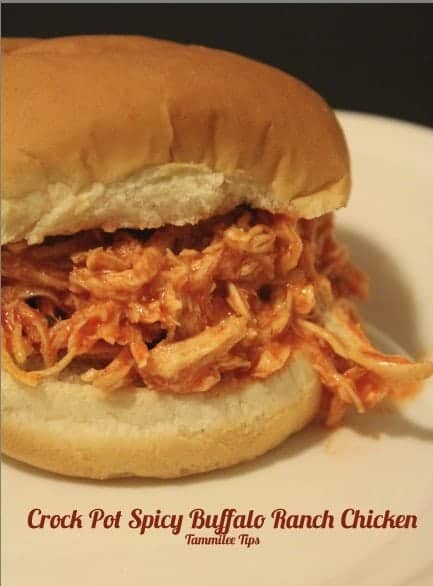 Crock Pot Spicy Buffalo Ranch Chicken
Ingredients
3 pounds chicken (We use Zaycon Chicken and love it)
1 package Hidden Valley Ranch mix (dry mix)
1 12oz bottle Franks Red Hot Buffalo Sauce – Hot Buffalo
You could easily use a milder form of Franks Red Hot if you do not want it super spicy.
Directions
Place chicken in the Crock-Pot

pour Franks Red Hot Buffalo Sauce over the chicken, Sprinkle the Hidden Valley Ranch mix over the top.
Cook on medium for 6 hours
Shred the chicken and enjoy
Top 10 Crock Pot Recipes
2. Crock Pot Tater Tot Casserole
5. Crock Pot Spicy Buffalo Ranch Chicken
6. Crock Pot Corned Beef and Cabbage
7. Crock Pot Spicy Barbecue Kielbasa
8. Crock Pot Bourbon Glazed Kielbasa
10. Crock Pot Cajun Boiled Peanuts
Do you love recipes? Check out our copy cat recipes, dessert recipes, and our Crock Pot Recipes.