Air Fryer Quesadilla is the quick and easy recipe you didn't know you needed in your life! This recipe for quesadillas in the air fryer takes minutes to complete and you get a crunchy tortilla with super melted cheese on the inside.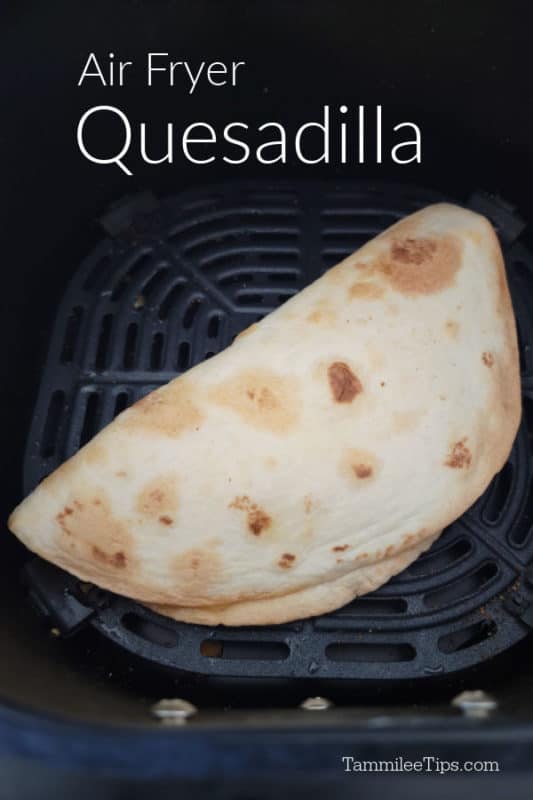 Air Fryer Quesadilla
Cheese Quesadillas are one of those perfect foods that work as a snack, meal, or appetizer. You can fancy them up and use a few different types of cheeses or stick to cheddar and a flour tortilla.
This Air Fryer Cheese Quesadilla recipe is the perfect base recipe that can be adapted to your favorite add-ons. Feel free to throw in grilled chicken or steak, refried beans, or really anything you love.
We used to make quesadillas on the stovetop but now we make them in the air fryer all the time. They are just so easy to make.
I know you are thinking but why not just make them on the stovetop and be done with it. I hear you and honestly thought the same thing when I first started making these but then I realized how crispy delicious these cheese quesadillas are.
There is no extra oil or butter so your fingers don't get greasy and you don't have to think about those calories. I tend to do get distracted while making things and end up putting the dishes away and forgetting to flip the quesadillas on the stovetop. I have lost track of how many I have burned not paying attention.
With the air fryer it beeps at me and reminds me to flip the tortilla over so we get perfectly cooked quesadillas each time.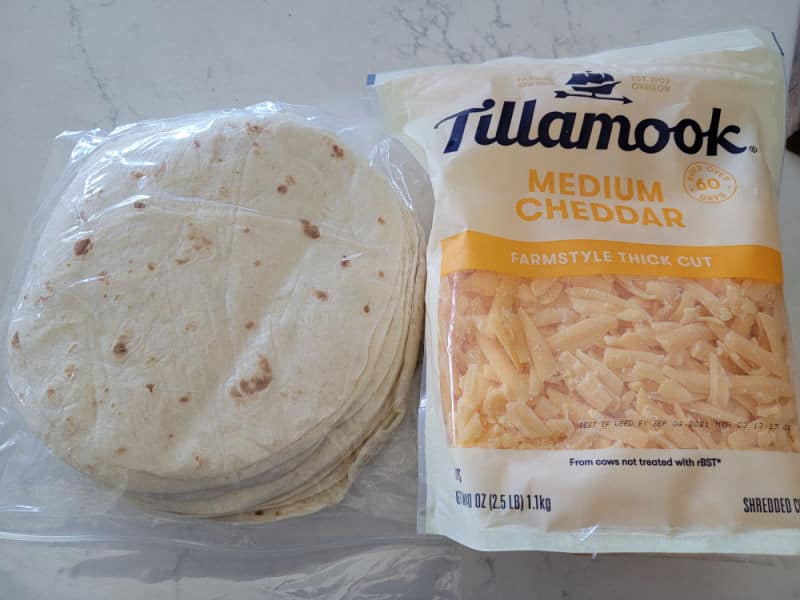 Ingredients
Flour Tortillas or corn tortillas
Cheese
Cooking Spray - Olive Oil or Avocado Oil. We try not to use non-stick cooking sprays in the air fryer because they can damage the air fryer basket.
Add ons - grilled chicken, steak, refried beans,
Dips - I love to dip these in Chili's Salsa.
Equipment Needed
Spatula/Tongs - You want to be able to easily reach in and flip the quesadilla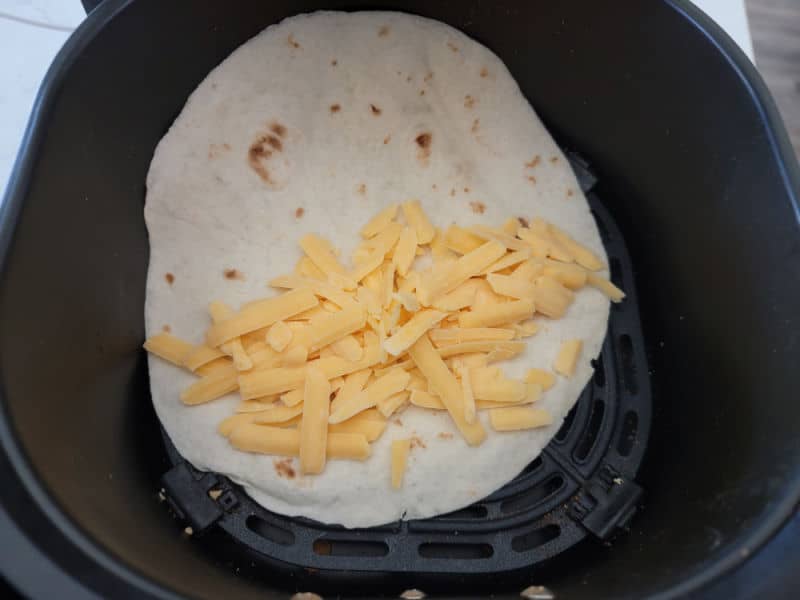 Place tortilla in the air fryer basket. Add ¼ cup to ½ cup or more shredded cheese on top of the tortilla. I try to make sure the cheese is in the middle and leave a bit of an edge around the tortilla.
The most important step of this kid-friendly quesadilla is making sure you open the air fryer basket 1-2ish minutes into cooking and pushing the tortilla down onto the melting cheese. This will keep it from flying open and getting interesting.
Close the air fryer basket and cook at 350 degrees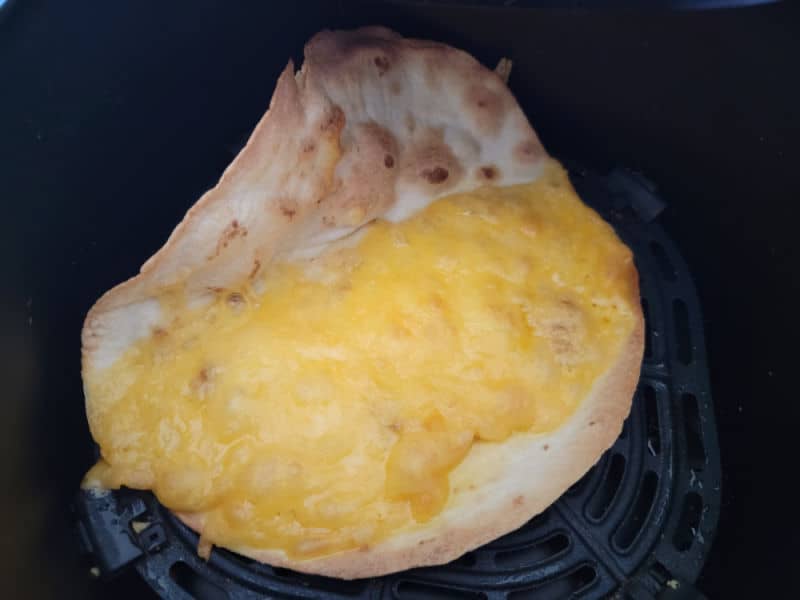 Make sure to press down on the tortilla so it connects to the cheese a minute or two into cooking. Otherwise, the tortilla can fly open and you end up with scary cheese.
When they cook like this for some reason the texture and flavor changes a bit and it is not the best.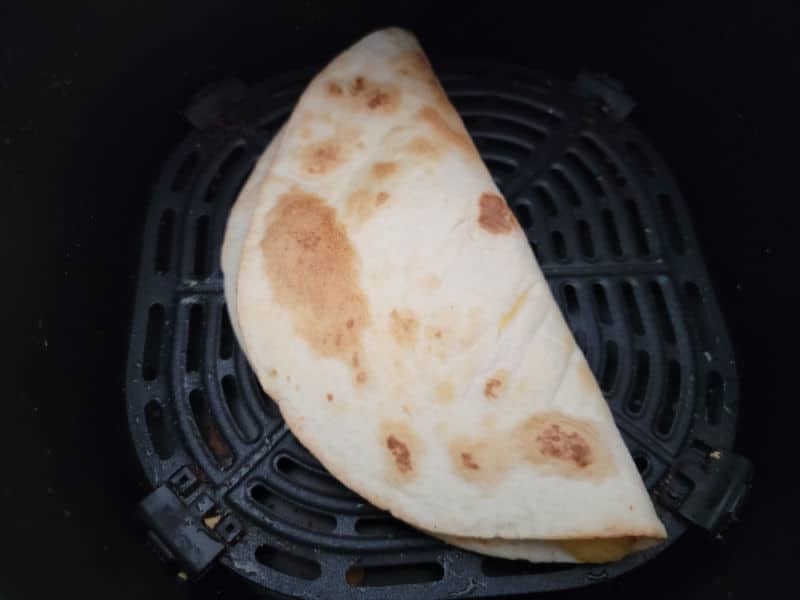 About halfway through the cooking time you will want to flip the cheese quesadilla in the air fryer so both sides get crispy.
Keep an eye on the quesadilla during the last minute or two of the cook time especially the first few times you try making them.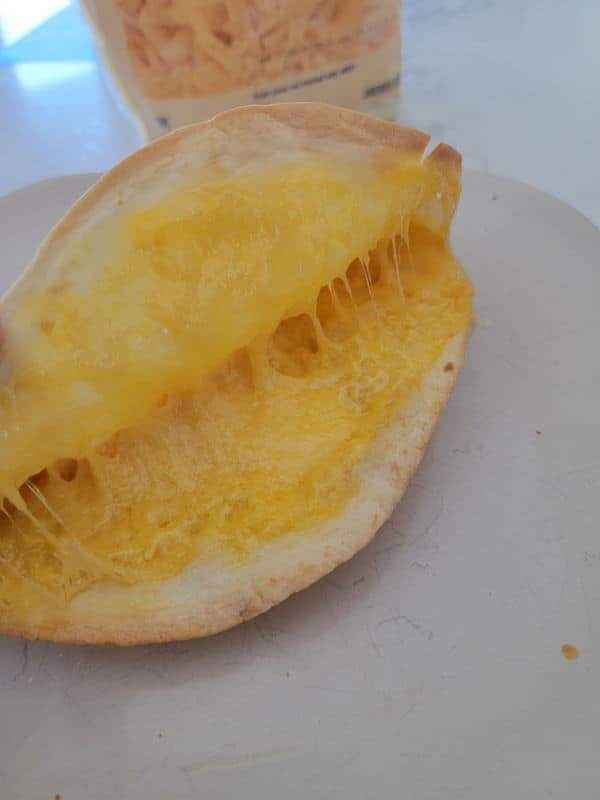 The cheese is melted and oh so delicious! You can use the same process for chicken quesadillas.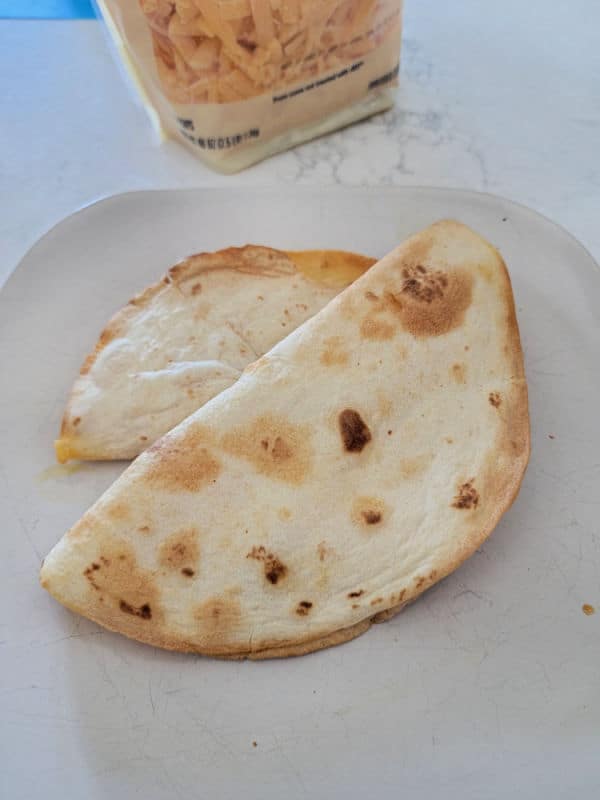 Great Air Fryer Recipes
Check out all of our Air Fryer Recipes including great vegetarian air fryer meals.
Do you love recipes? Check out our copy cat recipes, dessert recipes, and our Crock Pot Recipes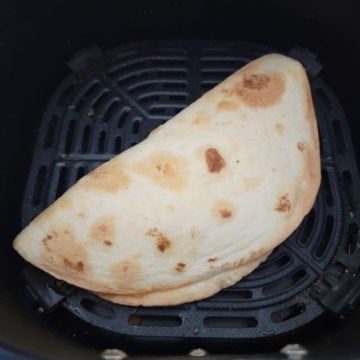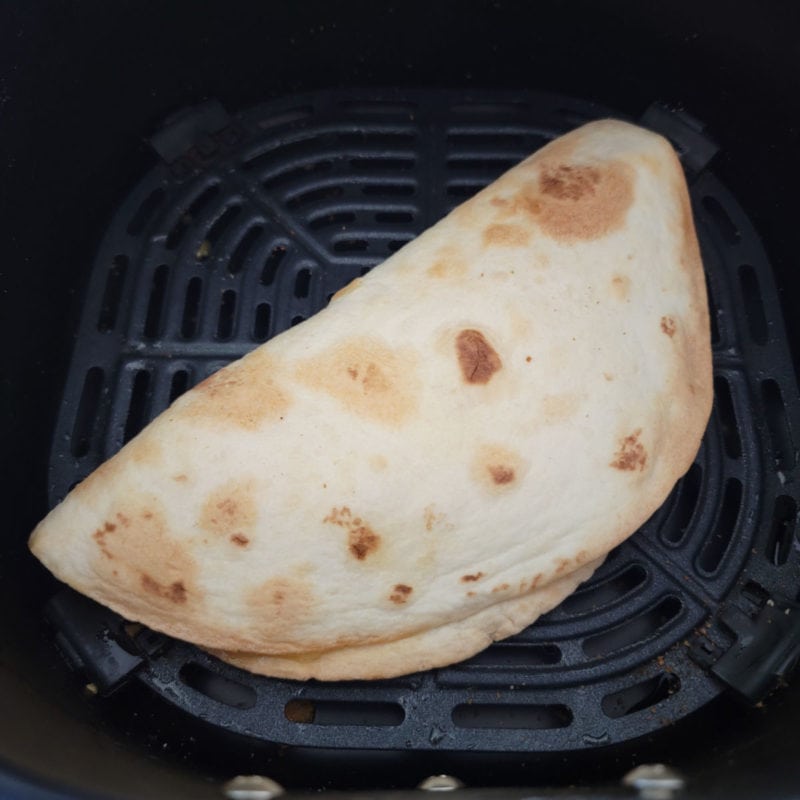 Air Fryer Quesadilla
Easy Air Fryer Quesadilla takes minutes to prepare and tastes amazing.
Print
Rate
Ingredients
½

Cup

Cheddar Cheese

or more
Instructions
Place tortilla in air fryer basket and top with cheddar cheese. Fold tortilla in half over the cheese.

Cook at 350 degrees for 5-7 minutes

After 1-2 minutes open the air fryer basket and push the tortilla down into the cheese.

Halfway through cooking flip the tortilla so both sides get crispy.
Nutrition
Nutrition Facts
Air Fryer Quesadilla
Amount Per Serving
Calories 318
Calories from Fat 189
% Daily Value*
Fat 21g32%
Cholesterol 59mg20%
Sodium 557mg24%
Potassium 101mg3%
Carbohydrates 16g5%
Protein 16g32%
Vitamin A 566IU11%
Calcium 439mg44%
Iron 1mg6%
* Percent Daily Values are based on a 2000 calorie diet.