How to make Air Fryer Potato Wedges! These easy potato wedges in the air fryer take minutes to prep and taste amazing. Perfectly seasoned and extra crispy! Did I mention easy!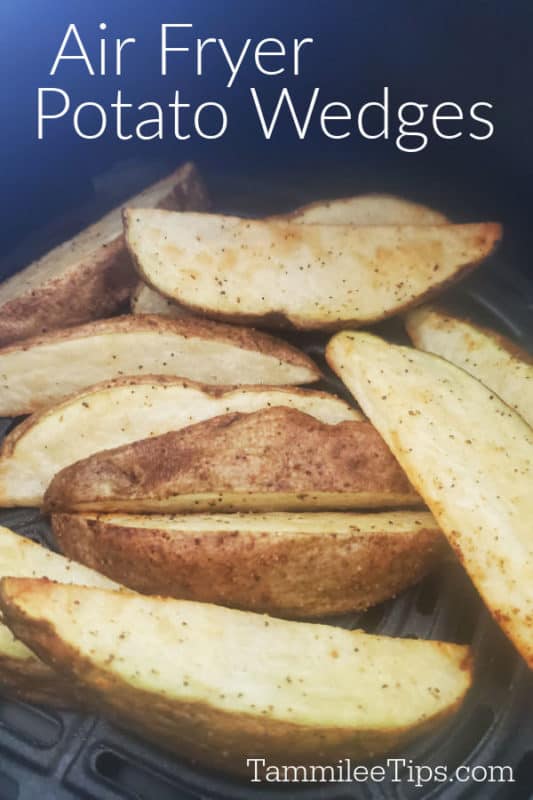 Air Fryer Potato Wedges Recipe
When I first made these potato wedges in the air fryer I figured they would be a great side dish which they definitely are! What I didn't plan on was falling madly deeply in love with them and wanting to make them all the time. LOL
They are so dang easy! The potatoes are crispy on the outside and tender on the inside. You can top them with parmesan cheese or dunk them in a killer sauce it is totally up to you how you want to customize them.
The best part is you save the calories from deep frying and they still taste amazing.
I have served these for breakfast with eggs and bacon, at lunch with a hamburger, at dinner with a steak, or as a snack. This is one of those recipes you will find yourself using any time of the day.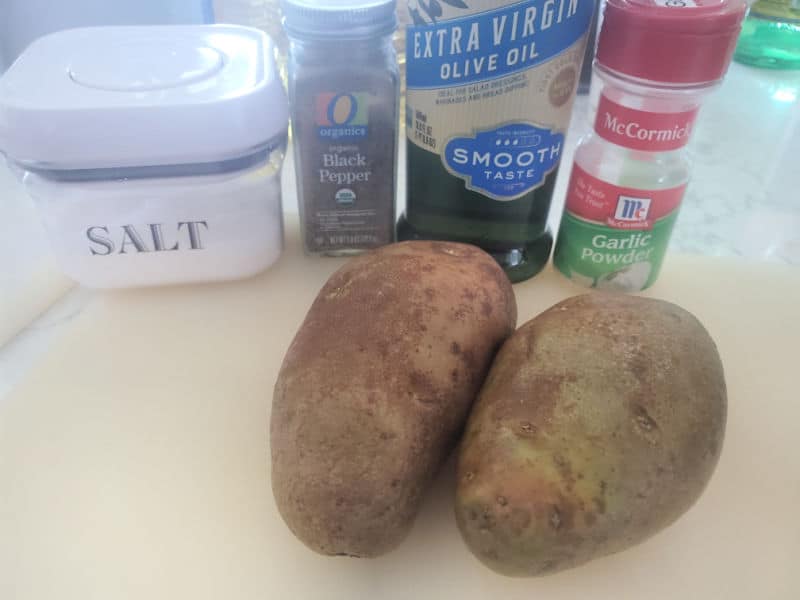 Ingredients
Russet Potatoes
Olive Oil
Garlic Powder
Salt and Pepper
Optional - Parmesan Cheese
You can top these potato wedges in the air fryer with really any spices you love. A Cajun seasoning would be delicious. They would be delicious with Hidden Valley Ranch Dressing Mix.
I am not sure how or why I haven't made them with ranch dressing mix before but that is happening ASAP! I had a total lightbulb moment as I was writing this recipe to share. LOL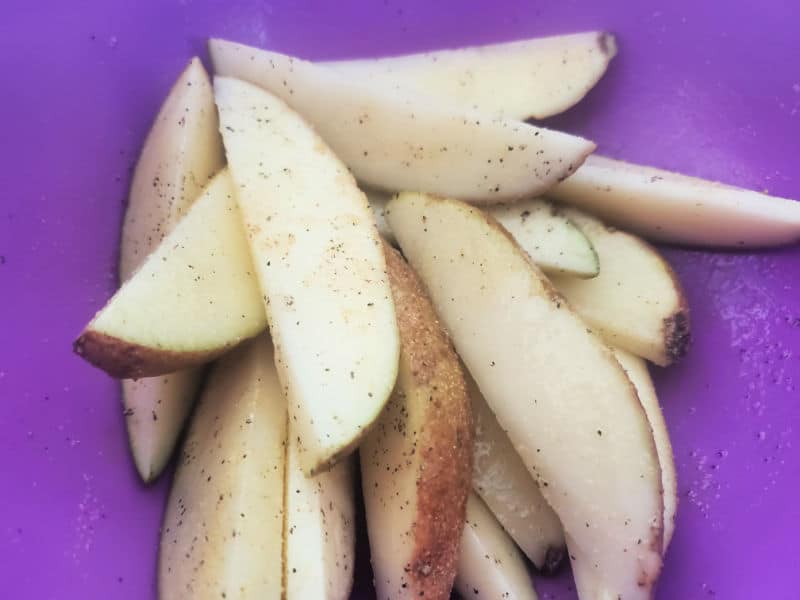 Equipment Needed
Large Bowl - A large bowl makes it easy to toss the potato wedges with garlic powder and seasoning.
Soaking the Potato Wedges
I highly suggest soaking the potatoes for at least 30 minutes in a bowl of water and ice. Remove the wedges and pat them dry with a paper towel before air frying.
Soaking potatoes in water helps remove the excess starch from the potato so they don't stick together and cook evenly.
They are soaked in cold water so the starch is not activated as it would be with warm water.
I will admit that I have made this recipe without soaking the potatoes first. A few times when we have had potatoes that have gotten soft or are about to sprout I will toss them in the air fryer and use this recipe for air fryer wedges. They turn out great but don't have quit the same crispiness as if they were soaked first.
How do you cut potato wedges?
You want to safely cut the potato in wedges by cutting it in half and then cutting it again until you get nicely shaped wedges.
For most potatoes, we end up with about 8 wedges.
What type of potato should I use for Potato Wedges?
We like to use Russett Potatoes because we always have at least a few of them in the house. They are cheap and easy to get at the grocery store.
You can also adapt this recipe to red potatoes just be prepared for them to cook quicker since they are a smaller potato.
Other potatoes like Yukon golds, white potatoes, and so on can be used for wedges but they may not get the same crispiness as russet potatoes.
What should we eat with Potato Wedges?
You can use these air fryer potato wedges as a main dish if you want or pair them with your favorite roasted chicken, cheeseburgers, or any meal you would pair french fries with.
These are a fun change from frozen french fries.
Recipe Tips
Check your air fryer user manual to see if your air fryer needs to be pre-heated. Our air fryer recipes do not include pre-heating. If you need to preheat you will want to lower the cooking time by a minute or two.
Every air fryer cooks in a unique way. Keep an eye on your potato wedges especially the first time you cook them to get the perfect browning and crispiness.
Spread the potato wedges out in the air fryer basket so the air fryer can circulate the air easily.
Halfway through the cooking time shake the air fryer basket to rotate the potato wedges so they get an even crispiness.
Can you cook raw potatoes in the air fryer?
Yes! The air fryer is a mini-convection oven so they are cooked while being air fried.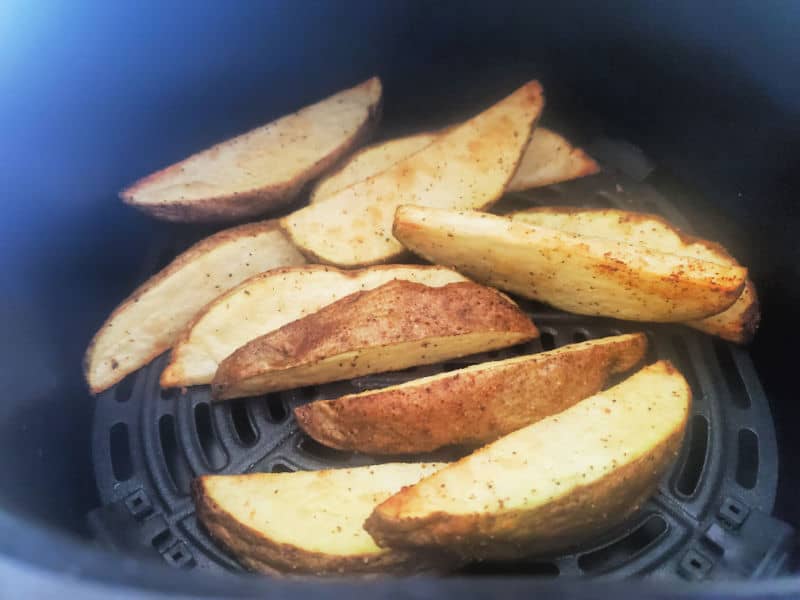 Great Air Fryer Recipes
Check out all of our Air Fryer Recipes including vegetarian air fryer recipes.
We have a ton of great easy side dish recipes with vegetables.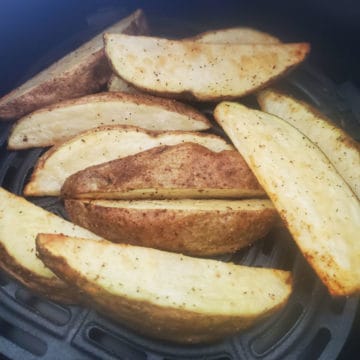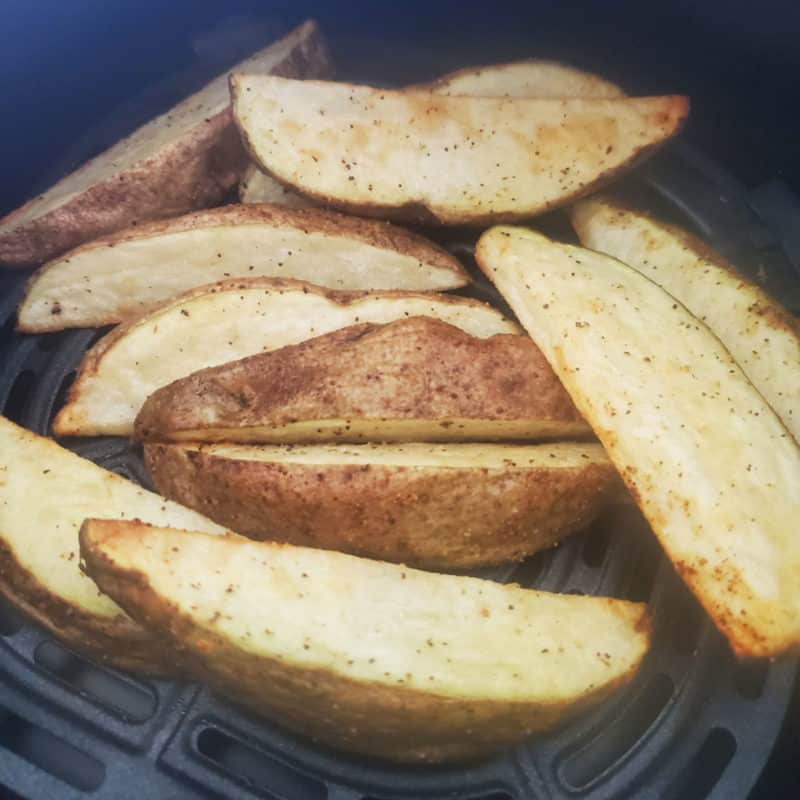 Air Fryer Potato Wedges Recipe
How to make crispy and perfectly seasoned Air Fryer Potato Wedges
Print
Rate
Instructions
Combine olive oil, garlic powder, salt, and black pepper together in a bowl. Toss potato wedges in seasoning to coat the potatoes.

Air fry at 400 degrees for 15 minutes, shake the basket every 5 minutes

optional - Toss the cooked potato wedges with parmesan cheese.
Nutrition
Nutrition Facts
Air Fryer Potato Wedges Recipe
Amount Per Serving
Calories 98
Calories from Fat 18
% Daily Value*
Fat 2g3%
Sodium 587mg26%
Potassium 448mg13%
Carbohydrates 19g6%
Protein 2g4%
Vitamin A 2IU0%
Vitamin C 6mg7%
Calcium 15mg2%
Iron 1mg6%
* Percent Daily Values are based on a 2000 calorie diet.