Are you thinking about booking a Carnival Cruise Vacation or already have one scheduled?
These are our best Tips for Carnival Cruise Vacations!
We have had the pleasure of sailing with Carnival Cruise Lines multiple times and love spending time on their ships.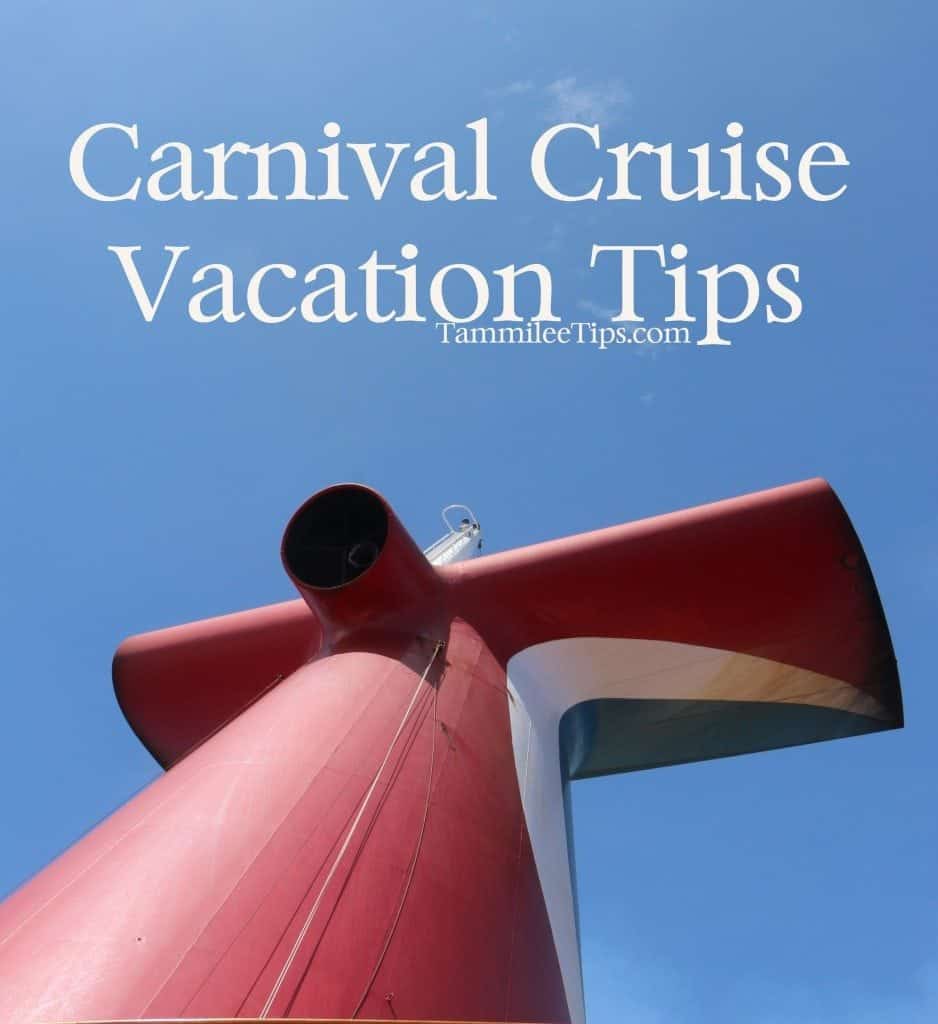 Carnival Cruise Lines currently has 24 ships in their fleet.
Choosing the perfect ship for your cruise vacation is one of the best ways to start planning your vacation.
The new 2.0 ships have updated amenities and restaurants including Guys Burger Joint, Iguana Cantina, EA Sports Bar and more.
The Carnival Freedom has been updated to include the amazing new Seuss at Sea program and Camp Ocean for the kids.
Don't feel like you have to be on the newest ship to have an amazing Carnival Cruise Vacation. We recently sailed on the Carnival Ecstasy which is the oldest ship in Carnivals fleet and had a great time.  Even though the Carnival Ecstasy is the oldest ship in the fleet it still had everything we needed for a great cruise vacation.
Carnival truly is the fun ship! They want to make sure you have the best time possible during your cruise vacation.
If you love live music you can attend a Carnival Live concert! We had the chance to see Martina McBride perform as part of the Carnival Live program and it was amazing.
Carnival recently announced 4 great new live musical productions on their ships:
Carnival Freedom's new Playlist Productions shows include:
80s Pop to the Max – This high-energy show channels the era of Day-Glo, Spandex, and big hair with spirited performances of the hottest music video hits from the 1980s. From the pop-rock of Duran Duran and Cindy Lauper to the smooth soul of Whitney Houston and Michael Jackson and beyond, 80s Pop to the Max takes audiences back to days when "video killed the radio star."

Heart of Soul – This mesmerizing show tugs on the heart strings, capturing special romantic moments with recognizable R&B and soul hits from a host of legendary singers, from Aretha Franklin and Stevie Wonder to Otis Redding, Ray Charles and Al Green.  In a unique twist, six lucky couples are chosen for a special night of romance with VIP seats, champagne and flowers.

Getaway Island – A high-tech re-creation of popular beach movies of the 1960s featuring stunning 3D special effects, Getaway Island invites guests to set their watches to "island time" as they experience the ultimate tropical island bash with music from Jimmy Buffet, Bob Marley, the Beach Boys and others. Getaway Island also features its own version of Carnival Freedom's new RedFrog Pub with a cocktail glass-spinning bartender and talented guitar soloist keeping audiences entertained. It's always 5 o' clock on Getaway Island!

88 Keys: The Rock n' Roll Piano Show – Goodness, gracious great balls of fire!  Highlighted by sing-along hits from Billy Joel, Little Richard and Jerry Lee Lewis and others – as well as an appearance from Carnival Freedom's own piano bar pianist — 88 Keys: The Rock n' Roll Piano Show spotlights these talented artists who have taken the term "tickling the ivories" to a whole new level.
Carnival has a shore excursion best price guarantee! Guests who book a Carnival shore excursion and find a comparable tour at a lower price will receive an onboard credit of 110 percent of the difference!
Every Carnival ship also features an exhilarating water slide – with some vessels boasting expansive water parks. Make sure and pack a swim suit and sunscreen because the water parks are amazing.
You can find out more about Carnival Cruise line by checking them out on:
Twitter: www.twitter.com/carnivalcruise
Facebook Fan Page: www.facebook.com/carnival
YouTube:  www.youtube.com/carnival
Please let us know if we can answer any cruise vacation questions. We are avid cruisers and love sharing our experiences.