Are you thinking about booking a Carnival Cruise Vacation or already have one scheduled? These are our best Carnival Cruise Vacation Tips & Tricks!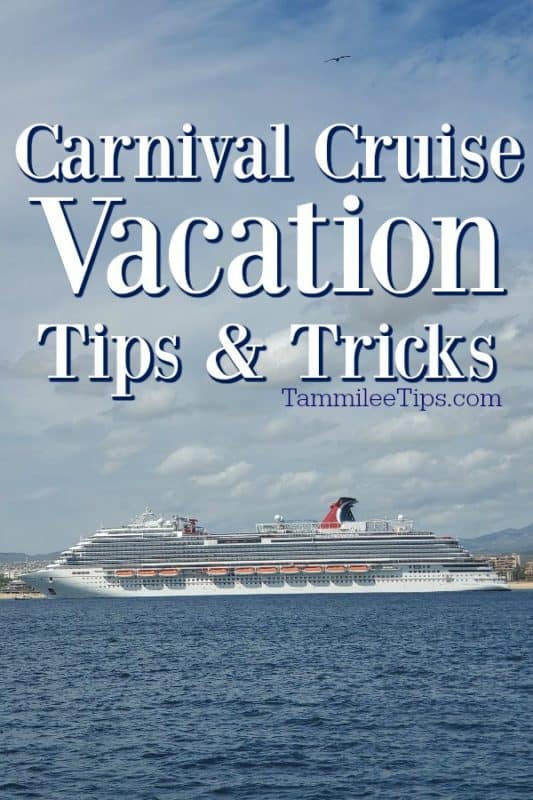 Carnival Cruise Vacations Tips
We have had the pleasure of sailing with Carnival Cruise Lines multiple times and love spending time on their ships.
Carnival Cruise Lines currently has 23 ships in their fleet.
Choosing the perfect ship for your cruise vacation is one of the best ways to start planning your vacation.
The new 2.0 ships have updated amenities and restaurants including Guys Burger Joint, Iguana Cantina, and more.
The Carnival Freedom has been updated to include the amazing new Seuss at Sea program and Camp Ocean for the kids.
Don't feel like you have to be on the newest ship to have an amazing Carnival Cruise Vacation. We recently sailed on the Carnival Ecstasy which is the oldest ship in Carnival's fleet and had a great time.  Even though the Carnival Ecstasy is the oldest ship in the fleet it still had everything we needed for a great cruise vacation.
Carnival truly is the fun ship! They want to make sure you have the best time possible during your cruise vacation.
If you love live music you can attend a Carnival Live concert! We had the chance to see Martina McBride perform as part of the Carnival Live program and it was amazing.
Carnival has a shore excursion best price guarantee! Guests who book a Carnival shore excursion and find a comparable tour at a lower price will receive an onboard credit of 110 percent of the difference!
Every Carnival ship also features an exhilarating water slide – with some vessels boasting expansive Carnival Waterworks water parks. Make sure and pack a swimsuit and sunscreen because the water parks are amazing.
Please let us know if we can answer any cruise vacation questions. We are avid cruisers and love sharing our experiences.
Carnival Cruise Ships
Additional Carnival Cruise Articles
What not to pack on your cruise vacation
Ways to help St. Jude on a Carnival Cruise
Check out all of our Carnival Cruise Travel Guides