Holy Cookies!! We are already to day 23 of our 25 days of Holiday Cookies and Treats!
WOW! This month has been so much fun! I love baking and sharing our favorite recipes with everyone.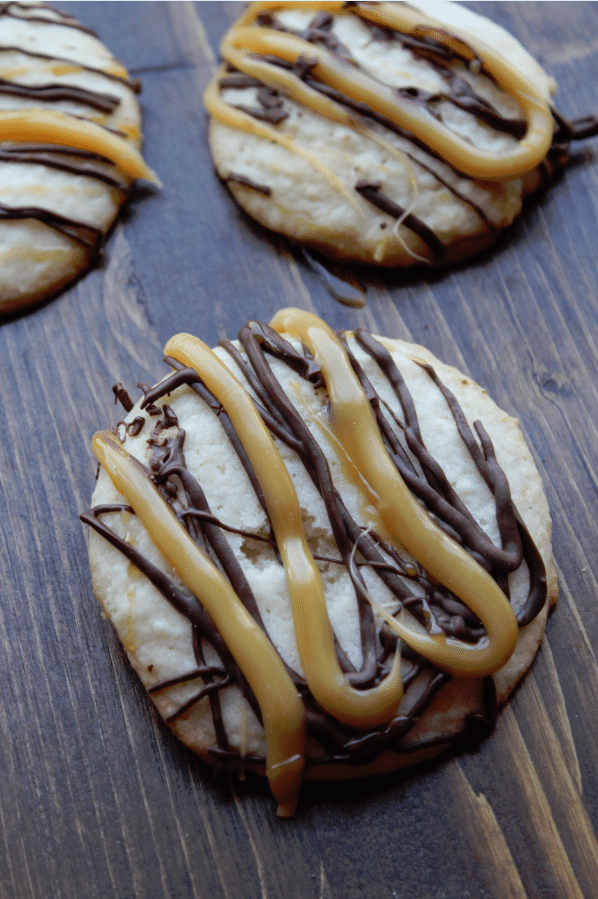 Today's cookie recipe is perfect for chocolate lovers, caramel lovers and coffee lovers all in one! These Caramal Machiatto Cookies are an amazing mix of caramel, chocolate and coffee! Hello Yum!
Caramel Macchiato Cookies
Ingredients
2 tsp instant espresso or coffee powder
1 tbsp hot water
1 pouch sugar cookie mix
1/4 cup all purpose flour
1/2 cup butter, melted
2 tsp vanilla
1 egg
18 caramels, unwrapped
2 tbsp milk
1/2 cup semi-sweet chocolate chips
Directions
pre-heat oven to 375 degrees
1. In a large bowl dissolve coffee powder into hot water
2. Stir in cookie mix, flour, butter, vanilla and egg until soft dough forms
3. Shape into 1 1/2 in balls, using your thumb or a spoon make an indent in the center of each cookie, bake for 8-10 minutes
4. In a small microwave bowl, microwave caramels and milk, until caramels are melted
5. Spoon 1/2 tsp caramel into each cookie. cool for 15 minutes
6. Microwave chocolate chips until melted, drizzle over cookies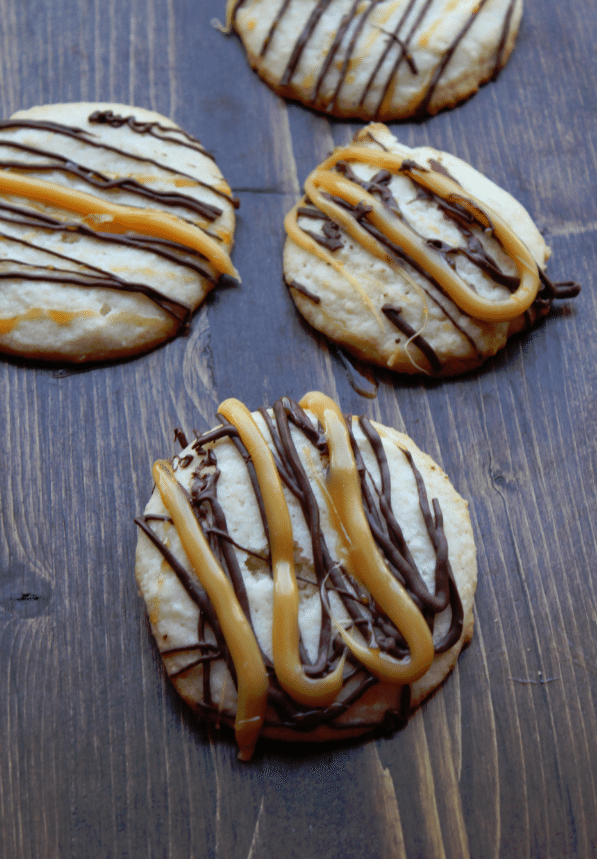 25 Days of Holiday cookies and treats
Day 1 - Krumkake
Day 2 - Crock Pot Cinnamon Pecans
Day 3 - Sweet & Spicy Almonds
Day 4 - Minty Chocolate Balls
Day 5 - Chocolate Shortbread Cookies
Day 6- Coconut Chocolate Chip Cookies
Day 7- Molasses Cookies
Day 8- Ranger Cookies
Day 9 - Coconut Pineapple Drop Cookies
Day 10- Chocolate Chip Coconut Rum Cookies
Day 11 - Apricot Coconut Cookie
Day 12 - Butter Pecan Cookies
Day 13 - Frosted Pineapple Cookies
Day 14 - White Chocolate Candy Cane Cookies
Day 15 - Butterscotch No Bake Cookies
Day 16 - Bourbon Pecan Pralines
Day 17 - No Bake Chocolate Mocha Cookies
Day 18 - Caramel Cheesecake in a Jar
Day 19 - Cinnamon Sugar Pretzels
Day 20 - Chocolate Peppermint Cookies
Day 21 - Hawaiian Host AlohaMac Butter Cookies
Day 22 - Tropical No Bake Truffles
Make sure to check back each morning for a new holiday cookie and treat recipe!

Do you love recipes? Check out our copy cat recipes, dessert recipes, and our Crock Pot Recipes.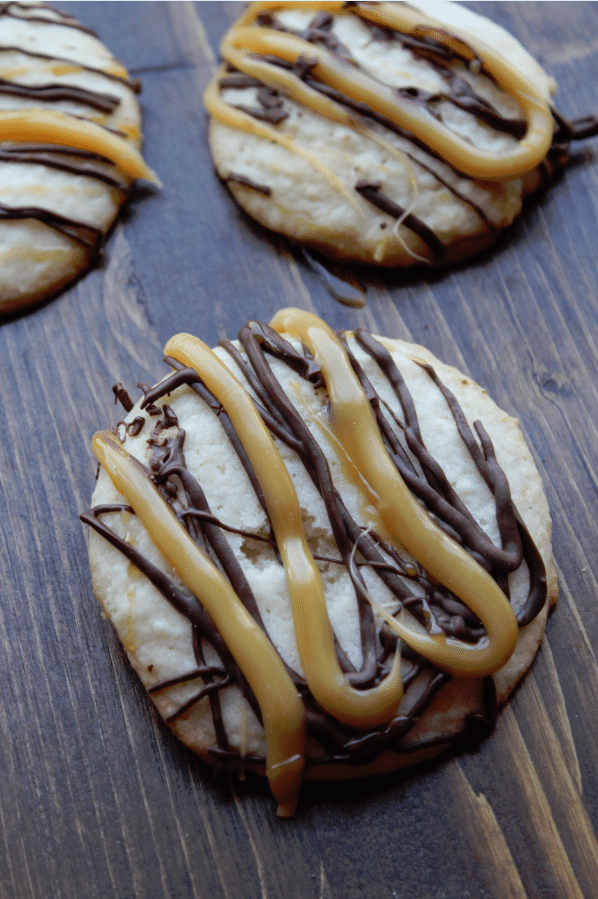 Instructions
pre-heat oven to 375 degrees

In a large bowl dissolve coffee powder into hot water

Stir in cookie mix, flour, butter, vanilla and egg until soft dough forms

Shape into 1 1/2 in balls, using your thumb or a spoon make an indent in the center of each cookie, bake for 8-10 minutes

In a small microwave bowl, microwave caramels and milk, until caramels are melted

Spoon 1/2 tsp caramel into each cookie. cool for 15 minutes

Microwave chocolate chips until melted, drizzle over cookies