Delicious German Apple Pancake recipe that is great for breakfast/brunch. Cinnamon apples are baked with a delicious batter to make a killer puffy pancake.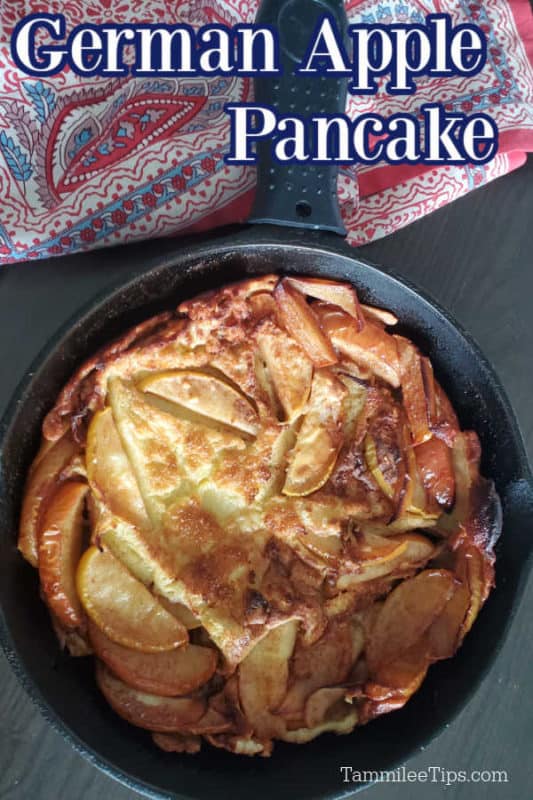 German Apple Pancake
A few years ago we spent a long weekend exploring Walla Walla, Washington. One of our favorite Walla Walla restaurants was Maple Counter Restaurant. I had the most amazing German Apple Pancake while we were there.
I have been trying to remake this restaurant favorite ever since our visit. Finally, I am happy with this Apfelpfannkuchen German Apple Pancake.
While I can't pronounce it very well even with a couple of years of German language study way back in High School I can say it tastes amazing. High school German was over 25 years ago and the only thing I can remember is Zug which means train.
Thankfully you don't need to speak German to make this epic apple German Pancake. It takes about 15 minutes of prep to get this apple pancake ready and then 20 minutes in the oven and you have a puffy apple Dutch baby pancake that tastes amazing.
If you are serving a large group I would highly suggest making two of these German Apple Pancakes. We can go through one on our own with just the two of us if we are really hungry. There are rarely leftovers when this gets made for breakfast or brunch.
For a fun twist on this recipe check out our Lemon Dutch Baby Recipe.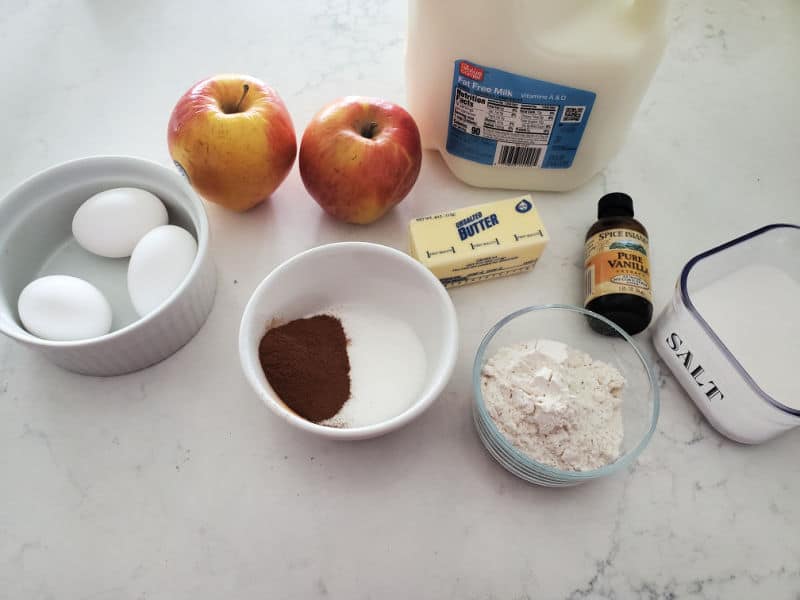 Ingredients Needed
This is a quick overview of the simple ingredients that you'll need to make an epic German Apple Pancake! Specific measurements and step-by-step instructions are included in the printable recipe card at the bottom of the post.
Apples
Sugar
Ground Cinnamon
Eggs
Salt
Flour
Milk
Vanilla Extract
Unsalted Butter
Toppings if desired - maple syrup, powdered sugar, vanilla ice cream
We don't normally add any toppings to this caramelized apple pancake because it is so rich in flavor on its own. A bit of confectioner's sugar does look really cool on top of it.
Apples - We tend to use red tart apples but you can easily make this with granny smith apples or whatever apples you can get in your local grocery store. I try to cut the apple slices pretty evenly so they all bake at the same consistency.
The best apples include Granny Smith, Honeycrisp, or Braeburn. You want a tart apple to balance out the sweetness of the batter.
Lemon Juice - you can use lemon juice to sprinkle on the sliced apples and keep them from browning. I tend to skip this step since the apples will be brown and covered in cinnamon sugar by the time they are done.
Equipment Needed
Apple Corer - An Apple Corer will make it a lot easier to core the apples. You can leave the skins on or peel them off depending on how you like the apples. We tend to leave them on.
Teaspoons/tablespoons/measuring cups
Large Mixing Bowl - We are big fans of this glass batter bowl that has a handle. It makes it easy to mix ingredients and keeps the mixing bowl steady on the counter.
Whisk
Wooden Spoon
Cast Iron Skillet - I bake this puffy apple pancake in a cast-iron skillet. I love how the edges get a bit crispy.  You can cook the cinnamon and apples ahead of time and then just pour the batter over the top and transfer it right to the oven.
Heat resistant potholders - A couple of years ago, we had a fire scare when we didn't realize we had turned a burner on, and a cloth potholder caught fire. Thankfully we walked by the kitchen and saw the smoke and were able to get it out ourselves. Since then, we have only used these heat-resistant potholders.
How to make German Pancakes
I've included complete instructions in the printable recipe card at the bottom of the post, but here's a quick version.
Step 1 - Preheat the oven, gather all of the recipe ingredients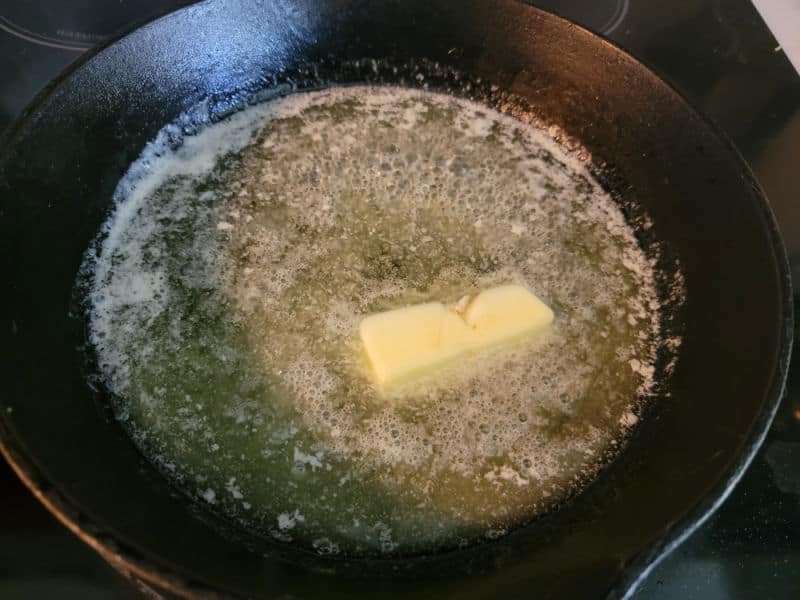 Step 2 - Melt butter in skillet over medium-high heat on the stove top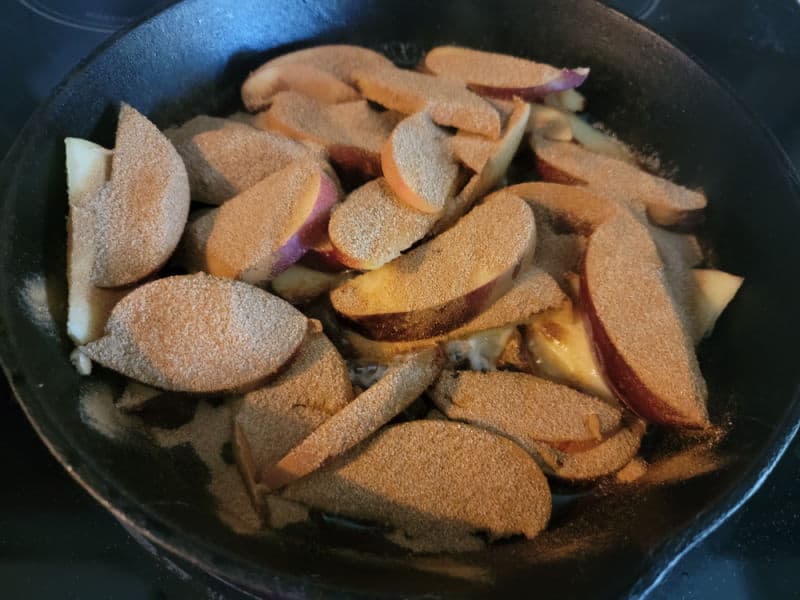 Step 3 - Add apple slices, Cinnamon Sugar mixture in skillet and cook.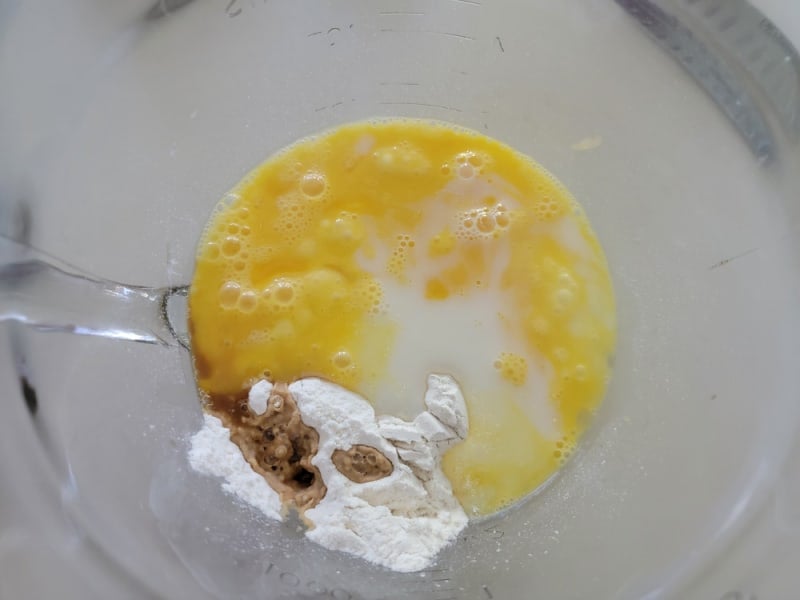 Step 4 - While the apples are cooking mix the German Apple pancake batter in a mixing bowl.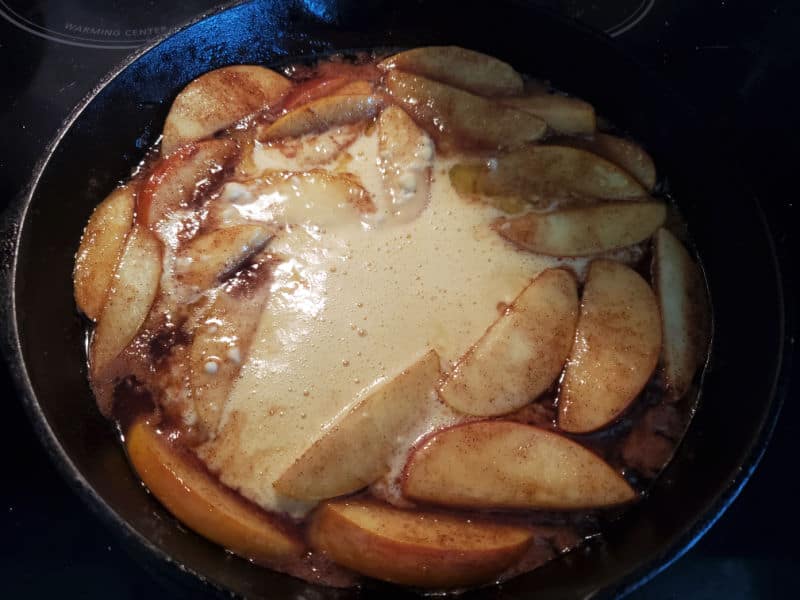 Step 5 - Carefully pour the batter over the apples once they are done cooking.
Place cast iron skillet in the hot oven.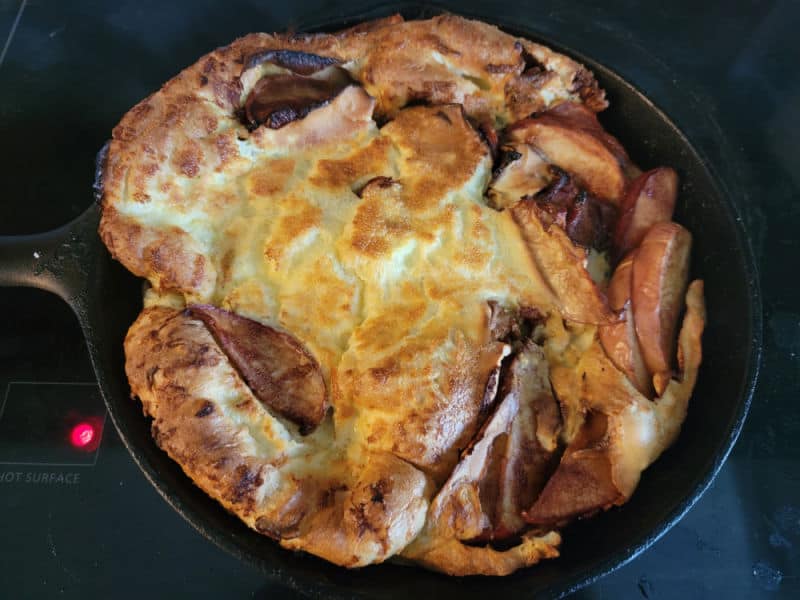 Step 6 - Remove from oven and let cool for a minute or two. The cast iron will be HOT!
Make sure you place a trivet or something to protect your table under the cast iron skillet.
The German Apple Pancake can be inverted onto a large serving dish so you don't have to worry about bumping into the hot cast iron skillet.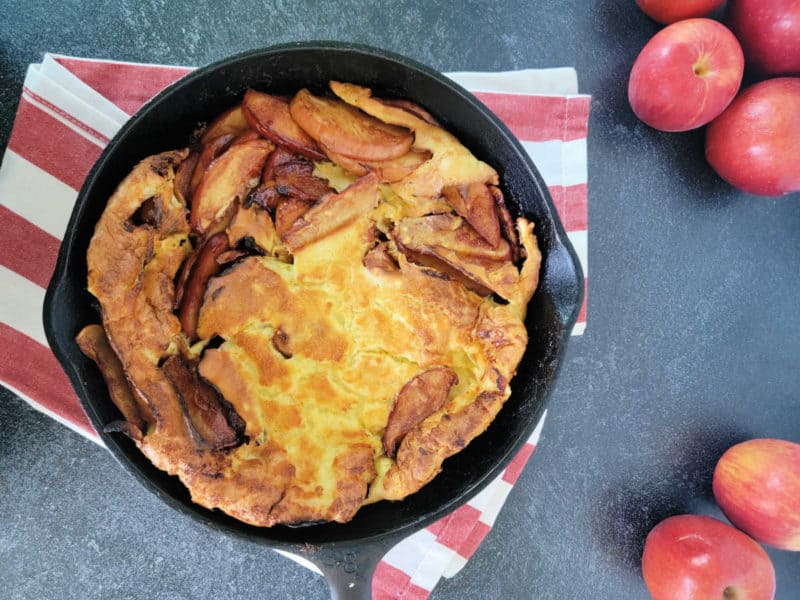 Recipe Tips
Make sure you have high-temperature oven mitts for removing the cast iron skillet! It is going to be HOT and the last thing you want to do is drop it because it is so dang hot. Trust me I have had to juggle a few of them when our initial oven mitts were not ready for the high temps.
I normally serve the pancake flipped out of the cast iron skillet onto a serving platter. You can also serve it straight from the skillet just be very careful with how hot the skillet is.
Be very very careful if you flip the pancake. Try to use a platter that is much larger than your skillet so the pancake lands on the platter. A couple of times I have flipped the pancake and a portion of it ended up all over the counter. OOPS!
You can top this with a bit of powdered sugar if you like. We tend to serve it with bourbon maple syrup on the side but rarely end up using the syrup because this apple pancake is so sweet on its own.
Printable recipe card instructions are below.
Nutrition information, including calories, protein, calcium, carbohydrates, fiber, vitamin c, potassium, cholesterol, sodium, trans fat, monounsaturated fat, polyunsaturated fat, and more, will vary depending on the products used.
Preparation and Storage
Make Ahead – The pancake batter can be made up to 24 hours in advance and stored in the fridge. Just make sure to whisk it before pouring it over the hot apples.
Storage – Store leftovers in an airtight container in the refrigerator.
Freezing/How to freeze – We have not frozen the German apple pancakes.
How to reheat – Reheat in the microwave in 30 second intervals until warm. Be careful to not overheat so the pancakes do not get hard. You can wrap a damp paper towel over them to help retain moisture.
The apple pancake leftovers can also be reheated in the oven at 350 degrees for 10 minutes, check to make sure they are hot.
Recipe Variations
Substitutions - Apples, you can use different types of apples. If you are not a fan of cinnamon you can use allspice, nutmeg, or ginger for additional flavoring. Apple pie spice will also work.
Vegetarian Option - This recipe is vegetarian
Vegan Option – You can use non-dairy milk including almond milk, coconut milk, soy milk, or nut or plant based milks. You will need to use an egg replacer
Gluten Free - You can use oat flour, almond flour, or alternative flours
Smaller Serving Size – The recipe card below has serving sizes that can be changed to a smaller serving. You will want to use a smaller cast iron skillet.
Larger Group/More servings – This recipe can be doubled but you will need to use two cast iron skillets or a giant skillet.
What to serve with Apple Pancakes
Toppings/Garnish - Maple Syrup, whipped cream, vanilla ice cream, butter, cinnamon sugar, powdered sugar, honey, nut butter, cinnamon syrup, toasted pecans
Side Dishes - Bacon (air fried, oven, microwave), Sausage, Fresh fruit, yogurt, breakfast potatoes, hashbrown casserole, fruit salad,
Drinks - frosted coffee, eggnog coffee, orange juice, milk, Orange Julius, tea, hot chocolate, iced tea, Starbucks Frappuccino
When to serve German Apple Pancakes
Weekend Brunch
Christmas Morning Breakfast
Breakfast for Dinner
Dessert
Comfort Food
Fall
We love serving these apple pancakes any time of the day!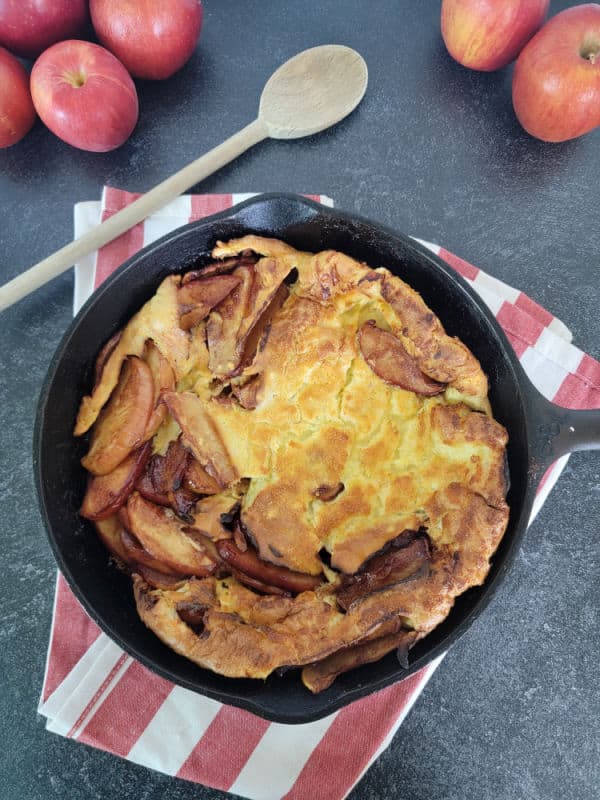 Great Breakfast Recipes
Ham and Cheese Crescent Roll Breakfast
Strawberry Shortcake Recipe Easy
Cinnamon Rolls with Apple pie filling
Check out all of our apple dessert recipes.
Do you love recipes? Check out our copycat recipes, dessert recipes, and our CrockPot Recipes.
Follow Tammilee Tips on MSN, Facebook, Instagram, and Pinterest, for all of our recipe posts.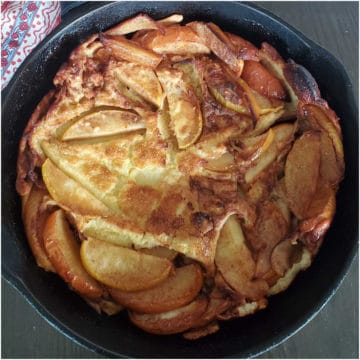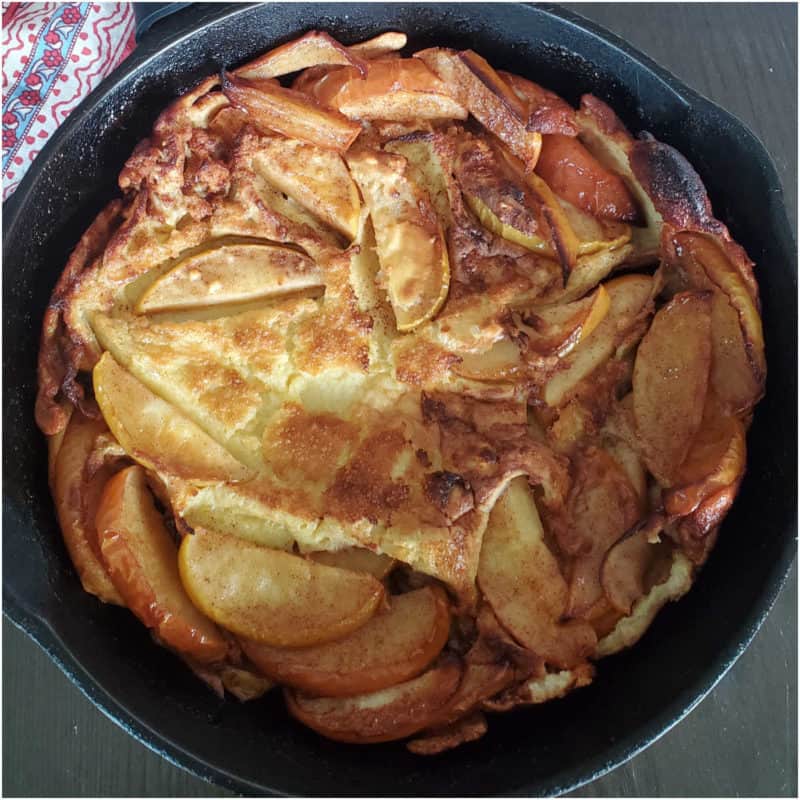 Apfelpfannkuchen German Apple Pancakes Recipe
How to make German Apple Pancakes in a cast iron skillet
Print
Rate
Instructions
Preheat oven to 425 degrees

Combine cinnamon and sugar in a small bowl and set to the side.

Core apples and slice into ¼ inch slices. Place cast iron skillet over medium heat and add butter to the skillet. Once the butter is mostly melted add in apple slices, cinnamon and sugar and stir. Cook for 5-7 minutes

Combine eggs, flour, salt, milk, and vanilla in a medium bowl and whisk together until smooth.

When apples are done cooking pour flour mixture into the middle of the cast iron pan over the top of the apples.

Place cast iron pan carefully in the oven and bake for 18-20 minutes

Remove cast iron from oven and serve
10 inch Cast Iron Skillet
Nutrition
Nutrition Facts
Apfelpfannkuchen German Apple Pancakes Recipe
Amount Per Serving
Calories 390
Calories from Fat 207
% Daily Value*
Fat 23g35%
Cholesterol 176mg59%
Sodium 527mg23%
Potassium 219mg6%
Carbohydrates 40g13%
Protein 7g14%
Vitamin A 905IU18%
Vitamin C 4mg5%
Calcium 80mg8%
Iron 2mg11%
* Percent Daily Values are based on a 2000 calorie diet.