It has been so cold in Spokane that I am always looking for hot, filling recipes for breakfast. This Crock Pot Apple Cinnamon Oatmeal Recipe fits the bill perfectly. Hot, filling, delicious, comforting, and easy to make = sign me up!!!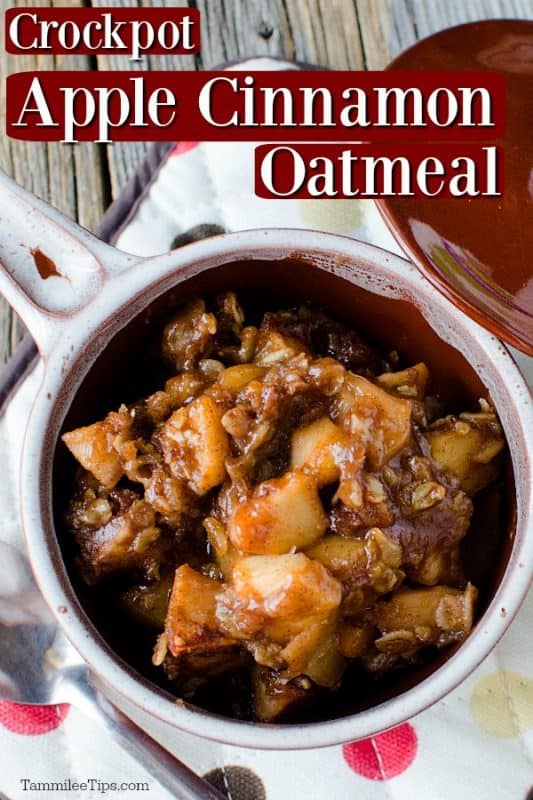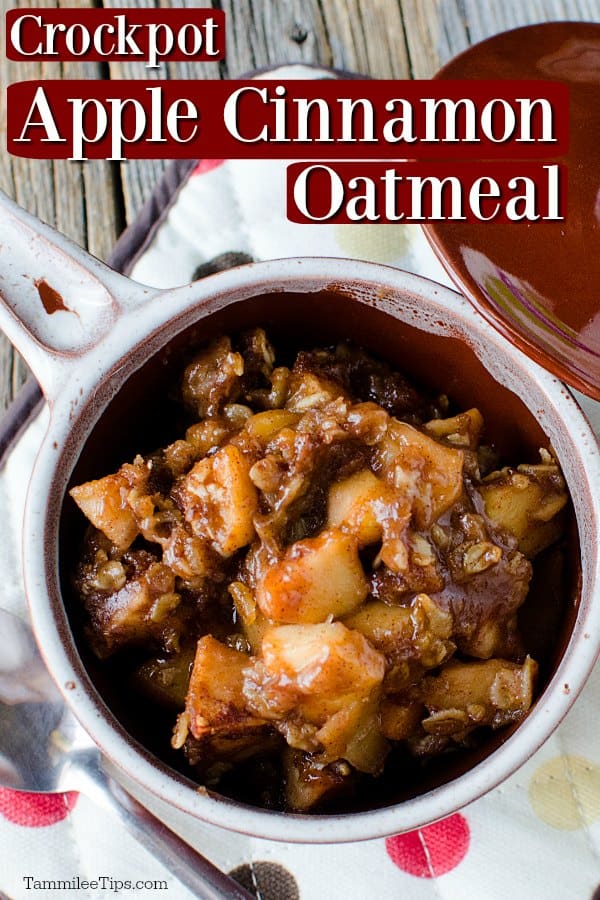 Crockpot Apple Cinnamon Oatmeal
Now if only I could get my toes to warm up and the snow to all melt life would be good. Or maybe I just need to hop a plane to a tropical island and defrost for a week or two. John keeps looking at tropical vacations online each night and not so casually mentioning cruise deals. I am pretty sure he is ready to escape the cold.

I love that I can set this up overnight and breakfast is ready when we get out of bed. If you love overnight oatmeal check out all of our
crock pot oatmeal
recipes for more ideas! We have a ton of different recipes to make breakfast easier every day. For a sweet treat try these
semi-homemade cinnamon rolls
. Hello YUM!
Super easy Slow Cooker Apple Oatmeal Recipe the family will love. The slow cooker does all the work! Start your mornings off with this delicious oatmeal
You just can't go wrong with cinnamon and apples in the morning!!! Do you have a favorite breakfast dish you like to start the day with? My Husband would say bacon but I don't know that it is considered a full breakfast.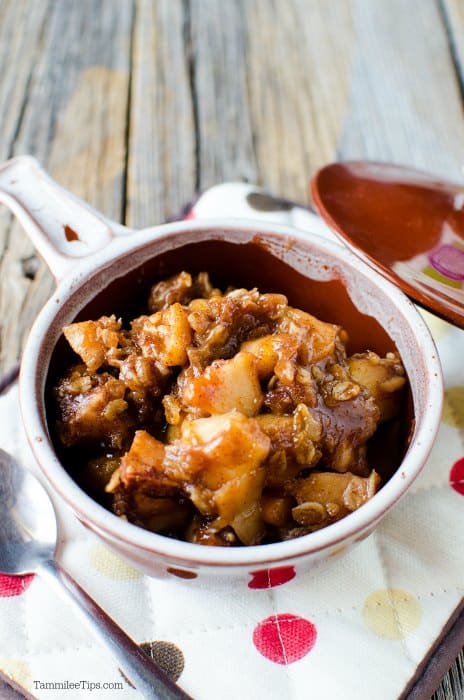 Slow Cooker Crock Pot Apple Cinnamon Oatmeal Recipe
Cinnamon Apples Ingredients
Brown Sugar
White Sugar
Apples
Salt
Cinnamon
Oatmeal Topping
Oats
Brown sugar
Flour
Butter
Vanilla
Cinnamon
Equipment Needed
Crockpot - We suggest using a crockpot that has a digital timer that automatically switches the slow cooker to warm after a set amount of time. This helps make sure your apple oatmeal cooks perfectly and you don't have to stress about what time it is going to be done.
Recipe Tips
Make sure you spray your crockpot slow cooker with non-stick spray before putting in the apples. This will make clean up a lot easier.
You will want to stir the oatmeal mixture at least once while it is cooking. This will help make sure if you have a hot spot on your crockpot that the apples and oatmeal do not burn in that spot. I have a hot spot on my crockpot that cooks a lot higher than any other area of the slow cooker. If I don't stir ingredients I end up with a small section of burnt oatmeal.
You can serve this with milk or cream if you like to add it to your oatmeal. You can also make this a dessert and top it with oatmeal. It is a sweet delicious cinnamon apple oatmeal recipe.
For even more flavor you can sprinkle dried fruit on top of your oatmeal.
This breakfast recipe does take 4 hours to cook so you will want to plan for cooking time. A hot bowl of oatmeal is such a great filling way to start the day. The apples are tender and taste amazing.
If you want a sweeter flavor you can add in maple syrup, cinnamon, and nutmeg.
This baked oatmeal tastes amazing after slow cooking all morning. One more reminder though to make sure you are stirring occasionally to combine the ingredients and keep them moving around your slow cooker.
Great Breakfast Recipes
Check out all of our Breakfast Recipes
We have a ton of vegetarian slow cooker recipes
Do you love recipes? Check out our copy cat recipes, dessert recipes, and our Crock Pot Recipes. Make sure and check out all of our Crock Pot Oatmeal Recipes for more great breakfast ideas!
Follow Tammilee Tips on MSN, Facebook, Instagram, Pinterest, and Twitter for all of our recipe posts.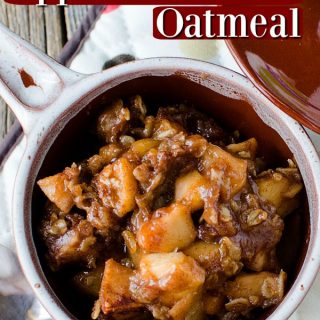 Crock Pot Apple Oatmeal Recipe
Delicious Crockpot Apple Oatmeal is the perfect hot comfort food for breakfast or any time of the day
Print
Rate
Instructions
Combine apples, sugars, salt, and cinnamon in a bowl and mix well. Place in the bottom of a slow cooker bowl that has been greased/sprayed or lined with parchment paper.

Mix topping ingredients well and sprinkle over apple mixture in the bowl.

Cook on low for 4 hours. Halfway through cooking time, give the contents a stir.

Turn off the heat and let sit for an approximately half an hour to cool a bit.
Nutrition
Nutrition Facts
Crock Pot Apple Oatmeal Recipe
Amount Per Serving
Calories 612
Calories from Fat 117
% Daily Value*
Fat 13g20%
Cholesterol 31mg10%
Sodium 266mg12%
Potassium 365mg10%
Carbohydrates 127g42%
Protein 3g6%
Vitamin A 477IU10%
Vitamin C 10mg12%
Calcium 86mg9%
Iron 2mg11%
* Percent Daily Values are based on a 2000 calorie diet.
Recipe originally shared February 21, 2017. Updated on April 24, 2020