Easy Cinnamon Roll Waffles take minutes to make and taste amazing. The waffle shape perfectly holds the cinnamon roll icing, and the crispy edges are amazing.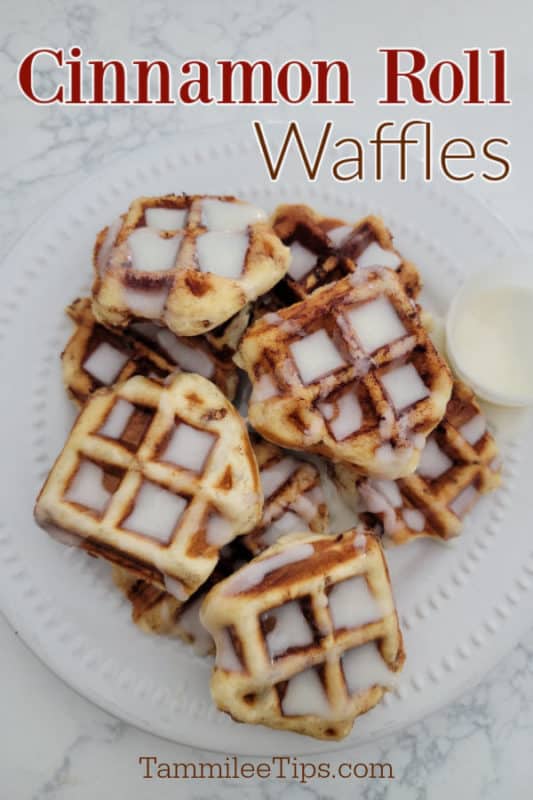 Cinnamon Roll Waffles
We first shared this recipe back on October 17, 2012! I can't believe it has been over ten years since we started making these epic Cinnamon Roll Waffles.
They are one of our favorite sweet breakfast treats, and they're so easy to make that I've even made them on the morning after we have come in on a late flight and need a pick me up.
When paired with a hot cup of coffee for my husband and chai tea for me, we are caffeinated and sugared up to greet the day. LOL
These are fantastic for brunch, breakfast, or an afternoon snack.
This recipe should come with a warning label. These waffles are so good and easy to make that they might be dangerous!
When I say easy to make, I mean one of the easiest-ever things to make in the kitchen!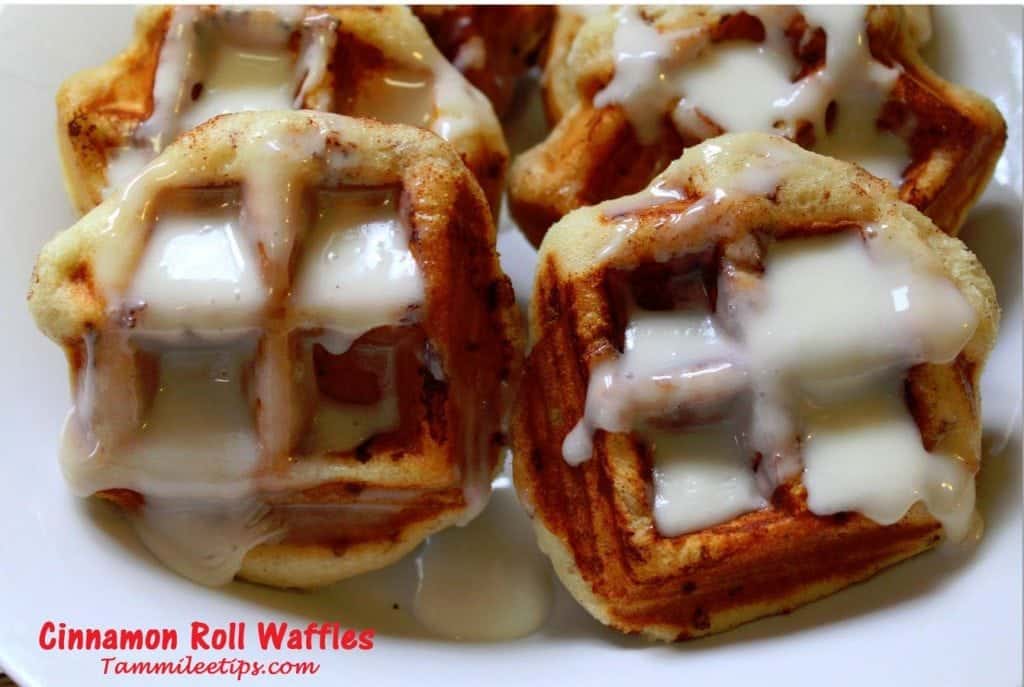 I feel like this recipe should come with a warning label. These are so good and so easy to make that they might be a bit dangerous!
When I say easy to make I really mean one of the easiest things to make ever!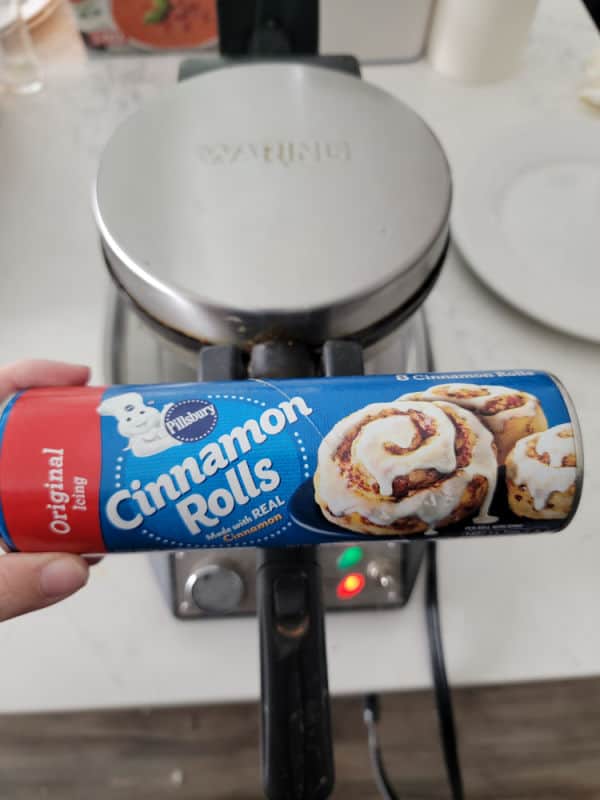 Ingredients
Here is a quick overview of the simple ingredients needed to make epic Cinnamon Roll Waffles! The printable recipe card at the bottom of the post includes specific measurements and step-by-step instructions.
Refrigerated Cinnamon Rolls (yes, this is a true one-ingredient recipe!)
We use Pillsbury Cinnamon rolls but any brand should work.
Toppings: We use the cream cheese frosting included with the package, but you can also use powdered sugar, butter, a simple glaze, or maple syrup.
Change it up and set up different flavors of cream cheese icing and toppings.
Equipment Needed
Non-Stick Cooking Spray: You'll need some to keep the waffles from sticking to the waffle iron.
Directions
I've included complete instructions in the printable recipe card at the bottom of the post, but here's a short version.
Step 1 - Pre-heat waffle iron. Spray waffle iron with non stick spray.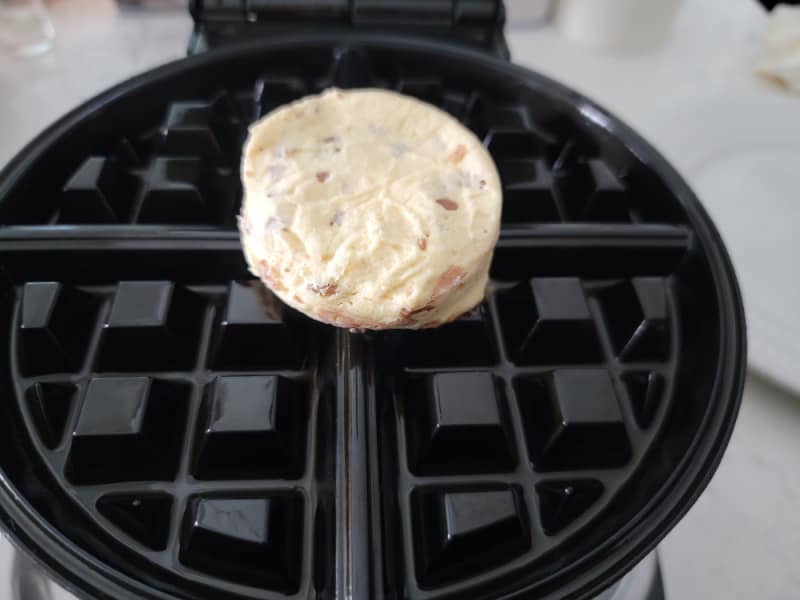 Step 2 - Place cinnamon rolls onto iron and close.
You can place one cinnamon roll in the middle of the waffle iron or try a couple of them.
We find that cooking multiple at the same time causes them to stick together. They are easy to break into pieces when serving them.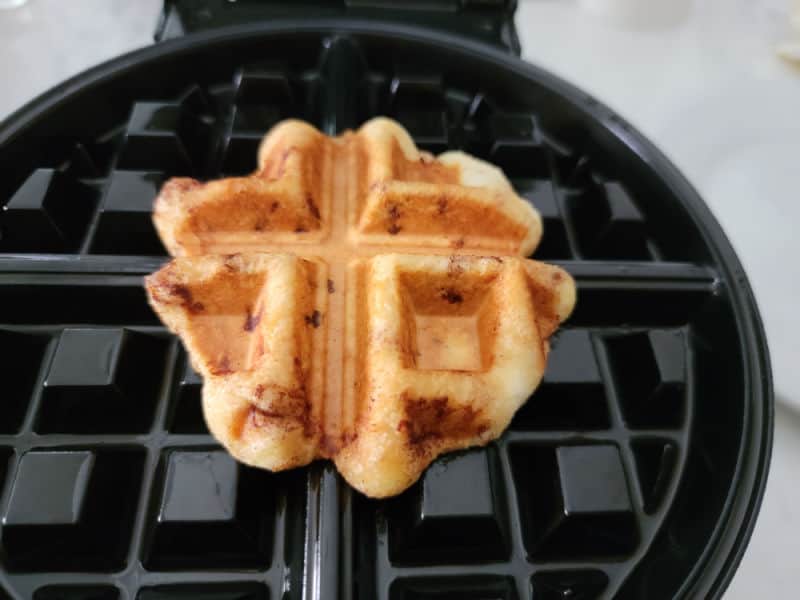 Our waffles were done after a few minutes. I watched them pretty closely to make sure they did not burn.
Pour icing over the top and enjoy
Preparation and Storage
Make-Ahead + Storage: Cinnamon roll waffles are still cinnamon rolls, just cooked a different way, and cinnamon rolls are known for being very make-ahead-friendly! Keep the premade dough refrigerated in an airtight container for up to 24 hours, then leave them on your kitchen countertop for an hour or two before baking to bring it to room temperature for baking.
Freezing/How to Freeze: Whether you freeze them prepared or unprepared, cinnamon roll waffles freeze well as long as they're tightly covered to keep the freezer burn at bay. 
How to Reheat: Reheating cinnamon roll waffles is as easy as making them! They reheat in the microwave, oven, air fryer, skillet, or toaster oven.
Recipe Variations
Substitutions: You can use any brand of refrigerated cinnamon rolls! We used Pillsbury for the photos.
Vegetarian + Vegan Option: While cinnamon roll dough is vegetarian, vegans must opt for a plant-based alternative, as most brands, including Pillsbury, contain milk-derived whey protein.
Gluten-Free: Pillsbury has gluten-free cinnamon roll dough for those looking to avoid gluten.
Smaller Serving Size: Since you don't have to worry about using the entire tube of premade dough, just use what you need and refrigerate or freeze the rest, depending on how soon you'll use it.
Larger Group/More Servings: We use one package of refrigerator cinnamon roll dough, so use another tube to double this recipe for a larger group.
Sugar-Free: Pillsbury has a Splenda-sweetened sugar-free cinnamon roll dough if you prefer a sugar-free version. The regular kind, which we use in this cinnamon roll waffle recipe, contains 10 grams of sugar.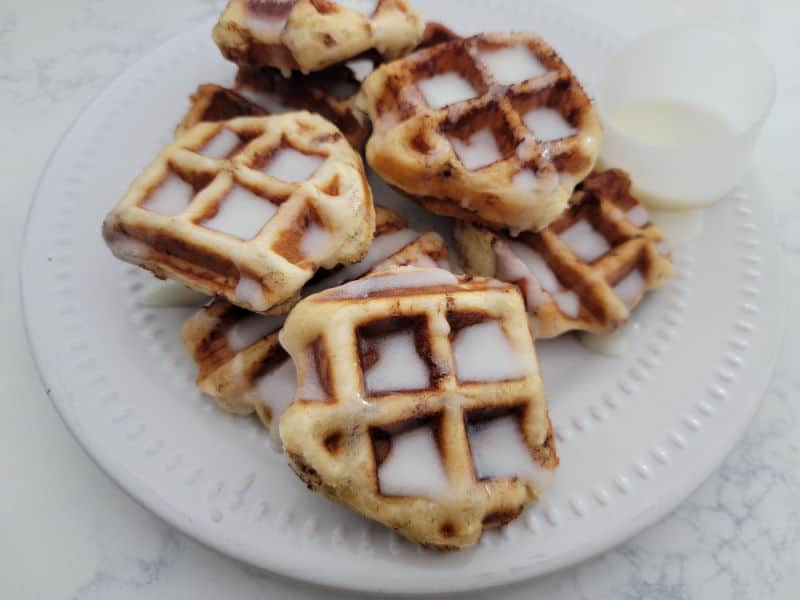 Tips for the Best Cinnamon Roll Waffles
Make sure to spray the waffle maker with nonstick spray! Greasing the waffle iron will make a huge difference in removing the finished waffles.

One of the things I love about this recipe is how little cleanup there is. You don't have to dirty a microwave-safe bowl, a whisk, or a separate bowl; you only have to wipe down the waffle maker when finished.

Nutrition information, including calories, protein, calcium, carbohydrates, fiber, vitamin c, potassium, cholesterol, sodium, trans fat, monounsaturated fat, polyunsaturated fat, and more, will vary depending on the products used.
When to Serve
Christmas Morning breakfast
Sunday Brunch
Kids snack
Breakfast sweet treat
What to Serve With Cinnamon Roll Waffles
Cinnamon roll waffles are the perfect one-ingredient sweet breakfast treat! Build your breakfast of champions with these breakfast pairing ideas.
Sides: Sausage Breakfast Biscuit Cups, Easy Pancake Muffins, Air Fryer Sausage Links, 3 Ingredient Sausage Cream Cheese Crescent Rolls, Crockpot Cheesy Hashbrowns, Air Fryer Bacon
Main Dishes: Crockpot Breakfast Casserole, Pulled Pork Breakfast Hash, Ham & Cheese Breakfast Casserole, Sausage Biscuit & Gravy Casserole, CopyCat Egg McMuffin, Eggs in a Basket
Desserts: Raspberry Coffee Cake, Cinnamon Syrup, Bacon Candy, Blueberry Cake, Bisquick Blackberry Cobbler
Drinks: Frosted Coffee, Iced Chai, Eggnog Coffee, Red Velvet Hot Chocolate, Pumpkin Spice Latte, Mexican Hot Chocolate, Eggnog Latte, Caramel Latte 
Great Breakfast Recipes
Sausage Breakfast Biscuit Cups
Check out all of our breakfast recipes
Do you love recipes? Check out our copycat recipes, dessert recipes, and our CrockPot Recipes.
Follow Tammilee Tips on MSN, Facebook, Instagram, Pinterest, and Twitter for all of our recipe posts.
Make sure to pin this recipe so you can find it easily.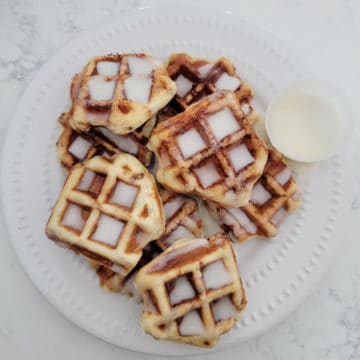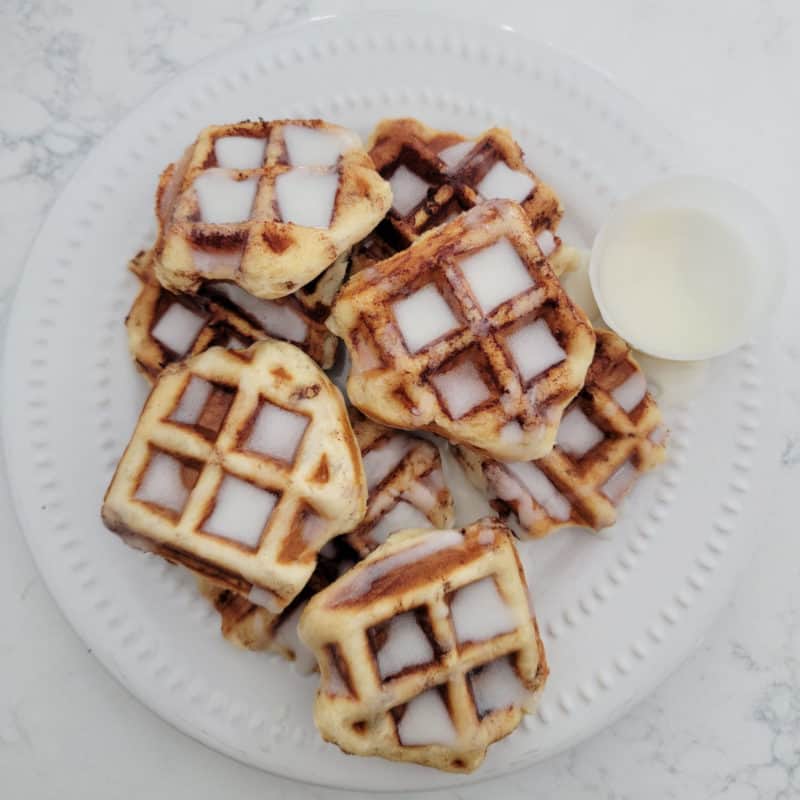 Cinnamon Roll Waffles
How to make Cinnamon Roll Waffles with refrigerated cinnamon rolls
Print
Ingredients
1

package

Refrigerator Cinnamon Rolls
Instructions
Preheat waffle maker, spray with non-stick cooking spray.

Place a cinnamon roll in the center of the waffle maker. Close the lid and cook for 3-4 minutes until the cinnamon roll waffle is golden brown and cooked.

Once the cinnamon roll waffles are all cooked drizzle icing from the container over the waffles. Enjoy
Nutrition
Nutrition Facts
Cinnamon Roll Waffles
Amount Per Serving
Calories 160
Calories from Fat 63
% Daily Value*
Fat 7g11%
Sodium 330mg14%
Carbohydrates 23g8%
Protein 2g4%
Iron 1mg6%
* Percent Daily Values are based on a 2000 calorie diet.